Bidvance is a specialist ad network that focuses on high-performing traffic sources, state-of-the-art targeting, and a choice of high converting ad formats.
The recently launched smart ad network was created to meet the growing demands of advertisers and publishers, and provide a better experience for users.
The Netherlands-based platform aims to solve common problems faced by global affiliates – namely finding high converting traffic sources in popular verticals.
While the ad network itself is new, the team behind Bidvance is no stranger to advertising with over 10 years of experience with the Digital Minds Group – a successful digital marketing agency with a proven track record in search marketing, social media marketing, display advertising, and conversion rate optimization.
What is Bidvance?
Bidvance is an effective ad network, with billions of daily impressions in over 50 countries worldwide, along with advanced targeting & optimization tools. They support popular and engaging ad formats that will boost your conversions and ad performance.
They're hot on auto optimizations, retargeting ads, and have plenty of advanced features such as time and IP list targeting.
While anyone can sign up – and the platform itself is beginner-friendly – it's recommended that you have a sizable advertising budget to get the most out of it.
This is partly due to the nature of the verticals it's geared towards, as it may take some time before you see a steady stream of conversions in your account.
If you're new to the game it's still worth creating an account, as you'll have access to a decent source of high-quality traffic that you can tap into as your skills improve.
Create Your Account
Ready to see what all the fuss is about?
Registration is quick and easy and you'll be able to access the platform right away. Click here to register a new advertiser account and start advertising with Bidvance.
Get 10% extra on the value of your first deposit (from 50$ to 1000$) using the promo code WINBIDVANCE.
Funding
You can fund your account by PayPal, Credit Card, and Wire Transfer.
The minimum deposit for Bidvance is just $50, which in our view is a steal!
This entitles you to bid on some of the highest quality premium traffic in the betting vertical – but you may need to top this up before you start to see results.
You'll also be able to set up alerts on your advertising balance to make sure your funds don't run out.
Dashboard
When you first log in to your account you'll see the Bidvance dashboard. This will give you an overview of your views, clicks, and costs over a specific time period.
You'll also be able to view your remaining balance, along with the top 5 campaigns, countries, and operating systems.
There's a quick settings tab on the footer of the dash, or you can just use the sidebar to access the other areas of the platform.
Don't be surprised if you don't see anything in this section right away. Once you've been running campaigns for any length of time you'll be able to come back to the dash and see the various graphs populated by your data.
Ad Formats
Bidvance offers 6 ad formats:
Banners – These focus on the most popular placements with the highest traffic volume.
Popunders – This CPM ad format is still working well in many verticals and can have higher payouts than display ads.
Interstitial – These low-cost ads are resistant to popup blockers. They appear between content pages and typically have a higher CTR compared with other ad formats.
Push Ads – Push ads have excellent user engagement stats and bot-free traffic, with the added benefit that subscribed users have opted-in to receive push ad notifications.
Native – This is an ad format with high volume that blends into the surrounding content to increase clicks.
Redirects – These ads can be placed on parked domains and redirect the user to your lander.
It's up to you which ad format you choose for your campaign. If you're not sure or want to split test the options you can create multiple separate campaigns – one for each ad format – and then review the stats to see which converts best for your offer.
Create Your First Campaign
Once you've filled in your profile details and funded your account, it's time to create your first campaign. Bidvance has all the usual targeting options with some additional bells and whistles to boot!
First, choose a name for your campaign. You can make this specific to your adzone level, offer and Geo to help identify it later in the reports.
Next, choose your advertising method (ad format), tags, adzone filters, payment type and category.
Note: Not all payment types are available for all ad formats.
Finally, choose your category and daily budget.
On the second tab of the campaign creation tool you can select your Geo. Make sure this aligns with your offer.
On the third tab, you add your traffic type filters. Select device type, OS, browser, languages, connection type, webview traffic, and ISPs as required. This defaults to ALL if you don't enter anything specific in the boxes.
Targeting
Select the time and days you want your campaign to run and assign a frequency cap for impressions. Bidvance even allows you to set the cap per source or per visitor, which can give you greater control over your campaign.
On the final tab, you get to add your creatives. Once these have been validated choose your bid and set them to active to start running your campaign.
If you're stuck for ideas, check out the BannerPool, which features top-performing ads in just about every vertical you can imagine. This is just like having an ad spy tool built-in.
The campaign creation tool is simple enough for newbies but is also packed with enough features to make it attractive for advertisers who need extra control over their targeting.
Tracking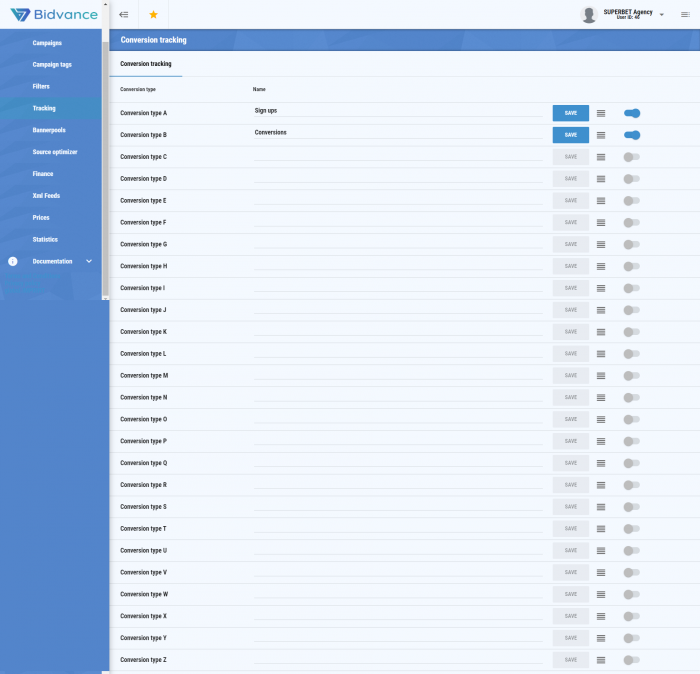 The tracking implementation is pretty standard and works with postback URL and tracking pixel. Experienced users will have no trouble setting this up, or ask your account manager for help if you get stuck.
Bidvance will integrate with all the top trackers, and users who have previously used tracking URLs will feel right at home.
There's a neat feature on the platform which allows advertisers to assign unique identifiers to conversion types.
You can use this to track signup, conversions, along with any other goal you have in mind.
Optimization
Click the source optimizer tab to optimize your campaigns. The popup box has 4 tabs: General, CTR Optimizer, Bounce Rate Optimizer, and Actions.
You can give your source optimizer a name, which will help you identify which filter types perform the best.
Next, choose your filter by AdZone level and set your minimum spend. This will allow you to target high-performing adzones for your campaigns.
With all the optimization tools, it can be easy for new affiliates to start tweaking their campaigns too early. Our advice is to let your campaigns run for a few days at least before making any adjustments. This is because certain sites in some verticals may be slow to report conversions.
Analyze Your Performance
The Bidvance statistics tab makes it easy to see your ad performance over time. Simply select your time period and filter by ad types, conversion types, and device types.
The data includes Impressions, Clicks, CTR, CPC, CPM, and Cost, so you can easily identify low-performing ads. There's also a neat graph to help you visualize the relationship between clicks and views
If you want to export the data to use with another program, you can do that from this tab as well.
Filters
Bidvance supports whitelisting and blacklisting. You can check any filters you are using from the filters tab. This lets you select high or low-performing adzones to include or exclude from your campaigns.
Top Verticals to Use with Bidvance
While you can use just about any type of offer with Bidvance, you'll get the best results in the following verticals:
Finance
Apps
Software
Streaming
Gaming
Gambling & Casino
E-Com
Dating
Cams
Nutra
CBD
Some of the larger pubs are live streaming and entertainment websites.
These are a rich source of converting traffic for betting offers, so make sure to do your research beforehand if targeting this audience.
For example, you can use seasonal offers and daily promos on sports sites to catch the user in the moment.
Support
There's decent support and advertisers can contact their account manager via email or hit them up on Skype.
I found the team full of knowledge and super responsive to any queries, so don't overlook this perk!
Verdict
Bidvance is an interesting platform with huge potential. They have all the tools you need to reach the right audience at the right time and scale up your business.
There's ample ad-tech to help boost your conversions and get more of your ads seen by the users most likely to click. Advanced users will also be able to access the API service and XML Feeds if they need them.
With Bidvance, it's not just about the features on offer. They're also a sweet source of high-converting traffic, especially in the betting niche, and they're already starting to attract a lot of high-profile players.
Our advice?
Get in now and reap the rewards!
Register today and get a 10% extra on the value of your first deposit (from 50$ to 1000$) using the promo code WINBIDVANCE.
Contacts and Details
Email: sales@bidvance.com
Minimum Payment: $50
Cost models: CPC, CPM
GEO: Worldwide
Payment Methods: Credit Card, PayPal, Wire Transfer
Minimum Deposit: $50
Verticals: Gambling, Nutra, CBD, Dating, Cams
4897,5401,9295,14739