Trunk Club is a service that lets you try clothes and accessories without ever leaving your home. Read about how Trunk Club works here, plus my latest shipment details. This isn't sponsored, but you can use my link for $50 off your first trunk!
Hi friends! How's the week going so far? I hope you had a lovely weekend. We had an auction at the girls' school (so fun!!) and celebrated a promotion that the Pilot had at work. Good things all around. For today's post, I wanted to share a recap of my latest Trunk Club and a review of how it works. I've been a fan of Trunk Club for years and it's a fun way to try new things and seasonally refresh my wardrobe. I typically only get shipments every couple of months, but since my last shipment was so great, I requested another one.
How Trunk Club Really Works
What is Trunk Club?
Trunk Club is a personalized styling service that enables you to try Nordstrom clothes, shoes and accessories at home before deciding what you'd like to purchase. Your Trunk is curated by a Nordstrom stylist, and you're able to interact with them through the handy Trunk Club app. It's convenient to message your stylist and let them know what types of pieces you're looking for and give them instant feedback on their suggested items.
When you first set up your account, you'll complete a short style questionnaire. Your stylist uses these quiz results to determine styles you like as well as your current sizing. Next, you're introduced to your stylist, who will curate items just for you. You have the opportunity to preview the items before they're sent (as well as reject or replace items you don't like or need) and try everything on once it arrives on your doorstep. From here, you pay for the items you want to keep, send the rest back, and repeat as often as you'd like. 😉 I LOVE that everything is from Nordstrom, so I know it's going to be high quality pieces from my favorite brands.
How much does Trunk Club cost?
Trunk Club charges a $25 styling fee, which goes towards any products you decide to purchase. If you have a Nordstrom credit card, the styling fee is waived. It's a subscription service, but you don't have to receive deliveries on a fixed schedule; you can simply request a new trunk whenever you're in the mood.
How Delivery Works
Delivery is always SUPER fast and I'm constantly surprised by how quickly I receive my trunks. When you get the box on your doorstep, it feels like Christmas.
Return Shipping
Return shipping is very easy. You just put everything back into the original box, affix the prepaid label to the front, and seal, using the enclosed tape. From here, you can request a free UPS pickup (they've also used FedEx) or drop it off at the closest location.
Reviewing Items
This is the obviously the best part of the process! It's a nice way to nudge me out of my comfort zone and I'm constantly finding new styles and brands I like, thanks to my amazing Trunk Club stylists. I also love when they include sample outfit ideas in their suggestions, using pieces I've kept from previous Trunk Club deliveries. They always take my preferences to heart and are guaranteed to send at least a couple of pieces that I'll wear on rotation.
Here are the goods that I received in my latest shipment.
1. Pistola Cam Paperbag Waist Jeans
I'm on the fence about these ones. Why are pants so weird right now? And why do so many styles make your butt look long and flat lol? Verdict: return
2. River Island Space Dye Off the Shoulder Top
I liked the neutral color and fit of this one and am constantly on the hunt for cute everyday tops. At the same time, I didn't love the fit or the fabric. Verdict: return
3. River Island Floral Button-Up Shirt
Button-up shorts are my fave, but this one felt kind of meh to me. I wasn't crazy about the print. Verdict: return
4. Treasure & Bond Plaid Boyfriend Shirt
Plaid shirts look cute, but I feel like a lumberjack most of the time. I have a few from Rails and wasn't sure if I'd keep this one. It's incredibly soft and I can tell I'll wear it a lot with jeans and leggings. Verdict: keeper
I thought this was going to be a keeper before they sent this shipment and figured this would be cute with jeans, booties, and hoops. I'm constantly looking for everyday blouses that look put-together. When I put on this one, I knew it was all wrong. It looks like jousting attire lol. Verdict: byyyeeeeee
6. Rails Beatrice Printed Tie Waist Long Sleeve Midi Dress
Rails is one of my favorite brands, so my stylist usually includes 1-2 Rails items (that I keep most of the time!). I LOVE this dress. (There are limited sizes at Nordstrom right now, but it's here at the Rails site.) The fit is perfect, the print is understated, it's the Rails quality that I adore, and I know I'll wear it a ton this with heels, booties, and sandals. Verdict: keep!
7. Madewell Sweetheart Thong Bodysuit
Keeper! Can dress it up or down and another cute everyday shirt option.
8. MOTHER Fray Hem Bootcut Jeans (pic above)
I'm so weirded out by the fact that bootcut jeans are back! What are you thinking about this? Yes? No? I have to say, I love bootcut jeans but I don't know if I'm ready to transport back to the early 2000s. Skinny jeans are still my #1. Verdict: not sure!
9. BB Dakota by Steve Madden Textured Long Sleeve Shift Minidress
Adore this color for fall and the fit. It doesn't get too cold here for a couple of months, so I'll definitely get some wear out of this one. The only bummer is that it's a bit see-through, so I'll wear my Spanx shorty leotard underneath it. Verdict: keeping
10. Paige Raundi Shoulder Cutout Wool Blend Sweater
I knew I was going to love this sweater, but at $250, it wasn't worth it to me. Verdict: sending back.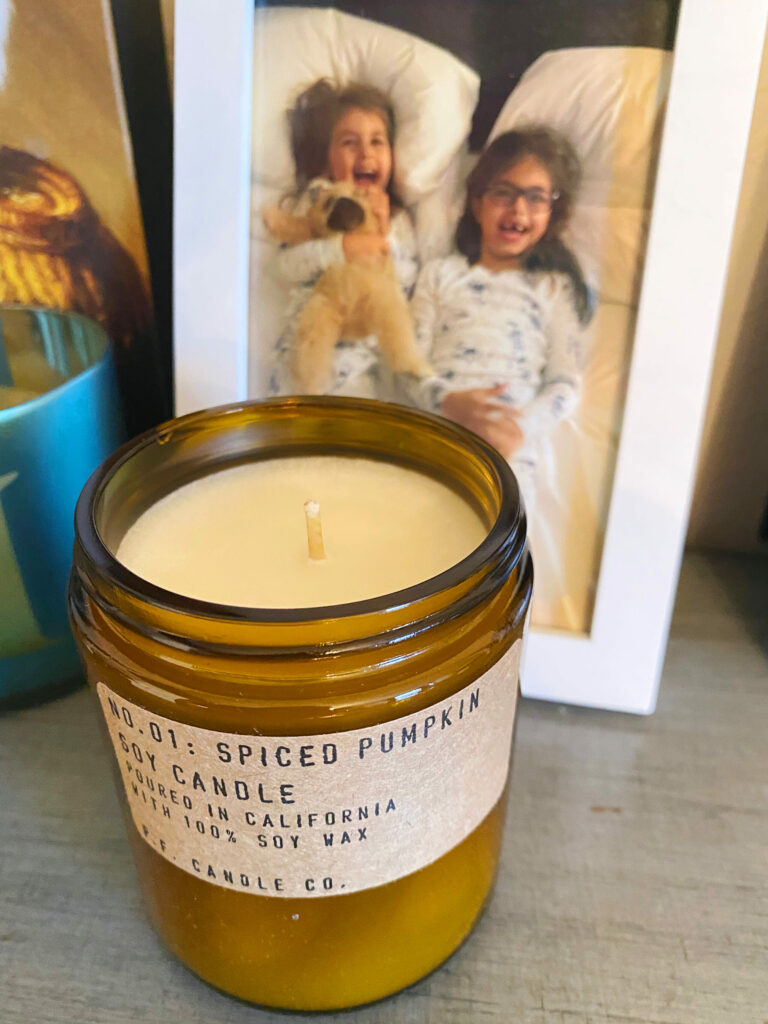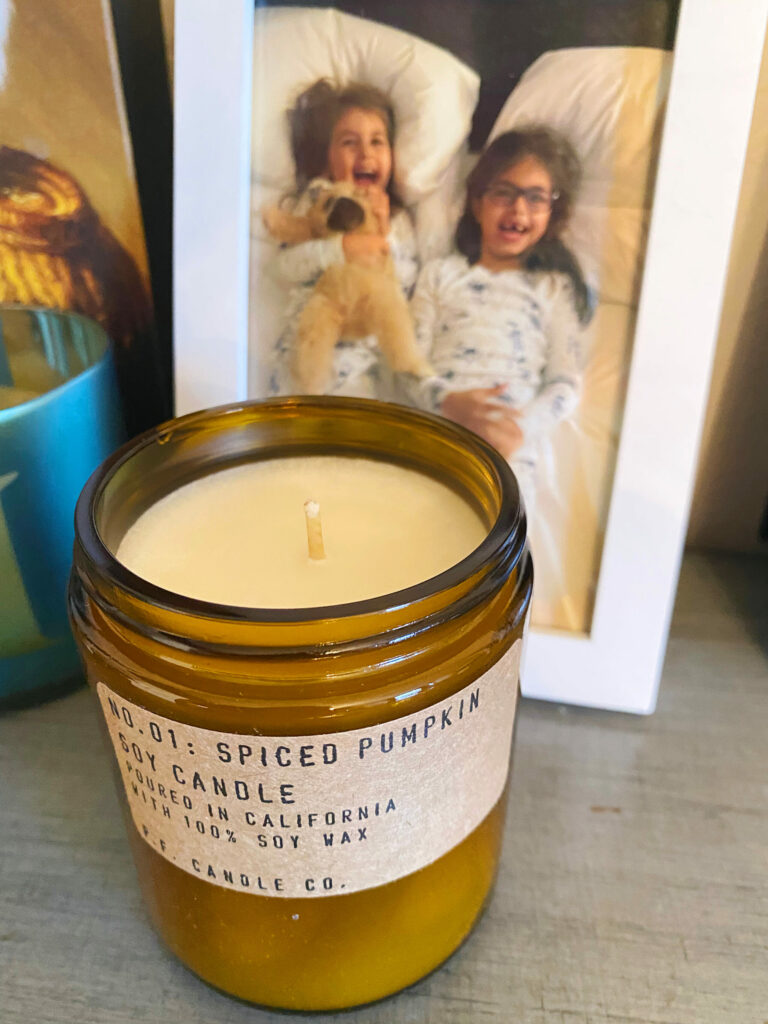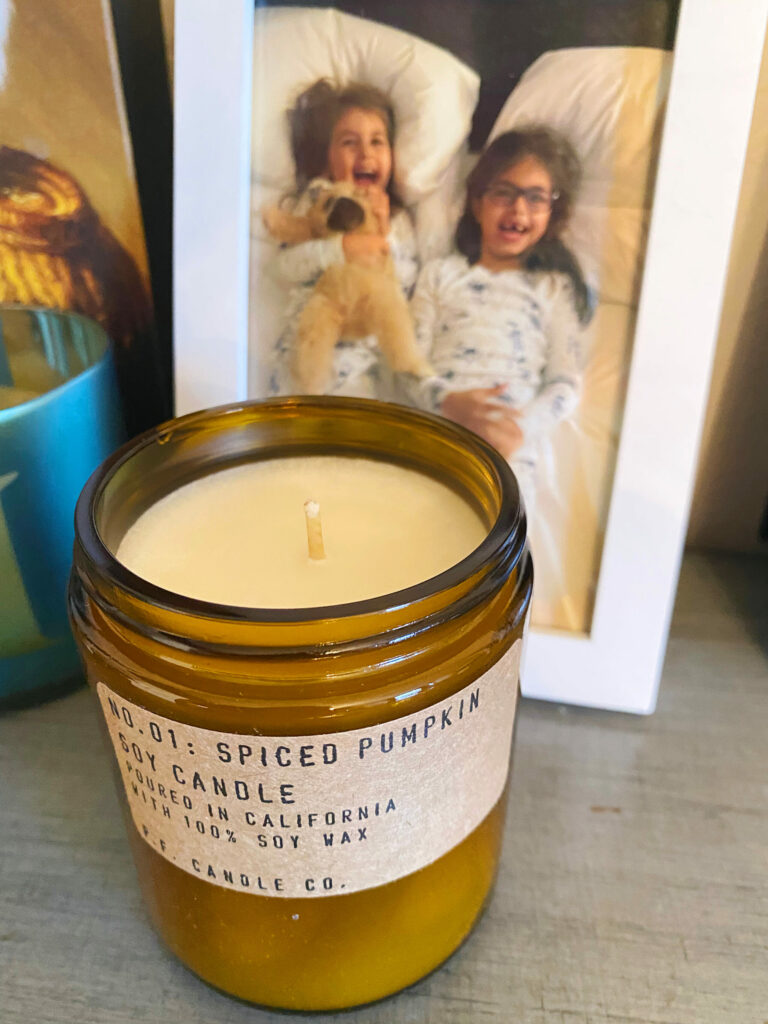 11. PF Candle Company Pumpkin Soy Candle
I added this to my shipment when I saw it as a potential add-on. One of my fave things about using the app is that you can easily add in everyday essentials, athletic wear, accessories, beauty products, and home goods. I'll typically add in a Madewell v-neck tee, some Zella clothes, or sunglasses/jewelry. The pumpkin candle is amaaaaazing and makes the house smell beautiful.
How does Trunk Club compare to Stitch Fix?
Stitch Fix was a fave of mine for so many years, but the quality went downhill, as well as the styling. I was constantly disappointed by my fixes, or I would end up keeping something to have it fall apart in the wash. I stopped using Stitch Fix for myself, and exclusively use Trunk Club now, but will still use Stitch Fix occasionally for the kids. Our last fix was a giant flop for fall clothes for them, so if you have a kids' styling service you adore, please let me know! (I was bummed when Mac and Mia closed down because they were the best for kids' clothes.)
So tell me, friends? Have you tried Trunk Club? If you haven't yet, use my link for $50 off your first delivery. It's my fave personal styling service and I hope you love it as much as I do!
xo
Gina
JavaScript is currently disabled in this browser. Reactivate it to view this content.
More Trunk Club posts:
September 2020 Trunk Club review
September 2021 Trunk Club review