Hi friends! How's the morning going? I hope you're enjoying the week so far. I'm here with the girls, enjoying the cooler weather, and looking forward to some adventures later today.
For today's post, I'm popping in with a little WIAW aka What I Ate Wednesday (on a Tuesday). Keeping things wiiiiild. 😉 I've been following the macro plan I created for myself with Precision Nutrition, and thought I'd share some of the goods. The girls are home and things have been busy, so lots of quick and easy meals around here.
Here's what a full day of eats looks like lately:
7:35 I finish off the rest of the gluten-free peanut butter pretzels while I wait for my coffee to heat up. (These are the Quinn brand from Thrive Market and they're insanely delicious.) I always have a little bite of something while I'm making coffee, whether it's half a Go Macro bar, a protein ball, a bite of chocolate (real life) or something random like this.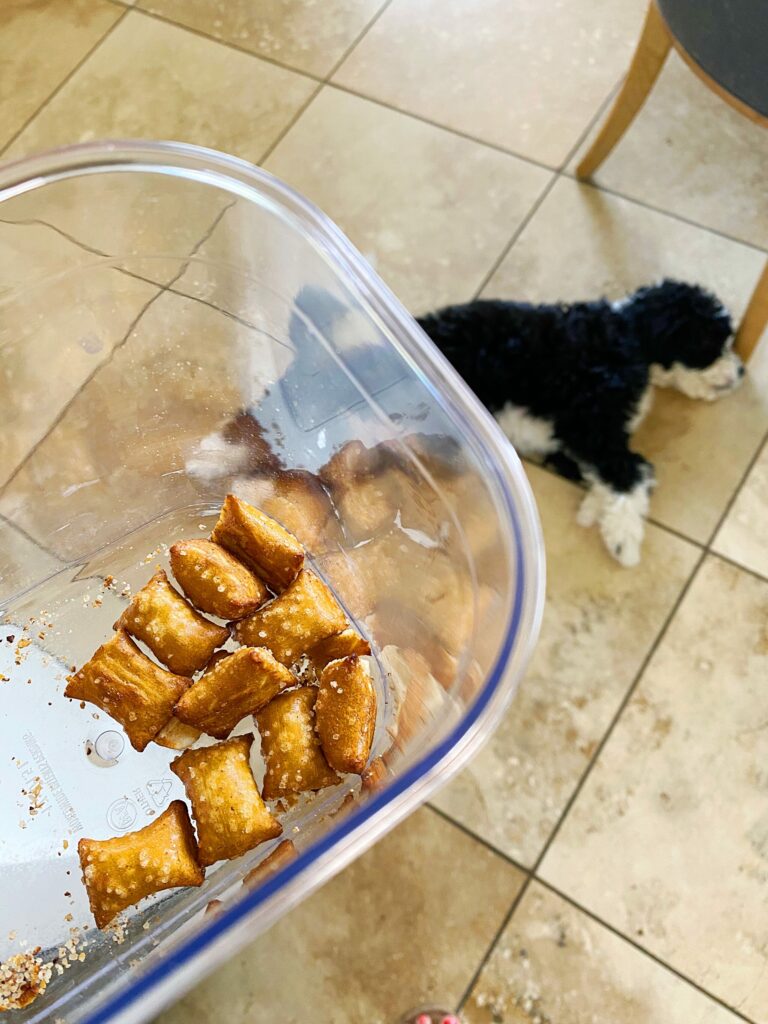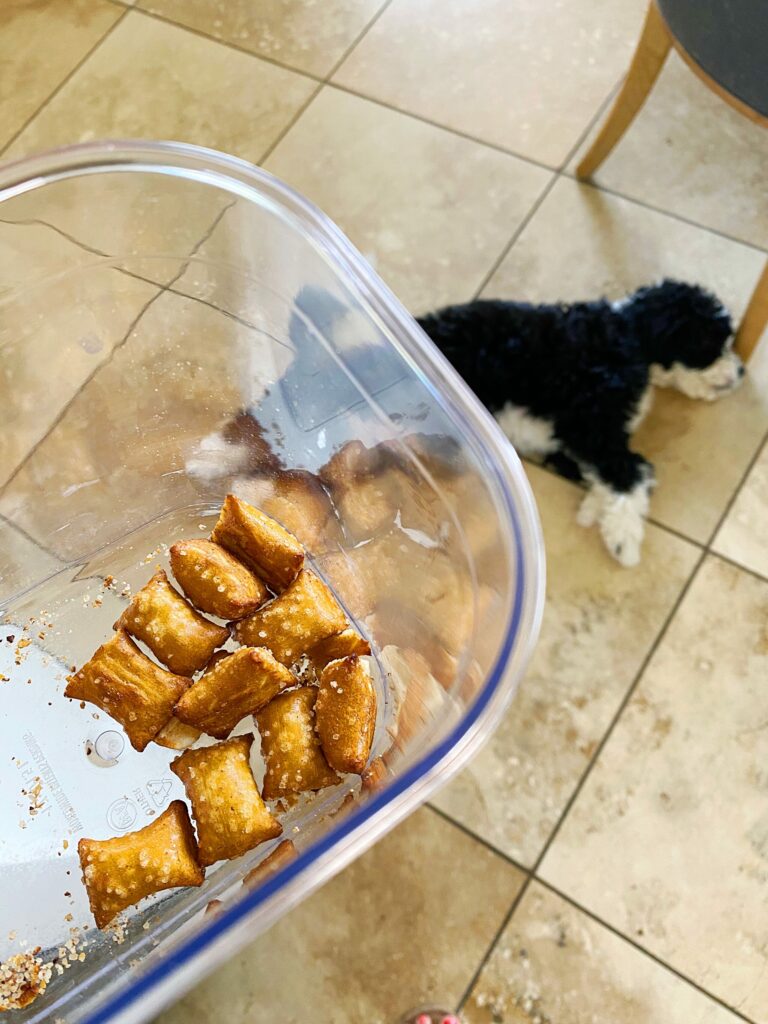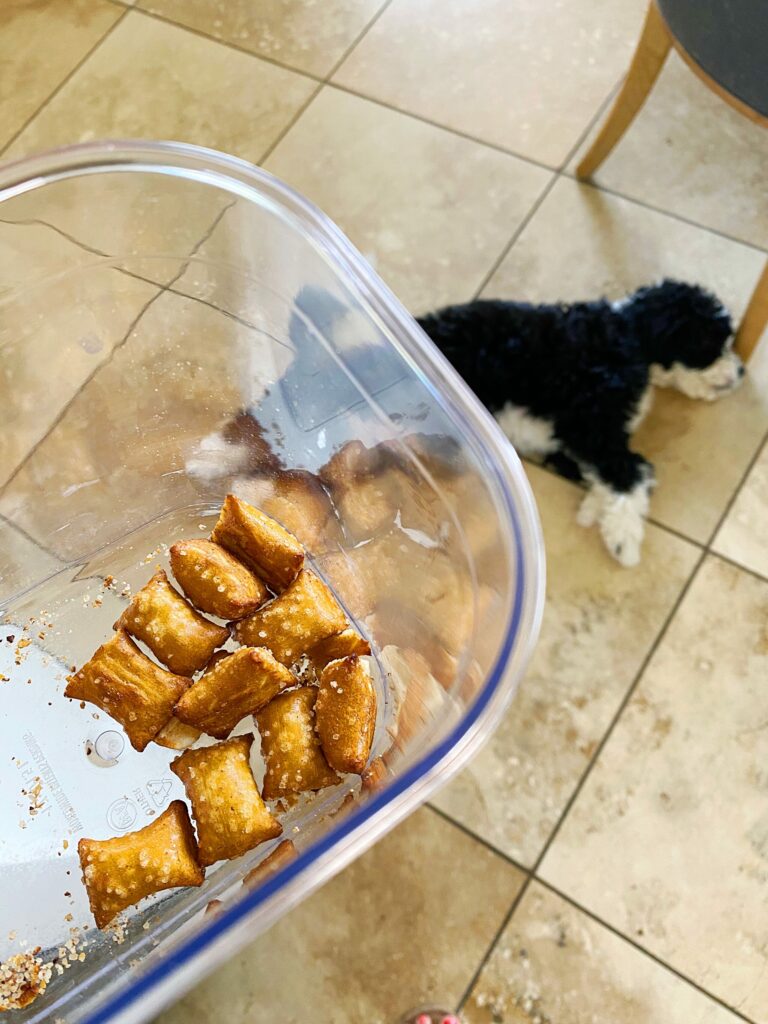 Collagen coffee + supplements for the day:
And a little while later (around 8 or so): some eggs with two rice cakes + almond butter and jelly
10am Post-workout: smoothie with 1 cup almond milk, 1 cup blueberries, riced cauliflower, Truvani protein powder, spinach, and a tablespoon of chia seeds
1pm: lunch! Siete tortillas with mayo, avocado, tomatoes, spinach, and chicken breast + some chopped carrots
4pm-ish afternoon snack: An apple, a turkey jerky, + Organifi red juice (SO good in the afternoon)
7:00 Dinner: Quick and easy shrimp pasta meal. I boiled some Banza rotini and while it was cooking, I sautéed some zucchini with 2 cloves of garlic, 1/2 teaspoon oregano, salt and pepper. I also sautéed 1 lb of shrimp in a separate pan, with butter, 3 cloves of minced garlic, salt, and pepper. When the noodles were finished cooking, I drained them, added the shrimp to the noodle pot, and stirred in half a block of soft vegan cheese with herbs (it was the Miyoko's vegan garlic and herb cashew cheese). I added about 3/4 cup of almond milk to thin it out to make a sauce, stirred the noodles back in, and boom. Dinner was done in less than 20 minutes.
(LOVE these bowls. We finally updated our dinnerware after 84 years and feeling like grown adults since everything matches now. Also, I'm sorry for the photo quality here. We're all glad I've mostly transitioned out of my ol' food blogger ways.)
Wins from the day: I feel like I did a good job balancing my meals for the day. Since I've been following the Precision Nutrition plan I created for myself, it's made it so much easier to check off the boxes for protein, carbs, and healthy fats and feel satisfied and energized throughout the day (without needing to calculate, measure, or weigh anything). Sometimes it's hard for me to hit my protein goal, but I made it happen. Having the chicken in the fridge already cooked for lunch made a huge difference. I'm also pumped that I didn't skip any meals. It's something that happens in life but is counter-productive. You really feel better and see results when you fuel yourself.
What I could have done better: I was a bit low on veggies I'm really trying to get in more veggies and leafy greens, and while I hit a few (cauliflower, spinach, carrots, zucchini), I usually like to get a bit more. This day also didn't include wine or chocolate, so not my #1 day of meals. 😉
So tell me, friends: what's the best thing you ate yesterday? Any favorite high-protein meals you'd like to share? I'm compiling a bunch together now for a bonus recipe guide, so please share some of your faves!
Have a wonderful day and I'll see ya soon!
xo
Gina