As we near the 14-month anniversary since the first outbreak of COVID-19 was identified in December 2019, it is time to draw attention to the people who had COVID-19 and have been left with prolonged and sometimes new symptoms which they have been struggling with after the disease.
When our COVID-19 pandemic article was published in July 2020, COVID-19 symptoms were still being understood and the COVID-19 statistics were 13.3 million cases of COVID-19 had been reported globally and over 577,000 deaths. [1] This was at a time when global testing for SARS-CoV-2 was insufficient and we were learning how to treat hospitalised patients with appropriate treatments and care for a disease which no one had ever treated before. Today the current case count can be seen at the John Hopkins University COVID-19 information: https://coronavirus.jhu.edu/map.html and figures are 112,338,428 COVID-19 cases and over 2,490,503 deaths globally. These figures represent the COVID-19 cases which have been tested for, but the actual case numbers of COVID-19 cases are likely to be far higher due to inadequate testing, people not presenting for testing and also due to asymptomatic cases who will not necessarily present for testing. Seven months later we have learned a lot, but the pandemic is still ongoing, and we are currently in a race to vaccinate the population globally whilst heading off the rise of the new variants of COVID-19 and minimize their effects, so they do not gain a foothold.
With so many recovered cases of COVID-19, people have been reporting that even though they are no longer infectious or testing positive for SARS-CoV-2 that they are experiencing some symptoms which never go away or develop new symptoms unrelated to the initial infection. With the advent of time research papers are now becoming available and its being understood that there are long term effects of COVID-19 which will have a great burden on the person experiencing the long COVID symptoms and also the health services who may be needed to help manage these patients.
PASC / Long COVID Syndrome: It is now recognized that Long COVID syndrome is clinically known as Post-Acute Sequelae of COVID-19 (PASC). Other terms which have been used in the past months have included Post-acute COVID-19, long COVID, post-COVID, long haul COVID and the people who it affects have been referred to as 'long haulers.
Those with PASC are experiencing long-term effects of COVID-19, whereby they are experiencing symptoms and do not fully recover for weeks or months after the start of their symptoms, some may have required hospitalization and other may not have been hospitalized. The time frame is still being defined as to what represents PASC, but many researchers define it as extending beyond 3 weeks since symptom onset and chronic COVID-19 as extending beyond 12 weeks. [2] A study released last week has in JAMA has now followed up patients for 9 months since their illness onset so the time frame is widening, and we can expect that to continue as COVID-19 has only been with us for 14 months and its long terms effects are only just beginning to be seen. [3]
PASC Prevalence: The actual prevalence of PASC is difficult to determine as we are still learning about its effects but what we can see from research carried out is the following:
Data from the United Kingdom's office for National Statistics found that 1 in 10 respondents who tested positive for COVID-19 exhibited symptoms lasting 12 weeks or longer. [4]
1733 discharged patients were enrolled in a study from Wuhan, China and followed up for six months post COVID-19 infection. 76% of these patients reported that they still had at least one symptom at 6 months after symptom onset and the proportion was higher in women. [5]
A large study which has just recently appeared as a pre-print on medRxiv reports on the survey results of 3,762 self-described COVID 'long hauler's' from 56 countries. The outcome found patients with long COVID had prolonged multisystem involvement and significant disability. Most had been unable to return to previous levels of work by 6 months after symptom onset. [6]
PASC Symptoms: From this last study [6] of the 3,762 adults' respondents we have more of an idea of what symptoms the long haulers are experiencing. They found a prevalence of 205 symptoms in 10 organ systems with 66 of those symptoms traced over seven months.
Common symptoms seen for 6 months or longer included:
Fatigue

Post exertional malaise

Cognitive dysfunction

Palpitations

Skin rashes

Constipation

Gastroesophageal reflux

Tinnitus

Blurred vision

Joint pain

Muscle spasms

Brain fog

Memory loss – short and long term

Neuralgia

Tremors
The systems of the body affected included Cardiac, Respiratory, Neurological, Dermatology and Gastrointestinal.
Other symptoms as well as above were seen in long haulers with symptom duration under six months including:
chest pain

tachycardia

depression

chest tightness

dizziness

headache

change in taste and smell

shortness of breath

headaches

insomnia

hallucinations
Out of the information gathered from the respondents what was an interesting fact was that 56.7% had never been hospitalized with the initial COVID-19 infection, 34.9% had visited the ER or Urgent Care and only 8.4% had been hospitalized. This shows the burden of PASC / Long COVID may be great in the year to come as it does not just affect people who were chronically sick with COVID-19 and required hospitalization.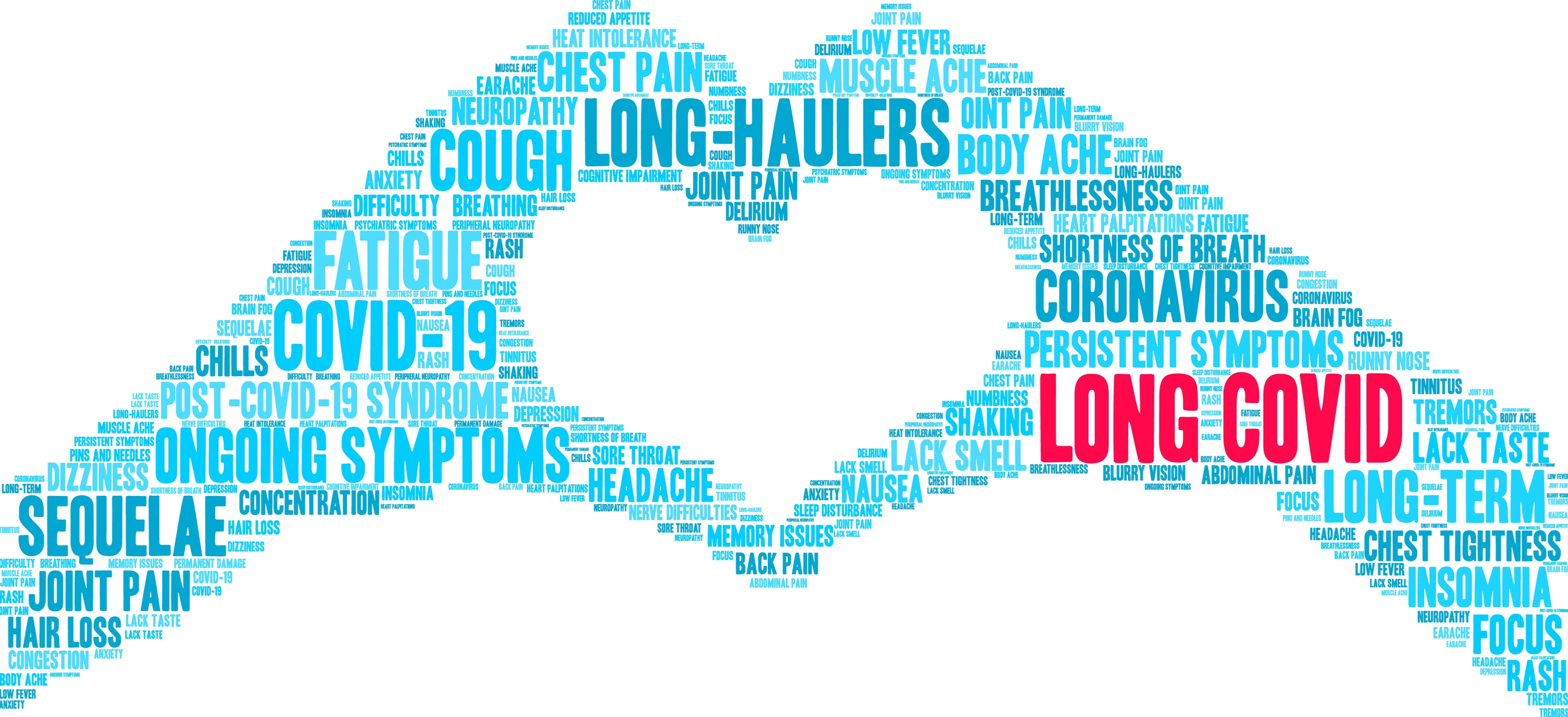 Differential Diagnosis Of PASC:
With the multitude of symptoms which PASC can present with it is important to focus on generating an accurate differential diagnosis to ensure you have fully considered the various diseases which present with those symptoms.  This will ensure your patient receives an accurate diagnosis and that Long COVID is recognized early as a possible cause and raise awareness.  The Isabel Differential Diagnosis Tool can assist helping you think through the possibilities.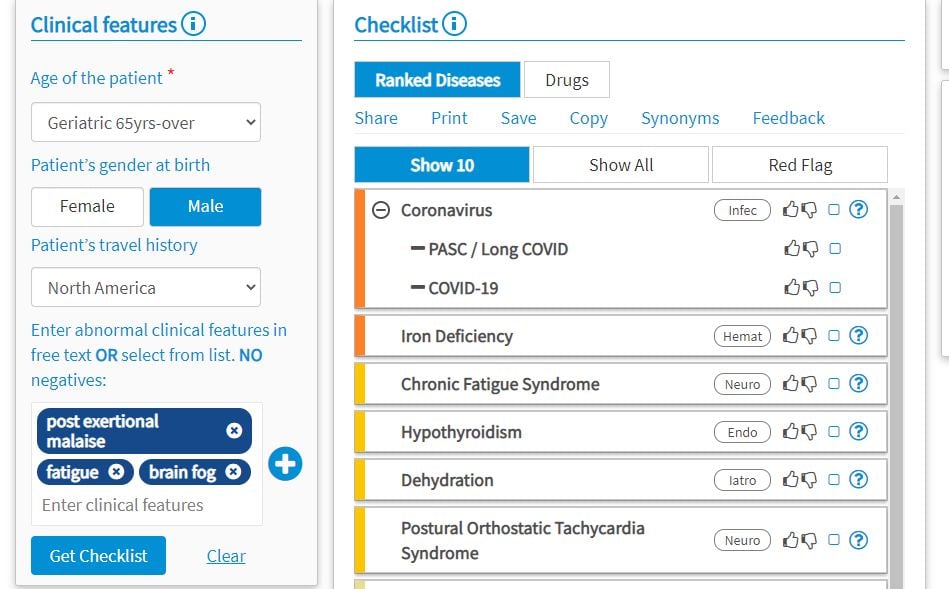 Long COVID / PASC symptoms in the Isabel differential diagnosis tool
Preparation for the ongoing burden of PASC: The data is fascinating and as we work to understand this new Post-Acute Sequelae of COVID-19 (PASC) or Long COVID Syndrome we need to prepare to support patients who are experiencing this condition. Community rehabilitation services will be important in helping support patients and manage their condition until they can fully recover. Providing timely information is also needed and  supporting patients who may experience significant co-morbidities as a result of long COVID. Recognition of the sequelae of COVID-19 and complications that can arise is extremely important especially as there will be people who never received a confirmed SARS-CoV-2 test at the time but accurate history taking should indicate they were exposed to COVID-19 or their symptoms determine they had COVID-19. Research into PASC is still in its infancy and more will be determined over the coming months but judging by the number of cases of COVID-19 we have had and due to the ongoing pandemic, there will be significant economic and health impacts on society globally for many years to come as a result of long COVID.
References: