We count down our top 20 pop instrumentals of the 80s… By Matthew Rudd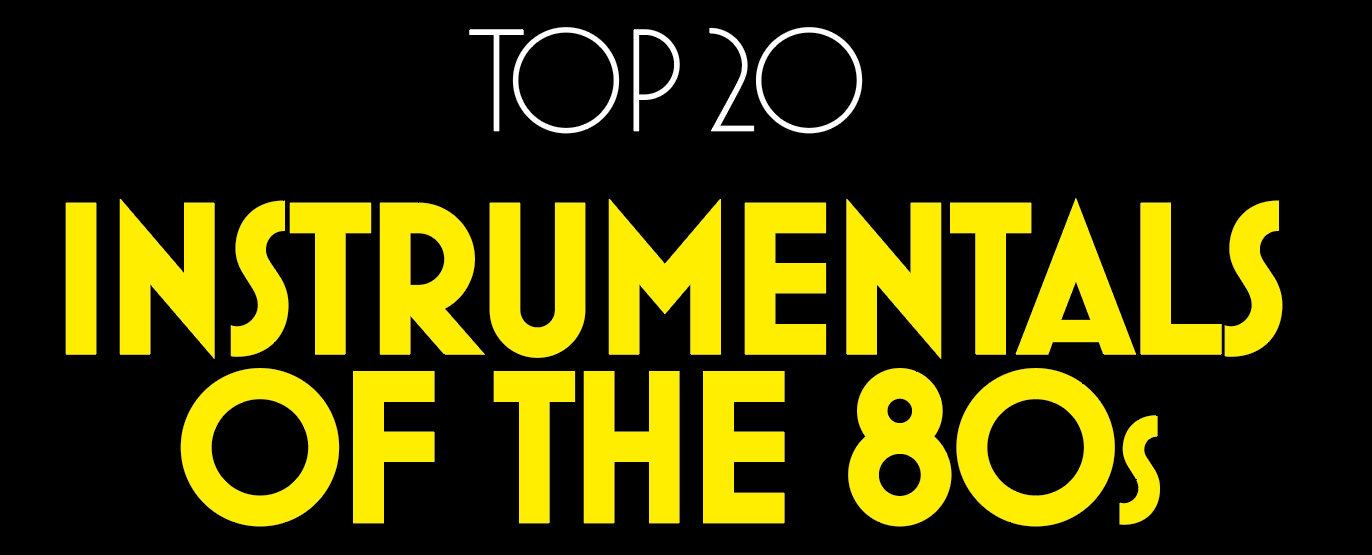 While the vocal power, stage presence and charisma of a good frontperson is always handy when making a career in pop, there were enough examples in the 80s to prove that record-buyers were happy to enjoy an opportunity to appreciate the material without distraction.
House, jazz-funk and classical acts often relied wholly on the musicians' craft, while singerless TV themes and film scores also grabbed a lot of attention.
So, here's our Top 20 pop instrumentals of the 80s, all of which needed to make the Top 40 to qualify – and where there are samples or random outbursts, we've included them if we can imagine Smash Hits not needing to publish a lyric sheet…
20 – Jazz Carnival: Azymuth
A slice of relentless, ecstatic Brazilian jazz-funk, complete with early 80s sound effects which powered into the Top 20 in the opening weeks of 1980, The Rio trio's heritage is well represented by the samba rhythms at work here and the beat and key remains constant while a different sounding improvised electronic solo takes over from the next. Buoyed by its success, they moved to the United States afterwards to promote their MPB ("Musica Popular Brasileira") brand, releasing a number of albums without finding the same commercial success.
19 – Riders In The Sky: The Shadows
The Shadows were determined to do whatever they wanted in their later career, knowing there'd always be enough interest. On their modern covers album, String Of Hits, their last success in the singles chart was a Fender-led version of the classic country storyteller that they couldn't have made more Shadows if they'd tried.
The album made No.1 and the single got to No.12 in 1980, following Top 10 successes at the end of the 70s with Don't Cry For Me Argentina and Cavatina (otherwise known as the theme from The Deer Hunter).
18 – The Real Wild House: Raúl Orellana
Frenetic and very of-its-time house stomper, with the chord-establishing piano track and a handful of sampled library vocalisations, plus the title reference from Iggy Pop.
The razón de ser of Barcelona DJ and producer Orellana was putting meticulous Spanish guitar into his records, and it soon becomes the dominant factor in what is, on reflection, a contradictory track; very basic, effective house that requires noticeable musicianship. Aided by the growing number of dance music shows on radio, it reached a Top 30 position in 1989.
17 – Cacharpaya: Incantation
A collection of staff musicians at classical ballet company Rambert volunteered to learn traditional tribal instruments in order to authentically soundtrack a new production based on political oppression, using the music of a Chilean folk group.
The show was so successful that the group were offered a deal by Beggars Banquet, selected their name as an extension of 'inca' and the panpipe-led track with its winsome rise in tempo at the end raised many a chartwatcher's eyebrow when it reached No.12 in 1982.
16 – Chi Mai: Ennio Morricone
Written a decade before and used in countless movies and ads, Chi Mai (Italian for 'whoever') caught on conclusively when it was chosen as the main theme to BBC2's Philip Madoc-headlining The Life And Times Of David Lloyd George in 1981.
Haunting and understated, it was one of the decade's biggest surprises when it ended up at No.2 for a fortnight, stalled only by Bucks Fizz's success at Eurovision. Legs & Co donned wide-brimmed feathery hats and red dresses with long hems for Top Of The Pops.
15 – Et Les Oiseaux Chantaient (And The Birds Were Singing): Sweet People
Take a calming, circular chord sequence, played in slow-mo on electric piano, and then glue on generic springtime birdsong with the odd stage-hogging cuckoo, and you have one of the more bizarre hit singles of the decade.
The brainchild of Swiss musician Alain Morisod, it started out as Le Lac De Côme, a No.1 in Canada, before Morisod's brother suggested stripping it down to just a basic keyboard underscore and adding the heralded dawn chorus. It reached No.4 in 1980.
14 – Miami Vice Theme: Jan Hammer
The chart was very receptive – perhaps a little too receptive at times – to theme music from TV shows in the 80s, but a fine exception was this menacing opener to the supercool detective series, which was condensed down to just under a minute when accompanying the opening images of flamingos, windsurfers, bikinis and limousines.
The synthesised main riff is the singable bit, though the echoey, rising, toe-to-toe crescendo was the highlight. It topped the chart in the US and reached a respectable No.5 in the UK.
13 – Toccata: Sky
Toccata And Fugue In D Minor, to label it correctly, was a Johann Sebastian Bach composition and, thanks to a prog rock arrangement involving names as illustrious as Herbie Flowers, bassist to all, and classical guitarist John Williams, it found its way to No.5 in the charts in 1980.
Sky were formed specifically to make contemporary versions of classical pieces but this single was merely a brief diversion into commercial acclaim, as they barely bothered with the chart afterwards, preferring to concentrate on albums.
12 – The Scratch: Surface Noise
More jazz-funk goodness. Surface Noise was a pseudonym for British producer Chris Palmer who had a studio and a label called Groove Productions. It follows a standard recipe for bounding jazz-funk tracks but its bassline is especially meaty, impressively audible and dominant even when the initial synth melody line is replaced by a clearly busked sax solo.
Legs & Co cavorted on, around, behind and under an enormous sofa for their Top Of The Pops interpretation in 1980 as the track peaked at No.26.
11 – Summer Madness: Kool & The Gang
A staple of chillout zones in jazz-funk haunts as patrons grooved to a smokin' mid-tempo beat and clambering octave lick from the Moog. It grew with the sampling boom, and to date has been stripped for parts more than 100 times, most notably on Summertime by DJ Jazzy Jeff And The Fresh Prince, who nodded to the title in their final verse.
Originally from Kool & The Gang's 1974 album Light Of Worlds, the song qualifies here as the double A-side of Jones Vs Jones and as a pair they made the UK Top 20 in 1981.
10 – Garden Party: Mezzoforte
A mesmerising lark around with the fusion idea, with the Icelandic jazz-funk legends contrasting the lead sax with a tremendous flugelhorn solo to create a superb jam, on top of a joyful groove which never enervates, irrespective of which elongated version emerges from the speakers.
The brass section provides discipline within a piece reliant on its fun and freedom, and the track endured long after its Top 20 peak in 1983, thanks to commercials and a slower cover by Herb Alpert.
9 – The Jack That House Built: Jack 'n' Chill
Commercial producer Ed Stratton used his spare time at the radio station where he worked to create his own house record, piling up various samples he had archived and using the opening exclamation on Jack Your Body, as well as a few 'yeah' cutaways from Evelyn 'Champagne' King's Your Personal Touch.
Every bar of a tenacious beat had something different spread on it, making it a truly exciting track. It flopped initially on its first release in 1987, but the house boom of early 1988 eventually got it into the Top 10.
8 – Hooked On Classics, Royal Philharmonic Orchestra 
"Classical disco" wasn't a genre many had considered prior to ELO conductor Louis Clark's eyebrow-raising experiment that had the Royal Philharmonic Orchestra doing the essential classics for the masses – Tchaikovsky, Mozart, Handel etc – while keeping to a beat, with fiddlers' fingers on fire after the quickest rendition of the 1812 Overture in existence.
Highbrow souls, intrigued to see what the inside of a HMV store looked like, bought enough to outsell Duran Duran, Human League and Spandau Ballet and got it to No.2 in 1981.
7 – Peter Gunn: The Art Of Noise featuring Duane Eddy
The legendary New York guitarist hit No.6 in 1959 with the growly theme (written by Henry Mancini) to the American private eye series, and 27 years later was invited to dust off his bespoke Gretsch 6120 and redo it in the same straight, chippy way, marinated in the Art Of Noise's trademark beats, string refrains and 'tum tum tum' signature vocalisations.
Aided by a brilliant video that allowed Rik Mayall, in trench coat and trilby, to goof around as the titular 'tec, it reached No.8 in the UK.
6 – Chariots Of Fire: Vangelis
Ambient perfection, as the Greek pianist devised a most delightful melody line as a perfect electronic theme and an archetype for soundtracks to follow, modernising a period film.
That it was an up-to-date piece of horizontal electronica, contradictorily putting gloss on to a 1920s movie added to its mystique, and its use ever since at major sporting events has given it lifelong authenticity, culminating in Rowan Atkinson's definitive horseplay at the opening ceremony to the 2012 Olympics in London. It made No.12 in 1981.
5 – Axel F: Harold Faltermeyer
Four synthesizers were required to make the definitively 80s theme to Beverly Hills Cop, with the film's roaring trade at the box office helping it become an enormous hit everywhere it was released.
The three distinctive hooks all blend immaculately into each other, there's a fantastic marimba-effect middle section and supreme Moog work by the German keyboard wiz for a tremendous, crucial bassline. So good, even Crazy Frog couldn't ruin it. It got to No.2 and stayed there for three weeks behind Sister Sledge.
4 – Rockit: Herbie Hancock
Jazz pianist Herbie Hancock's career was faltering in the early 80s, so his 25-year-old manager enlisted underground producers Material to use their contacts to make him a record relevant to the times. Turntable mixer D.ST provided the scratches after Hancock was impressed with his work in a New York nightclub, and Hancock himself added the distinctive synth melody.
The result was the first global hit to feature scratching, beloved by breakdancers and electropop fans alike, and in the UK it reached No.8.
3 – Pacific State: 808 State
A Haçienda anthem and a benchmark for Manchester's burgeoning club scene; indeed, a school of thought maintains this sax-based piece of ambient acid house actually created the dance milieu that would define much of the early 1990s, even though it wasn't actually very easy to dance to.
Credited to a Manchester act named after their drum machine, consisting of the owner of a cool indie label and two clients of his record shop, its 1989 journey continued to Ibiza, then radio playlists, and finally, the Top 10.
2 – The Return Of The Los Palmas 7: Madness
"Waiter!" That's hardly a lyric, is it? Two-and-a-half minutes of Mike Barson spontaneously stitching some chords together at the piano, recorded on the spot as the band, who placed much importance on instrumentals, realised belatedly there wasn't one on the forthcoming 1980 album, Absolutely.
Mark Bedford and Daniel Woodgate got songwriting credits for adding the bass and drums by ear, and it made No.7 in 1981. The musical Our House later turned this bit of brisk tinkling fluff into a beguiling foxtrot.
1 – Crockett's Theme: Jan Hammer
Originally heard as far back as 1984 on the Miami Vice episode Calderone's Return Part 1 – The Hit List, namechecking Don Johnson's sockless detective sergeant, it was only when included on the show's second soundtrack album three years later that it caught on.
A mellow, smooth and simply sequenced piece of electronica, it had an instant earworm for a main melody, and a change of key that allowed the harmonies to take over and the percussion to grow, with a strident guitar solo then playing the main hook.
What was especially gratifying was that the song returned to its ambient beginnings prior to the fade. Very useful for teenagers self-teaching on Casio synths, it climbed gently at first before reaching No.2 in the autumn of 1987, outsold only by the Bee Gees.
Subsequently covered by every instrumental band in existence, it also nearly made the Top 40 again in 1991, thanks to its prominent (and on reflection, ill-advised) inclusion on a long advertising campaign for NatWest, mocked initially for the narrative of a grinning trainee teller filling the cash machine and trying to pull the pretty girl in the business development office.
It's not all work, work, work…
Comments
comments