Posted: 29th June, 2021 by The Editor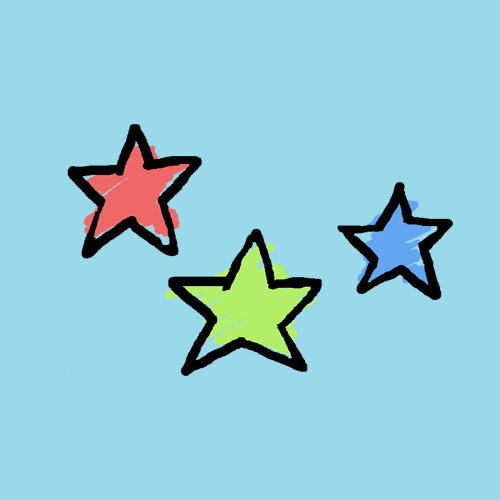 COUNT YOUR LUCKY STARS RECORDS
Founders: Keith and Cathy Latinen
First release: 2007
Location: Fenton and Williamston, MI
Artists with recent releases: Parting, Expert Timing, Debtors, Camp Trash, The Goalie's Anxiety at the Penalty Kick
Website: http://countyourluckystars.limitedrun.com/
Bandcamp: https://countyourluckystars.bandcamp.com/
While Count Your Lucky Stars Records started as a way to put out their own band's music, it has grown into an important label in the DIY scene. CYLS alumni include Snowing, Turnover, and Foxing, but their current roster shows their ear for "what's next" in emo and punk. The summer-ready hooks of Camp Trash, the transcendent emo of The Goalie's Anxiety at the Penalty Kick, and a really unique split series are among the highlights of this label with deep roots in the scene. I spoke with Keith about the label's origin story and how the pandemic has affected them.
---
What made you want to start a label? Who was your first signing?
TL;DR: no one wanted to put out our band's stuff so we did it ourselves.
If you want the full version, it's kind of complicated, so please bear with me. I started a band called Empire! Empire! (I Was a Lonely Estate) around *checks Wikipedia* 2006. It started out as a solo project and I self-released an EP called When the Sea Became a Giant on CD. That got the attention of a label called strictly no capital letters in the UK and they started carrying our CD over there. We still work with them today –– they co-released the new Parting EP with us! 
Empire! Empire! had since become a band with permanent members and we started recording for a full length and playing shows. We also became friends with a band called Look Mexico and decided to do a split together (a split is where each band contributes a song or two each for a unified release). I had gotten into contact with a label called Lucky Creature that had put a song from an old band of mine on a compilation and they agreed to do the split. Another label signed Look Mexico sometime after everyone was on board but Lucky Creature got a little nervous about something happening from their new label, so they dropped out of the project. Look Mexico ended up getting too busy because they had just signed to a new label. So the project fell apart and we had no label to put out the record and no band to do a split with.
We would not be deterred! We decided to see if we could find another label that was interested in the release, even if it wasn't a split. I sent Andy from sncl a message on MySpace (remember MySpace?) hinting that we were interested in working with him and he agreed to it if we could find another label on our side of the world to split the costs. We had just gone through an exhaustive search and it seemed pretty unlikely that anyone would be interested, but at that point we just thought of it as half off vinyl and decided to pay for the other half ourselves. 
We co-released a 7" EP called Year of the Rabbit with sncl and started touring off of it. On tour we started meeting a ton of really cool bands that no other labels seemed interested in at the time, so we thought we might as well keep the label going and put those bands out too. We are still friends with all of those bands and they really became the cornerstones of the label in the early years.
 Are there any labels that inspired you?
Absolutely. Growing up, it was harder to find out about underground bands. So when I found a band I liked, I researched the whole catalog of the label they were on and it was like a goldmine of good bands. Alias, Better Looking, Crank!, Deep Elm, Doghouse, Jade Tree, Polyvinyl, Tree Records, Vagrant –– the list goes on. We studied how they did things and tried to work it into the way we do things.
What is your favorite part of your job? What is the most difficult part?
I have a lot of favorite things but if I had to narrow them down, I would say being my own boss and being able to find amazing new bands and show them to the rest of the world by giving them a platform. It isn't lost on me that if we give something a stamp of approval, it carries some weight and other people will give it a chance just because we released it. Being able to introduce someone to their new favorite band is such a joy. Not to mention working with those bands is wonderful- we become friends and talk often. It isn't just about their music. 
The most difficult thing is that we are a small label with a limited budget and even more limited time. I have to be really picky with who I offer contracts to. For every one band I sign, there are probably at least 10 I could be asking. 
 What is one part of running a label that most people don't know about?
My wife Cathy helps me out and I get occasional help from friends from time to time, but the label is mostly just me. So it's usually either Cathy or me that pack every order, respond to emails, assemble records, post on social media, make buttons- you name it. 
It's not a typical 9-5 job and I am on the clock all the time –– I'm doing this interview at 3 AM! I talk to multiple bands every day, at all hours. It can be overwhelming at times, and things go from busy to very busy very quickly. But I'm kind of built to thrive in this atmosphere, it keeps me moving. 
Has the pandemic affected how you operate now? Did you have to change your social media approach?
In 2016, Empire! Empire! ended and I was pretty badly burned out from music as a whole. I needed a break and so the label moved to part-time and I started working a full-time job as a librarian. We still put out the occasional release, but it was at a near glacial pace. Over the years I slowly got the itch back and started picking things up again. In addition, I was working for a terrible boss who created a hostile work environment and was giving me major mental stress and depression. I decided that it wasn't worth working for somebody like that and quit to do CYLS full time again. This was at the start of 2020.
A few months into rebuilding the label, the pandemic hit and everything changed. We had just released the first Thank You, I'm Sorry LP and had laid out a lot of plans for the second album to drop in the summer. I considered this album to sort of be like the rebirth of the label kicking off again. We poured a lot of resources and time into that album and it got swallowed up during the summer when everything was just bad and everyone was scared or tired or exhausted.
People really dug into the first wave of albums that came out during the first few months of the pandemic, but by the time August rolled around, I think people were spent. Tiger King was already ancient history (remember Tiger King?). On top of that, the Thank You tours had been canceled and since they were a new band and we were only newly reactive, it really swept the legs out from under us.
So we had to refigure out how to be a label again at the same time that everyone else was figuring out how to navigate the pandemic. I also have two young kids who were going to daycare, and we pulled them out as soon as we realized how serious it was. Cathy's job started having her work from home, so now it was the four of us trying to figure out how to exist and try to get work done (okay, five if you count our dog. He's a voracious reader and I don't want him to be mad if I don't include him and he sees this). 
It's still like that. My kids are 4 and 1 1/2 and they don't care if we get work done- they just want to play and be kids. It's been extremely difficult to manage. We will get into a rhythm one day and out of it the next.
We pivoted to doing a bunch of live streams and digging into our past releases during last summer. You might have noticed that a lot of other artists and labels did a lot of live streams too, and it worked well enough for a while. But people and artists got exhausted too, and that died off. Not just for us, but the industry as a whole.
Since then, we've tried to take advantage of the situation to the best we can. I started doing press on my own again and building up a new contact list. Because no band could tour, it also meant some smaller bands who might have been unable to tour could get attention because no one was talking about tours. It hasn't been easy, but I feel like we've found our legs again and reestablished the fact that we are fully active again. 
What is one valuable lesson you have learned from running CYLS?
I think that what you do can really make a difference in people's lives. People still talk about records we put out 10+ years ago and a lot of the artists we work with now were inspired by the bands and albums we had put out then. People are talking about the amazing new artists we are working with now too. 
If you are someone that is doing something amazing or know someone like that and no one else is paying attention, you could be the person to change that! Start a label, start a band, start a board game company –– do what drives you!
What do you think makes CYLS unique? 
I just try and release stuff I love and care about. We all have different tastes, so the bands I work with really reflect my taste. I think that I have a good ear for talent, but it isn't just about talent. The bands I try to work with are also good people and a good working relationship really bears fruit. I'm always trying to find the diamond in the rough and I feel like I have gotten lucky with that a lot. 
For the really unique things? There are a lot of fun Easter eggs we try to work in for each release. If you haven't noticed, take a look at our logo- the stars often match the color palate of the release. Take a gander at a spine, and you will see an image at the bottom. Line up 10 of that medium and they make a series like a flipbook. WE even have a top secret page documenting it! 
If you could go back in time and give advice to yourself before you started CYLS, what would that advice be? 
How much time do you have, lol? In general, you learn by making mistakes and boy did we make a lot of those. We still do! If you're looking to start a record label, here are some things you want to do from the start because it will take a long time to fix if you don't. 
Keep good records of everything. Accounting, sales, digital files, paperwork, etc.

Keep a backup of all those things.

Account to bands –– even if you aren't making money, they should know where they are at.

Become a graphic artist or friends with one. 

Keep a separate bank account and register your label as a business. 

Remember that some bands are going to be full of amazing people and some bands will not. One bad experience with a bad band doesn't outweigh the numerous good ones you will have. 

Ask for help! You would be surprised at how much other people are rooting for you and will try their best to help you.

Go at your own pace, but don't go too fast. You only have so much time and money and if you spread either of those things too thin, everyone is going to pay that price.

There is no sure thing. Some albums we released I thought for sure were going to blow up and they died on the vine and some releases went crazy that I would have never expected.

Breaking even is a good goal to start and that's still a goal we strive for, haha.

If you are feeling like it's too much, slow down. It's worth it in the long run.
---
_
Jami Fowler // 
---
The Alternative is ad-free and 100% supported by our readers. If you'd like to help us produce more content and promote more great new music, please consider donating to our Patreon page, which also allows you to receive sweet perks like free albums and The Alternative merch.