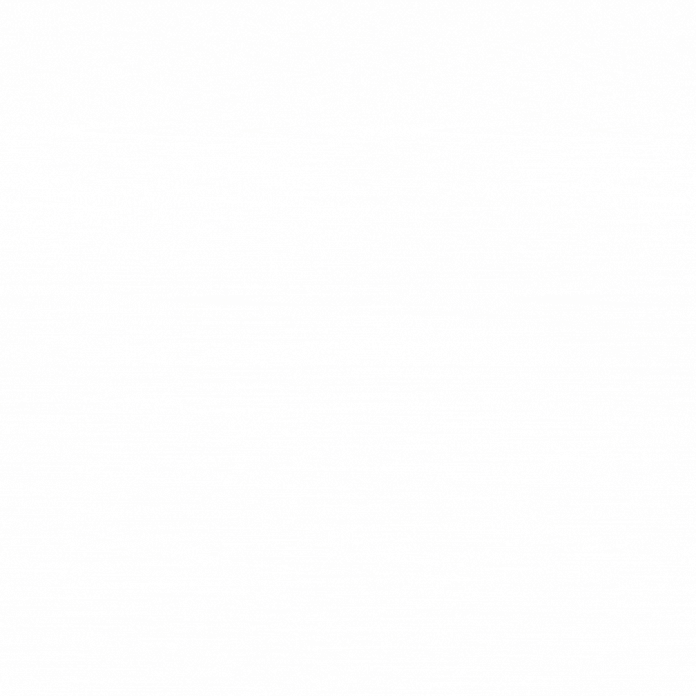 To really understand the difference between B2B E-Commerce and E-Commerce B2C, it is essential to understand to who you sell your products or services.
As a reminder, B2B E-Commerce is aimed at professionals while the B2C target is made up of private consumers. The purchasing behavior and habits of B2B and B2C customers are different and their motivations vary according to their needs.
It is important to identify these different purchasing behaviors and to understand that they should not be approached in the same way.
Human Emotions and the Customer Experience
The buying behavior of a B2C consumer is often dictated by his emotions, which are themselves strongly influenced by advertisements, attractive promotions, or even attachment to a brand.
Conversely, the choices of B2B customers are reasoned, calculated, and determined according to the needs of the company and its activity.
Since the B2B customer is a pragmatic buyer who takes the time to research the product they need and analyze the right cost-benefit ratio, providing them with all the product information they need is essential. This goes through:
an advanced search engine,
personalized suggestions,
filtering of results,
complete and detailed product sheets,
Product presentation videos.
The management of product data (PIM) and mobile experience are two essential axes to incorporate into your B2B E-Commerce strategy. They effectively contribute to improving the user experience in terms of enriching product data and site display.
Now let's move on to the 6 main differences between B2B and B2C customers in E-Commerce.
B2B VS B2C eCommerce: The 6 Main Differences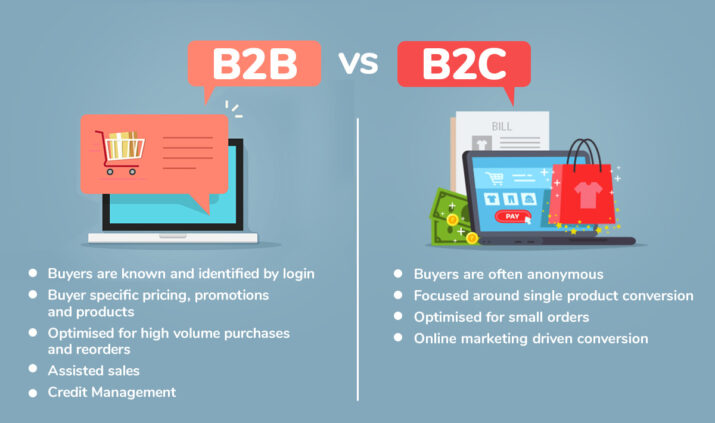 Photo: edistera.com
In addition to the major differences between these two types of business, there are also distinctions in the purchasing processes and behaviors of customers. Here are the main ones:
① Impulsive VS Rational Purchasing
The B2C buying cycle is short and transactions are generally independent of each other. Indeed, individual customers tend to be impulsive when shopping. Less patient and followers of price comparison, they respond positively to promotional calls such as free delivery to justify their purchase.
Conversely, professional buyers follow long and complex processes governed by a logic of business sustainability. B2B purchases can, for example, concern an order for machines that will be replaced every four years or even frequent, regular, and large quantity purchases. Depending on the type of order, your customer expects a discount or a gesture from you that will inspire confidence, security, and loyalty.
The B2B customer, therefore, spends more time researching the products he needs and analyzing the financial impact of his order than the B2C customer who lets himself be guided by his own desires.
② Single Decision-Maker VS Multiple Decision Makers
Unlike the B2C consumer, for whom the purchasing choice is their own, the B2B customer is rarely alone when making decisions. Long and complex purchasing processes usually involve many stakeholders. A B2B decision-making process can consist of a budget approver, a worker looking for product information, a buyer, and an end user. There are so many parties involved in the B2B purchasing decision that it is important to facilitate all specific workflows and provide the necessary information required by the various stakeholders.
For example, if you sell machinery to an automobile manufacturer, be sure to include the specifications and certificates that best present your products to the customer's technical team. The finance person will appreciate your flexible payment terms and the primary point of contact will be happy to have 24/7 assistance. The only way to come to an agreement is to make sure that the entire decision-making group is comfortable with the solution you are proposing.
③ Short-Term Relationship VS Long-Term Commitment
Unlike the majority of B2C customers, professional buyers are keen to build long-term relationships and partnerships with their suppliers or service providers.
Finding a reliable supplier allows B2B customers to speed up and simplify repeat purchases specific to their industry. To promote the establishment of long-term "win-win" partnerships, B2B sellers must strive to create a personalized environment for their customers and this includes tailor-made prices, adapted product catalogs, sales conditions.
Exclusive payment and delivery. Personalization of the payment process increases the recurrence of purchases. Maintaining and fostering long-term relationships with your regular B2B customers becomes much more obvious when you have a CRM (Customer Relationship Management) tool compatible and connected with your E-Commerce platform.
It will then allow you to manage all the channels of interaction with your customers, analyze and exploit their behavioral data, and launch personalized campaigns that correspond to their expectations.
④ Fixed Rates VS Custom Rates
B2C consumers typically place orders at a fixed price that is the same for all buyers. However, this is not the case in B2B E-Commerce where universal pricing is much less common. Prices may vary from one customer to another, depending on its location, its contracts negotiated on a case-by-case basis, and its historical links with the company concerned. Indeed, B2B customers expect specific discounts for their business and this information should appear prominently when they log into your online store.
⑤ Cash Payments VS After Delivery Payments
To complete an order, B2C consumers typically pay with a standard payment method, such as credit/debit card or cash.
For a B2B customer, the purchases are multiple and are done in a short time, so instead of paying for each order made, B2B buyers receive a global or monthly invoice summarizing all their purchases.
In addition, unlike B2C, professional consumers can expect payment terms tailored to their contexts, such as payment terms of 30, 60, or 90 days.
If you are targeting B2B customers, make sure that your online store supports all required payment options and that your accounting system can properly track each customer's specifics.
⑥ Fast Delivery VS On-Time Delivery
B2C consumers are more concerned with the speed of delivery of their orders while B2B buyers see it differently.
Professional purchases generally depend on schedules linked to operational and production needs. That's why your B2B customers care a lot about meeting the delivery date you commit to. This is why creating a reliable long-term partnership is a very important aspect of B2B. Delays in deliveries can stall production, disrupt supply chain operations and impact your company's reputation with your customers.
To avoid this, B2B e-merchants must invest in an efficient delivery and order management service, while synchronizing their E-Commerce platform and their ERP in order to avoid data inconsistencies or stock problems.
The B2B online shopping process is different from B2C because of its complexity, scope, and customization. B2B customers should not be treated as retail buyers. By focusing on their own and unique needs, you will be able to position yourself as a quality and long-term E-Commerce partner, who takes the online experience of its customers to heart.
Difference Between B2B and B2C eCommerce
Although B2B E-Commerce is similar in many aspects to the B2C sector, it is important to keep in mind that these are two very different types of clientele and that it is necessary to approach them in different ways.
Despite the feats of personalization and adaptation of which B2C E-Commerce is capable, other capacities are necessary to support all the complex processes and transactions specific to B2B.
An E-Commerce platform specially designed for B2B provides most of the essential out-of-the-box functionalities and radically simplifies the purchasing journey of a B2B customer:
Allows you to manage complex commercial structures, corporate accounts, and the relationships between these different elements.
Allows e-merchants to manage user access to sales data, such as price lists or product catalogs.
Allows you to manage multiple companies, websites, and shops from a single administration interface.
Provides a CMS (content management system) integrated on the platform in order to maintain, personalize and display different content according to the target audiences.
Allows you to adapt and personalize product catalogs, price lists, discounts, and shopping lists.
Allows B2B buyers to easily create and submit order forms, purchase orders, or requests for quotes as well as receive the information and documents needed to sell.
Difference Between B2B and B2C Buyers
As mentioned earlier, the biggest difference between B2C and B2B is the customer. These two types of customers have different needs, wants, and ways of buying a product.
Some Similarities in B2C and B2B E-Commerce
Although there are glaring differences between the two, B2B and B2C E-Commerce are not totally opposed.
They both involve selling to living, breathing people who have wants, needs, wants, and emotional connections related to positive experiences.
They both have technological expectations and demand efficient self-service, mobile, and Omni channel shopping experiences.
They both expect great customer service and a comprehensive marketing strategy.
B2B companies that use an E-Commerce solution can target their customers more effectively and take full advantage of the B2B market which is still growing today.
Put yourself in the customer's shoes
The phrase "the customer is always right" originated in B2C retail to emphasize the importance of the end-user.
The same is true in B2B because your customers' queries or complaints tend to reflect a commercial gap for the success of your business. In addition, each B2B customer is different, in a context of its own and with specific expectations.
So, an effective B2B E-Commerce strategy begins with understanding the basic needs of a B2B buyer and how to personalize their experience.
From there, you can face new challenges, such as marketing for B2B or developing an Omni channel customer experience.
However, always make sure you put yourself in your customers' shoes.
Like this Article? Subscribe to Our Feed!