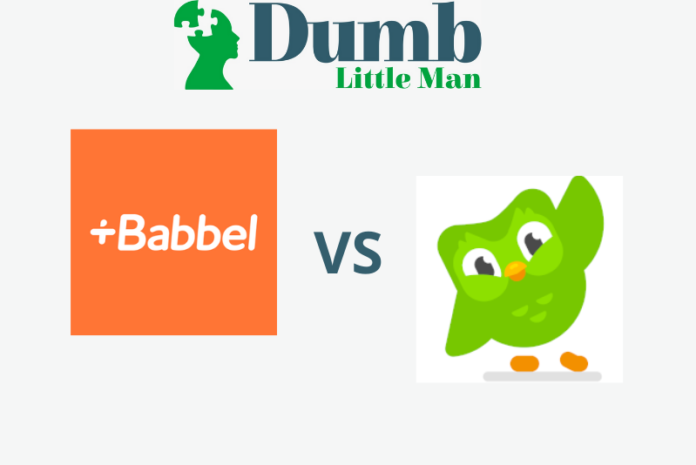 Do you love challenges, want to travel to a new country, or looking to add a new skill to your resume? Only one thing answers the question: learning a new language.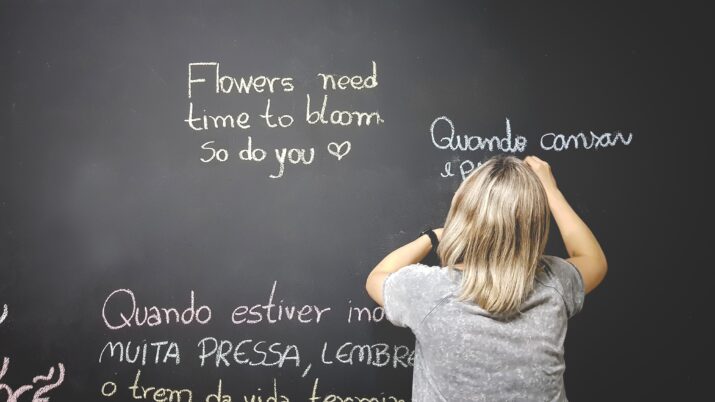 Photo by Leonardo Toshiro Okubo on Unsplash
So, where do you get started?
I'm sure you don't want the hustle of enrolling in college. All you want is to study at your own convenience.  These days, people are using apps and platforms to learn new languages. Language learning apps like Duolingo, Babbel, Pimsleur, Rosetta Stone, Italki, and Memrise make this possible.
All these platforms provide accessible and affordable courses for learning a new language. Choosing the best platform depends on your needs.
Duolingo and Babbel are similar apps. Duolingo has both a free version and subscription-based courses. Babbel has only premium subscriptions.
While Duolingo is great for beginners: people who know nothing about the new language and want to spend nothing learning different languages, Babbel is excellent for students willing to master one language and willing to spend.
This in-depth article has both a Babbel review and a Duolingo review to help you make a sound decision if you want to learn a new language.
Let's get started.
Babbel vs Duolingo
Babbel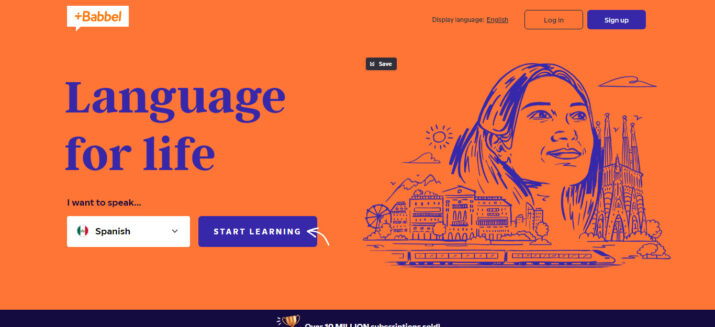 What is Babbel?
Babbel is a premium language learning app with 14 languages to choose from. Babbel contains grammar courses, vocabulary classes, and basic conversation phrases geared toward beginners and intermediates.
Babbel review
Getting started with Babbel
Let's have a look at how Babbel onboards its users when they first sign up.
Choose which language you'd like to study
You will begin by selecting the language you wish to study, after which you will be directed to the proper language course.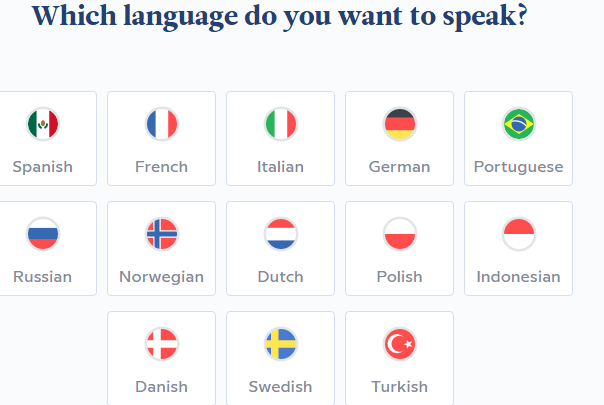 Click Here To Read More About Babbel!
Take a free placement test to find out where you belong
Babbel uses a distinct language-learning method to measure your level of language skill. They appear to follow the same format as the lessons in the language course, which have been carefully chosen to assess your language abilities.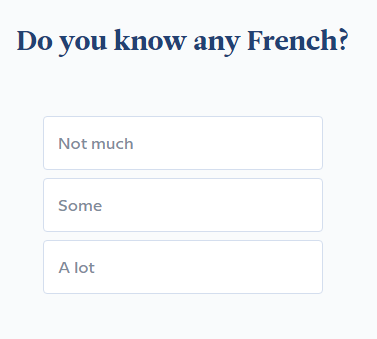 Upgrade to a premium membership
You'll be asked to choose a paid plan to continue your classes once you've completed the free trial lessons.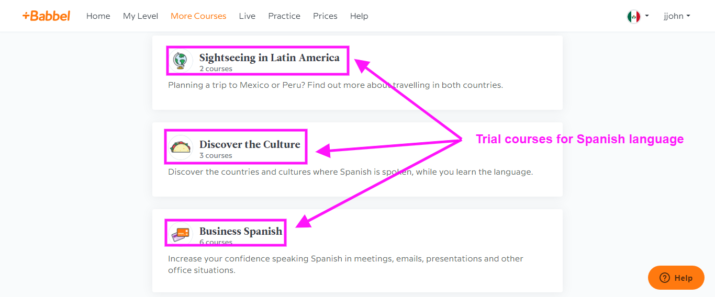 Click Here To Read More About Babbel!
Target audience
Babbel, like many other online language courses, focuses on beginners and intermediate students. There are a lot of starter resources for all of its languages, but when you go to the intermediate level, some languages will have more course content than others.
Languages
Spanish, French, German, Italian, Portuguese (Brazilian), Polish, Russian, Dutch, Turkish, Danish, Norwegian, Swedish, Indonesian, and English are now available in Babbel. This is less than similar service apps like Rosetta stone. Babbel's language experts tailor each course based on your original language to help you learn each language faster and more effectively.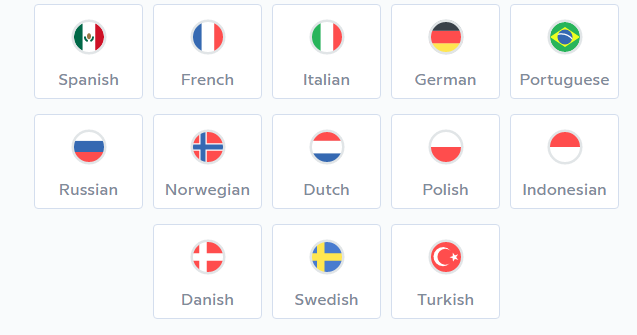 Click Here To Read More About Babbel!
Structure of Babbel lessons
Babbel's lessons follow the same structure as Rosetta stone. For each lesson, you will learn a few words and phrases, then carry out engaging activities to practice using them in different contexts. This helps you boost your vocabulary.
Babel has a voice recognition service to help you practice pronunciation. All lessons entail reading, listening, and writing words and phrases. Babbel also reminds you of previously learned words and phrases.
Additional resources
Babbel offers you podcasts to ensure that you can practice anytime until you gain basic conversational skills. The podcasts are made by native speakers. Podcasts are available for different levels: beginner, intermediate and advanced levels.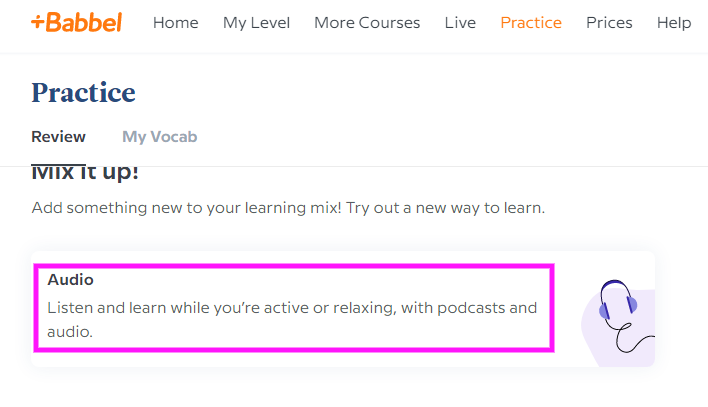 Babbel uses cultural bites to immerse the learner into the culture of the target audience. These can be how to introduce yourself, different ceremonies and holidays, important historical figures, etc.
Click Here To Read More About Babbel!
These are real-life stories aimed at teaching you popular and useful language phrases. The phrases are bolded while the stories are in English.
This allows you to take 60 minute live classes of any target language on a variety of topics and levels. Experienced native speakers tutor them. Babbel live is available in selected languages.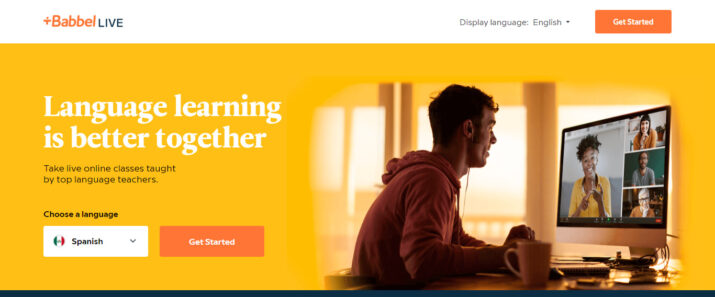 Click Here To Read More About Babbel!
Price
The cost of using Babbel's resources is straightforward. If you choose a longer subscription, the monthly price drops. Prices are:
One-month subscriptions at $12.95
Three-month subscriptions are $26.85 ($8.95 monthly)
Six-month subscriptions are $44.70 ($7.45 per month)
Yearly subscriptions are $83.40 ($6.95 per month). You can save 46% on Babbel if you subscribe for a year.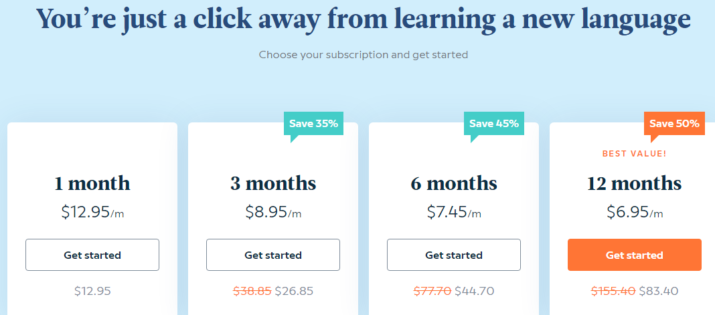 It is important to note that the prices are for one language only: your target language. To learn multiple languages, you can enjoy all Babbel courses at $115 per year.
Click Here To Read More About Babbel!
You can sign up and access the first few lessons of any course for free if you want to experience Babbel before you buy. You can subscribe to see everything that is offered in order to gain access to all the features. Babbel offers a 20-day money-back guarantee if you're not satisfied.
Besides the above discounts, Babbel offers discounts to students (the US only) and military personnel. Students can enjoy a three-month subscription at $14.99, while military personnel and their immediate personnel enjoy six-month a subscription at $30.
Babbel is cheaper than similar apps such as Rosetta Stone, Mondly, and Lingualift.
Reviews of users
Let us have a look at the Babbel review from reputable sites.
Trustpilot
After 17,487 reviews, Babbel is rated 4.6.  94% have rated it either great or excellent with 96% rating it above average. Most customers like the short and engaging lessons offered in Spanish courses. Dialogues and scenarios are helping learners improve their language.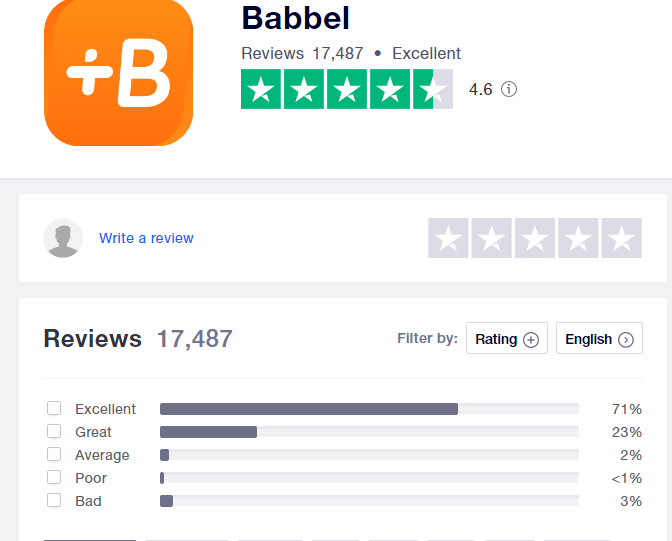 Click Here To Read More About Babbel!
Facebook
Babbel has over 1.5M likes on its Facebook page.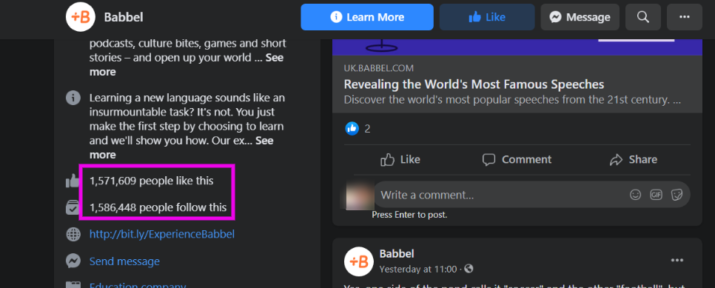 Click Here To Get Babbel at a Discounted Price!
Duolingo
What is Duolingo?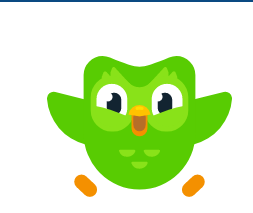 Duolingo is a free language learning app that gives English speakers over 31 different language options. Grammar courses, vocabulary cards, multiple choice quizzes, and other features are like Babbel's. The language software is notable for emphasizing the development of introductory vocabulary and grammar abilities.
Duolingo Review
Getting started with Duolingo
After signing up, if you already know some languages, you may be required to take a placement test. You might skip some of the more basic classes, such as learning basic terms and verb conjugations if you take the placement test.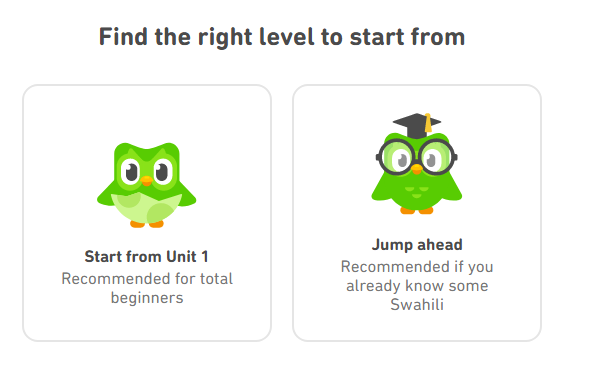 Of course, you may always start over. You can also study different languages as you wish and you can learn them all at once.
Click Here To Read More About Duolingo!
Target audience
Language Learners who want to learn a new language are Duolingo's target audience. The classes are designed for beginners. You must always begin with the first lesson. You can't go to a new level if you think a segment is too difficult.
It is not for you if you have some prior knowledge of your target language and wish to advance to a higher level.
To summarize, Duolingo is designed only for elementary education, which is their target market. Of course, the firm will deny this, but it is the case.
Language
Duolingo offers over 35 language courses using English as the main instruction language. There are various languages that use other languages. Arabic, Chinese, Czech, Danish, Dutch, Esperanto, Spanish, French, German, Greek, Hawaiian, Hebrew, Hindi, Hungarian (in beta), Indonesian, Irish, Italian, Japanese, Korean, Latin, Navajo (in beta), Norwegian, Polish, Portuguese (Brazilian), Romanian, Russian, Scottish Gaelic, Swahili, Swedish, Turkish, Ukrainian Vietnamese, and Welsh are the 34 languages available to English speakers. Duolingo also includes 3 constructed languages: Esperanto, Klingon, and High Valyrian.
Click Here To Read More About Duolingo!
Structure of Duolingo lessons
Duolingo is extremely well-structured and organized. On the online app's home screen, a list of modules is displayed in chronological order. Every module, whether grammatical or thematic, has a theme.
There are several lessons in each module. To unlock the next set of modules, you must pass a particular amount of lessons. On average, each lesson takes about five minutes.
While you work in chronological order, you can go back and re-do any lesson you've already completed. Words and concepts you learned earlier reappear as you continue. New words are underlined. Users can get immediate feedback after studying by taking a practice test after completing a significant amount of introductory material.
There are levels in each module. However, if that module has numerous levels, you can complete them if you want to keep learning that talent. When you complete all of the levels in a module, the icon for that module changes to a gold coin. The coin will break if you do not practice it for a long time. Return to the module and complete various stages again to repair it.
Click Here To Read More About Duolingo!
Additional features
While Duolingo is all about gamification, it has some features to engage you anytime you start learning. They include:
Streak freak
Every day, you must use Duolingo to perfect your language. You'll be back to zero if you break your streak. However, there is a solution to reclaiming it. This function allows you to keep your continuity for a full day of inactivity. You can purchase this at any time and will make up for a missed day.
Bonus lesson
These are some additional classes available for purchase in the store. The prices vary, and some are offered for a limited time.
You can read some flirting terms, idioms, and proverbs in some languages. As a result, you can use these incentives to learn more about the language in question.
Click Here To Read More About Duolingo!
Price
Duolingo started as a free online language learning app. You can learn a language completely free.  All you have to do is download their app and start learning. However, Duolingo has a premium version called Duolingo Plus which costs $6.99 per month (cheaper than Rosetta stone). Duolingo offers a 14 day trial for all new customers.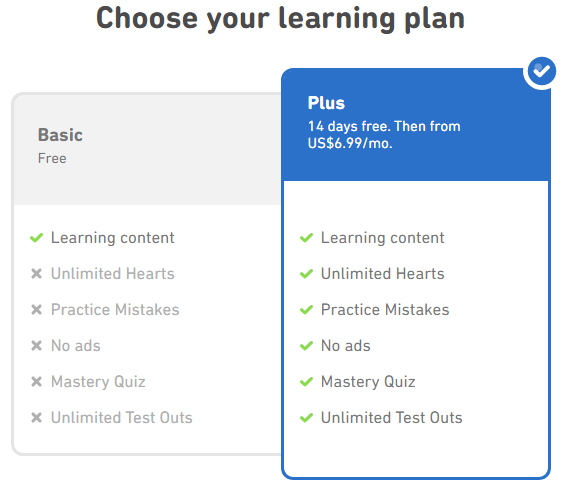 Reviews of users
Let's have a look at Duolingo reviews and ratings.
Trustpilot review
641 customers using Duolingo have rated it 2.4. 57% of users rated it poor or bad, with 71% believing its resources are below average.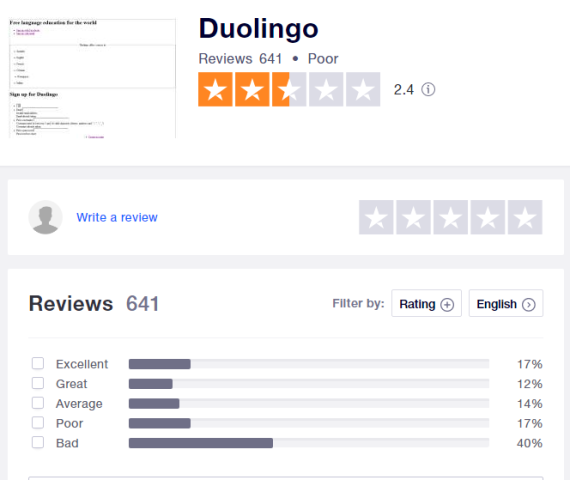 Click Here To Read More About Duolingo!
Facebook review
Duolingo has over 1.9M likes on Facebook.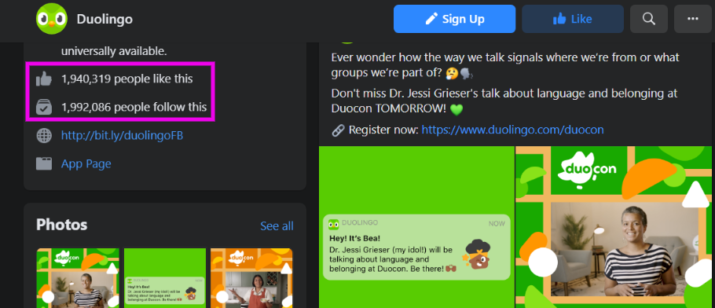 Click Here To Read More About Duolingo!
Comparison of Babbel and Duolingo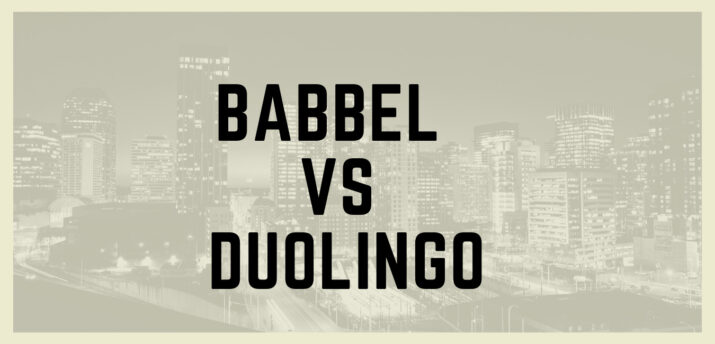 We must critically assess the learning methods while comparing two top products that provide identical service.
Not only that, but we should also think about aspects that are important to students. At the very least, discuss functions that aid language learning.
So, in this comparison, we'll look at several similarities and differences that will assist you in deciding. Whatever is important to your language learning practice should help you choose a program.
Let's get started.
Babbel vs Duolingo: Languages
If you are a student who studies multiple languages, Babbel might not be the right option because it has only 14 languages, while Duolingo offers over 34 languages. Major Asian languages such as Korean Mandarin, Arabic, and Japanese are missing in Babbel. However, if you learning Spanish is all you need, Babbel has the best. The closest to it is the Rosetta stone.
Babbel vs Duolingo: Prices
Duolingo is free, while babel is a premium language learning app. Both are cheaper than Rosseta stone.
Babbel vs Duolingo: Time commitment
I don't know how long it can take to master a new language. Duolingo's lessons are 5 minutes long while Babbel's are 10-15 minutes long.
Click Here To Get Babbel at a Discounted Price!
Click Here To Read More About Duolingo!
Babbel vs Duolingo: Teaching technique
Duolingo's language training method is based on learning new words by providing immediate feedback on tests. This may appear to be a simple strategy, but it is a good way to lay a solid foundation in learning a language.
Babbel takes a more structured approach to language instruction. The system focuses on the learning curve that has already been tuned. This means that at any point in the learning process, you will learn pre-ordered words, phrases, and sentences.
Babbel vs Duolingo: Ease of use
Each software's usability is determined by its user interface. Because this is the first point of contact with customers, how easy it is for subscribers to explore the app's various functions is crucial.
Duolingo has an easy-to-use mobile app, while Babbel has an app devise that functions on both mobile and desktop. Both platforms offer a student dashboard and record that are simple to use. Duolingo outperforms Babbel in terms of design.
Babbel vs Duolingo: Engagement
Engagement involves presenting the topics in a fun and catchy way to ensure learners remain devoted. One of the easiest ways to keep learners engaged is through tests and results. Every learner wants to know how he is progressing.
Click Here To Get Babbel at a Discounted Price!
Click Here To Read More About Duolingo!
Duolingo has a good grading system, which is a great source of encouragement for students who use the software. You are given a fluency score, which is a measurement of your ability to match words to meaning. As you go up the learning tree, your fluency score unlocks several degrees of "linguistic mastery." Duolingo also uses games to make tests and lessons engaging.
The Babbel app is set up in the traditional lesson format. You progress from one module to the next. There are multiple classes beneath each module. The topic being discussed determines the focus of each class. The multiple assessments are the major method of involvement in Babbel.
You'll be given a series of questions and examples to help you improve your language skills. If you make a mistake, you'll be required to review it and then graded by an assessment-level teacher. You will then get a score for each question.
Babbel vs Duolingo: Focus
There are various aspects of learning a language: grammar, semantics, vocabulary, etc. your focus determines how well you can progress as well as how to use the knowledge effectively.
At Babbel, the focus is on improving speaking skills. As a result, the words, tenses, phrases, and sentences examined are geared toward initiating a conversation. Babbel's conversational approach shows that the language modules are intended for everyday use.
Duolingo's focus is on teaching grammar and vocabulary. Duolingo's learning style emphasizes the information. This shows the software helps you learn new words and phrases in a foreign language.
Both Babbel and Duolingo have differences that can easily be deduced from their pros and cons.
Click Here To Get Babbel at a Discounted Price!
Click Here To Read More About Duolingo!
Pros of Babbel's Platform
This is an excellent resource for learning basic vocabulary.
It's a good way to practice tough grammar.
Low-cost
Simple to use
In a foreign language, it provides a firm foundation of grammar and vocabulary
Lessons are 10-15 minutes long
Exceptionally user-friendly
Courses are organized into sections such as Grammar, Beginner, Words & Phrases, and so on
You can review every lesson and get feedback
The design and layout is pleasing
Has voice recognition service to help you boost your pronunciation
Cons of Babbel's Platform
has fewer languages than most apps
You can't learn multiple languages simultaneously
To begin, you only have access to one section
Pros of Duolingo's Platform
It's simple to sign up and begin learning in minutes
Has fun and interactive learning experience
Grammar, vocabulary, and pronunciation are all covered in this lesson
Available online on both mobile and desktop
There are no individual subscriptions required for any of the language courses
you can learn multiple languages simultaneously
Cons of Duolingo's Platform
Limited resources on reading, writing, and listening
Audio for full sentences sounds unnatural
Few explanations for the language you're learning
Repetitive exercises
Lessons aren't structured in the most logical order
Ignores cultural context
The free version has a lot of annoying adverts hence have to subscribe to the Duolingo plus plan
Click Here To Get Babbel at a Discounted Price!
Click Here To Read More About Duolingo!
Conclusion: Which is the best between Babbel and Duolingo?
What is the verdict for Babbel vs Duolingo?
Both Duolingo and Babbel have provided an easy way to learn online. They provide you with an introduction to a foreign language.
For a free resource, Duolingo is a fantastic language app. It makes learning more enjoyable and less daunting. It also includes many languages and teaches them through a variety of fun exercises. While there is still much to be desired, that it makes language instruction available to people all around the world is remarkable.
Babbel takes the time to explain the various features of a foreign language, as well as grammar rules and cultural contexts of phrases and sentences, allowing for a deeper understanding of the learning material.
Babbel is the winner of this contest.
Now and start learning new language skills with the app.
Click Here To Get Babbel at a Discounted Price!
Click Here To Read More About Duolingo!
Like this Article? Subscribe to Our Feed!
Passionate in tech, software and gadgets. I enjoy reviewing and comparing products & services, uncovering new trends and digging up little known products that deserve an audience.