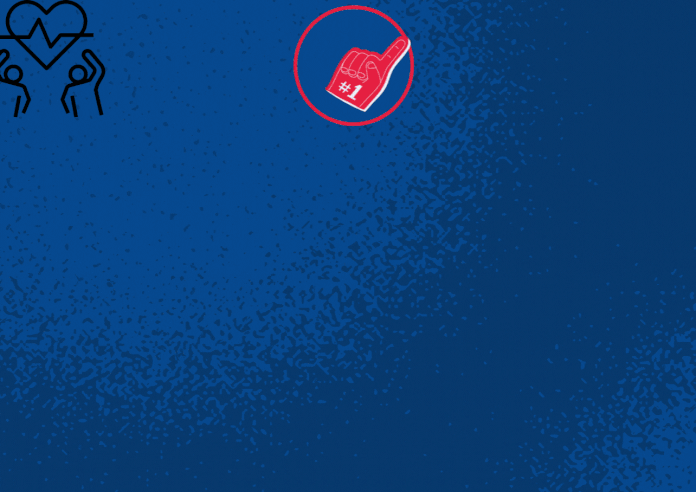 BodyBoss home gym 2.0 is the fitness assistant platform that enables you to perform your regular exercise while staying at home but does it support all types of exercise, and is it worth your money?
Have you ever felt jealous about your friend who looks impressively fit at every curve of their body? Or do you want to join a gym, but your schedules are competitive?
Today, people are suffering from a bulky body and excess fats only due to an unhealthy lifestyle. This can jam your body with inactivity, and you'll be left with the only hope of magic to your body.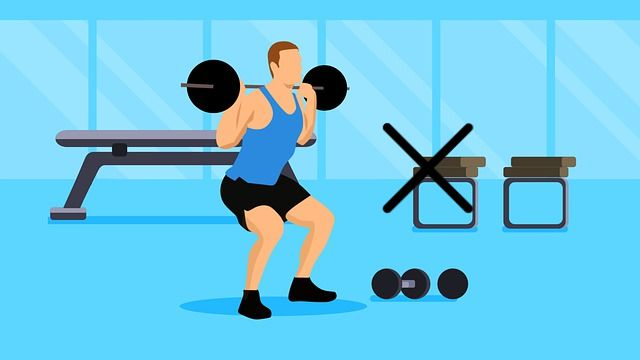 You needn't be a crazy fitness enthusiast and perform hardcore workouts to make your body fit. Only regular exercise can also do similar results and allow you to look tiptop with body charm.
This time, BodyBoss home gym 2.0 has come to assist you in achieving your fitness goal. It is easy to use and better than pieces of bulky gym equipment. Let's dig further and know more about it through the BodyBoss Home Gym review.
BodyBoss Home Gym 2.0 Review: Pros and Cons Overview
PROS
Offers progressive resistance to benefit with the exercise of several body parts
Flexible and easy to use
Lightweight and portable home gym to use anywhere you travel
Folding base to offer extra exercise variety
Includes bars to perform moves like squats
It comes with a door anchor, resistance band handle, and wrist or ankle cuffs.
Contains carrying case for attachments
Provides several online workouts videos and programs to assist you in getting your fitness goal
It comes at a comfortable price
Offers 100% refund
CONS
Includes only 2x 1 resistance band
Attachments feel hard to fit inside the folded base
Amazing reviews from Customers 2021- Find out what they said!
BodyBoss 2.0 has been helping people for many years, and now it has become a favorite in the collection of fitness enthusiasts. The company boasts of delivering the home gym platform to over 250,000 homes across 62 countries.
People have also shared their stories about how they struggle with their schedules to join a gym. But when they found this portable home gym, they could save some leisure time for their extracurricular activities, spending time with their family members.
Such stories are scattered all over social media and groups. Let's check some verified and genuine customer reviews.
David Anderson "We were looking for something to take to the trailer to get our workouts in. This pretty much fits the bill. My only issues are that a single elastic resistance band sometimes doesn't provide enough resistance, and the base flexes during workouts, making me wonder how long it will stand up. The carrying case is nice to keep all the accessories together."
Ishmael Salazar "I really enjoy this thing. I have it in front of my tv and hit so many muscles from so many angles. Super convenient and fast. I really think it's a great buy."
Dino "I am 6'0″, 250 lbs, and I use the Body Boss on a Concrete slab. I have not experienced any issues with the sides pulling up, and I have had good results with the extension cables and accessories. I owned another set of extension cables that work perfectly on the Body Boss, and I can get 200+ Lbs of resistance if I need to. Thus far, a well-made piece of equipment!" 
Click Here to Know More BodyBoss Home Gym Customer Reviews.
What is a BodyBoss 2.0 Home Gym?
BodyBoss home gym 2.0 is a home gym platform that contains several pieces of equipment for daily workouts. Primarily it includes a folding base with 19.75 "(L) x 34″(W) x 1″(H) in dimensions and resistance bands through which you perform many exercises so you can do any exercise you can think of.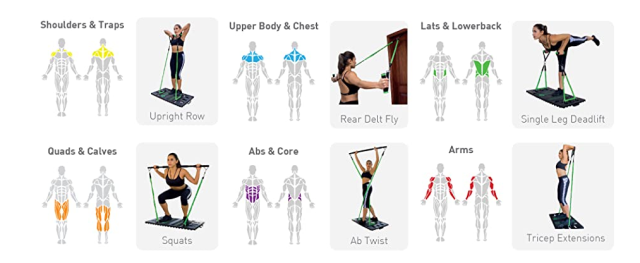 The platform has been proved to withstand up to 500 lbs of force from each anchor point. For enduring such an amount of weight, the platform has been made through 6 prototypes.
According to BodyBoss 2.0 review, BodyBoss home gym claims that you can perform over 300 different exercises with the tools included. Due to this, the platform allows you to enjoy a full-body workout without going to a crowded gym.
Thus, this compact portable home gym allows you to target every muscle group in your body as you regularly do in the gym club. Whether you're at your office or home, you can adjust the system in a few minutes and start your workout in your leisure time.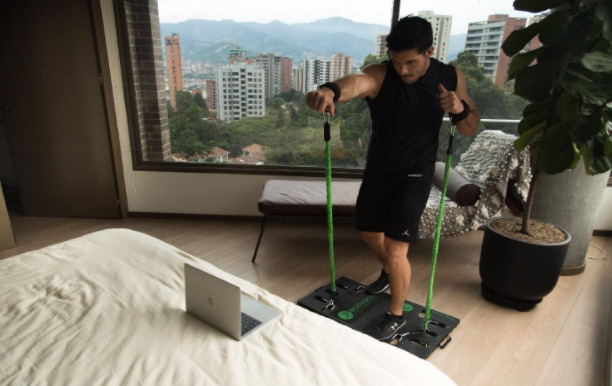 This portable gym solution is engineered for those who dislike crowded, costly, and commercial gyms. Also, if you travel around but don't want to miss your home workout, this home gym 2.0 can assist you.
It can also be your personal trainer because of a series of fitness programs and training videos along with Babyboss Home Gym. So, whether you're a beginner or an experienced fitness lover, this system really helps you with uncountable advice and techniques to achieve your fitness goal.
Click Here to Know More About BodyBoss Home Gym.
How does the BodyBoss Home Gym work?
BodyBoss 2.0 is a great solution based on resistance bands. These resistance bands are made of great elastic materials that make them long, stretchy.
Each resistance band can offer 30 lbs of resistance during the body workout. It helps increase the resistance to any repetitive muscle movement for rehabilitating an injury.
The Body boss 2.0 home gym features a set of resistance bands with an anchoring base so that you can feel more stability and safety while working out.
On the other hand, the included base turns out to be a wide platform when unfolded, and it comes with retractable hooks to attach the resistance band.
These hooks are proposedly placed to support the form and maximum resistance so that you can enjoy tons of exercises. You need only a few minutes to set up this piece of equipment.
One end of resistance bands is anchored to the platform and the other end to one of the grips that come with the BodyBoss. This portable home gym also includes individual handles to offer an experience like lifting dumbbells.
Once you finish setting the equipment, you can stand on the platform and start lifting.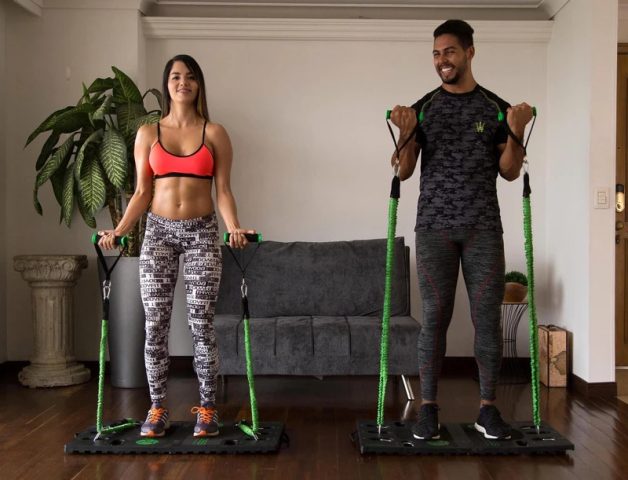 This portable gym platform supports over 300 different exercises and helps you perform full-body workouts at home when adding some other equipment. Some of the exercises you can enjoy through this system include the following:
Chest
Horizontal Chest Presses
Push-ups with Resistance
Chest Flys
T's and Y's
Bench Presses (w/bench)
Incline Presses (w/bench)
Decline Presses (w/bench)
Arms
Overhead Triceps extensions
Triceps Pulldowns
Bent-over Triceps extensions
Bicep Curls
Shoulders and Traps
Front Raises
Side Lateral Raises
Shoulder Presses
Rope Climbs
Boxing Upper Cuts
Cross Punches
Flys
Upright Rows
Shrugs
Back
Bent-over Rows
Stiff-legged Deadlifts
Good Mornings
Lat Pulldowns
Back Bends
Legs
Deadlifts
Pop squats
Squats
Lunges
Hip thrusts
Calf raises
Single-leg side raises
Single-leg reverse raises
Core & Abs
Ab twists
Ab kickbacks
Bucket tosses
Plank raises
Through these exercises, you can control your weight by burning excess fat and getting maximum overall health benefits.
Why is the BodyBoss Home Gym Effective?
BodyBoss home gym 2.0 can save you thousands of dollars by providing you with some equipment for similar exercises that the gym offers. BodyBoss Portable Gym claims to be the World's first home gym you can take anywhere you like.
BodyBoss 2.0 is portable and lightweight so that you can travel around with this portable gym. It helps you never miss any session whenever or wherever you want to practice.
Besides, the fold-up platform offers 300+ various exercises to perform, and if you're a bit creative, you can perform any exercise you can think of. It also allows you to accelerate and normalize your exercise difficulty by lengthening and shortening resistance bands.
You can easily do your upper body, lower body, and torso through the Body boss portable home gym. This allows you to treat your full body with exercise variety and increase endurance through strength training in a few weeks.
The additional benefits you can expect from BodyBoss are below.
It can save you time as you needn't leave your home and you can invest the saved time on other productive works.
It is compact and portable so that you can store it anywhere. You can place it under your bed or office table.
It is useful in physical therapy or rehabilitation. As it is a home-based gym and easy to use, you can use it even after injuries.
 It avoids the fee of fitness trainers as the package has already stored uncountable tips and tricks of workouts.
It helps improve your metabolism and reduce your overweight and thereby, making you fit.
It targets your overall health, and the more you spend with the platform, the more you come out as healthy and fit.
What are the Accessories in BodyBoss Home Gym?
BodyBoss home gym 2.0 is designed to replace bulky and expensive gym equipment. The portable home gym bags are handy yet useful workout tools that help you conduct your regular workouts and easily achieve your fitness goal.
Below are the tools that come along when you buy Body boss.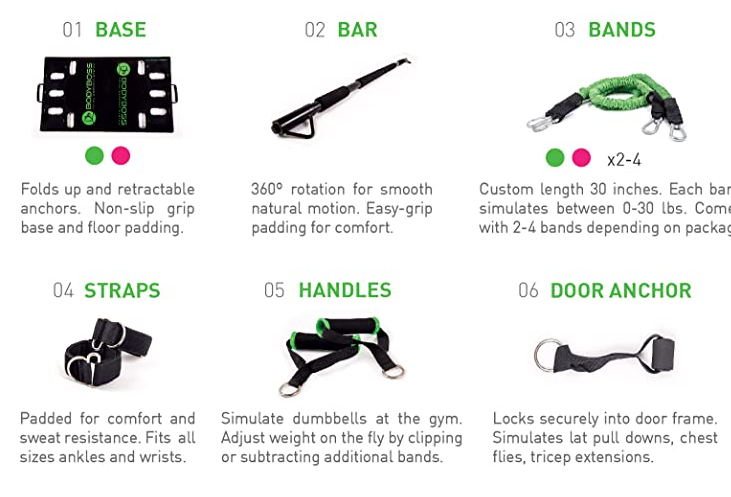 The VectorFit Base
This foldable base measures 19.75 "(L) x 34″(W) x 1″(H) in dimensions and includes five hooks on each side and a total of 10. You need to attach the available bands to these hooks.
The base is the tool you need to step on and start stretching in and out for a great workout. It doesn't only help you exercise your muscles and offers more control and versatility over the resistance.
Workout Bar
The package comes with a 360-degree rotation workout bar that acts as dumbbells, barbells, and weights, normally found at gyms. The end of the workout bar includes a band clip-on that rotates freely, and it can be separated into two parts for more portability.
Resistance Bands
Body Boss comes along with standard bands that can produce up to 30 lbs of resistance. These resistance bands are key elements of the system, which are hooked into the base.
The bands are elastic and flexible, which are 30 inches in length. However, One package contains only 2 resistance bands, and if you need additional bands, you need to pay extra for each.
You can increase and decrease the resistance through these bands.
Padded Straps
You can get a pair of padded straps which come in standard quality. They are comfortable and sweat-resistant. These straps fit perfectly to all sizes of ankle and wrists.
Padded Handles
Along with straps, you can also receive a pair of padded handles. These standard handles simulate dumbbells and adjust the weight on the fly by clipping or subtracting additional bands.
Door Anchor
Door anchor isn't only helpful in locking up the door frame but also is used in exercises such as lat pulldowns and tricep extensions. It helps you execute your exercise even without the base.
Don't miss the bonus that BodyBoss is offering!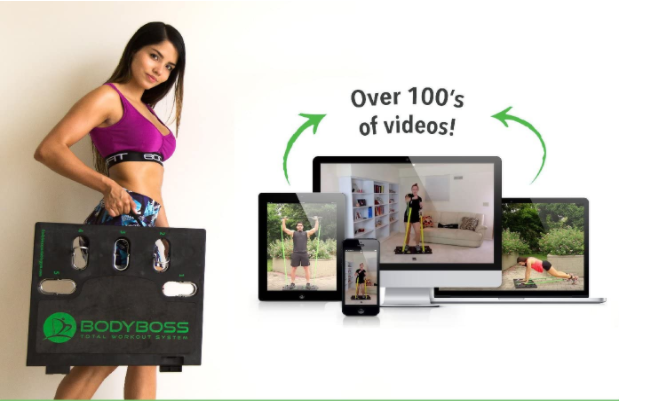 BodyBoss allows the buyers to join the fitness program to learn new workout techniques and exercises. This helps the buyer save from going to a fitness trainer and spending extra money.
What is the cost of the BodyBoss Home Gym? Any BodyBoss Home Gym Discounts?
BodyBoss 2.0 home gym costs $ 179 on its official website.  It's a default discounted price of $255, but it can be changed based on the add-ons included.
Besides the default package, you also purchase some other equipment for your workout needs, and you can check the price here:
Loop RepLoops $ 149 for each
Extra Boss Bands for $ 24.99 for each
But you can check their Discounted Price on Amazon. 
Click Here to get BodyBoss Home Gym at a Discounted Price.
BodyBoss Home Gym Pricing and Refund policy?
Based on the review BodyBoss 2.0, the default price of BodyBoss is $179, but the amount can be increased if you add some other tools.
BodyBoss is giving one year warranty on the overall equipment they avail, and if you aren't satisfied with their package or tools, you can simply return them and get your money back.
Yes, BodyBoss is offering 14 days money-back guarantee. If you need to return the package, you can contact the customer care center through the following details:
https://bodybossportablegym.com/
However, you cannot claim a refund if you buy the package from another website or marketplace.
Conclusion: Is BodyBoss Home Gym right for you?
Bodyboss home gym 2.0 is a practical, economic,  flexible, and user-friendly workout system. This exerciser is lightweight and portable, it can be a good alternative to free weights, home gyms, or machines.
The home gym 2.0 doesn't only help you burn fats but also helps you target fitness skills such as hypertrophy, stamina, speed, and HIIT.
So if you want your private gym at home, BodyBoss is a great option at a low price. You can take it anywhere you travel.
Related Topic: Bowflex Max Trainer M7 Review: Features, Program, Pros, and Cons
BodyBoss Home Gym ​​Reviews FAQ
Q: Is BodyBoss Home Gym safe to use?
In the review of BodyBoss 2.0, customers have showered their positive feedback over the company and customer care service. The package is actually effective and result-oriented.
There is no issue for beginners to use the tools available in the BodyBass. You needn't worry about the possible injuries while doing workouts, as the system is designed to consider users' safety.
Q: Is BodyBoss Home Gym FDA approved?
BodyBoss 2.0 isn't a supplement, so there is nothing to question about the FDA facility. However, this home gym system is secure and safe from injuries.
Q: Can I buy BodyBoss Home Gym on Amazon or Walmart?
Yes, you can buy BodyBoss at Amazon, Walmart, and eBay too. However, if you buy this product from these marketplaces, you cannot claim a refund on the official website.
Q: Is BodyBoss Home Gym a scam?
Based on the review of BodyBoss 2.0 is a genuine system to help you exercise at home. Thousands of people are using it happily and sharing overwhelming reviews.
The company also offers 14 days warranty and one year warranty, so it is scam-free.
Q: How much does it cost?
The default cost of BodyBoss 2.0 is $179, but it can be changed if you add extra equipment to the order.
Q: How long does it take to ship?
BodyBoss 2.0 home gym is shipped via FedEx and USPS all over the US. So, the order can reach the same day you order at your place anywhere in the US. But it can also take 3-7 business days to ship the order in the US ranges.
Similarly, if the order is international, it may take 7-21 business days.
Click Here to get BodyBoss Home Gym at a Discounted Price.
Like this Article? Subscribe to Our Feed!
John is an avid researcher and is deeply passionate about health and outdoor activities. When he's not working, he writes research and review articles by doing a thorough analysis on the products based on personal experience, user reviews and feedbacks from forums, quora, reddit, trustpilot amongst others.