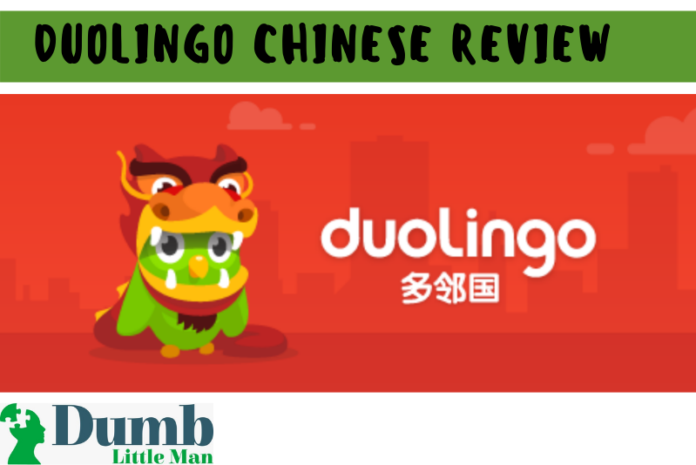 If you have ever tried to learn the language, I'm sure that you have probably already heard of Duolingo. Duolingo is one of the most popular language learning apps which offers dozens of different languages all over the world. Moreover, it is now no surprise that they are offering the most widely spoken language-Chinese. Finally, they created a Chinese course.
Is Duolingo the best way to learn Chinese? Check out our in-depth Duolingo Chinese Review. Does Duolingo worth using and spending your time? Read our quick review and decide for yourself.

Duolingo Chinese Review
Advantages
Easy to use, user-friendly, the gamification aspect and quick lessons provide enough of push to learn Chinese.
It is free of charge.
Technically well-designed product for language learning.
Lessons follow logical-order and became more difficult gradually to learn Chinese step-by-step.
Chinese characters are taught from the very beginning.
Useful, varied, authentic chinese lessons help you learn.
Keeping learners motivated is the key aspect of Duolingo .
Disadvantages
The course doesn't focus much on the meaning of the words, chinese characters.
Much part of the lesson is dedicated to matching sound to pinyin and pinyin to characters. Then, you are asked the meaning of the vocabulary without teaching it.
Pronunciation of Chinese words are quite ignored.
The app isn't definitely for learning grammar, sentence structure of the Chinese language.
App doesn't provide clear audio for users.
After the completion of the courses it is hard to speak Chinese even like a beginner.
Exercises of translation lack clarity. Translations of some native chinese words doesn't match perfectly to any options provided.
The hearts feature discourages you from learning further.
No clear explanation about the difference of hanzi and pinyin.
No content for advanced learners.
Price
Duolingo chinese is free. However, you can pay $9.99 per month to remove the advertisements and get offline access to the app.
Duolingo Chinese Overview
The app promises to you get your speaking fluent. The proudly boast their site that their teaching methodology is surely the best version. Though some may argue.It has been a long time coming to the creation of the course for the Chinese language. Having millions of users, Duolingo is the most popular learning resource today. It's completely free to use.
But it lacks the most important aspects teaching and learning process. So, personally I don't think it is as beneficial as other apps for some reasons. Don't waste your time using Duolingo .Let's see why I feel this way!
CLICK HERE TO READ MORE ABOUT DUOLINGO
What's Duolingo Chinese All About?
The app is available from both their website and as an app. It is recommended to use it online as much as possible. In online mode, Tips and notes features are available. Here explanations of grammar rules are given. Any Duolingo lesson will not provide such kinds of explanations. You are expected to learn by guessing. This section is missing from the app.

After your first logging in to Duolingo and select the language you want to learn, you will be asked to select your goals for learning Chinese.

Is Chinese Mandarin Available On Duolingo Chinese?
The Duolingo Chinese course teaches Modern Standard Mandarin which is the official language of China, Taiwan, Singapore, Hong Kong, Macau. The Chinese Mandarin is one of the most difficult languages around the world. It will be a great challenge to pick up for ultimate beginners at first. Especially for the users of English alphabet based languages)
This is a natural difficulty which makes going from English to Mandarin hard. And that is not mention the challanges presented by tones which are true nature of Chinese Mandarin.
The course of Chinese Mandarin covers 4 tones in Chinese, basics of tonal language which is important for beginners. The app is aimed to teach 1000 common characters and also words ranging across topics like food, culture, occupations, health, travel and internet.
Duolingo Chinese review researchers suggest that if you learn Chinese by using the application course extensively, you will be able to pass official Chinese proficiency test, HSK.
If you are interested in learning Mandarin on Duolingo, don't hope that your learning will progress at the same pace as other languages which you might have tried to learn with Duolingo before.
What Does A Typical Duolingo Chinese Lesson Look Like?
The structure of Duolingo Chinese is very similar to other free language learning apps on the market. The app contains several mini-units that are of different topics ( such as greetings, names, family, health, body parts).
Each of the topics includes two to five lessons that are essential for learning Chinese. The user have to complete a single lesson around 5 to 15 minutes considering the level of difficulty.
Different kinds of activities are provided for users. One Duolingo lesson usually contains 2 to 5 activities to review the topic vocabulary. When you begin learning characters that are relevant to the topic, You should learn how to properly match a character with its pinyin. Then, you will move on creating sentences In English or Chinese.

Keep in mind that you can't move to the next lesson if you haven't reached all the skills in the previous lesson. The app asks you to complete all the skills.

However, if you already feel confident about a lesson, you will be able to jump ahead and move to the following topics.You will need to pass a test at Checklist point, then you will be allowed to move forward.

The app gives you 3 chances to successfully pass the test. You will have to try again later or continue your learning lessons in order, if you fail the test.

The way Chinese grammar is taught in the Duolingo app is quite obscure. It heavily focuses on translation exercises ,rather than giving explanation about sentence structure, which will be difficult for beginners.

To say it in another way, Duolingo's Chinese lessons are a mixture of listening and translation exercises. The app lacks the actual explanation and practice of grammar rules.
The First Duolingo Lessons. An Honest Duolingo Chinese Review
As you go through the first lesson you notice lessons are pretty much easy. Even if you have no linguistic background on Chinese language, the first lesson will be easy. It is good for training listening and awareness of chinese characters.

This is an example of how their listening questions are structured. You can listen the pronunciation of the all options by pressing and find the answer. You don't really need to understand any chinese speaking to answer correctly. If you listen carefully, it is easy to answer the question.
The next question will not be played unless you answer the current one. You will have to answer a bunch of questions related to the topic that you are learning.
It is good for learning Chinese that they include characters at the early stages of learning. The early practice of characters and tones is crucial for learning Chinese and to become fluent user of the language*
How Chinese Duolingo Pronunciation Lessons Are Structured?
It is needless to say that Chinese pronunciation is very different from English one. How an english speaker can become fluent and speak like native speakers?
Chinese characters, unlike the most languages of the world are ideographic. It means that the pronunciation of Chinese words and sentences can't be derived from the characters. Scientists have created a number of systems using Latin alphabet system that represent the Chinese pronunciation of characters.
The universal standard system that has been designed so far is "pinyin". It is designed by native speakers of Chinese which allows English speakers to aid in language learning process. However, by learning only pinyin users can't fully acquire Chinese language.The Chines review that you must have a deep knowledge in character system.More specifically, Chinese has 4 tones. They are essential features that one should know in order to avoid confusions in speech.
If you use the app, you will not learn anything about neither pronunciation nor tones. On the site of Chinese Duolingo, there is a short explanation of tones, but not enough information about pronunciation.

If you are beginner and want to learn Chinese using Duolingo, try to use it on your computer as much as possible.In this case at least you can get extra information about character and pinyin by using Duolingo online.
The pronunciation of chinese words and learning basic vocabulary units of Chinese can be really challenging. You may find yourself to get in the habit of pronouncing pinyin just like words of English. This is the most common problem of Duolingo users.
It is completely wrong! Don't learn in this way. Both native speakers and non-native speakers will have a hard time understanding you! It will take a lot of time and effort to fix your pronunciation mistakes later.
CLICK HERE TO READ MORE ABOUT DUOLINGO
Does Duolingo Teach Chinese Grammar?
Before the beginning of each topic Duolingo offers some tips but there is still little grammar explanations included. On the Duolingo Chinese site, sometimes you can find more information, more explanations of Chinese grammar rules. The app provides you with lots of exercises and fun games. But they don't include complete, detailed rules of chinese grammar.

Most of the exercises of Duolingo are based on translation of sentences. English users are taught Chinese grammar heavily relying on grammar translation method. Clearly, it becomes quite hard to get the right answer without having grammatical knowledge.
Additionally, you can also notice that how Duolingo often doesn't accept different translations except the ones that the app has in its database. Your variant mayn't be found in the app storage. It is can be frustrating for learning Chinese.
What Is Best About Duolingo?
In our Chinese Duolingo Review we have already mentioned a few positive things about Duolingo. But there is one aspect in which Chinese Duolingo is really better than others. That's motivation. A lot of people determined to learn Chinese, but it is hard to catch up with difficulties, obstacles of learning language or not knowing where to star or feeling of anxiety.
Duolingo helps its users to get over difficulties and language anxiety. Duolingo app really helps start learning. Duolingo Chinese is the best variant to boost your knowledge of Chinese while having fun with games which are well-designed.
Games push you learn further and move to the next topic. Although if you are aimed to learn basic Chinese characters about one specific topic, Duolingo is the best app.
Motivation
Duolingo good at motivating learners.Duolingo Chinese course is aimed at building self-esteem, motivation of its users. They put in front of learners achievable mini goals so that they feel themselves studying more than they intended to. Duolingo isn't like other apps it put set really low.

Duolingo is one of the apps which adds a lot of gaming elements. Any user feels a lot like playing a game. For instance,you can earn lingots as a reward for studying.

Most people don't have such a strong willing to learn Chinese. So for those people, these rewards mayn't be as pushing as it should be to study.
By using Duolingo you may make friends, language companions. The app provides an opportunity to build a community of language learners. You can create a club or join an existing one. You can invite your friends on Facebook to join. Learning Chinese is a lot easier when you aren't doing it alone but in the community of fun language learners.
Lessons are usually fast and easy to pass. It doesn't include any writing skill. The Chinese review that it aims at keeping people motivated and keep these people moving. If the lessons were long and complex it would be difficult.
It is difficult to complain about the app which is free. But always remember to consider the value of your time spent for learning!
What's worst about Duolingo?
The teaching of vocabulary and meaning is neglected. Most exercises of Duolingo Chinese ask you to match sounds to pinyin and pinyin to characters. The exercises don't include enough versions. Learners get their answers marked as incorrect and get demotivated.
It doesn't teach you to make up a sentence by yourself. Indeed, there is a strong emphasis on translation.
The pronunciation of audio recordings is quite fine when it comes to only a single character. In translation exercises, you often hear a full speech. The reason is that all characters were recorded separately and they don't seem natural. In natural life you never hear a Chinese speaker who would only speak using a single character.
As mentioned above in Doulingo Chinese review, there is no emphasis on speaking lessons, the course is not about improving communication. The app doesn't ask you to speak. Indeed, there is pretty much more drills for listening practice.
Duolingo shouldn't put so much pressure on its users. Think about their health. As the Health is important factor in everyone's life. The pace of games may cause stress not motivation for some.
If Not Duolingo Then What?
Most people should avoid using Duolingo to learn Chinese. Because
It is only suitable for people who are literally interested in studying only for 5- 10 minutes a day.
For those who would find gamification of the learning interesting while it would bother majority.
According to the review of most users, there are several similar apps that can do most things better than Duolingo. Some may not be free and require subscription fee. However, they are all significantly better than Duolingo.
The Alternatives To Duolingo.
Apps like Duolingo but definitely better ones are Pimsleur, iTalky, Mondly, Yoyo Chinese, Chineseforus. They all can be accepted as a better version of Duolingo. Their courses are more systematized and teach the language in more meaningful way.
If you are going to learn Chinese for important purposes and willing to pay a subscription fee. I would suggest Pimsleur. It's more detailed and useful for learning Chinese.
There are various courses, although they cost money, are worth considering if you have a chance to put in the work required to study the language. Chineseforus would be the best course version of Duolingo for absolute beginners, with Yoyo Chinese being another good option worth trying. Below we provide quick review of alternative apps to Duolingo.

Pimsleur is considered as one of the best language learning program among similar software. It is especially focused on the conversational language and you can use it both online and offline. Also the application rejoices with a great deal of languages. Subscribe and boost your learning process.

 Advantages
While using Pimsleur you will not only hear but you can take part in a conversation. Simple interface makes you switch between languages without losing progress. Mandarin is supported as well, mostly concentrated on its grammar, sentence structure and it is claimed that you can really improve after a couple levels that gives you a habit of speaking in order not confusing time, place and action order. Even after 2 lessons you feel the results. The Chinese review said that this application is the best for learning Mandarin dialect.

Disadvantages
Application has a lot of typos and formatting problems for some languages. And the subscription is not mandatory for the first lessons, but for others that allows you to move on is paid.
CLICK HERE TO READ MORE ABOUT PIMSLEUR
iTalki is one of the best apps that provide face to face teaching and learning with native speaker as a teacher. Lessons can be scheduled by a learner or by a teacher. This is like a virtual classroom where your classmates are from different places and different races, it is always interesting to be in a mixed class even if it is online.

Advantages
The best thing I have noticed is Chinese mandarin lessons. Everyone knows that the Mandarin dialect is popular in China, so you can easily find a teacher or even a professor that will offer one-on-one lessons for you.

You can use Skype for video lessons, it is more comfortable for beginners. There are free sections iniTalki like a notebook or the community, but learning with a private teacher isnot free, it's paid.
Disadvantages
One of the biggest disadvantages in this application isnot supporting a variety of payment systems. Teachers can notify students about cancelling 30 minutes before lessons, but the student is allowed only to notify before a day.
CLICK HERE TO READ MORE ABOUT ITALKI
Mondly is one of the best competitors for Duolingo. This application has a free version and a paid one which you can enjoy with more functions and non-limited lessons. Software includes 33 languages and includes Mandarin as well.

Advantages
Using premium subscription you get to all 33 languages and gives you access for Mondy kids and Mondy VR. Mondly is in the top in its category and considered as a Editor's Choice by Google Application Store and Best New app by Apple Store.
Disadvantages
Chatbot remains for this application, but it is still the negative side of it. Some sentences don't work, you will get answers to talk slowly or repeat the sentence, and chatting with bot is impossible to improve, there are limited options that you can chat with.
CLICK HERE TO READ MORE ABOUT MONDLY
Yoyo Chinese is a platform specialized in Chinese language.For beginners this kind of self-study can help to improve their vocabulary, grammar. For now YoyoChinese has no personal application, but it is optimized for mobile phones as a website. You may subscribe and take part in lessons.

Advantages
Yoyo Chinese has a plan of a day that takes you 40 minutes per day. And there is a video lesson for 4 – 10 minutes. Grammar concepts are explained very well.

Disadvantages
YoYo Chinese course can be mightnot be helpful for who are already at an intermediate or upper-intermediate level.
CLICK HERE TO READ MORE ABOUT YOYO CHINESE
Conclusion
Acquiring foreign discourse is an undertaking process. Especially, when the target language is difficult one, Chinese. With the help of modern applications you can boost your level with ease, however.
As we mentioned above in Duolingo Chinese review, if you are willing to acquire Chinese for general purposes, it can be useful for you.
If you are determined at mastering Chinese, it is better to spend some money for other applications. Like Pimsleur, Mondly, iTalki. They are surely better than Duolingo in terms of teaching Chinese systematically and more profoundly.
It is a little bit disheartening that many people are using Duolingo inspite of the negative review of many people. They are a huge brand name in this sphere and numbers of users are growing day-by-day.
You can sum up from Duolingo Chinese review that the app's main aim is keeping its subscribers entertained and rank at the top places.
But Duolingo isn't the best application to learn Chinese.
CLICK HERE TO READ MORE ABOUT PIMSLEUR
CLICK HERE TO READ MORE ABOUT ITALKI
CLICK HERE TO READ MORE ABOUT MONDLY
Like this Article? Subscribe to Our Feed!
Passionate in tech, software and gadgets. I enjoy reviewing and comparing products & services, uncovering new trends and digging up little known products that deserve an audience.