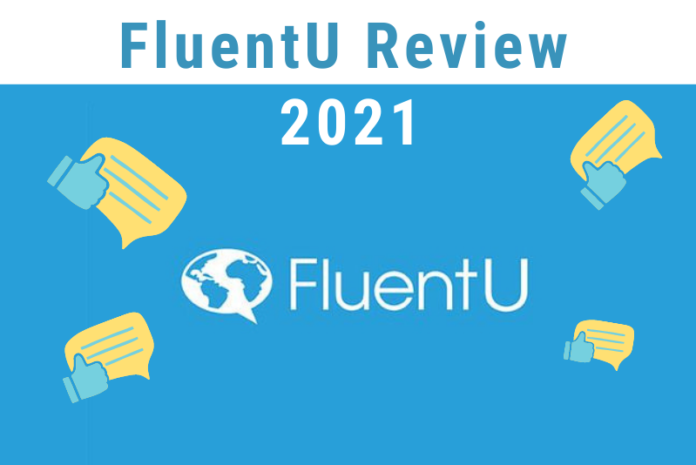 FluentU is a language learning platform that offers courses in more than 10 languages. FluentU provides a personalized learning experience and real-world videos to help learners reach their fluency goals. In this blog post, we'll be reviewing the app and giving you some information about what it has to offer as well as its pros and cons.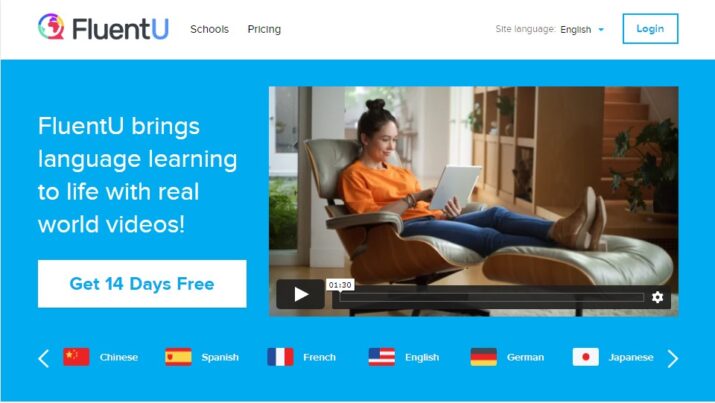 FluentU takes a unique approach to teach languages by using authentic content worldwide, including TV shows, music videos, news broadcasts, cartoons videos, and inspiring talks. The program does not just focus on vocabulary but also teaches users how different words are used in context with grammar rules of each language, making for an immersive experience.
FluentU Review In 2021
Table of Contents
What Is FluentU?
How Does FluentU Work?
Pros and Cons of Using the FluentUApp
Why Should Learners Choose FluentU?
What is available on the site, and how to use FluentU?
How to use FluentU for learning a language?
A personal testimonial about my experience with the FluentU app
The future of FluentU and its vision in 2021
Pricing Plans, Subscription Lengths, and Discounts
How to sign up for an account, and what are the payment options?
Where can I find more information?
What Is FluentU?
FluentU is a video-based language learning platform that provides authentic course content from around the world. It features Chinese, Spanish, French; Korean; Japanese; German; English; Portuguese; Russian; Italian; languages that users can choose to learn or review their knowledge of. The app offers lessons at all levels, from beginners all the way up to advanced learner proficiency.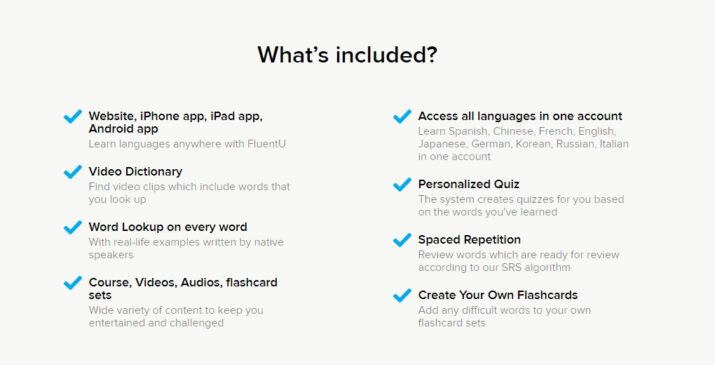 It allows users to go through each course at their own pace with the help of interactive tools like quick quizzes, flashcards, audio reviews, personalized recommendations, and real-world videos (over 2000) for better contextual understanding.
How Does FluentU Work?
FluentU takes a unique approach that combines entertaining bite-size chunks of media with engaging activities to make sure users don't forget what they learned along the way.
The program itself is divided into several courses, each featuring a variety of short videos containing real conversations or songs in the target language. The videos are accompanied by interactive captions, flashcards, and quizzes to make sure you're grasping new vocabulary correctly.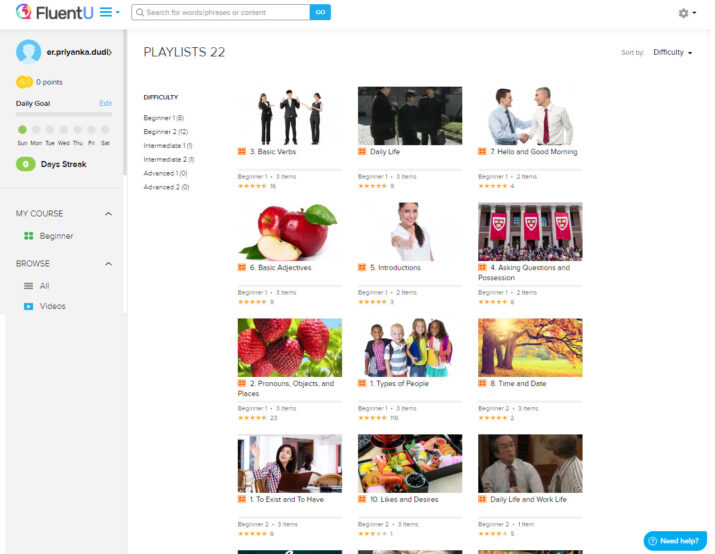 As users progress through their chosen program, they can access additional tools that give them a more in-depth look at grammar rules and other concepts of the target language, such as bilingual definitions for words and phrases. Users have the flexibility to learn languages like  English; French; German; Japanese; Italian; Korean; Chinese (Mandarin) Spanish; Russian; English for Korean speakers; English for Spanish speakers; English for Japanese speakers, and much more.
By the end of each course, the learner will have watched hundreds of hours of video content, used the flashcard to immerse herself/himself in the language's culture, and fully understand its nuances.
Pros Of Using The FluentU App
There are numerous benefits associated with using FluentU for languages, including:
Personalized Learning Experience
FluentU's learning method is highly effective because it uses actual-world videos from all over the globe combined with interactive activities like a flashcard system designed by expert dialect teachers to create an experience tailored to individual user needs.
The program teaches you vocabulary, word and grammar rules, contextual understanding, and pronunciation for the beginner-level learner to develop a full-fledged ability to speak the local jargon using interactive videos.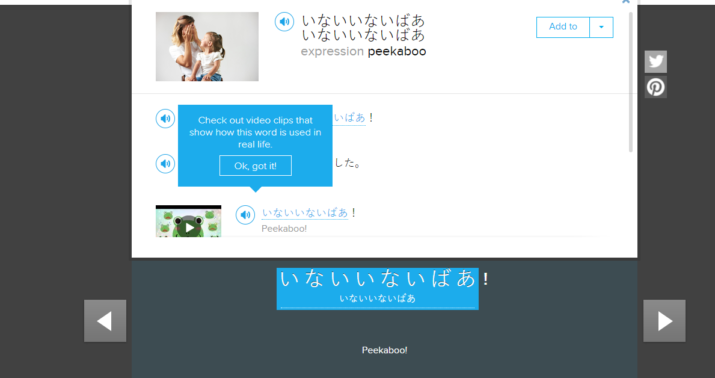 Real-World Content
FluentU uses video content from all over the world, giving the learner a more immersive experience about other cultures and customs of different societies in his/her target language. The app covers everything from television shows, music videos, news broadcasts, and songs to movie trailers and inspiring talks, giving users exposure to the way native speakers actually use their chosen dialect on a day-to-day basis.
Access Anywhere
The FluentU platform is accessible online wherever you go so that you can access it anytime for your daily practice sessions while following along with actual-world media or carrying out one of the interactive activities designed by professional teachers. You can access the site using any device that has an internet connection.
Great for Immersion Learning
FluentU is particularly useful for immersion knowledge because it offers more than 10 languages from all over the world. Hence, both beginner and advanced language learners who already know quite some words, have a greater chance of finding one that resonates with them and makes them want to keep coming back.
The app also features different course levels, covering everything from beginner-level word vocabulary all the way up to advanced learners' level fluency, so students can find a pace they feel comfortable with before building on their knowledge in later courses.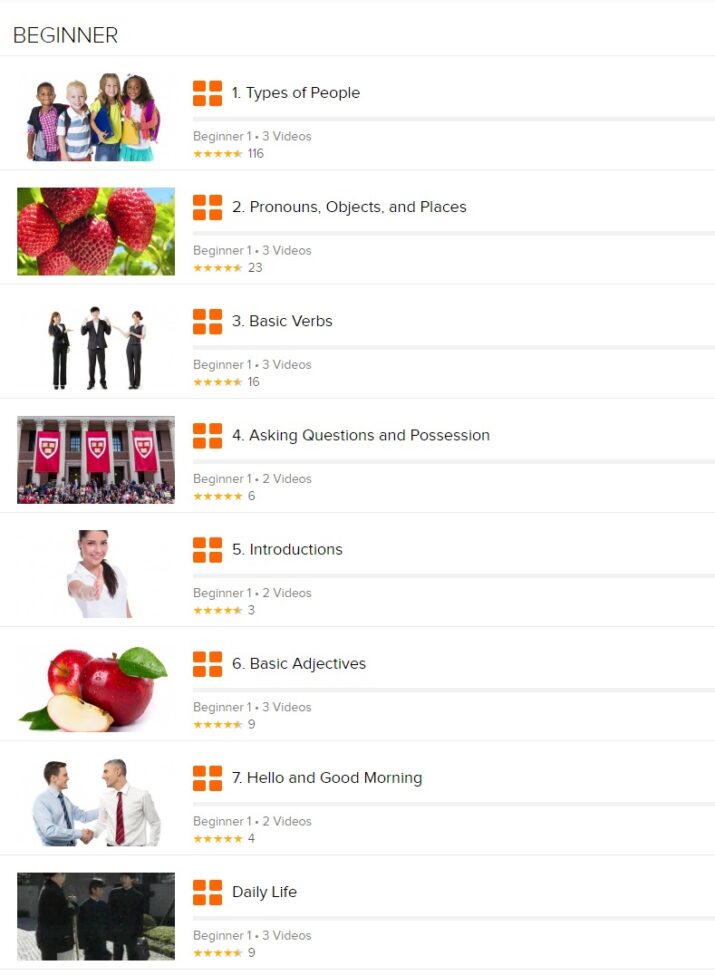 Creative Method of Building Vocabulary
Unlike other apps out there, FluentU doesn't just teach you definitions but instead gives you context by combining actual-world media with interactive tools and activities including videos.
The app comes with a "Learn Mode" that displays the new word on the screen while showing you how it's used in multiple examples, synonyms, related words, antonyms, collocations, and other features to help you better understand its meaning and usage.
It also uses fill-in-the-blank quizzes to let you review your knowledge.
Adaptive Training Tools
FluentU is not your typical vocab-building program because it uses adaptive video technology to identify the level of language learners' knowledge of a target dialect and then delivers lessons tailored specifically for them.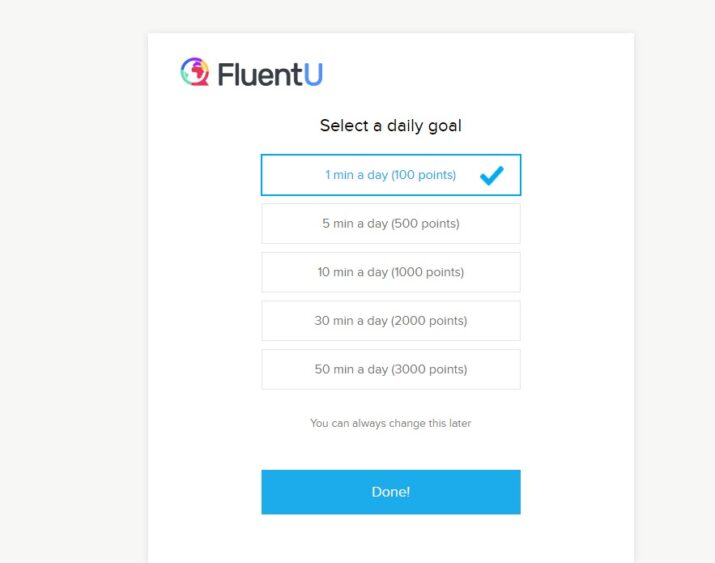 It also flags videos they need extra help understanding so users can go back over them or simply skip through the sections they feel more comfortable with at first glance. In this way, students get only as much help as they need to get through the material at a comfortable pace.
Professional Teachers and Expert Content Creators
The app's courses are designed by professional language teachers who take into account all aspects of teaching a foreign tongue, including cultural relevance, level of difficulty, actual-world application, and individual needs.
In the same vein, each video comes with multiple features for users to interact with, such as pause buttons so the learner can replay segments if they want more than one listen without needing to rewind or fast forward through videos.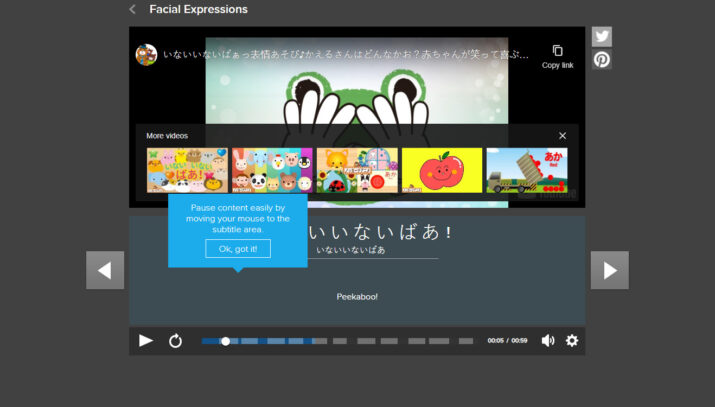 All this combines together to make FluentU one of the most innovative learning tools on the market today and quite possibly the best one in its class.
Easy Layout, Lots of Content
FluentU is easy to navigate and breaks down all its course content into small, individual videos so a learner can learn specific phrases or words at their own pace without having to follow along with a lengthy video.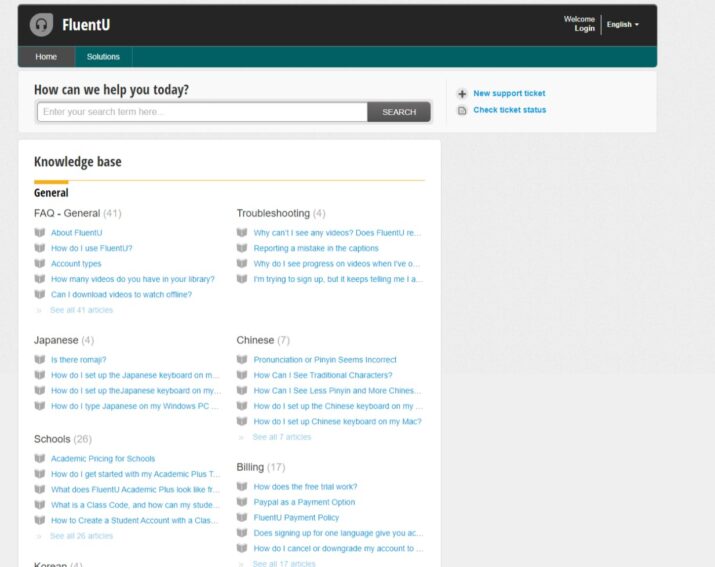 On top of this, the app comes with in-video quizzes for students to test review their comprehension throughout lessons which helps them keep track of their own progress no matter what level they are on. It makes it possible for you to review your daily goal.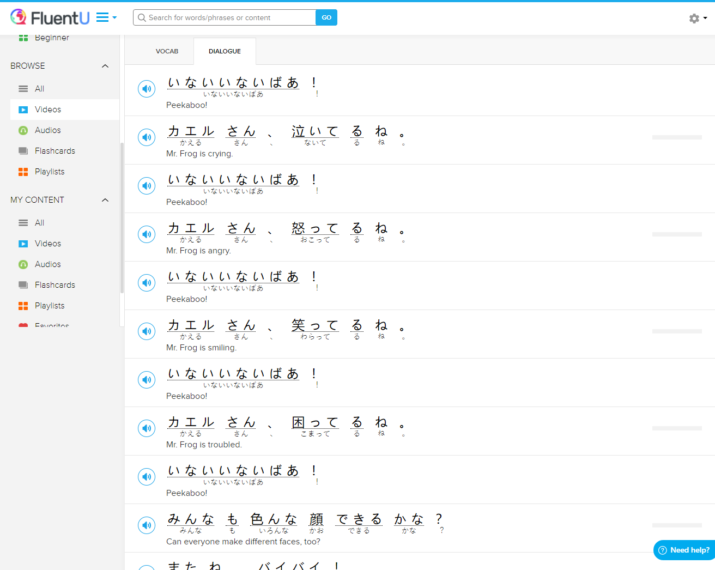 Free trial available
Those interested in trying out FluentU but who aren't ready to commit to a full subscription can take advantage of the 14-day free trial offered by the company.
There is no obligation to continue after this, so users can try it out and cancel whenever they like if they feel it isn't the right program.
Languages
The site currently offers courses for over 10 languages, including Arabic, Russian, Spanish, French, German, and Mandarin Chinese.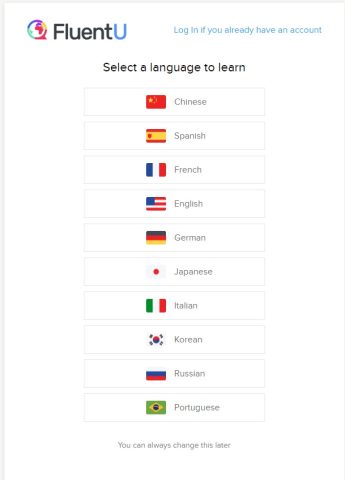 The apps are also fully compatible with iOS devices and Android phones and tablets, so the learner can use their mobile devices for speaking practice or listen while on the go.
This makes FluentU an incredibly handy tool to have at your disposal wherever you are in the world.
Cons of FluentU platform
FluentU is a solid app. It's gotten lots of great reviews and been featured in the media by publications like Forbes, Huffington Post, Time Magazine, and TechCrunch, to name just a few.
In fact, FluentU is so popular that it has won awards for its incredible ability to teach languages online on an individualized basis. However, despite all this, there are still a few cons associated with the platform:
Costly subscription fees
One of the most significant downsides to using FluentU is that although they offer a free trial period, students will need to pay full price for their courses after one month if they want to continue expanding their knowledge base.
The cost varies depending on which plan you choose. Still, you can expect subscriptions ranging anywhere from $19.99 per month to $29.99 for the Premium plan.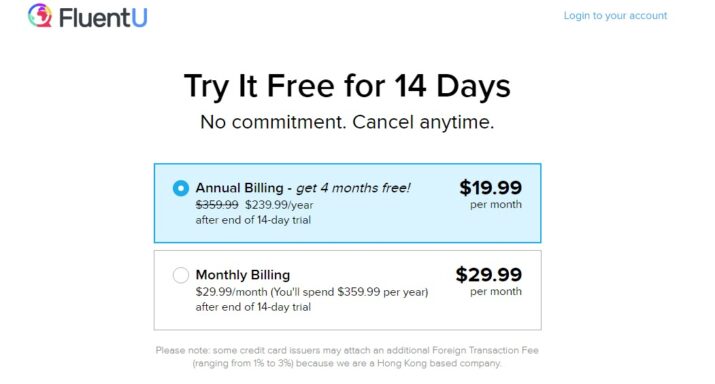 These costs may add up over time, and if you are a learner who does not have money to spare on extra fees, this may be something that deters you from signing up in the first place.
Questionable mobile compatibility
As of 2015, some users reported problems with accessing certain features on their Apple devices, such as being able to rewind or access closed captions while watching videos on iPads making it somewhat difficult for them to learn new languages properly at times.
However, it is important to note that these issues seem to have been resolved according to recent reviews, so you shouldn't let past negative experiences get in the way of trying out FluentU.
Why Should Learners Choose FluentU?
Although there are a few minor negatives to using FluentU, one thing that can't be denied is that it has proven itself to be one of the best apps for language learning on the market today.
It offers a user-friendly interface and affordable subscription rates so you can continue practicing what you have learned while on the go.
In addition to this, FluentU also has video lessons, audio dialogues, and an interactive phrasebook for students who want extra resources when learning new languages online, making it a particularly useful tool for those looking to expand their word vocabulary list in other countries or even just polish up their English skills.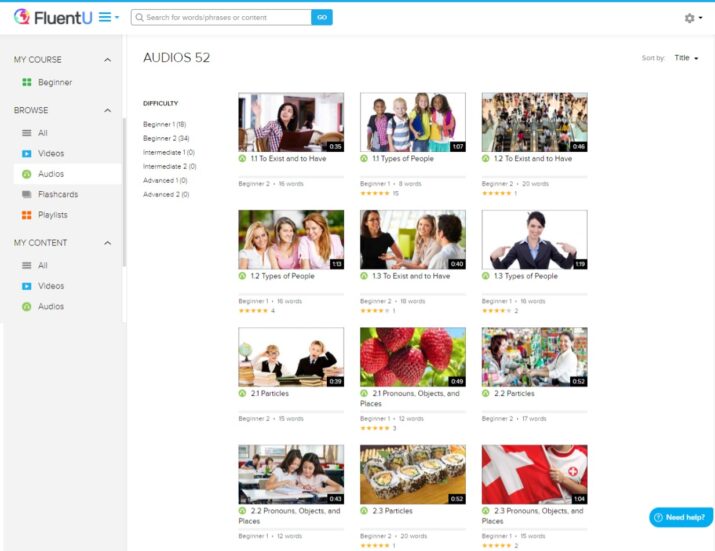 The videos have closed captions and subtitles, as well as actual-world applications, which make them especially beneficial for long-term learning.
What is available on the site, and how to use it?
FluentU is an interactive site that allows users who want to learn new languages by providing them with a comprehensive list of videos, dialogues, and other valuable tools.
You can use the program in order to improve your reading, writing, listening, and speaking skills as you are guided through the different stages of learning by professional teachers.
How to use FluentU for learning a language?
The way that you can utilize FluentU for your own language-learning needs depends on which plan you have subscribed to.
If you choose the Basic or Premium subscription, then you will be able to take advantage of all of the video materials on offer at this time.
However, if you opt for the Premium Plus or Business plan, then members will get access to a wide range of extra tools, including audio files, a flashcard system, and customizable plans.
Menu of FluentU platform contains the following options:
CONTENT
FluentU feature a variety of multimedia course content. Movies, videos, and TV shows are available to get started with the language learning process.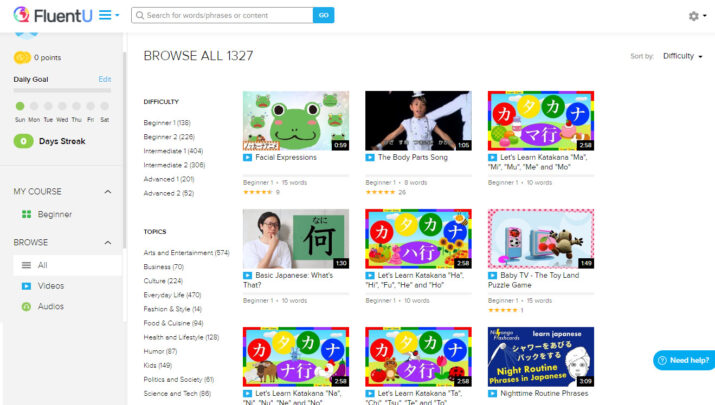 All the media has subtitles for users who need help understanding what is being said in the audio.
FluentU works with native speakers which provide on-screen definitions while watching movies, listening to music, or reading articles.
VIDEO
After choosing a video, there are three ways to view the selected video:  
Video flashcards are the default option where each line appears as an interactive flashcard. An English translation can be displayed alongside the target-language text.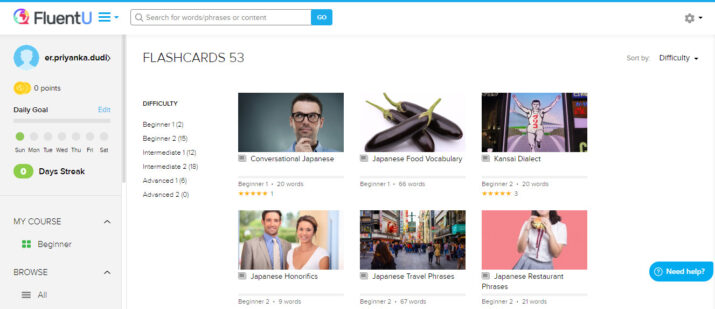 Text Transcript presents the text transcript with a link that allows users to listen to it at any time during their video viewing experience.  
You have the option to see subtitles for videos that usually do not come with subtitles.
RETENTION CORE
FluentU provides users with a way to keep track of their progress and review what needs more work in the future.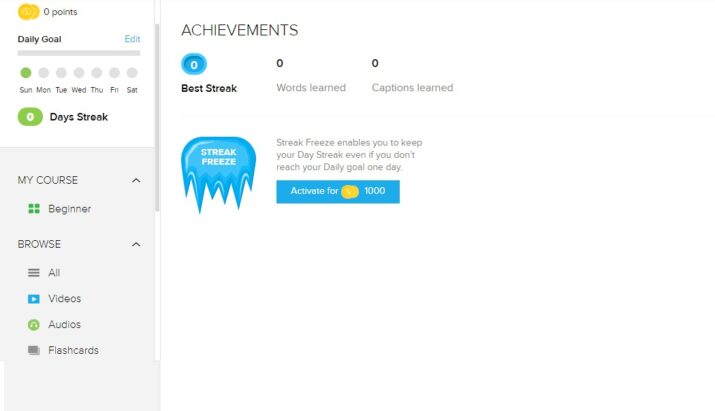 Users can set flashcards review for target words they need to learn, after which it will show up on their 'retention schedule' feature. The retention schedule feature allows users to see where they are at in terms of learning the language and how long they have left before they forget their progress. User can check their favorite video list, saved audios, daily goal, and much more.
A personal testimonial about my experience with the FluentU app
After doing a thorough FluentU review I can tell you that I found FluentU to be a particularly useful tool for learning Japanese because it offers students an opportunity to learn more than just vocabulary and grammar. You get a chance to learn practical language skills that you can put into practice in real-life situations.
The videos are easy to navigate and focus on beginner, intermediate, and advanced-level topics such as formal business settings and cultural nuances, which allow students the chance to perfect their speaking abilities beyond words alone.
The future of FluentU and its vision in 2021
FluentU has recently launched a Kickstarter campaign so they can raise the money necessary to re-launch an updated version of their program. This update will feature more social interaction for the beginner and another level users.
The update will also have many new features such as a flashcard system, audio-based exercises, video-based exercises, and personalization tools, making it easier than ever for students to find whatever kind of course content is best suited to their own unique learning needs.
Price Plans, Subscription Lengths, and Discounts
FluentU offers discounts for the first month of its subscription service as well as special pricing plans for instructors looking to incorporate it into their classrooms.
The FluentU platform also features a Suggested User program, where teachers can share their recommendations about FluentU with others they already know who may be interested in trying it out.
The FluentU cost ranges in price from $29.99 per month up to $239.99 depending on how long you want your membership to last. Still, if you are not ready to commit to anything right now, there is always the option of downloading some free content, so you have something to get started on without spending too much.
FluentU feature a range of different subscription plans, each of which is affordable and can be paused or canceled at any time if users are only looking to use the program for a specific amount of time.
How to sign up for an account, and what are the payment options?
Signing up for an account with FluentU is easy and painless… much like learning a new language should be.
You can sign up right away or even preview what the FluentU site has to offer before deciding to invest in one of their many subscription plans.
Once you have made your decision, all you need to do is enter your personal information, pick a username and password (and then change it! You don't want to get stuck using something that you will instantly regret) and voila! You are ready to start exploring this truly incredible platform in your quest to become fluent in another language.
The FluentU app offers two different ways to pay for your subscription: either by using a credit card or PayPal.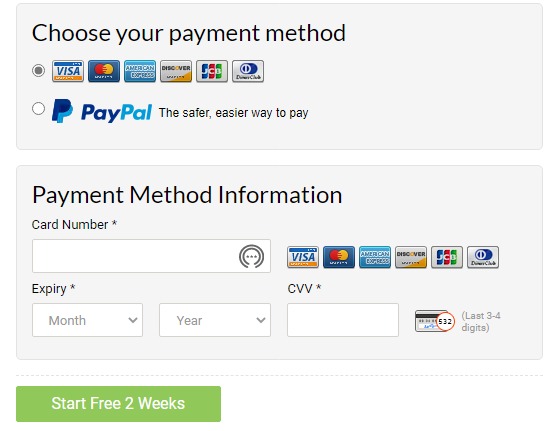 You can also use any of these options to purchase additional content if you buy any one-on-one tutoring lessons. However, these are currently only available in Japanese and Mandarin, with more on the way.
Where can I find more information?
After reading this FluentU review, if you have decided that FluentU could help you learn a new language or improve on your existing skills, then there is no need to look any further than their company website, where you will find all of the details regarding pricing as well as learning resources about how to make the most out of this innovative language platform, so it best suits your needs.
Alternatives
Yabla
Like FluentU Yabla is a platform where you can learn from native speakers through real-life videos. Yabla is a video language learning library with video lessons for six languages. Yabla offers French, Chinese, Spanish, Italian, English, German.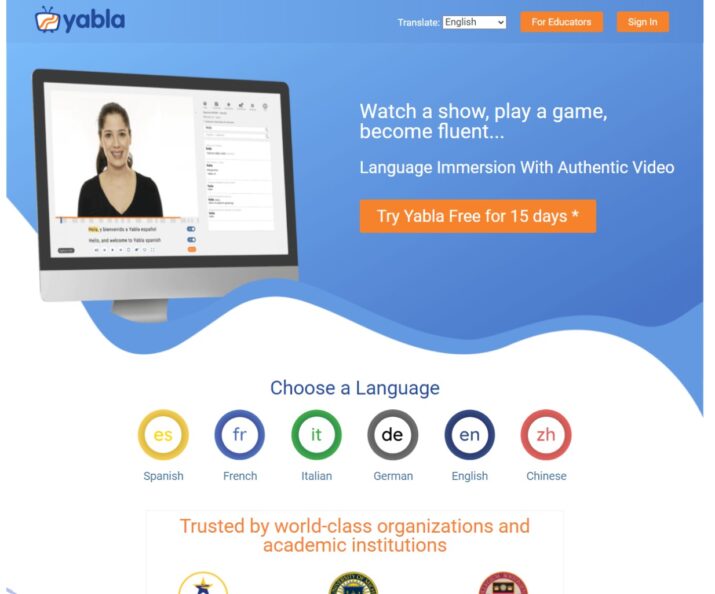 Alongside each lesson, there are words in the target language (usually, this would be English), and they come up one at a time on the screen as the voiceover explains them. There are also video subtitles as well to help with comprehension and reading practice.
After doing an extensive Yabla and FluentU review we can say that FluentU's means of promoting interaction and engagement among users currently seems better than Yabla's approach. But, Yabla is an economical alternative to FluentU.
3Ears
This free website has realistic situations that allow users to put their listening skills into practice.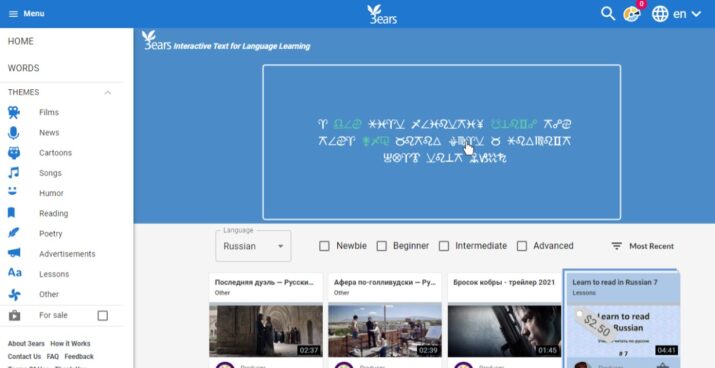 3Ears provides short audio lessons dialogues in an authentic context, providing many real audio samples of everyday life conversations between people who actually speak the language being learned.
Unlike youtube and others, it focuses only on one language i.e. Russian.
Learners are free to listen to web audio, download audio, and use the 3Ears iPhone app.
Language Learning With Youtube
Youtube lists down video courses taught by professors from universities all over the world. You'll get to know about simple phrases in different languages that you can start using right away when you travel abroad and watch youtube videos of famous artists singing their hit songs in various languages.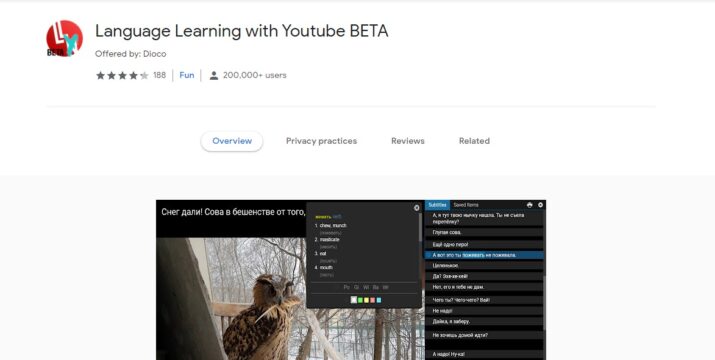 Hence, you learn how those songs are actually written in the target language, as well as improve your knowledge of music grammar and syntax.
They also have youtube videos for learning other things such as history, geography, business terminology, etc., besides simply learning new words or sentences in any of the 53 different languages. We already know, it's free so it won't burn a hole in your pocket.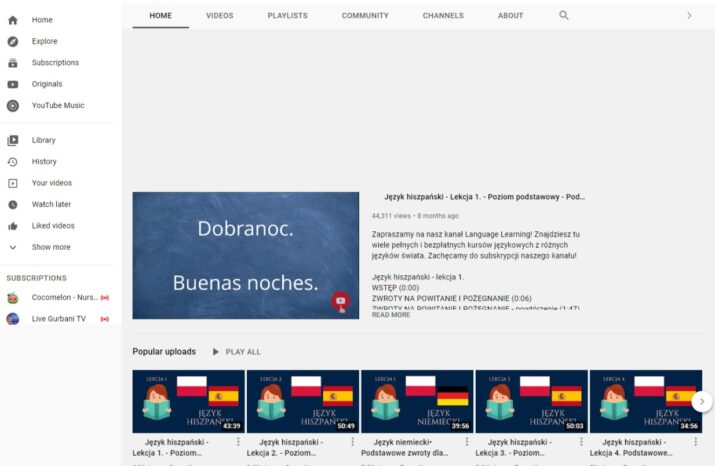 Language Learning With Netflix
Now that we have so many Netflix originals in so many language options, and they're getting so popular, you can use them to learn a foreign language like French, Spanish, etc. Even if the dialogue isn't entirely in the selected language, we can choose video titles in our own native tongue and then switch over to the soundtrack of any other one whenever we like.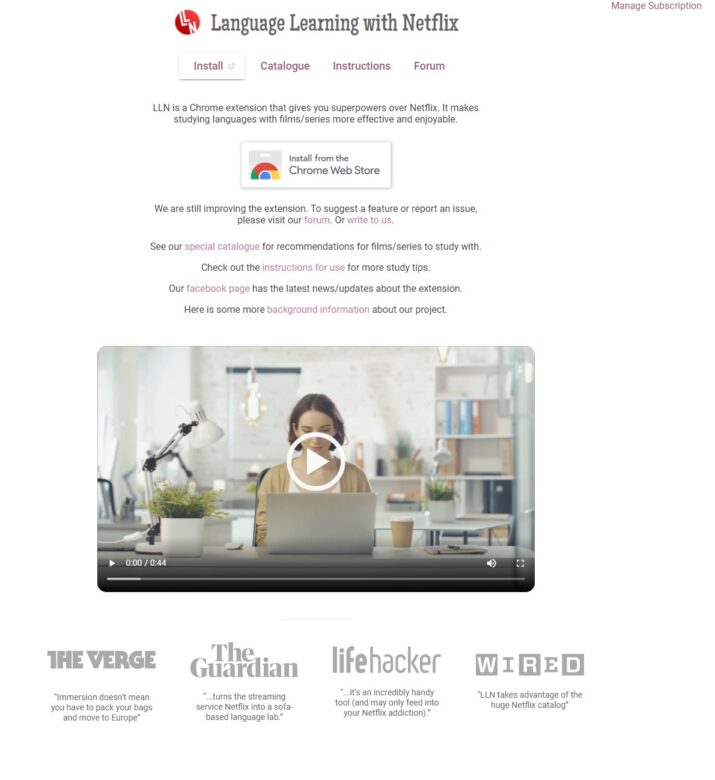 I started watching some TV series in French last year, and I think they were my favorite ones—I used subtitles to follow along with what was being said. Also, you could keep track of which phrases or words you found particularly useful or exciting by writing them down on paper every time they appear on-screen. It's free for you if you have a yearly or monthly subscription.
Lingopie
This is a website where learners can meet one another for free practice sessions and to give each other feedback. The teaching method is based on the Socratic method, in which learners ask questions about new material until they are ready to teach it back to other participants. German, Italian, French, Spanish language are included among others. It also offers a free trial.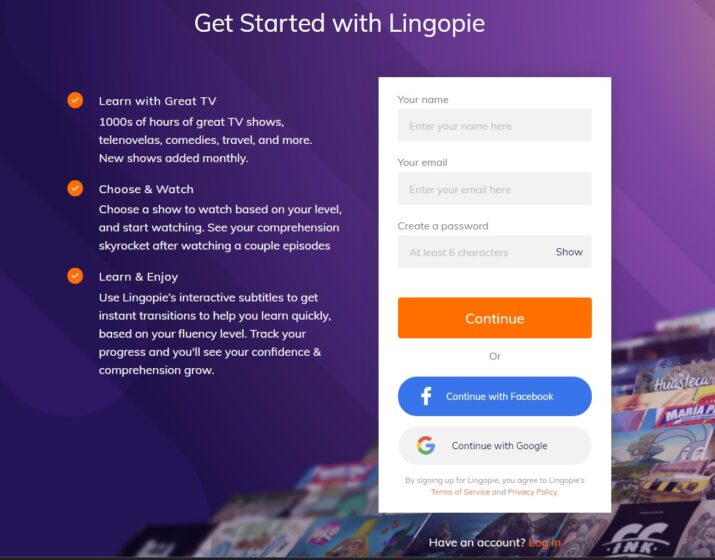 Captionpop
This website offers thousands of captioned youtube videos that learners can use to learn a language like Spanish, French, etc. using visual cues and memory triggers. Learners often find it easier to understand a word when spoken with images than when heard alone (as you'd listen to them in podcasts or audiobooks). It also provides affiliate links for Youtube..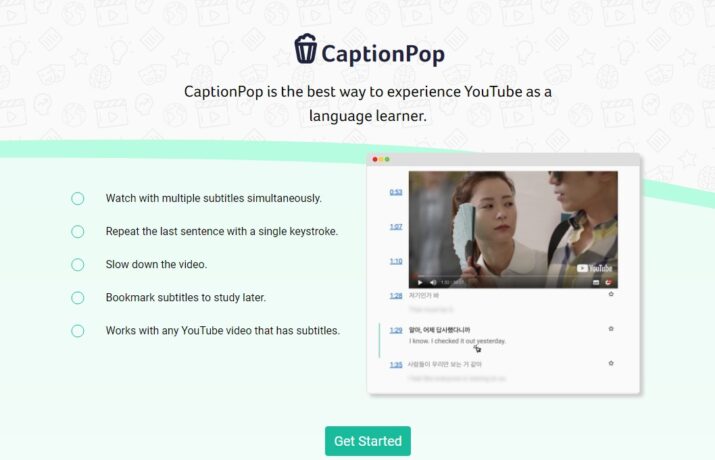 Captions include the target word written out for learners who want to know how the word is spelled, as well as translations into the learner's native tongue if he or she wishes more help understanding the foreign language being used.
Rosetta Stone Language Learning Platform
Rosetta Stone Language Learning Platform uses images, text, and sound to teach words and grammar by spaced repetition.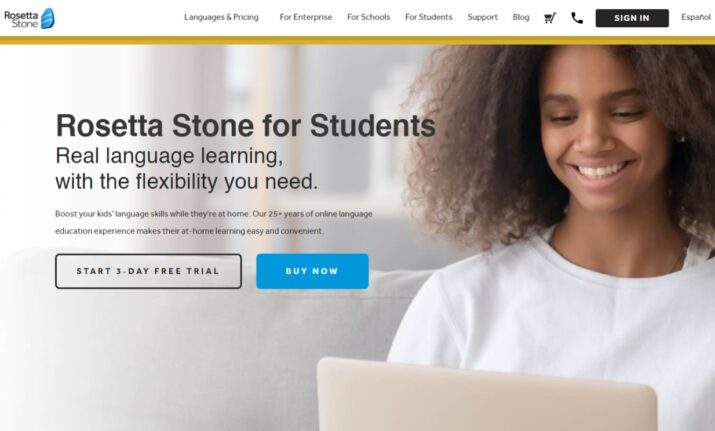 Like FluentU, users can complete multiple activities such as flashcards, matching, listening activity, multiple-choice vocabulary review, grammar test, etc. These activities develop reading and listening skills.
The program also features the Audio Companion feature where a person can listen while they read the corresponding words in a book or an article. The avatars are depicted as human characters. It provides supports for more than 25 foreign languages including German, Japanese, Korean, Russian, French, etc.
After doing Rosetta and FluentU review, we noted that Rosetta Stone is generally considered the more expensive option when compared with other language learning tools and resources. But, it is considered one of the best FluentU alternatives among other language apps.
Conclusion
FluentU seems an immersive way to learn languages while also getting a sense of the culture. The app has been around for over 10 years, and in that time, it's grown into one of the most popular language-learning apps on the market. With over 30 million downloads from learners all across the globe, there are many reasons why people love this service—and some who don't quite get what makes it so great.
FluentU offers learners the opportunity to learn from any device, anywhere. FluentU video lessons are available in over 10 languages with native speakers. You can also use it for listening comprehension practice or as an introduction to a new language.
With its intuitive interface, you will be able to create your own personalized study plan while using interactive exercises like quizzes and flashcards. Learners should choose this app because of its high-quality content, affordable pricing plans, and easy registration process.
Like this Article? Subscribe to Our Feed!
Passionate in tech, software and gadgets. I enjoy reviewing and comparing products & services, uncovering new trends and digging up little known products that deserve an audience.