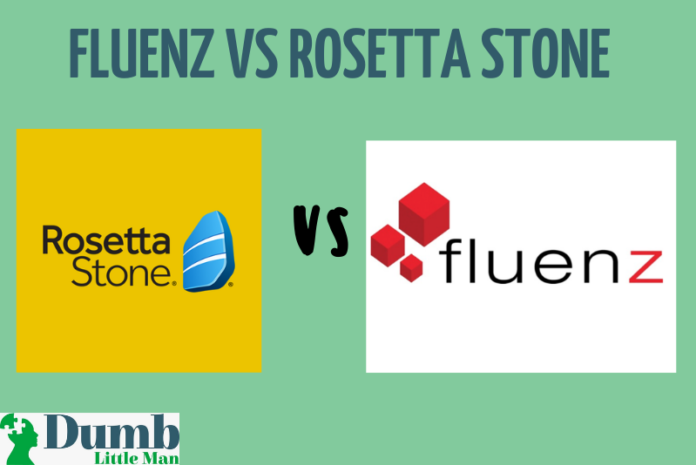 Rosetta Stone and Fluenz are two language-learning platforms that provide students with comprehensive study solutions in a variety of languages.
While the interfaces of Rosetta Stone and Fluenz look to be very similar, the methods through which they teach are vastly different.

Image from PcMag
Rosetta Stone is full of immersion, which means that you will not be provided any explicit explanations of what you are learning, but every lesson in Fluenz features a large number of clear explanations in the target language.

Image from PcMag
Fluenz is without a doubt my preferred resource out of the two available options.
You should consider all of your options before deciding on which course is best for you.
Let's get into the review now. This review will tell you about the characteristics of both service-providing platforms.
Reasons why you should try an online language learning program
Foreign online language programs are one thing many people are enrolling in. Surprisingly, educators are discovering that any language learning software is a terrific tool to ensure that you too may become bilingual.
Learning a foreign language has never been easier, even online. Free Videos, free audio lessons, interactive grammar tools, pronunciation tools, and other multimedia components are now present in e-learning environments. This is a great sign of innovation.
Because they are computer programs, you can access them at any moment. So you can study Spanish or french after lunch, or Chinese late at night without a strict plan. Online classes also allow you to finish coursework on the fly, as your schedule allows, without having to travel.
Repetition is the key to properly mastering a language. However, traditional classrooms don't always allow you to repeat lectures without upsetting the teacher or the course. Online courses, however, do engage students in the learning process.
You can learn a new language online using online audio or video lectures. This may be a bad sign for students who aren't as self-reliant. If you struggle with self-motivation, this could be a completely different learning style for you. courses are fun to learn and challenge yourself. You must plan, prepare, comprehend technology, and be an active learner in a virtual classroom.
Fluenz versus Rosetta Stone
Fluenz Review
Despite the fact that they offer six additional languages, Fluenz is most recognized for its Spanish language learning course for English speakers. Many users prefer Fluenz over other software programs to learn a language because it gives the learners the impression that they are participating in an actual class with a teacher, but at their own pace and from the comfort of their own homes.
This company provides exceptional customer service. If you contact them by email, they will react as soon as possible. Fluenz will teach you the grammar, writing, speaking, listening, and reading skills necessary to communicate effectively in the target language.
Pros
There is some excellent core stuff in it. It is an excellent choice for both novices who want to learn a language and long-term intermediate students. It is comprehensive. Distractions are kept to a minimum thanks to the app's design. It has an amazing method of learning different languages.
Cons
Only some languages are available for learning. It just provides the basic capability for audio recording. It is pricey for its characteristics.
CLICK HERE TO READ MORE ABOUT FLUENZ
Languages
Fluenz offers courses in six languages. Fluenz offers sessions in six of the most popular languages:

Image from FrenchCrazy
Spanish (Latin America)
French
German
Italian
Mandarin,
Spanish
Portuguese
Pricing and Premium Subscription
A subscription to Fluenz is available for purchase for anywhere between the price $187 and $408, depending on the plan that you choose. Payments are one-time in nature, rather than ongoing monthly or yearly payments. Each language has been separated into tiers, which are described below. In each of the following languages, there are five levels to choose from:
French
German
Italian
Portuguese
Spanish (both Latin American and European)
For Mandarin, there are just three levels of proficiency.
Way of Learning the course
Fluenz has a distinct organizational structure. Markers let you remember where you ended last time. There is no restriction on how you navigate through the content.
Levels are organized into sessions, each of which has a series of activities. Each language session opens with a trailer that serves as a preview of the course content. A new piece of information is introduced and reviewed in the exercises that follow. In between workouts, you view videos to help you better understand the concepts you've previously been introduced to. there are exercises for language learning and review your progress.
Every video is great and delivers amazing concepts and has great output value. They start out sluggish, but once you get into a more difficult subject, the tempo feels geared to help you comprehend what you're learning.
CLICK HERE TO READ MORE ABOUT FLUENZ
Rosetta Stone
Rosetta Stone continues to be an ideal premium software for starting your journey to learning a foreign language. It has one of the best courses and is a fantastic resource for new students, and it also has amazing content for students who have intermediate skills in the language. The method of learning is exceptional for those who want to acquire phrases. Even some of its features and writing courses are better than Pimsleur and Duolingo.

 Image from Getintopc
Pros
The Rosetta Stone software is simple to use. You have native people with limitless patience at your fingertips. Rosetta Stone also includes free outstanding audio recognition software. You can set the difficulty level to learn a course at your own pace. It is a great service with good pricing. It has one of the best features with amazing learning sessions.
Cons
Every language learning software application has the same flaw: Because you aren't dealing with a real person, you can't ask questions. Since you can't click to see the words translated into your own language, you can't check your understanding.
All you can do is keep going and hope the context helps. There's no way to learn the basics of how sounds and syllables go together. This is given to you gradually over the course of the lectures.
Languages
Rosetta Stone offers a program that includes 23 languages along with English, with the exception of American and British English. Courses in Arabic are not available.

Image from Dumblittleman
Pricing and Premium Subscription
Rosetta Stone rates are costly, yet virtually always you can acquire a discount.
35.97 dollars/ 3 months
170 dollars/1 year
249 dollars/2years
299 dollars/lifetime access
A premium membership covers all lessons. To do so offline, you can download lectures to the mobile apps also. The premium subscription is worth the money.
CLICK HERE TO READ MORE ABOUT ROSETTA STONE
Learning method
Rosetta Stone is that you can choose the language you wish to construct. You study through exercises in the program, which generally start with deductive thinking. You learn new phrases and learn the pronunciation of the words. Rosetta Stone has consistency, predictability, stability, and confidence in every lesson and online classes. Since every program, regardless of the language you study, is almost identical, you lose out on some cultural context.

Image from RosettaStone
Amazing user interface
The interface of Rosetta Stone is clean and beautiful.

Image from imbgin
With almost no written instructions, the application is highly intuitive. If you are too easy, you can work through the lessons in order or move forward. You may view from a dashboard which lessons you have still to complete, which ones you have completed, and your score for each one.
Learners can always save and synchronize their progress from this language learning software. Wherever you are, it's easy and fun to dig into.
CLICK HERE TO READ MORE ABOUT ROSETTA STONE
Which Language learning software is better?
Both Rosetta Stone and Fluenz have advantages and disadvantages.
Rosetta Stone is a well know software for learning courses available today alongside Pimsleur. It doesn't have free audio lessons but It teaches via its own amazing techniques. They aim to teach you the language comparable to the way you acquired your native language as a youngster.
The Fluenz learning style is not for those seeking a more humorous and enjoyable approach to learning a language. In order to be willing to part with such a large sum of money, you will almost certainly need to demonstrate a high level of devotion.
Alternatives to Rosetta Stone and Fluenz
Pimsleur allows you to repeat to make sure you have everything down. The curriculum focuses on audio lectures and doing exercises based on them. It motivates you to use the phrases and helps you remember their meanings as you listen. You could practice utilizing flashcards and tests to polish your vocabulary.
CLICK HERE TO READ MORE ABOUT PIMSLEUR
Those who are interested in language courses can study a language by using a community marketplace (such as italki) to connect with language teachers across the world. Use individualized lectures to help you become fluent through interactions with an amazing tutor. The lectures are pretty comfy, and they're tailored to your schedule. They're quite flexible and also user-friendly.
CLICK HERE TO READ MORE ABOUT ITALKI
Babbel can help learners find the information they're looking for, or provide them with tools that allow them to pursue their own individual interests. It's fantastic because it can be used by anyone with special learning needs; it presents a diverse learning approach, which suits those with varied learning styles.
CLICK HERE TO READ MORE ABOUT BABBEL
Mondly is a language learning platform that trains you in 33 languages. The Mondly language learning system not only teaches you a language faster than any other platform, but it also gives you the confidence to communicate in it effortlessly.
CLICK HERE TO READ MORE ABOUT MONDLY
Conclusion
The Rosetta Stone comes highly recommended by many people. Although it's incredibly polished and nicely presented, most other language learning software available at the moment is much duller than this. Many people want to learn by interacting with others through the use of this software after they have not been able to get along with them completely.
There is a good balance between immersion and direction. The emphasis is on accelerated language learning. There are a number of well-executed workout series. The emphasis here is on concentrated practice.
FAQs
Is language learning with Rosetta stone better than Fluenz?
It is a better choice in many ways. It is totally full of immersion, so you won't get a clear explanation of what you study, while Fluenz lessons provide a lot of English explanations.
Does Rosetta stone make you fluent?
It is without a doubt one of the best-known apps for learning a language. It will help you develop a firm basis, but it will not make you smooth in speaking the language.
Will fluenz make you speak fluently?
While this is a really attractive tool, and one of the few products of this type clearly designed to be used on Macs rather than PCs, Fluenz doesn't make you the best in whatever language you selected to learn, as the name suggests.
How good is Fluenz Spanish?
Fluenz is not very suitable for anyone that wants to learn Spanish. Rosetta Stone and Duolingo are the other best foreign languages and learning services.
Is Fluenz better than Duolingo and Pimsleur?
For those looking to learn the fundamentals of a new language while having fun, Duolingo and Pimsleur may be the top pick. They have free audio lessons.
If you're serious about learning a new language, Fluenz is the best in the business and worth your money.
Hope this review ends your search for reviews about the courses.
CLICK HERE TO GET PIMSLEUR AT A DISCOUNTED RATE
Like this Article? Subscribe to Our Feed!
Passionate in tech, software and gadgets. I enjoy reviewing and comparing products & services, uncovering new trends and digging up little known products that deserve an audience.