Your employees are the backbone of your company or organization. You've to make them feel worthy by empowering them and harnessing their skills to help your employees attain their maximum potential. Here are the various tips and ways to help your employees grow and develop in your company. ~ Ed.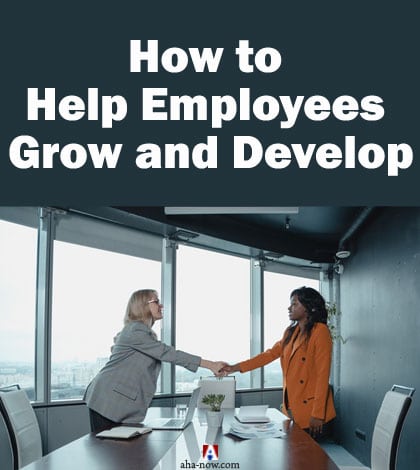 Creating a culture of excellence in the company starts with your team. Boasting the confidence and engagement of your team can effectively be done by showing your genuine concern for the growth and development of your employees. It will have a chain of effect on the employees for which they will feel empowered for their worth is recognized and appreciated.
The feeling of "worthiness" will spiral their morale to bring out excellent output for the company. It will build a sense of concern and loyalty of the employees towards his or her employer.
Helping your employees to develop and grow will eventually redound to the benefits of the company. If you are pondering on what are the possible ways in which you can help develop your employees' potential, let these tips guide you.
6 Tips to Help Employees Grow and Develop
You can think of implementing an employee-mentor buddy system, challenge your employees with new assignments, or create a development plan for your employees, among other things.
Encourage Professional Development
In a highly structured organization, we confine the employees to their specific roles and job descriptions. However, there are some employees that seem to "stands out" among the employees for they are exhibiting an "x-factor" or always doing beyond their capabilities. These are the types of employees that have the potential to be the future leaders of the organization. With proper mentoring, you will be creating the cream of the crop among your employees.
Do not let your employees be in a stagnant position not only for the reason that you are doing "injustice" to your employees, but you are also hampering the possibility of growth of your company. Once your employees are empowered, it will also propel your company to attain its penultimate goal of economic growth and success. In order for your company to grow, it must have a strong backbone to support it, and your employees are the backbone of the company.
Employees Development Plan
Companies have a development plan for their employees geared to harness the employees' skills to optimize their potentials. In the development plan, you can infuse activities, seminars, and conferences aligned to their interests, strengths and rediscovering their potentials.
The development plan must be attuned to your business strategy, which will have long-term effects on your company. The "empowered" employees will be the ones to paddle your company towards the attainment of your target productivity goals.
Employee-Mentor Buddy System
The "buddy system" is usually being practiced by men in uniform or the police and the army, wherein they need to work in pairs. You can also adapt that kind of system in your company by pairing an employee with a mentor. Through this system, the employee will be properly "coached" by the mentor. It will be a close mentorship for they will be working in pairs and thereby creating a healthy "professional working relationship."
This system will make your employee be properly guided in order for them to realize their maximum potential. The employee-mentor relationship may be considered an effective mentoring or coaching tool, especially to a "newbie" employee. It can be viewed as a means of the effective transmission of the "best practices" of the company from the mentor to the "newbie" employee.
Develop Professional Networks
Becoming part of professional networking will open a great opportunity for one's career development, for it is a venue for professional connections. Let your employees expand their professional horizons by encouraging them to be part of professional networking. This can be gleaned as an internal opportunity that can be provided to the employees that will eventually develop their career growth.
Your employees deserve to establish their own professional networking, for it will help them grow professionally. It is through this association that will make them acquire and learn the new trends and skills that are related to their profession.
New Assignments To Challenge Your Employees
Gold, diamond, and pearl are being produced due to the friction that has been introduced in a particular element. For the craftsman to produce quality gold jewelry there is a need to expose the precious metal to a heating process in order to attain the desired design. Those things cannot be produced if no pressure has been introduced into it. It is also the same with your employees; they will not grow if you will just let them sulk in their comfort zones. Help them with talent mentoring.
Giving usual assignments and tasks will not pose a challenge to your employees, for it is part of their usual routine. In the end, you are not harnessing the full potential of your employees. If you let them expose them to assignments and tasks that are not within their comfort zones will likely make them exert more effort to do it, and in the process of doing it, they are already gaining new skills.
With the harnessed skills, your employees will be able to handle multi types of jobs and eventually will redound to your company's benefits.
Manifest your trust in your employees
You cannot get anything from something that you do not give. You can only gain your employee's trust once you manifested your trust to your employees. Building "trust" is essential in order for the company to propel towards success, for the employees will render service with no apprehensions. It is also the same with the management, for it can be assured that the employees will meet the expectations that have been set in the company.
Trust is a "two-way" street, for it cannot function without reciprocity. It is viewed as a corner foundation for the structured organization of the company to be able to carry out its functions through the effective means of a chain of command.
Final Words
Those are the tips that you can consider in order for you to help your employees grow and attain their maximum potential. There are still different methods of employee development that you may venture on.
There is no exact formula on how you can effectively harness your employees. Still, those tips can be considered as a start where you can cultivate a certain "culture" within your organization.
Over to you
As a business owner or manager of your company, how do you help your employees to grow and develop? Share your experiences and tips n the comments section.
Disclaimer: Though the views expressed are of the author's own, this article has been checked for its authenticity of information and resource links provided for a better and deeper understanding of the subject matter. However, you're suggested to make your diligent research and consult subject experts to decide what is best for you. If you spot any factual errors, spelling, or grammatical mistakes in the article, please report at [email protected] Thanks.