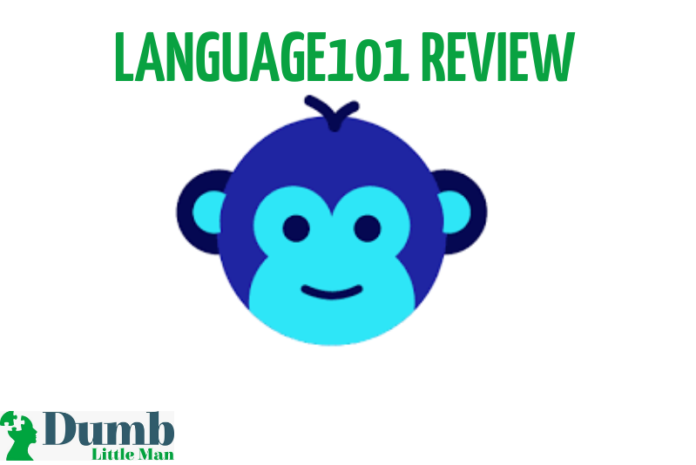 Language apps are plentiful and varied. There are apps that offer free resources, some that teach a few languages (opposed to just one language), and others that give you lifetime access to their entire library. In general, each program is unique and the content varies depending on which one you choose as your main method of learning a language.
In this article, we will review the infamous language101.com. From the title, you might already have a vague idea of how it stands when it comes to its effectiveness and general usefulness. As a result, we'll also be covering alternative apps that make the language learning process enjoyable.
Language101 Review
Summary
There are several advantages to learning any new language. Learning can help you to improve your memory, prove your intellectual capability for school or work, and even earn money through translation roles. Unfortunately, this is unlikely to be the case for those who learn solely through Language101.
Each course in Language101 is notorious for its dull, repetitive lessons that make learning a language feel like a chore.
Though the courses are paid, simply watching a YouTube channel in your target language can be even more effective. Whilst no channels are introduced in our list of alternative resources, there are plenty of popular ones that provide more instruction and practice than Language101.
CLICK HERE TO READ MORE ABOUT LANGUAGE101
What I Like
Despite their poorly designed lessons, you may be able to improve slightly using the literal translations they provide for terms and expressions. Such a feature helps to memorise the knowledge you have attained.
What I don't like
The user interface and user experience are poorly designed. The vocabulary you learn may be enough for beginners to get started, however, the phrases are unmemorable and simplistic.
The pages are slow to load and it does not have a feature for actually checking your pronunciation of the phrases they have introduced. Without the option to check your pronunciation, it makes it very difficult to actually understand how well you have learnt each phrase.
The exercises are dull, repetitive, and require a lot of determination to actually complete.
Languages covered
At the time of writing, there are nine covered by Language101:
1. Spanish
2. Inglés
3. Canadian-French
4. German
5. French
6. Russian
7. Japanese
8. Italian
9. Danish
Pricing
All options are billed once and you receive lifetime access.
For each language, there's a free lesson to help you understand the structure of each session and their method of teaching.
All Languages Super Package – $997 lifetime access
1, 2 & 3 Package – $797 lifetime access
1 Package – $597 lifetime access
CLICK HERE TO READ MORE ABOUT LANGUAGE101
Lesson structure
In this Language101 review, we will describe the free Spanish lesson to help you better understand their methodology for improving upon the language learning process. Firstly, you'll be met with instructions that teach you how to use their tools.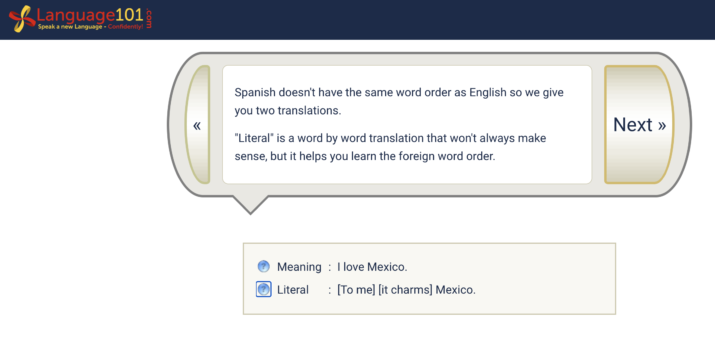 Once you've successfully completed the demo, you'll then start the session. The contents of each exercise will be separated into two sections: 'Read this' and 'Say the answers out loud'.
In the 'Read this' section, you'll be given a phrase in English, the literal translation of the phrase, then a blank hint detailing the number of words it would be in the language you're learning.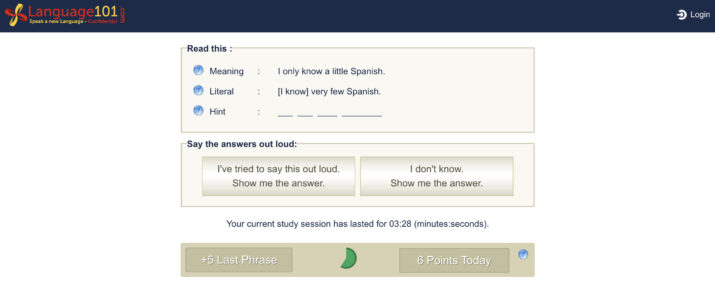 Bear in mind that it doesn't give you a list of vocabulary first to help you translate. The 'Say the answers out loud' section is basically a question asking whether or not you've said your anticipated translation out loud.
There's no software to see if you're pronouncing the words correctly or if you have correctly anticipated the solution. The availability of the literal translation of each phrase isn't quite as helpful as they've advertised, especially since it does occupy a fairly large amount of space.
This exercise is virtually impossible for complete beginners who hardly know any terms in the language they have chosen. At this point, given that each phrase is quite basic, it would hardly be challenging for intermediate or advanced-level students.
If you've selected the 'I've tried to say this out loud. Show me the answer' option, the blank hint will then show the solution and it simply gives you a multiple-choice question asking you to review how well you think you have done.
Bear in mind that it does not actually listen to your pronunciation. It is a simple self-review that asks if you think you have done well.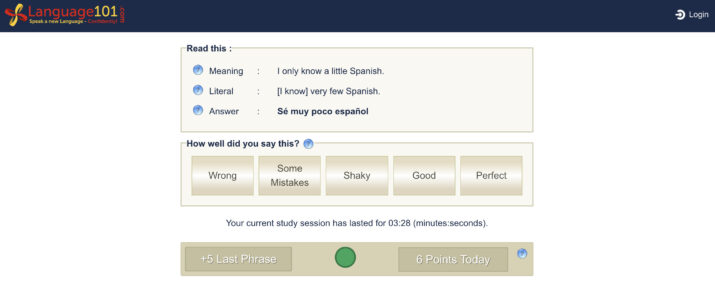 Afterwards, it will give you the option of playing an audio recording of someone saying the phrase. You can choose whether you listen to the phrase as it is said naturally or whilst it is slowed down. However, this feature doesn't seem to have been thought through.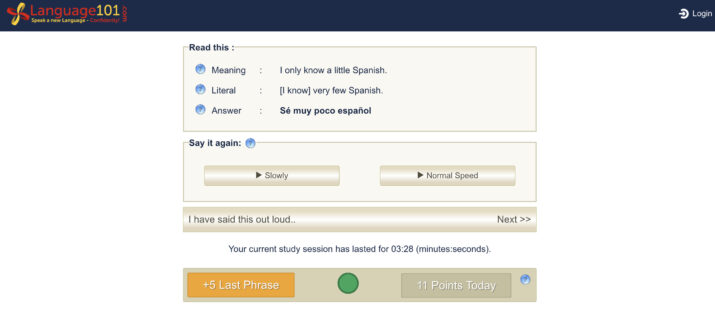 If you play the slow recording and then play the normal-paced recording straight after, then it doesn't pause the previous audio file. As a result, there are two audio files playing in the background.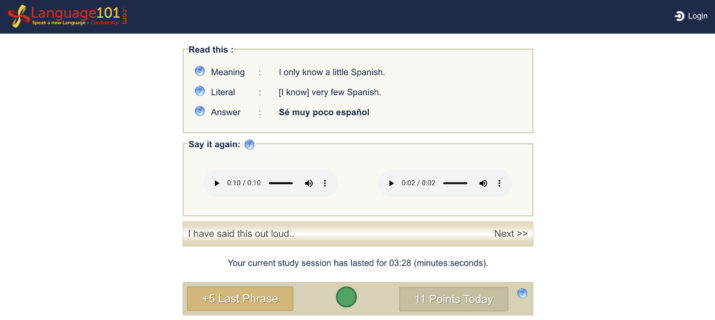 If you've chosen the 'I don't know. Show me the answer' option, it then goes directly to the page of the audio recordings. Afterwards, you click on the 'I have said this out loud.. Next' button and you are transported to the next question. To reiterate, there's no software to actually test your pronunciation.
Whilst you're completing this exercise, there's also a timer at the bottom of the page that only updates once you've answered a question. It doesn't constantly update which can make it irritating to continuously have on the page.
Once you've clicked the button to see the next question, it also loads for a good few seconds before actually working. Though this may not seem too problematic, if you're completing several questions that are all the same structure, it can easily begin to feel tiresome.
This is not a feature, however, if you're attempting the free lesson a dialog box asking you to try the free trial constantly pops up throughout the exercises. This also becomes incredibly bothersome and does actually make you feel less inclined to try the free trial.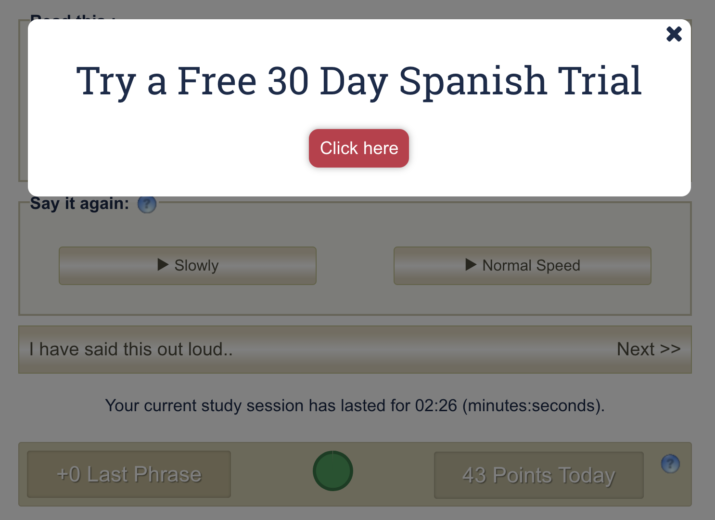 Alternative Resources
To fairly review Language101, we have also conducted thorough research into other resources for learning languages.
Many of these resources are noteworthy due to their teaching styles, success rates, and the sheer scope of their content.
Depending on your learning style and objectives, there's sure to be a resource suitable to help you finally learn the words and phrases you aim to retain.
CLICK HERE TO READ MORE ABOUT LANGUAGE101
1. Innovate Languages
Innovate Languages contains a wide variety of high-quality language resources. In comparison to language101.com, this resource offers more content for a wider variety of languages.
With 34 available courses, your target language will likely be covered with fantastic content that will help even beginners reach advanced-level proficiency in no time at all.
Innovate Languages contains a multitude of free materials for their students. Their free online course, audiobooks and eBooks will help both beginner and intermediate students learn useful words, phrases, and grammar.
1.1 FrenchPod101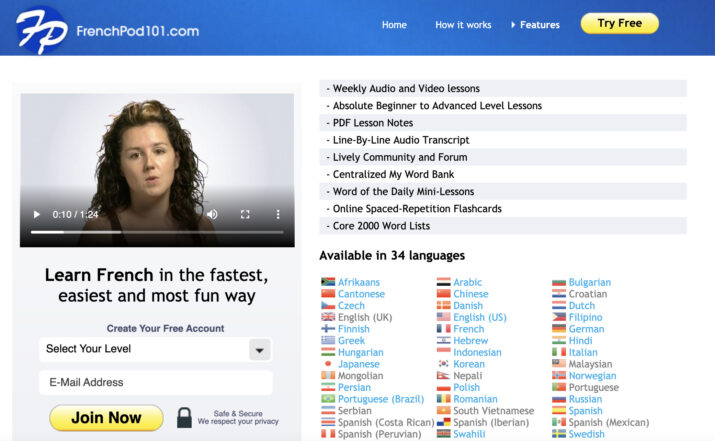 For students to learn the language in a structured manner, FrenchPod101 comes with several audio and video sessions. These sessions are taught by hosts who teach the language in an engaging and fun way.
Their library is updated every week and students have access to 400 archived lessons. Key phrases can be learnt in each session.
At the start of the session, a simple grammar rule will be first introduced. Then they will introduce new terminology and you'll learn how to pronounce that terminology through detailed instructions and examples from the native hosts.
The audio recordings are also easily downloadable so you are able to learn offline or whenever you're doing any chores. This helps you get used to how the language is spoken and thus become more proficient at listening.
CLICK HERE TO READ MORE ABOUT FRENCHPOD101
1.2 ChineseClass101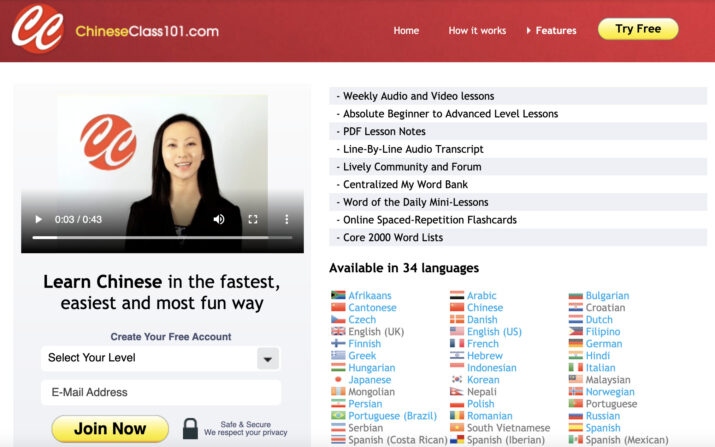 With a focus on introducing key grammar points, you'll learn the most complex aspect of the language quickly and efficiently. With their video and audio lessons, you can easily master Mandarin Chinese. ChineseClass101 has 500 archived lessons for you to master.
Each session also comes with a PDF of useful notes to help you further cement the knowledge of the language you have attained. You can easily print this PDF file and make hand-written notes as an extra exercise.
CLICK HERE TO READ MORE ABOUT CHINESECLASS101
1.3 HebrewPod101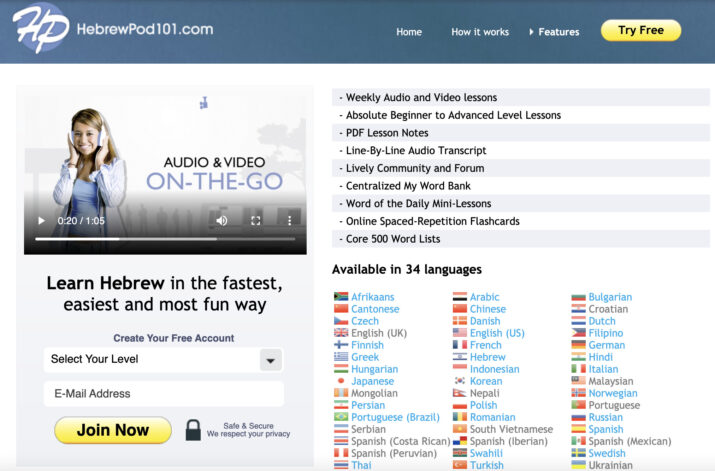 A common answer to the question 'what is the best course for students who want to learn Hebrew?' is likely to be HewbrewPod101 for many people. It contains over 100 archived sessions and they have a friendly community forum.
This course contains spaced repetition flashcards and downloadable content for you to learn without having to fully focus on the sessions.
CLICK HERE TO READ MORE ABOUT HEBREWPOD101
1.4 GreekPod101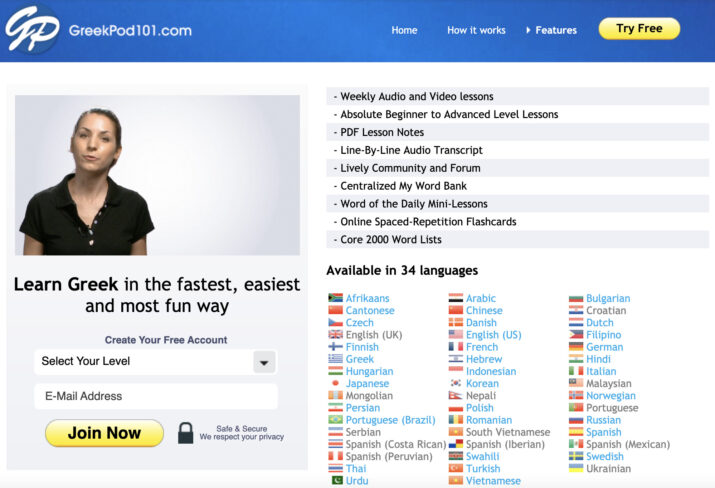 A Greek course with over 100 established sessions and many resources for both beginner and advanced-level students is GreekPod101. GreekPod101 teaches Greek through high-quality videos and audio files that help cater to students of all proficiency levels.
With their lifetime account, you have direct access to detailed lesson notes, word lists, and weekly updates to their growing content. The hosts are friendly, lively, and it is enjoyable to learn from their videos.
For those who want to travel the beautiful Greek architecture from the point of view of a native speaker, GreekPod101 is a brilliant program to consider.
CLICK HERE TO READ MORE ABOUT GREEKPOD101
1.5 JapanesePod101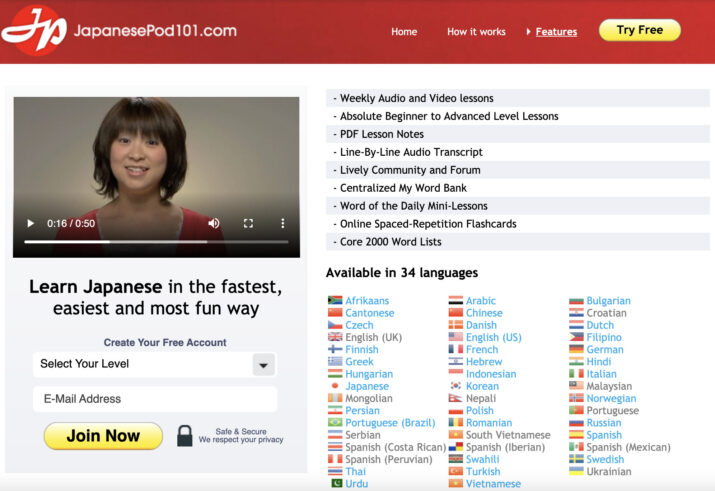 This course helps students speak the Japanese language from the very first session. Each phrase introduced is useful and likely to be used in normal conversation.
Japanese can be very challenging, especially for English speakers. As a result, JapanesePod101 has built a large library of over 1,500 archived sessions for current and prospective learners.
With over 1,500 sessions, you have plenty of material to be able to practice this demanding yet beautiful language.
Learn how to read Kanji and explore the buzzing Japanese cities with confidence in your ability to communicate with the locals and read signs.
CLICK HERE TO READ MORE ABOUT JAPANESEPOD101
1.6 RussianPod101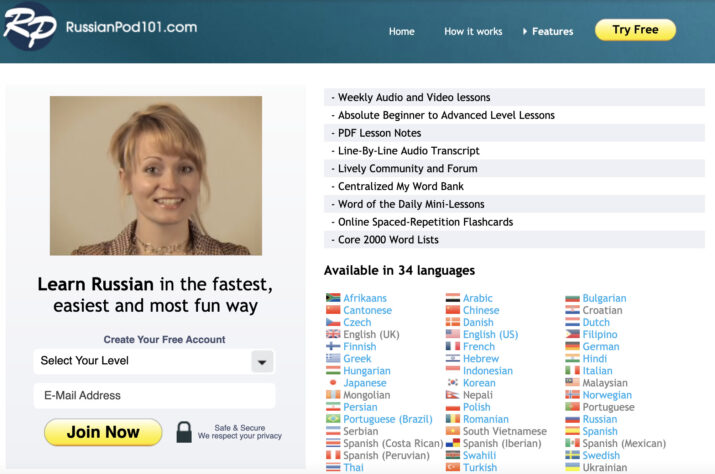 Beginners are likely to benefit from the audio and video course offered through RussianPod101. It's no secret that this language can be quite difficult to learn. However, this course helps you to learn several language rules and vocabulary in a well-paced manner.
RussianPod101 has over 300 archived sessions and with the hosts native to Russia, you can easily learn how to accurately pronounce terminology and learn about the culture at the same time.
CLICK HERE TO READ MORE ABOUT RUSSIANPOD101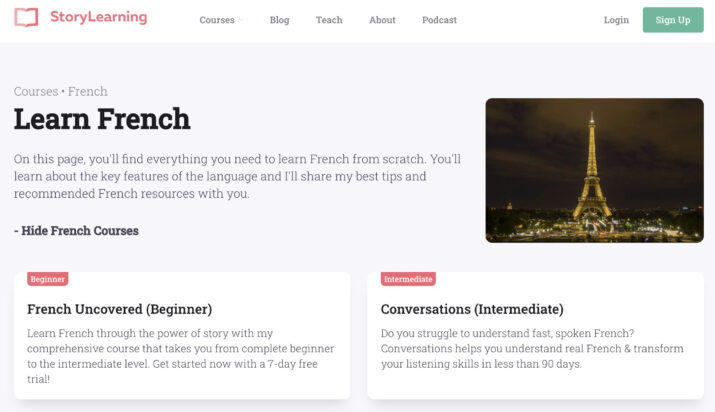 I Will Teach You A Language teaches 23 different courses including those catered to teaching Chinese, German and Italian (to name a humble few).
They typically offer two courses for each language, one with beginner lessons and one for intermediate students. The courses covered tend to be popular worldwide, thus this resource is likely to have courses for your target language.
The beginner courses teach the language through an immersive and engaging story. In comparison to other resources, this methodology has been designed to help students learn in a more natural way. New words and phrases can be learned passively and in a memorable way. Each lesson
CLICK HERE TO READ MORE ABOUT I WILL TEACH YOU A LANGUAGE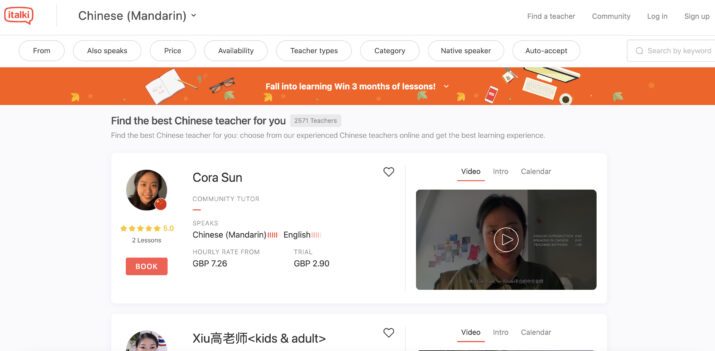 Learning complex grammar and vocabulary is a difficult enough process (especially for complete beginners). Adding on the task of finding a highly-educated tutor to teach you the language can make language learning an overall daunting process. To help alleviate that stress, iTalki is a program with a large and diverse array of teachers from all over the world.
iTalki allows you the flexibility to book each lesson at an affordable price. Many of the teachers are also native speakers of your target language. This gives you the opportunity to learn grammar, phrases, and a natural way of speaking through customised lessons.
Speaking of lessons, each one is tailored directly to your learning style and should go at a pace that is comfortable for your ability and objectives.
With iTalki, after each lesson, your teachers may also assign supplementary work to improve how you write, speak, listen, and even how you review your own progress.
For any language including French, Spanish, Norwegian etc. you'll learn how to speak like a native speaker in almost no time at all.
CLICK HERE TO READ MORE ABOUT ITALKI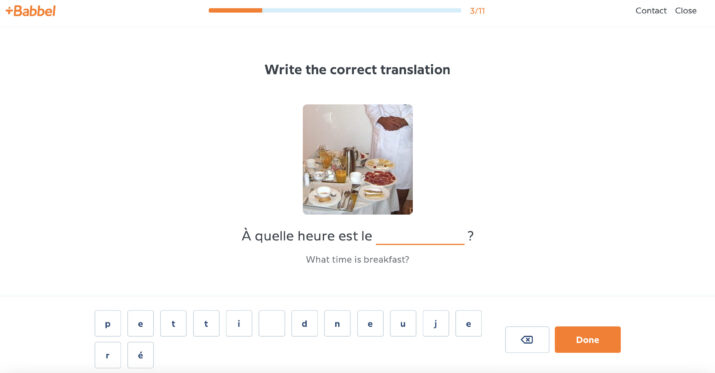 Want to learn content that applies to how your target language is spoken in the real world? Then Babbel is a suitable program for you.
First, you will listen to several short and concise phrases. Afterwards, you'll be given small exercises related to the phrases you have just encountered. This helps you to effectively memorise the content that has just been introduced.
With Babbel's short exercises, learning a language can be fun. With Babbel, beginners are likely to easily understand and remember words and phrases. This is because they are typically associated with real-life pictures as opposed to cartoon images during the review questions.
Whilst there aren't any options to learn how to write in your chosen language, this resource does have plenty of supplementary material to help you practice and review several of your language skills including speaking, writing, and listening.
CLICK HERE TO READ MORE ABOUT BABBEL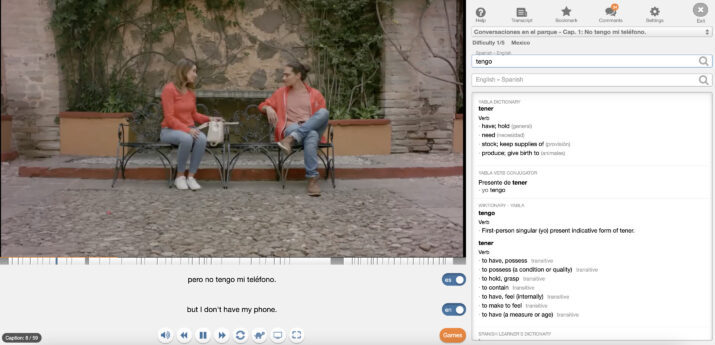 A complicated word or phrase can be easy to learn through a well-designed language learning application. Yabla is a perfect example of how to make engaging and thrilling content that encourages you to learn unconsciously.
Yabla uses videos and is considered to be a program with some of the best language learning content available. This is due to both their videos and the features that are available with each video.
Their videos range from documentaries, lessons, interviews, and even TV shows. The phrases you listen to are likely to be relevant to real life and the shows are highly entertaining.
The speed for each video can be toggled and you have the option for showing the subtitles or not. With the dual-language dictionaries, you can see the literal translation of new words and the interactive exercises help you to review the new vocabulary and phrases you've learnt.
CLICK HERE TO READ MORE ABOUT YABLA
Pimsleur is one of the best language resources for those with an auditory learning style.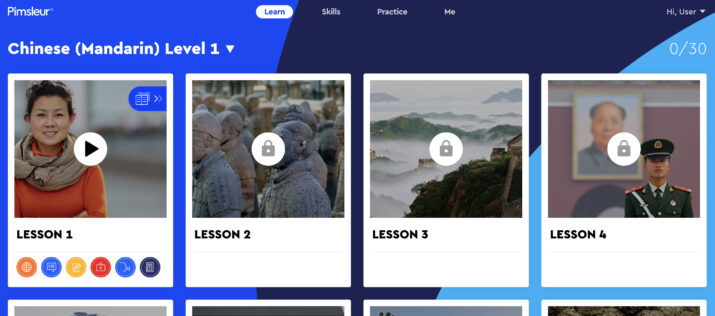 Pimsleur has audio files that are in-depth, high-quality, and contain many phrases and words for you to learn. There are several lessons available, and the audio contains both the terminology and expressions in English and your target language.
It also includes a free lesson for those who are eager to try but cautious of spending too much without first understanding if the course is suitable for their goals. At the bottom of each recording, it shows the key skills you will gain from completing the session.
The first lesson starts with a simple audio file. Each word or phrase is articulate spoken and is suitable for complete beginners. 
Vocabulary and grammar are introduced in a well-paced manner, and it is highly advantageous to hear someone speaking your target language in a clear and concise tone.
It helps you become used to certain words and better understand how words are spoken by native speakers.
CLICK HERE TO READ MORE ABOUT PIMSLEUR
Conclusion
If you do choose Language101 as your main method of language learning, it is important to bear in mind that the lessons are poorly designed, and the content can be dull.
Overall, we do wish you good luck and hope that you attain the level of proficiency that you aim to reach. However, for those who are more interested in learning through apps and courses that make learning a language feel more entertaining, there are plenty of alternative apps that you might wish to consider.
When it comes to learning a new language, resources such as Innovate Languages, Pimsleur, Babbel etc. offer engaging and unique content that will help you learn quickly and efficiently. They cover more than just simple words and phrases. Their lessons focus on helping you master the language and develop a good understanding of the culture and lifestyle of those that speak that language.
Learning languages can be incredibly fun. Whether you're learning French, Chinese, or even Lithuanian, choosing the right resource will make your language learning journey that much more enjoyable.
CLICK HERE TO GET PIMSLEUR AT A DISCOUNTED PRICE
CLICK HERE TO GET BABBEL AT A DISCOUNTED PRICE
Like this Article? Subscribe to Our Feed!
Passionate in tech, software and gadgets. I enjoy reviewing and comparing products & services, uncovering new trends and digging up little known products that deserve an audience.