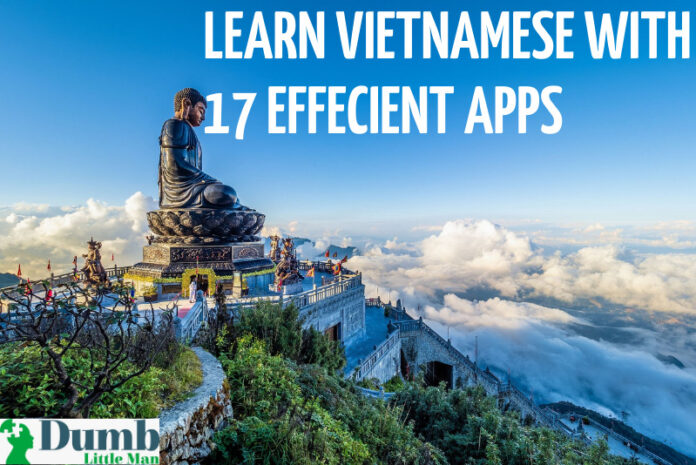 We have different purposes that makes us start learning a new languae. It could be for travelling, studying and working abroad, or even just pleasure. But regardless of our targets, this task always remain a bit confusing if you are a new learner and the language itself sounds quite strange, especially Vietnamese. It is pretty difficult to decide how to start the Vietnamese language. However, considering today's trend and preference, many people think that online courses and apps are showing their benefits, which is more effecient compared to old style of learning, like textbooks with huge information and typical classrooms. Here, we are going to present you a number of apps that will change your way to learn Vietnamese and break your fears on language learning.
Learn Vietnamese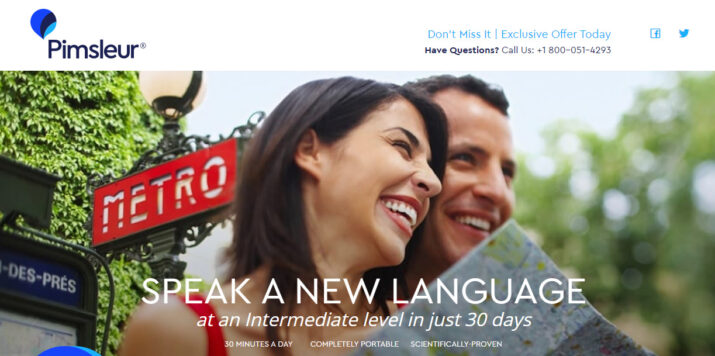 Advantages
– The app is not mentally challenging; it just requires you a certain amount of concentration;
– It only covers basics in Vietnamese grammar and common vocabulary and phrases, which increases possibility of learning practical language effectively;
– The last advantage is that the app is completely based on conversations by native speakers, which has particular impacts on improving your speaking skills, accent and pronunciation in Vietnamese.
Disadvantages
– Unfortunately, all lessons are designed in the same format, which results your boredom;
– Conversational lessons are not usually a good idea, since they may not give a chance to develop other skills, such as writing and reading, as well as Vietnamese grammar;
– The last disadvantage is that the content of the app is created for English, which makes learning Vietnamese hard for non-English speakers.
CLICK HERE TO READ MORE ABOUT PIMSLEUR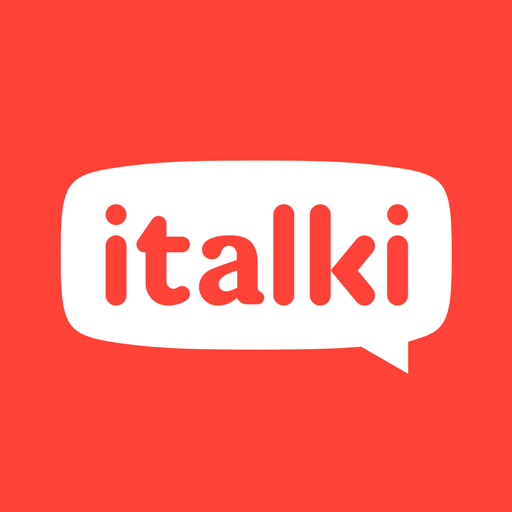 Advantages
– There is a high chance to find teachers all around the world, which means that you can choose a personal teacher you prefer and practice online;
– Another benefit is that the price is very affordable and there is an opportunity to get special discounts, as well;
– Lastly, it includes a feature of language exchange, which is especially useful to communicate with native speakers and learn their dialect.
Disadvantages
– However, the quality of education is not sometimes satisfactory. It seems pretty hard to find an experienced teacher and dedicated partner to practice together and it really takes time;
– Italki is not a platform that provides you different materials, like flashcards or vocabulary, which is considered as another negative.
CLICK HERE TO READ MORE ABOUT ITALKI
3. Vietnamesepod101

Advantages
– The main advantage is that both beginners and speakers in an intermediate level can take its advantage to improve their listening skills. As the app contains a large number of podcasts and audio materials, it might help you to learn correct pronunciation and speak like native speakers;
– There are a lot of interesting topics related to a daily conversation in Vietnamese, which will not make you uninterested and use the app for a long time.
Disadvantages
– The main drawback is that it lacks of discussions and face-to-face practice between learners, which may not improve your speaking skills fast;
– Content of teaching and learning is not well-structured. Thus, it may decrease the efficiency of learning Vietnamese.
CLICK HERE TO READ MORE ABOUT VIETNAMESEPOD101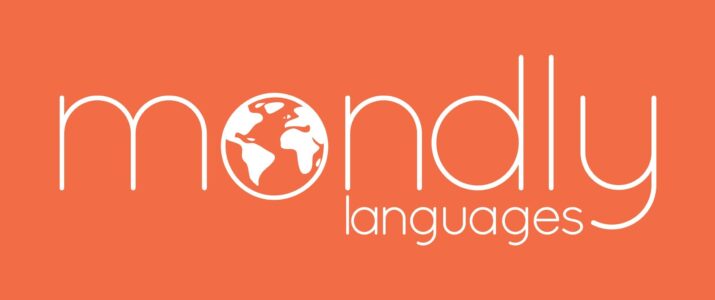 Advantages
– If you are a beginner and unaware of Vietnamese grammar, Mondly is a right approach to begin Vietnamese learning from scratch. There are a number of grammar and vocabulary lessons that any person are able to nail languages in a short amount of time, especially the Vietnamese language which worries many starters due to its unfamiliar word and grammar constructions;
– Secondly, pronunciation is weak point of every person. But, with Mondly it will become really easy to learn speaking skills and sound like a native Vietnamese. Learning how to construct simple grammatical sentences can help speak Vietnamese fluently and make your conversation more natural;
– Another benefit is that a number of contents are game-based and interactive. These features are especially helpful for children to grab their attention to study Vietnamese in a fun way;
– The last advantage is its competitive features. It has weekly and monthly competitions in which you mas challenge with other students learning the Vietnamese language. These contests motivate you and form a friendly learning circle.
Disadvantages
– The major disadvantage might be its fee. Payment only provides one language and you are not allowed to enjoy other languages at the same time. Monthly subscription cost is from $9.99 which is pretty reasonable.
– Moreover, the differences between levels are quite the same and it mostly focuses on beginners, which upsets other learners. For example, if you are a bit fluent in the Vietnamese language and you only need to develop conversational skills and speaking Vietnamese, this app does not provide you with more complicated lessons
– Lastly, Mondly is unable to teach grammar effectively. It has limited number of resources and activities that are dedicated to this field of the language. Thus, this process might be time-consuming and not give the results you have expected.
CLICK HERE TO READ MORE ABOUT MONDLY
5. Udemy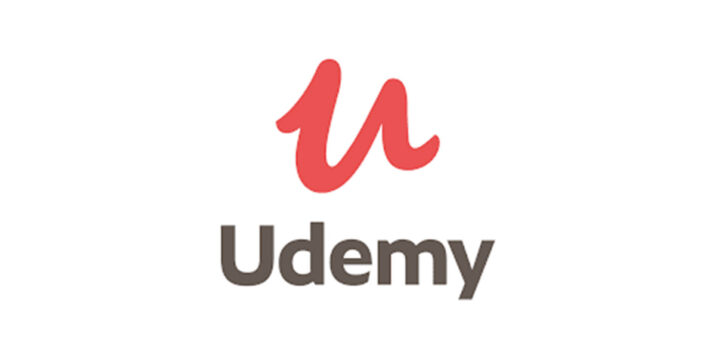 Advantages
– Udemy is the exact place where you are able to find numerous language learning courses and study your favorite course online;
– The platform has a culture-oriented courses whose context is based on custom and traditions in Vietnam. For example, you may definitely find a lesson that describes Vietnamese cuisine and its daily diet, like eating rice, as a part of a course learning Vietnamese;
– Udemy offers a wide range of free courses, around 600, in different topics and subjects. It is a good chance to enhance your skills and discover new interests for yourself;
– Course prices are very affordable, from $9.99 to $199.99. This cost gives you a full access to nearly every course you like to start;
– After having finished courses, you will be given a certificate of completion that proves you have successfully completed a course and you have enough skill or experience in particular subject.
Disadvantages
– The main disadvantage is that Udemy certificate is not considered as an official proof of knowledge. So, in certain cases, this certificate does not give you a chance to use it;
– Most of the Udemy courses are job-oriented. However, I does not guarantee you to find any job without any experience in the workplace.
CLICK HERE TO READ MORE ABOUT UDEMY
6. Glossika

Advantages
– Glossika is an online platform and language learning app that includes 50+ different languages, especially English, Chinese and Vietnamese. With the help of a unique approach and experienced teachers you are able to learn the Vietnamese language without any difficulty;
– Glossika has good and relatively more effective method for learners compared to any other apps and language learning platforms. This really leads you an improvement and comprehension of Vietnamese in an immediate time;
– The platform is a great fundament for developing good conversation and vocabulary skills in the Vietnamese language. During lessons, you can practice speaking with the help of a pronounced example of every word and phrase, which may help you to become like native speakers soon in Vietnamese.
Disadvantages
– The major drawback of this online platform is that there are not any grammar explanations, which struggles you to construct simple expressions in Vietnamese due to being unaware of using a noun and verb in a correct way;
– When it comes to membership costs, it offers a bit more expensive prices compared to other platforms. For one month you have to make a payment around $24.99 and annually it cost 299.88$ in total.
CLICK HERE TO READ MORE ABOUT GLOSSIKA
7. 123Vietnamese

Advantages
– 123Vietnamese is the best software to learn any language fast and effectively, especially English and Vietnamese. With this tool learning Vietnamese will become very easy, as it offers you a number of personal lessons;
– High-quality vocabulary contains mostly-used Vietnamese word and phrases that may help you make a natural speech;
– The content is culture-based. So, during courses you can take an advantage to see the custom, types of food they eat and lifestyle in Vietnam, as well as to know the history of this country.
Disadvantages
– The only disadvantage of 123Vietnamese is that it has limited number of revisions that might not be helpful for starters.
CLICK HERE TO READ MORE ABOUT 123VIETNAMESE
8. Duolingo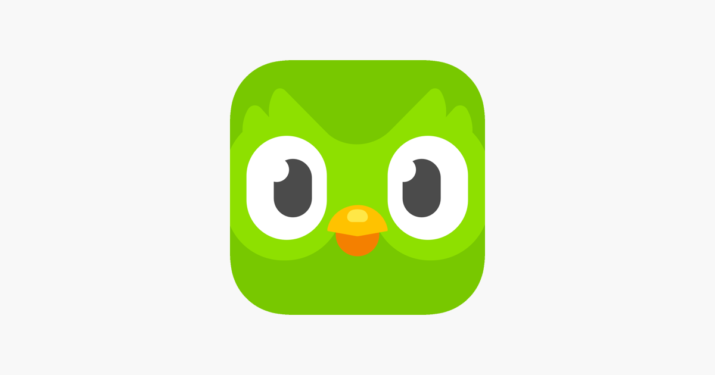 Advantages
– Duolingo has well-developed features, which eases the process of comprehending nouns, phrases and vocabulary used in daily simple conversations in Vietnamese;
– If you want to learn Vietnamese from scratch, Duolingo contains a large number of lessons for beginners, which teaches alphabet, basic letters in Vietnamese;
– The app is free of charge. So, there is no requirement for payment. However, if you are willing to use Premium version, there may be a particular amount of payment for this option;
– Duolingo has special features that motivate learners not to give up and continue learning. This motivation is particularly useful for future learning of any language.
Disadvantages
– As for disadvantages, the main one might be that the sounding system of this language learning app is computerized, which prevents learners to enjoy natural sounding conversations in Vietnamese;
– Lastly, the quality of translation of words and phrases is obscure and unsatisfactory. The app only translates the words by grammatical point of view, which limits students to get exposed to a spoken language.
CLICK HERE TO READ MORE ABOUT DUOLINGO
9. Learn Vietnamese With Annie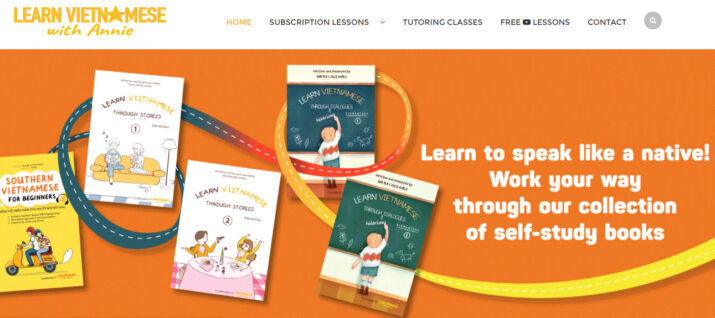 Advantages
– The main focus of Learn Vietnamese With Annie is to provide high-quality teaching materials, which is especially beneficial to English and non-English students;
– Also, it contains free sample lessons which does not require you any payment.
Disadvantages
– It does not have enough recourses for reading and writing skills in Vietnamese.
CLICK HERE TO READ MORE ABOUT LEARN VIETNAMESE WITH ANNIE
10. Lingodeer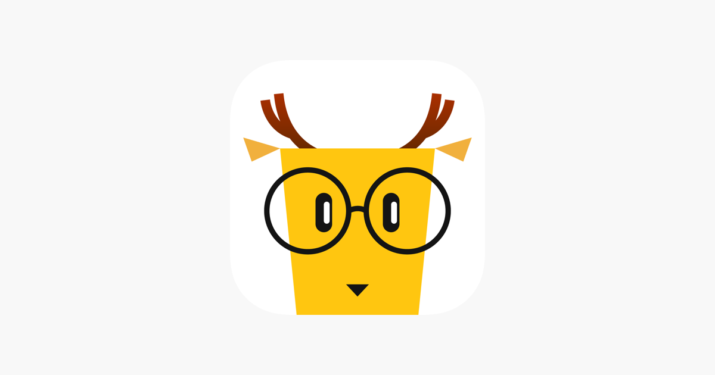 Advantages
– Lingodeer is the very place where you are able to find lots of downloadable lessons, which supports you to use them offline;
– Moreover, the quality of audio materials are so satisfactory that you do not have any difficulties while listening recordings and getting their meanings;
– The platform has a well-structured grammar lessons with detailed explanations, which makes the learning process easier than you think.
Disadvantages
– However, audio materials and lessons are not enough to develop good communication skills in Vietnamese;
– You may only use the platform on your mobile phone, which creates its main disadvantage. Desktop version is not still available now.
CLICK HERE TO READ MORE ABOUT LINGODEER
11. Transparent Language

Advantages
– Transparent mostly contains materials related to speaking and listening. Every lesson has at least 5 audio and oral activities, which ensures your effective learning Vietnamese;
– Transparent is the best online platform that focuses on teaching basic words and phrases in Vietnamese and other similar languages, such as Chinese or Japanese.
Disadvantages
– Firstly, the cost is not very affordable compared to other language learning apps. The monthly payment is $24.95 or if you want to learn this language further, you will have to make a yearly payment around $149.95;
– Most lessons in this platform may seem repetitive and always follow the similar structure. And this may cease to learn Vietnamese by many students;
– Transparent Language really lacks grammar explanation of topics, which is not useful to a spoken Vietnamese language.
CLICK HERE TO READ MORE ABOUT TRANSPARENT LANGUAGE
12. Rosetta Stone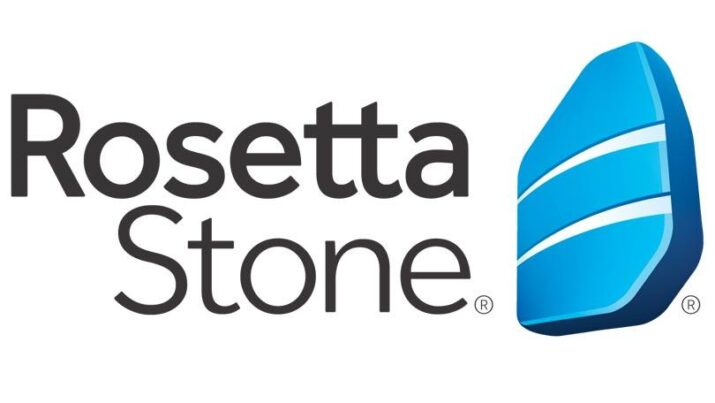 Advantages
– Rosetta Stone offers 9 main languages, ranging from English to Vietnamese. Every course and lesson have its specific proficiency levels, designing for elementary and beginner level students to advanced ones;
Disadvantages
– When it comes to its drawbacks, the price is much more expensive than other apps. There are 4 types of subscription; 3-month subscription usually costs $36;
– If you are not aware of the language before and just a beginner, you may struggle to understant the construction of the text and its grammar. Thus, without past knowledge, it might be challenging thing to start Vietnamese with this app.
CLICK HERE TO READ MORE ABOUT ROSETTA STONE
13. Colloquial Vietnamese

Advantages
– Colloquial Vietnamese contains free audio lessons by a native speaker that help you to develop vocabulary skills, learn widely-used words and phrases, as well as their pronunciation.
Disadvantages
– However, the length of audio lessons is not so long. It lasts only a minute or two.
CLICK HERE TO READ MORE ABOUT COLLOQUIAL VIETNAMESE
14. Mango Languages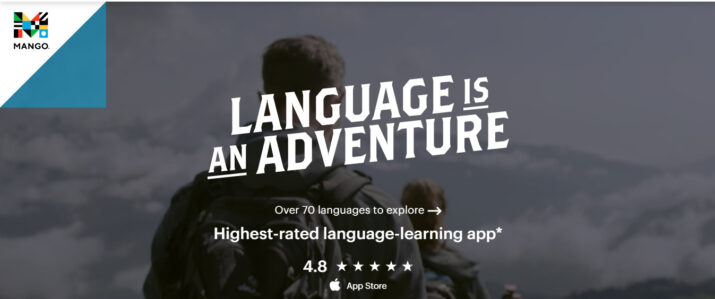 Advantages
– Mango Languages includes more than 70 languages that you may pick up your favorite language, from popular, like English or Spanish to least common ones. So, learning Vietnamese is not such a difficult thing with this app;
– This platform is not very expensive; monthly cost is about $14.99. Also, you can have a free access through institutions and libraries.
Disadvantages
– The main negative of Mango Languages is that it does not assess your knowledge at the end of a lesson. This means that it has no scoring system, which will not motivate students for learning Vietnamese;
– In addition, the content of the app seems monotonous that makes students get bored easily learning Vietnamese.
CLICK HERE TO READ MORE ABOUT MANGO LANGUAGES
15. FSI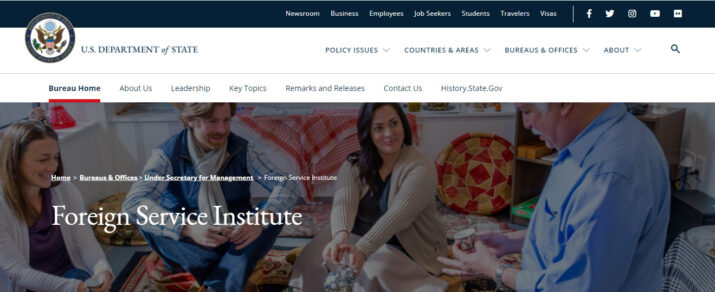 Advantages
– FSI Languages contains a large number of audio and text materials which helps you to practice speaking, learn common phrases and sound like a native speaker. You can find a definition of every single phrase and word on this wonderful platform;
– The courses are completely free. So, they are available anywhere and you may use them any time you prefer.
Disadvantages
– As the platform does not include alphabet lessons for beginners, it may be hard and time-consuming for them to comprehend easily;
– The quality of audio is not so good. Sometimes, it is impossible to find the correct and clear pronunciation of Vietnamese words.
CLICK HERE TO READ MORE ABOUT FSI
16. Drops Vietnamese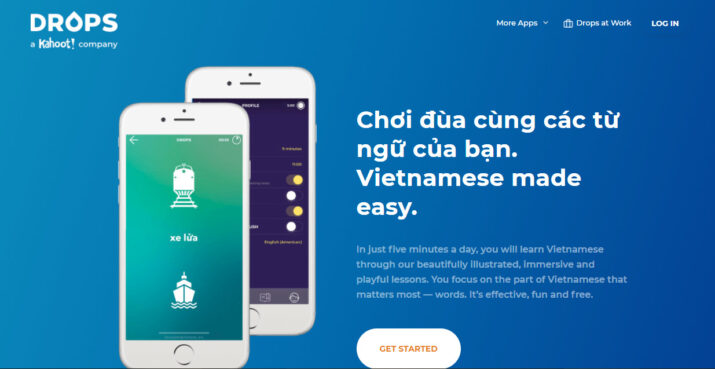 Advantages
– The app is useful for building up your vocabulary skills in Vietnamese, which makes learning easy and helps to become like native speakers.
Disadvantages
– If you are using free account, advertisements may disturb you while you are learning the Vietnamese language.
CLICK HERE TO READ MORE ABOUT DROPS VIETNAMESE
17. Learn Vietnamese with Master Ling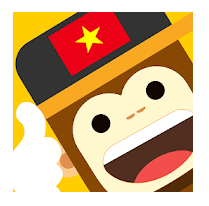 Advantages
– The app consists of interactive games and exercises, which will improve you basic skills in Vietnamese.
Disadvantages
– The app is particularly useful for beginners. So, if you are in an advanced level, the content will not be suitable for you.
CLICK HERE TO READ MORE ABOUT LEARN VIEATNAMESE WITH MASTER LING
Conclusion
There are lots of app to learn Vietnamese in a little time. However, Mondly is always considered recommendable because of its content, well-planned structure and reasonable price.
F.A.Q.
How To Learn Vietnamese?
There is a number of apps and book that can be found online. With the help of them you can learn Vietnamese in an immediate period of time. Online classes and platforms are not only time-saving and effective, but also it is useful to your budget.
How Hard Is It To Learn Vietnamese?
Vietnamese is considered tonal language. It consists of 6 tones and tôi. This means that you can pronounce one syllable in 6 different tones. As this aspect of the language is uncommon to English, it is sometimes hard and time-consuming to master every tone and spell these tones correctly.
How To Learn Vietnamese Fast?
Through different and preferrable apps you may learn Vietnamese fast and even make your first trip to Vietnam! But, this requires you a strong willing and determination towards the learning process.
Why Learn Vietnamese?
Vietnam has a long history and colorful culture. Undoubtedly, it attracts lots of people because of its traditions. As a result, the fastest way to go and travel to this historical country is to master its language. Vietnamese gives you an opportunity to discover new world and explore Vietnamese cultural heritages.
Learn How To Speak Vietnamese?
Video lessons on You Tube and apps that focuses on enhancing speaking skills are always advisable to boost communication skills fast and effectively.
CLICK HERE TO GET MONDLY AT A DISCOUNTED PRICE
Like this Article? Subscribe to Our Feed!
Passionate in tech, software and gadgets. I enjoy reviewing and comparing products & services, uncovering new trends and digging up little known products that deserve an audience.