The frequent and long lockdowns because of the pandemic of COVID-19 has people seeking telemedicine services more than ever. These services are not limited to diagnosing health issues and getting a prescription. With people adapting to and loving this facility and the advancements in technology, telemedicine is here to stay. Here's more about the major telemedicine services. ~ Ed.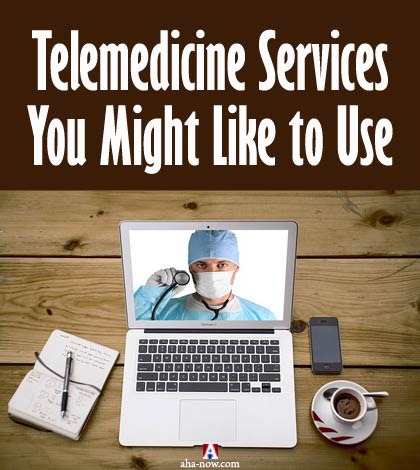 Before the global pandemic hit in 2020, most of us sought out appointments, advice, prescriptions, and the like from medical practitioners the "old fashioned" way: in person. In the past year, though, we've had to re-evaluate how we do many things, including accessing healthcare.
Telehealth has boomed in recent months as increasing numbers of practitioners began offering services digitally. Terms telehealth and telemedicine refer to the distribution of services and information relating to health via telecommunication technologies.
Operators of many types in the industry enable remote access to clinical services through real-time communication. Conversations are held between patients and healthcare providers using electronic audio and visual methods, such as phone calls and chats on video-conferencing platforms.
There are many benefits to be enjoyed from this ability to connect with health specialists digitally, such as flexibility with times and locations and opportunities to see healthcare providers you might not otherwise be able to. If you haven't tried telemedicine services yet, it's worth keeping this avenue in mind. Here are some of the options you could start using.
4 Telemedicine Services You Can Benefit From
Telemedicine services have their benefits of ease of doing, saving time, and no hassles. The health tech has made it easy to get a prescription or referral letter and diagnose health issues over a telephone or video call.
Getting a Prescription
It's often inconvenient and frustrating having to make an appointment to see a doctor in person when all you need is a prescription for medication you've been taking for ages without incident. Even if we want to try a medicine for the first time, most of us are incredibly busy and struggle to find the time to fit in these appointments.
Thanks to telemedicine services, you can chat with a health practitioner about your pharmaceutical needs without having to leave your home or office. Request a repeat prescription of medicines you've used to manage long-term illnesses or other health concerns. Many doctors are also happy to provide scripts digitally when they can see you need to trial a new type of drug or start using one to combat a problem. Getting an online doctor prescription is convenient and often a big time saver.
Referral Letters
Sometimes we need to see specialists for assistance with diagnosing, treating, or managing a health concern. First, though, we must see our general practitioner for a referral to such an expert. Obtaining a referral letter is another handy task you can check off your to-do list without having to go to a clinic in person.
Schedule a telehealth appointment with your regular doctor, and you can ask them to sort out a referral then and there. Just as they would in an in-person meeting, they might suggest what type of specialist to see or give you specific names to consider.
Diagnosing Health Issues
Sometimes we know we feel unwell, but we're not sure why or what to do about it. It may be necessary to see a medical practitioner in person for them to diagnose the problem, but this isn't always a must. If you've been having internally based symptoms rather than external ones and you must explain them to a doctor anyhow, you can do so just as easily over a telephone or video call.
It varies from person to person, but some of the conditions that can be analyzed and diagnosed via a virtual appointment include arthritis, constipation, diarrhea, conjunctivitis, and sore throats. Doctors can often identify things like bladder and urinary tract infections, asthma, sinus infections, colds and flu, heartburn, and headaches, too.
Prenatal Care and Obstetrics
When pregnant, the last thing many women want to do is drag themselves to a medical clinic for pregnancy-related checkups and other health services. While you may need to go to a practice in-person to have bloodwork taken to find out you're growing a little one, this doesn't mean you have to continue seeing your general practitioner or specialist in person at every step along the way.
Once you've had early monitoring information recorded, you might turn to prenatal care via telemedicine, especially in the first half of your pregnancy when fewer antenatal physical exams are required. Plus, it's easier to take advantage of digital communications if your pregnancy is considered low risk.
As you get farther along in your pregnancy, it's often necessary to have more appointments in person so your doctor can monitor blood pressure, fetal growth, and fetal heart rate. Note, though, that you may be able to monitor your blood pressure remotely with home machines, and you can track your weight changes yourself during your pregnancy, too.
Final Words
Some other services you might like to utilize remotely include psychiatry, physical therapy, dermatology, and chronic disease management. Someone can access digitally now these services and more, making life easier and less stressful for many of us.
If you haven't used tech tools for health purposes yet, now is likely a great time to start.
Over to you
Have you ever used any telemedicine service? If yes, then please share your thoughts and experiences about the same in the comments section.