These 10-minute air fryer zucchini fritters are a healthier version of the favorite fried snack and pair well with sour cream or a healthy yogurt dip.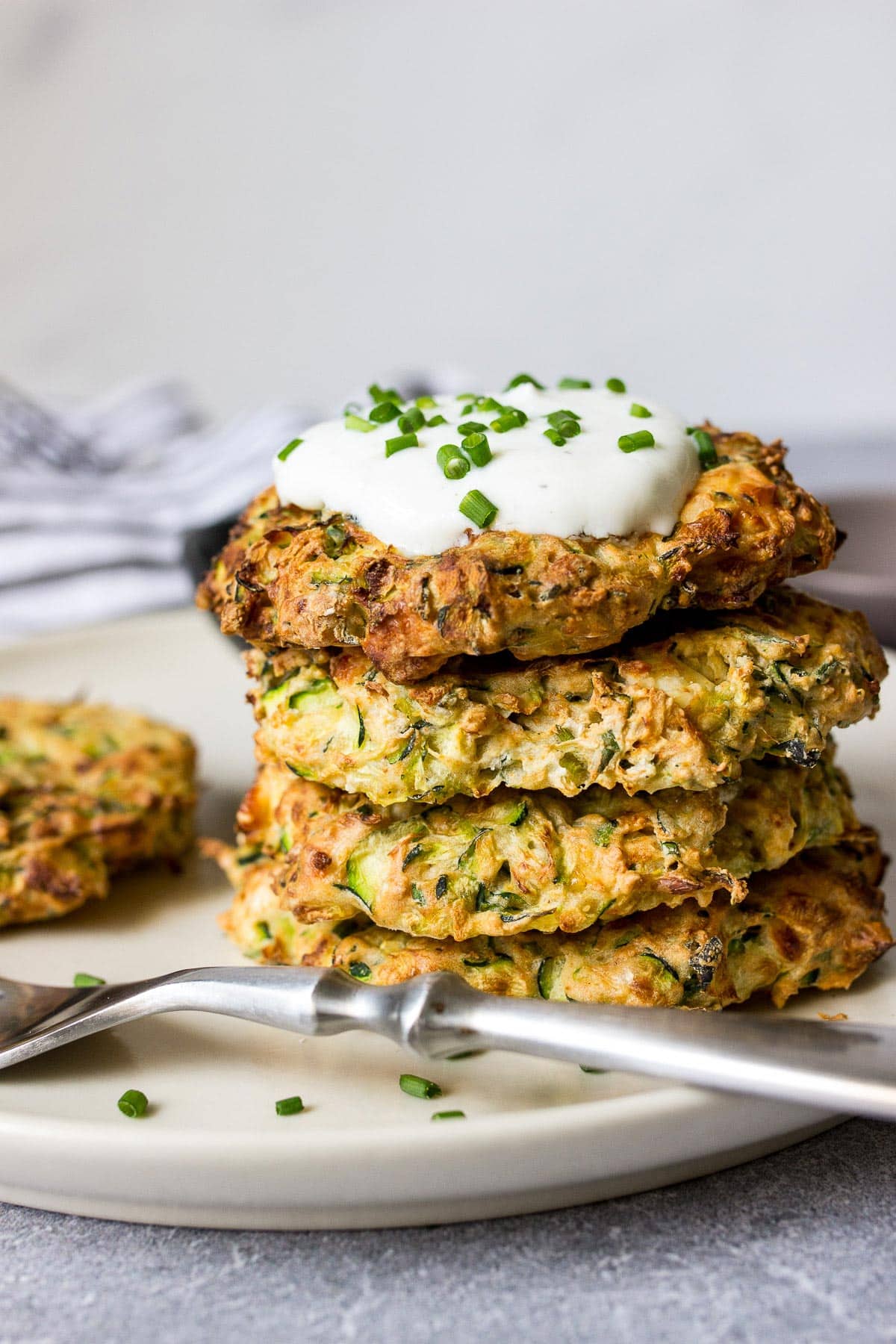 With the end of summer in sight, I thought I'd sneak in a quick and easy zucchini recipe. So today we'll be making some air fryer zucchini fritters. I was initially a tiny bit skeptical about how a batter-based food would do in the air fryer but the results were great and they browned up just nicely. These fritters have some feta/goat/Parmesan cheese, a couple of seasonings and fresh chives to brighten up the flavor.
The air fryer is proving again and again to be a good kitchen investment for those healthier and quicker meals. I've had great success so far with air fryer honey garlic salmon and air fryer honey mustard salmon and these fritters proved that batters do well in there as well. So let's get started.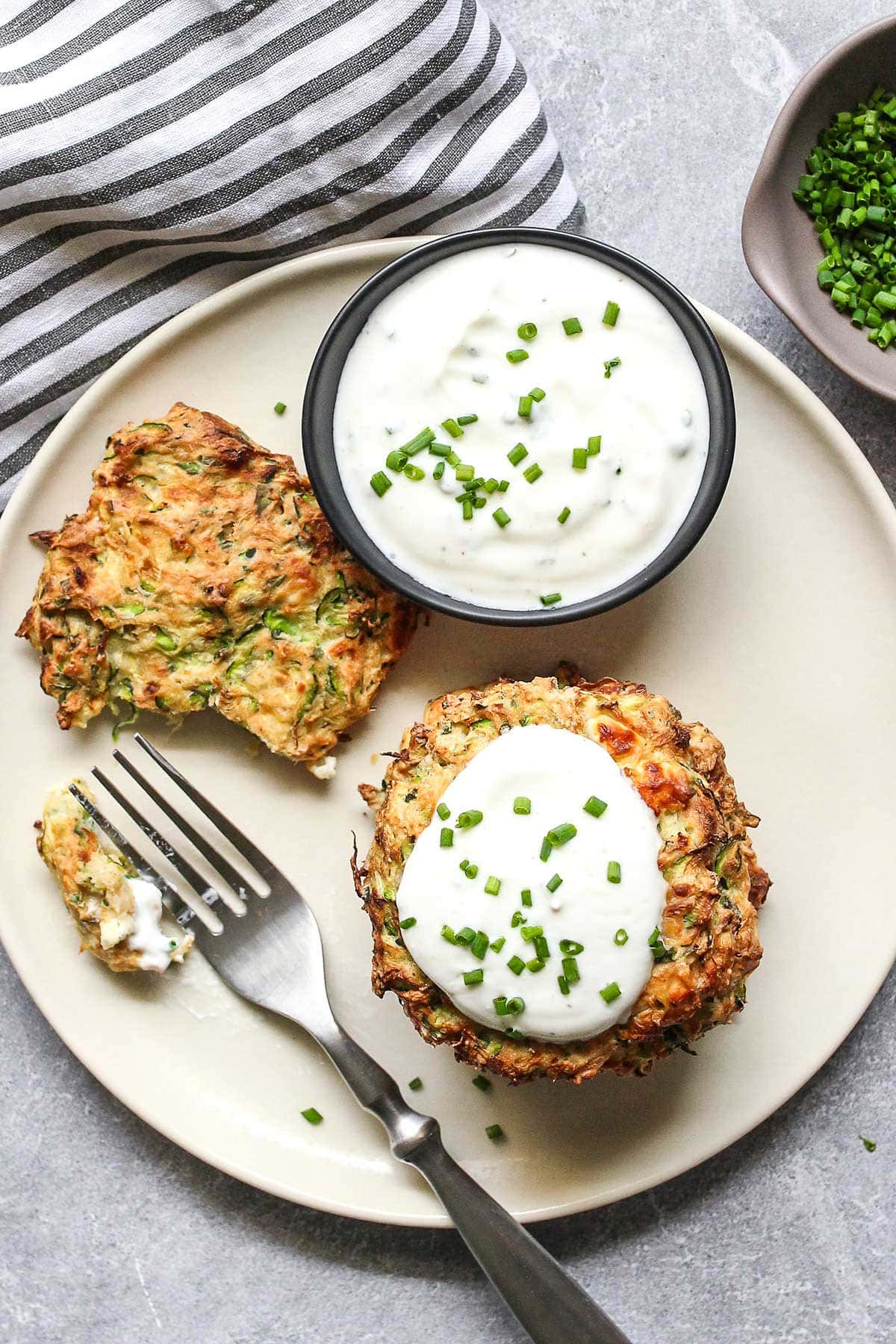 AIR FRYER ZUCCHINI FRITTERS TIPS AND TRICKS
Grating zucchini: Use the large holes of a box grater to grate your zucchini. I didn't peel the zucchini beforehand but cut off the ends first then sliced it in half to make it easier to grate.
Sweating zucchini: Letting the grated zucchini sit in some salt for a bit allows the salt to draw out more moisture from the zucchini which makes straining it that much easier. You can prep the other ingredients while waiting to save you time.
Straining the liquid: Zucchini has a TON of water content so this step is crucial to make a batter that's easier to form. You can use a cheesecloth, a nut milk bag, or a mesh strainer. I ended up using a nut milk bag, squeezed it from the top and worked my way down. I must have squeezed out at least a cup of water from the pound of zucchini I had. It was a lot! Once done, I just turned the nut milk bag inside out and rinsed it. Easy peasy.
Cheese: I made two batches of this with different cheeses each time. The first time, I used Parmesan cheese and the second was with feta. Feta has a stronger flavor and you can swap it out with goat cheese. For those not a fan of the strong flavor, try finely grated Parmesan cheese instead.
Fresh herbs: I used fresh chives for this recipe but you can swap this out with green onions or fresh parsley.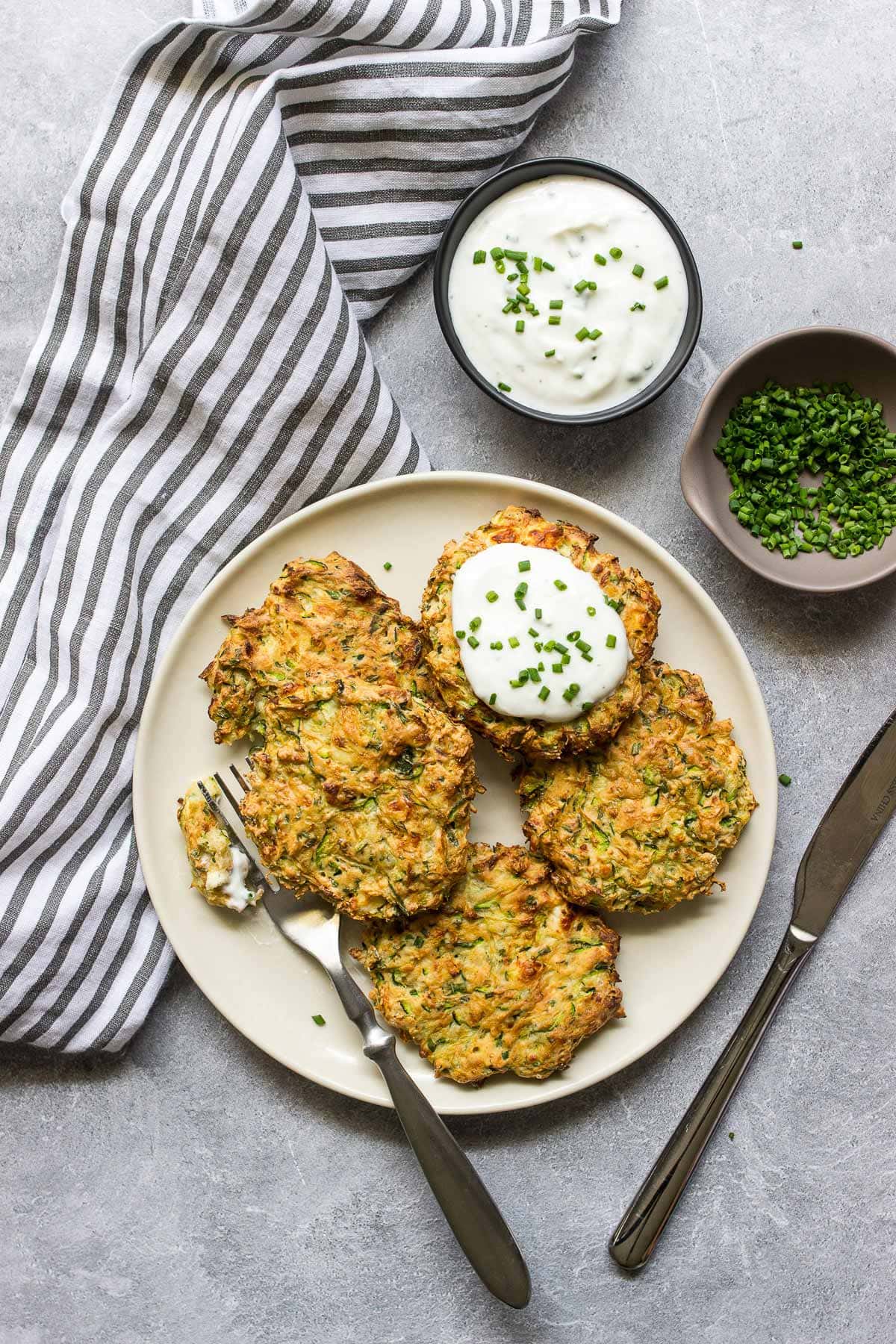 Baking powder: Baking powder is a secret hack to make things crispier. I've used it many times to crisp up chicken skins in the air fryer or while baking some buffalo chicken wings.
Flour: For a keto-friendly option, I've heard you can substitute all-purpose flour with almond flour.
Add some corn: Add more flavor with one cup of corn. These pair really well with zucchini!
Chill it: A great way to ensure the patties are firm and won't fall apart is to chill them in the freezer for about 10 minutes before air-frying. I've done the fritters both ways and found chilling it beforehand makes it much easier and less goopy.
Pan-fry it: To go with the traditional fried fritters, try pan-frying it in a skillet and cook for 2-3 minutes on each side.
And that's about it. The bulk of the time is in the prep and you can do most of it while sweating out the zucchini. The air frying part is the quickest thing about it. I made the herbed yogurt dip while waiting for them to finish cooking. Enjoy your fritters!
For another way to sneak zucchini into something yummy, try out this hash brown breakfast quiche with a crispy hash brown crust and a mushroom and zucchini filling.
clock icon
cutlery icon
flag icon
folder icon
instagram icon
pinterest icon
facebook icon
print icon
squares icon
heart icon
heart solid icon
Description
These 10-minute air fryer zucchini fritters are a healthier version of the snack and pair well with sour cream or a healthy yogurt dip.
---
1

lb

. zucchini (about 1 large zucchini or 2 medium zucchinis)

1 1/2 teaspoons

coarse sea salt, divided

1/2

cup

feta/goat/Parmesan cheese

1

large egg, beaten

1

cup

all-purpose flour

1 teaspoon

baking powder

4 tablespoons

fresh chives, sliced

1/4 teaspoon

garlic powder

1/4 teaspoon

onion powder

1/2 teaspoon

paprika

1/8 teaspoon

black pepper
---
Grate zucchini with a box grater. Add one teaspoon of coarse sea salt and let it sit for 10 minutes to draw out the water. Squeeze out any excess water with a cheesecloth, nut milk bag or mesh strainer.

Combine grated zucchini, cheese, egg, flour, baking powder, chives, garlic and onion powder, paprika and remaining salt, and pepper. Mix well.

Form 8 patties with the mixture.

[Optional] Put in the freezer for 10 minutes to firm up the patties.

[Optional] For crispier fritters, spray with olive oil.

Preheat the air fryer to 350°F and cook the patties for 5 minutes.

Flip over the patties and cook for another 5-7 minutes or until golden brown.

Dish and serve hot with sour cream, a chive yogurt sauce or

tzatziki sauce.
Notes
Greek Yogurt Chive Sauce
1 cup plain Greek yogurt
1/2 tablespoon lemon juice
1/2 teaspoon garlic powder
1 tablespoon fresh chives/dill, chopped
Salt and pepper to taste
♡ Affiliate disclosure: As an Amazon Associate, I earn commissions from qualifying purchases from Amazon.com. You can learn more about it here.