This post contains affiliate links. I earn a commission if you make purchases through those links. See my disclosure policy.
Bibim guksu is a cold noodle dish with fresh vegetables served in a spicy, sweet and tangy gochujang sauce. Easy, refreshing and delicious!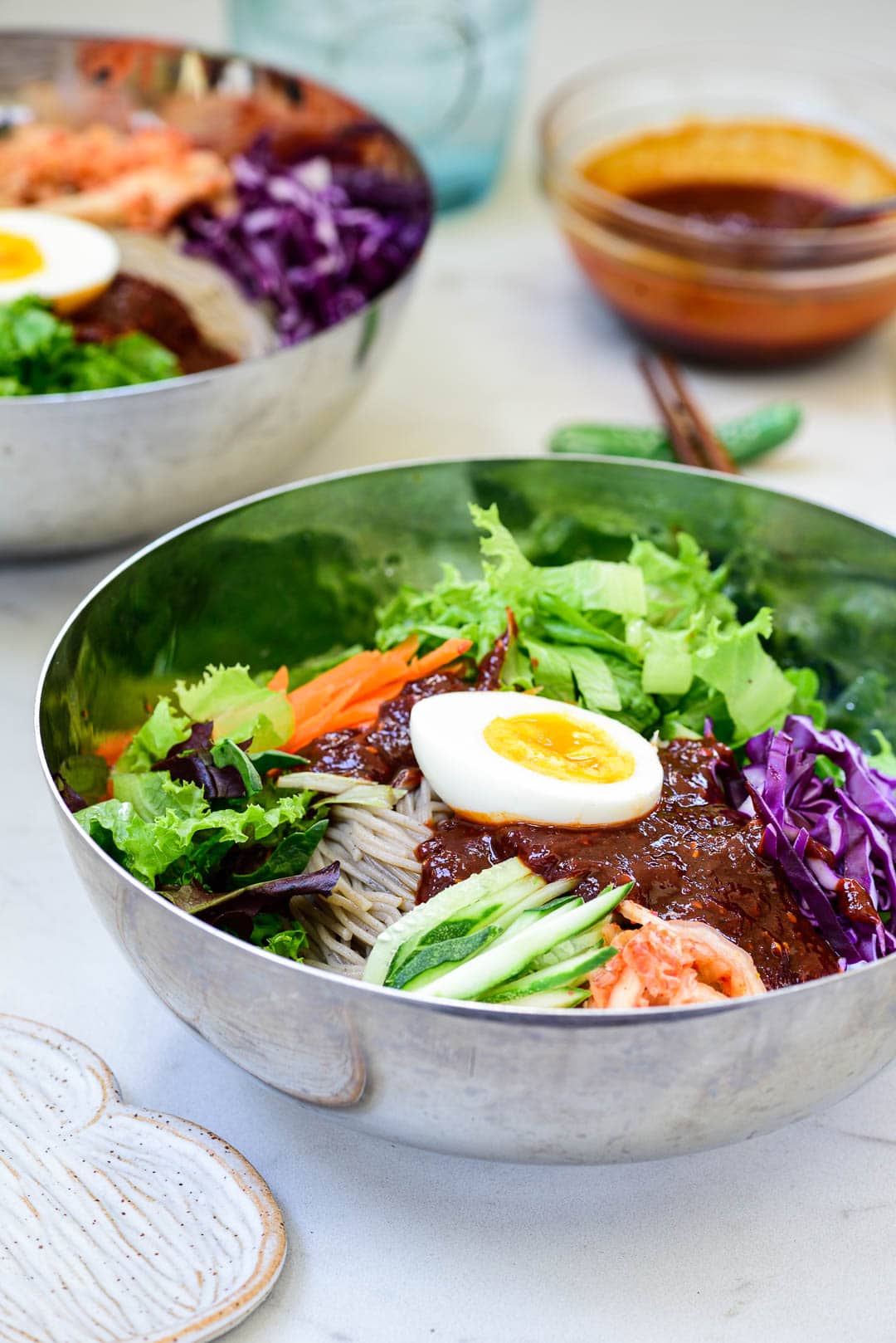 Bibim guksu is a popular cold noodle dish that's made with crisp, fresh vegetables.  As with its rice counterpart, bibimbap, it's very versatile!
A simple version from my childhood memories is made only with sliced kimchi and fresh cucumbers, kimchi bibim guksu. Sometimes, we didn't even have kimchi in it, only noodles in a gochujang sauce with cucumber slices on top.
The addition of lots of fresh vegetables in this recipe makes the dish healthy, cool and refreshing! The result is an incredibly appetizing dish that is perfect for the warm weather!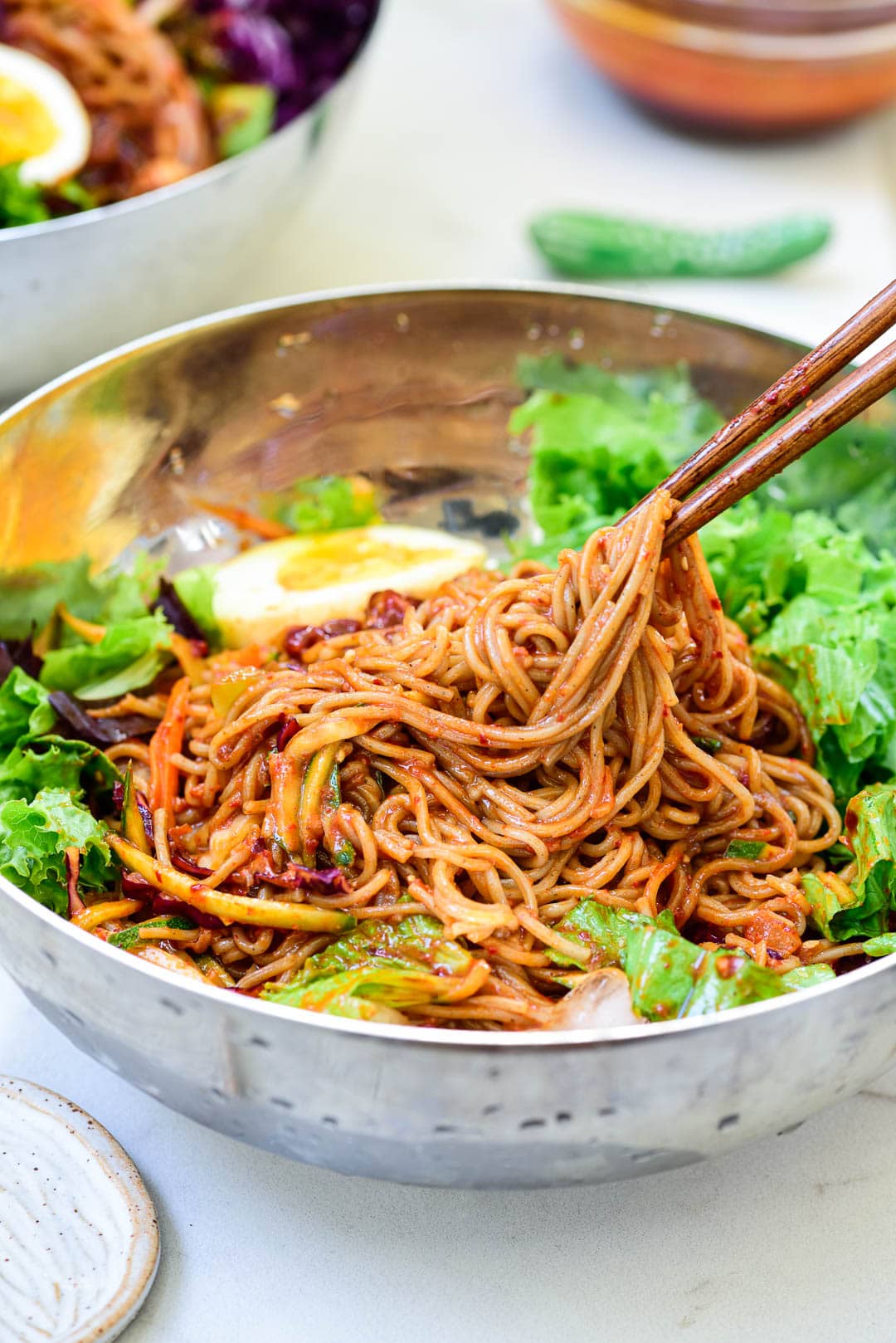 The noodles
Bibim guksu is usually made with thin wheat flour noodles (somyeon or somen) or buckwheat noodles (memil guksu, aka soba noodles). You can use any thin noodles.
In Korea, there are many variations of thin noodles made with different grains and/or other additions that add flavors and colors. While buckwheat noodles are my favorite, I also love colorful noodles made with green tea, seaweed, pumpkin, purple sweet potatoes, etc.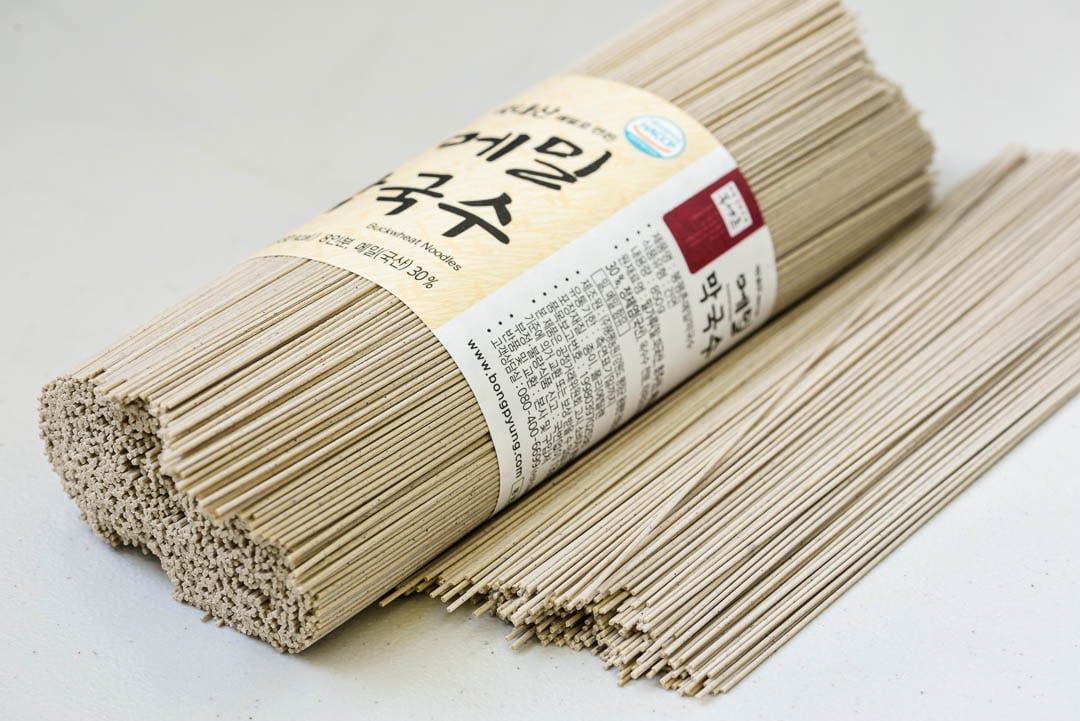 The toppings
Here, I kept it simple. I added a few vegetables to create a nice combination of colors, flavors and textures. Other vegetables commonly used are scallions, perilla leaves, and Korean radishes. Red bell peppers, bean sprouts, watercress, spring mix, and avocado are all excellent options for this dish as well.
A little bit of julienned Korean pear or apple will be great as well. 
You can also throw in some strips of blanched squid, snails, shrimp, or shredded chicken meat to make it a more substantial dish. Be creative and have fun with it! 
You can toss it all together before serving, or arrange everything in a serving bowl so it can be mixed at the table. The latter allows each person to adjust the amount of sauce to his or her liking.
The sauce
The sauce is gochujang based. I also add gochugaru for an extra kick. You can leave it if you like the noodles to be less spicy. For the sweetener, you can simply use sugar, or a combination of corn syrup (or oligo syrup) and sugar. The syrup gives a nice sheen to the dish, but you can simply use more sugar or honey if you want.
Korean maesilcheong (plum syrup) works wonderfully in this sauce, if available. You can also add a small amount of apple juice, orange juice, or soft drink such as coke or sprite to make the sauce even better.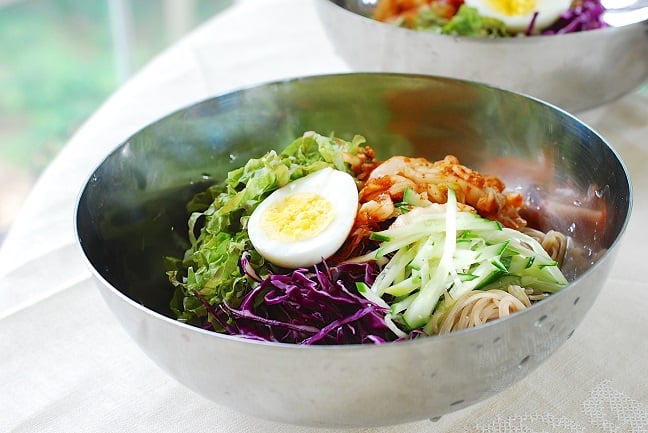 For more Korean cooking inspirations, follow along on YouTube, Pinterest, Twitter, Facebook, and Instagram.
This recipe was originally posted in July 2010. I've updated it here with new photos and more information, and minor changes to the recipe.