We're back with another intimate dinner party menu + prep schedule and this time we're doing my spin on Bo Ssam!!  Never heard of it before… prepare to be obsessed and read on!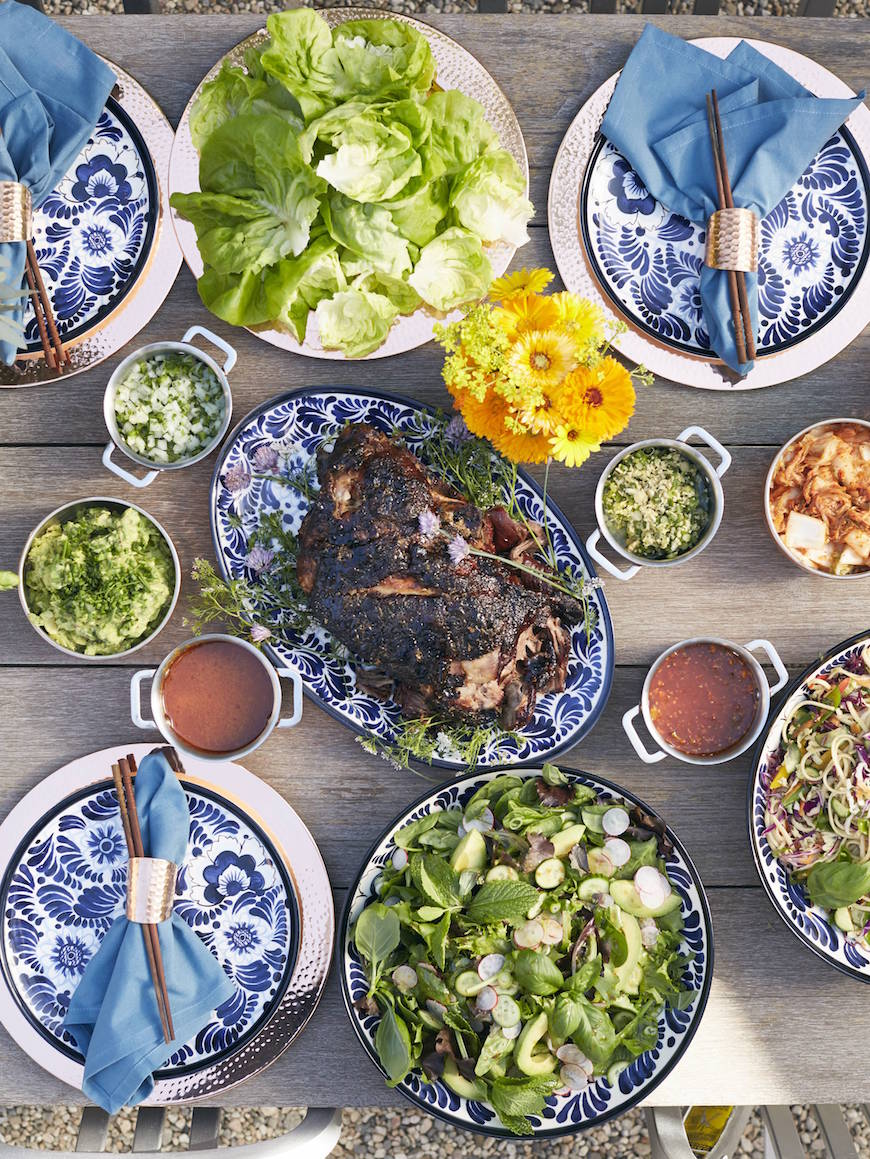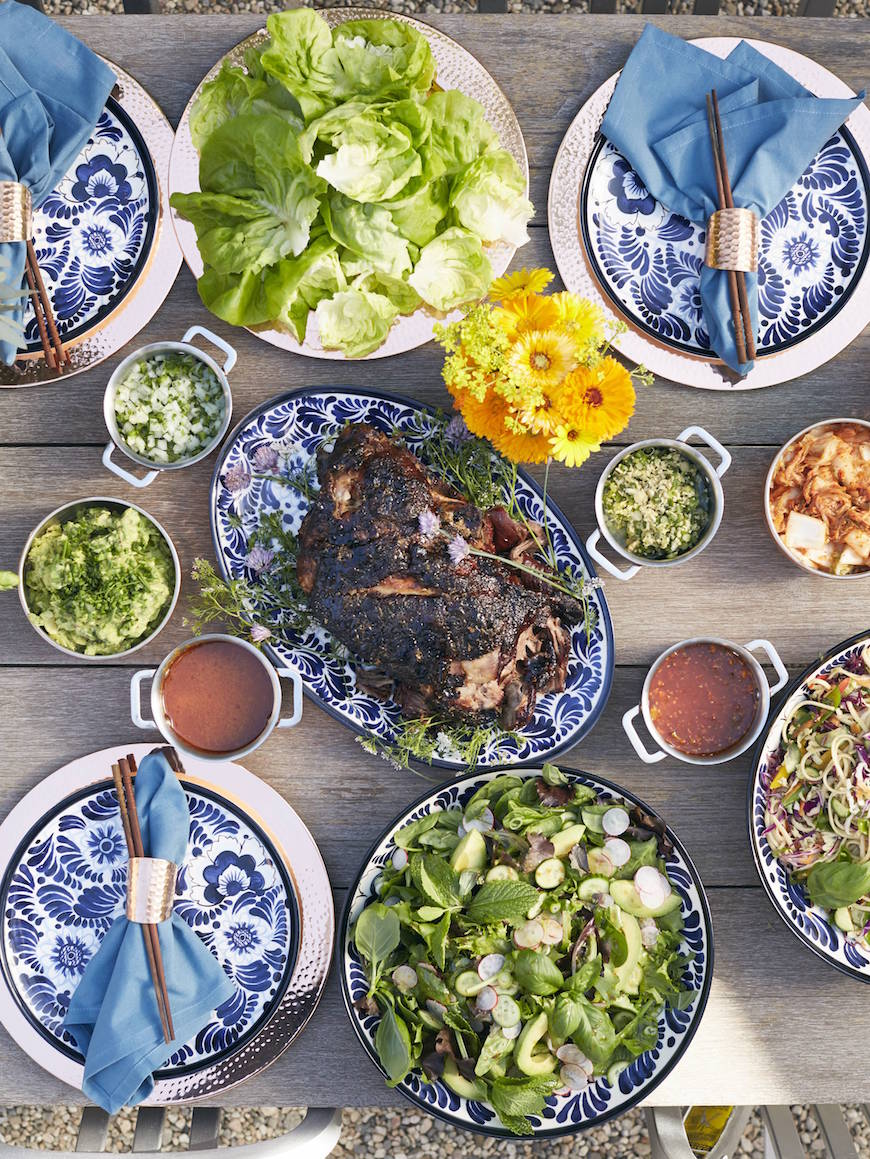 There are only a handful of people on this planet that I trust implicitly and Matt and Adam are two of them. I'd do just about anything they told me to do unless it involved sheer cliffs and heights – that's where I draw the line. But when they told me that they were obsessed with this Bo Ssam Dinner Party after reading all about it in the New York Times, I hopped right on board!
Bo Ssam at it's simplest form is a slow-roasted pork shoulder served with lettuce, white rice and a whole bunch of sauces so you can dress it up. (and you all know how much I love a sauce) There are the traditional sauces that David Chang serves and then there is the Matt + Adam + Gaby spin which involves guacamole. Naturally. So buckle up – we threw a killer Bo Ssam Dinner Party a while back! All the recipes are below!
Full Menu:
Prep Schedule
Night before (sometime around 8pm)
Prep the pork butt with the sugar and salt mixture and refrigerate overnight.
Morning of (sometime between 9am – 11am)
Make the Ginger Scallion Sauce, Ssam Sauce, Korean BBQ Sauce, Guacamole + Pico de Gallo start to finish. Transfer each to a small bowl and top with plastic wrap.
Chill white wine
Make the salad dressing for the Ginger Soy Herb Salad and refrigerate
Start cooking the pork. It will cook for 6 hours before it's done, so plan on putting it into the oven 6ish hours before your guests arrive.
Afternoon of (sometime between 1pm – 3pm)
Make the Sesame Noodle Salad dressing and prep all the vegetables. Cook the pasta and rinse with cold water. Transfer everything to the fridge and keep until ready to serve.
Right before guests arrive:
Pop the white rice in a rice cooker to cook. Don't open the lid until ready to serve.
Toss ingredients together for the salad
Transfer store bought kimchi into a serving vessel.
Toss the pasta with water to break it up if needed and then drain. Toss with the dressing and vegetables and transfer to a serving platter.
Remove the pork from the oven and transfer to a serving platter.
Before you sit down for dinner: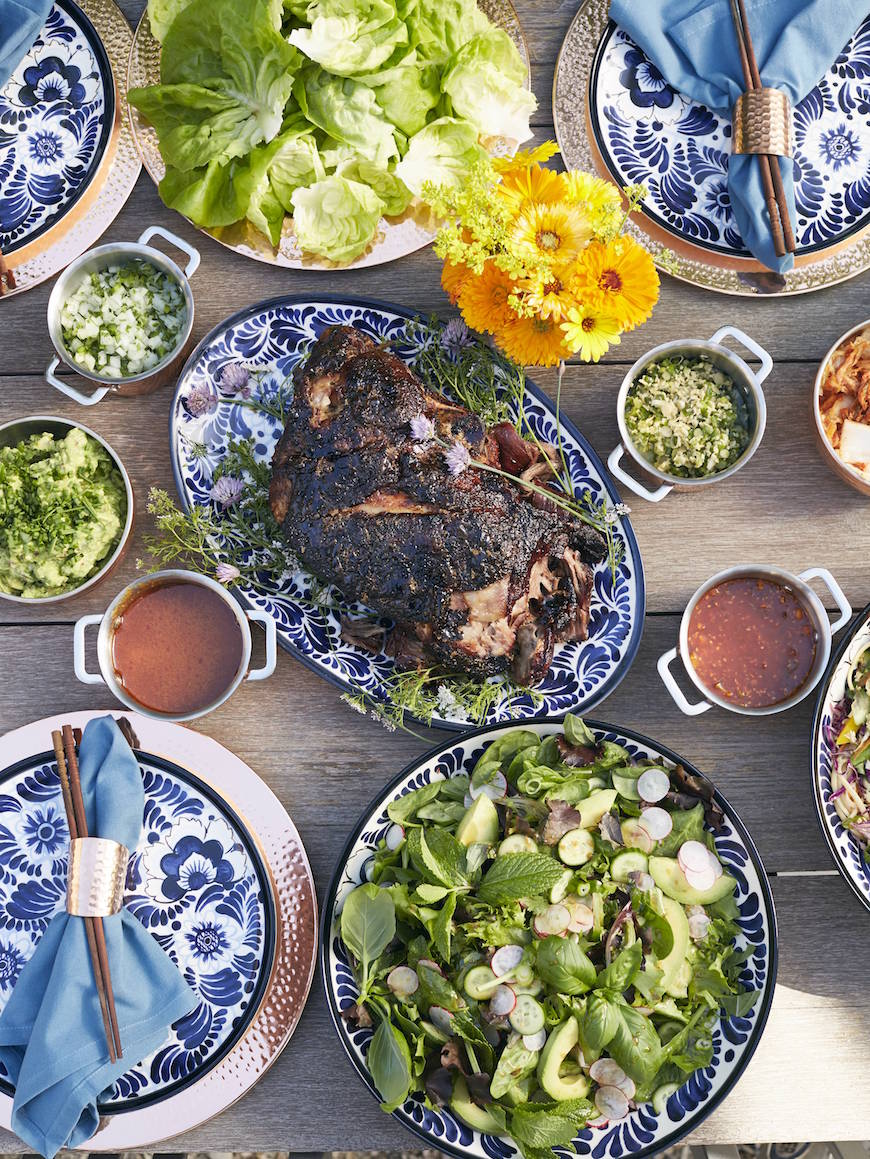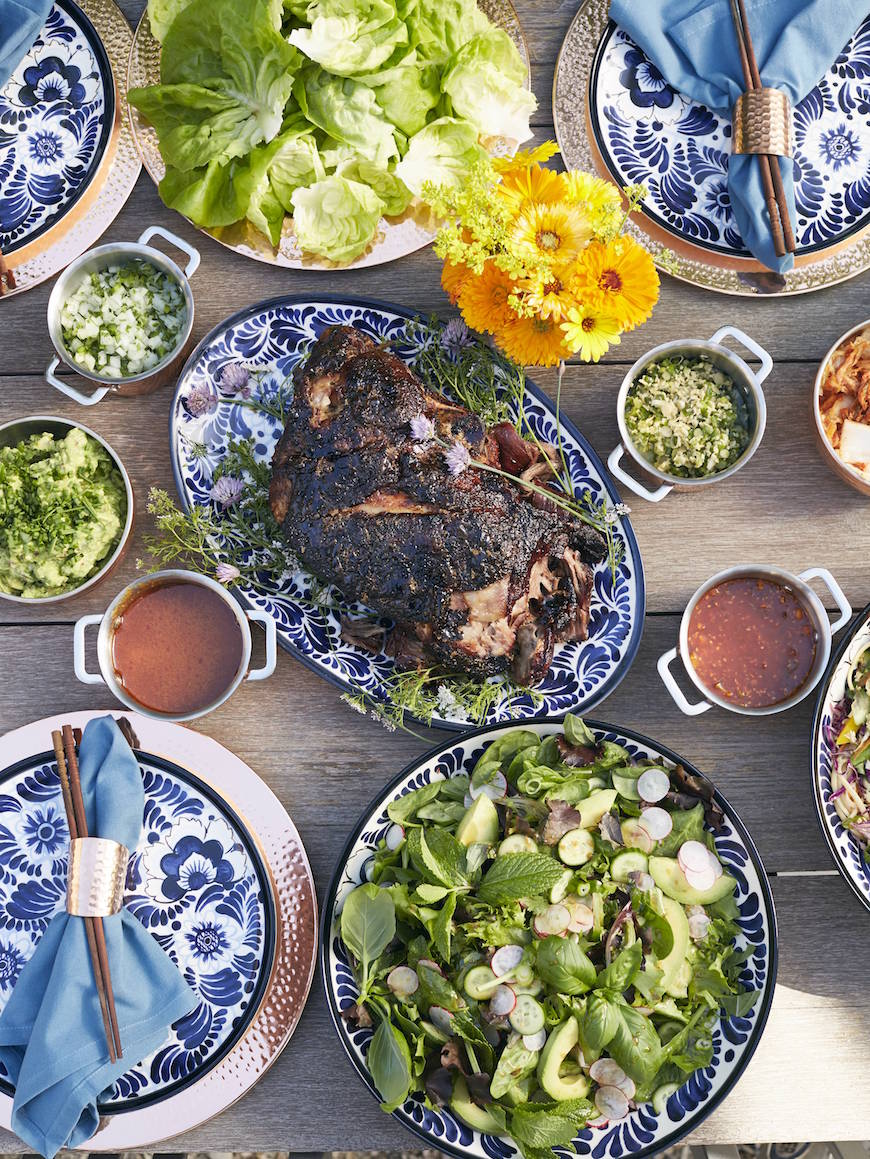 Photos by Matt Armendariz / Food Styling by Adam Pearson