Pasta night is even better with this comforting and delicious easy cheesy ravioli lasagna, where two Italian favorites are combined to create the perfect blend of meat sauce, cheese and ravioli layers.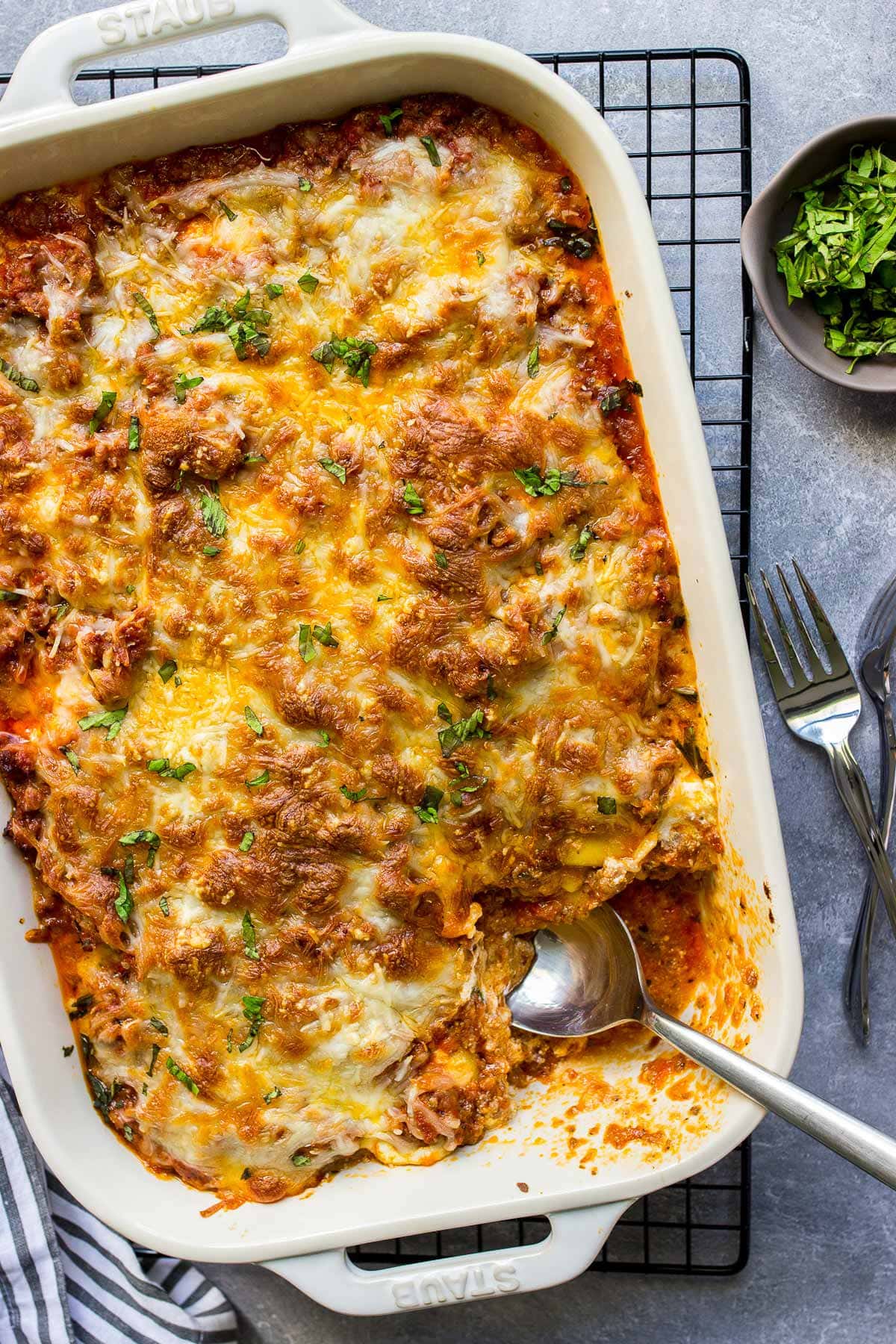 Today we're making an easy cheesy ravioli bake. It's a beef-based red sauce version of spinach and artichoke ravioli bake using Italian sausage and ground beef in a hearty marinara sauce.
There's plenty of cheese to go around as I layered it with mozzarella,  Parmesan cheese and creamy ricotta cheese. Think of it as a traditional lasagna without the hassle of fussing with lasagna sheets. Instead, you'll find fluffy pillowy-shaped ravioli that's fun to layer with.
It's fancy-looking but easy-to-make comfort food. If you want more fancy-looking pasta, try out lasagna roll-ups or stuffed manicotti for that special date night. But back to these deliciously stacked layers of meat, pasta and cheese. Let's start cooking!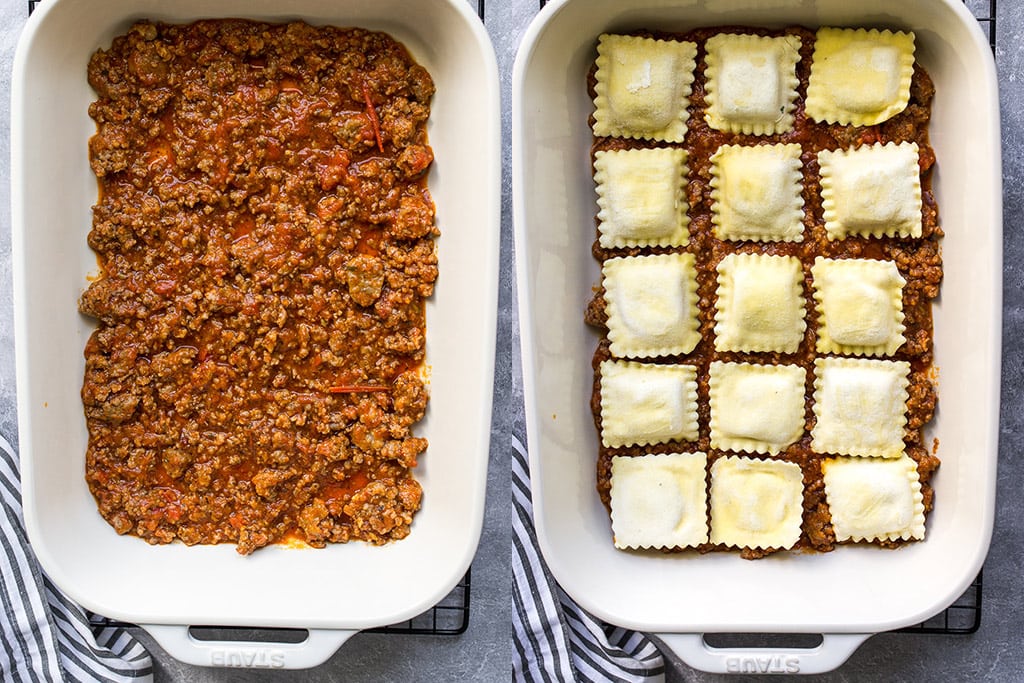 EASY CHEESY RAVIOLI LASAGNA TIPS AND TRICKS
Italian sausage: I used mild Italian sausage for the recipe but you can use sweet or hot, depending on your preference.
Meat sauce: This is a very thick beef sauce so if you prefer a lower ratio of meat to marinara sauce, feel free to leave out either the ground beef or sausage. Or use 1/2 lb. of each for a total of 1 lb.
Garlic/onion powder: You can use fresh minced garlic and onion instead of the powders. I would suggest 1/2 yellow onion and 4 garlic cloves.
Ricotta cheese: I used to HATE ricotta cheese until I switched from local store brands to Galbani. The brand matters because the taste and texture can vary wildly.
One tip is to take the ricotta cheese out of the package and mash it up a little so it's easier to spread. I ended up spooning little mounds of ricotta onto each ravioli and spreading from there.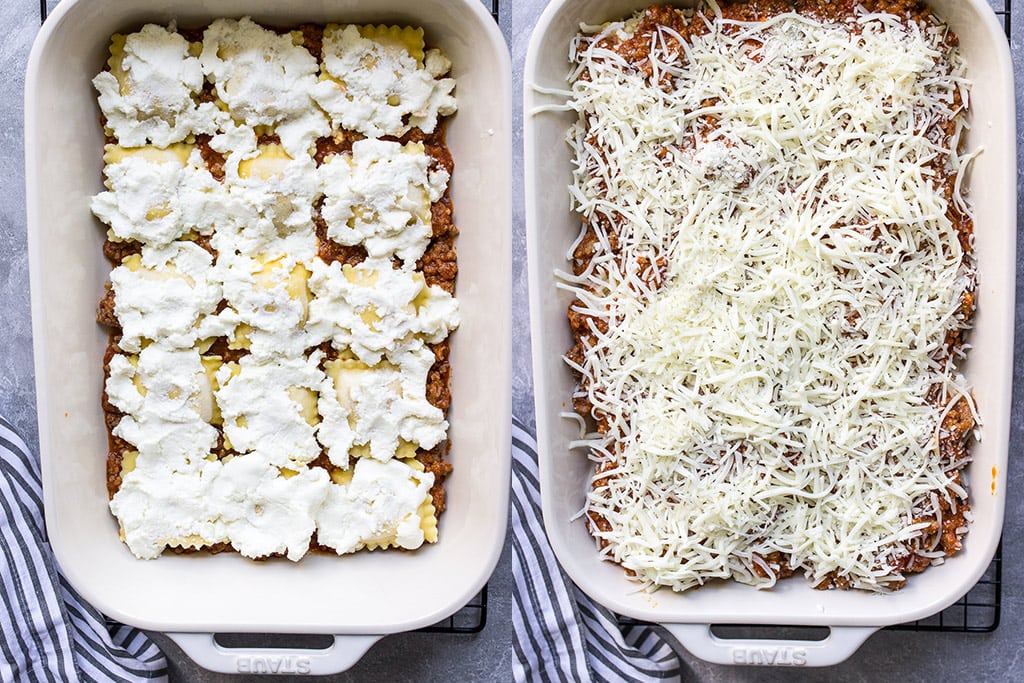 Ravioli: You can use fresh or frozen ravioli. You don't have to thaw the ravioli to assemble the casserole, just make sure they aren't stuck together.
Since this recipe has a beefy sauce I went with three-cheese ravioli to balance it out. I ended up using about 30 ravioli but you might use more if you pack it tighter than my prep photos.
Marinara sauce: I did some basic alterations to the marinara sauce to flesh it out a little and deepen the flavor. You can do even more by adding beef bouillon cubes, Worcestershire sauce, or using this red pepper marinara sauce.
For this recipe, I used Rao's marinara sauce which is significantly less tart than your average red pasta sauce. I also added some sugar to balance out the tartness. It's the same trick I used in slow cooker beef and cheese pasta and easy vegetable pasta.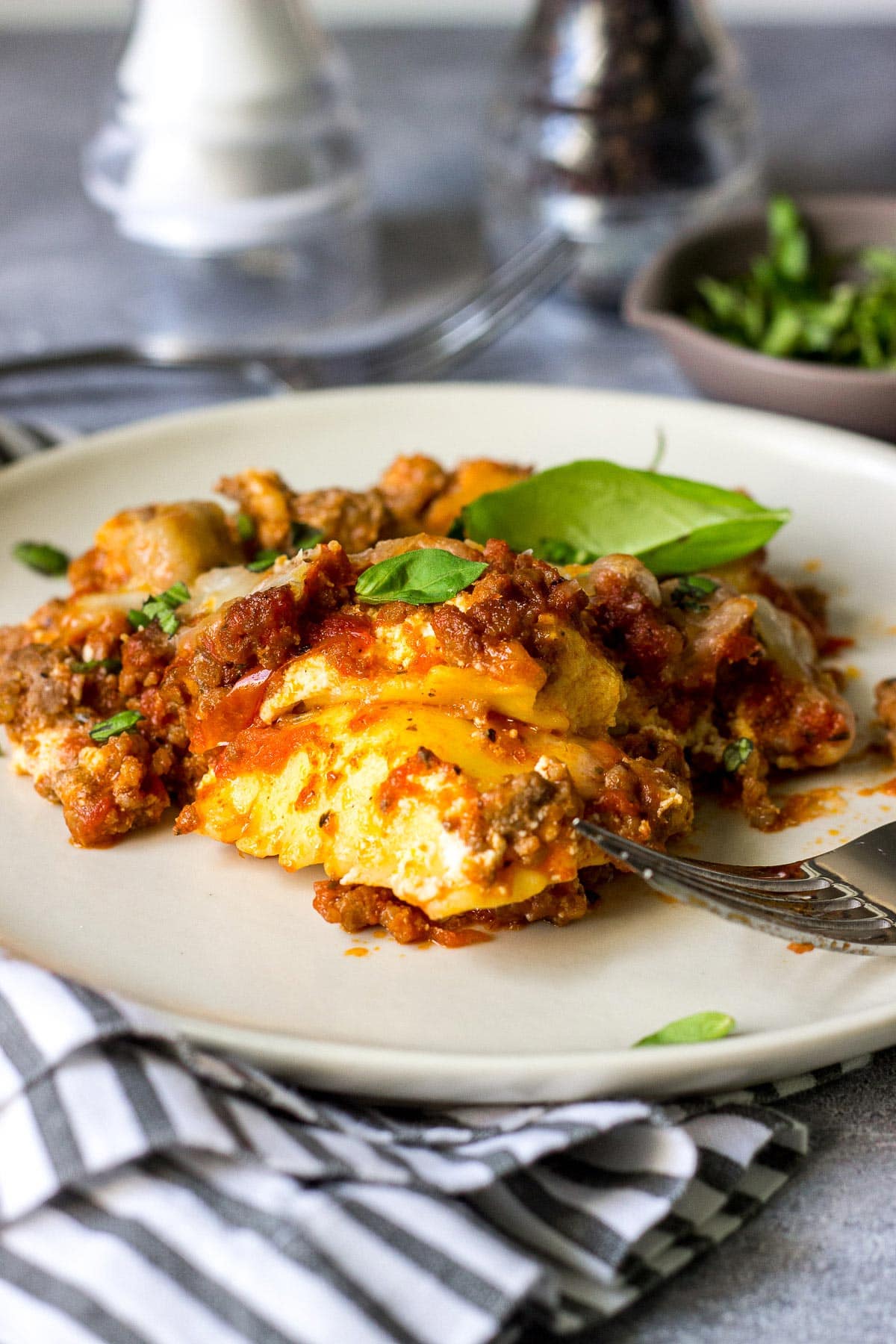 Layering order: Since this can get complicated really quick and is hard to visualize by reading a stack of instructions, here is the simplified version of layering order (from bottom to top):
Meat sauce – ravioli – ricotta – meat sauce- mozzarella – Parmesan – ravioli – ricotta – meat sauce – mozzarella – Parmesan.
Toppings:  Garnish with fresh chopped parsley or basil.
Serve with: Serve with a side of garlic knots, garlic bread, cheesy bacon bread, or a salad.
And that's about it. Enjoy your pasta night and leftovers! For more pasta bakes, try out chicken alfredo pasta bake, pizza pasta casserole, meatball pasta bake or cheesy hot Italian sausage pasta bake.
♡ Did you make this recipe? Please give it a star rating below! For more quick & easy recipes, FOLLOW ME on Facebook, Instagram and  Pinterest.
clock icon
cutlery icon
flag icon
folder icon
instagram icon
pinterest icon
facebook icon
print icon
squares icon
heart icon
heart solid icon
Description
Pasta night is even better with this comforting and delicious easy cheesy ravioli lasagna, where two Italian favorites are combined.
---
1

lb

. Italian sausage

1

lb

. ground beef

1

jar (

32 oz

.) marinara sauce

1 tablespoon

Italian seasoning

1 teaspoon

garlic powder

1 teaspoon

onion powder
Red pepper flakes to taste

1 tablespoon

sugar (optional)
Salt and pepper to taste

1

package (20-25 oz.) ravioli, fresh or frozen (about

30

ravioli)

15

oz

. ricotta cheese

2

cups

mozzarella cheese, shredded

1/2

cup

Parmesan cheese, shredded
Fresh basil to garnish, chopped (optional)
---
In a skillet over medium-high heat, cook and crumble the sausage and ground beef. Drain off any rendered fat.
Add in the marinara sauce, Italian seasoning, garlic and onion powder, red pepper flakes, sugar (optional) and season with salt and pepper to taste.
Layer 1/3  of the meat sauce in an even layer into a 9×13 casserole dish.
Add ravioli on top in a single layer.
Spread 1/2 the ricotta over the ravioli layer.
Top with another 1/3 of the meat sauce.
Sprinkle 1 cup of mozzarella cheese over the meat sauce.
Sprinkle 1/4 cup of the Parmesan cheese over the mozzarella layer.
Add another layer of ravioli over the cheese layer.
Spread the last of the ricotta in a single layer over ravioli.
Add the last of the meat sauce over the ricotta layer.
Top with the remaining cup of mozzarella and Parmesan cheese.
Bake uncovered at 350°F for 30 minutes or until bubbly.
[Optional] Broil at 450°F  for 2-3 minutes or until cheese has browned.
Garnish with optional parsley or basil and dish and serve hot.
Enjoy!
Notes
Layering cheat sheet: Meat sauce – ravioli – ricotta – meat sauce- mozzarella – Parmesan – ravioli – ricotta – meat sauce – mozzarella – Parmesan.
♡ Affiliate disclosure: As an Amazon Associate, I earn commissions from qualifying purchases from Amazon.com. You can learn more about it here.