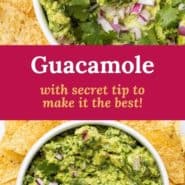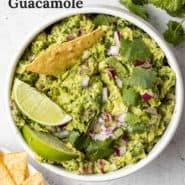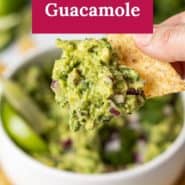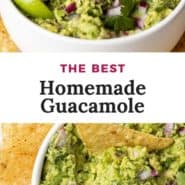 Learn how to make guacamole. Why not make your own? It's easy and so fresh-tasting, and you can make this recipe just how you like it best.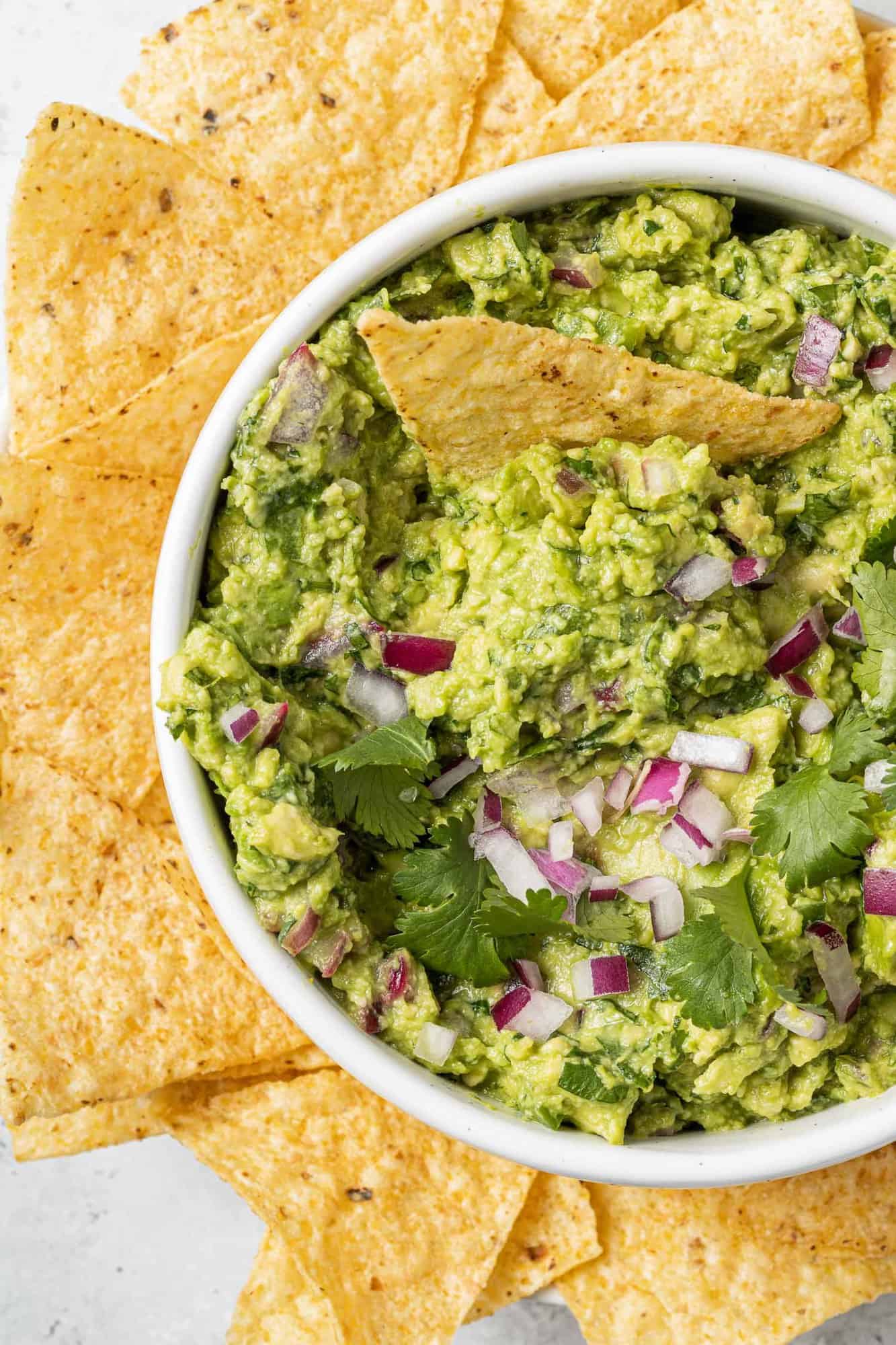 Creamy or slightly chunky, spicy or not so much, how do you love this wonderfully green delight? I can't say enough about guacamole, it's one of my favorite foods. I love the taste, the texture, the color, the smell — everything about guacamole makes me happy.
And according to Healthline, avocados have many health benefits, too. Avocados are a fruit, and provide lots of vitamins and minerals, along with heart-healthy fats. Did you know that some people call them "alligator pears?" I'm sure you can guess why.
I wish I lived in a warmer climate and I could have an avocado tree in my backyard. That's my idea of heaven. I guess apples and peaches are good, too, right? But avocados…buttery smooth, velvety, earthy, yummy!
About this guacamole recipe
Guacamole is really easy to make. There are a whole lot of ideas about what makes the best guacamole. This is a pretty straightforward recipe. You won't find any gimmicks or fancy schmancy stuff here. No sour cream or mayonnaise. No unusual spices or herbs. No garlic, even. I love garlic but I don't love it in guacamole.
Try this guacamole recipe as it's written and see if you don't agree. This classic guac just rocks! I had to test it several times to make sure it's exactly right for y'all. The sacrifices I have to make (kidding!).
My mom and sister were willing testers, I do have to say. Especially since the taste test included blood orange martinis!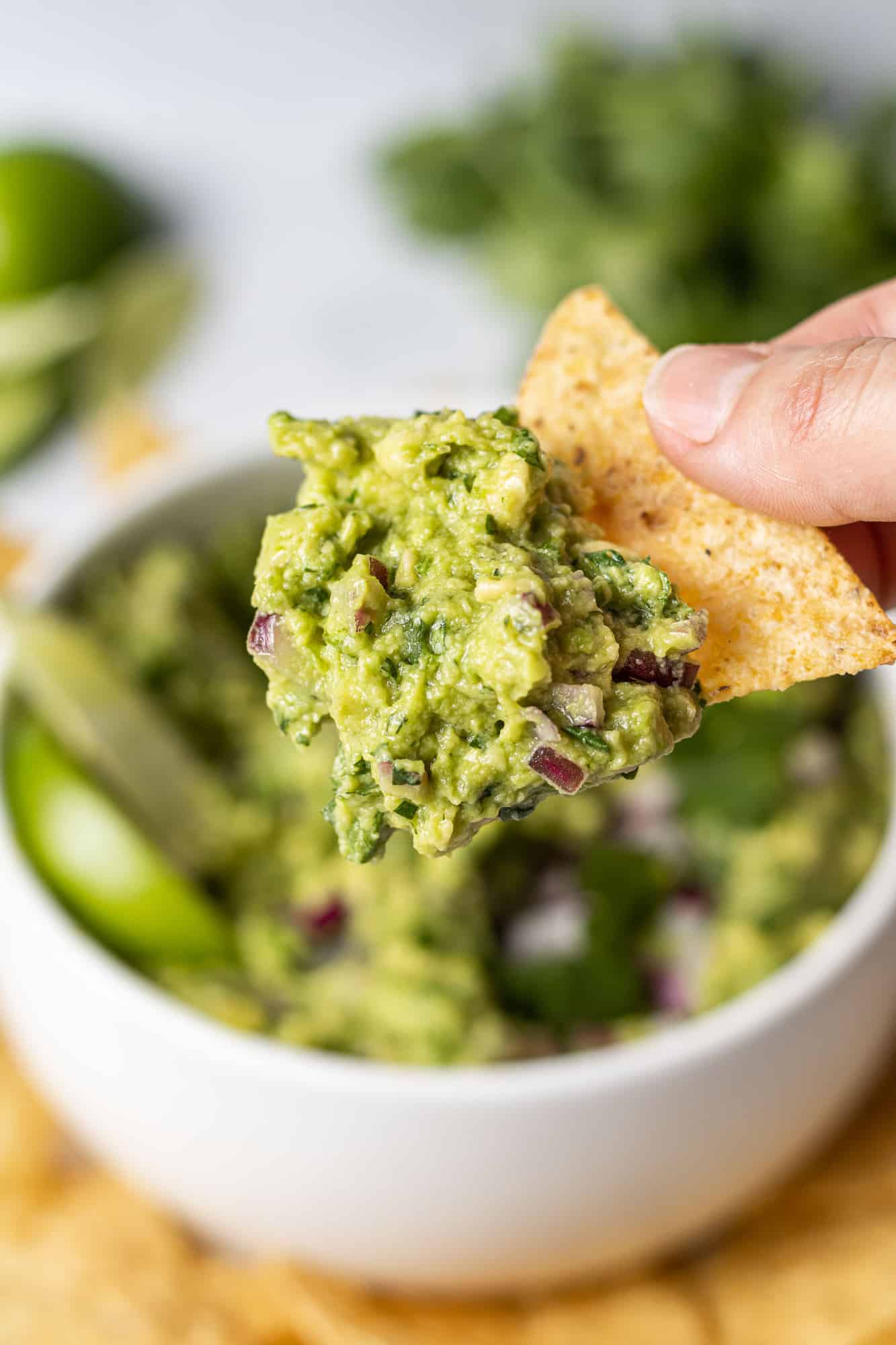 As always, you'll find the complete printable recipe at the end of this post. Here's a step-by-step review of the recipe:
What you need
Ripe Avocados: The most common variety found in grocery stores is Hass but other varieties are fine. You'll need about 2 pounds, or three large ripe avocados. Keep reading to learn how to tell if an avocado is ripe.
Red Onion: I prefer red onions but other varieties are fine. Make sure to dice these really small so you don't get any bites that are all onion.
Lime Juice: Buy a couple of limes and juice them. Please don't use bottled lime juice. It usually contains additives and preservatives.
Kosher Salt: Salt really enhances the flavor of guacamole. There will be a noticeable taste difference if you skimp on the salt. It will taste bland and boring.
Jalapeño Pepper: Finely diced, peppers add just a little heat and a whole bunch of flavor.
Fresh cilantro: Another must-have. There's really no substitute for fresh cilantro.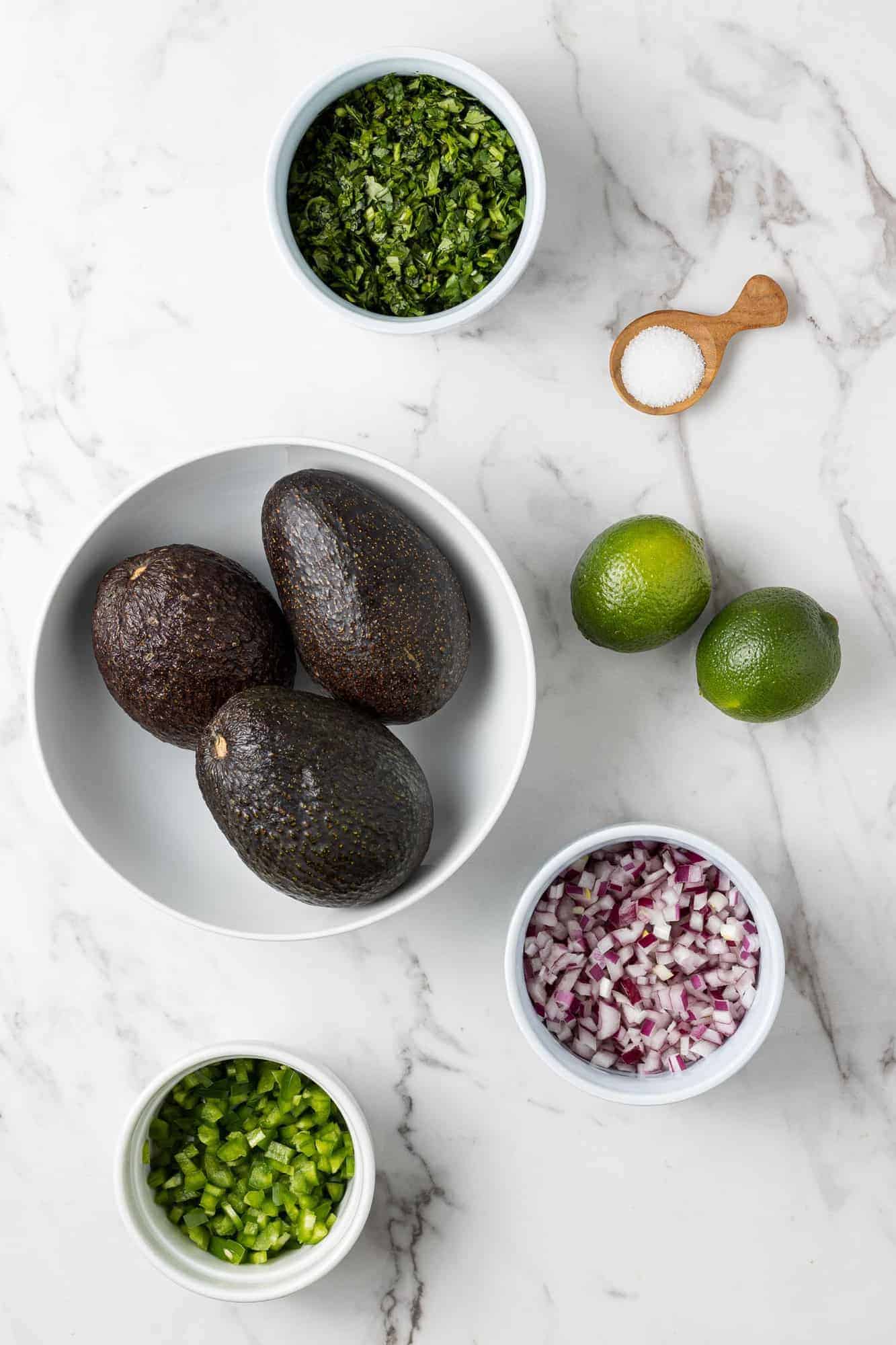 How to make it
While onions are great and everything, they can sometimes be a little unpleasantly strong or sharp tasting. There's a little trick to counteract that.
After you've finely minced the onions, put them in your mixing bowl, and add lime juice and salt. Set the bowl aside while you prepare the rest of the ingredients.
Why? Lime juice is acidic which you'll discover if you have a hang nail or paper cut on your fingers while juicing a lime. Stings, doesn't it? The lime juice and salt work together to neutralize the strong flavor of the onion.

It's sort of like a quick pickle. Maybe you've enjoyed my pickled red onions. It's the same idea. Incidentally, pickled red onions are a perfect companion to guacamole. Just sayin' … try it once, you'll see.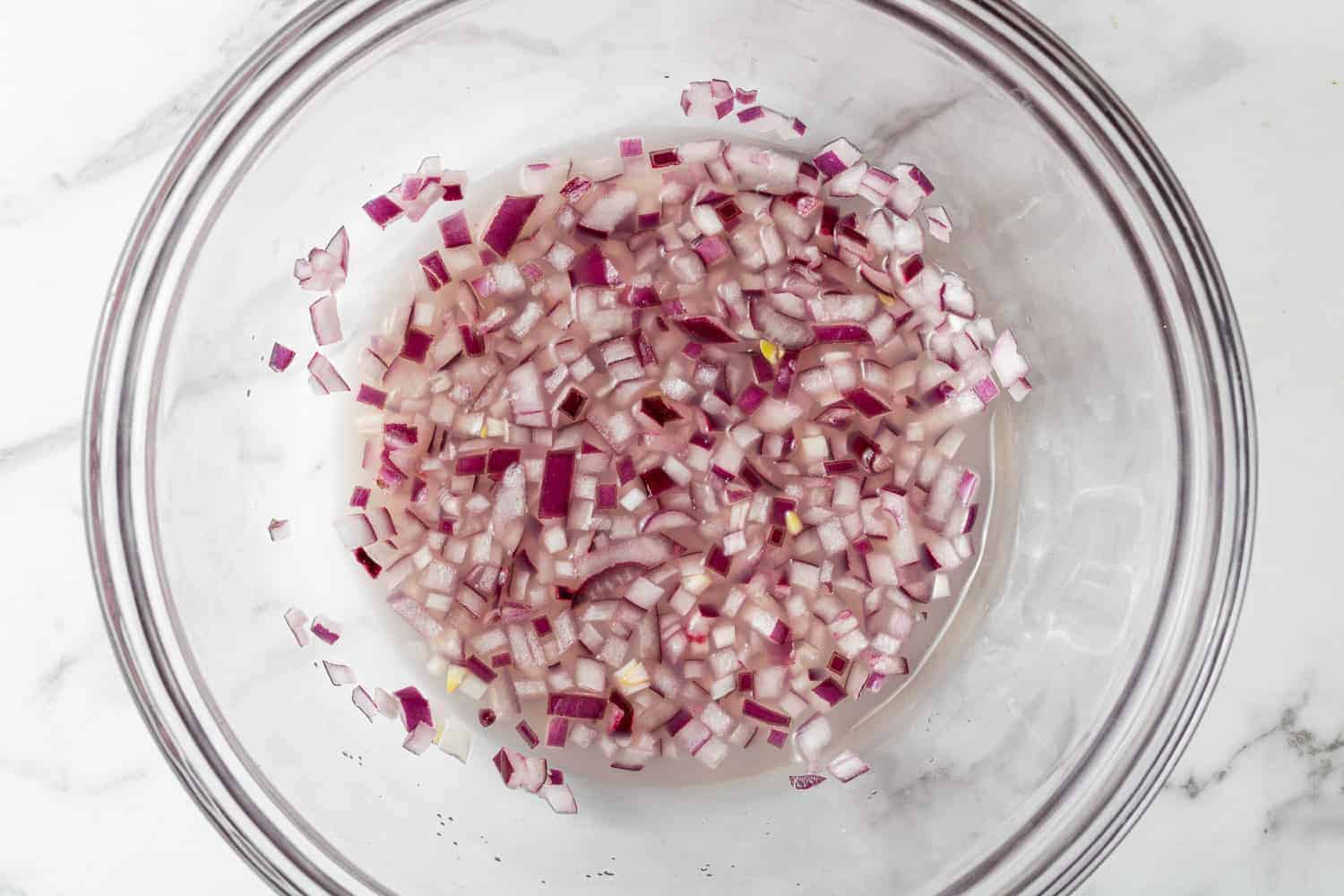 While the onions are soaking, prep the avocados, jalapeño peppers and cilantro. Not sure how to pit your avocado? Check out this short video on how to safely cut an avocado!
Once the pit has been removed, use a large spoon to scoop out the flesh, or peel away the avocado peel. Don't worry if it's a little messy. Everything is going to get mashed together anyways. Add the avocados to the bowl with the onions.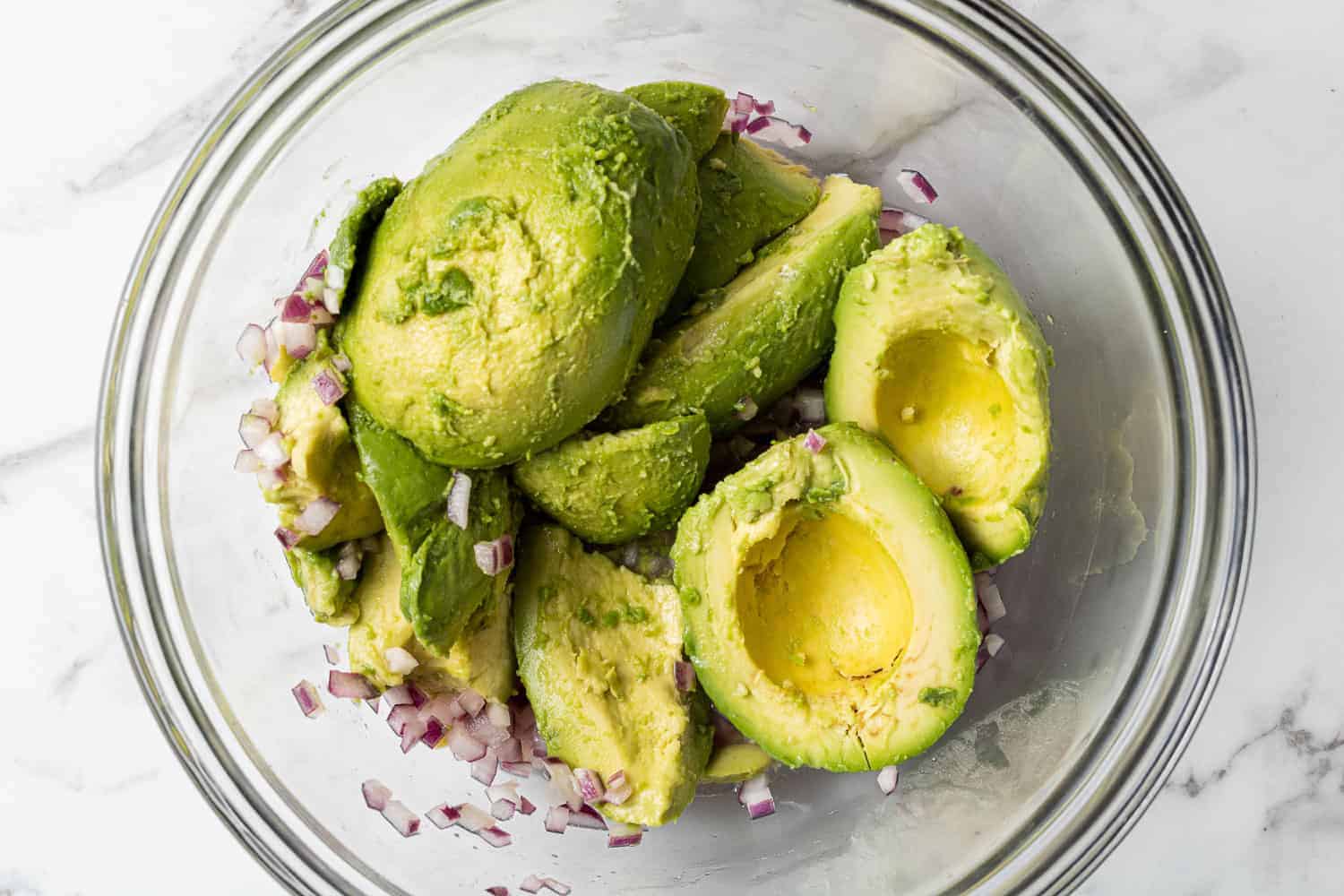 Mash them with a fork, pastry cutter, or potato masher until you've achieved the desired consistency, which is totally your preference.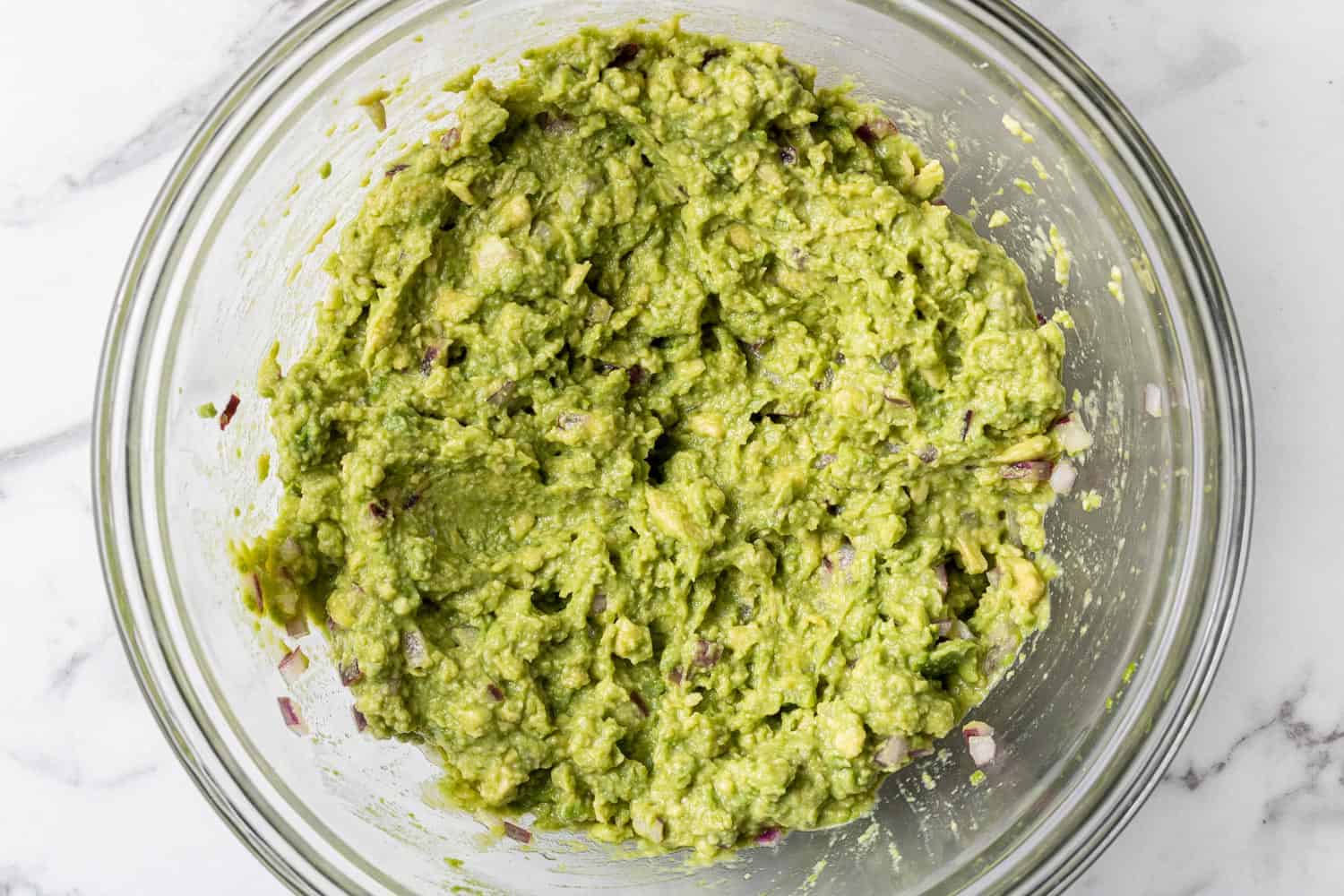 Stir in the jalapeños and cilantro and that's it! SO EASY!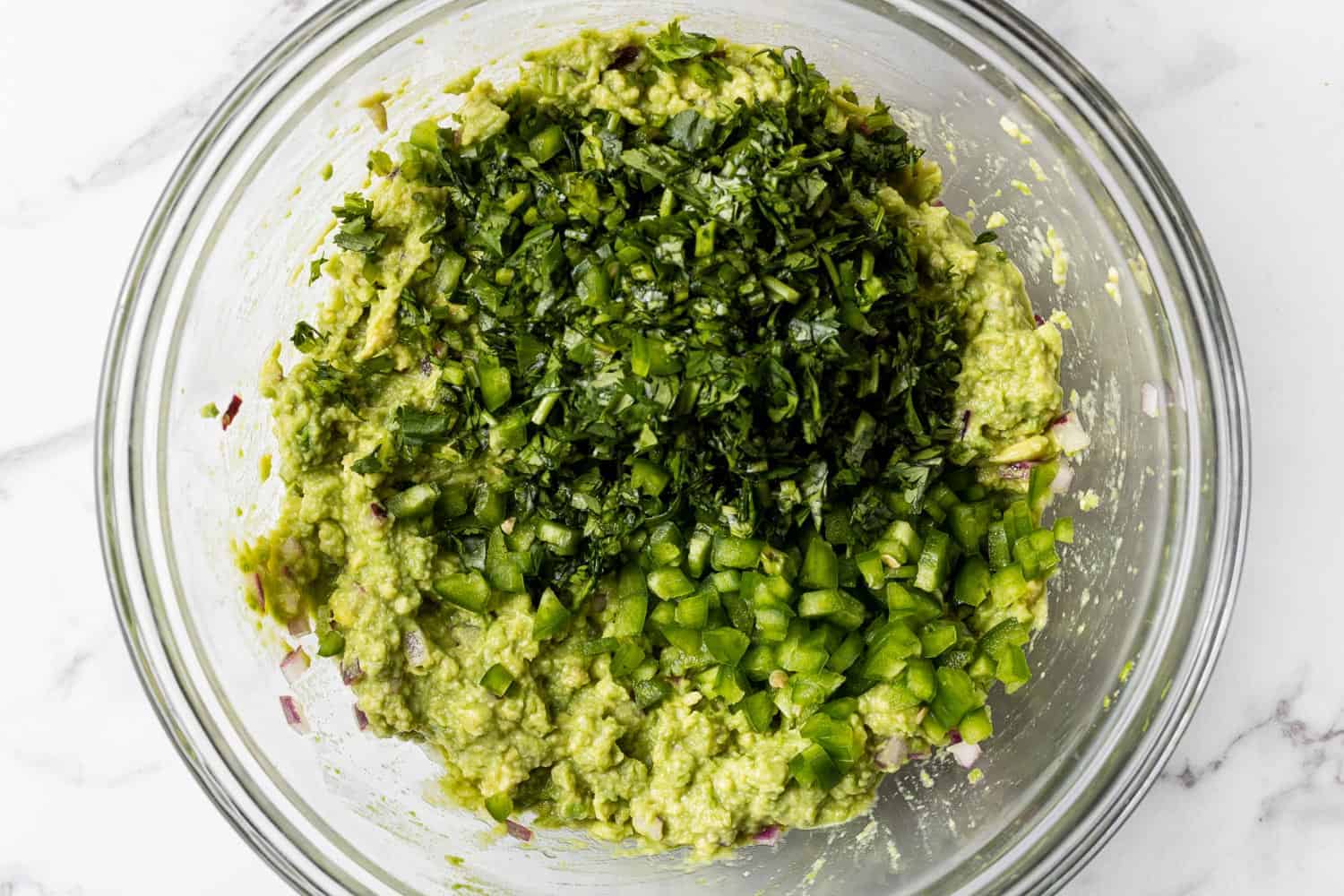 I know I say that all the time but it really is so easy. Why buy a pricey little container of guacamole that's been sitting in the store for who knows how long when you can make your own?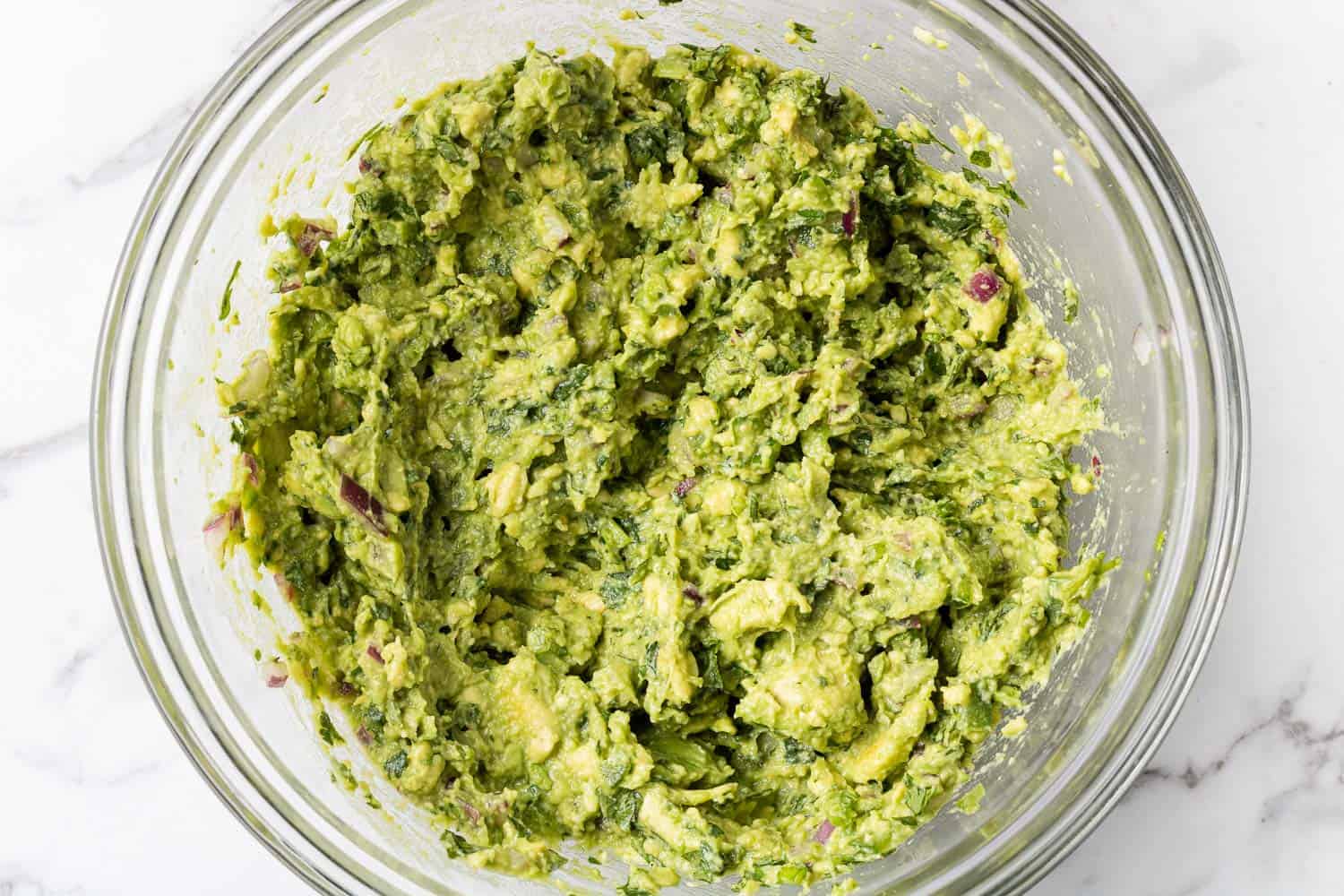 Enjoy your homemade guacamole with tortilla chips, naturally.
FAQ
Is avocado spread and guacamole the same thing?
Avocado spread is used for sandwiches or crackers and can be simpler: mashed avocados, salt, pepper, maybe olive oil or garlic. Guacamole is considered more of a dip. It's chunkier, possibly with the addition of onions, peppers, or tomatoes.
Are they different? Maybe a little but they can be interchangeable. It's all semantics.
Should guacamole have tomatoes?
Totally up to you! If you like tomatoes, or if you have some wonderful tomatoes available, by all means add them to your guacamole. If the tomatoes are really juicy, squeeze out some of the excess juice and seeds.
What type of onion is best for guacamole?
Again, totally up to you. I like red onions but I often substitute sliced green onions. White or yellow onions are fine, as are sweet onions like Vidalia.
What can you add to guacamole to make it taste better?
If your guacamole seems a little flat or lacking flavor, try adding more salt. Often that's all you need. If you want a little kick, try cayenne pepper or crushed red pepper flakes. A dash of coriander or cumin really complements the avocado, too. Some people like garlic in guacamole. Fresh minced garlic, roasted garlic, or garlic powder are good options.
How do you know an avocado is ripe?
Avocados are harvested before they are ripe. That's why you often find rock hard avocados in the grocery store. Let them ripen on your counter a few days. Lightly press the surface of the avocado with your finger. If it gives slightly, the avocado is ripe. If the avocado feels mushy or really soft, it's probably overripe and isn't any good.
To speed the ripening process, put the avocados in a paper bag with a banana or apple. To slow the ripening process, put ripe avocados in the fridge. They'll keep for up to a week.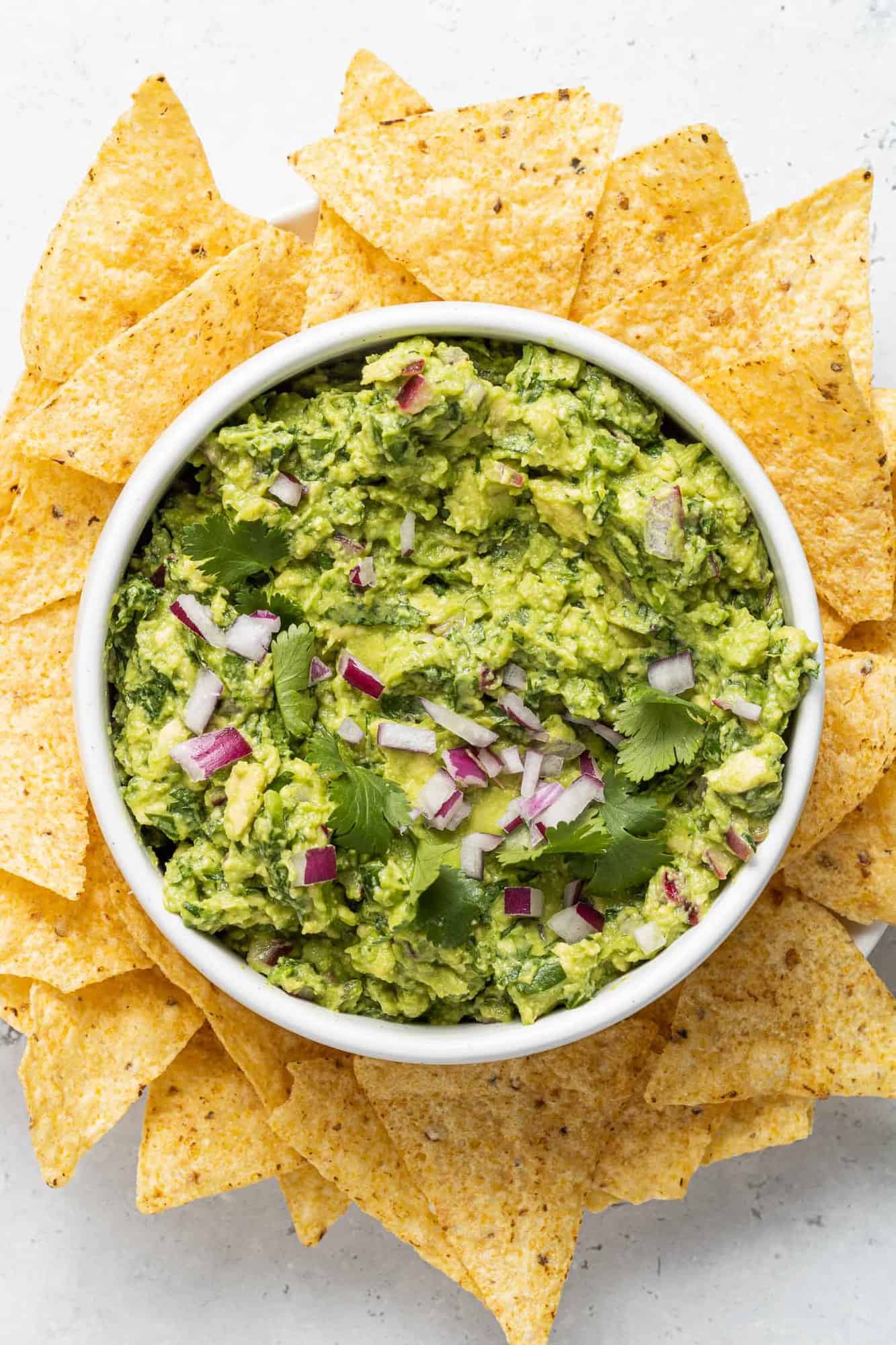 How to make this guacamole your own
There are lots of great ideas in the FAQ section above. Here's a few more suggestions:
How much guacamole you make will depend on how many avocados you happen to have. Make it with one avocado or six. This recipe can easily be halved or doubled.
Can't find limes at the grocery store? Make guacamole without lime — substitute freshly squeezed lemon juice.
Substitute fresh chopped parsley for cilantro. I know that some people just don't care for cilantro. It's sort of a love/hate thing. Parsley is a great second choice, but will change the taste of your final product.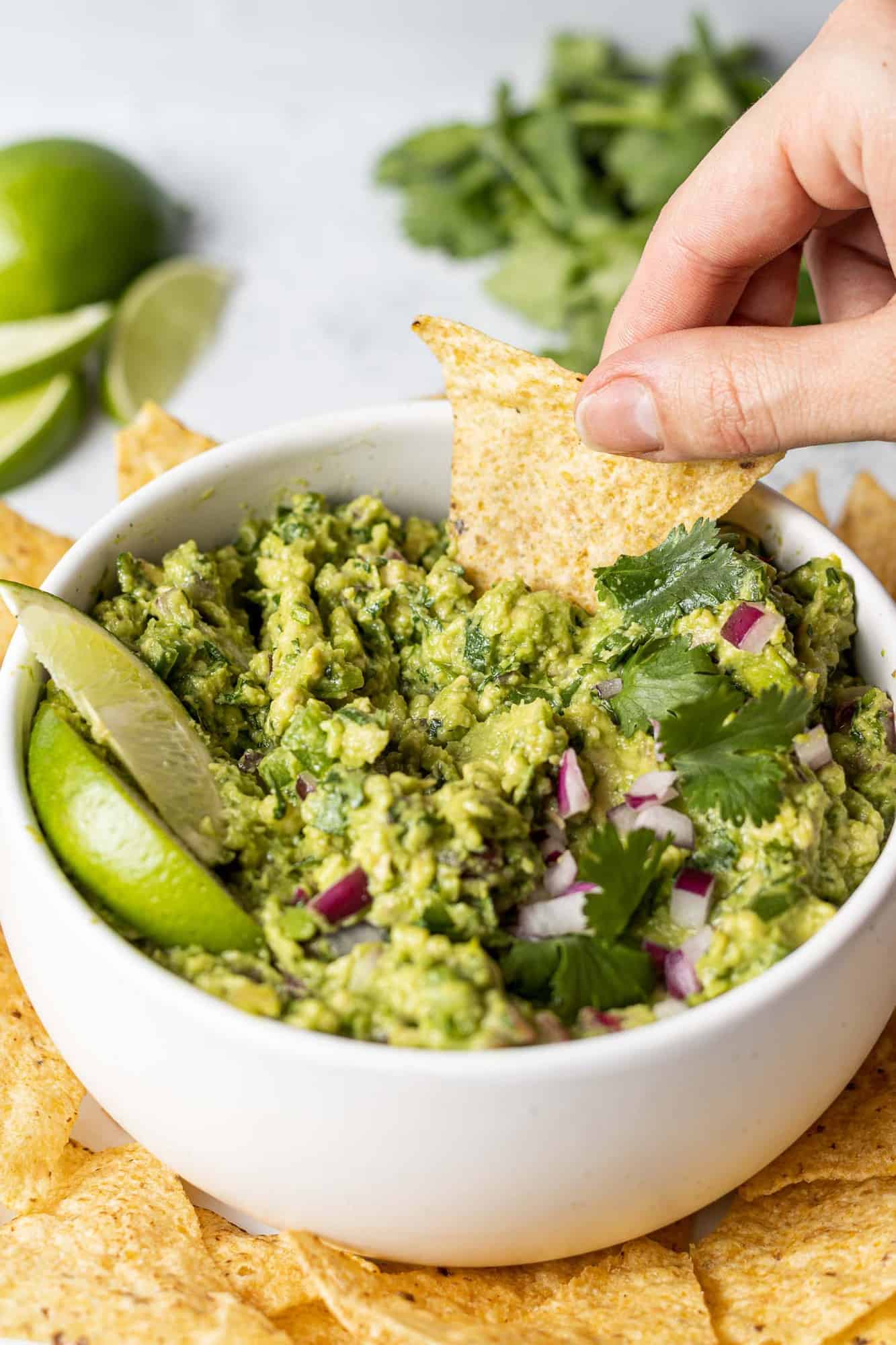 Make Ahead Ideas
Juice the limes, prep the onion and soak it, wash and chop the cilantro and jalapeño peppers. Store it all in the fridge for up to a day. You'll be able to make your guacamole in just a couple of minutes if you have all the prep work accomplished.
Storage Suggestions
How can you make guacamole last longer? It tends to turn an unappetizing color once it's exposed to air. It's still edible, the taste isn't affected, but … well, the color is kind of gross.
Here are a couple of ideas – one I've tried, one I haven't:
Smooth out leftover guacamole and press plastic wrap directly on the surface of the guacamole. This is the method I usually use and it works quite well.
I've heard you can put water on the surface and then pour it out when you're ready to eat your leftovers. It makes sense, but could water down your guacamole slightly.
It will keep three days in the fridge but I'm betting it won't be around that long!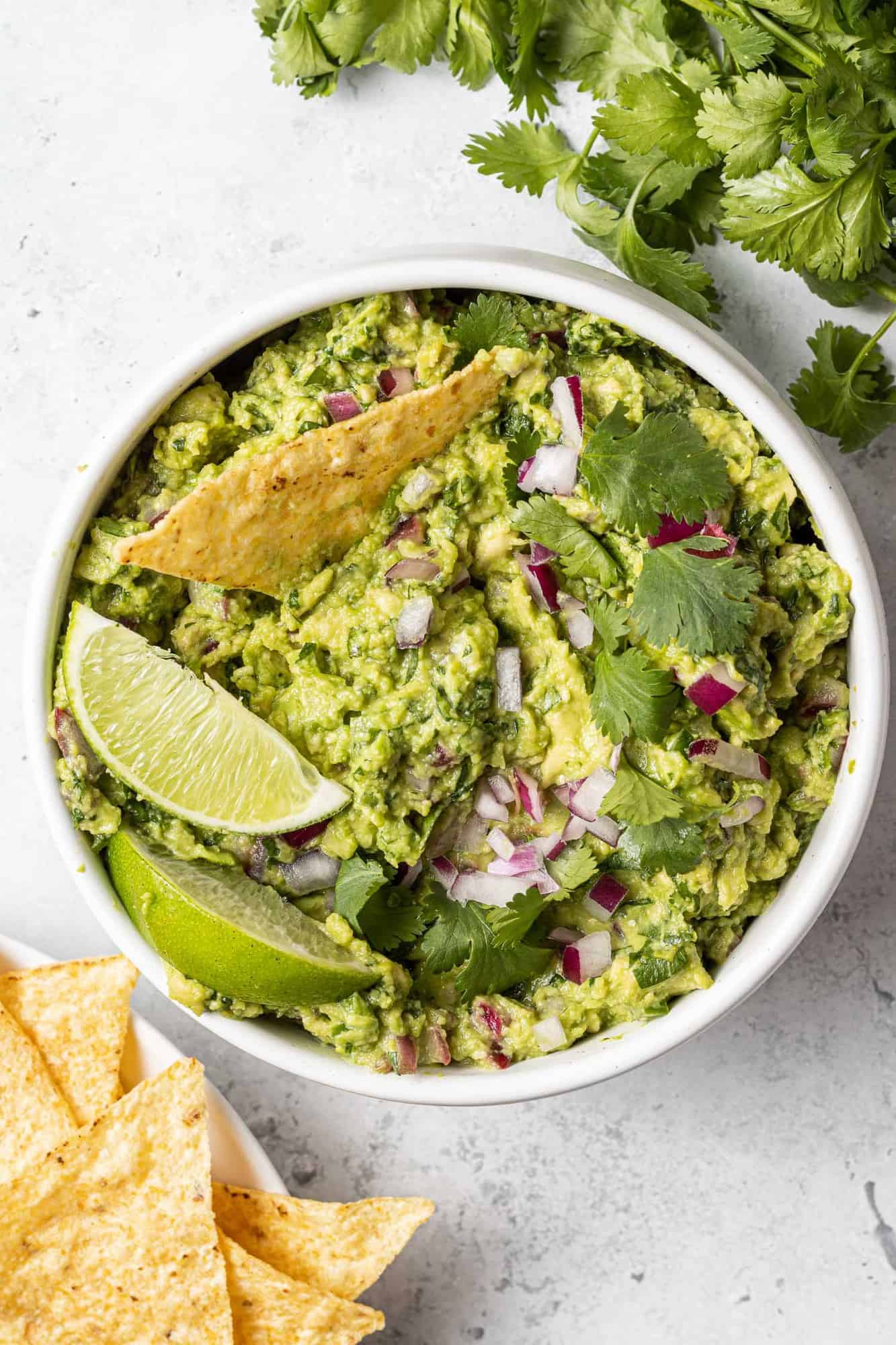 Guacamole Love
Well, you made a nice big bowl of guacamole. Now what to do with it? Beyond the most obvious choice, using it as a dip for tortilla chips, guacamole can be added to so many favorite dishes.
More avocado recipes
How do I love thee, let me count the ways. I have more avocado recipes for you:
Did you make this? Be sure to leave a review below and tag me @rachelcooksblog on Facebook, Instagram, or Pinterest!
Why not make your own guacamole? It's easy and so fresh-tasting, and you can make it just how you like it best.
Ingredients
1/2

cup

finely diced red onion (about 1/4 medium onion)

1/4

cup

freshly squeezed lime juice (from 1-2 limes)

1/2

teaspoon

kosher salt, more to taste

3

large ripe avocados (about 2 pounds)

1

large jalapeño, seeds and ribs removed, finely diced (about 1/4 cup)

1/2

cup

minced fresh cilantro, more or less to taste

Chips for serving
Instructions
In a large bowl, mix onion, lime, and salt. Set aside while you chop and prepare everything else.

Add avocado to bowl and mash with a fork, pastry cutter, or potato masher until only small chunks remain (or completely smooth, depending on your preference). 

Add jalapeño and cilantro, stir to combine.

Serve immediately.
Notes
Yield depends somewhat on the size of your avocados. This recipe can easily be doubled or halved, depending on how many avocados you have.
Substitutions: lemon juice for the lime juice, parsley for cilantro, green onion for the red onion.
Add-ins: chopped tomatoes, garlic, ground cumin, coriander, or cayenne, or whatever you like. Crumbled cooked bacon is really yummy too!
Nutrition Information
Serving: 2tablespoons, Calories: 82kcal, Carbohydrates: 5g, Protein: 1g, Fat: 7g, Saturated Fat: 1g, Polyunsaturated Fat: 5g, Cholesterol: 2mg, Sodium: 80mg, Fiber: 3g, Sugar: 1g
This website provides approximate nutrition information for convenience and as a courtesy only. Nutrition data is gathered primarily from the USDA Food Composition Database, whenever available, or otherwise other online calculators.
© Author: Rachel Gurk