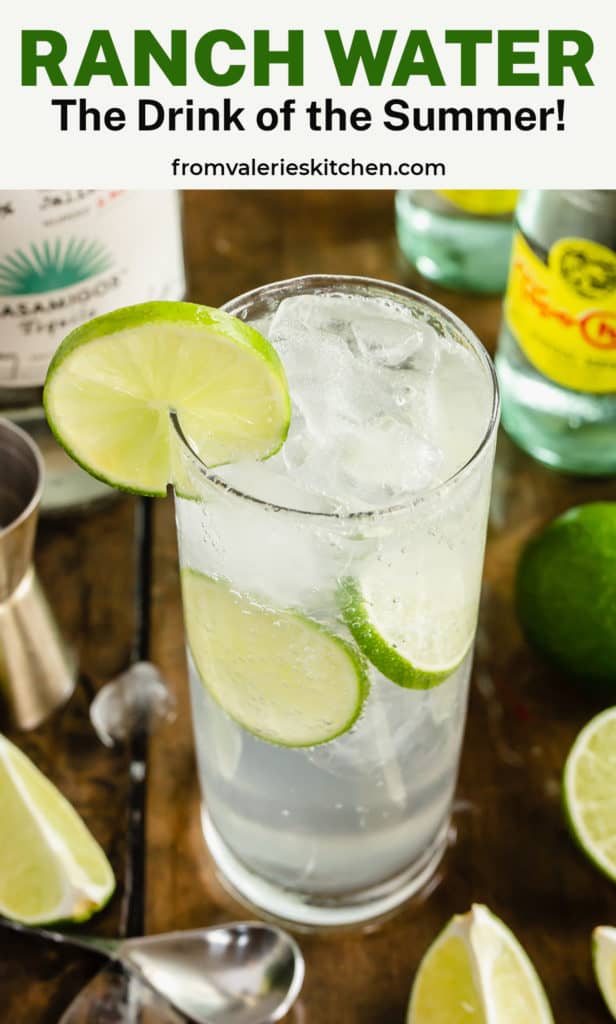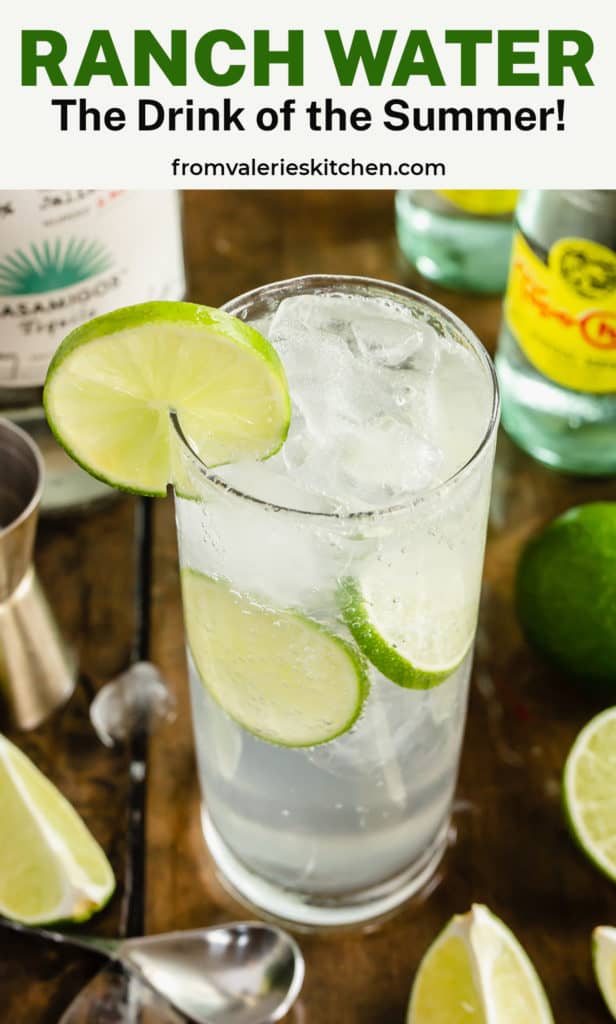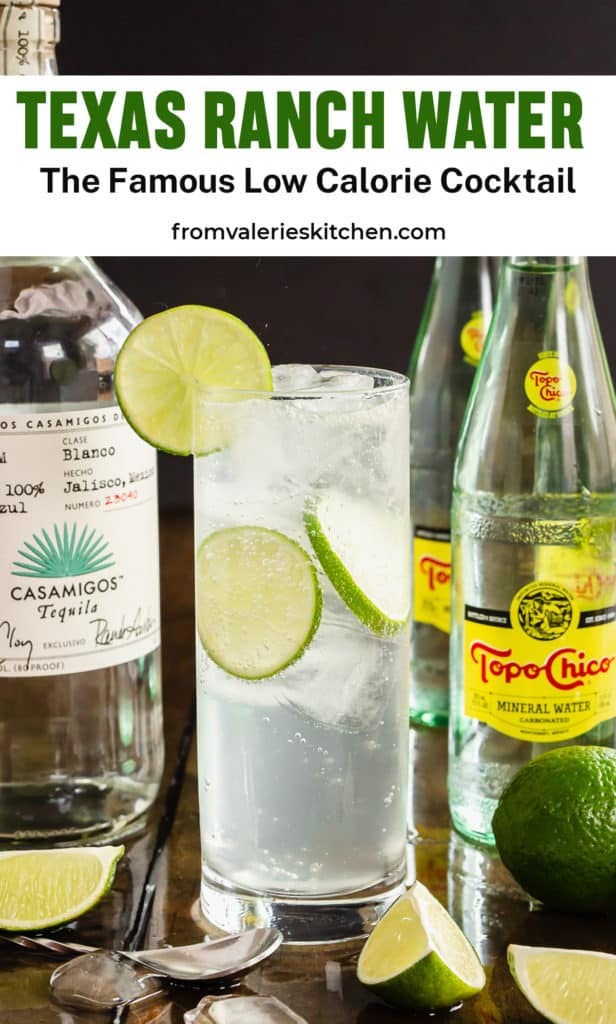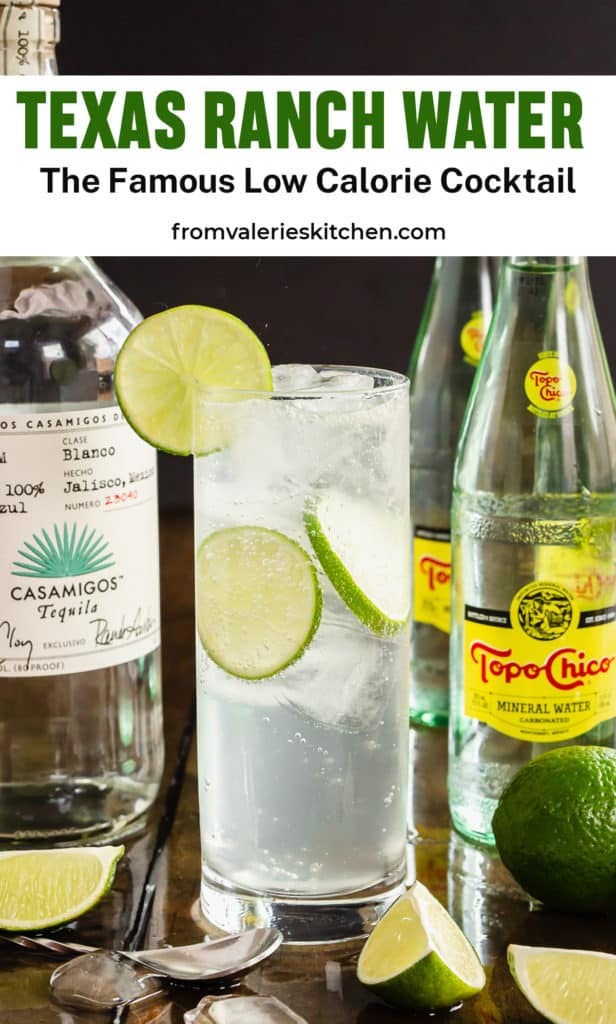 Ranch Water is a crisp, refreshing drink made with tequila, lime juice, and Topo Chico. This low calorie cocktail was made famous in Texas and has become the drink of the summer!
Have you been watching Ree Drummond drop weight like crazy? Did she go Keto? Nope. Did she get a personal trainer? Nope. Did she give up alcohol. Nope (thank goodness!).
In a recent post on The Pioneer Woman, Ree explained how she's making reasonable but significant changes in her eating and exercise routine that are paying off, big time. I swear, each time I see her on Instagram she looks fitter and trimmer and she's just beaming. Go get 'em Ree! She also mentioned that Texas Ranch Water has been her drink of choice so I knew I had to try it.
We all know alcohol is loaded with calories (gosh darn it). I used to be able to get away with a couple of glasses of red wine after a long hard day, but friends, those calories are a little harder to burn off these days. So, naturally, Ree's comments about Ranch Water peaked my interest.
What is Ranch Water?
Ranch Water is simple, Texas-style margarita without all the sugar. This naturally low calorie cocktail has been a staple with Texas cattle ranchers for a very long time and has just recently gained popularity with the rest of us. It's easy to see why this icy, fizzy drink became so popular in that balmy Texas heat. It is ultra-refreshing and doesn't weigh you down like a beer might. It consists of three simple ingredients – Tequila, Topo Chico Sparkling Mineral Water, and fresh lime juice – and it's seriously foolproof. You can alter the amounts of the ingredients to suit your taste or calorie goals.
How Many Calories are in Ranch Water?
The number of calories can vary a bit depending on the variety of tequila you choose, but regardless, tequila is one of the lowest calorie alcohol choices out there. The problem comes from those sweet mixers. While delicious, things like simple syrup, triple sec, and fruity add-ins add a ton of calories. Some blended restaurant margaritas can run up to 400 calories while Ranch Water comes in at about 130 calories. Huge difference! You can reduce the calories even further by decreasing the amount of tequila a bit, a good idea if the plan is to have more than one drink.
Ingredient Notes
Tequila – Blanco tequila (also known as silver tequila) is what is used most often in Ranch Water recipes. It's an unaged tequila with a crisp, clean flavor. My favorites include Casamigos (hey there, George Clooney), Patron, and Don Julio. If you love the flavor of reposado tequila you will most likely love it in this drink too. Just be sure you use a high quality tequila that says it is 100% blue agave on the label (see more on this below).
Lime – Fresh lime juice and lots of it!
Topo Chico – While you could use another brand of sparkling mineral water, many believe it's not considered authentic Texas Ranch Water if you don't use Topo! It's not as "salty" as many other brands but instead has a really nice soft flavor with a crisp and super effervescent quality. I've become completely hooked and have a big bottle of Topo Chico in my fridge at all times for both regular and non-alcoholic beverages.
What is 100% Blue Agave Tequila?
If it is 100% blue agave, it will indicate it on the label. You'll find that 100% blue agave tequilas are more expensive, but for good reason. These tequilas are made with only the juice of the blue agave plant and they are pure and delicious enough to be sipped all on their own. While tequila that is not 100% blue agave will be less expensive, they are not truly all tequila. Producers of these tequilas are allowed to use up to 49% non-agave sugars including cheap cane sugar – not good. They will sometimes add other additives like caramel coloring and flavor extracts to make it mimic the look and taste of 100% blue agave tequila.
How to Make Ranch Water
Fill your glass about halfway with ice (I like to use a tall skinny high ball glass). Add up to 2 ounces of tequila.
Squeeze in the juice from at least half of a lime. Sometimes I use a whole lime for one drink!
Top it off with Topo Chico. Stir with a long spoon and garnish with fresh lime slices.
Variations
I just can't leave a good thing alone so I've come up with these easy variations on classic Ranch Water. Sometimes you just need to mix things up a little!
Cranberry Ranch Water – Make as directed and after stirring, add a dash of cranberry juice – just enough to add a little color.
Lemon Ranch Water – Substitute lemon juice for the lime and garnish with lemon slices.
Lemon Lime Ranch Water – Make as directed but add a squeeze of fresh lemon juice. Garnish with a slice of lemon and lime.
Have fun with it and make it your own!
More Fun Summer Cocktails
Ranch Water
Ranch Water is a crisp, refreshing drink made with tequila, lime juice, and Topo Chico. This low calorie cocktail was made famous in Texas and has become the drink of the summer!
.wprm-recipe-rating .wprm-rating-star.wprm-rating-star-full svg * { fill: #ffffff; }
Servings: 1
Calories: 131kcal
Ingredients
ice

as needed

2

ounces

100% blue agave blanco (silver) tequila

like Casamigos, Patron, or Don Julio

½ to 1

whole lime

juiced

Topo Chico Sparkling Mineral Water

as needed to fill your glass
Optional (For Variations)
Instructions
Classic Texas Ranch Water
Nutrition
Serving: 1drink | Calories: 131kcal | Carbohydrates: 1g | Sodium: 1mg | Potassium: 2mg | Fiber: 1g | Sugar: 1g | Vitamin A: 1IU | Vitamin C: 1mg | Calcium: 1mg | Iron: 1mg