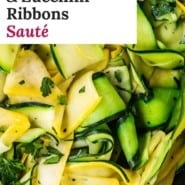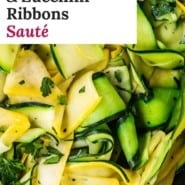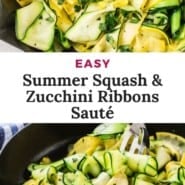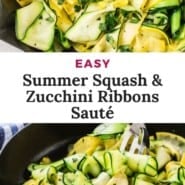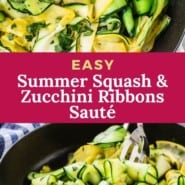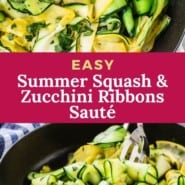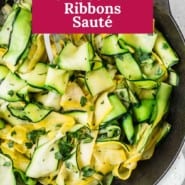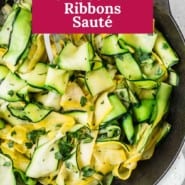 Easy summer squash and zucchini ribbons sautéed with parsley, lemon and garlic are strikingly beautiful and so delicious!
Recipe Overview

Why you'll love it: It's a side dish that's as beautiful as it is delicious!
How long it takes: 15 minutes
Equipment you'll need: vegetable peeler, large sauté pan, tongs
Servings: 4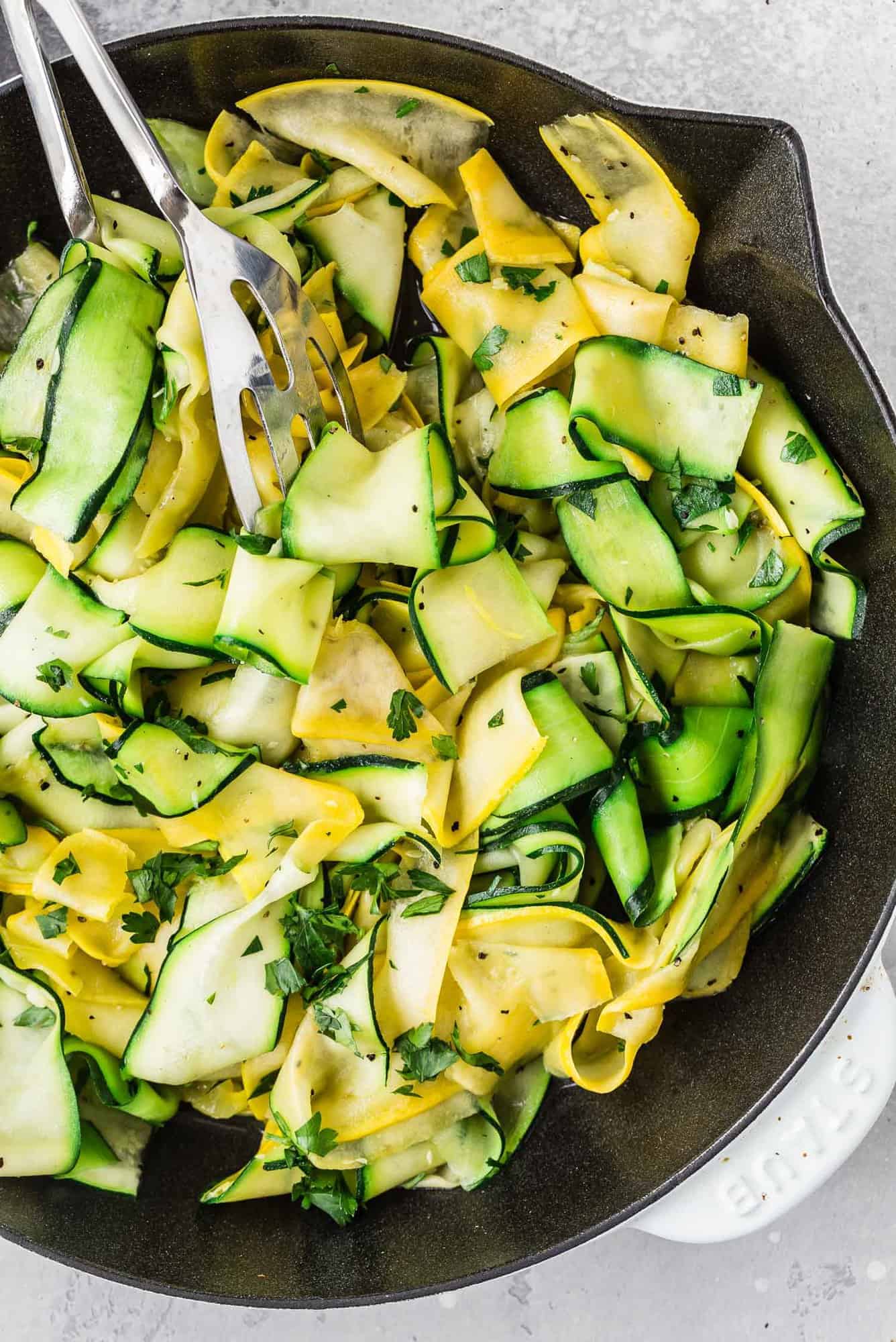 Bright yellow summer squash and dark green zucchini are thinly sliced vertically to create beautiful ribbons. Add just a bit of garlic, a sprinkle of parsley, and a squeeze of lemon and you have an elegant side dish that goes so well with just about anything.
Sometimes a different way of slicing vegetables can make them so much more interesting. Try slicing carrots on a diagonal rather than straight across. Or use a mandolin to slice cucumbers into paper thin slices.
With a tool that everyone has in their kitchen drawer, humble summer squash and zucchini are turned into a "Wow!" presentation. And not only that, this vegetable sauté is a good-for-you, low-carb, low-calorie delight.
Did you know?

There are many different kinds of summer squash! Gardener's Path gives a good description of twenty-one varieties. I love the striped and two-toned ones, and the ridged squash would make cool ribbons. Check out your local farm market for unique squash varieties.
About this ribbon sauté
Don't you just love the name of this dish, a ribbon sauté? It just sounds fancy. And the ribbons of dark green zucchini and bright yellow summer squash are really beautiful.
But this recipe is really very easy. It really is! The hardest part is slicing the squash and all you need to accomplish that is a simple vegetable peeler, the same little tool you use to peel carrots.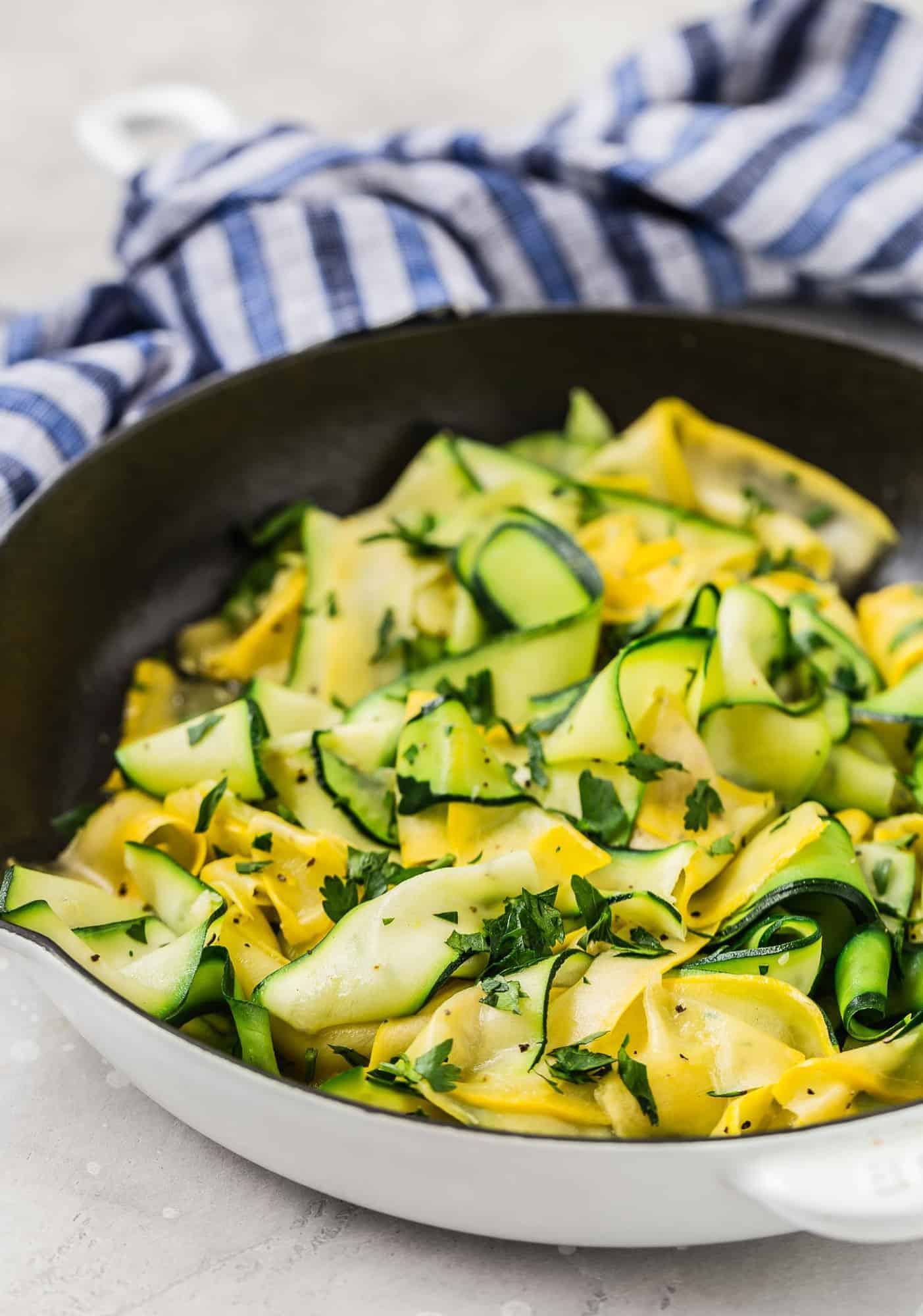 In the FAQ section below, you'll see a question about making the ribbons and there's a link to a very short (1 minute) video that shows how to do it with a peeler. It's easy, I promise, and actually kind of fun. It shouldn't take more than 10 minutes to cut all the squash into ribbons. You'll probably be having so much fun you'll make way more than you need.
Keep reading for a simple description of this recipe and, as always, the complete printable recipe can be found at the bottom of this post.
What you need
Summer Squash and Zucchini: Buy small tender skinned squash. Look for zucchini that are smooth and shiny, and bright yellow summer squash.
Olive Oil: Olive oil is used for the sauté but alternatives are avocado or grapeseed oil. Butter is really good, too.
Garlic: A couple of garlic cloves, finely minced, add so much flavor. If you love garlic, add even more.
Fresh Parsley: Either curly leaf or flat Italian parsley works well.
Freshly Squeezed Lemon Juice: Always use fresh lemon juice. It really does make a difference. Lemon juice brightens the flavor of this sauté.
Salt and Pepper: Kosher salt and freshly ground black pepper add seasoning.
How to make it
With that short list of ingredients, you can see that making this recipe is a snap. Prep your squash, mince the garlic, chop the parsley, and we're on our way.
You'll need a fairly large skillet and tongs. Heat the olive oil in the skillet and add the garlic. Cook that briefly, then add the squash.
Season with salt and pepper and continue to cook, tossing and stirring the ribbons with your tongs. Since the squash is very thinly cut, it will only take a few minutes to get perfectly tender.
Try not to overcook the squash. The ribbons will begin to deteriorate if they're cooked too long. They'll still taste great but won't be quite as pretty.
Add a sprinkle of parsley and a squeeze of lemon. That's it! Wasn't that quick?
Serve the squash ribbons immediately or at room temperature. They go great with almost anything. I like to serve them as a side with grilled chicken, air fryer salmon, or these pork medallions with lemon garlic sauce.
They are a good accompaniment to pulled pork sandwiches, sloppy Joes, or a turkey burger, too. I like the ribbons with pasta dishes, especially creamy ones, like Instant Pot crack chicken pasta or creamy chicken spaghetti.
FAQs
How do I make a zucchini ribbon?
Use a vegetable peeler or mandoline to cut thin vertical ribbons. The ribbons should be 1/16th inch thick. Discard the first slice and the seedy center. This short video is very helpful if you've never made zucchini ribbons.
Do I need to peel zucchini before cooking?
There is no need to peel zucchini or summer squash. They have very tender skins which can be eaten either raw or cooked.
In contrast, winter squash (butternut, acorn, pumpkin, etc.) have tough skins which are inedible. We have you covered if you're looking for tips on how to cook winter squash.
What goes well with zucchini?
Zucchini is a versatile side dish that goes well with almost anything. It has a mild, almost buttery flavor. It can even be made into zoodles with a spiralizer. Often it's shredded and added to bread or cake.
How to make this squash sauté your own
Instead of parsley, mix in fresh dill, basil, oregano, or another fresh herb of your choice. Dried herbs are fine, too, but use less. The general rule of thumb is for every tablespoon of fresh, use a teaspoon of dried. (3:1)
Only have zucchini? You can use all zucchini or all summer squash, if you like. The combination is colorful but use what you have or like best.
Add a little heat with a pinch of red pepper flakes.
Garnish the sautéed squash with shredded Parmesan cheese, or Parmesan curls (use your vegetable peeler to shave curls of cheese off your wedge of Parmesan).
Just totally not into ribbons or feel like using a slightly quicker metho? Go ahead and slice your squash horizontally into coins. The recipe will be pretty much the same.
Make Ahead Ideas
The zucchini and summer squash can be cut into ribbons a few hours in advance. Layer them between paper towels to absorb the excess moisture and refrigerate. Wash and prep the parsley.
Storage & Reheating Suggestions
This squash ribbon sauté is best eaten right away but if you have any leftover, store it in a tightly covered container for up to 4 days in the fridge. Heat the ribbons in a skillet on the stove or in the microwave in 30 second increments until warmed through.
Leftover Love
Cook pasta of your choice, and drain, reserving a half cup of the pasta water. Add it back to the pan with leftover zucchini summer squash ribbons (chopped, if desired), shredded Parmesan cheese, halved cherry tomatoes, and a bit of the pasta cooking water and cook gently until heated through. Garnish with additional cheese and serve.
More zucchini recipes
I love zucchini in almost any shape or form. It's a healthy, low carb vegetable that tastes almost buttery when it's lightly cooked. Try:
Did you make this? Be sure to leave a review below and tag me @rachelcooksblog on Facebook, Instagram, or Pinterest!
Easy summer squash and zucchini ribbons sautéed with parsley, lemon and garlic are strikingly beautiful and so delicious!
Ingredients
2

medium summer squash

(1-1 ½ pounds)

2

medium zucchini, or three small zucchini

(1-1 ½ pounds)

1

tablespoon

olive oil

2

cloves

garlic, minced

¼

teaspoon

kosher salt

more to taste

¼

teaspoon

coarse ground black pepper

more to taste

1

tablespoon

minced fresh parsley

1

teaspoon

fresh lemon juice
Instructions
Wash and dry summer squash and zucchini. Using a vegetable peeler, cut squash and zucchini into long ribbons, 1/16th inch thick, from top to bottom. Discard the first cut that is simply skin, and the seedy center.

In a large sauté pan, heat oil over medium heat. Add garlic and cook, stirring, until fragrant, about 1 minute. 

Increase heat to medium-high and add zucchini and squash ribbons. Season with salt and pepper. Stir while cooking (tongs work well), for 3 minutes or until tender.

Toss lightly with parsley and lemon juice; serve immediately or at room temperature.
Notes
Any type of summer squash can be used in this dish. Use what you have or any combination.
Substitute another herb of your choice for the parsley: basil, oregano, thyme, or whatever you like.
Add a dash of red pepper flakes for a little zing, or garnish with a sprinkle of shredded Parmesan cheese.
Nutrition Information
Serving: 1of 4, Calories: 84kcal, Carbohydrates: 11g, Protein: 3g, Fat: 4g, Saturated Fat: 1g, Polyunsaturated Fat: 3g, Sodium: 138mg, Fiber: 4g, Sugar: 6g
This website provides approximate nutrition information for convenience and as a courtesy only. Nutrition data is gathered primarily from the USDA Food Composition Database, whenever available, or otherwise other online calculators.
© Author: Rachel Gurk