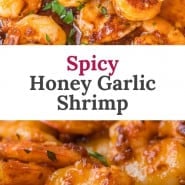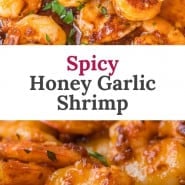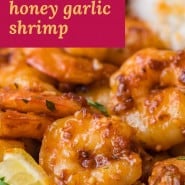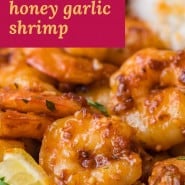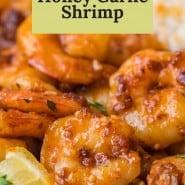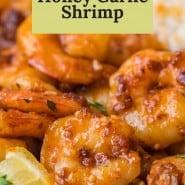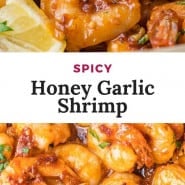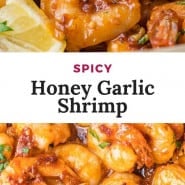 With crispy bits of golden brown fried garlic and a smoky sweet sauce, spicy garlic shrimp are zesty and amazingly good and ready in 20 minutes!
Recipe Overview

Why you'll love it: Those crispy little bits of fried garlic are so good!
How long it takes: Just 20 minutes!
Equipment you'll need: large skillet, stove, slotted spoon or small strainer, tongs
Servings: 6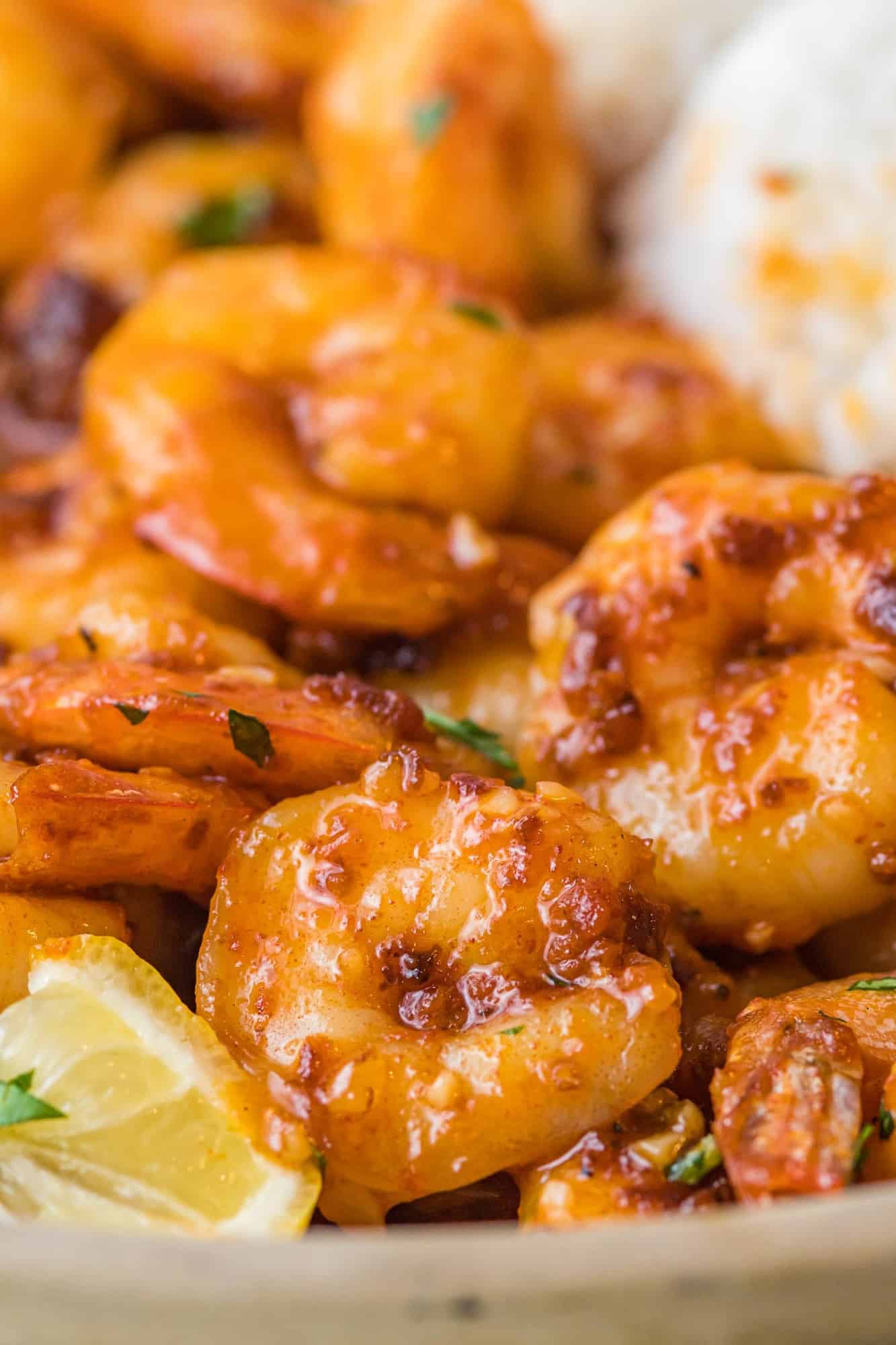 You're going to love this shrimp recipe! Tender seasoned shrimp are spicy and smoky and drenched in a rich sweet, citrus sauce composed of honey, butter, and lemon juice. The sauce complements the shrimp perfectly.
And the fried bits of garlic! This method of cooking garlic is a game changer! I love garlic in most any form but this fried garlic is just addicting. The garlic gets mellow and crunchy. You can add it to sandwiches, salads, pasta, and just everything!
The bonus is the garlic oil that's left after you fry the garlic. The shrimp are sautéed in the flavorful oil to add even more zest to this dish.
You'll love this exciting garlic shrimp recipe. I can't wait for you to try it!
About this Spicy Garlic Shrimp recipe
This meal can be prepared in less than a half hour. You'll need a good-sized skillet and that's about it. Keep reading for Make Ahead Tips.
Look for the complete recipe with measurements and directions at the end of the post.
What you need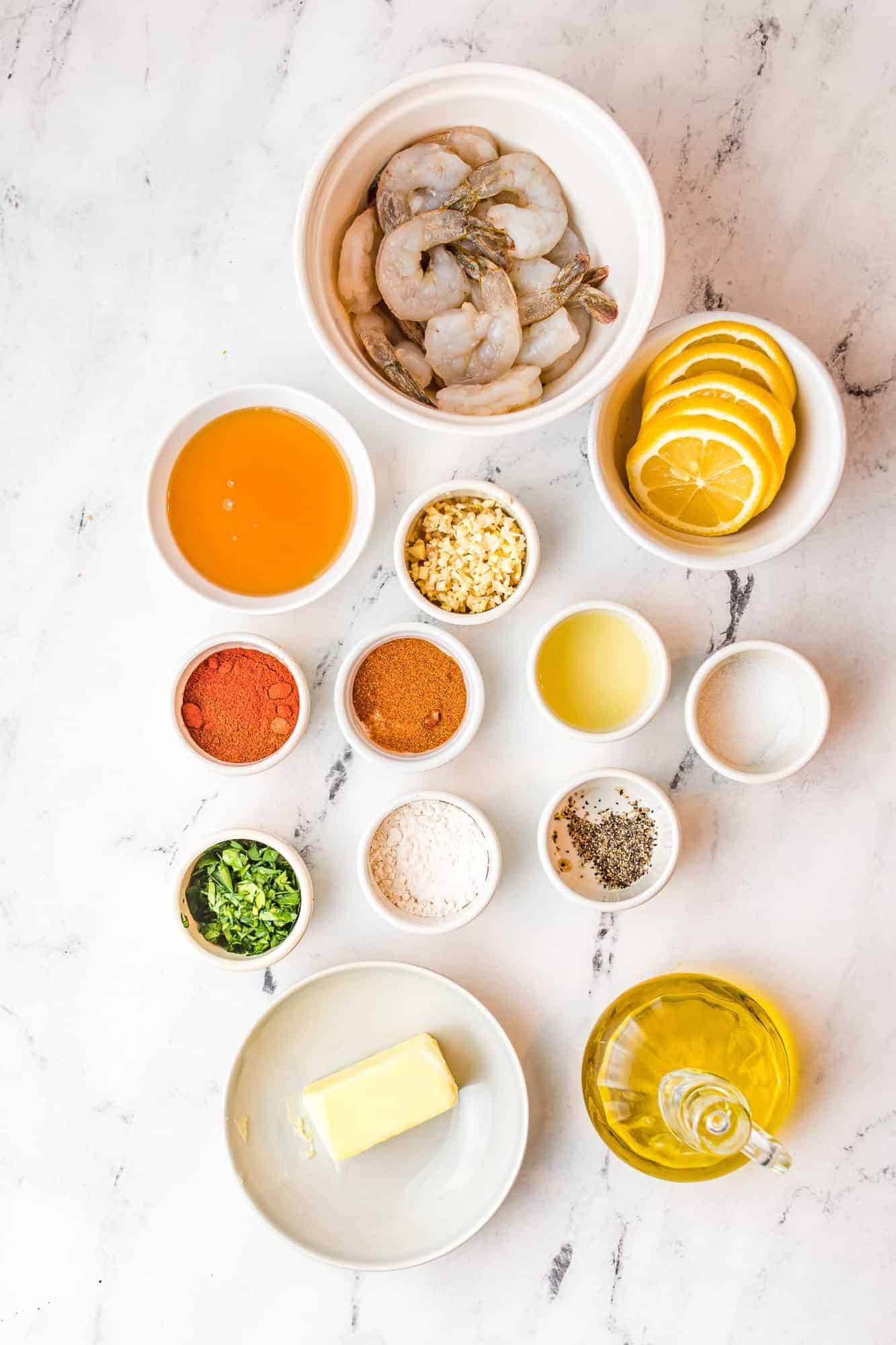 Shrimp: Use raw shrimp, deveined and peeled with tails off. Frozen shrimp is fine and thaws out quickly under running water.
Seasoned Flour: The shrimp are dredged in all-purpose flour seasoned with lots of Smoked Paprika, Cayenne Pepper, Salt, and Black Pepper. Add as much or as little cayenne as you want, depending on how spicy you like it.
Lots of Fresh Garlic: Use six to eight cloves of garlic. The garlic is minced roughly, or sliced if you prefer, and lightly toasted in Olive Oil until it's golden brown and crispy.
Butter, Honey, Fresh Lemon Juice: Rich, sweet, and tart. With a sauce made of these three ingredients, you really can't go wrong.
Fresh Parsley and Lemon Wedges: The perfect garnish for this dish.
How to make This Recipe
This dish moves really quickly from start to end so have everything prepped and ready. If you're serving it with rice or pasta, get that started first, along with any other sides you'd like.
If your shrimp is frozen, thaw it out under cold running water. That shouldn't take much more than five minutes or so. Drain well and pat dry with paper towels. The shrimp won't be completely dry but at least get some of moisture off.
In a good sized bowl, whisk together the flour and seasonings. There isn't much flour, only one tablespoon, so this shrimp isn't breaded or battered. The flour simply is a vehicle to spread the seasoning on the shrimp and will also thicken the sauce slightly.
Add the shrimp to the bowl and toss them around with the seasoning so they are pretty evenly coated. Set them aside.
Next up, the garlic! Six to eight cloves of garlic may sound like a LOT of garlic and it is. If you haven't had the good fortune to try crispy fried garlic, this is your lucky day! The crispy bits of garlic are mellow and crunchy and you'll probably wish you had cooked more. The garlic oil that remains in the pan is perfect for sautéing the shrimp.
Simply combine olive oil and garlic in a large skillet over medium heat. Don't heat the oil first, just add the garlic right away to the cold pan, ensuring that the garlic will lightly toast as the pan heats up. Stir constantly until the garlic is golden brown, about five minutes. Don't overdo it because if garlic gets too dark it will taste bitter.
Turn off the heat and immediately remove the garlic with a slotted spoon. If you prefer, use a small strainer and drain the oil into a small bowl. You want to get the garlic out of the pan ASAP because it will keep browning.
Add the seasoned shrimp to the skillet with the garlic oil and quickly cook on both sides, about five minutes total.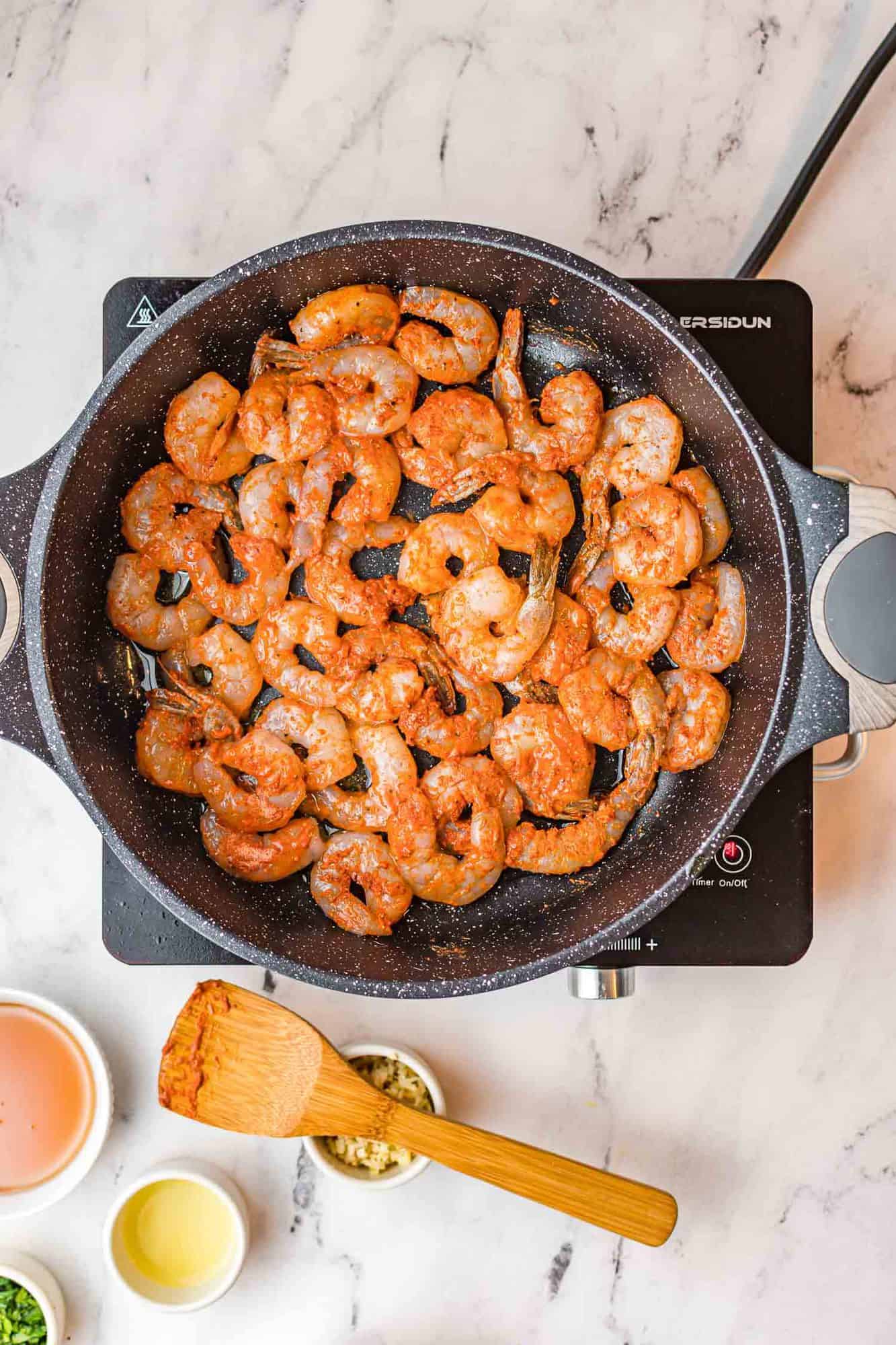 It goes really fast and you don't want to overcook the shrimp. It will cook just a bit more with the sauce.
Add butter to the skillet with the shrimp. It's best if your butter is softened, not rock hard, so it melts quickly. Once it's mostly melted, add honey and lemon juice and stir until the sauce comes together and the shrimp is coated.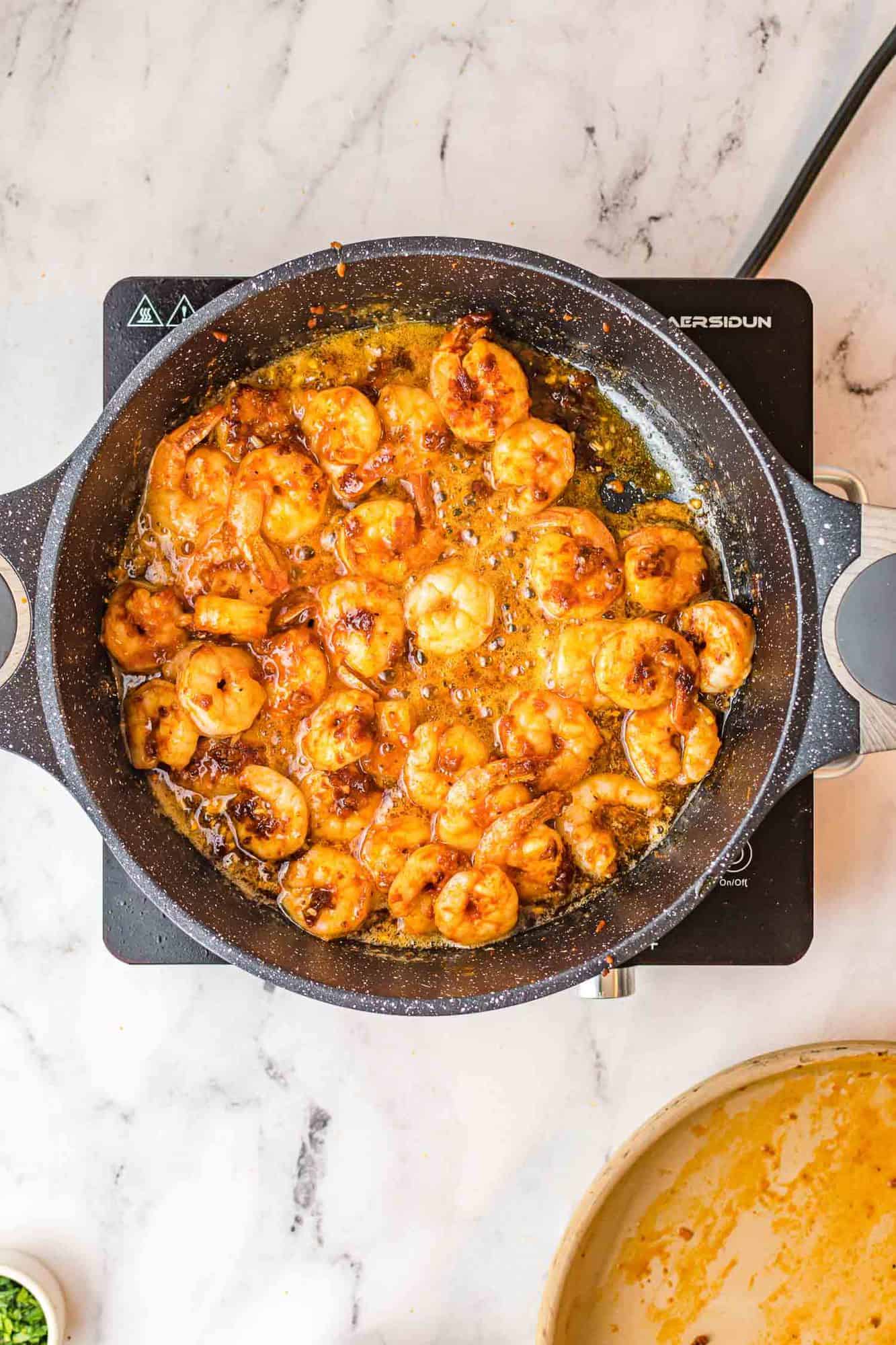 Sprinkle in the parsley and stir.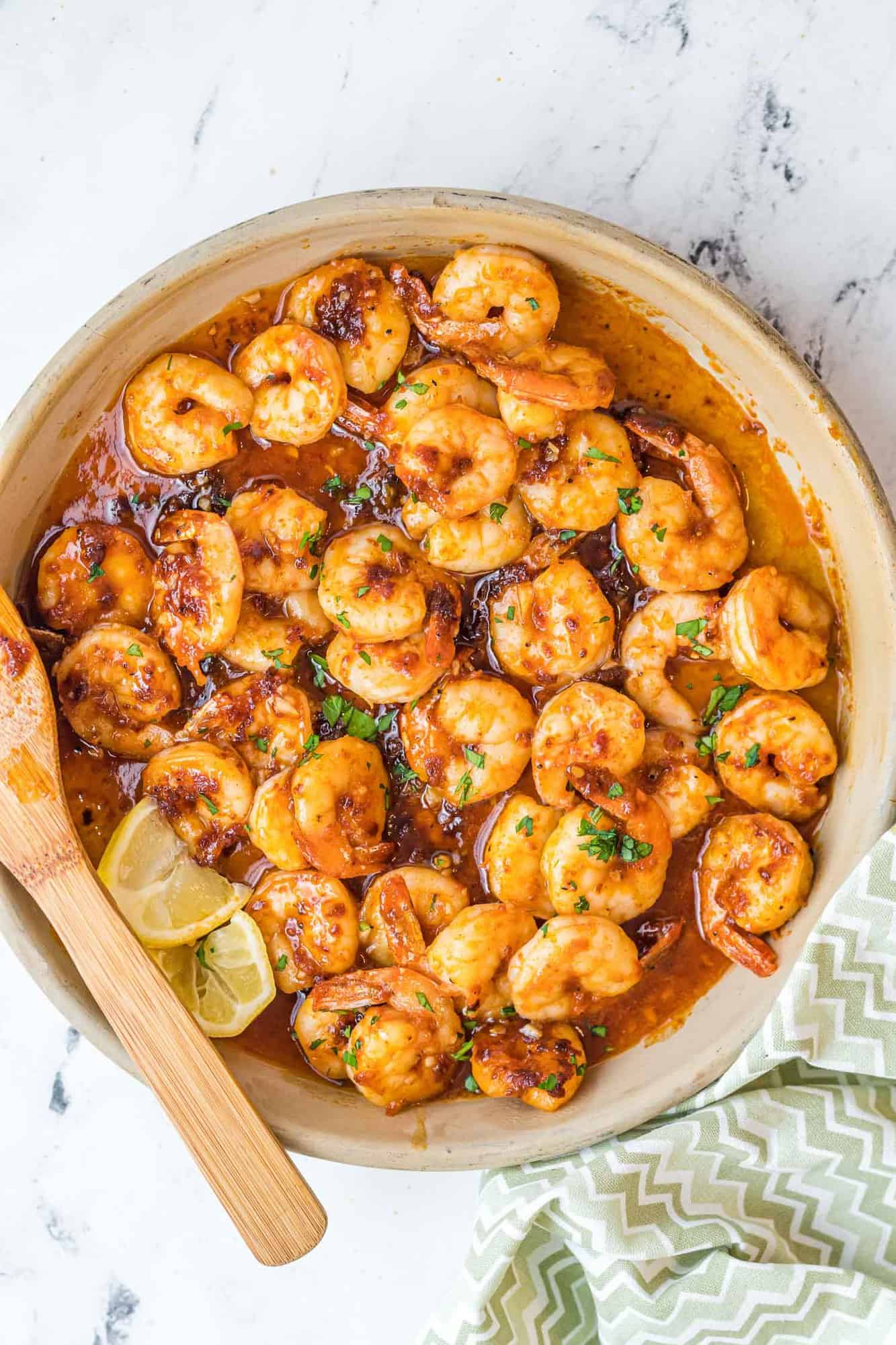 I bet you can't wait to dig in! Arrange the shrimp with the fried garlic bits on snowy white jasmine rice or cooked pasta (angel hair is really good!). A wedge of lemon adds a bit more fresh lemon flavor. Dinner bliss!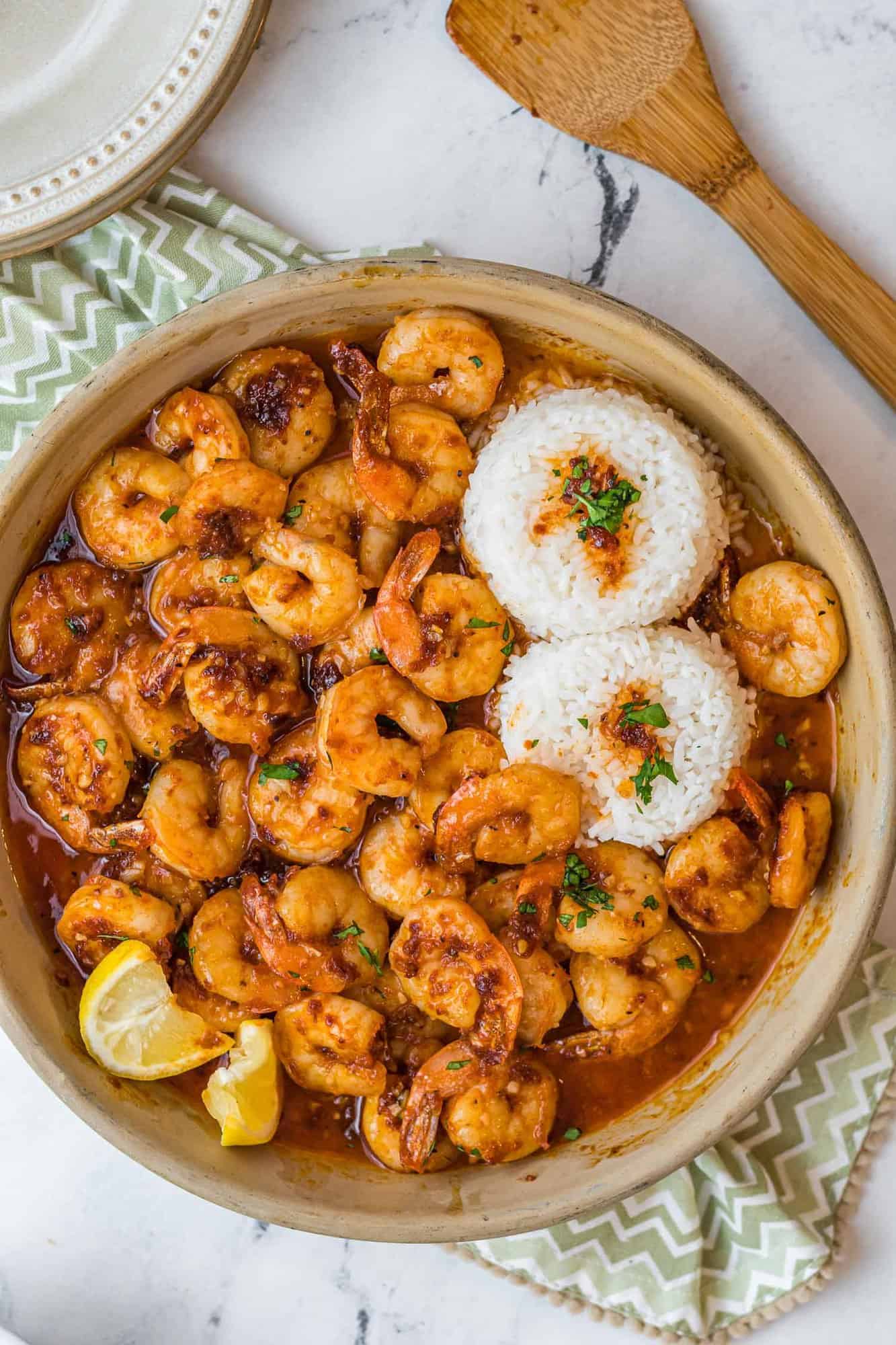 FAQs
Is shrimp healthy?
According to Healthline, shrimp is low in calories and fat, has lots of nutrients and antioxidants, and is a good source of protein. In other words, it's good for you.
Some imported farm-raised shrimp may contain antibiotics. Although there are regulations against the use of antibiotics, the FDA is unable to inspect all imported shrimp. If you are concerned about the use of antibiotics in shrimp, buy wild-caught shrimp.
What is the best way to season shrimp?
Shrimp can be seasoned in a variety of ways. The shrimp in this recipe is coated with highly seasoned flour. Sometimes just a sprinkle of salt and pepper before a quick sauté in butter is all you need. Often the seasoning is added to breading or batter. We also love Lemon Pepper Shrimp, a simple yet flavorful recipe.
Marinated shrimp is super flavorful. Any marinade that you would use for chicken is also perfect for shrimp. Check out my collection of several easy marinades.
Continue reading for lots more shrimp recipes.
How do you not overcook shrimp?
Shrimp cooks very quickly and when overcooked, can become a bit chewy and tough. I like to cook shrimp over high heat and when the shrimp turns pink and curls, I know it's ready to eat. Shrimp is usually cooked in less than five minutes.
What sides go well with shrimp?
When choosing sides, it really depends on how you prepare the shrimp. Like chicken, shrimp is endlessly adaptable. Who doesn't love the simplest combo, a shrimp basket with French fries and coleslaw? Or shrimp cocktail with spicy horseradish sauce?
If the shrimp has a spicy sauce, like this garlic shrimp recipe, I like jasmine rice or brown rice and steamed broccoli as sides. You also can't go wrong with roasted broccoli.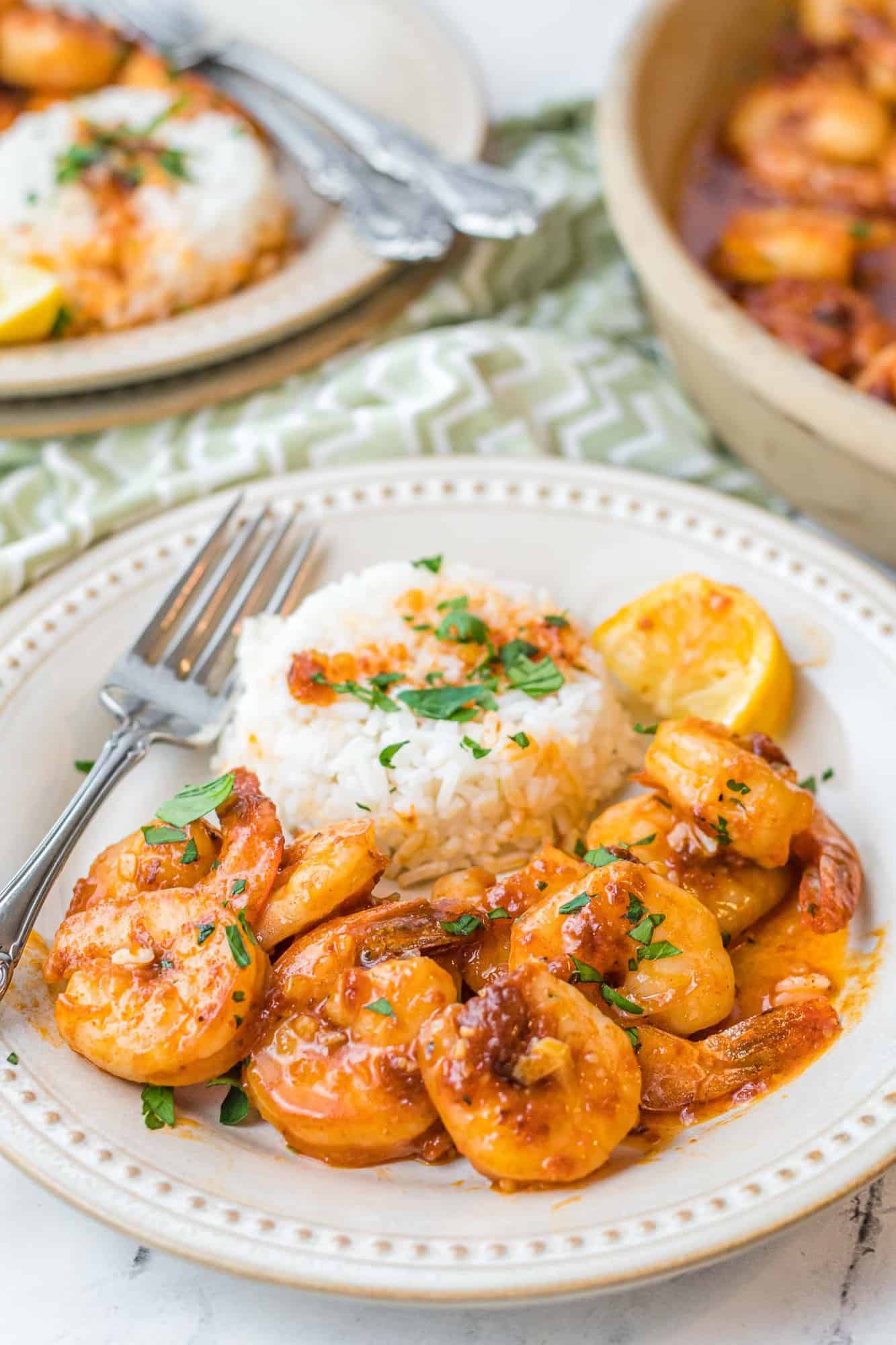 Make It Your Own
If you really don't like the idea of garlic, omit it. Simply sauté the seasoned shrimp in olive oil over medium high heat and continue with the recipe as directed. Call it "spicy honey shrimp."
Substitute scallops for shrimp. Boneless skinless chicken breasts, cut into bite sized pieces, can be substituted as well but will take a bit longer to cook.
Substitute sweet paprika or hot paprika for the smoked paprika if you prefer.
Make-Ahead Ideas
Spicy garlic shrimp comes together so quickly! There are a couple of ways you can really get this dinner on the table in a flash.
The fried garlic can be made up to a month ahead. Store fried garlic at room temp in an airtight container. Make sure it's completely cool before covering it. Store garlic oil in the fridge. Make a big batch of fried garlic on the weekend and you can use it to season rice, soups, sandwiches, or whatever you like.
If you're planning on using frozen shrimp, put the shrimp in the fridge the night before so it thaws more quickly. Allow the butter to come to room temperature. Wash and dry the parsley so it's ready to chop. Mix the seasonings with the flour ahead of time.
Storage & Reheating Suggestions
Store leftover shrimp in an airtight container in the fridge for up to 5 days. Reheat gently in a skillet over low heat until heated through. You can also reheat it in the microwave in 15-second increments but the skillet method is preferable because you're less likely to overheat the shrimp.
Leftover Love
Make a shrimp bowl for lunch. Add lightly warmed shrimp and sauce to a bowl with farro, cooked ramen, or quinoa, along with diced bell peppers, sugar snap peas, shredded carrots, or edamame. Top it with squeeze of lemon juice and an extra sprinkle of parsley.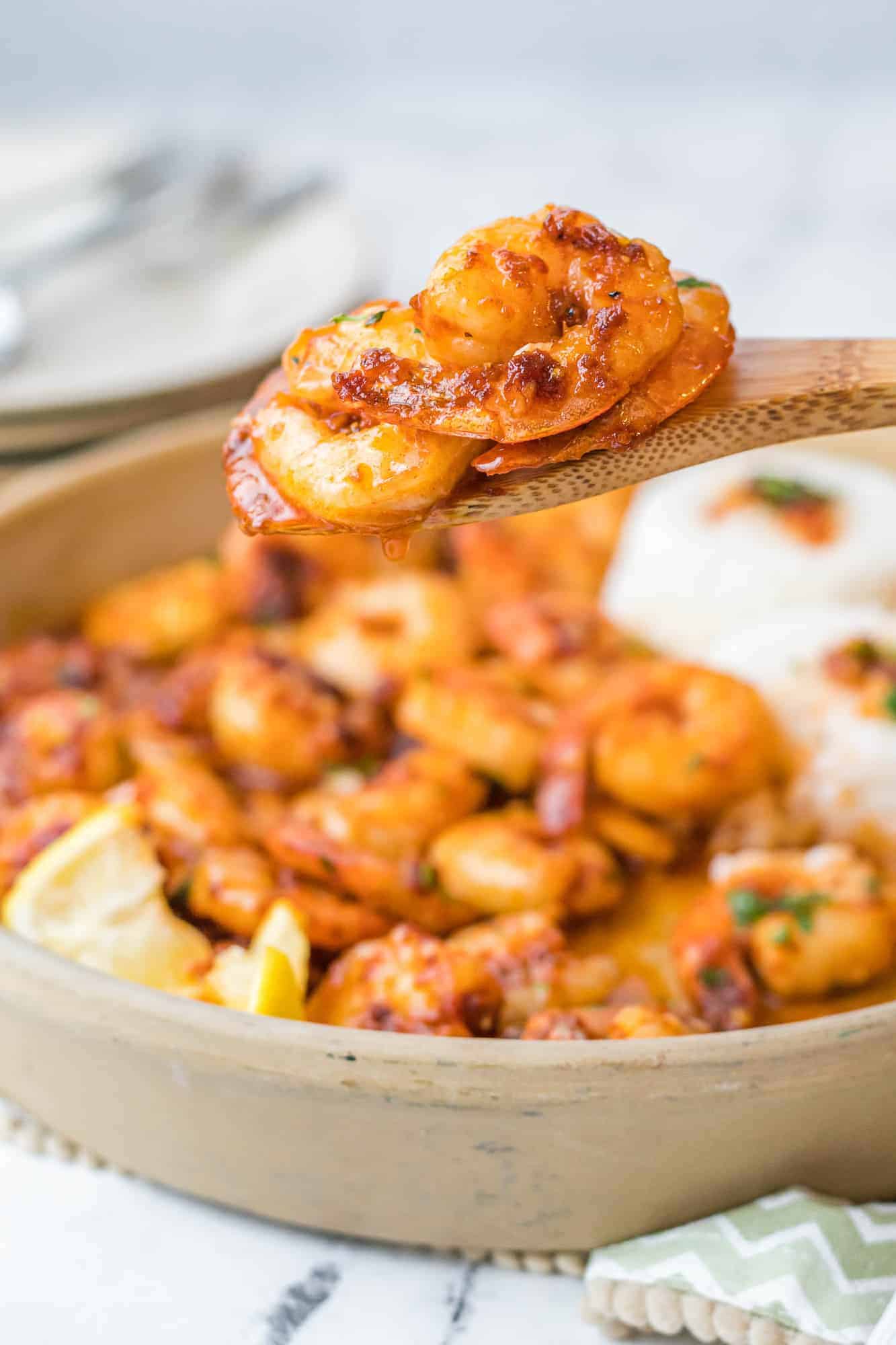 More shrimp recipes
I've been incorporating shrimp into my menus more often. It's so versatile and when I don't have anything thawed for dinner, frozen shrimp is an easy solution. Try:
Did you make this? Be sure to leave a review below and tag me @rachelcooksblog on Facebook, Instagram, or Pinterest!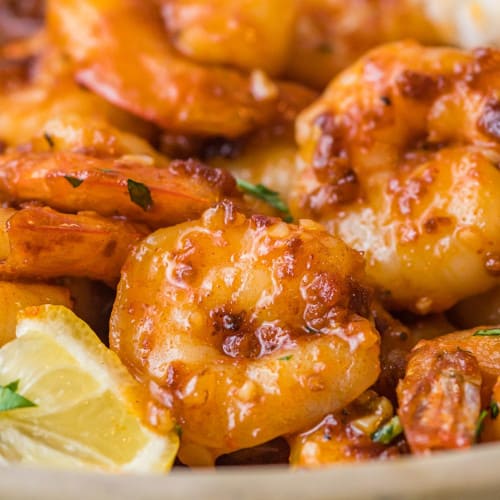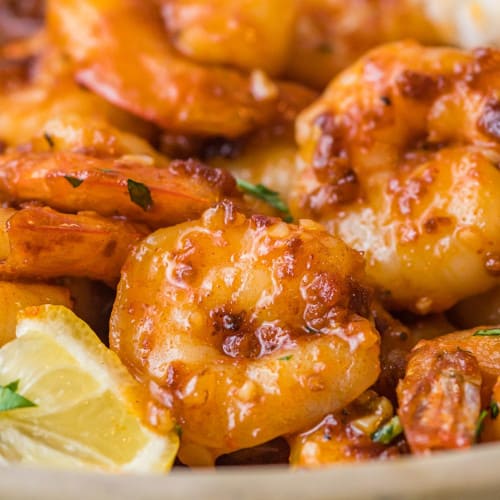 6 servings
Prevent your screen from going dark
With crispy bits of golden brown fried garlic and a smoky sweet sauce, spicy garlic shrimp are zesty and amazingly good!
Instructions
If shrimp is frozen, thaw under running cold water. Drain, pat dry with paper towels.

In a bowl, combine the flour, paprika, cayenne, salt and pepper.  Toss the shrimp with the flour mixture till coated.

Put olive oil and garlic In a large skillet, turn heat to medium. Cook garlic, stirring constantly, until golden brown, about 5 minutes. Watch carefully, don't let it burn. Quickly remove garlic bits from pan with slotted spoon, reserving oil. Alternatively, set a small strainer over a bowl and drain garlic.

Turn pan to medium high and add shrimp to garlic oil. Cook on one side for about three minutes, flip and cook an additional 2 minutes or until shrimp is pink and curled. Don't overcook. 

Add butter to the skillet with shrimp. Once it's mostly melted, add honey and lemon juice, stirring to combine, coating the shrimp. Sprinkle with parsley.

Serve with fried garlic, lemon wedges, and cooked  rice.
Notes
Fried garlic can be made up to a month ahead. Store fried garlic at room temp in an airtight container. Make sure it's completely cool before covering. Store garlic oil in the fridge.
This recipe can be made without garlic if you prefer. Simply heat olive oil in pan and cook shrimp as directed.
If desired, substitute chicken for the shrimp. Cut boneless skinless chicken breasts into bite-sized pieces and cook as directed, cooking an additional 2-3 minutes, or until chicken is done.
To make dairy-free: Use ghee instead of butter.
Nutrition Information
Serving: 4oz. shrimp, Calories: 251kcal, Carbohydrates: 17g, Protein: 16g, Fat: 14g, Saturated Fat: 6g, Polyunsaturated Fat: 7g, Cholesterol: 163mg, Sodium: 822mg, Fiber: 1g, Sugar: 12g
This website provides approximate nutrition information for convenience and as a courtesy only. Nutrition data is gathered primarily from the USDA Food Composition Database, whenever available, or otherwise other online calculators.