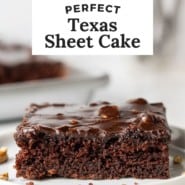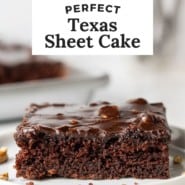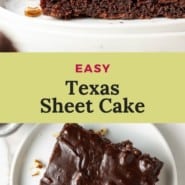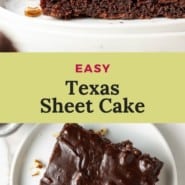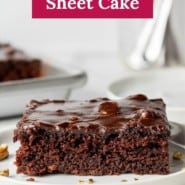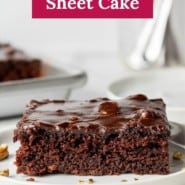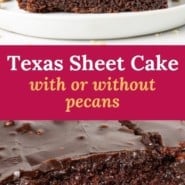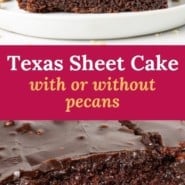 One of the easiest chocolate cakes to make, Texas sheet cake has a hint of cinnamon and is topped with chocolate frosting laced with toasted pecans.
Recipe Overview
Why you'll love it: Who doesn't love a chocolate cake that's easy to make?
How long it takes: 32 minutes plus cooling time
Equipment you'll need: jelly roll pan, whisk, bowl, electric mixer, small saucepan
Servings: 24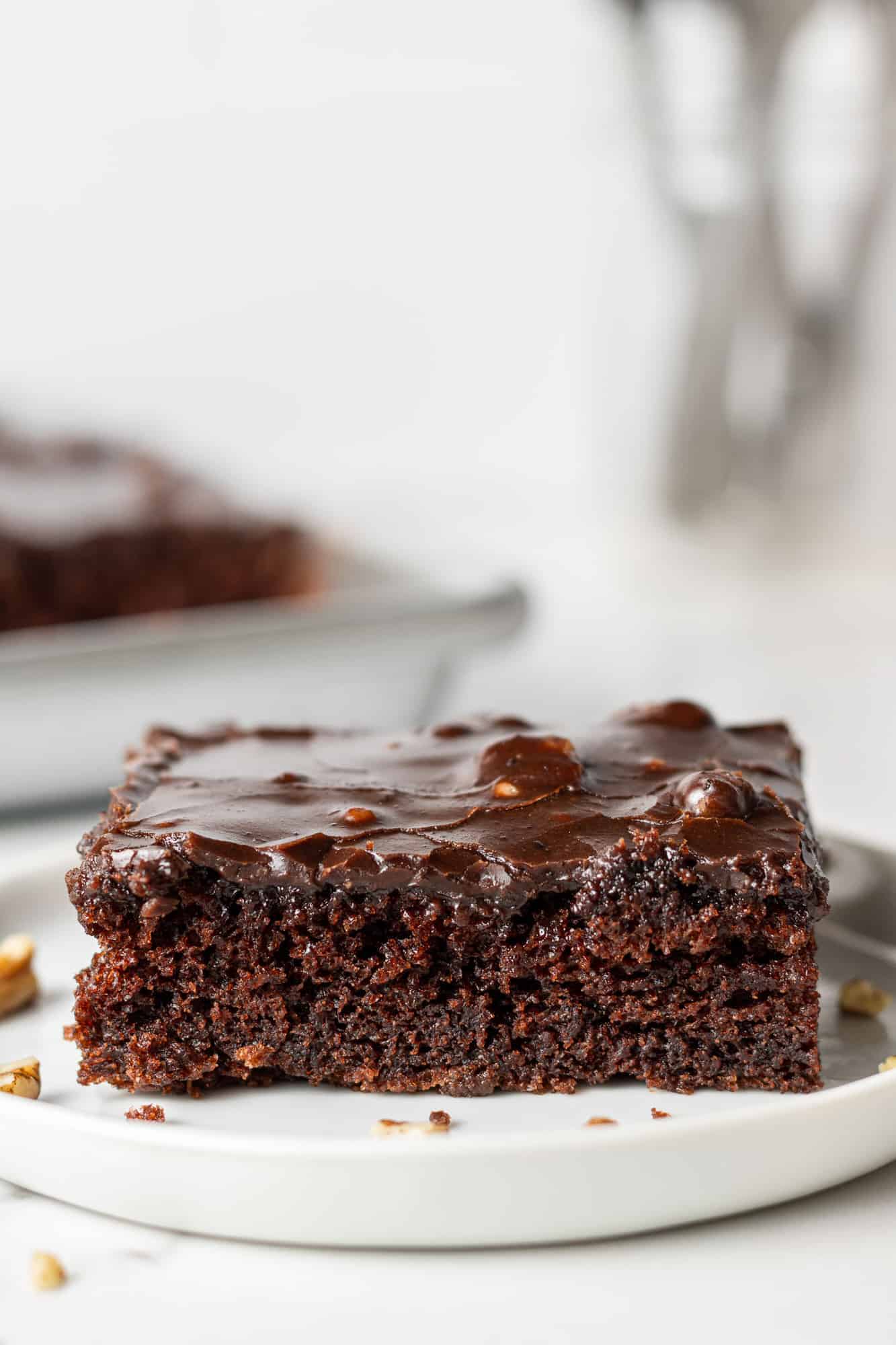 With fudgy nutty frosting that almost saturates the top layer of this cake, a Texas sheet cake is always a hit. One of the few cakes that you frost while it's still warm, it can be made in a hurry. It's easy, too.
One of the unique features of this recipe is that it's made in a somewhat smaller sized pan than a normal Texas sheet cake. Sometimes you just don't need a gigantic cake. This recipe still makes plenty of cake but you won't be eating it for a week and a half!
PS: I've skinnied it up a bit too. This cake is made with half the butter you'll find in most recipes. You won't miss it a bit! I guarantee it. This cake is Texas-sized good eating!
About this cake
What I like about this cake recipe is that:
It's almost fool-proof. I admit, I've had my share of cake flops. I flop them, try again, and sometimes flop them again, but that's so you don't have the same problems.
You can frost it as soon as it comes out of the oven. That's a huge advantage in my book because it seems like a cake takes f-o-r-e-v-e-r to cool completely
This recipe is pretty dang easy.
I'll give you a quick overview so you know what you're getting into but the complete recipe with measurements is at the end of the post as always.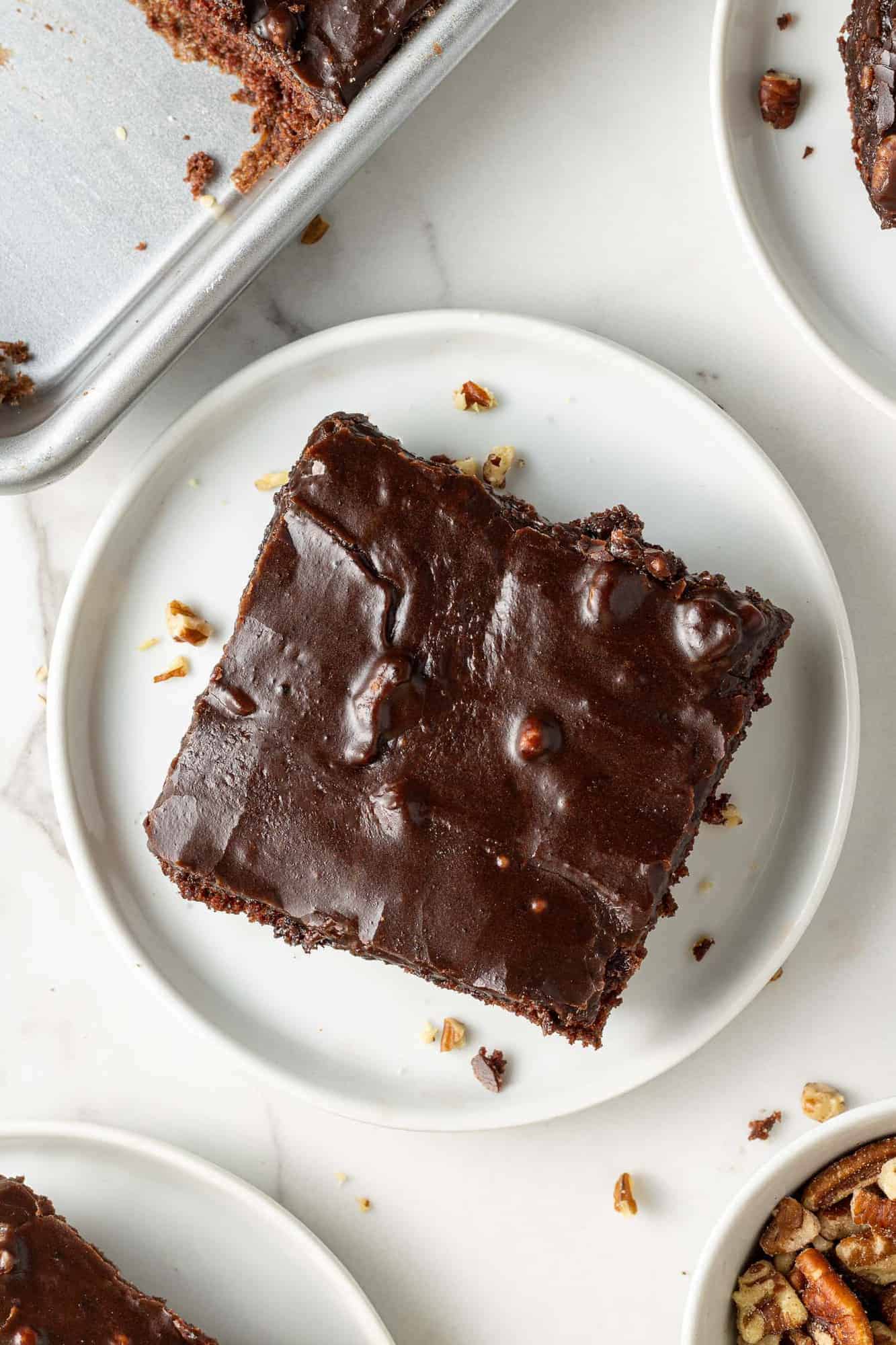 What you need
Flour: Just regular all-purpose flour is all you need.
Sugar: Again, nothing fancy here, granulated white sugar is perfect. You'll need confectioner's sugar for the frosting.
Cinnamon: A teaspoon of cinnamon imparts the flavor unique to a Texas sheet cake. You'll also need Baking Soda and Salt.
Cocoa Powder: Unsweetened baking cocoa powder gives the cake chocolatey goodness. The cocoa powder is heated with water and butter to "activate" the cocoa.
Eggs, Buttermilk, and Vanilla Extract: These three ingredients keep the cake nice and moist, and add flavor and richness.
For the Frosting: The simple cooked frosting is made up of Butter, Milk, Cocoa Powder, Powdered Sugar, Vanilla Extract, and Chopped Pecans. You can leave the pecans out if you want, we tested it that way as well, and it's just as delicious!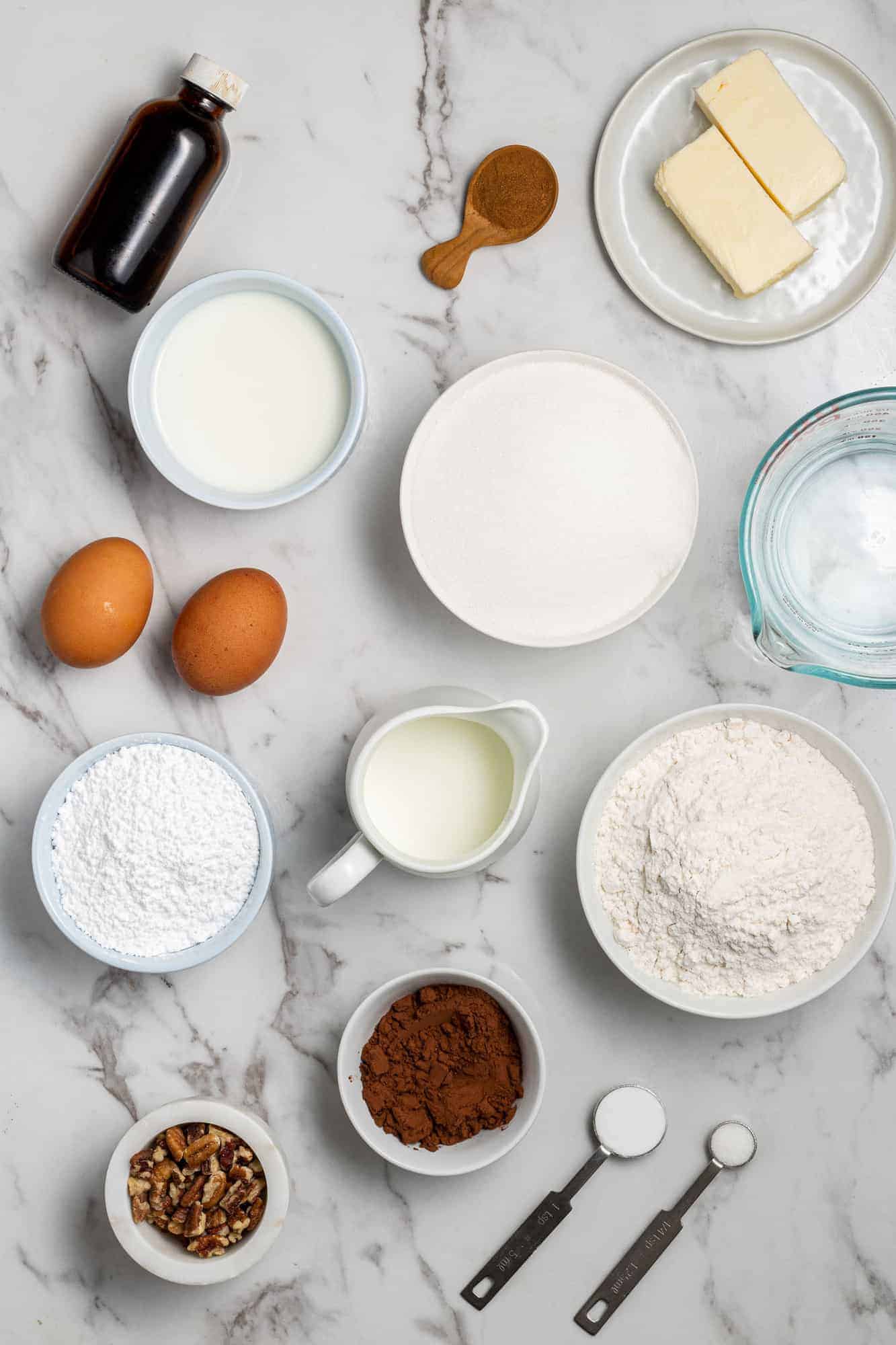 How to make it
In a big bowl, mix the dry ingredients: flour, sugar, baking soda, salt, and cinnamon. You may be tempted to add the cocoa powder here but don't do it!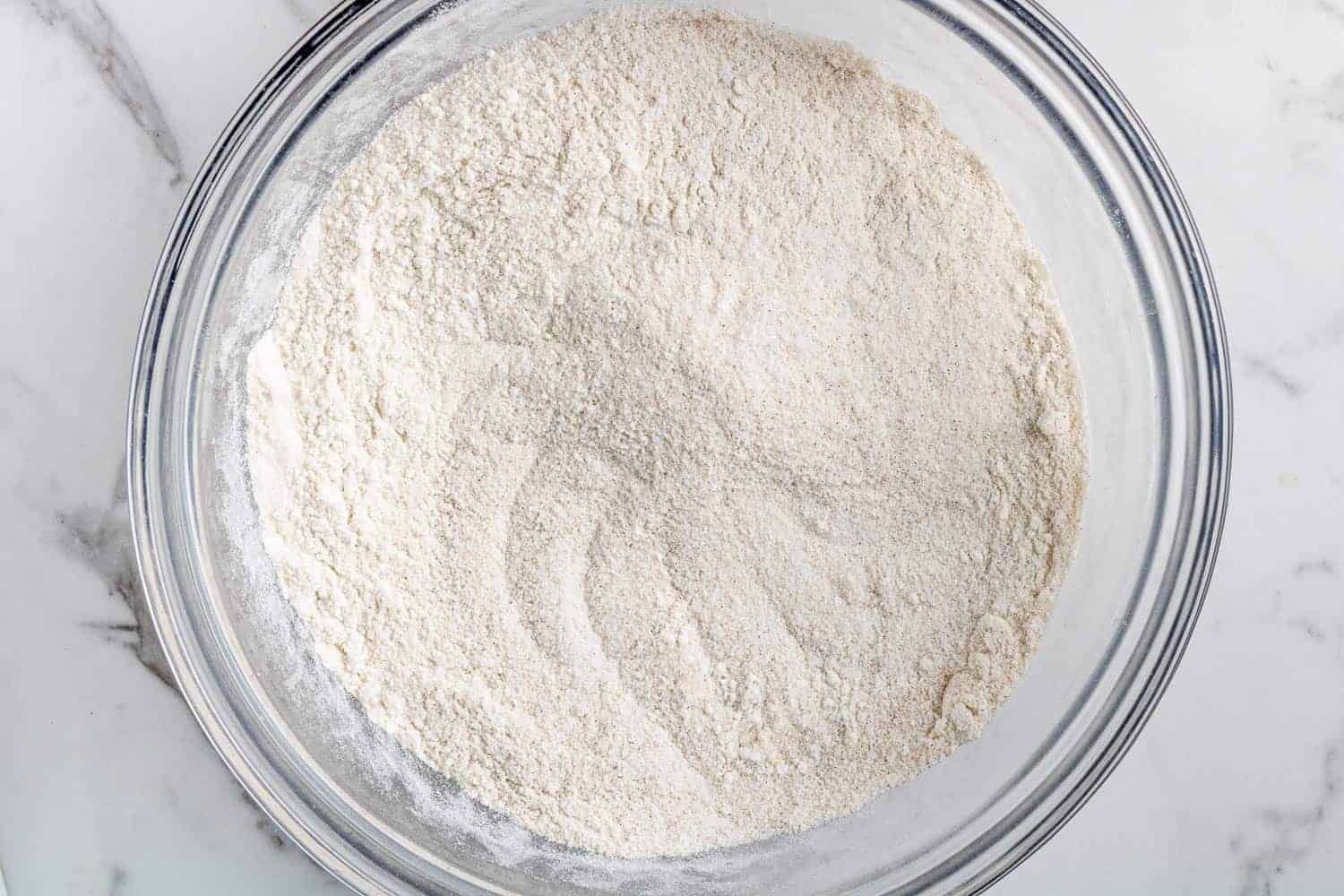 In a saucepan, bring the water, butter (just one stick!), and cocoa powder to a boil.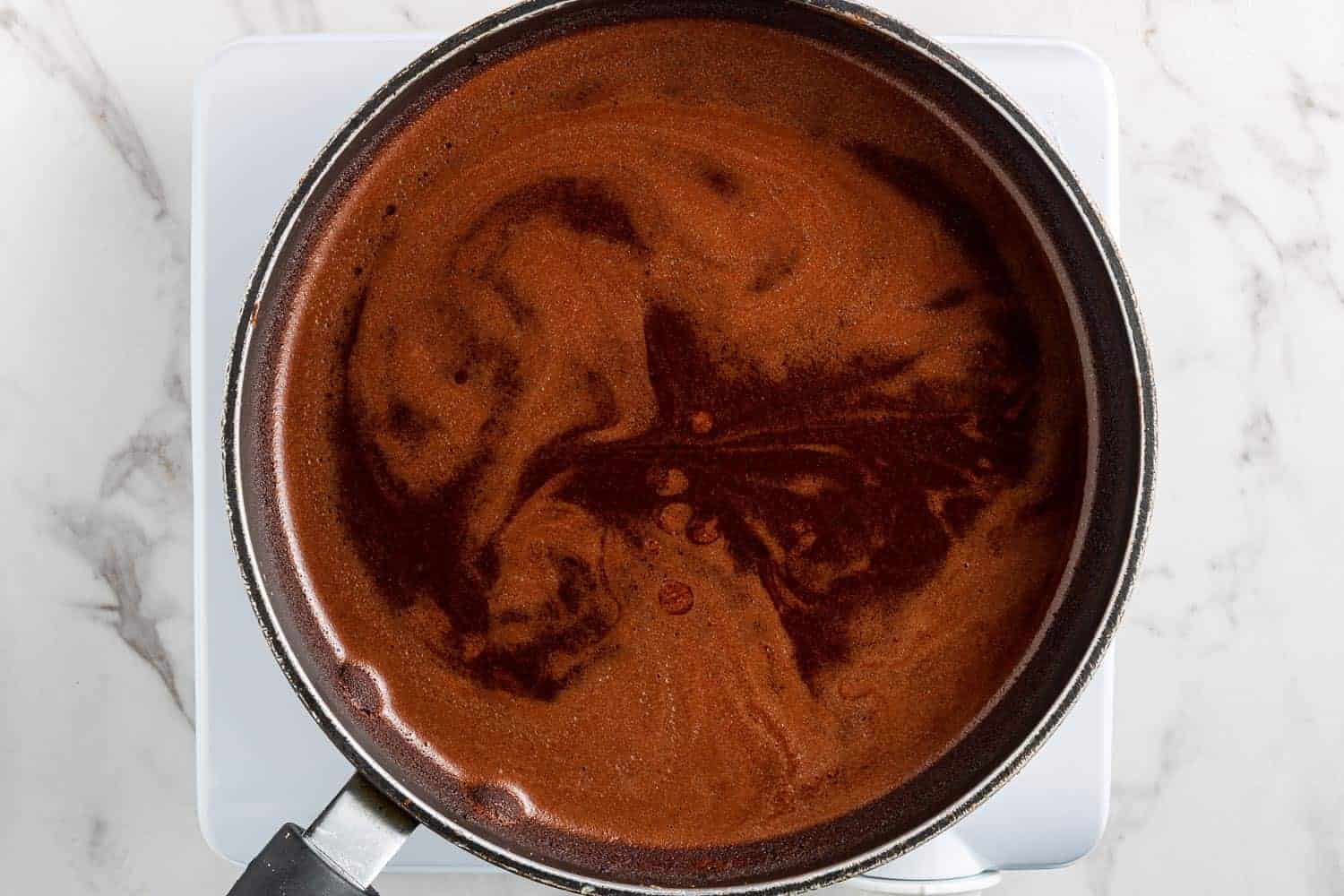 Meanwhile, measure out the buttermilk in a measuring cup, and add the eggs and vanilla to the cup.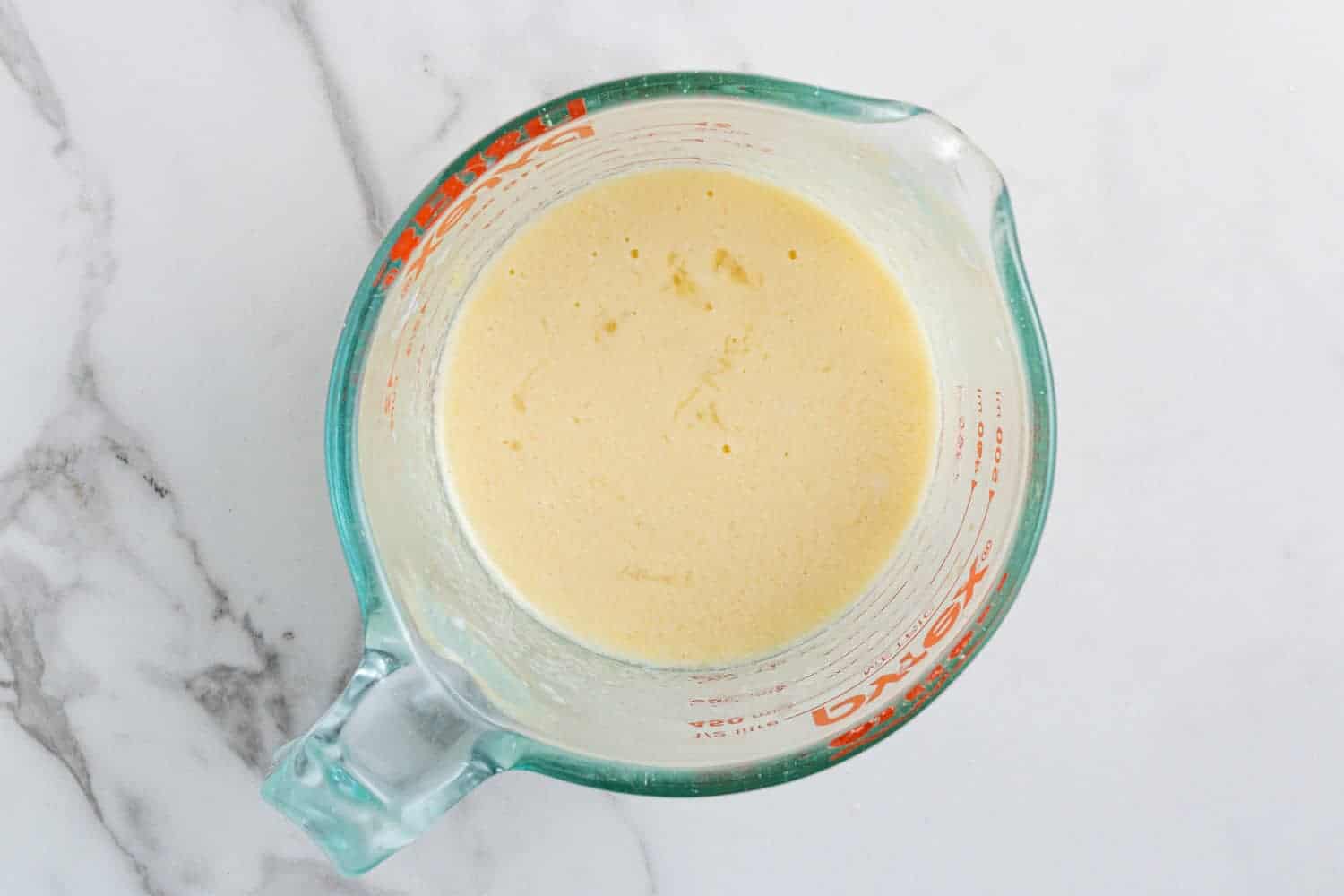 Get out your hand mixer or be ready to do some stirring. Pour the hot cocoa mixture into the bowl with the flour and blend it together. Add the buttermilk mixture and beat well.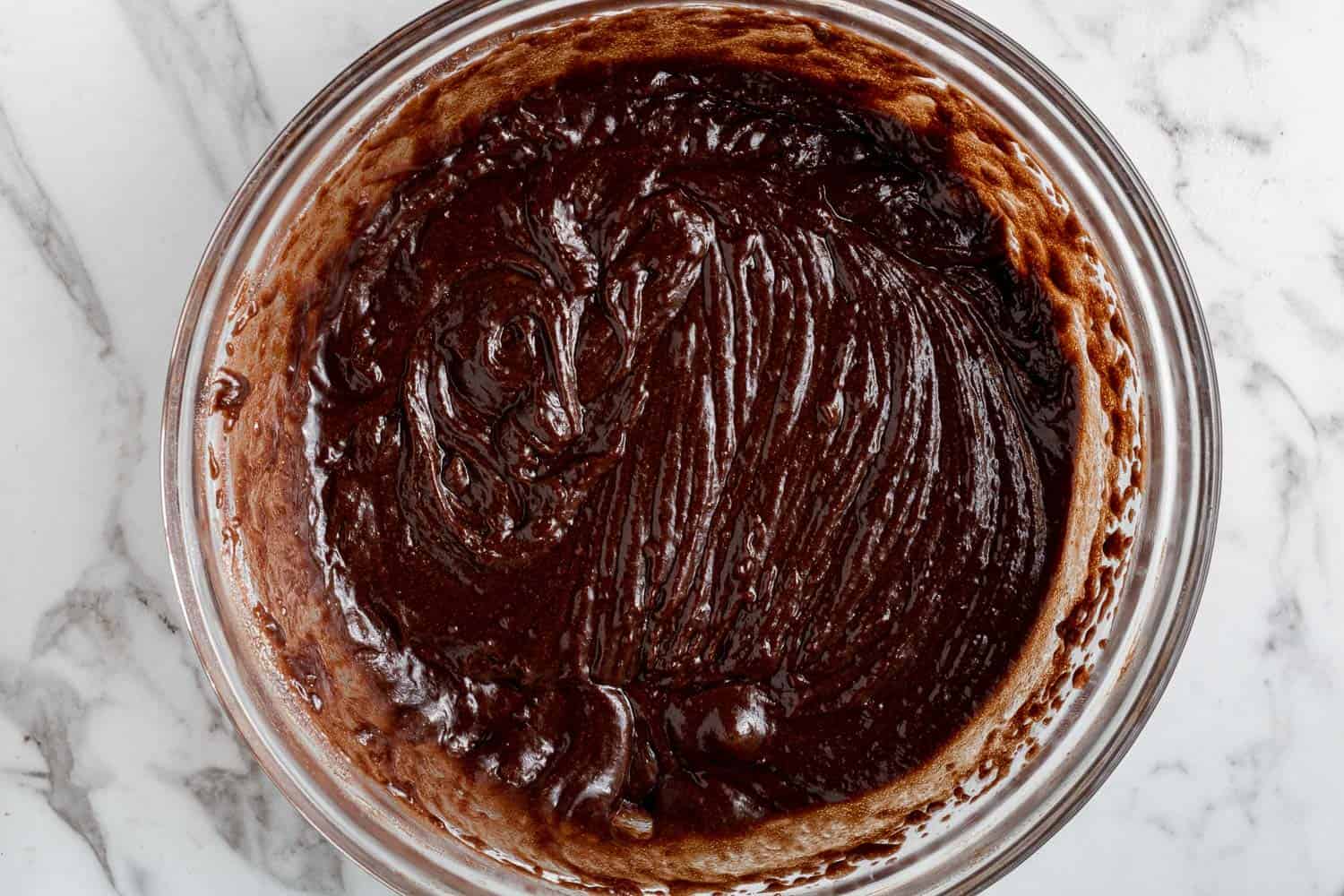 Pour the batter into a jelly roll pan that's been sprayed with cooking spray and dusted with flour. Pop it into the oven. It won't take long to bake because it's a pretty thin cake, only about 17 minutes.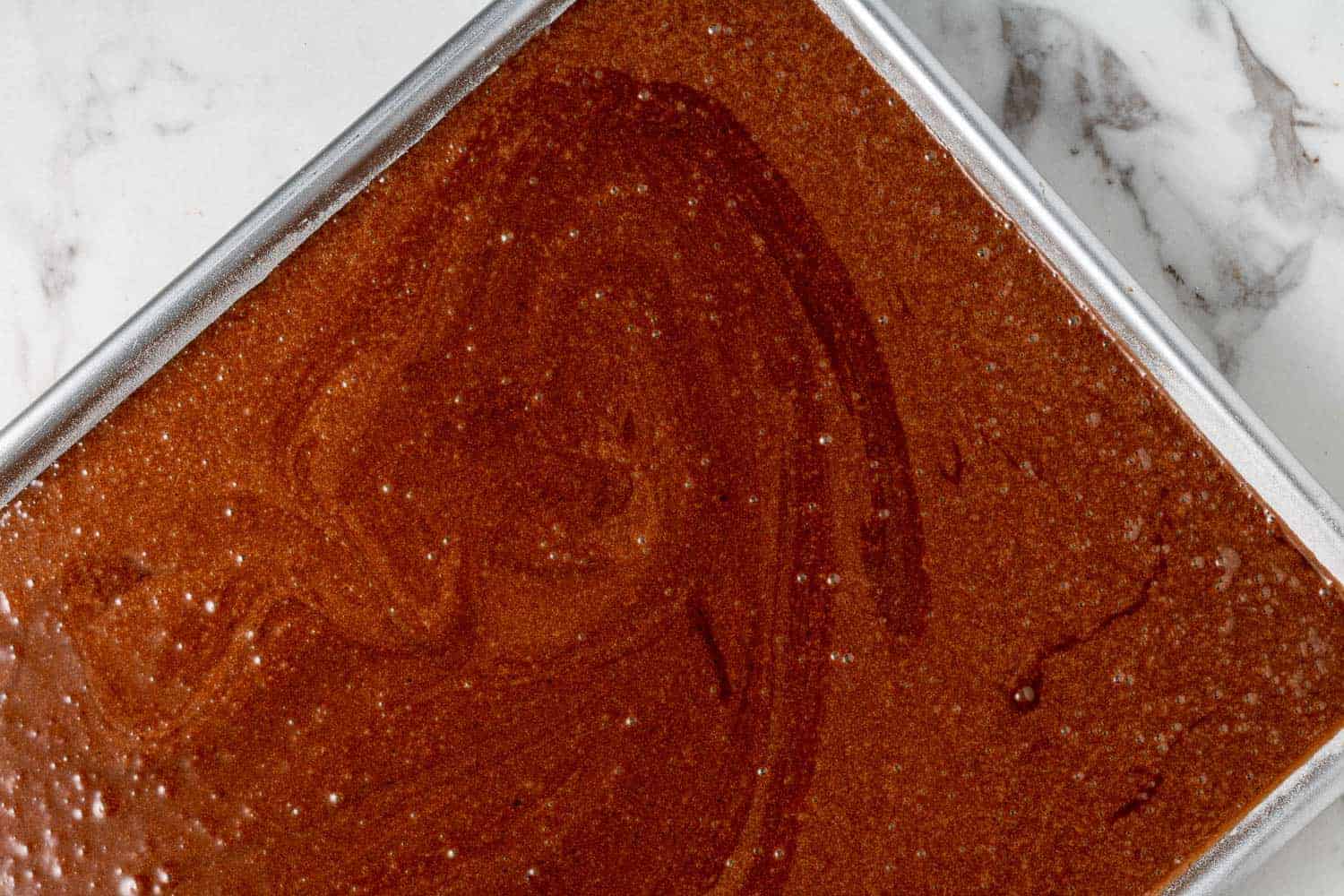 While the cake is baking, use the same saucepan that you used for the cake to make the frosting. Heat butter, milk, and cocoa powder in the saucepan until it comes to a boil. Stir in the powdered sugar until the frosting is smooth; then fold in the vanilla extract and pecans.
The frosting will be kind of on the thin side which is good because you're going to spread it on a hot cake.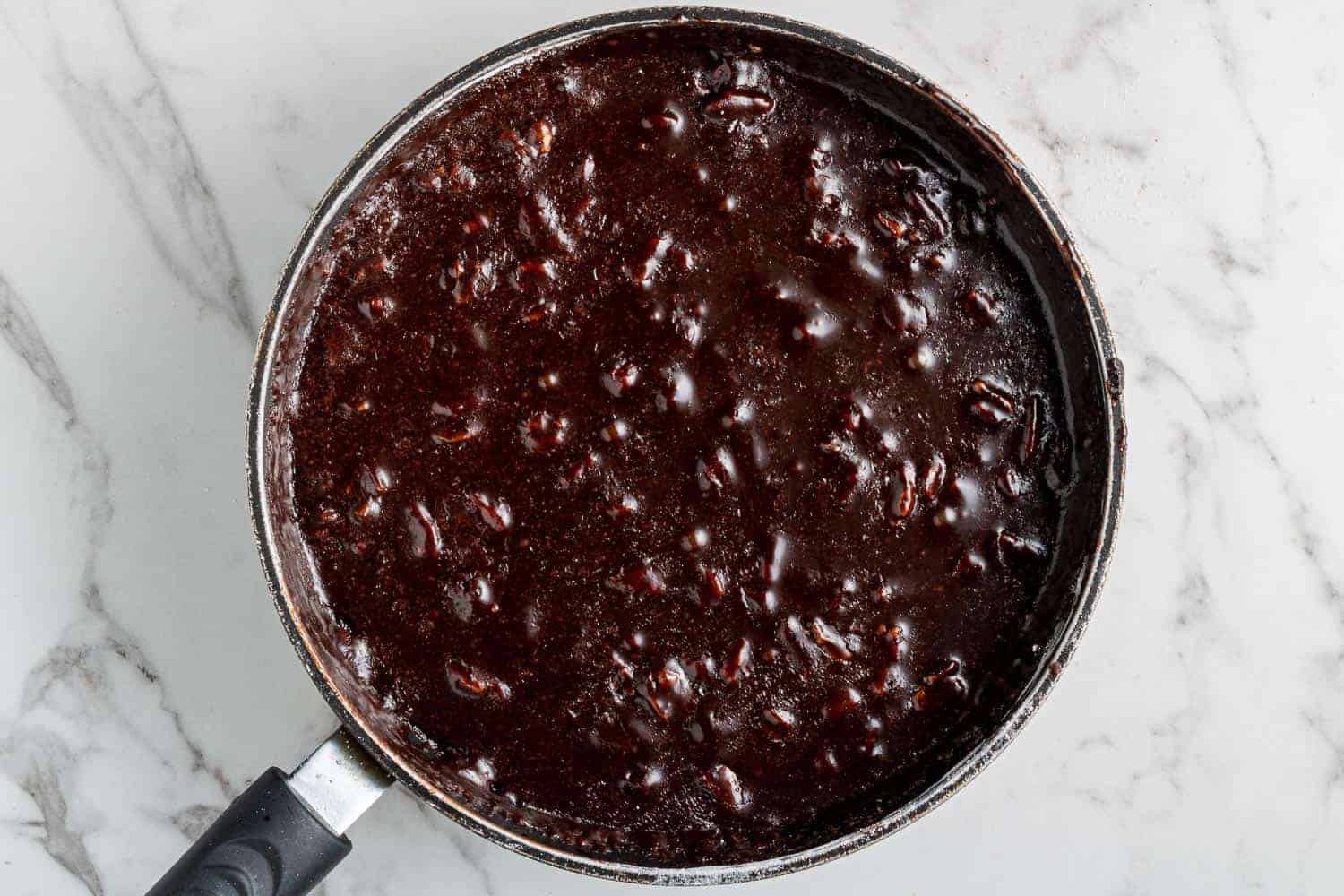 Is your cake done yet? If it is, take it out of the oven and put the pan on a wire rack to cool. Pour the frosting out of the pan evenly onto the cake. Start in the middle of the cake and work your way to the edges. A little frosting may run off the edges but that's okay. (I think my new oven isn't quite level so my cakes are always a little bit high on one side.)
Allow the cake to cool a little before digging in, okay? Well, just a little while anyways…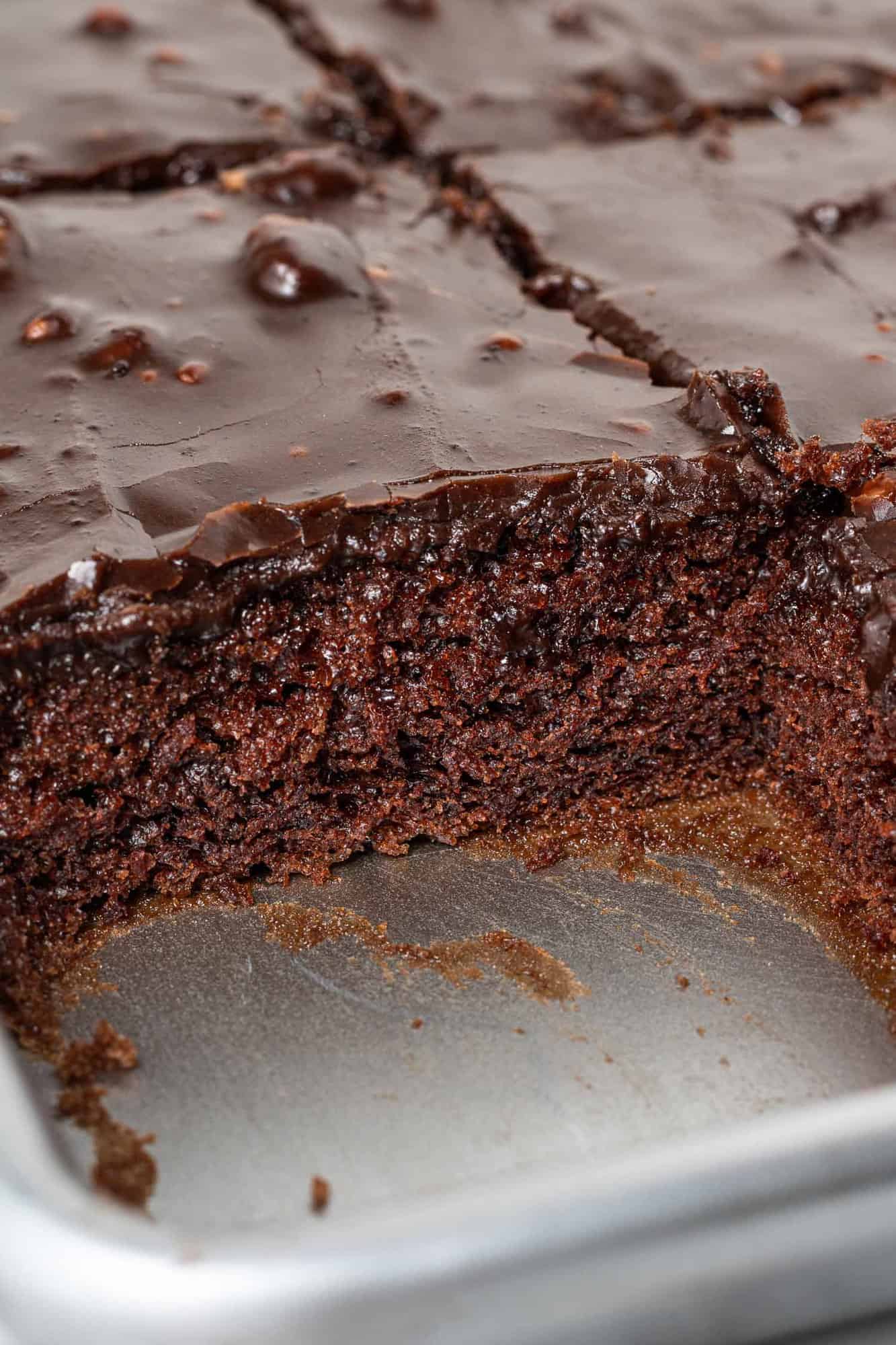 Serve this cake with a scoop of vanilla bean ice cream, double chocolate ice cream, or a plop of whipped cream, if you like.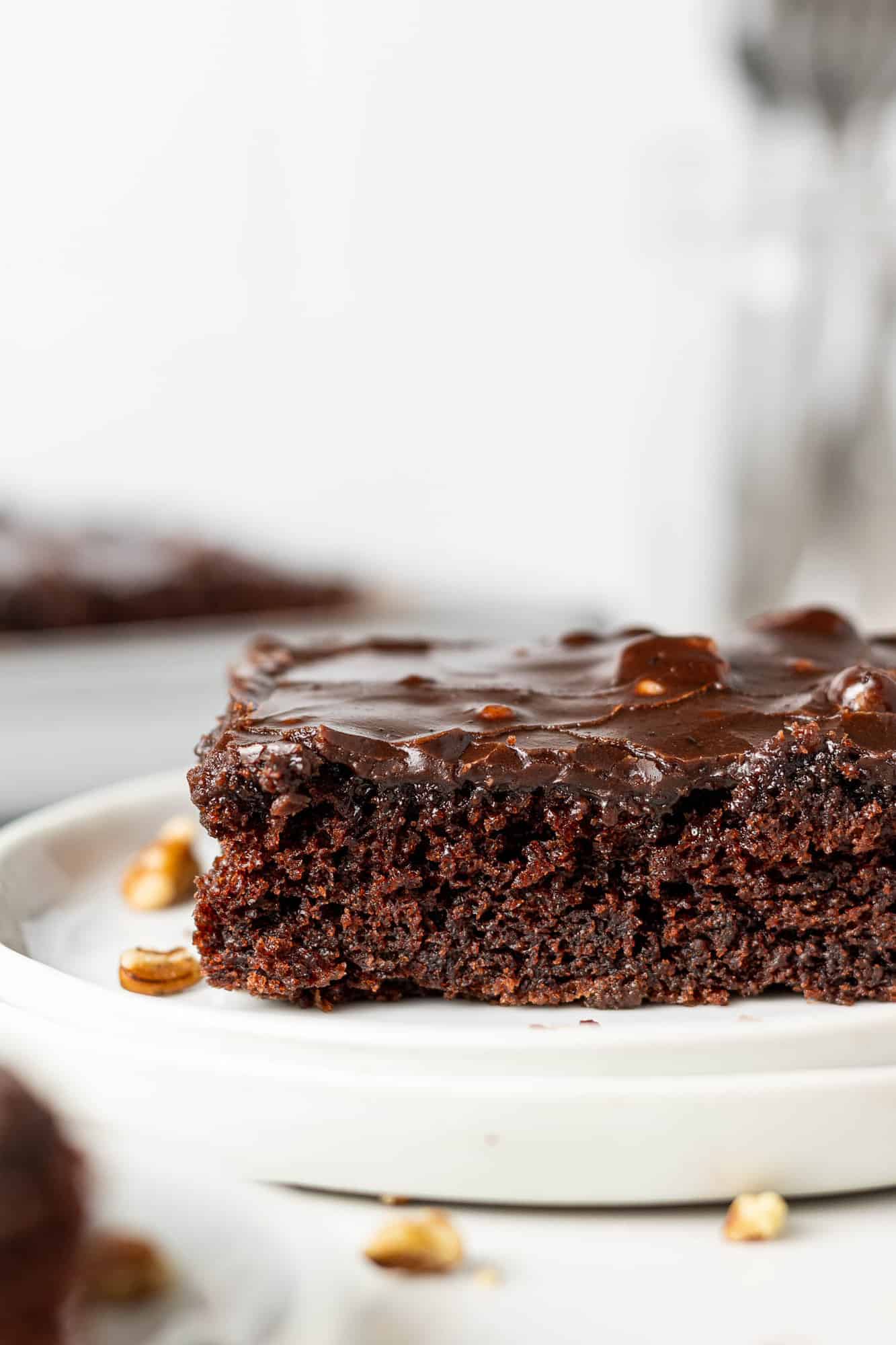 FAQs
What makes Texas sheet cake different?
The ingredients are mixed in one bowl. You won't have to cream butter and sugar, then add eggs, etc. etc. etc. What makes a Texas sheet cake different? It's EASY!
What's the difference between sheet cake and regular cake?
It's all in the pans. The cake batter can be similar but sheet cake is baked in a larger flat pan so the cake is larger and flatter. A regular cake is baked in a 9 x 13 pan or two round pans so it's thicker and taller.
What size pan do you need for a sheet cake?
Sheet pans come in a variety of sizes so use the size called for in your recipe. A quarter sheet pan is 9 x 13 inches, a half sheet pan is 18 x 13 inches, and a full sheet pan is 26 x 18 inches. A jelly roll pan is 15 x 10 inches.
Often a Texas sheet cake is baked in a half sheet pan but this recipe makes a smaller cake, 15 x 10 inches (jelly roll pan).
Is a cookie sheet the same as a sheet pan?
A cookie sheet is a flat baking sheet without a rim. It usually has a small raised edge on one side for easy grasping.
A sheet pan has a one inch edge all the way around the pan. Can you bake cookies on a sheet pan? Certainly!
Check out this website if you still have questions.
How to make this cake your own
Omit the pecans, if desired, or substitute another nut of your choice.
If you don't care for the cinnamon, just leave it out.
Make Ahead Ideas
If you want to save time, you could mix up the dry ingredients up to 3 days in advance and store in a covered container.
Storage Suggestions
Texas sheet cake won't stick around long, I'm almost sure of that. Leftover cake, covered with plastic wrap, can be stored at room temperature for a day but if it's going to be much more than that, you probably should put it in the fridge, where it will keep up to four days.
This cake can also be covered with plastic wrap, then foil, and frozen for up to a month. However, the texture may change slightly and it is best eaten fresh.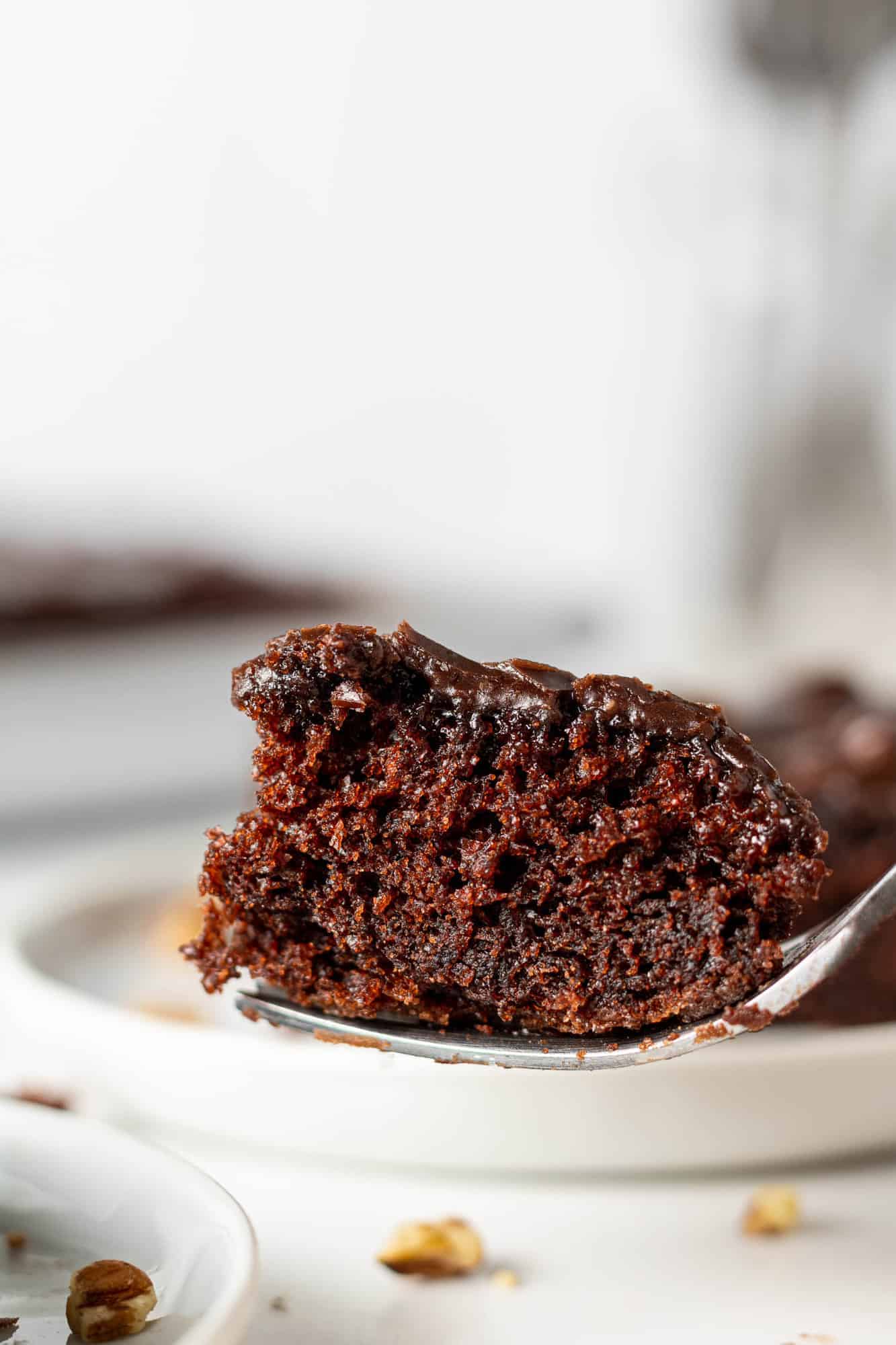 More cake recipes
I've rounded up (get it? Texas? cows?) a few more cake recipes for you:
Did you make this? Be sure to leave a review below and tag me @rachelcooksblog on Facebook, Instagram, or Pinterest!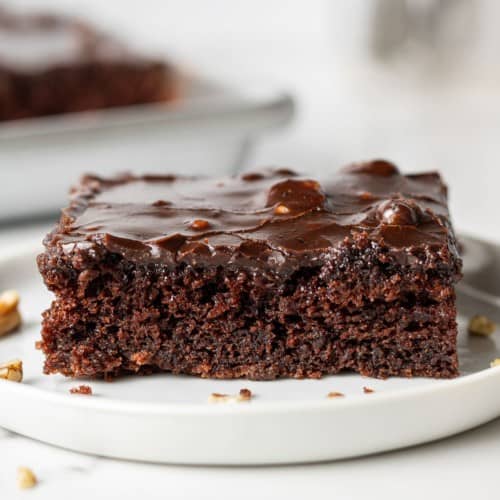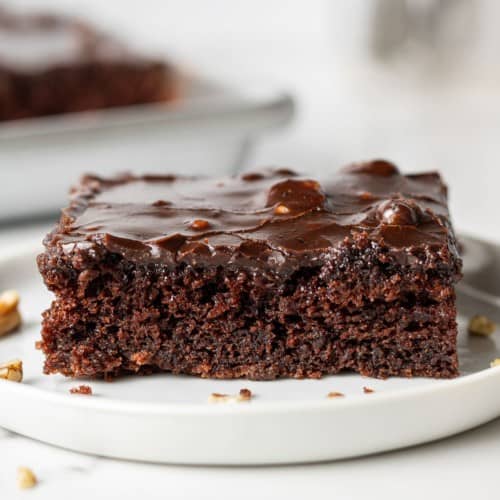 24 small servings
Prevent your screen from going dark
One of the easiest chocolate cakes to make, Texas sheet cake has a hint of cinnamon and is topped with chocolate frosting laced with toasted pecans.
Instructions
Cake:
Preheat oven to 375°F. Prepare a 15 x 10-inch jelly roll pan by spraying lightly with cooking spray; dust with flour. Set aside.

In large bowl, whisk together flour, sugar, baking soda, ground cinnamon, and salt. In measuring cup, measure out buttermilk, and add vanilla and eggs.

Combine water, butter, and cocoa in a small saucepan; bring to a boil, stirring frequently. Pour into flour mixture. Beat with a mixer at medium speed until well blended. Add buttermilk mixture; beat well.

Pour batter into prepared pan. Bake for 17-18 minutes or until a wooden pick inserted in center comes out clean. Cool cake on a wire rack.
Frosting:
Meanwhile, combine 6 tablespoons butter, milk, and ¼ cup cocoa in a saucepan. Bring to a boil, stirring constantly. Remove from heat. Gradually stir in powdered sugar; stir in vanilla and pecans. Spread over hot cake. Cool completely in pan on wire rack.
Notes
If desired, you can omit the pecans or substitute another nut of your choice.
If you don't care for the cinnamon, you can leave it out.
Storage: Leftover cake can be covered with plastic wrap and stored at room temperature for a day, or in the fridge for up to 4 days.
Nutrition Information
Serving: 1piece, Calories: 210kcal, Carbohydrates: 40g, Protein: 2g, Fat: 5g, Saturated Fat: 2g, Polyunsaturated Fat: 2g, Cholesterol: 24mg, Sodium: 95mg, Fiber: 1g, Sugar: 30g
This website provides approximate nutrition information for convenience and as a courtesy only. Nutrition data is gathered primarily from the USDA Food Composition Database, whenever available, or otherwise other online calculators.
© Author: Rachel Gurk