Simple bibimbap made with canned tuna and spring vegetables. Quick, easy and delicious!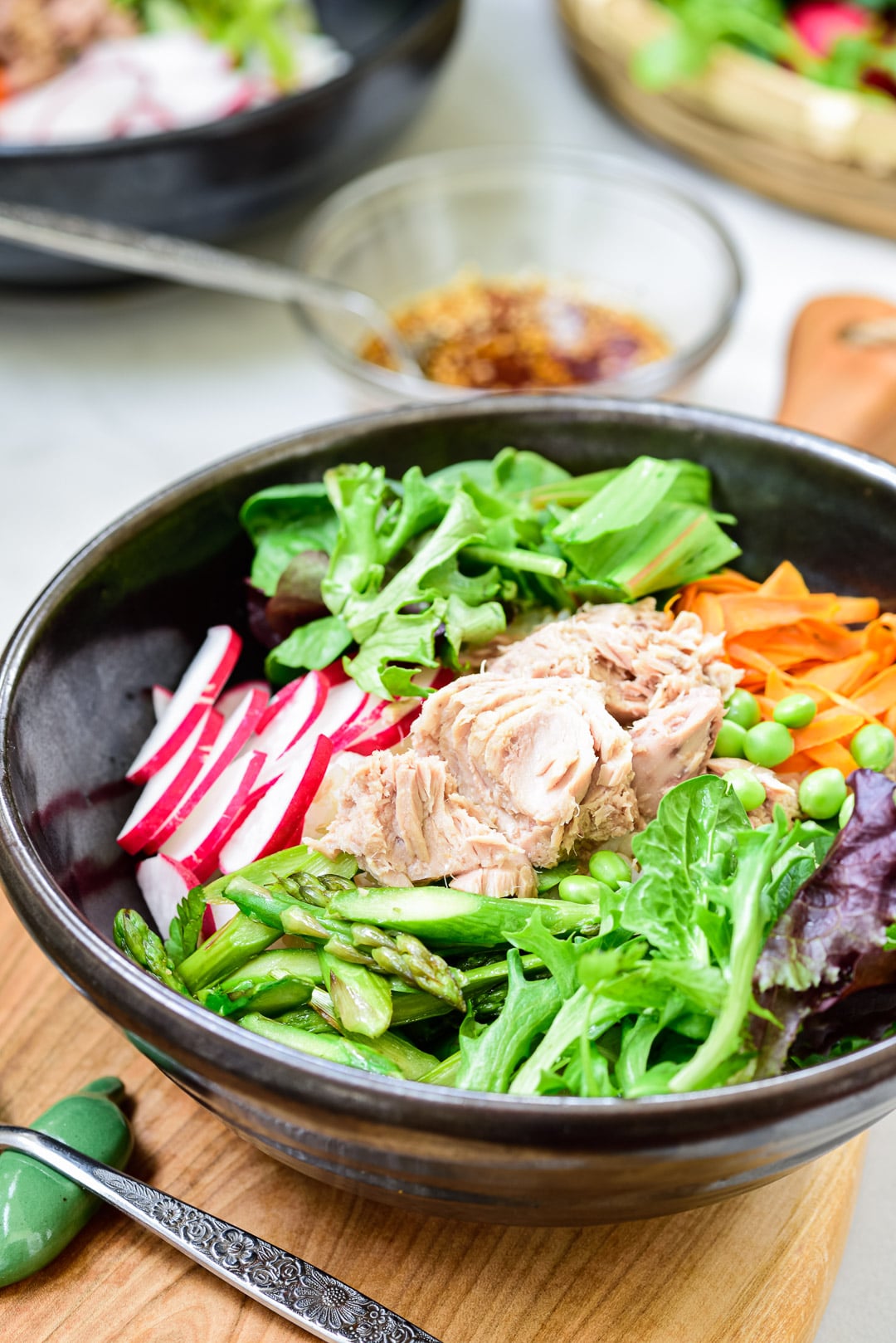 Quick and easy bibimbap, anyone? Bibimbap is a versatile dish, and Koreans make bibimbap with just about anything – leftover side dishes, kimchi, wild mountain vegetables, etc. In spring, vibrant spring vegetables are perfect for bibimbap. I love this simple version made with some of my favorite spring vegetables and canned tuna.
The best part of it is that you don't need to cook much. In fact, you can definitely make this dish with fresh raw vegetables only and skip the stove entirely.
Hope you enjoy this quick bibimbap recipe for a healthy spring meal!
The vegetables
In this recipe, I used asparagus, red radish, fresh green peas, carrot, and spring mix. Feel free to substitute any of the vegetables with your favorite spring vegetables or any other vegetables for that matter. 
I like some Korean vegetables such as minari, buchu, and kkaennip in this bibimbap. Ramps are great as well. The photo below also includes some chopped minari, kkaennip, and ramps. 
You can simply chop up the leafy vegetables and arrange them on top of the rice. For asparagus and carrots, I thinly sliced and lightly sautéed in a pan. You don't have to cook them if you like.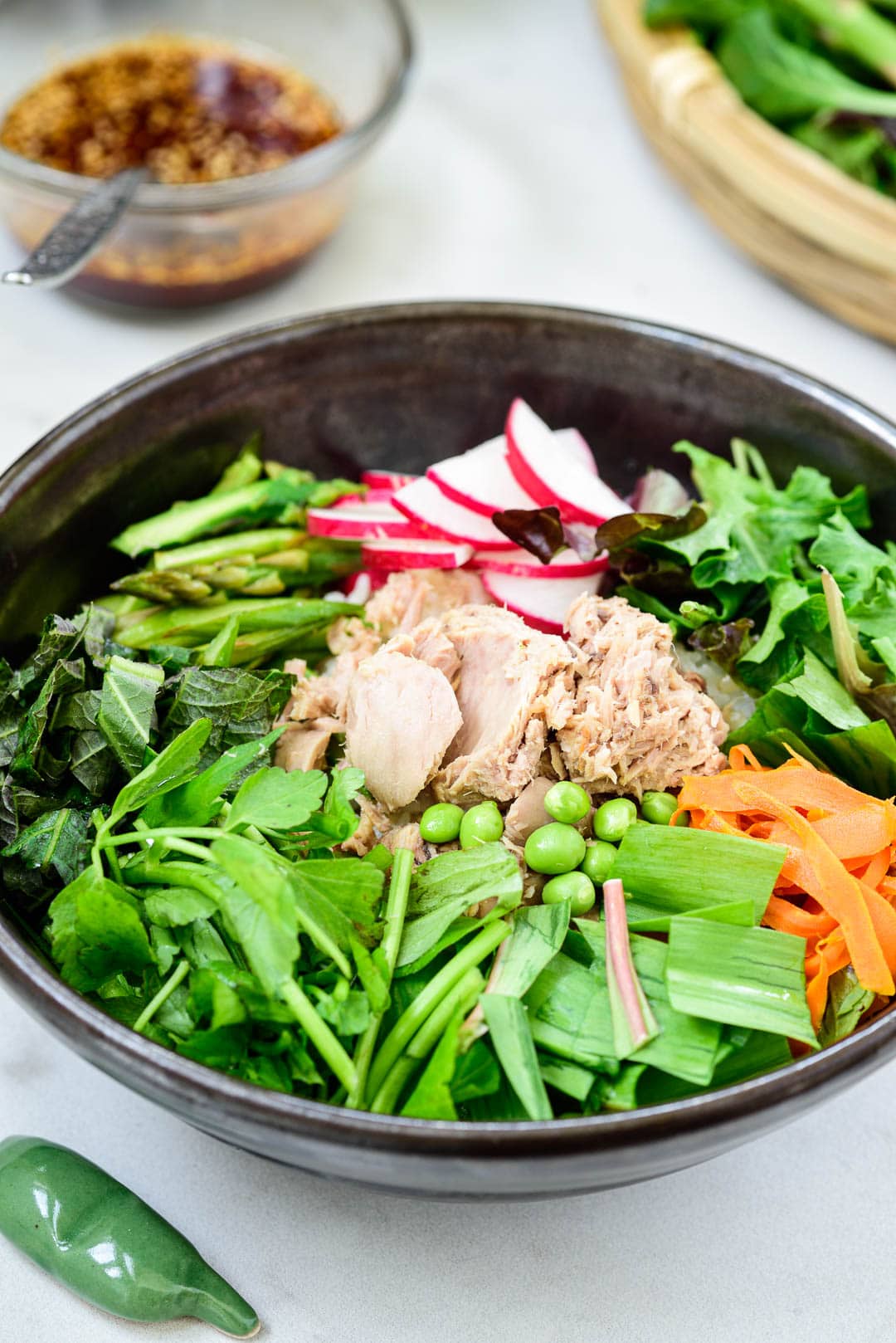 The proteins
I love canned tuna for a quick addition of proteins to various dishes such as tuna kimbap, tuna kimchi jjigae, tuna kimchi fried rice, and even in ssamjang. It's a staple in my pantry. For other variations, try other canned or grilled fish or meat such as salmon and chicken. Tofu is great as well. Top it with a fried egg if you like. 
Bibimbap sauce
A gochujang (red chili pepper paste) sauce is usually used in traditional bibimbap, but a soy sauce-based sauce works wonderfully well with this dish. You can make it spicy by adding gochugaru, adjust to your taste. I find a little bit of fresh lemon juice is nice for this tuna bibimbap, but you can use a little bit of vinegar instead or omit it. 
In this recipe, I've included all three options for you to choose from — gochjuang sauce, mild soy based sauce, and spicy soy based sauce.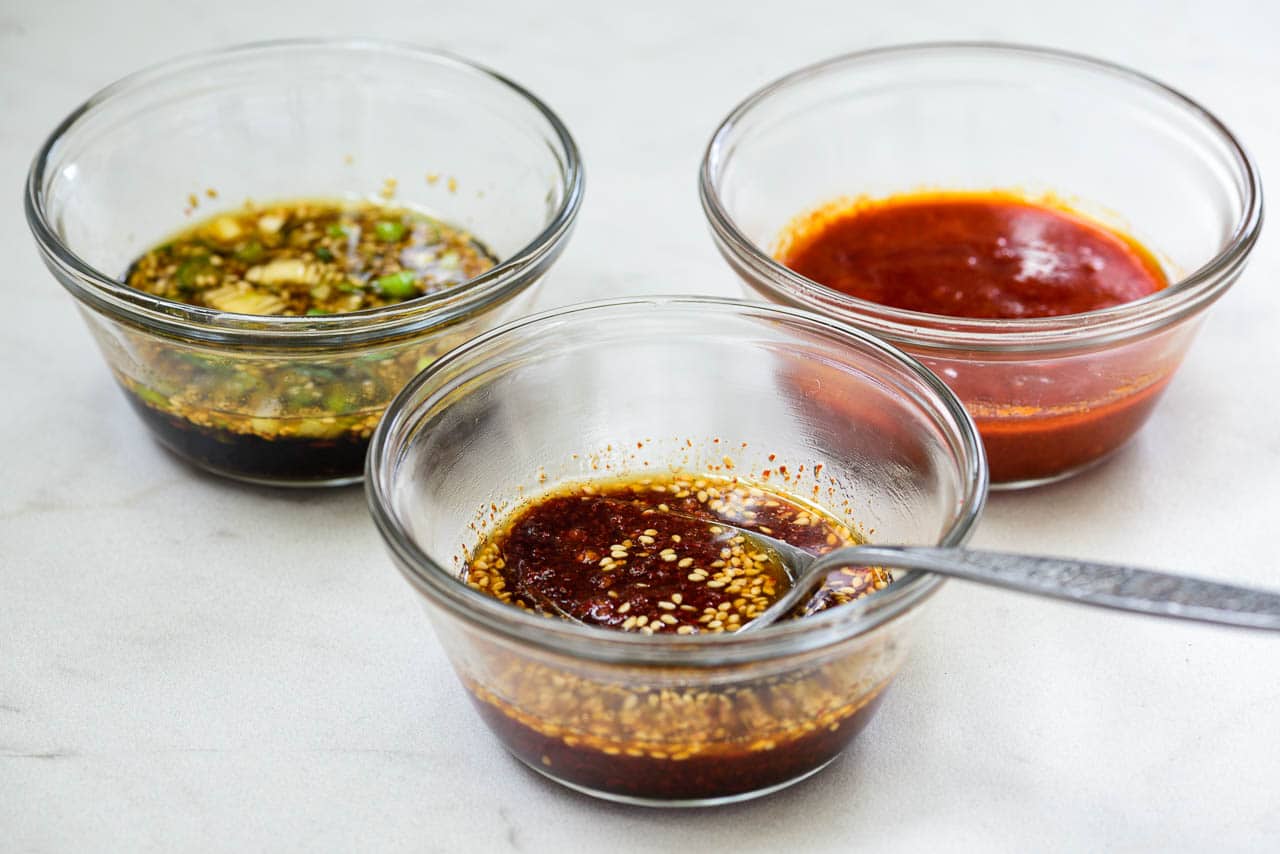 More bibimbap recipes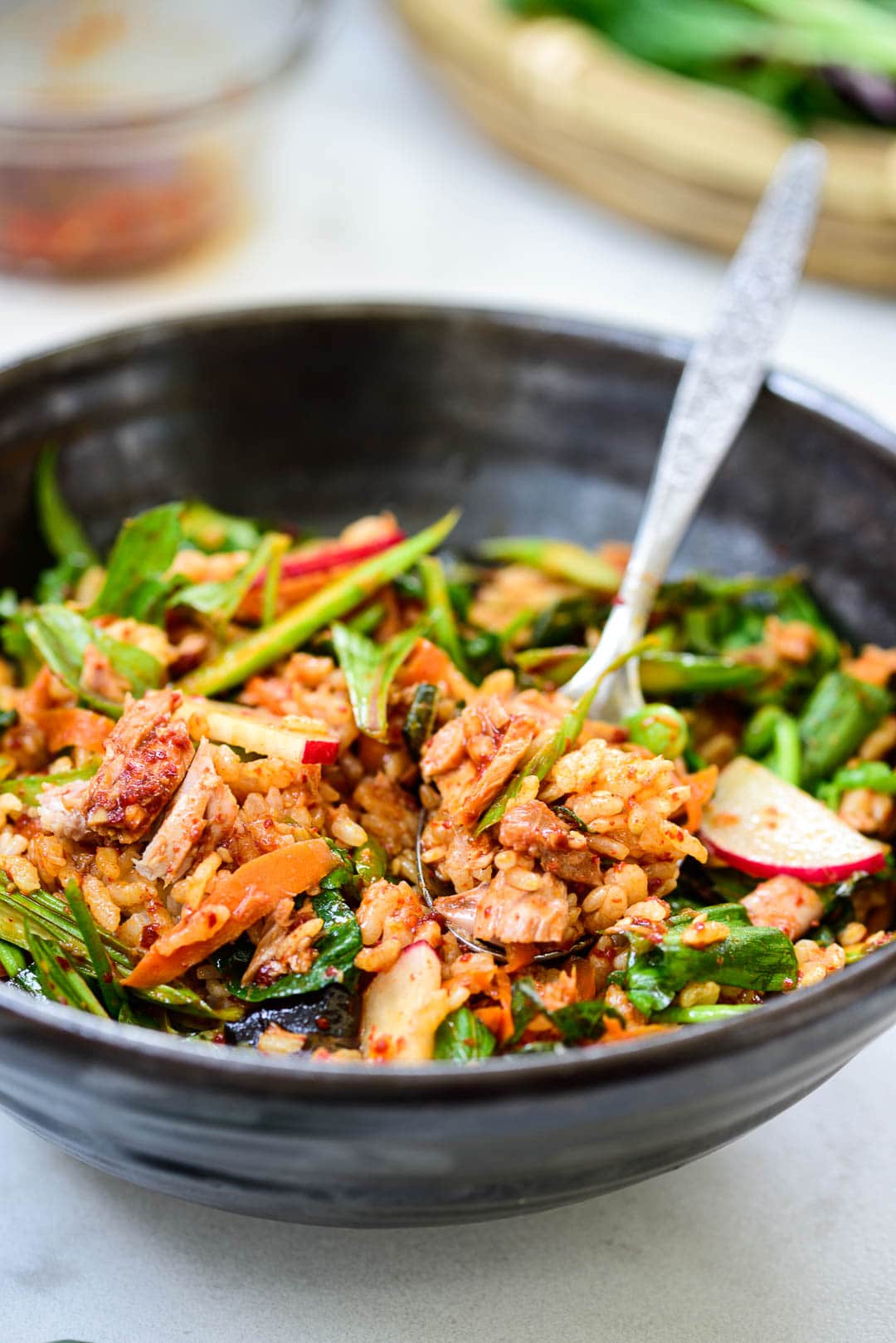 For more Korean cooking inspirations, follow  along on YouTube, Pinterest, Twitter, Facebook, and Instagram.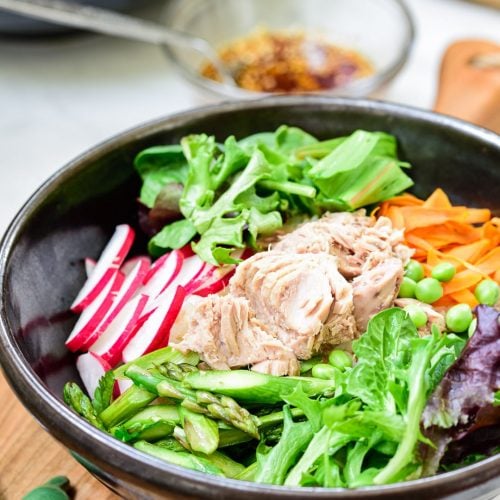 Tuna bibimbap with spring vegetables
Main
Servings: 2
Ingredients
For the sauce (Choose one of these three) – See note
Instructions
Mix all the sauce ingredients well and set aside.

Thinly slice the asparagus, carrots, and red radish into bite size pieces. If the carrot is thick, cut in half lengthwise first and then thinly slice diagonally. Cut the radishes into match sticks. Roughly chop any large green leafy vegetables.

Cook the peas in salted boiling water until cooked through, 6 – 8 minutes (less if frozen). Heat a lightly oiled pan over medium high heat. Separately sautéthe asparagus then carrots for a minute or two. You cansautéthe scallion briefly if you like. The vegetables should be crispy.

Place a serving of rice in a big bowl. Nicely arrange a small amount of each vegetable and tuna over the rice. Serve with the sauce.
Notes
Each sauce recipe is for 2 servings, but you'll probably want to double or triple it to have more bibimbap later. 
This recipe was originally posted in May 2013. I've updated it here with new photos, more information, and minor changes to the recipe.