These Asian Chicken Lettuce Wraps combine crispy chicken, sweet mangoes, crunchy chow mein noodles, and nutty sesame seeds all in a lettuce wrap. Drizzle on the sweet (5-ingredient) Asian-inspired dressing and be prepared for a taste-bud explosion!
Craving more crunch? Pair these lettuce wraps with this cool Asian cucumber salad or this easy Roasted Broccoli.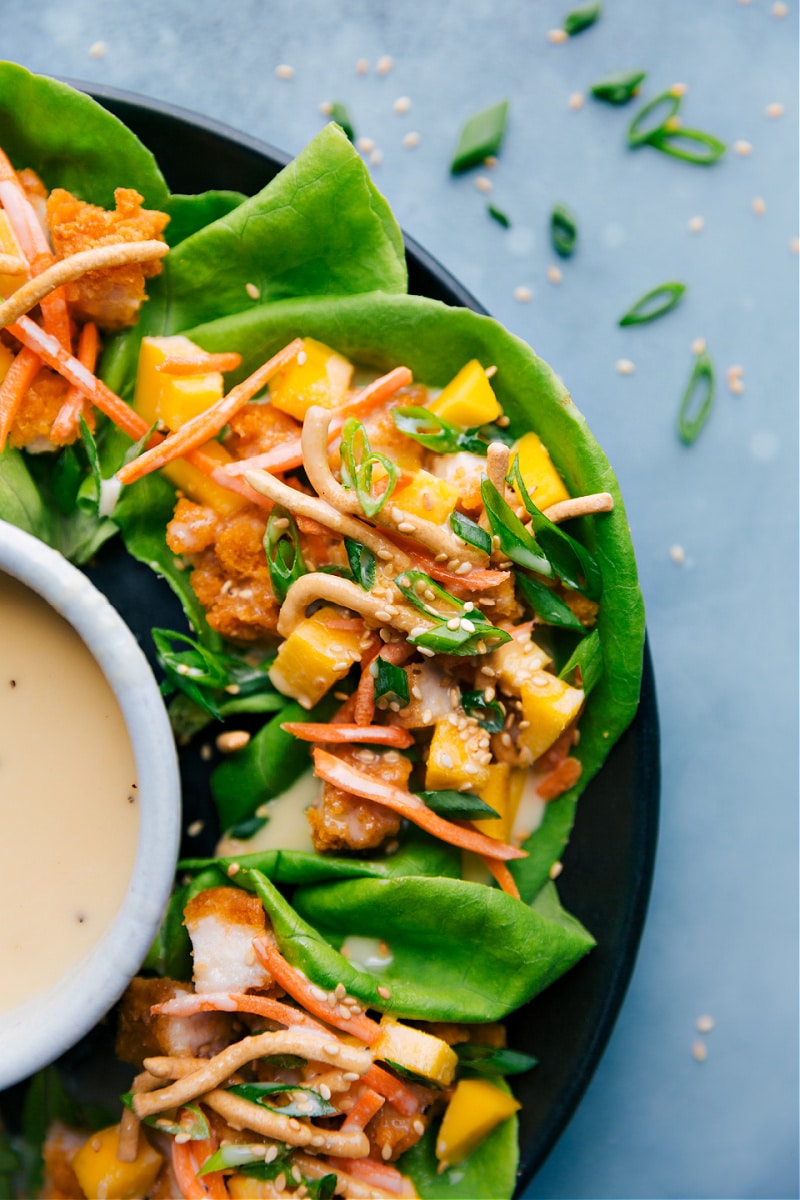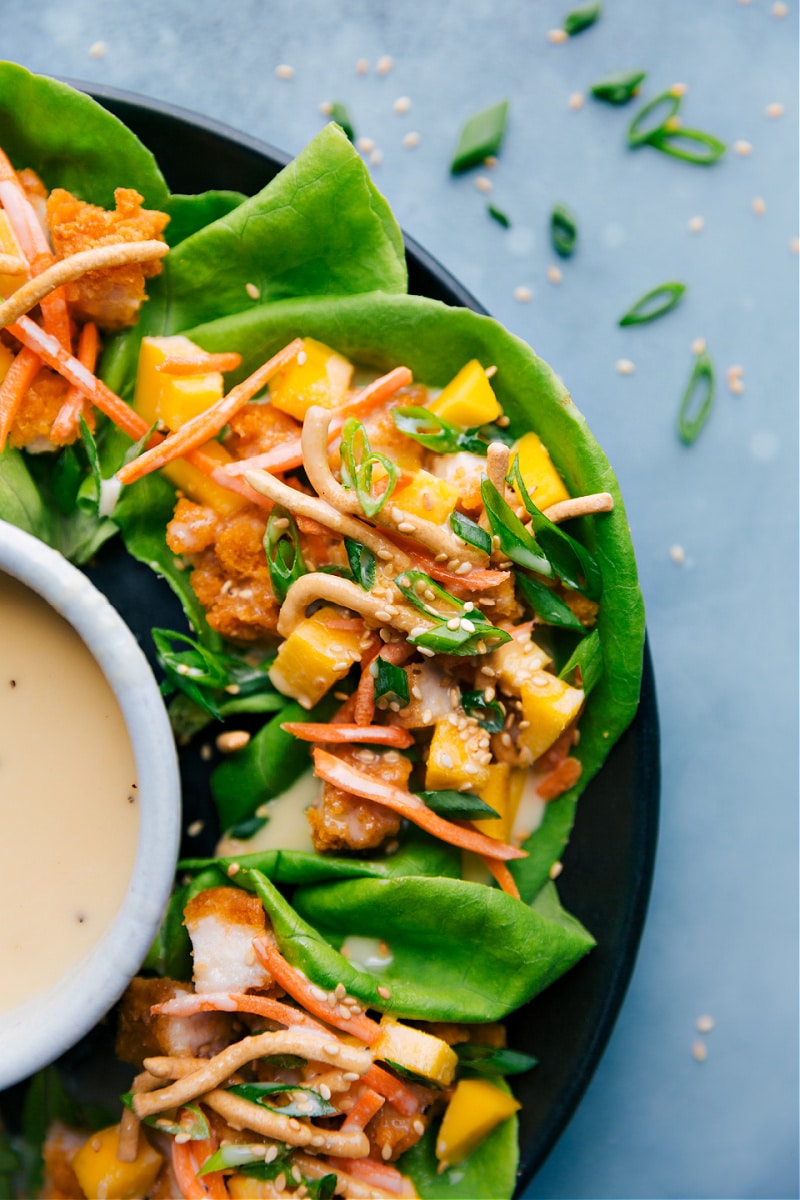 Asian Chicken Lettuce Wraps
These lettuce wraps have been a huge summer favorite at my house. They're super quick to make, light, refreshing, full of texture & flavor, and there's no need to turn on the oven to make them. Which is definitely a must-have in 100-degree weather! We whip out the air fryer to get ultra-crispy chicken in about 11-12 minutes, and by the time they're done, just about everything else is ready to go!
How is this so? We take advantage of a whole bunch of store-bought shortcuts to have these wraps on the table in a hurry; we'll discuss these shortcuts below.
SHORTCUTS
Asian Chicken Lettuce Wraps Short-Cuts
These lettuce wraps are intended to be on the table in 30 minutes or less. A few kitchen shortcuts get us there, but don't worry– we aren't sacrificing flavor — these wraps are loaded with plenty of it!
Matchstick carrots. Instead of cutting your own carrots into matchsticks, grab pre-shredded carrots in the produce section of the grocery store. They're usually right by baby and/or full-sized carrots.
Crispy chow mein noodles. No — you don't need to deep fry your own noodles for this irresistible topping; you can buy these at the store! These are deep-fried crunchy golden egg noodles and are typically found in the international aisle with Asian products or in the dry pasta aisle of the grocery store. 
Already peeled & cut mangoes. A lot of grocery stores offer peeled and cut mangoes in the produce section. Although they cost a little more, these do save a lot of prep time. Instead of peeling and cutting the mangoes, you just need to dice the already-cut spears. 
Crispy chicken tenders. The biggest shortcut of them all — you don't need to make the chicken for these wraps (can I get a woo-hoo!).  More on this short-cut for chicken tenders below.
Crispy Chicken Tenders
Taste of Home® shares the best chicken to use for this recipe. I personally use Tyson's® crispy chicken strips for these lettuce wraps (not sponsored). I recommend baking or air frying the chicken tenders, not microwaving them, for these Asian Chicken Lettuce Wraps. (If you do have an air fryer, that is our favorite method — it's super quick, you don't need to wait for the oven to preheat, and it yields the best texture!) Let chicken tenders cool to a warm temperature and then thinly slice and add to the salad.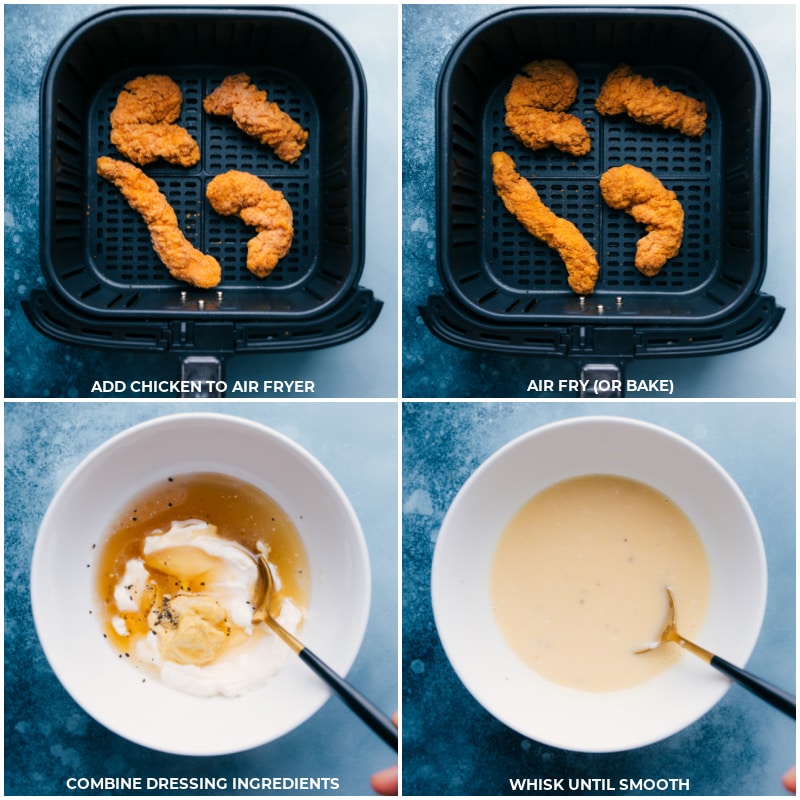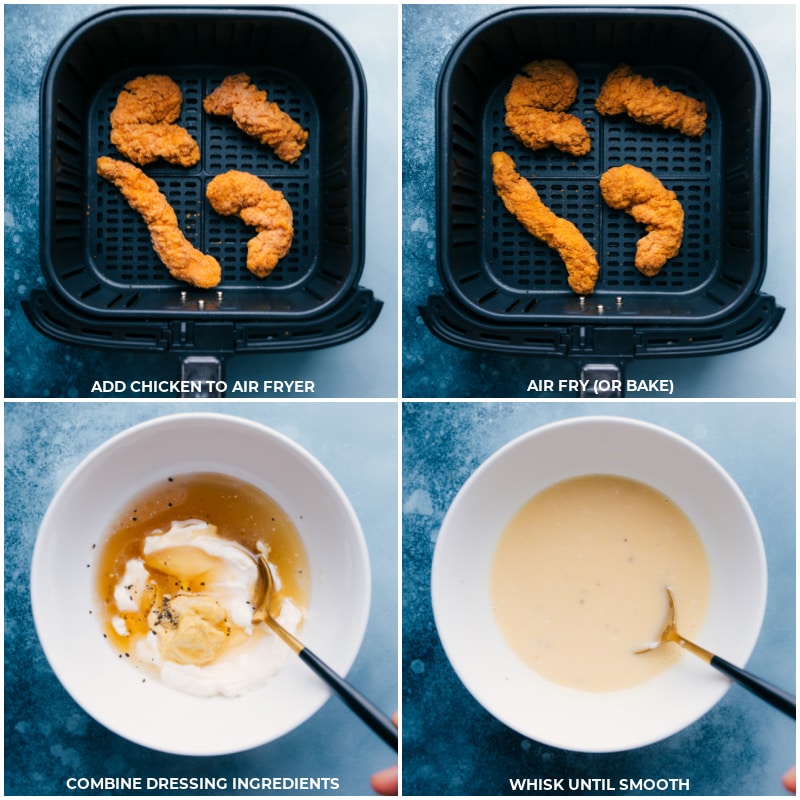 Asian Chicken Lettuce Wraps Dressing Ingredients
Mayonnaise. We love and recommend Hellman's/Best Foods® mayo; it has a robust flavor without being too sweet.
Dijon mustard. We love Grey Poupon® Dijon best. Make sure to use Dijon, not yellow mustard. There's a big flavor difference! 
Sesame oil. Even though there is a very small amount in this dressing, it really delivers a great authentic flavor and is the "secret" ingredient in this dressing. This oil is typically found in the Asian ingredients area, rather than with the other oils in the grocery store. We love the flavor of toasted sesame oil best! 
Rice vinegar: This balances the sauce and adds a subtle tang. If you see a label saying rice wine vinegar, it's the same thing.
Honey. We prefer this dressing on the sweet side, but if you don't, add the honey slowly and to taste.
QUICK TIP
This dressing mixes best by being thoroughly whisked with a small whisk instead of being stirred with a spoon or fork.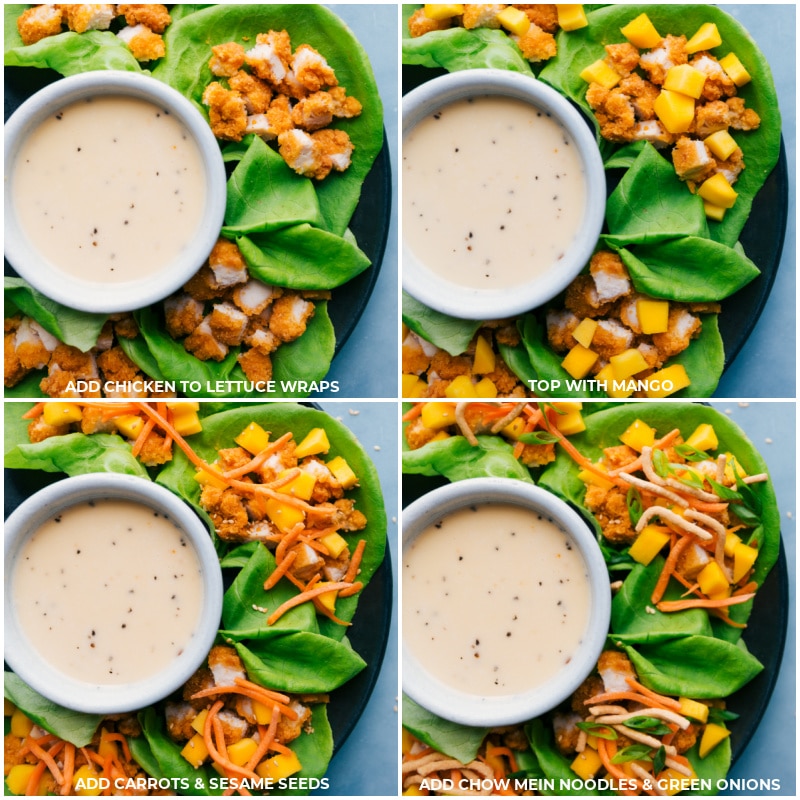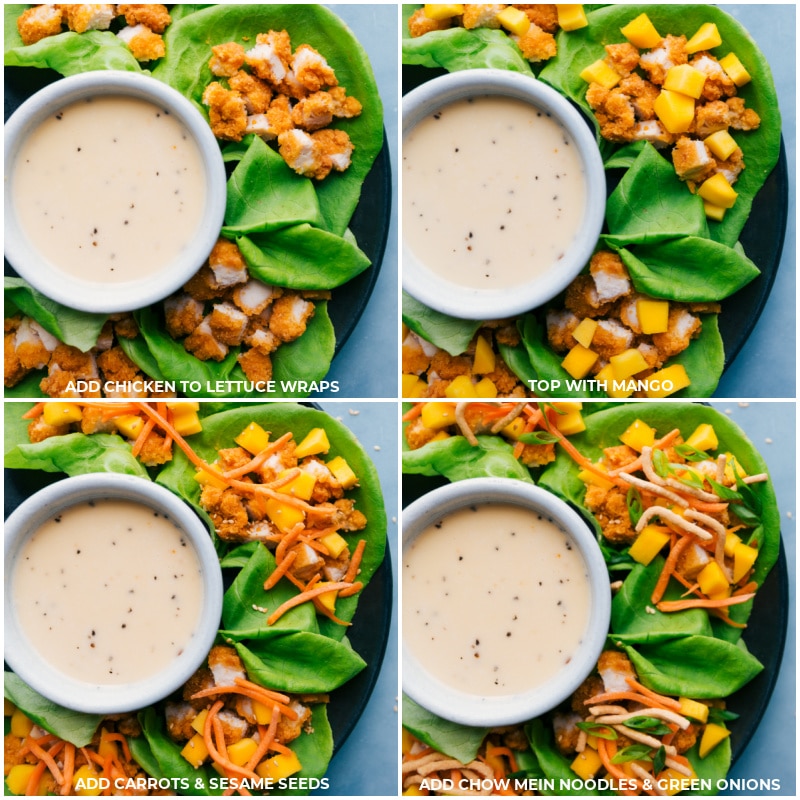 VARIATIONS
Asian Chicken Lettuce Wrap Variations
One of the fun things about lettuce wraps is just how easy they are to customize. Below are a few ideas to add more veggies or change up the ingredients in these wraps:
Add sliced toasted almonds– These would be a good replacement for chow mein noodles to add crunch.
Replace the mango with clementine oranges or diced pineapple — This way there is still a tropical fruity element!
Add red cabbage — Thinly sliced along with the carrots to bulk up the amount of veggies.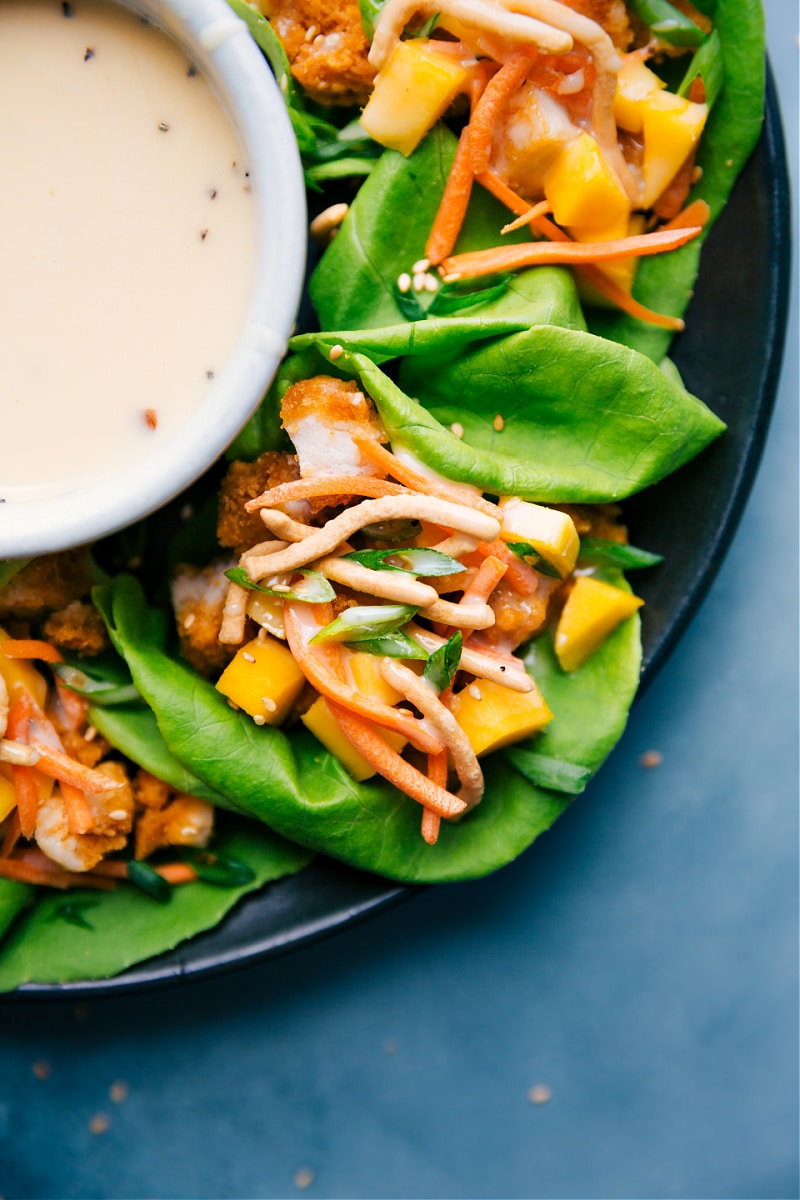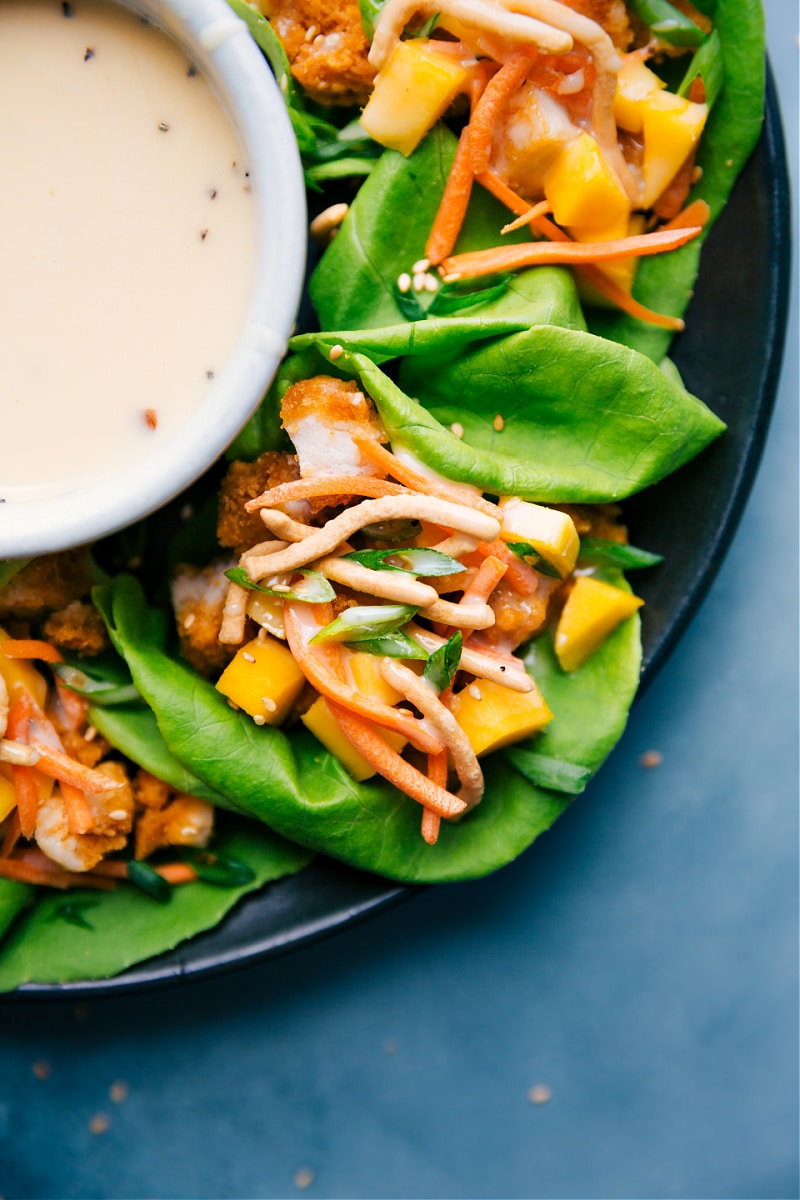 QUICK TIP
Lettuce Options
Our favorite lettuce for these Asian Chicken Lettuce Wraps is butter lettuce (also known as Boston or Bibb). It has a nice flavor, the perfect amount of crispness, and rolls up nicely.
Green leaf and iceberg also work nicely in a lettuce wrap. Asian-style wraps are especially nice with crispier lettuce like iceberg. That said, iceberg lettuce tends to be harder to wrap as it breaks easily.
In a pinch, romaine lettuce is also a workable option.
More lettuce wrap recipes
Asian Chicken Lettuce Wraps
These Asian Chicken Lettuce Wraps combine crispy chicken, sweet mangoes, crunchy chow mein noodles, and nutty sesame seeds all in a lettuce wrap. Drizzle on the sweet (5-ingredient) Asian-inspired dressing and be prepared for a taste-bud explosion!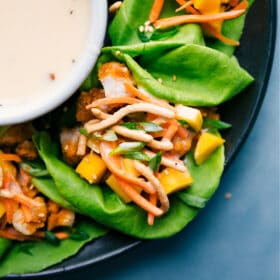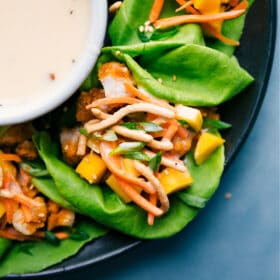 Asian Chicken Lettuce Wraps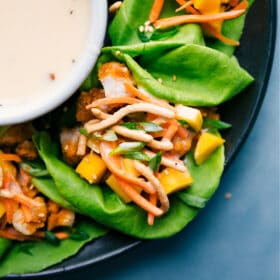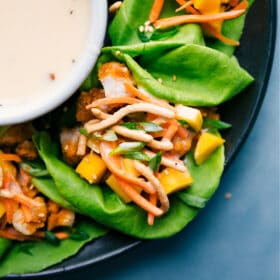 These Asian Chicken Lettuce Wraps combine crispy chicken, sweet mangoes, crunchy chow mein noodles, and nutty sesame seeds all in a lettuce wrap. Drizzle on the sweet (5-ingredient) Asian-inspired dressing and be prepared for a taste-bud explosion!
Ingredients
13

oz. (320g)

frozen breaded chicken tenders

Note 1

12

large

lettuce leaves

Boston or butter lettuce works best

1-1/4

cups (205g)

diced ripe mango

Note 2

1-1/4

cups (110g)

matchstick carrots

12

tablespoons

crispy chow mein noodles
Optional: toasted sesame seeds, thinly sliced green onions
Dressing
1/3

cup (67g)

mayonnaise

(we love Hellman's/Best Foods)

3

tablespoons (68g)

honey

2

tablespoons (28g)

rice vinegar

1/4

teaspoon

toasted sesame oil

1-1/2

teaspoons

Dijon mustard
Instructions
CHICKEN: Start by preparing chicken tenders according to package directions (We like air frying them best — they're done in about 11-12 minutes!). Let cool to warm and then dice into small pieces.

LETTUCE LEAVES: Wash and completely dry 12 lettuce leaves.

DRESSING: While chicken is cooking, prepare the dressing by whisking together all the dressing ingredients. Season to taste with salt and pepper; I add 1/4 tsp fine sea salt and 1/8 tsp. pepper.

ASSEMBLY: Divide the cooked, diced chicken evenly among the 12 lettuce leaves. Divide the carrots and mangoes evenly among the leaves. Add 1 tablespoon chow mein noodles to each lettuce wrap. If desired, sprinkle on toasted sesame seeds and thinly sliced green onions to each wrap. Drizzle sauce generously over the wraps and enjoy immediately (Dunk the wraps in any leftover sauce — yum!).

STORAGE: Dressed wraps don't sit well, so if you want to have leftovers or make ahead, store everything separately. Whisk dressing again before topping lettuce wraps.
Recipe Notes
Note 1: Chicken tenders: I use Tyson® Crispy Chicken Strips (not sponsored) which cook up in about 18 minutes or 11-12 in the Air Fryer. Make sure to cook them in the oven or air fryer, not the microwave. (We're after a crispy texture!) Use whatever chicken tenders you like; you can even do homemade chicken strips. 13 ounces is about 5 chicken tenders or 2-1/2 cups of diced chicken.
Note 2: Mangos: We love honey mangoes (also known as Ataulfo or yellow mangoes) best in these wraps, but regular mangoes work great as well. (Honey mangoes are sweeter and creamier than regular mangoes.) To tell if the mangoes are ripe, gently squeeze the fruit. If it's ripe, it will give slightly. Wait to make this salad until the mango is at peak ripeness for the best flavor and texture. Here's a quick and helpful visual guide on how to cut a mango.
Nutrition Facts
Serving: 1serving | Calories: 506kcal | Carbohydrates: 45g | Protein: 25g | Fat: 25g | Saturated Fat: 4g | Polyunsaturated Fat: 14g | Monounsaturated Fat: 7g | Trans Fat: 1g | Cholesterol: 67mg | Sodium: 646mg | Potassium: 617mg | Fiber: 3g | Sugar: 13g | Vitamin A: 8002IU | Vitamin C: 20mg | Calcium: 49mg | Iron: 3mg
We do our best to provide accurate nutritional analysis for our recipes. Our nutritional data is calculated using a third-party algorithm and may vary, based on individual cooking styles, measurements, and ingredient sizes. Please use this information for comparison purposes and consult a health professional for nutrition guidance as needed.