This website may contain affiliate links and advertising so that we can provide recipes to you. Read my privacy policy.
Baked Cinnamon Sugar Apple Chips is a healthy crunchy snack that is going to impress! Crunchy, crispy, sweet, and a bit spicy, these are going to change snack time!
I love apples, they are sweet, crunchy, and are divine in all sorts of dishes. Try them in Apple Salad, Apple Cake, and Pork Chops with Apples.
Baked Cinnamon Sugar Apple Chips
Can you believe it, summer is almost over!? Summer seems to just fly by and with fall just around the corner, these crispy Baked Apple Chips make the perfect Fall snack. And the best part is that they are healthy and super delicious, which is a win-win in my book. These Bakes Apple Chips are super simple to make. All you do is slice each apple SUPER thin, sprinkle them with cinnamon sugar, and let the oven do the rest. Easy peasy! Unlike these Baked Apples which are soft and syrupy, these apple chips will be crunchy and spiced with cinnamon.
These make the best snack, perfect for after school, sports snacks, or just munching while you are doing just about anything. The apples you choose to use will vary the taste just a bit. If you like a tart apple use a Granny Smith. Sweeter apples like pink ladies and honey crisps are some of our favorites. Use what you like best. To slice the apples, you can use a knife, or what I like to use is a mandolin slicer, it makes it quicker and gets them thinner because remember you want your apple slices SUPER thin, if they are too thick they don't come out crunchy.
Ingredients for Apple Chips
With only three ingredients, these come together in a pinch and are a perfect snack for after school, sports practice, and munching on during a movie. You have to try these and experiment with your favorite kinds of apples.
Apples: Using a crunchy apple is best. Granny Smith, Honey Crisp, and/or Pink Lady.
Granulated Sugar: White sugar is the best, but you can also try brown for a sweeter flavor.
Ground Cinnamon: Perfect combination for sugar and apples.
How To Make Baked Cinnamon and Sugar Apple Chips
Baking apples slowly over a low temp helps to give them a good crunch. They will continue to crisp as they cool, so don't worry too much if they seem soft when you take them out.
Bake: Preheat oven to 225F degrees. Line two baking sheets with silicone baking mats or parchment paper. Set aside.
Cinnamon and Sugar: In a small bowl, mix sugar and cinnamon together. Set aside.
Slice Apples: Using a mandoline or a sharp knife, thinly slice the apples. Evenly, spread the apple slices onto the prepared baking sheets. Sprinkle cinnamon-sugar mixture over top of each apple slice.
Bake: Bake for 1 hour, flip the apple slices over, sprinkle with more cinnamon sugar, and bake for another hour.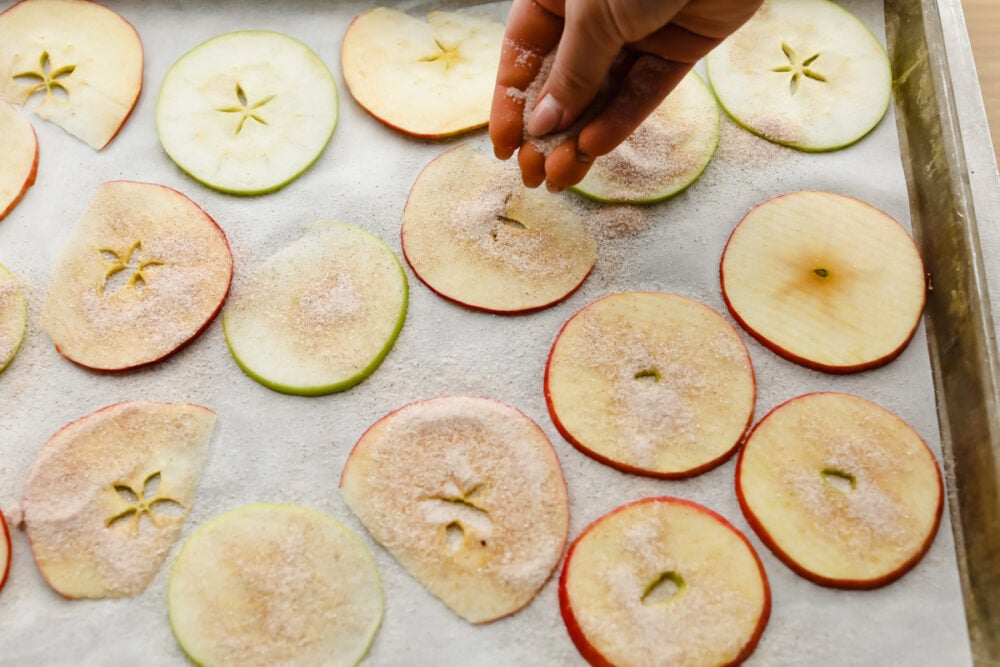 Tips For Crispy Cinnamon and Sugar Apple Chips
Everyone loves a good chip, go with apple chips and make them healthy. Full of nutrients and fiber they are a perfect choice.
Slicing: To really make sure the apples are crisp, you need to slice your apples as thin as possible. I like using a mandolin for this purpose, plus it protects the fingers a bit better. You can also use a sharp knife and cut the apples thinly. The key is to get the apple slices the same size so they are done at the same time.
To Core or not to Core: You do not have to core your apples before slicing. If you do not core them you'll have a fun star shape in the middle. If you core your apples they will look more like a donut. Either way they will turn out perfectly and absolutely delicious.
Topping: Cinnamon and sugar will bake into the apple chips making it a seasoning of choice. You can add different flavors such as nutmeg or pumpkin pie spice for a bit of a twist. You can also just use cinnamon and skip the sugar if you are watching your sugars.
Cool: Letting the apples cool in the oven for up to an hour will help them crisp up faster.
Apples: I like to use Granny Smith, Honey Crisp, and/or Pink Lady. Golden delicious and fugi work well too.
Bake: I like to use parchment paper or a silicone mat to bake my apples on so they come off easily.
Storing Apple Chips
These tasty sweet and spicy chips are not going to last long. Bake them and watch them disappear, they are very addictive. If you do have leftovers store them in an airtight container at room temperature for up to a week. If you live in a very humid climate your chips will soften up faster.
---
In a small bowl, mix sugar and cinnamon together. Set aside.

Bake for 1 hour, flip the apple slices over, sprinkle with more cinnamon sugar, and bake for another hour.
---
Updated on August 27, 2021
Originally Posted on August 19, 2015
---
Serves: 8
Calories86kcal (4%)Carbohydrates23g (8%)Protein1g (2%)Fat1g (2%)Saturated Fat1g (5%)Sodium1mgPotassium73mg (2%)Fiber2g (8%)Sugar20g (22%)Vitamin A37IU (1%)Vitamin C3mg (4%)Calcium14mg (1%)Iron1mg (6%)
All nutritional information is based on third party calculations and is only an estimate. Each recipe and nutritional value will vary depending on the brands you use, measuring methods and portion sizes per household.