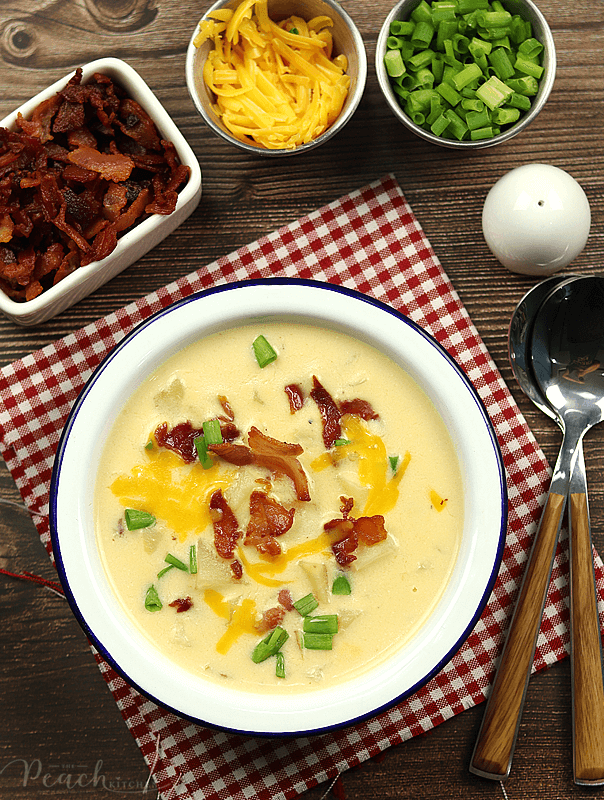 It's been raining for more than a week now. It's windy. It's cold. It's damp. The mood's gloomy. To warm up our tummies and put smiles on my family's faces — I cooked them one of our favorite soups — Baked Potato Soup.
This is one of our go to soup during rainy days aside from the usual Sopas. It's also Ykaie's favorite soup among all the soups I make for them. Kasi naman, it's very rich, creamy, at lasa talagang baked potato in each and every bite — very comforting.
WATCH THE VIDEO HERE: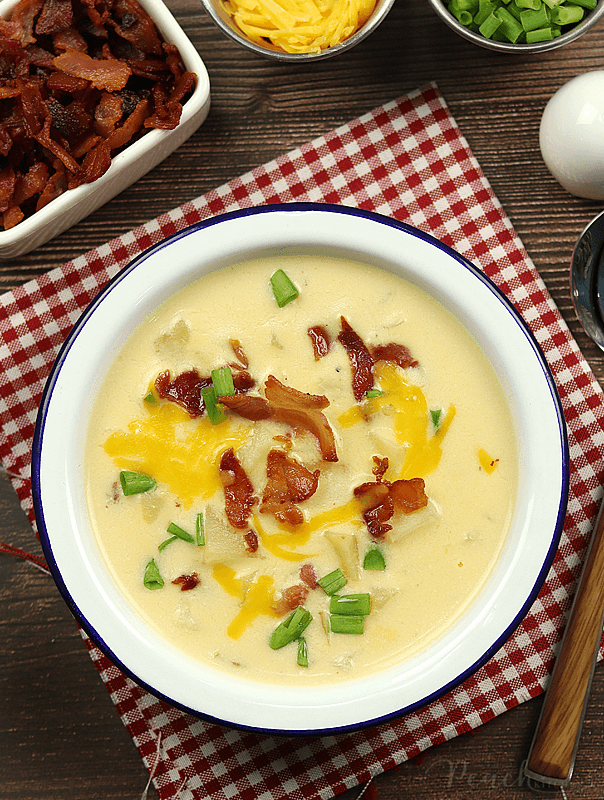 I know it has a lot of ingredients but I'm telling you — it's worth it. And if you're a soup person, you will absolutely love this.
OTHER RECIPES YOU MIGHT LOVE…
Baked Potato Soup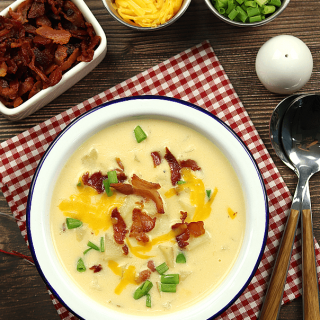 Ingredients
250g bacon crumble OR 5 slices bacon, diced
3 tbsp bacon grease or butter
1 large white onion, chopped
4 cloves garlic, peeled and minced
1 tbsp all-purpose flour
2 chicken cubes
4 cups water
1 large can evaporated milk
5 large potatoes, diced
½ cup cheez whiz
½ cup sour cream
1 teaspoon sea salt, or more to taste
½ teaspoon freshly-cracked black pepper
toppings:
chopped green onions or chives,
extra shredded cheese
extra bacon
Directions
Heat a large pot over medium-high heat. Add the bacon crumble and cook until crisp or brown.
Transfer bacon to a small bowl and leave about 3 tbsp of bacon grease on your pot.
Add onion and sauté until translucent. Add the garlic and sauté for an extra 1-2 minutes, stirring occasionally, until fragrant.
Add the flour into the mixture and sauté for an additional 1 minute to cook the flour.
Pour in the stock, stir until combined, then pour in the milk and stir in the potatoes.
Continue cooking until the mixture just reaches a simmer, before it begins to boil. Then reduce heat to medium-low, cover, and simmer for about 10-15 minutes or until the potatoes are soft. Make sure you stir the soup every so often to prevent the bottom from sticking and eventually burning.
Once the potatoes are nice and soft, stir in the cheez whiz (or shredded cheddar cheese) and sour cream, and half of the cooked bacon crumble (leave the other half for topping later).
Taste and season with extra salt and pepper, if needed.
Serve hot.
Garnish with green onions, bacon crumble, and shredded cheddar cheese before serving.
You can keep the leftovers in a sealed container and refrigerate for up to 3 days… that is if you have leftovers..LOL!
3.5.3251
<!–
–>