These easy, 30-minute Hummus Wraps start with tasty, crisp chickpeas, loads of fresh veggies, and smooth hummus-topped tortillas.
We love quick wrap recipes, here are some of our other favorites: Italian wraps, black bean wraps, Mediterranean wraps, or chicken Shawarma wraps.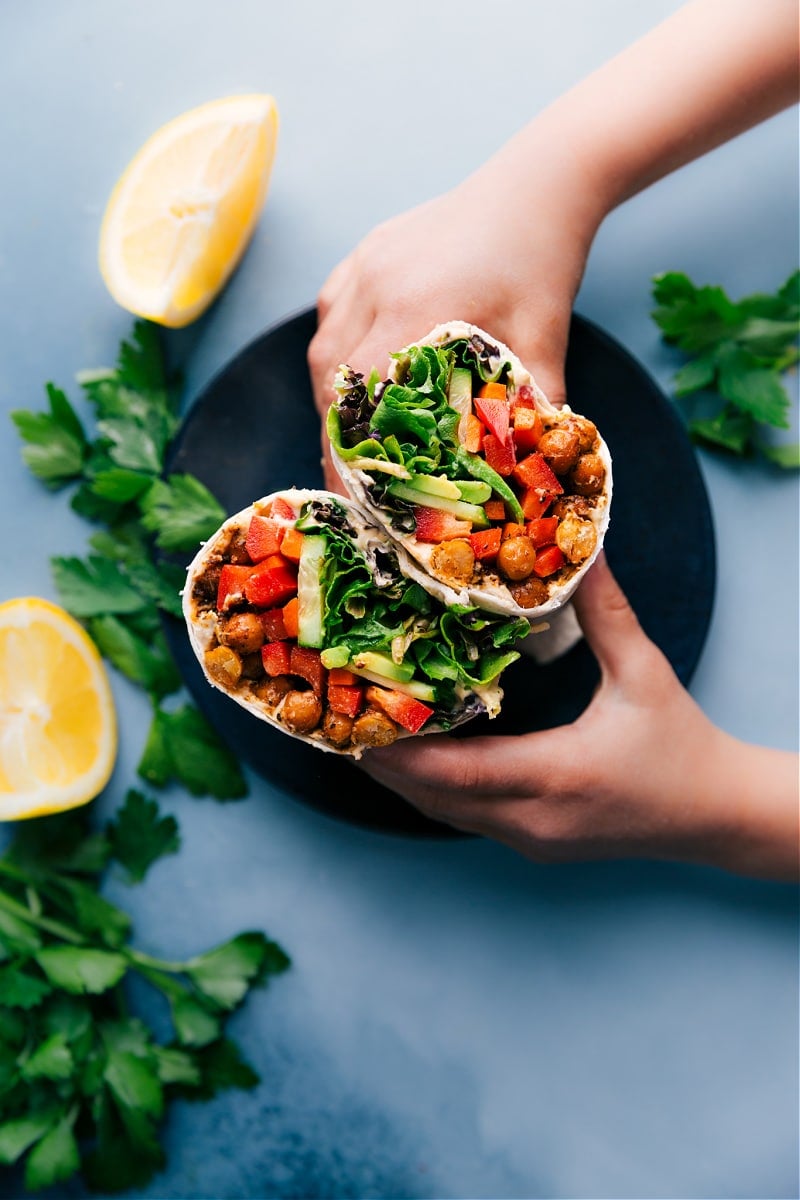 Hummus Wraps
These nutritious, vegetarian wraps are a treat! They're loaded with good-for-you ingredients and wonderful textures — from crisp cucumbers, carrots, and bell peppers to creamy hummus and avocado. And that's not even mentioning the star of the show here — the best chickpeas ever!
These well-seasoned, air fried chickpeas are incredible. They're fragrant, deeply savory, crisp, and the perfect hummus wrap addition. Trust me — you will not miss the meat in this recipe! 🙂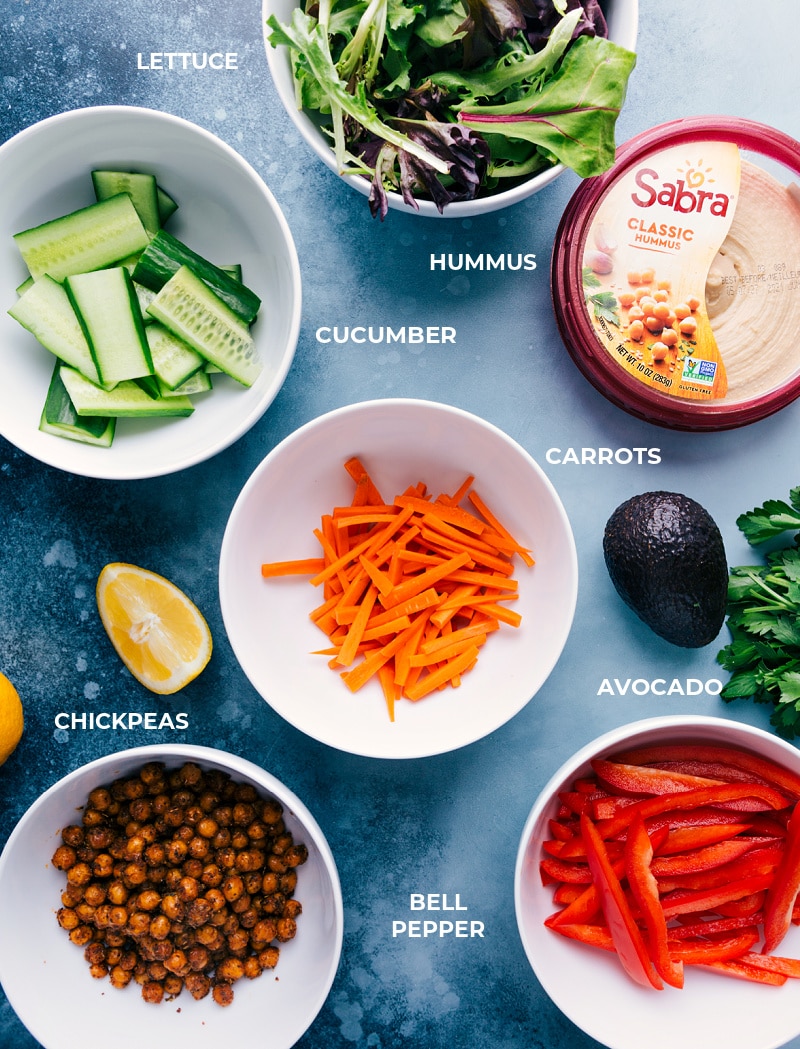 Let's Chat Chickpeas
These hummus wraps are loaded up with seasoned and air-fried chickpeas– also called garbanzo beans — they're one and the same. While it may seem like these wraps might not be as filling without the meat, chickpeas are actually a great source of plant-based protein, making them very satiating.
And don't worry — if you don't have an air fryer, the chickpeas can be roasted in the oven instead — the process is just a little bit longer waiting for the oven to fully preheat and then roasting the chickpeas.
If you do happen to have an air fryer, you are going to love frying chickpeas in it. It lends an amazing crisp texture and takes less than 15 minutes from start to finish. By the way, here's the exact Air Fryer I use and love!
And, Of Course, Hummus
The other "star" of the show for these wraps is hummus of course! To keep things fast and easy, we use store-bought hummus. Grab your favorite hummus (plain or a variety) to load up on the tortillas. The better the flavor of the hummus being used, the better these wraps will taste. Alternatively, use your favorite homemade hummus recipe on these wraps.
1/4 cup of hummus per tortilla may seem like a lot, but it's how we ensure a great texture and flavor with all the veggies getting loaded on.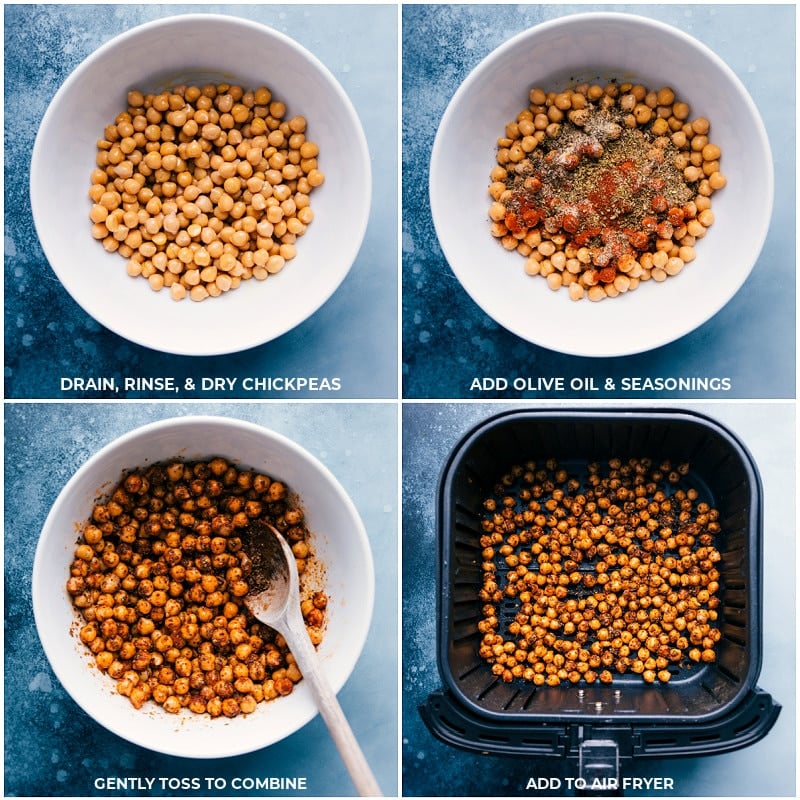 Let's Discuss Tortillas
To keep these more on the nutritious side, use whole wheat tortillas you know you love. The tortillas majorly important to Hummus Wraps flavor and texture, so grab ones you know you love. We personally love the un-baked ones that get quickly thrown into a skillet to warm through — they are so good with homemade wraps! 
While not whole wheat, we love these tortillas by TortillaLand® (not sponsored). They are generally found in the refrigerated section of the grocery store near cheeses. They have a great texture and ensure these wraps taste light and fresh. 
Whatever tortillas you use, I recommend warming them slightly before topping — either cooking up a raw tortilla in a skillet or warm prepared tortillas under a damp paper towel for 10 seconds in the microwave.
QUICK TIP
Don't love tortillas? Load everything into a pita pocket instead!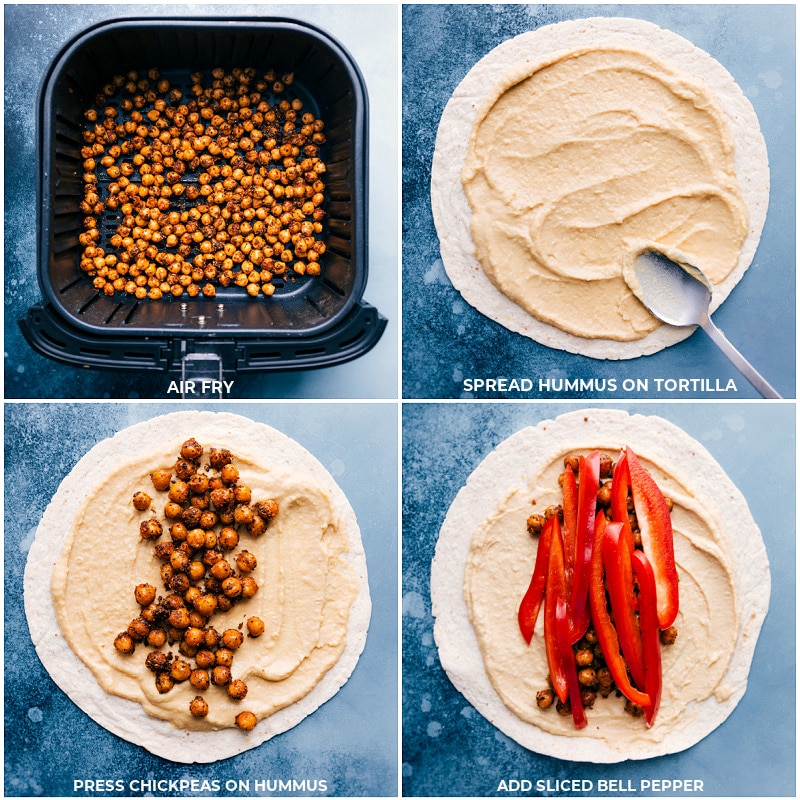 Other Hummus Wraps Ingredients
Lettuce. We like using green leaf lettuce or butter leaf lettuce best. Use a crisp lettuce for best texture and flavor.
English or Persian cucumbers. Persian cucumbers are sometimes labeled as mini/salad cucumbers; see "quick tip" box below"
Sweet bell pepper. Any sweet pepper will work — red, orange, or yellow.
Carrot. Store-bought matchstick carrots are a quicker option here. I typically cut my own matchsticks out of a large carrot, but either works!
Avocado. A ripe and creamy avocado is a game changer for the texture of these wraps! You can tell an avocado is ripe if it yields to firm gentle pressure (feels slightly soft, but not mushy).
Fresh lemon. Lemon pulls all the flavors together and adds a zip of freshness and tang.
Mixed greens & spinach. Our favorite salad blend in these hummus wraps is a 50/50 blend spinach and spring mix leaves, but add your favorite greens. 
Sriracha. While these are still tasty without Sriracha (if you don't like heat), we found Sriracha to be the perfect finishing touch to pull everything together. A little goes a long way and adds loads of flavor!
QUICK TIP
Regular cucumbers don't work as well because they lack flavor and are too watery. We want the crisp crunch from the cucumbers.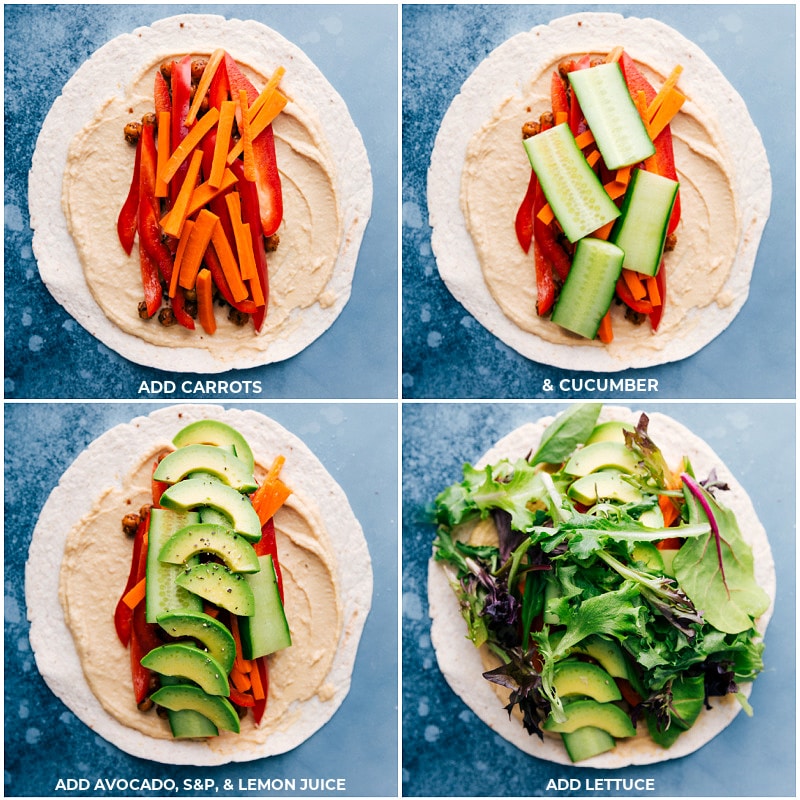 Hummus Wraps Tips
Thoroughly dry the chickpeas before adding to the air fryer or oven roasting. Spices won't adhere well to wet chickpeas, and they'll end up steaming more than roasting/frying with excess liquid.
Add chickpeas in one even layer. If the chickpeas are overlapping or crowded in the air fryer basket (or sheet pan in the oven), they won't get that nice browning and crisp exterior. Browning = flavor!
Serve buffet-style. This recipe makes a great meal to serve to a group — simply set out all the toppings and let people assemble their hummus wraps exactly how they'd like.
Enjoy quickly. These wraps are best eaten right after they're assembled. They tend to get soggy the longer they sit out for.
Hummus Wraps Variation Ideas
Add some seasoned rotisserie chicken along with the hummus (these wraps would no longer be a vegetarian meal).
Add some feta cheese. Feta would add a nice flavor and texture, but also acts as a great finishing seasoning since it's fairly salty.
Swap out or add more veggies. Some ideas: red onion, artichoke hearts, kalamata olives, roma or cherry tomatoes
Add more greens. If you'd like, add a handful of microgreens in addition to the mixed greens
Swap to a different flavored hummus. There are so many flavors of hummus nowadays — both homemade recipes or store-bought. Try a different flavor hummus you know you love in place of plain hummus!
Drizzle with Italian dressing. If you aren't a fan of Sriracha, but would like some more flavor in these wraps, add some Italian dressing to everything before rolling them up. Either homemade (we love the dressing in this Olive Garden salad or store-bought).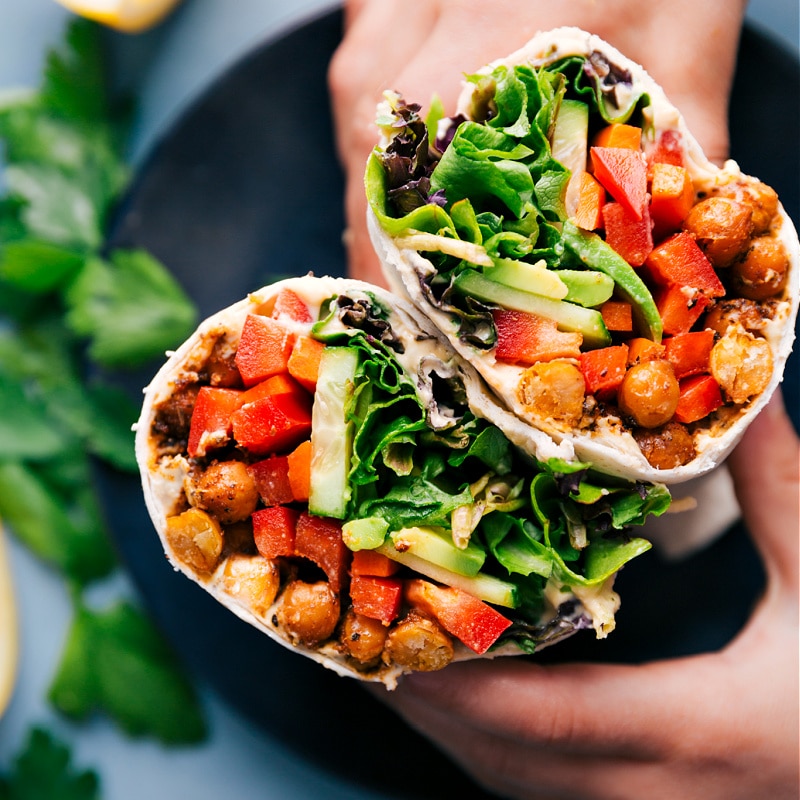 More easy vegetarian recipes
Hummus Wraps
These easy, 30-minute Hummus Wraps start with tasty, crisp chickpeas, loads of fresh veggies, and smooth hummus-topped tortillas.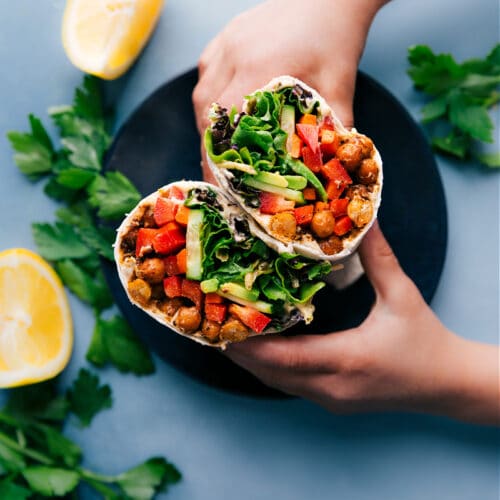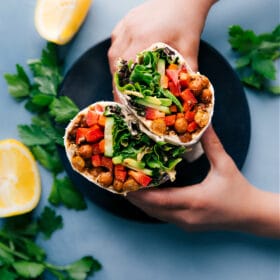 Hummus Wraps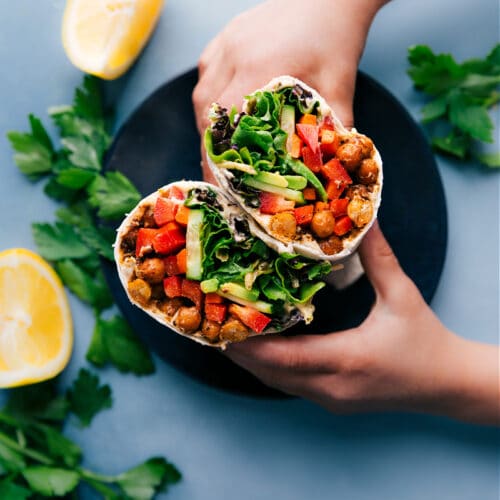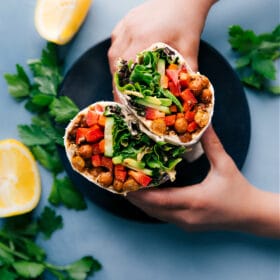 These easy, 30-minute Hummus Wraps start with tasty, crisp chickpeas, loads of fresh veggies, and smooth hummus-topped tortillas.
Ingredients
Chickpeas
1

can (15 oz.; 439g)

chickpeas (garbanzo beans),

drained, rinsed, & dried

2

tablespoons

extra virgin olive oil

2

teaspoons EACH:

paprika, dried oregano

1

teaspoon EACH

dried basil, garlic powder

Fine sea salt & cracked pepper
Wraps
4

thin tortillas

1

cup (240g)

prepared hummus,

separated

2

small Persian/Salad cucumbers

or 1 English cucumber (~1 cup; 132g)

1

red, yellow, or orange pepper

1

large

carrot

(or 3/4 cup matchstick carrots; 70g)

1

small

Hass avocado

4

large handfuls of mixed greens or baby spinach

Optional, but recommended: Sriracha
Optional: fresh parsley, fresh lemon juice
Instructions
PREP: See Note 1 if using an oven instead of Air Fryer. Drain and rinse chickpeas and then dry in a salad spinner or with paper towels (wet chickpeas won't air fry/roast as nicely).

CHICKPEAS: Add chickpeas to a large bowl. Drizzle on oil, seasonings, salt, and pepper to taste (I add 1/2 teaspoon salt and 1/4 teaspoon pepper). Stir until everything until well coated. Put the chickpeas in the air fryer basket (in one even layer) and cook for 11-14 minutes (we like them best at 12 minutes) or until crisp, but not hard. Shake the air basket at the halfway point to ensure even frying.

VEGGIE PREP: Cut off ends from cucumbers. Cut in half lengthwise and then cut into 1/4th inch thick strips. Thinly slice a bell pepper. Cut a carrot into matchsticks. Thinly slice avocado.

ASSEMBLY: Lay out the tortillas. Spread 1/4 cup (60g) hummus on each tortilla — smooth all over the tortilla. Top with 1/4th of the air fried chickpeas (about 1/3 cup per tortilla), pressing gently down the center of the tortilla into the hummus to ensure they stick. Top with veggies divided evenly among each wrap: cucumber sticks, bell pepper slices, carrot slices, avocado slices, and finally a large handful of mixed greens, and if desired, a few sprigs of fresh parsley. Drizzle everything with lemon juice OR Sriracha (or both; we love lots of Sriracha!) and another pinch of salt and pepper. Roll up tightly and enjoy immediately!
Recipe Notes
Note 1: To roast chickpeas instead: Preheat oven to 400 degrees F (200 C). Generously grease a sheet pan with cooking spray. Spread the chickpeas out in an even layer (not overlapping) on the tray. Roast for 18-22 minutes, shaking the tray at the halfway mark (we like them best at 20 minutes), roast until they're crisp, but not hard. Remove and set aside. 
Nutrition Facts
Serving: 1serving | Calories: 416kcal | Carbohydrates: 48.6g | Protein: 12g | Fat: 21g | Sodium: 499.1mg | Fiber: 13.9g | Sugar: 4.9g
We do our best to provide accurate nutritional analysis for our recipes. Our nutritional data is calculated using a third-party algorithm and may vary, based on individual cooking styles, measurements, and ingredient sizes. Please use this information for comparison purposes and consult a health professional for nutrition guidance as needed.