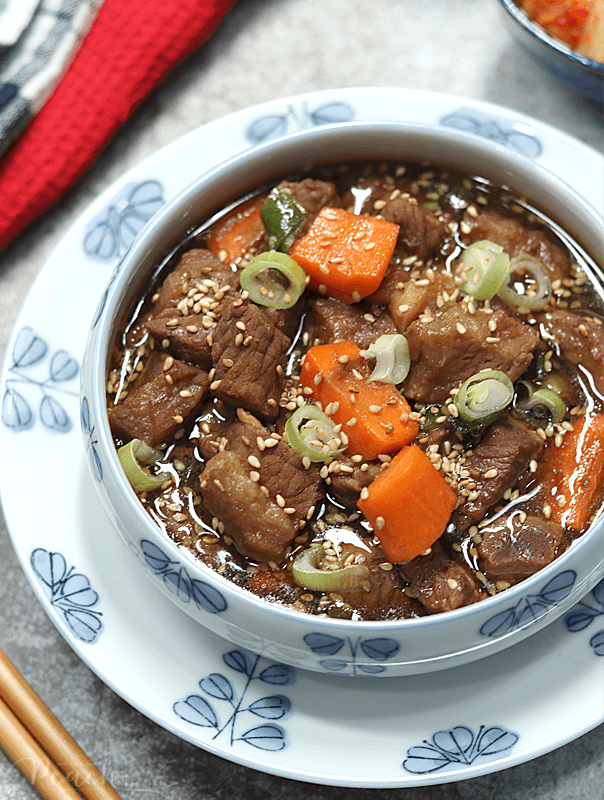 Feeling Korean na naman ang kumare nyo!  I think epekto ito ng kakanood ng K-Drama… I think it's a good thing, though, nalilibang na ko, may ulam pa kami..LELz! This Korean Beef Stew may look intimidating but it's really very easy to cook. All you have to is just sauté and combine the ingredients together and it will result in such a great tasting dish that will make you eat more rice.
WATCH THE VIDEO HERE: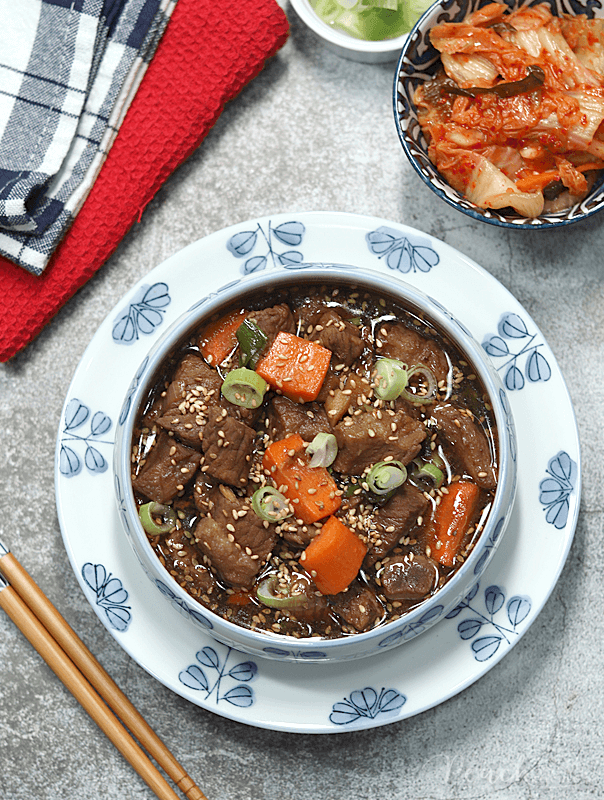 The first time I made this, I used beef sirloin but later on, I figured using beef brisket is much better because it's a much flavorful cut of beef. You may opt not to use carrots too but it adds nutrients to this dish and of course, extender na rin.
What I love about this dish is that the ingredients are easily available and some are in my kitchen already. It's really not a complicated dish and I'm sure your whole family will love it.
OTHER RECIPES YOU MIGHT LOVE…
Korean Beef Stew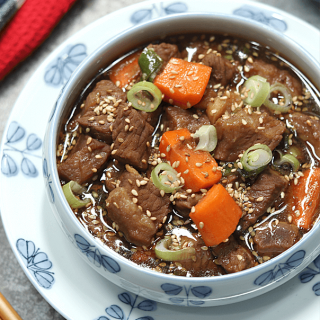 Ingredients
500g beef brisket, cut into cubes
4 tbsp canola oil
3 cloves of garlic, minced
1 tbsp of ginger, minced
1 onion, chopped
2 cups beef stock or
2 cups water and 1 beef cube
¼ cup soy sauce
1 tbsp liquid seasoning
2 tsp sesame oil
¼ cup sugar
¼ tsp pepper
1 tbsp toasted sesame seeds
2 tbsp onion leeks chopped
Directions
Sauté garlic, onion and ginger in heated oil until they're a little brown.
Then add beef and stir-fry until cooked.
Pour in beef stock or water and add beef cube. Stir.
Add soy sauce, liquid seasoning, sesame oil, sugar and pepper.
Simmer until beef becomes tender.
Add half of the sesame seeds and onion leeks.Mix well.
Transfer them to a bowl then top it off with the rest of the sesame seeds andonion leeks.
Serve with a bowl of steamed rice.
3.5.3251
<!–
–>