Potato Corn Chowder combines the best of summer produce — sweet corn with fresh basil and pesto! This hearty, creamy,  thick soup is simple to make and a total crowd pleaser!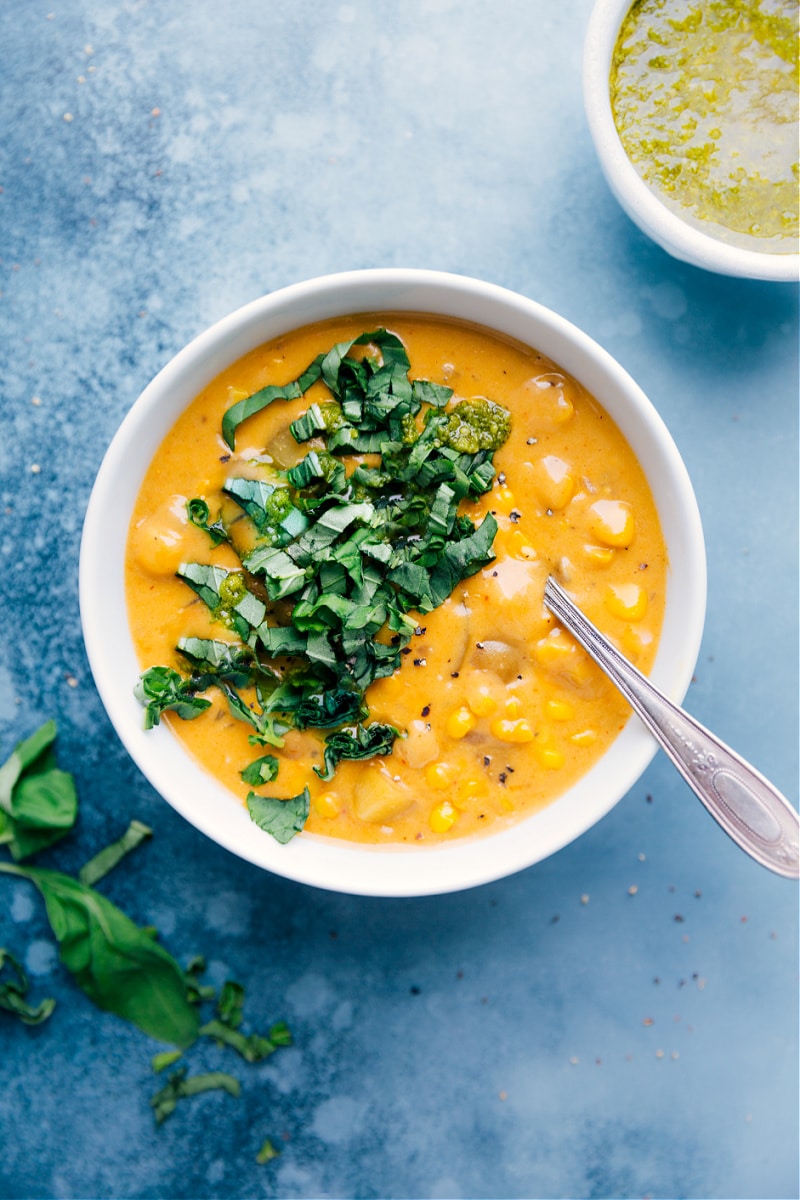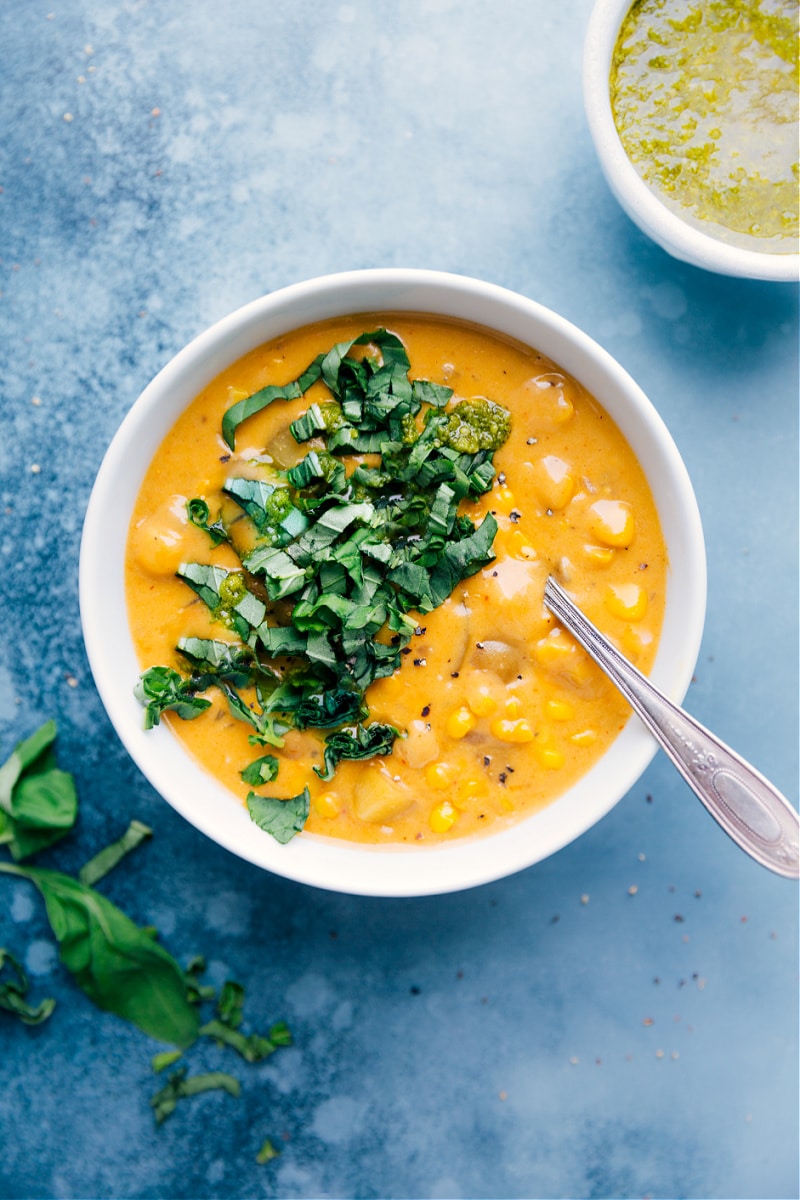 This Potato Corn Chowder meal is part of our Back-To-School Lifesavers — a series of recipes that are intended to have little (or no) veggie chopping, minimal prep time, around 10 ingredients or less (not including pantry staples), and use kid-friendly ingredients. Click here to see all the recipes in the series!
Potato Corn Chowder
This Potato Corn Chowder is a little bit of a stretch for this series since there is some veggie chopping involved and it takes a little longer than 30-minutes to get on the table, but I had to slide it in here anyway. It's just so tasty!
The ingredient list is short, the overall hands-on time is minimal, and the whole family (kiddos included) goes crazy for this chowder! While it might not be a total "lifesaver" recipe, it is one of the easiest soup recipes I've ever shared here. It's also so hearty, comforting, and nuanced in flavor.
The sweet corn and salty pesto pair so wonderfully together. This is truly a summer-time treat, but can also be equally tasty (using frozen corn) any time of the year.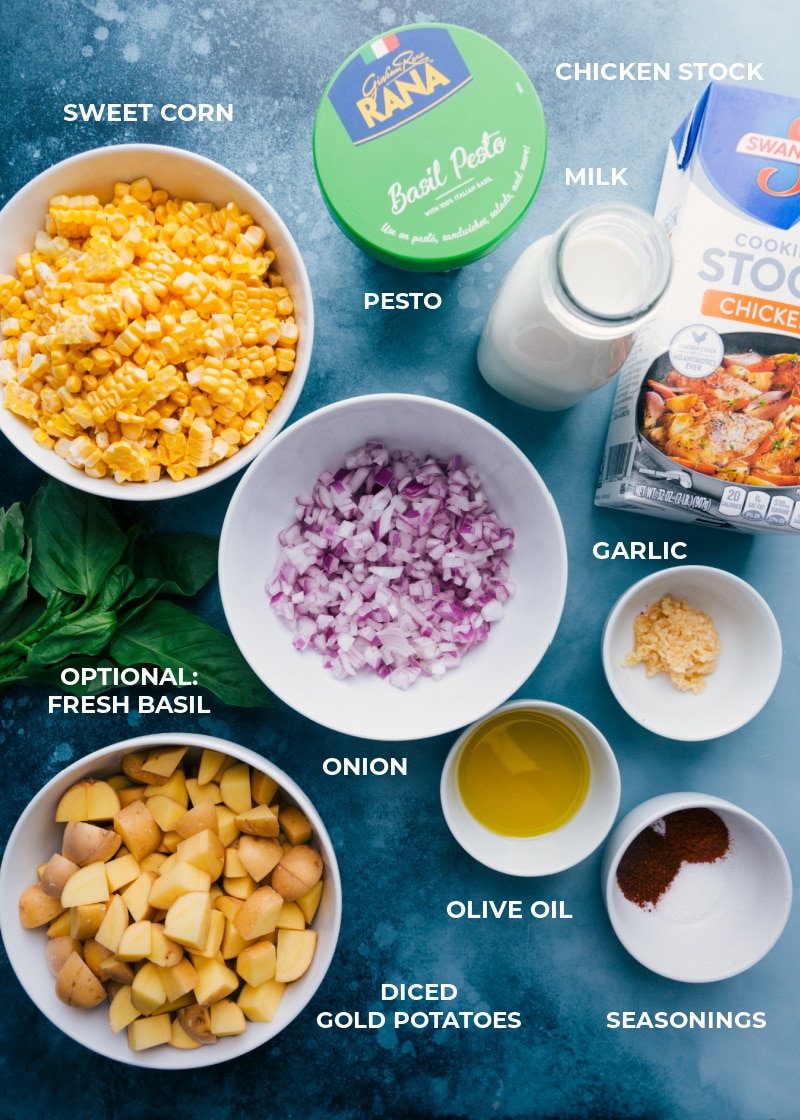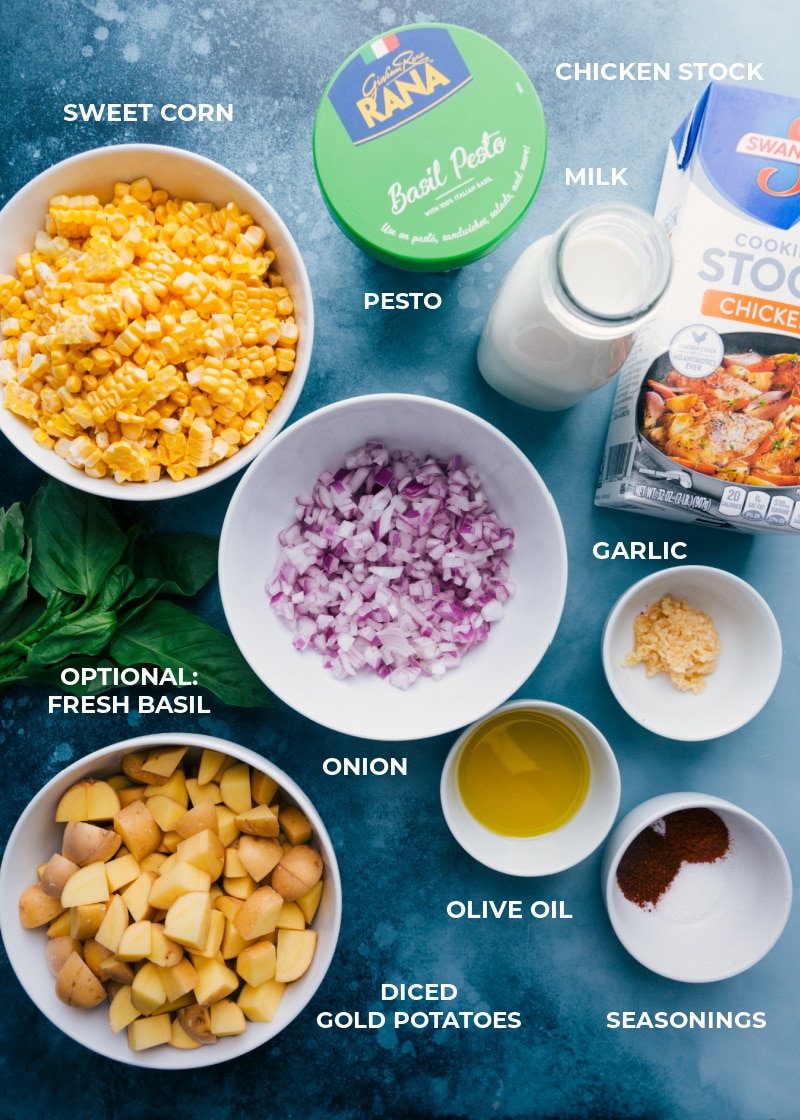 Potato Corn Chowder Ingredients
Veggies. Sweet corn on the cob, a red onion, and golden (Yukon) potatoes make up the veggie base. To minimize chopping time, use frozen corn and buy pre-diced onions in the produce section.
Minced garlic. Choose refrigerated minced garlic or frozen garlic cubes (like Dorot®) for the quickest possible prep.
Seasonings. Keeping the list short and simple here, since pesto is such a bold flavor. A touch of paprika, chili powder, and of course salt and pepper are all we need for this chowder.
Chicken or vegetable stock. A high-quality, flavorful stock adds loads of flavor and allows us to cut down on spices or other additions. We highly recommend Swanson's® vegetable or chicken stock (use vegetable stock to make this a vegetarian recipe). Since we aren't vegetarian, we use chicken stock and enjoy the flavor it adds to this potato corn chowder.
Whole milk. Instead of making a roux of butter and flour, we thicken the soup by blending part of it. The milk adds flavor, balancing the richness, and some additional creaminess.
Pesto. More on this ingredient below!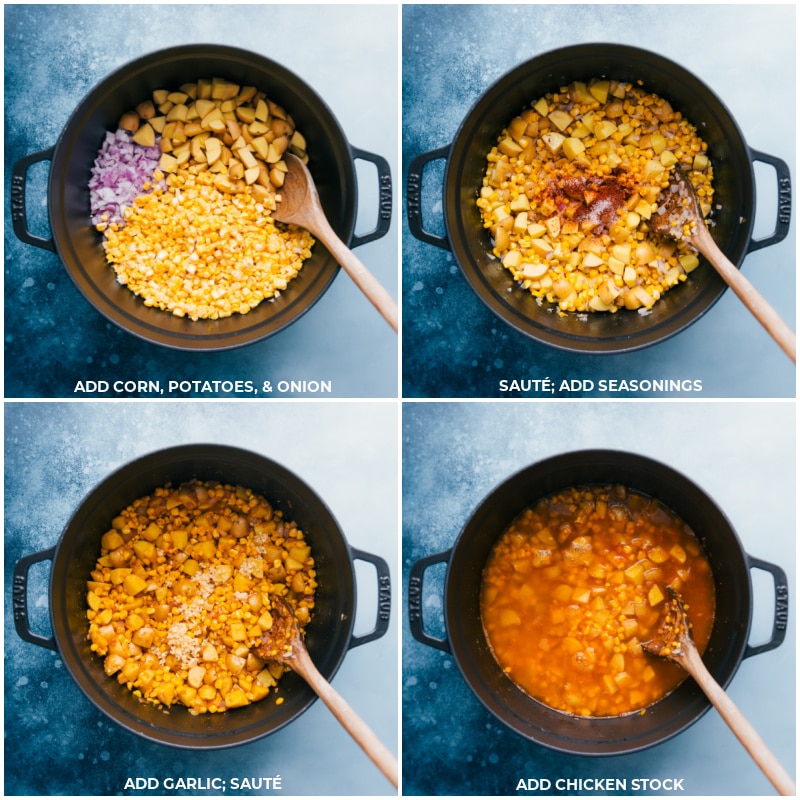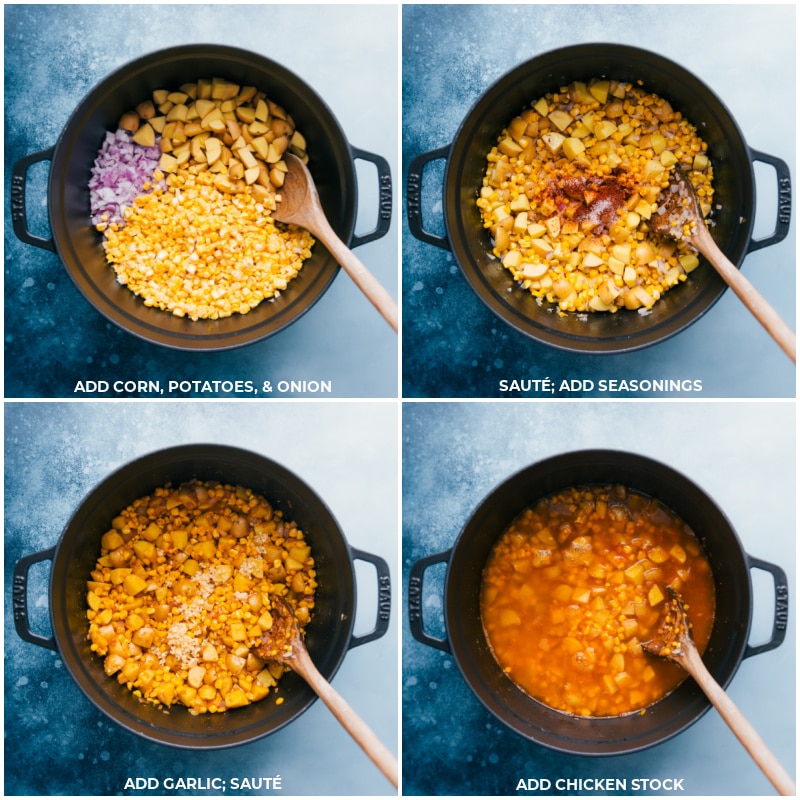 Chowder Toppings: Pesto and Basil
The pesto is the perfect topping for this chowder. We've added pesto to soup before (like this best-ever Vegetable Soup — yum!) and it's the perfect addition to this Potato Corn Chowder. It amps up the flavor, balances the sweetness of the corn– all with just one ingredient!
We recommend getting a refrigerated, freshly-made basil pesto, which you can find near refrigerated fresh pasta and gourmet cheese. Rana's® Basil Pesto is our personal favorite store-bought pesto sauce (not sponsored).
Freshly made pesto can certainly be spendy, but it lasts a good amount of time and a little goes a long way to add so much flavor to so many dishes– helping to minimize the overall ingredients needed in a recipe. Pesto is definitely a back-to-school lifesaver ingredient staple in our kitchen!
In addition to the pesto, we love some fresh basil as a soup garnish — totally optional, but it really elevates the flavor!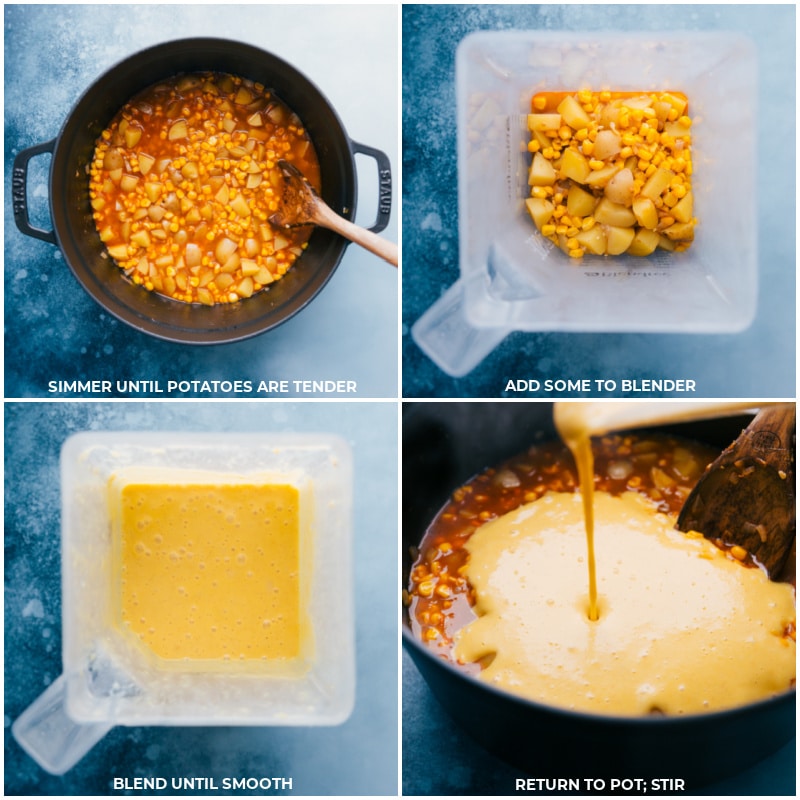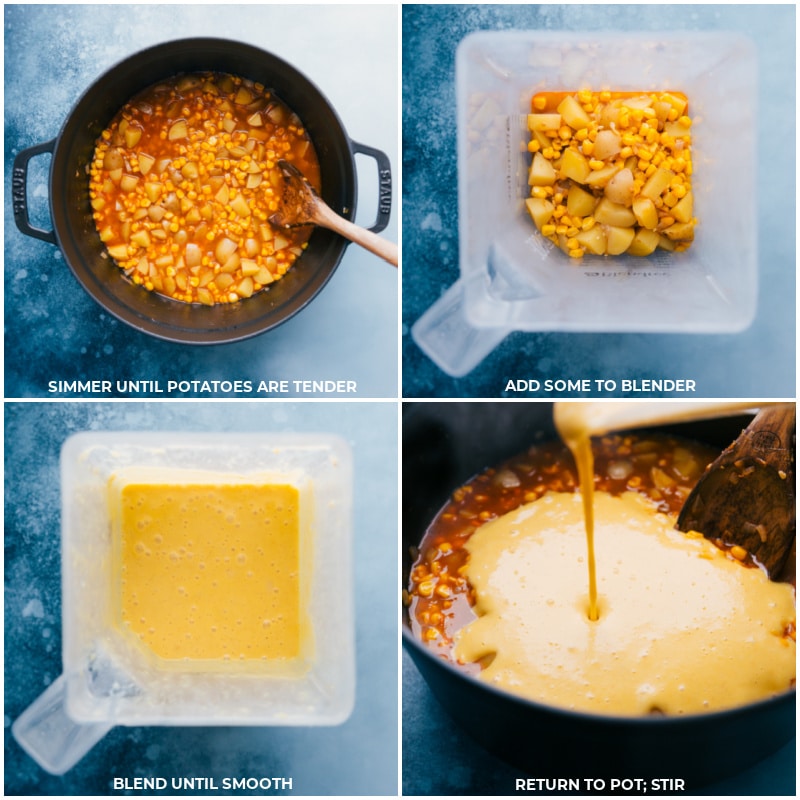 VARIATIONS
To keep this potato corn chowder lactose-free, use a milk such as Lactaid® whole milk instead of regular milk. For dairy-free chowder, you could try replacing the milk with plain (unflavored) almond or soy milk, but the result will be less creamy.
Feel free to amp up the seasonings, especially if you aren't adding pesto to this soup. You'll likely want quite a bit more chili powder and paprika and may want to top the soup with some cooked and crumbled bacon!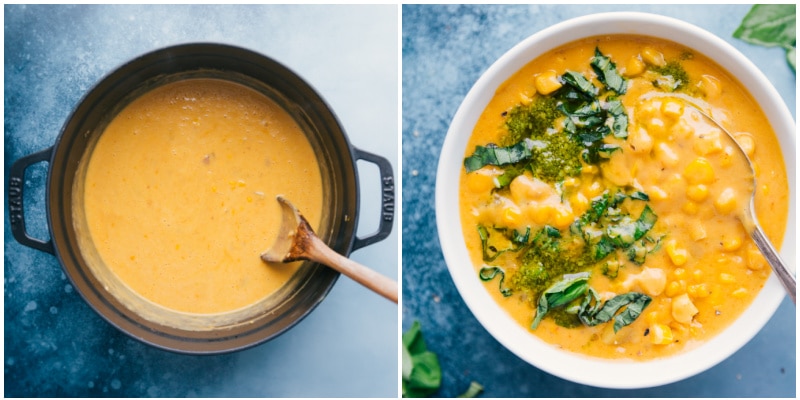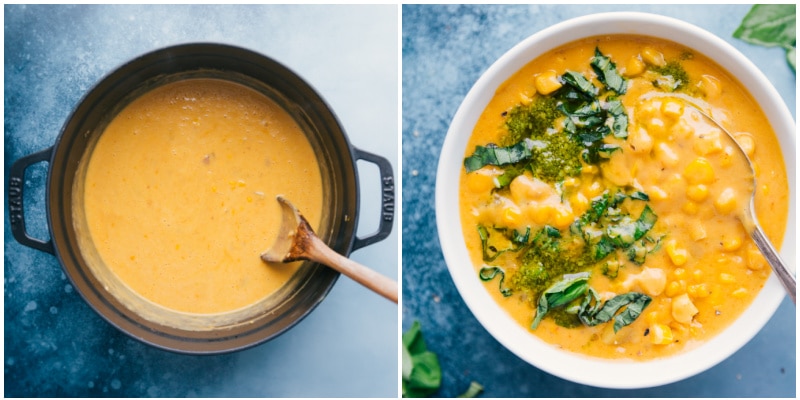 Potato Corn Chowder Tips
Blend. An immersion blender won't get this chowder near as creamy or smooth as a regular blender will. A blender really is key to getting the texture just right. Check out the "quick tip" below!
Season generously. You may be surprised by how much salt this soup needs. The corn and potatoes are quite sweet, so salt is needed to balance that sweetness. Keep in mind that pesto can also be quite salty, so plan for that when seasoning the soup.
Garnish only what you'll eat. Don't add fresh basil or pesto to any chowder you'd like to have as leftovers — only add to individual serving bowls.
QUICK TIP
When blending, make sure to secure the lid on tightly and then select the "soup" or "hot" cycle. Remember that heat expands, so increase the speed slowly and watch it carefully to avoid soup exploding out or over. Remove the lid carefully as it will likely release a burst of steam. If your blender doesn't have a hot/soup setting, you can compensate by replacing the blender lid with a folded towel and holding it in place with your hands. This will help reduce steam pressure.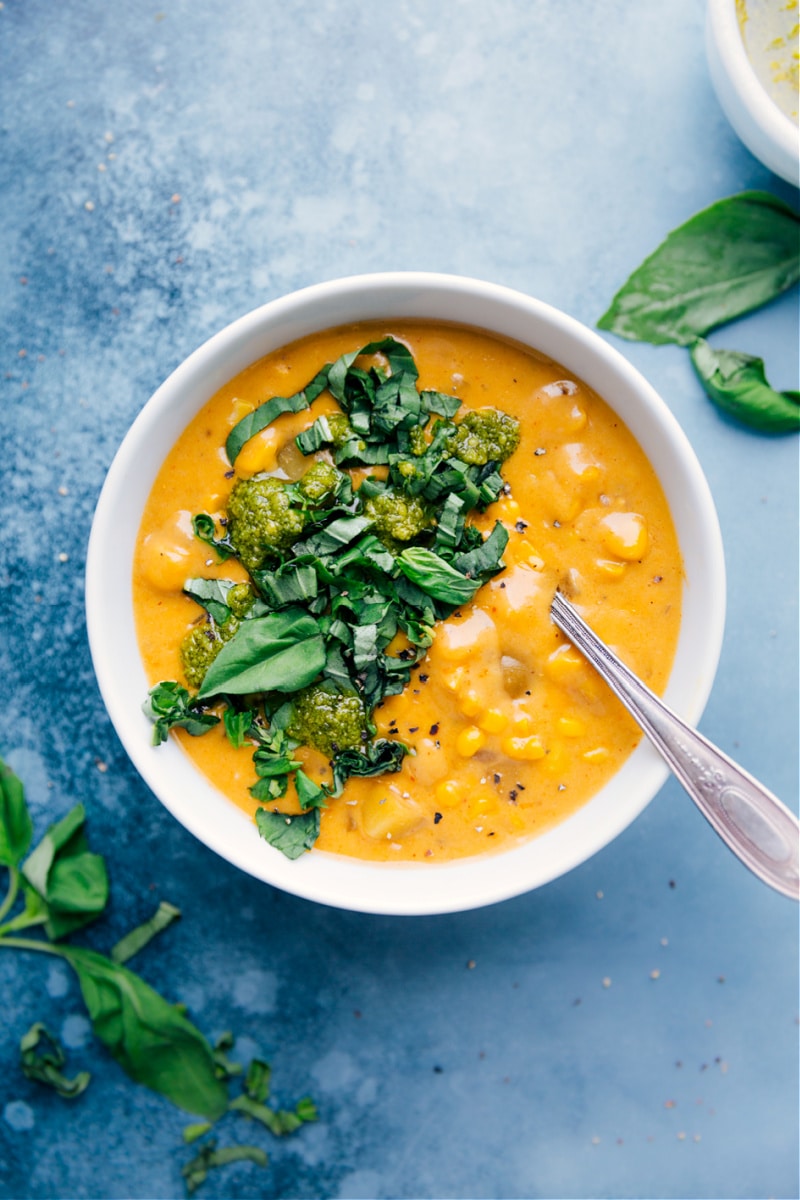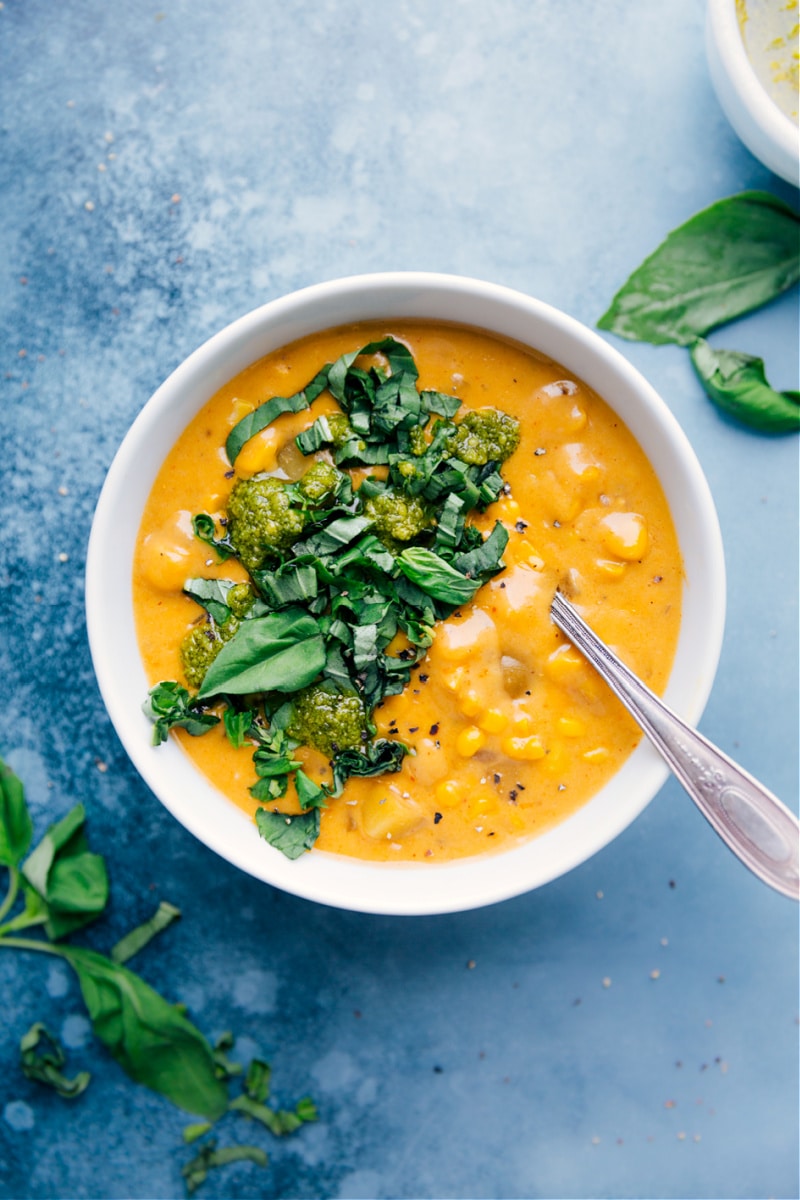 STORAGE
Leftover potato corn chowder will keep well in the fridge, in an airtight container, for up to 5 days. Reheat in a pot over low heat, stirring occasionally, until heated through.
More simple soup recipes
Potato Corn Chowder
Potato Corn Chowder combines the best of summer produce — sweet corn with fresh basil and pesto! This hearty, creamy, thick soup is simple to make and a total crowd pleaser!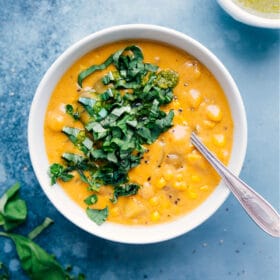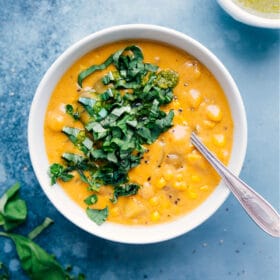 Potato Corn Chowder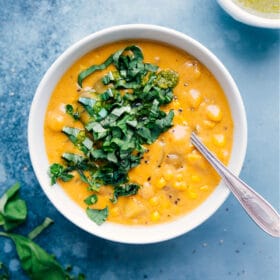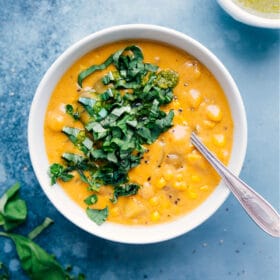 Potato Corn Chowder combines the best of summer produce — sweet corn with fresh basil and pesto! This hearty, creamy, thick soup is simple to make and a total crowd pleaser!
Ingredients
2

tablespoons

olive oil

3

cups

baby Yukon (gold) potatoes,

diced

1

cup

diced red onion

3

cups

sweet corn kernels (or frozen corn)

~3-4 ears fresh corn(or frozen corn)

1

tablespoon

minced garlic

3

cups

chicken (or vegetable) stock

(we love Swanson)

1

cup

whole milk

or plant milk

1/2

teaspoon each:

chili powder, paprika

Note 1

For serving: fresh basil pesto, fresh basil (optional)
Instructions
VEGGIES: In a large pot, heat olive oil over medium heat. Once the oil is hot, add in diced potatoes, diced onion, and raw corn kernels (cut off the cob). Sauté, stirring occasionally, for about 4 minutes and then season to taste with salt (I add 1/2 tsp). Add chili powder and paprika. Continue to sauté, stirring occasionally, for about 4-6 more minutes or until onions are tender and translucent. Add garlic and cook, stirring constantly for 1 more minute. Add in the stock and stir. Bring to a boil over high heat, then reduce the heat until soup is simmering. Simmer for 18-23 minutes, stirring every once in a while, or until potatoes are tender (a fork can easily pierce through).

BLEND: Remove pot from heat. Carefully, measure out and transfer 3 cups (liquid and solids) of the soup to a high-powered blender. Add milk into the blender. Blend until very smooth; you may need to run the blender a few times. Return the blended mixture to the soup pot and stir to combine. Taste and season here; I usually add another 1/2 teaspoon salt and 1/4 teaspoon pepper.

SERVE: Serve soup in bowls garnished with fresh basil, if desired. Spoon lots of basil pesto (add to preference– we love lots) into the soup and enjoy immediately! Don't add pesto to any soup you want to have as leftovers.
Recipe Notes
Note 1:  Chili: Not to be confused with chilli powder, which is very hot. We're using American chili powder (I use McCormick which is very mild).
Nutrition Facts
Serving: 1serving | Calories: 393kcal | Carbohydrates: 48g | Protein: 13g | Fat: 19g | Saturated Fat: 4g | Polyunsaturated Fat: 2g | Monounsaturated Fat: 7g | Cholesterol: 13mg | Sodium: 447mg | Potassium: 856mg | Fiber: 5g | Sugar: 14g | Vitamin A: 898IU | Vitamin C: 15mg | Calcium: 122mg | Iron: 2mg
We do our best to provide accurate nutritional analysis for our recipes. Our nutritional data is calculated using a third-party algorithm and may vary, based on individual cooking styles, measurements, and ingredient sizes. Please use this information for comparison purposes and consult a health professional for nutrition guidance as needed.