Quick Chicken Curry is ready in a hurry — we're using minimal ingredients and a few store-bought shortcuts to keep things as simple as possible while still delivering loads of flavor.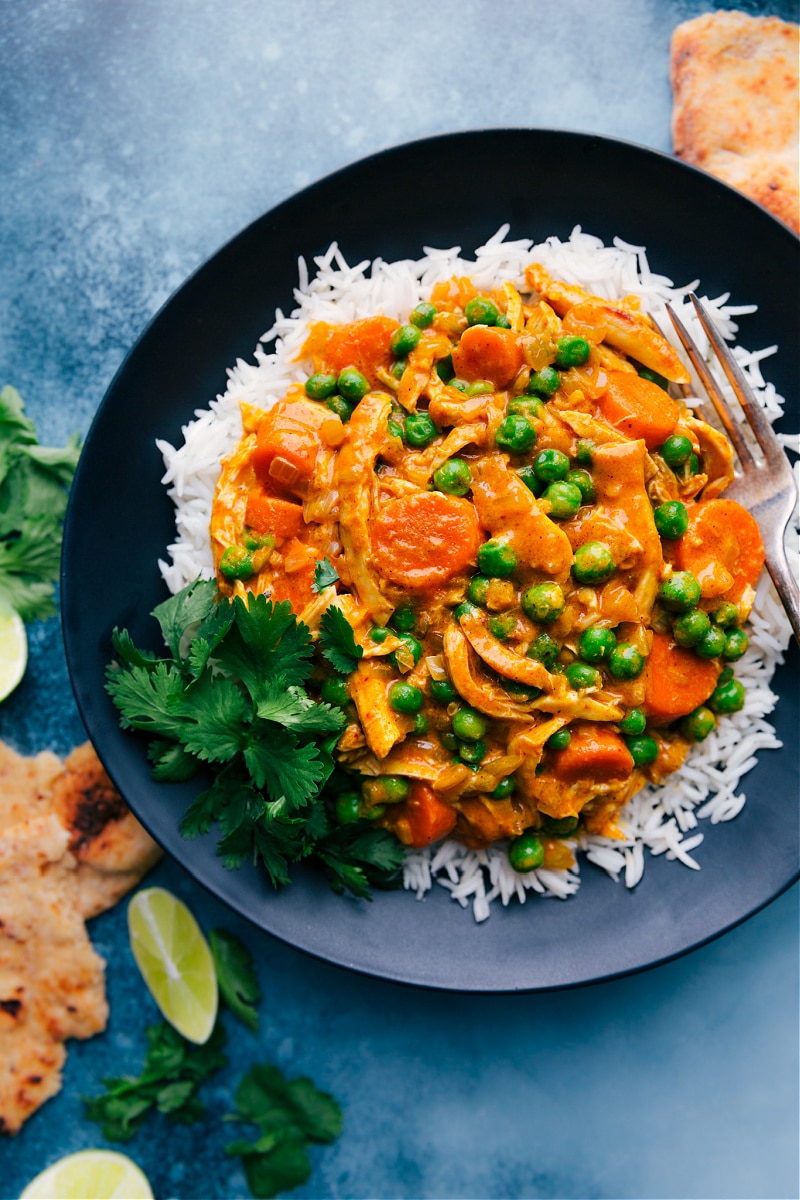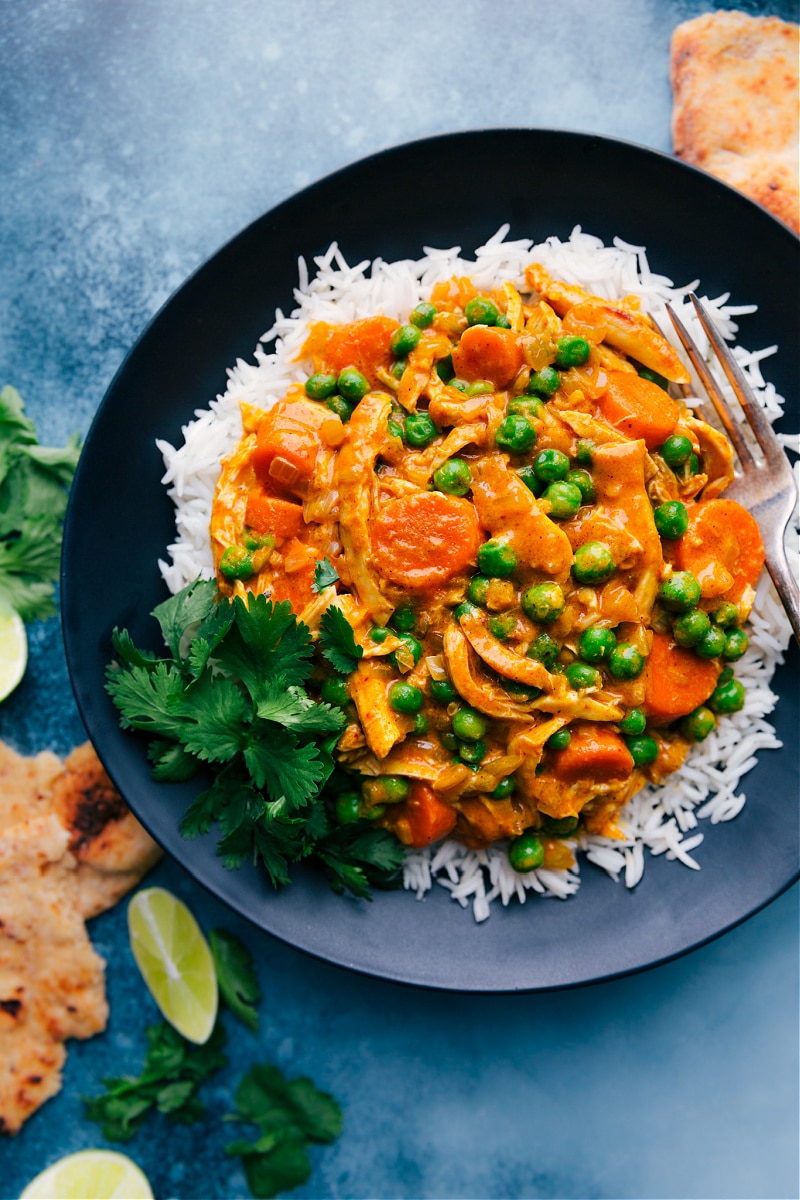 This Quick Chicken Curry is part of our Back-To-School Lifesavers — a series of recipes that are intended to have little (or no) veggie chopping, minimal prep time, around 10 ingredients or less (not including pantry staples), and use kid-friendly ingredients. 
Quick Chicken Curry
My whole family is obsessed with curries (especially the kids — as long as they aren't too spicy). But more times than not, curries take a good amount of time to make, a lot of ingredients to purchase (or search in the recesses of cabinets for), and a fair amount of veggie chopping.
Quick Chicken Curry aims at eliminating those obstacles while still bringing you a flavor-packed, crave-able meal. We use a few store-bought shortcuts, greatly reduce the ingredient list, and remove most of the chopping! You won't believe how incredibly delicious this curry is with how quick and easy it is to make!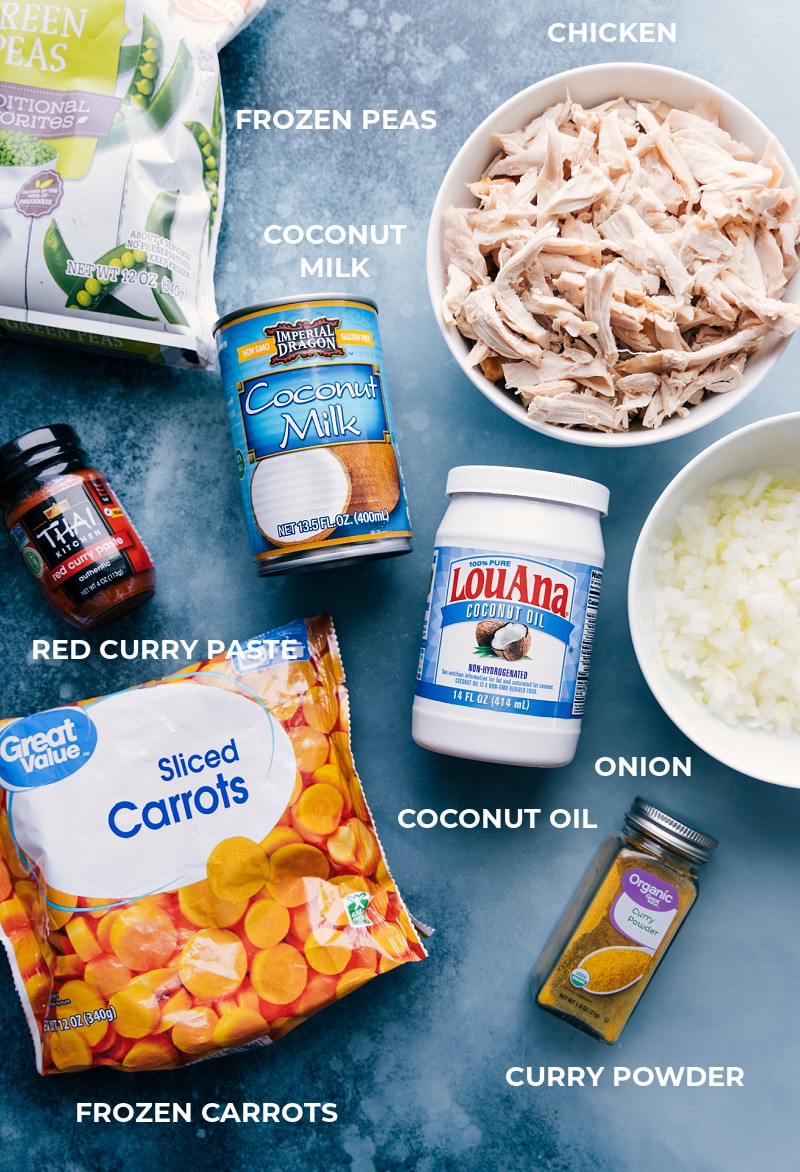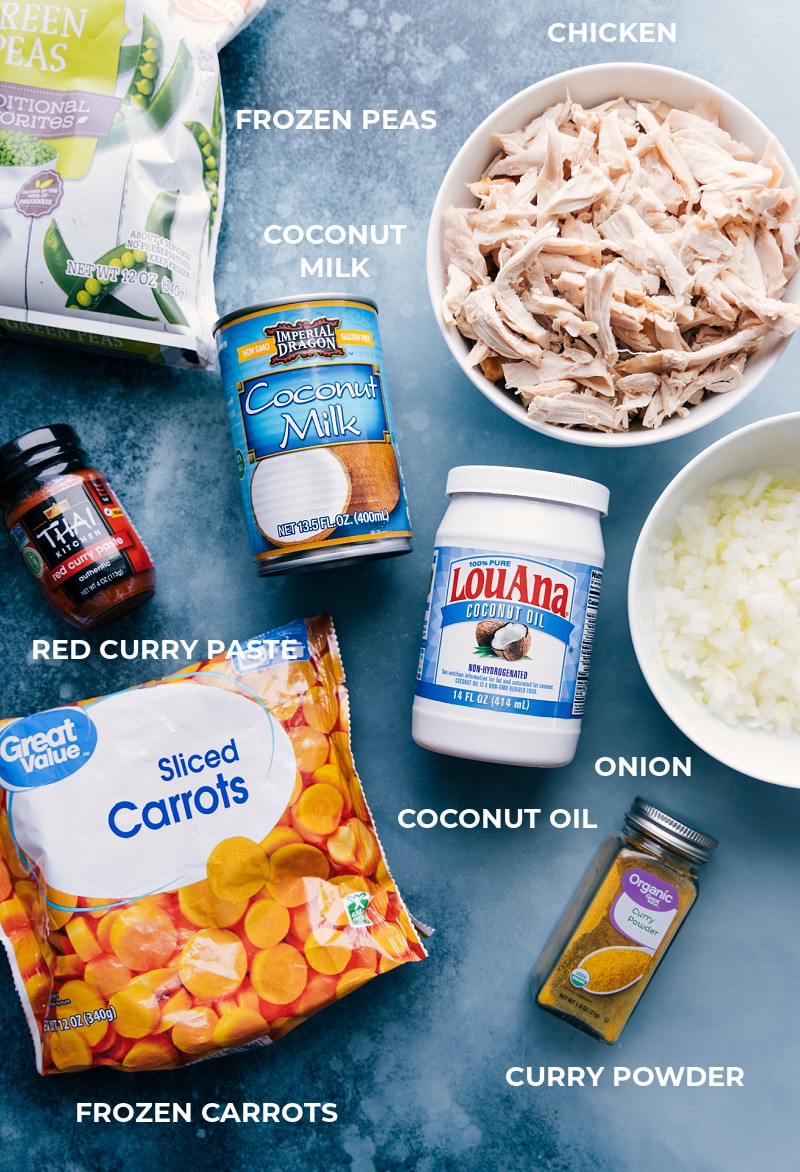 SHORTCUTS
Shortcut Ideas
Here are the main shortcuts we use in this Quick Chicken Curry:
Pre-diced onions. Most grocery stores sell diced yellow onions in the produce section of the store. Alternatively, frozen diced onions are often found by the other frozen veggies and can be used in this recipe. Or, use a food processor to quickly chop an onion.
There are two options for quick garlic and ginger. We love Dorot® cubes which have crushed garlic and crushed ginger that you can keep handy in the freezer and pop into this (and other) recipes when needed. (Check if your local store carries them; they're typically found with frozen veggies in the grocery store.) Another option is to use refrigerated garlic paste and refrigerated minced garlic. 
Rotisserie chicken. Pre-cooked and seasoned chicken is a total time saver on its own, but to save even more time on the chicken, you can purchase rotisserie chicken meat already pulled from the bones and shredded or diced — a lot of grocery stores sell this conveniently prepared chicken. It's a total lifesaver and game changer for busy cooks!
Frozen veggies. Instead of chopping veggies for this curry, we use pre-chopped and frozen produce — frozen carrot coins and frozen peas.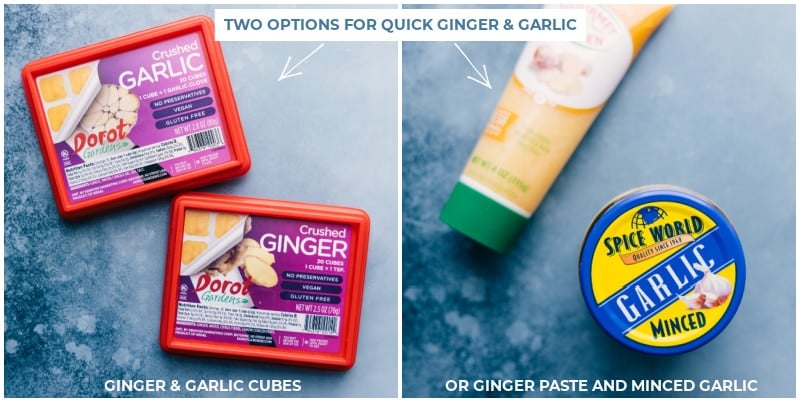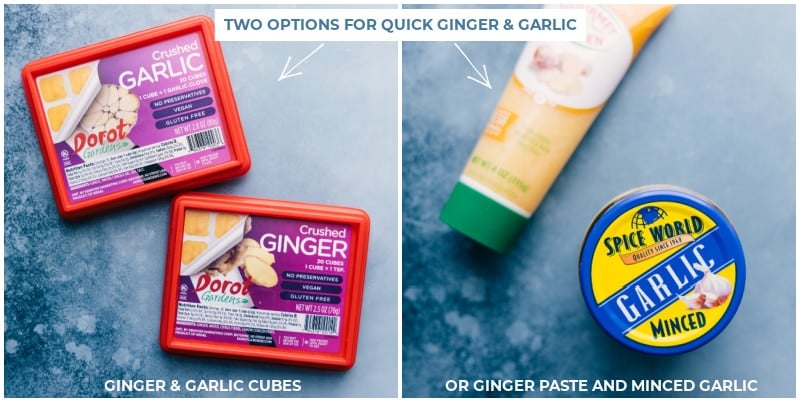 Let's Chat Ingredients
Beyond the frozen veggies, aromatics, and chicken, here are the other three main ingredients:
Red curry paste. Red curry paste adds loads of flavor without requiring additional (often hard-to-find) ingredients. Curry pastes can vary from brand to brand, particularly in spiciness. We use Thai Kitchen® which I would say is very mild and has a great flavor. I've also used Maesri® red curry paste, which is incredible flavor-wise, but it's a lot spicier than Thai Kitchen. When making this recipe for my kids, I use Thai Kitchen.
Yellow curry powder. Curry powder is another ingredient that varies a lot from brand to brand. We've tested this curry with Great Value®, Simple Truth Organic®, and McCormick® — all work similarly and are mild. 
Coconut milk. I highly recommend using full-fat coconut milk for the best flavor and thickness. Additionally, the natural sweetness in the full-fat coconut milk will balance the spiciness of the curry paste and curry powder. Lite coconut milk doesn't thicken quite as nicely and won't result in the rich full flavor that regular coconut milk provides. Look for shelf-stable, unrefrigerated cans of coconut milk. You'll find canned coconut milk on t

he international aisle,

 with Latin or Asian products. Here's an article outlining the best brands to use. I personally use Imperial Kitchen® since I can find it easily at my local grocery store.
QUICK TIP
Worried about the heat? Add red curry paste and curry powder slowly and to taste. You can always add a touch of sugar at the end to balance spiciness if needed.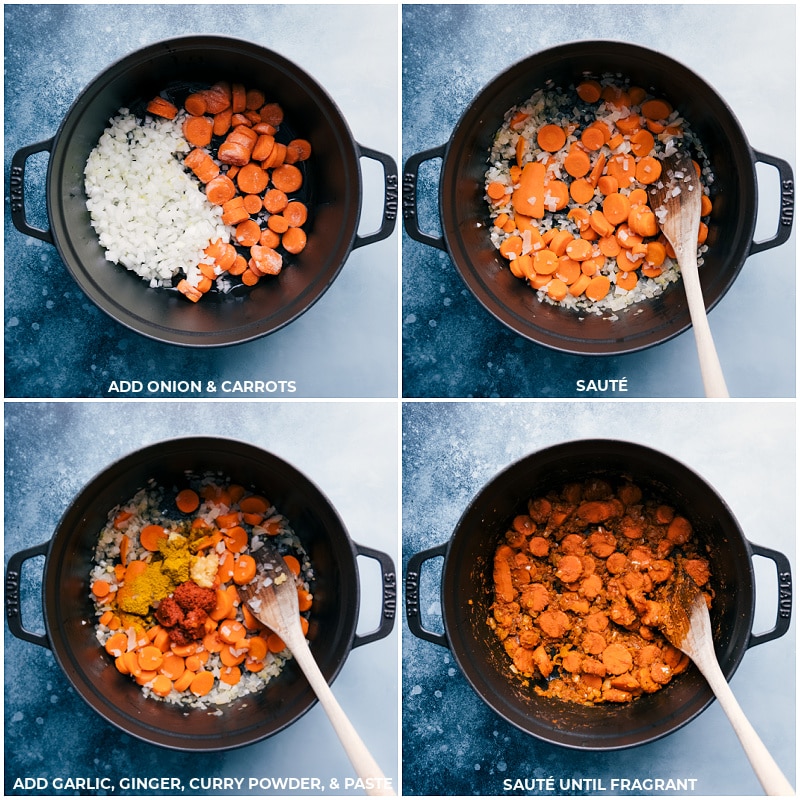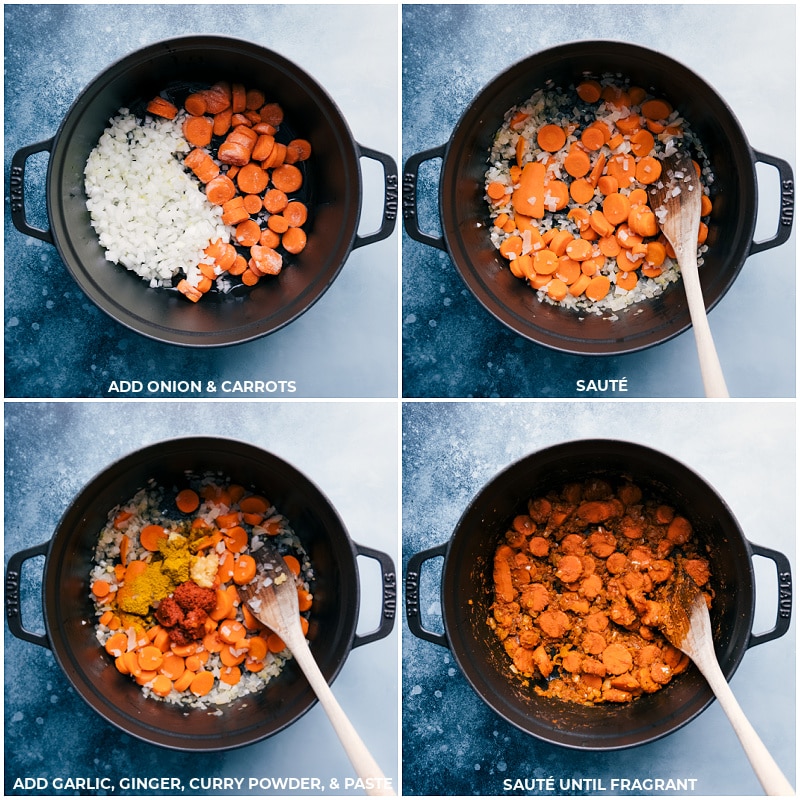 This curry comes together so quickly that we don't want to be spending loads of time on the sides, right?!
Quick Chicken Curry Serving Suggestions
When we make this Quick Chicken Curry, we generally serve it with rice and naan. Since there are veggies, proteins, and good-for-you fats in the curry, it's a well-balanced meal on its own, so there isn't a need for much else! So, in true "back-to-school recipe lifesavers" fashion, the sides need to be just as easy. Here are our "secrets" to the quickest sides:
Toaster naan. Store-bought naan is definitely best warmed through, but instead of taking the time to char it over an open flame, just throw it in the toaster right as you're finishing the curry. You can purchase smaller-sized naan that fits in the toaster perfectly. (Stonefire® makes this; it's usually labeled as mini naan.)
Boiled rice. If you haven't boiled rice before, you are going to be thrilled with the ease and speed. All you'll need to do is throw some rice in boiling water, boil it for 5-7 minutes, and voila — perfect rice!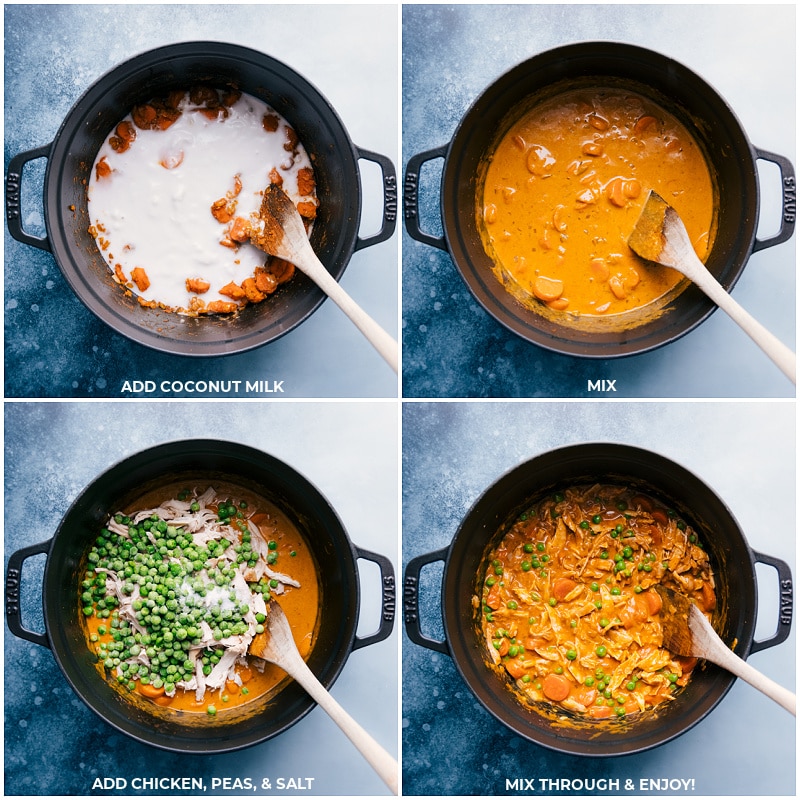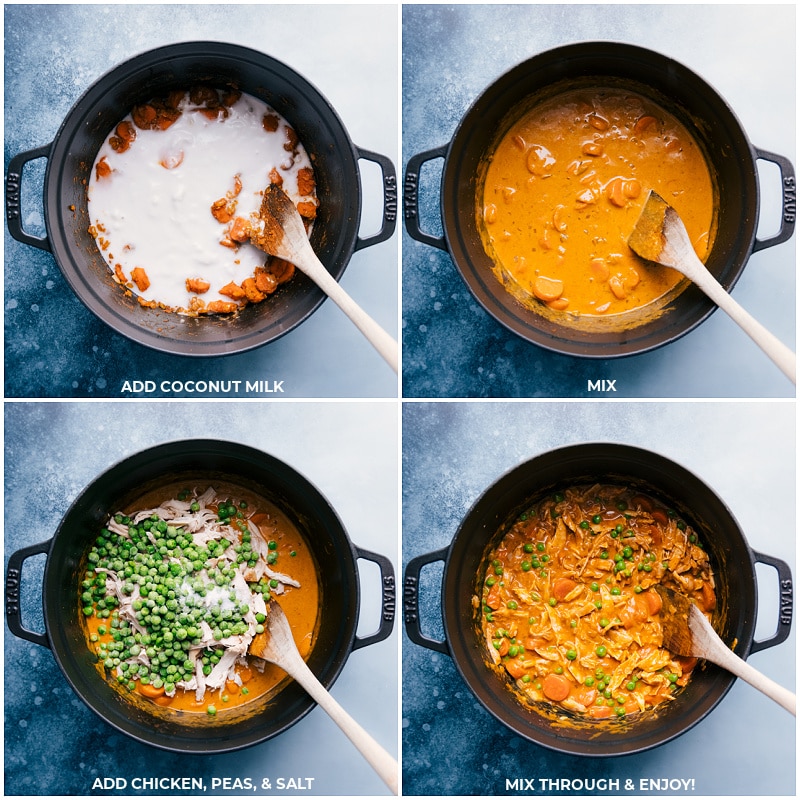 Quick Chicken Curry Storage
One of the best things about this recipe is how well it stores — it tastes even better on day 2! So, if you're in need of true lifesaver recipes, make a double batch and save one half to serve later on in the week — that way when your family inhales batch #1, you can let them know more is coming later.  🙂
STORAGE
To store: let the curry cool and then package in air-tight containers in the fridge. Reheat in a pan or skillet large enough to fit all the leftovers. Add a pat of butter or coconut oil to the pan and heat to medium-high. Once the oil is melted, add in the curry. Cover with a lid and heat for 5-10 minutes, stirring frequently until warmed through to personal preference. Don't cook too long or you run the risk of drying out the chicken. If needed, add an extra splash of coconut milk or chicken broth/stock to thin the curry out a bit more as it will thicken from being stored.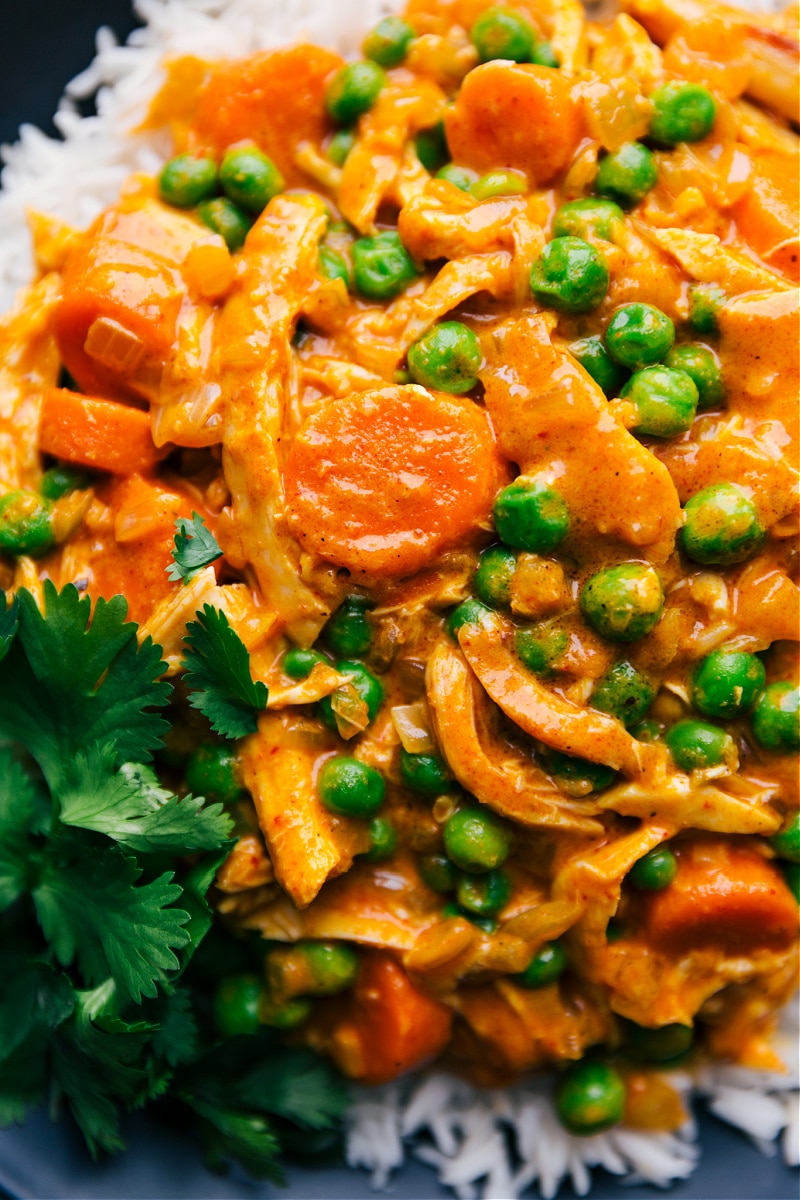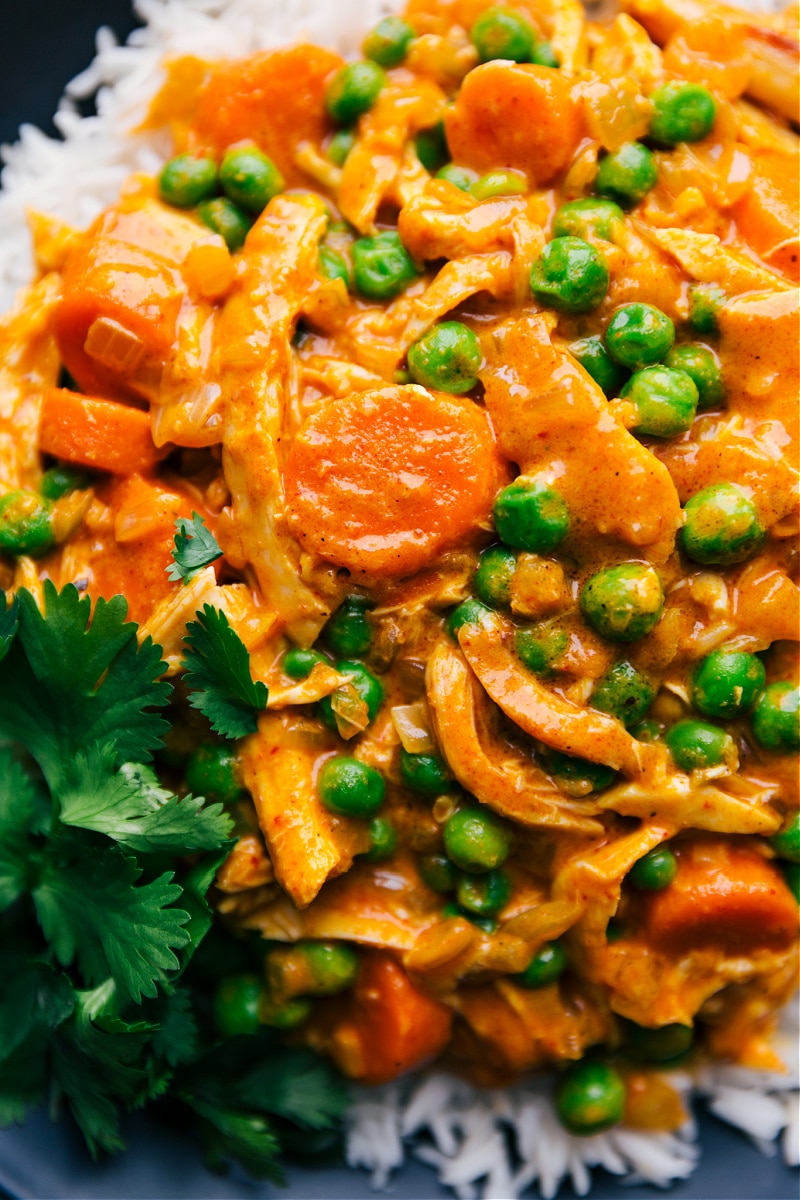 More curry recipes to love
Quick Chicken Curry
Quick Chicken Curry is ready in a hurry — we're using minimal ingredients and a few store-bought shortcuts to keep things as simple as possible while still delivering loads of flavor.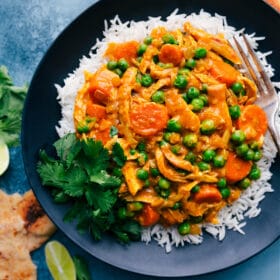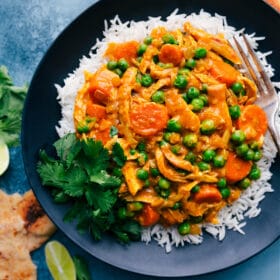 Quick Chicken Curry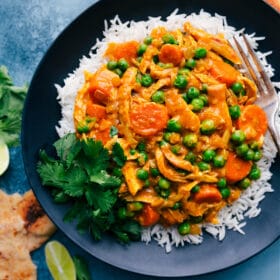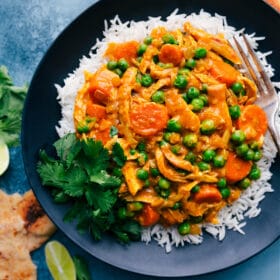 Quick Chicken Curry is ready in a hurry — we're using minimal ingredients and a few store-bought shortcuts to keep things as simple as possible while still delivering loads of flavor. 
Ingredients
3

tablespoons (51g)

coconut oil or unsalted butter

1

large (1-1/2 cups)

yellow onion,

finely diced (or chop in food processor)

1

bag (12 oz.; 340g)

frozen sliced carrots

2

tablespoons EACH:

minced ginger and garlic cubes

Note 1

1

tablespoon

yellow curry powder

Note 2

3

tablespoons

red curry paste

Note 3

1

can (13.5 oz.; 400mL)

full-fat coconut milk

3

cups (310g)

shredded rotisserie chicken

1

cup (135g)

frozen peas

Serve with: cooked basmati rice, and optional: naan and fresh lime (Note 4)
Instructions
VEGGIES: Without opening the package, microwave carrots for 3 minutes and let stand until ready to use. Melt butter or oil in a large pot (cast iron will cook quicker) over medium-high heat. Once melted, add in the diced yellow onion and the entire bag of carrots (don't add any liquid in the carrot bag). Sauté for 5-8 minutes or until onions are golden and carrots are fork-tender. (They won't get too much more tender — the rest of the cooking time is quick!)

AROMATICS: Add ginger, garlic, curry powder, and red curry paste. Cook, stirring constantly for 2-3 minutes or until very fragrant. Shake up the can of coconut milk and then pour it in. Stir over medium-high, until the coconut milk begins to bubble and thicken, about 3 minutes.

CHICKEN AND PEAS: Remove pot from heat. Add in the rotisserie chicken, frozen peas, and salt to taste (I add 1 teaspoon fine sea salt). Stir through to warm, taste and adjust seasonings (add a pinch of sugar if it's too spicy and/or some fresh lime juice for some acidity/freshness if desired) and serve immediately.

SERVING: Serve over white rice with warmed naan
Recipe Notes
Note 1:  Garlic and ginger cubes: To make prep seriously quick and easy, we use Dorot garlic and ginger cubes (6 of each, which is the equivalent of 2 tablespoons). Alternatively, you can use pre-minced garlic and ginger paste.
Note 2: Curry powder: We've tested this recipe with Simple Truth Organic yellow curry powder and Great Value Organic yellow curry powder — neither were overly hot/spicy. Reduce quantity if using a hotter curry powder and you're concerned about heat.
Note 3: Curry paste: We use Thai Kitchen which is quite mild (perfect for kids!). If you use another brand, test it first; you may want to use slightly less or compensate by adding in some sugar.
Note 4: Side dishes: To keep the sides as simple as possible, use mini naan that you can simply pop in the toaster to warm through. And here's the quickest/easiest way to get perfect basmati rice (This only works for basmati rice!)
Fill a large pot with water and set it to boil.
Once the water is at a rolling boil, salt the water and add in rice.
Cook without reducing the heat, for 6 minutes (taste test to ensure it is tender) and then drain and fluff with a fork. Easy!
Nutrition information does not include side dishes (rice, naan).
Nutrition Facts
Serving: 1serving | Calories: 678kcal | Carbohydrates: 21g | Protein: 54g | Fat: 45g | Saturated Fat: 27g | Polyunsaturated Fat: 1g | Monounsaturated Fat: 4g | Trans Fat: 1g | Cholesterol: 194mg | Sodium: 814mg | Potassium: 646mg | Fiber: 5g | Sugar: 5g | Vitamin A: 21889IU | Vitamin C: 14mg | Calcium: 87mg | Iron: 5mg
We do our best to provide accurate nutritional analysis for our recipes. Our nutritional data is calculated using a third-party algorithm and may vary, based on individual cooking styles, measurements, and ingredient sizes. Please use this information for comparison purposes and consult a health professional for nutrition guidance as needed.