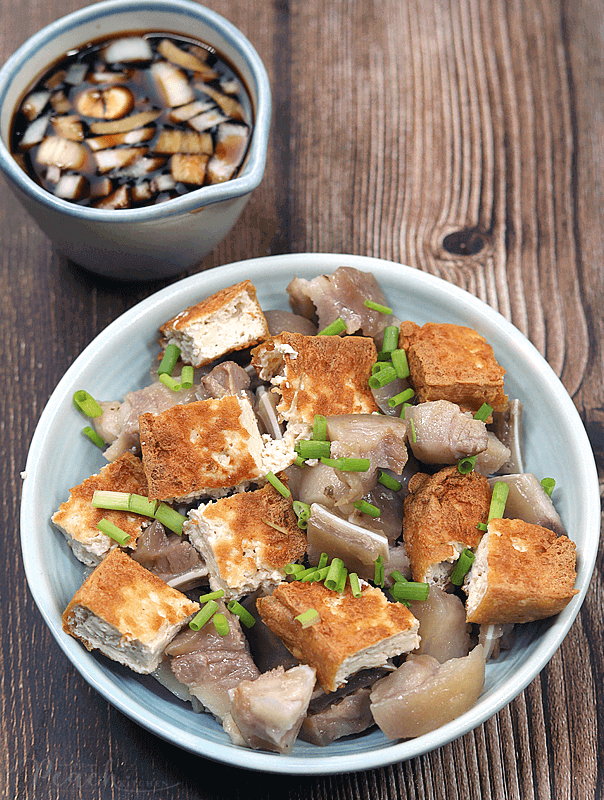 Tokwa't Baboy is an all-time favorite Filipino appetizer. It's also a favorite "pulutan" (beer-match) and of course, my favorite partner to my Arroz Caldo or Congee. You can make it out of any pork part you like but most of the time, it's made of pork belly, pork ears, or pork face. I like mine out of pork ears because of the soft cartilage in the ears.
The sauce is made out of vinegar, soy sauce, sugar, garlic, onions, and ground pepper. I used to like my sauce a bit spicy so I put siling labuyo. But because of my acid reflux (LPRD), I avoid putting any kind of chili in my food.
I grew up eating this with rice as ulam too! Kayo ba? Madalas rin ba kayong mag-ulam ng Tokwa't Baboy?
WATCH THE VIDEO HERE:
OTHER RECIPES YOU MIGHT LOVE…
Tokwa't Baboy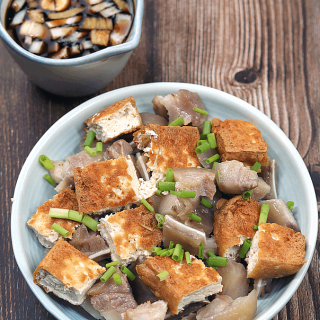 Ingredients
500g pig's ears
water for boiling
2 pcs bay leaf
1tsp peppercorns
1 tbsp salt
1 block tokwa (extra firm tofu)
cooking oil for frying
chopped spring onions for garnish
Sauce
¼ cup vinegar
¼ cup soy sauce
1 tsp sugar
½ onion chopped
2 cloves garlic , chopped finely
½ tsp ground pepper
Directions
In a pot, add the pig's ears, water, salt, peppercorns and bay leaf.
Bring to a boil then lower heat and simmer for about 30-40 minutes until tender.
When cooked, remove from pot and cut into bite size pieces.
Fry the tofu in hot oil until brown and crispy. Cut into bite size pieces.
Make the vinegar sauce: Combine the vinegar, soy sauce, garlic, onions, sugar, and ground pepper. Mix well. Adjust the taste according to your preference.
To serve: Combine the pig ears and tofu in a plate. Sprinkle with chopped spring onion. Pour the vinegar sauce and enjoy!
3.5.3251
<!–
–>