Well… when I decided to register to run the Dopey Challenge last week I was mostly surprised that it wasn't sold out (yet) and my decision to go for it factored in logistics and travel dates more than anything. So, I didn't realize the Disney World Marathon Race Weekend (really, it should be Week – since it's 5 days) is only 20 weeks away.
Most Marathon Training Plans are between 16 and 20 weeks long. The Dopey Challenge is a 5K, 10K, Half Marathon and Full Marathon on consecutive days. And that requires even more training than running the marathon alone!
Run Disney does have a few free training plans for running the 5K, 10K, Half Marathon, Full Marathon, Goofy's Race and a Half and Dopey Challenge. But, the plans are best for someone who wants to use the Run/Walk Method (written by Jeff Galloway).
The Dopey Challenge Training Plan for experienced runners has only 3 runs per week for many of the weeks. Then, it increases to 4 days per week with a few 5 runs per week thrown in toward the end of the plan. The great thing about this plan is it's easier on your schedule and body.
But if you want to complete any of the distances FASTER, go for a PR or just RUN the entire distance – you need a training plan made for your goal. And I think there are a few IMPORTANT parts missing in most 5K, 10K, Half and Full Marathon plans – strength/conditioning, mental training and nutrition.
So, I'm designing training plans for each distance with those KEY features. *Stay tuned for that if you're running any of the Walt Disney World Marathon Weekend Runs and want more training plan options! It will be available next week.
Now for my training update…
When I decided to register to run the big beast of the WDW Marathon Weekend aka Dopey Challenge… it was a lil last minute. I love 'Team Run Disney' posts on social media and saw other runners on Instagram and Facebook started training even before registration was open! They're in it to win it.
Luckily, I was already training for a few upcoming half and full marathons – so I have a solid base of endurance. I was going to start working on speed next but the Dopey Challenge is a true test of endurance with back to back races. That means I need to reevaluate my current training plan and adjust according to this new addition to my race calendar.
Week 1 of Dopey Training was… um, unofficial in that I didn't change anything about my current training plan because I also decided to run a half marathon last minute. And it was my FIRST IN PERSON RACE since before the pandy. [You can read the Race Recap here – AFC Half Marathon Recap]
I wasn't sure how I'd feel physically and mentally as I don't have any recent race results to let me know my current running fitness. So, the smart thing was to keep everything the same, run the race, give myself some time to recover and then move forward with a new training plan.
I'm less than a week out from that half marathon and my legs did feel a bit tired on this morning's run. But, I'm trying to be diligent about recovery and hope to start Week 2 feeling 100%.
run EAT Updates
My LOVE of Watermelon is alive and well!! Or maybe it's alive and obsessive to an unhealthy level? Either way, I'm happy so please let me live. Thank you.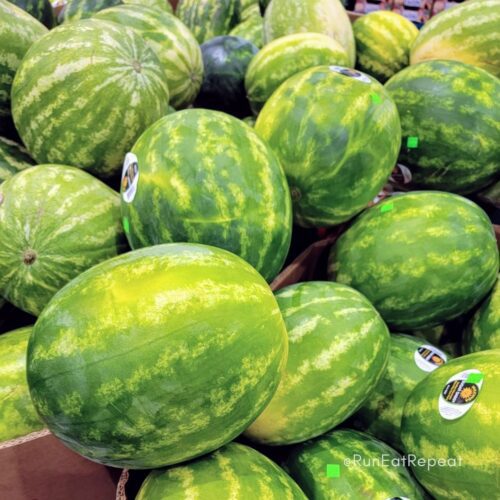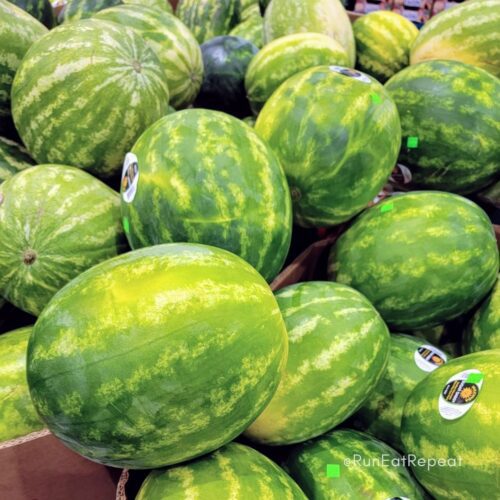 I felt the need to take a pic the 1 time I actually served myself some watermelon on a plate and didn't eat it straight from the tupperware container at the kitchen counter like a savage. I was so proud of myself.
(Then, I wanted more and ate it straight from the container.)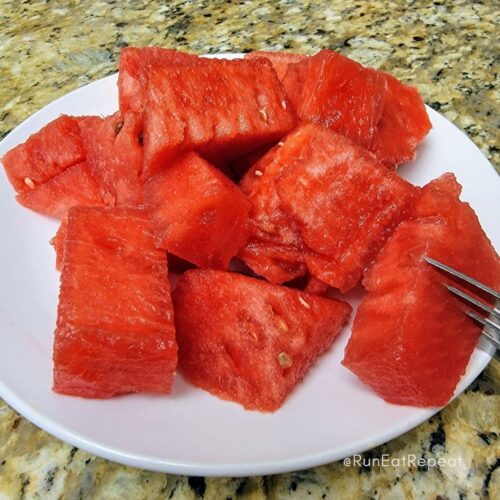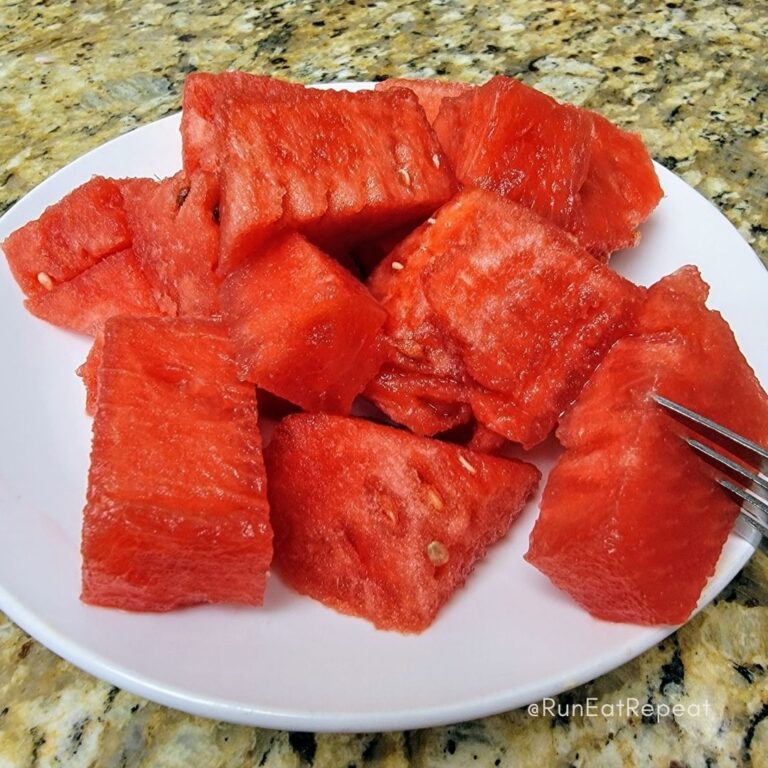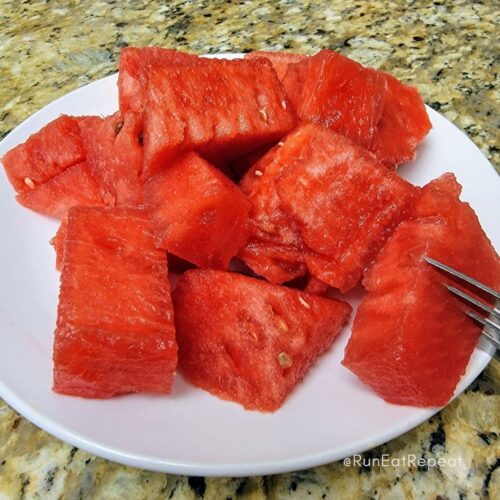 After spending the night at Stuft Mama's house last weekend I remembered how much I love this simple combo – rice cakes (or corn cakes) with laughing cow cheese and turkey. I topped it with Sriracha and was as happy as a laughing cow.
(Wait… should I be offended that someone just called me a cow if the guilty party is – me?)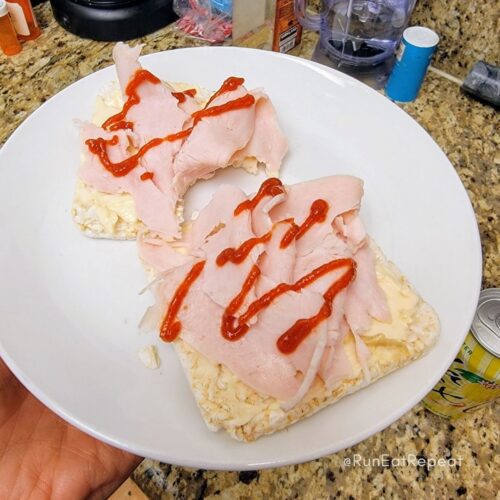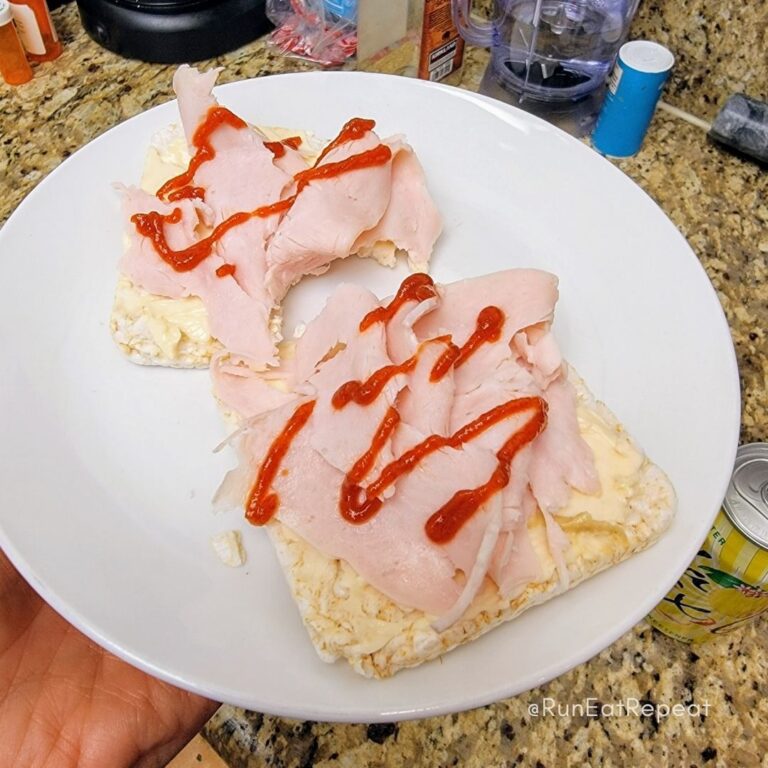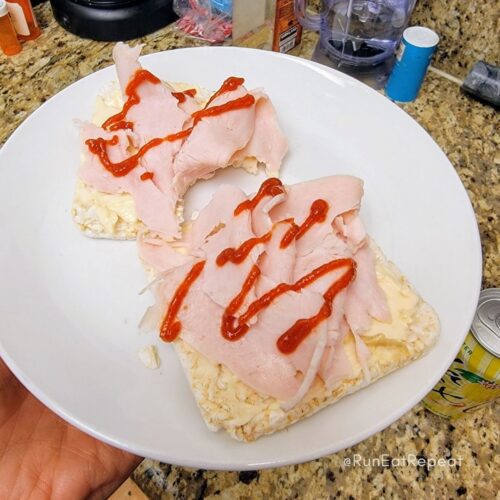 And I made a WHOLE CHICKEN!! It looks burnt but it as perfect.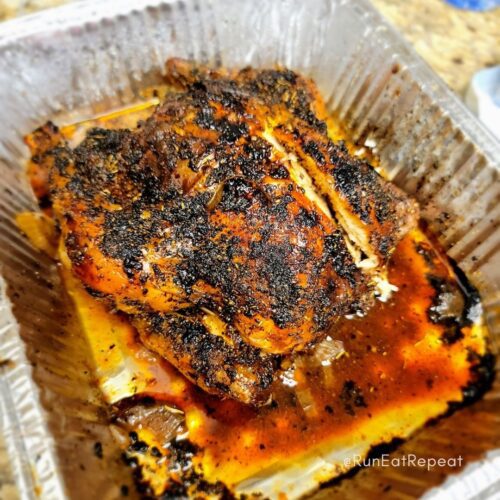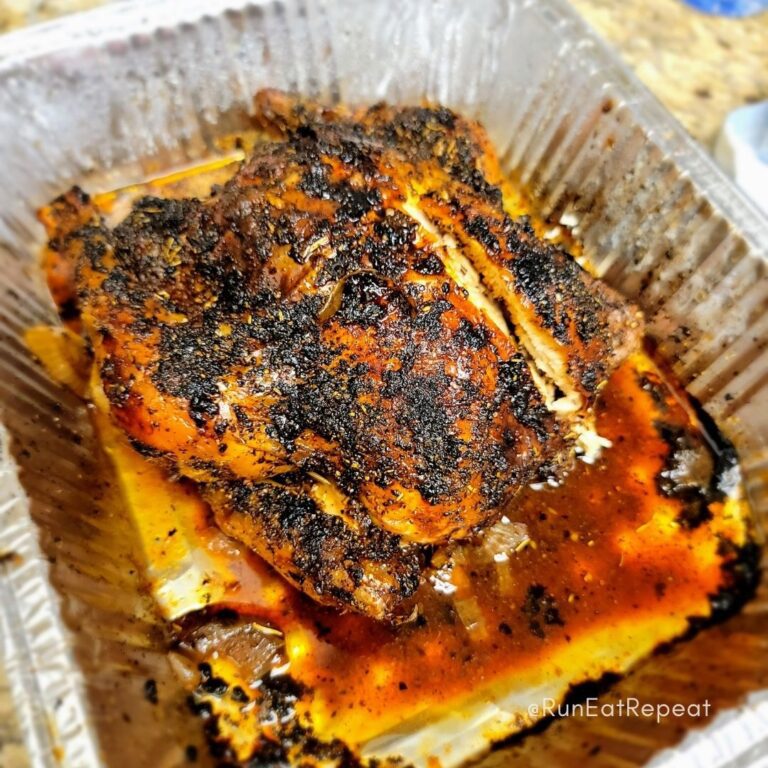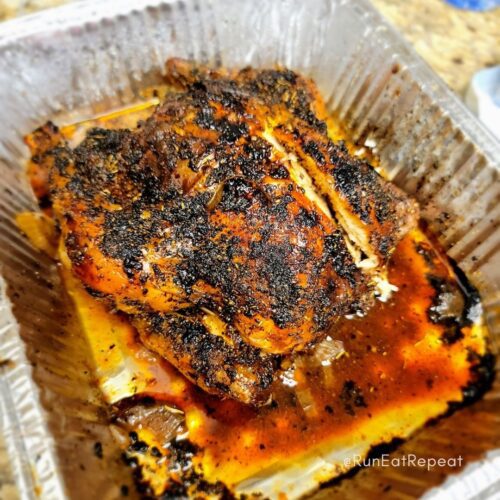 La Croix Sparkling Water Limon Cello flavor Review
In other less delicious food news…
I hit up Grocery Outlet and was so excited to see La Croix for the same price as the grocery store brand sparkling water I usually buy. They had a few different flavors and I wanted to try new to me flavors like this Limon Cello and Passionfruit. The Kroger sparkling water I usually buy doesn't come in these flavors so I was all about it 'bout it.
Unfortunately, I'm NOT a fan of the Limon Cello sparkling water. It tastes like lemon vanilla??! For some reason this combo doesn't seem to work and I don't know what to do with the 2 cases I bought.
I also shared these thoughts on my Instagram Stories (@RunEatRepeat) and got a lot of comments that others didn't like it either. So, it's not just my taste-buds.
I vote: Skip it on the LimonCello La Croix. You're welcome.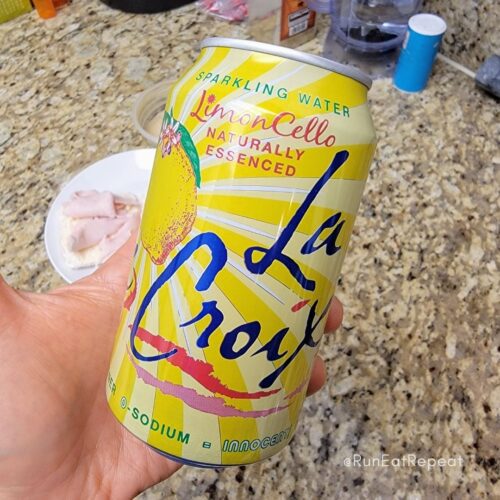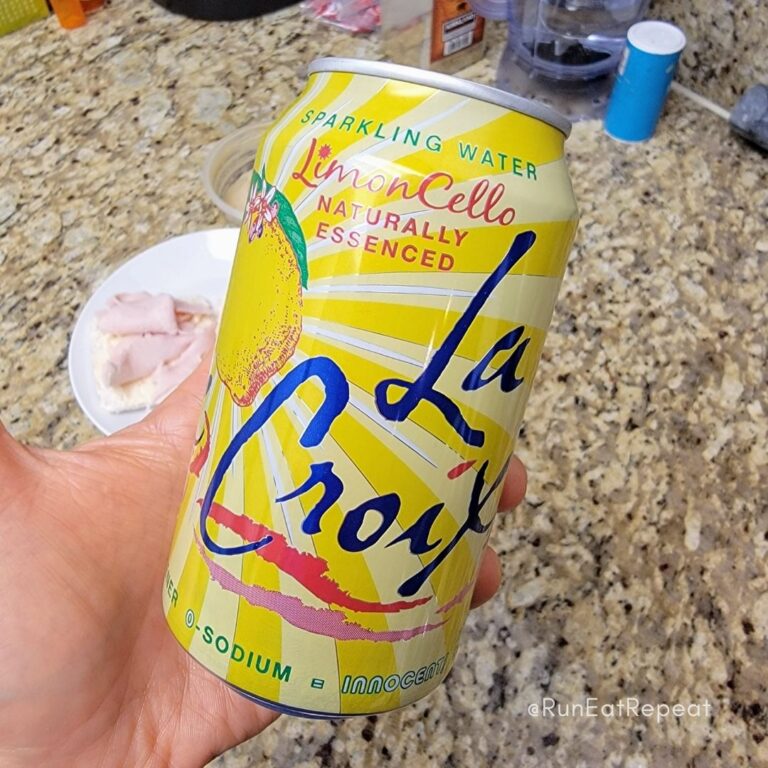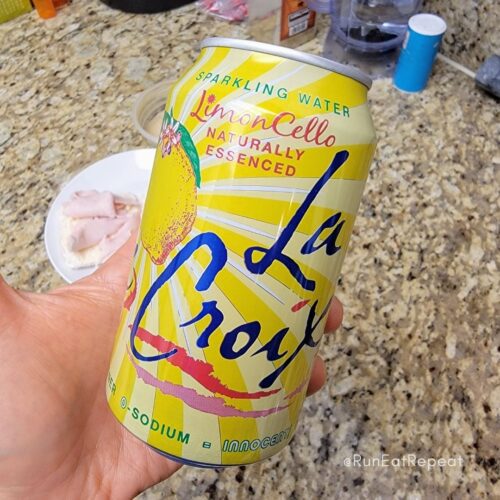 I randomly decided to make a vison board the other night. I was going through a big pile of magazines I haven't read and realized… I'm probably not going to read them.
I've been moving them from place to place when cleaning because I don't want to recycle them or give them away – I want to read them! But at this point they're from a long time ago and I'm getting new magazines I could read if I want. And it's went through my head to make a vision board a few times recently (I randomly heard about it twice in one week and think it's a sign).
Yes, it seems very 2014 to make a vision board. But it's not like manifesting stopped working. If anything – we stopped manifesting! (Maybe if we would've all manifested an amazing year of health and wealth for 2020 – everything would be different today!)
Anyway – I'm making a vision board, it's not just about running but I mostly have running and travel magazines so everything I've ripped out so far seems very run focused. I'm going to work with what I have and just go with it.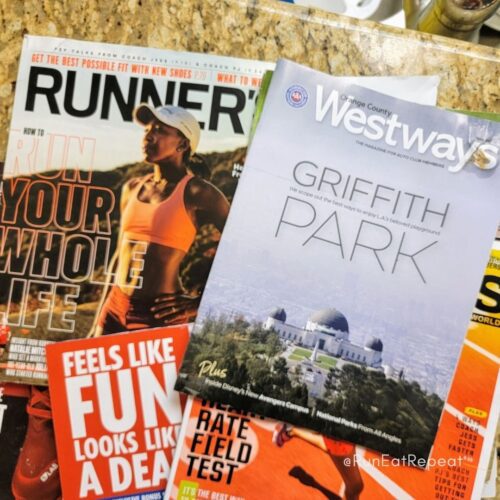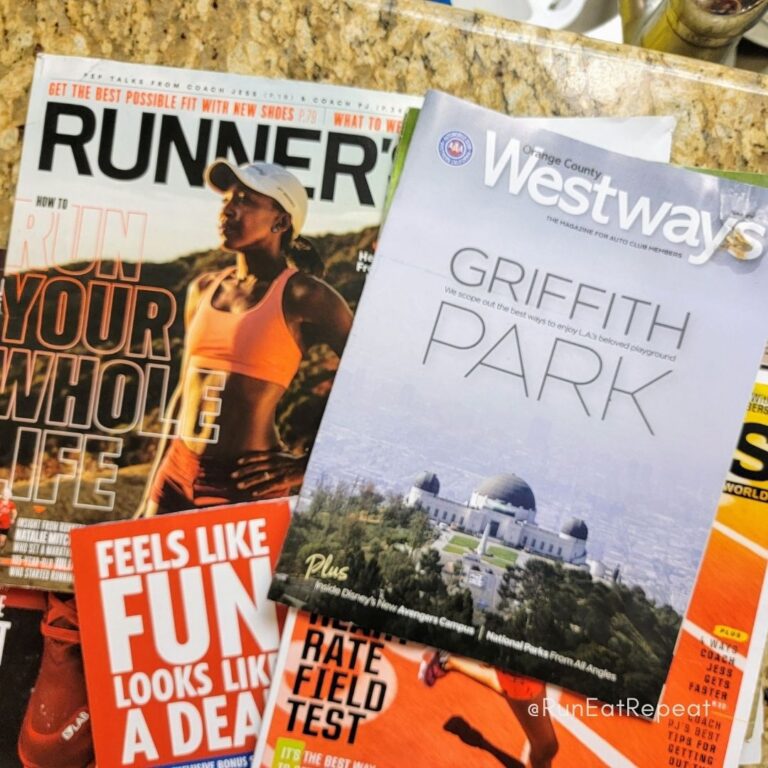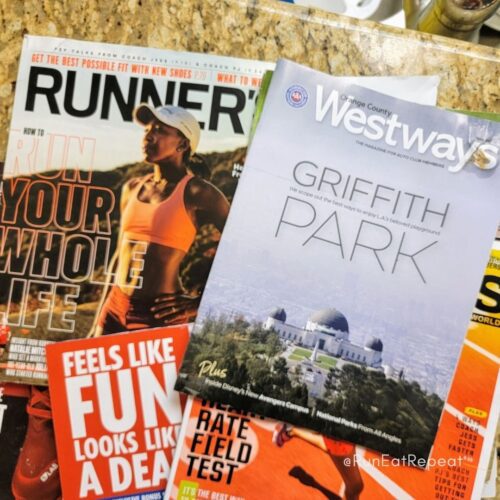 The place I worked at in college had everyone make vision boards at one point, but I was an executive assistant and in charge of organizing the project and getting supplies, so I didn't participate.
What a FAIL! If I would've made it back then I'd already have run all the marathons and hit an amazing PR and own a watermelon farm and a mansion by the beach and 26 golden retrievers and a red Tesla and there'd be world peace. Dang it.
Keep Going… Keep Going: