If your audience has ever considered writing and publishing a book, BookCamp is a great way to help them succeed and grow their business for the long term.

Chad Allen's BookCamp is a membership program for writers who want to get published. If you have an audience that wants to get a book into the world but they aren't sure what the next step is, BookCamp is here to help. By providing expert guidance along with a supportive community of writers, BookCamp provides the shortcut to publication.
I'm personally very excited about this promo for 3 reasons:
It's from my friend Chad Allen. When I needed advice about writing and publishing my upcoming book, Chad is one of the first people I turned to. I've promoted his programs before, and I completely believe in his mission to help aspiring writers get published.
This is an Evergreen Promo. That's right, you can promote BookCamp to your audience at any time. And then promote it again, and again whenever it fits best within your content calendar.
Recurring affiliate commissions. Some promos pay you as soon as the promo ends. This promo will continue to pay you month after month as long as your buyers remain a member of the program.
Target Audience
BookCamp is for writers who want to get a book published. But let's be honest…Everyone should write a book to grow their platform and their business. BookCamp is great for:
Coaches

Speakers

Authors

Designers

Bloggers

Podcasters

Consultants

Experts

Influencers

…anyone else wanting to write a book to grow their business
What's Included?
BookCamp is a community and training hub that helps writers attract an audience and get published.
Inside BookCamp you'll get everything you need to develop your book concept, build an audience, and write your manuscript.
Here's how it looks:
A "Fireside Chat" once a month. This is your chance to get

one-on-one feedback and guidance

from Chad Allen, a 20-year publishing pro, editor, and writing coach.

A virtual "Let's Work Together" session. This is a weekly opportunity

to connect with your fellow BookCampers and work on a project of your choosing for 50 minutes.

Accountability and community for the win!

Instant access to a private Facebook group of like-minded writers who all want to help each other get their books into the world.

You'll feel lucky to be part of this group.

They're committed, savvy, and supportive!

Tutorials on how to develop your concept, structure your book, and improve your writing. They want

your writing to be so compelling, your readers won't want to put it down.

Regular training on building your platform, so

you no longer have to guess how to attract your audience.

They'll give you a clear step-by-step process.

Regular coaching on the publishing industry so you have

the inside scoop on what publishers and agents are looking for.

Immediate access to "The Toolshed." This is a resource library of pdfs, guides, worksheets, webinar replays, and other trainings so that you

have everything you need to write, promote, and pitch your book.
BookCamp Conversations in which I interview successful authors, agents, marketing specialists, and more.
Launch Dates
Like I said above, BookCamp is an Evergreen offer. You can promote it any time that works in your calendar.
And you can promote it repeatedly or add it to your evergreen email sequences to earn without lifting a finger.
In addition, Chad will consider conducting a webinar for partners titled How to to Get Your Book Published and Sell Your First 1,000 Copies. He'll send you a partner kit with email swipe, social swipe, and login credentials so you can preview the BookCamp Members Area.
Pricing
Current Price: $37/month
Commissions: 25% monthly recurring commissions. Currently $9.25 per month per affiliated BookCamp member for as long as they're in the program.
Past Affiliates
I've personally promoted Chad, and he's previously worked with Jeff Goins, Grant Baldwin, Sarah Geringer, Matthew Loomis, Morgan Gist MacDonald, Joe Bunting, Mike Kim, and Joseph Michael.
About Chad Allen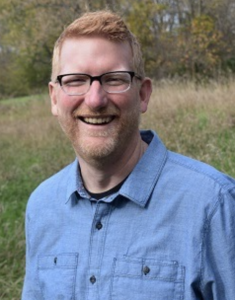 Chad Allen is a writer, speaker, editor, and writing coach. A 20-year publishing professional, he served in acquisitions and directorial roles for Baker Books, a division of Baker Publishing Group, before going full-time with his own business. He has collaborated with numerous bestselling authors including Michael Hyatt, Jeff Goins, Caroline Leaf, Ernie Johnson Jr., Chip Ingram, Mary DeMuth, John Burke, Mark Batterson, and Phyllis Tickle.
He is the creator of Book Proposal Academy, an online course, and BookCamp, a mentoring and community hub for writers. His passion is helping writers get their books into the world, and he blogs at chadrallen.com.
He has been published in such online places as LifeHacker, The Accidental Creative, MichaelHyatt.com, Goinswriter.com, and The Good Men Project.
Chad holds a B.A. in English from the University of Nebraska-Lincoln and an M.A. in Theology from the University of Notre Dame. He and his wife, Alyssa, live with their two children in Grand Rapids, Michigan.