Sharing a recap from our recent San Diego trip, plus some of our all-time favorite places in San Diego.
Hi friends! Happy Monday! How was the weekend? I hope you had a lovely one. Ours went by a liiiiittle too quickly, but we're back in the swing of things today. We celebrated madre's birthday, Liv and P had their dance recital, and I made a baby meal for a friend. I hope you had a great weekend, too!
Since we just got back from an awesome trip to San Diego, I thought I'd pop in today and share a roundup of some of our very favorite spots. (For my newer reader friends, we lived there for a few years and loved it!) Before we lived in San Diego, it was a vacation spot, and we'd spend our entire trip in one neighborhood. For example, we'd stay in La Jolla, park our car, and spend the entire trip walking. We didn't get our car until it was time to go home, and there was TONS to do in La Jolla. You can do this in any of the large neighborhoods in San Diego, and each one will be packed with awesome restaurants and food options. (Especially if you're in Point Loma/OB, Pacific Beach, Mission Beach, Little Italy/Gaslamp, or Hillcrest.)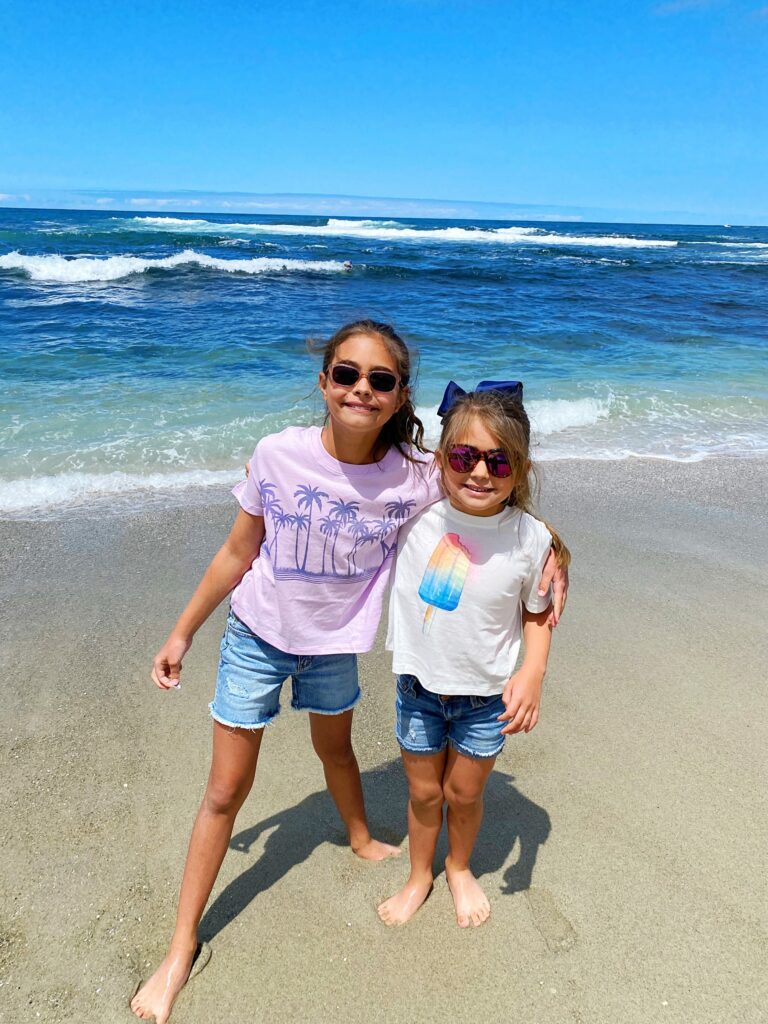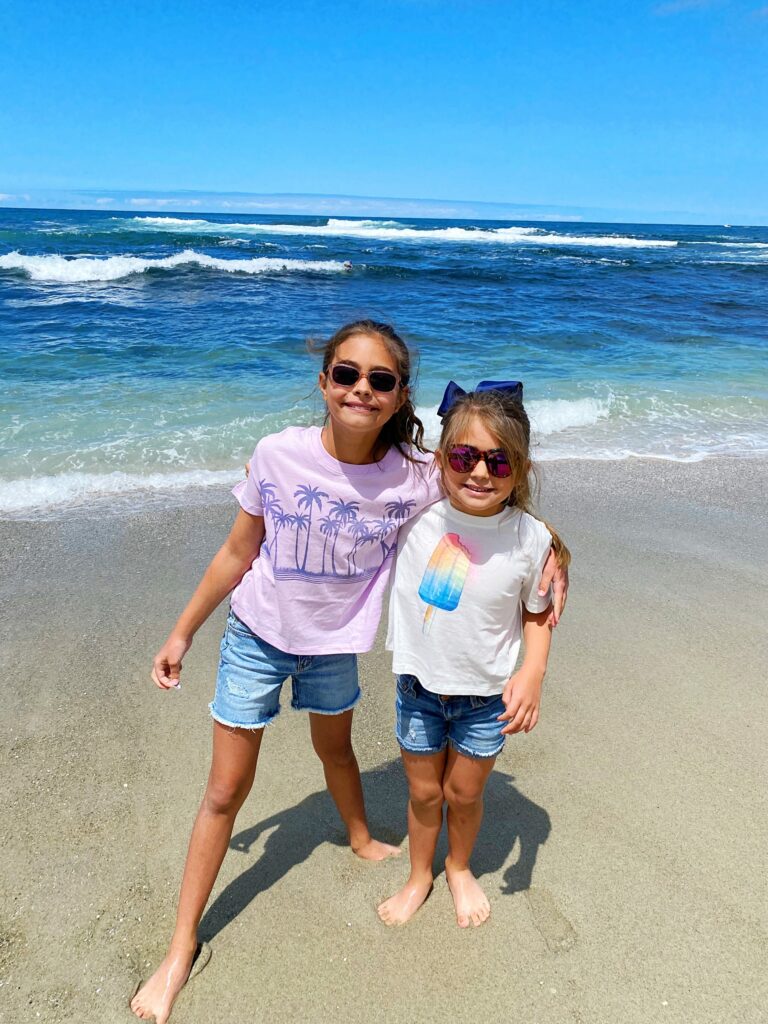 There's just so much to do and when in doubt, the beach is always there. The kids will spend hours playing in the sand and running in the waves. We spent a lot of time this past week doing that, in addition to some other fun activities.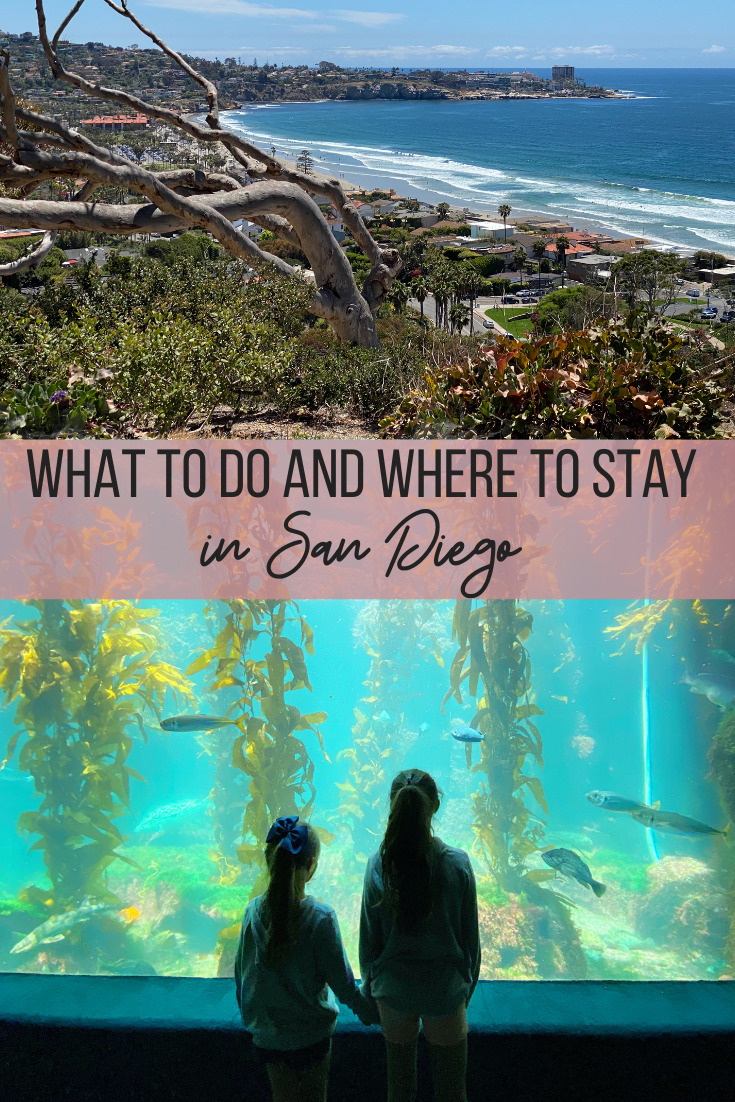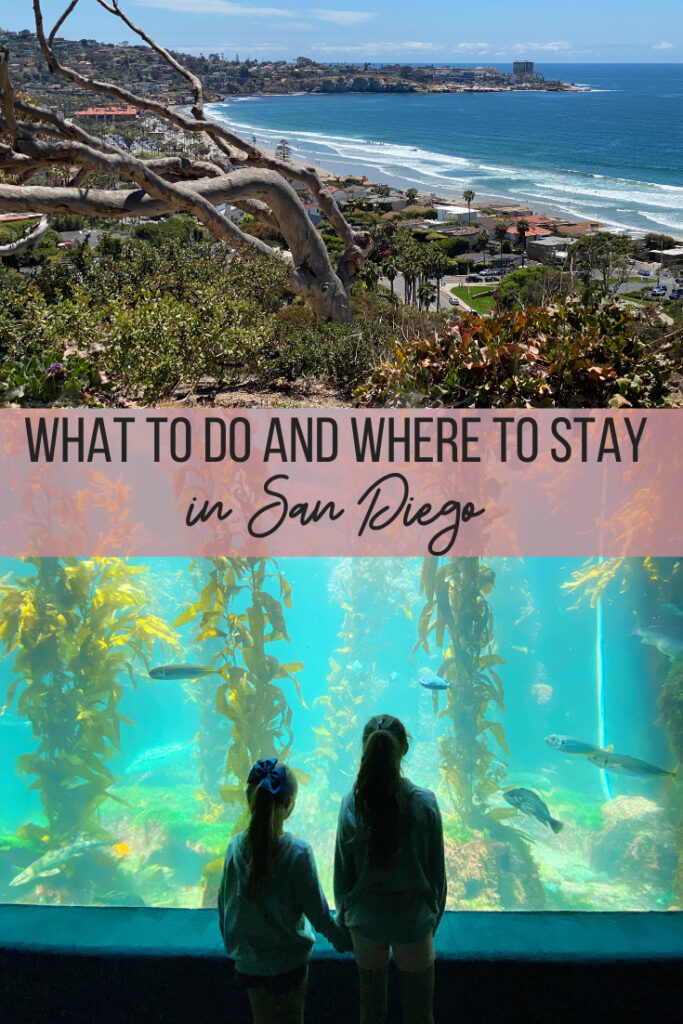 A roundup of some of our all-time favorite spots in San Diego. SD is a FOODIE SCENE and I feel like it's hard to find bad food in San Diego. There have been so many wonderful spots we've tried over the years, but the only ones that made the list below have a serious wow factor.
Best San Diego restaurants:
For a date night, head to:
Bo Beau Kitchen – I just love Bo Beau SO much. It's French cuisine, and everything is beautifully prepared and so flavorful. The mussels, the goat cheese flatbread, the wine selection, the vibe, everything.
Mister A's (for a special occasion) – this is the spot to go if you feel like getting dressed up and want exquisite views of the city
Herringbone (Ja Jolla) – the atmosphere here is lovely (they have a giant tree growing in the center of the restaurant) and the food is, too.
Harney Sushi (Old Town)
Catania (La Jolla)
Herb & Wood
Breakfast:
The Cottage. This has been consistency awesome since I was pregnant with Liv. It's one of our go-to spots in La Jolla.
Great Maple (Hillcrest). The breakfast here is RIDICULOUS and we'd frequently bring out-of-town guests here. Get the beignets!
The Mission (North Park)
Breakfast Republic
Snooze
For family-friendly fare:
Corvette's! (Liberty Station. The kids LOVE it here! They have an arcade, they do straw designs in the kids' hair, and it's 50s style diner food, so think over-the-top milkshakes and diner faves. There's always a wait and it's always worth it)
Cafe Coyote (Old Town) – It's a casual and huge Mexican restaurant in Old Town. They make their tortillas fresh, the food is great, and they have giant margaritas. Wins all around. (We've tried many other spots in Old Town and Cafe Coyote has had the most consistent food and the fastest service, which can be handy when you're dining with little ones.)
OB Noodle House. UGHHH OB Noodle House. I dream about their pho and while we used to walk here often for dinner, we now have it at least once when we visit. The food is so flavorful and good, and it's a great casual dinner spot. Get the lettuce wraps, the pho, and/or the Teriyaki chicken dinner plate (it's so simple, but perfect).
Stone Brewing. They have a large outdoor garden seating area, the menu is diverse, and they have a lot of local beer options.
Mitch's Seafood (Point Loma) or Point Loma Seafoods. For Mitch's, you pick what kind of seafood you'd like – all of the daily catches are listed on an enormous chalkboard – and how you'd like it prepared. I highly recommend fish tacos with a michelada, and eat it on the patio overlooking the bay.
Puesto Tacos (La Jolla or Seaport Village). AMAZING tacos, margaritas, you'll love it.
Crack Shack (Little Italy north). I'm not a fried chicken person but Crack Shack made me a fried chicken person. It's salty, crispy, a little spicy, and I'm very glad I discovered it after I was pregnant with P. (She would have been a fried chicken baby instead of a steak and soft pretzel baby lol.)
Tender Greens – multiple locations (Very casual but awesome, fresh food)
Cesarina (Point Loma). This was a recent find and we had a lovely dinner here with Betsy and her fam. ALL of the pastas, sauces, and desserts are made in-house. It's extremely fresh and vibrant food, and they had a vegan eggplant parm that was to.die.for.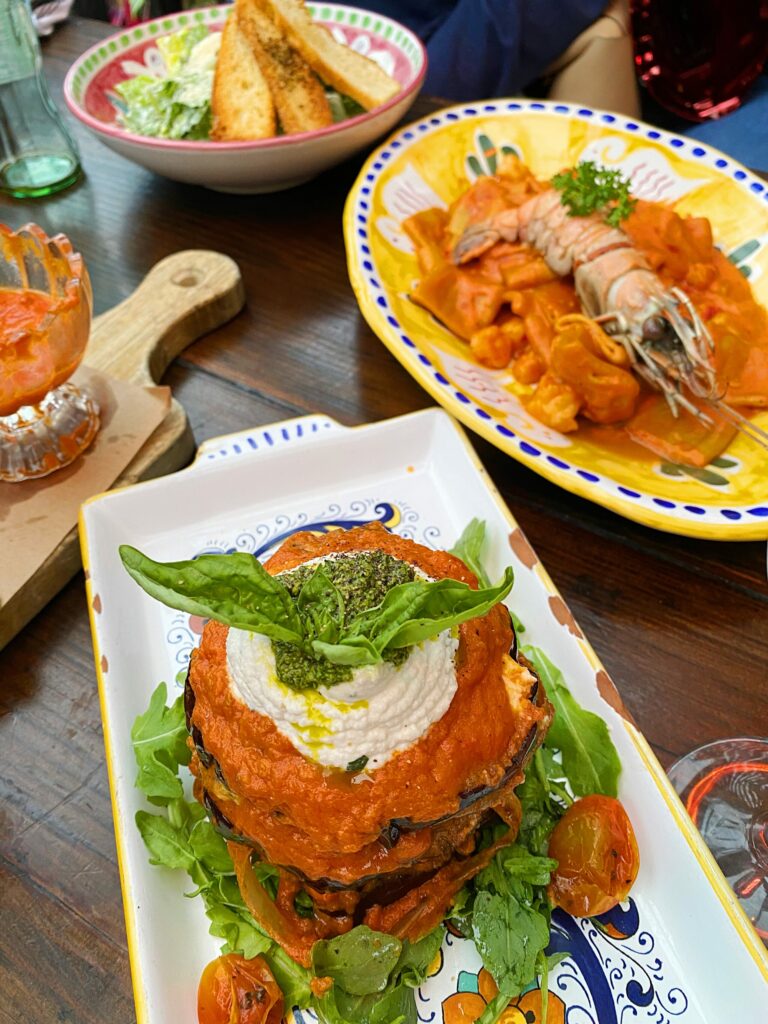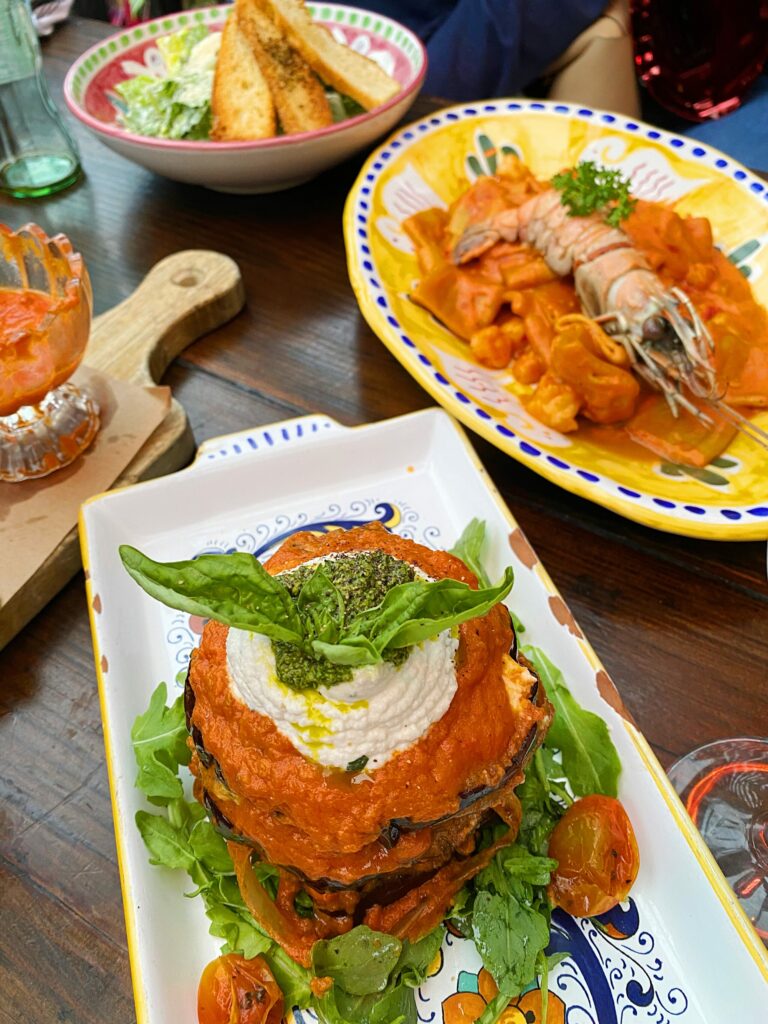 Draft (Mission) – This is the spot if you've been hanging around Belmont Park and want a casual bite. They have an excellent beer selection, great appetizers, and food.
Cody's (La Jolla). Dine al fresco by the beach with a unique cocktail menu.
Isola Pizza (Little Italy). The BEST wood-fired pizza.
Liberty Station Public Market – lots of options and you can find something for everyone, whether it's mac n' cheese, a lobster roll, poke bowls, Thai food, a salad, a burger, and ridiculous desserts
Quick, to-go food and vegan options:
Better Buzz!! Get the Best Drink Ever and the avocado toast. They have gf bread, too. 🙂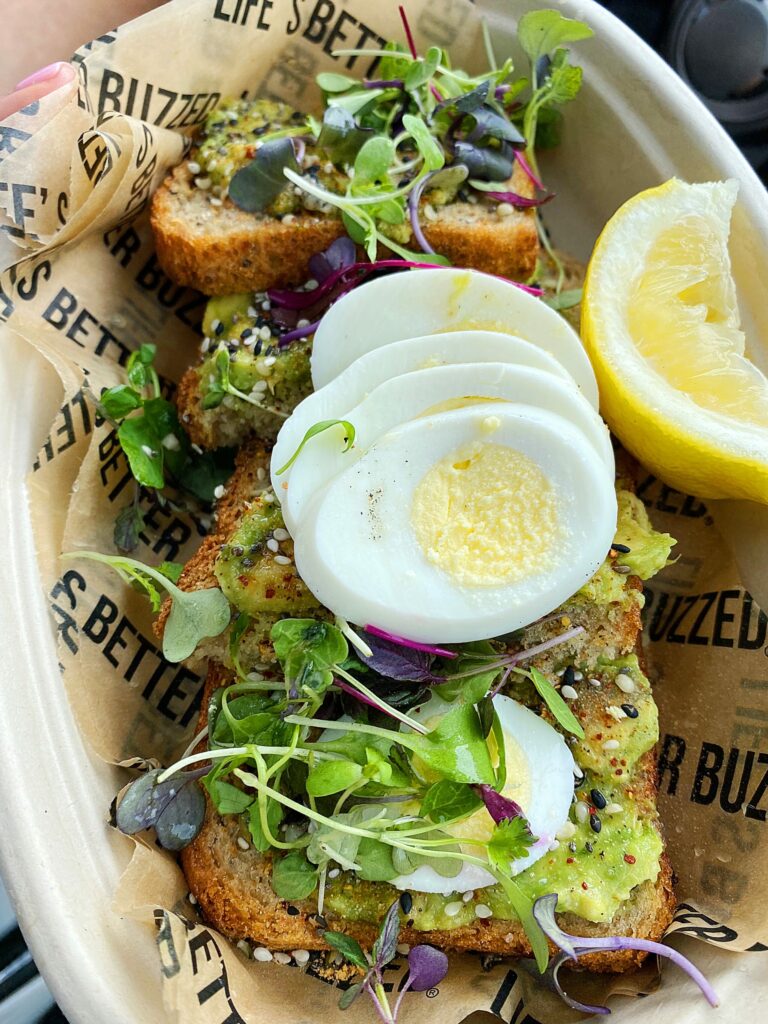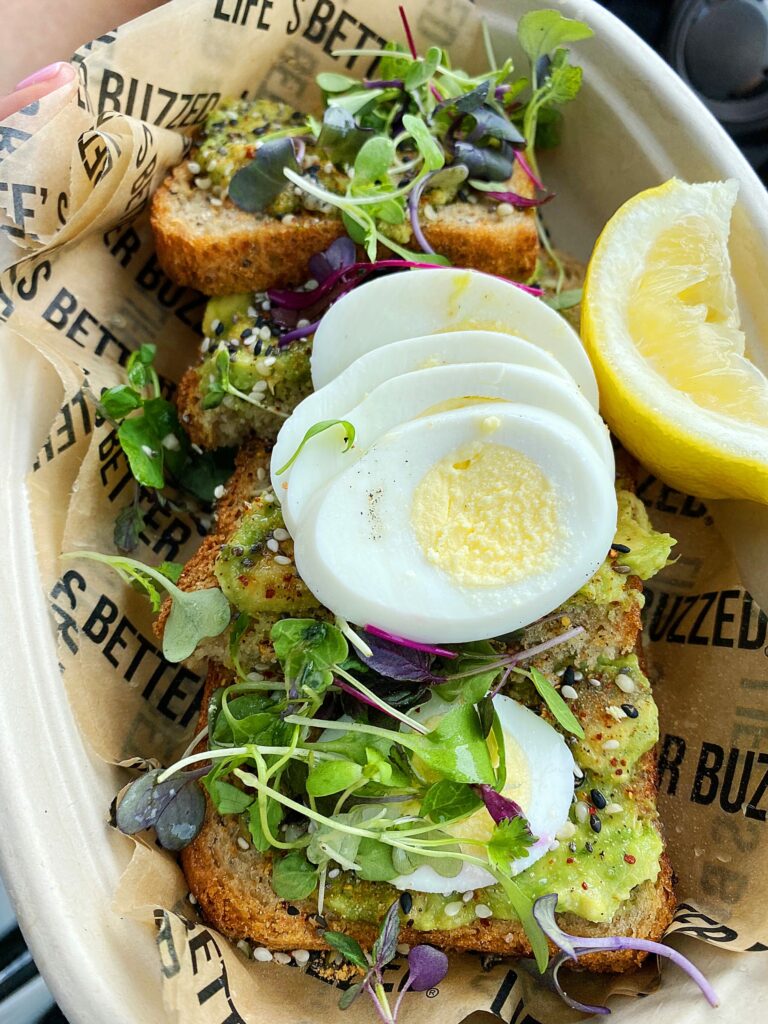 Saffron (get the Brain Food – it's a mix of chicken, kale, sweet potato, and warming spices, like turmeric, garlic, and ginger)
Tiki Port for the best acai bowls of your life (Cafe by the Bay in PB is my #2 choice). I recommend the Drifter (it has chocolate chips) add peanut butter.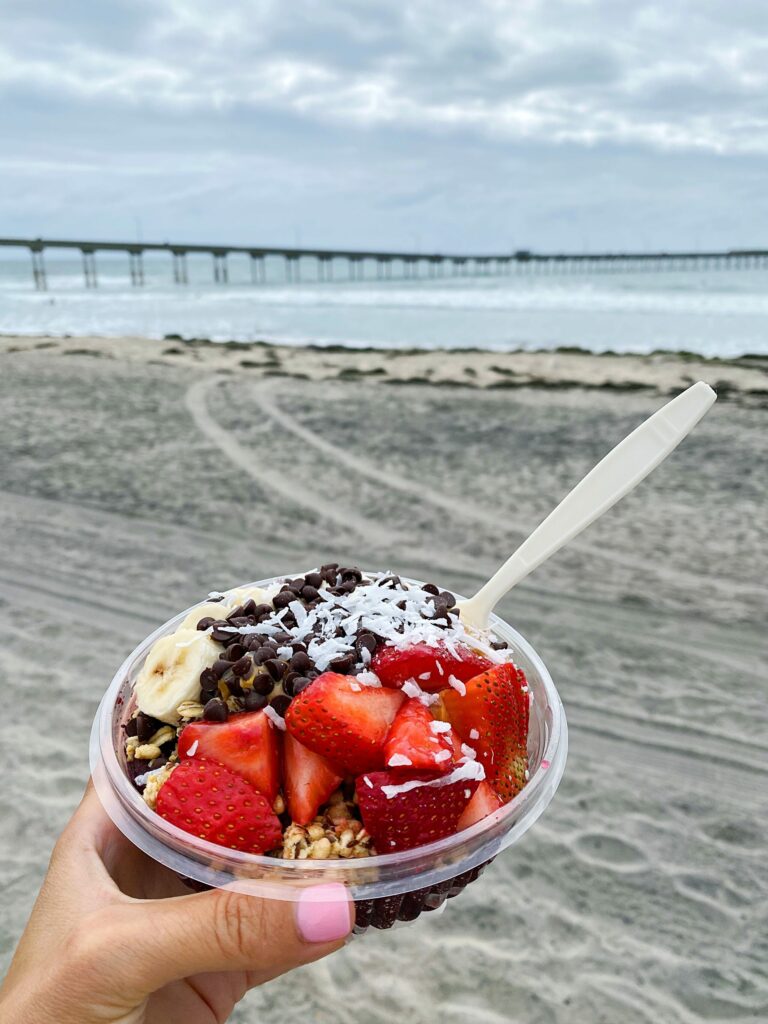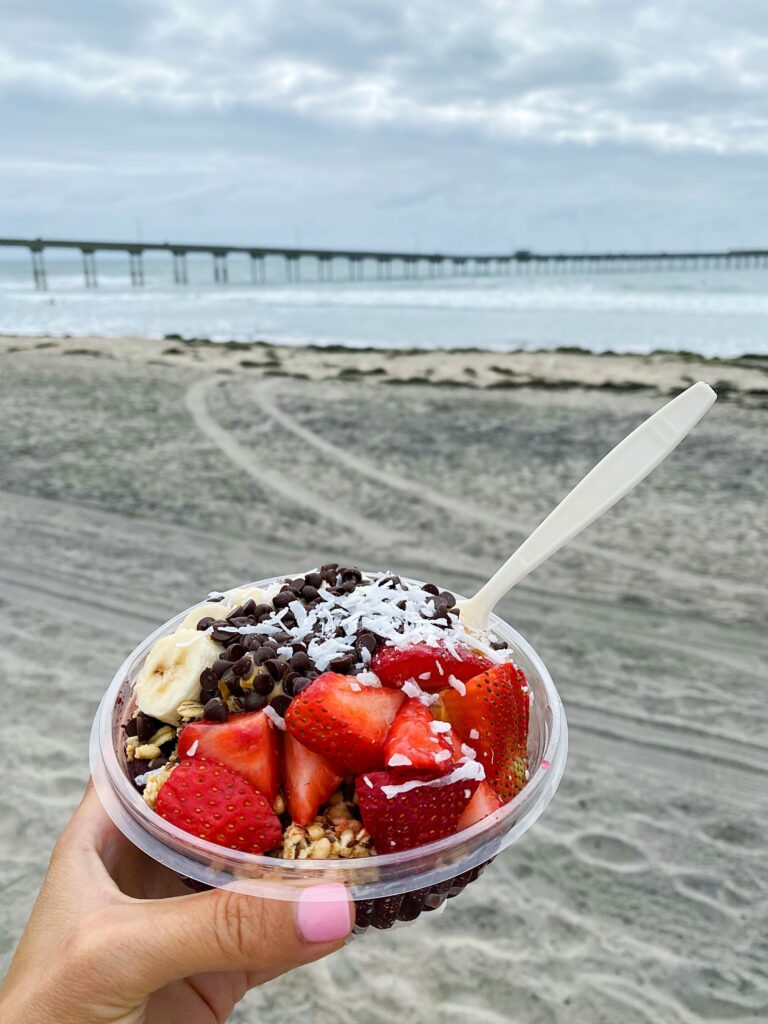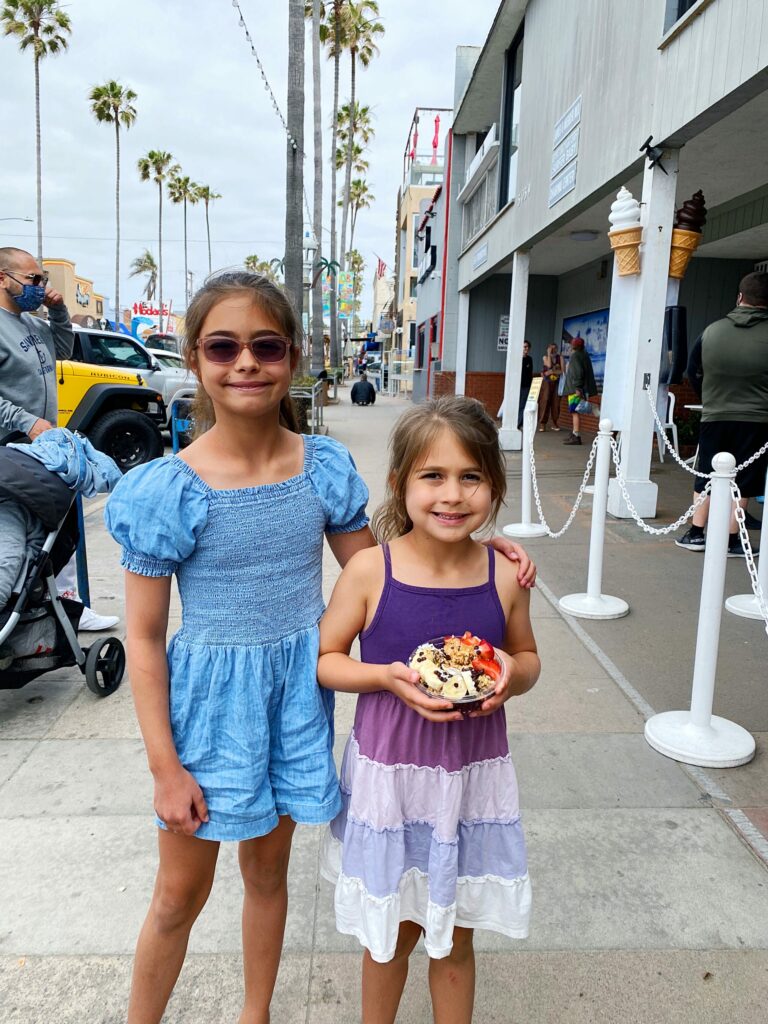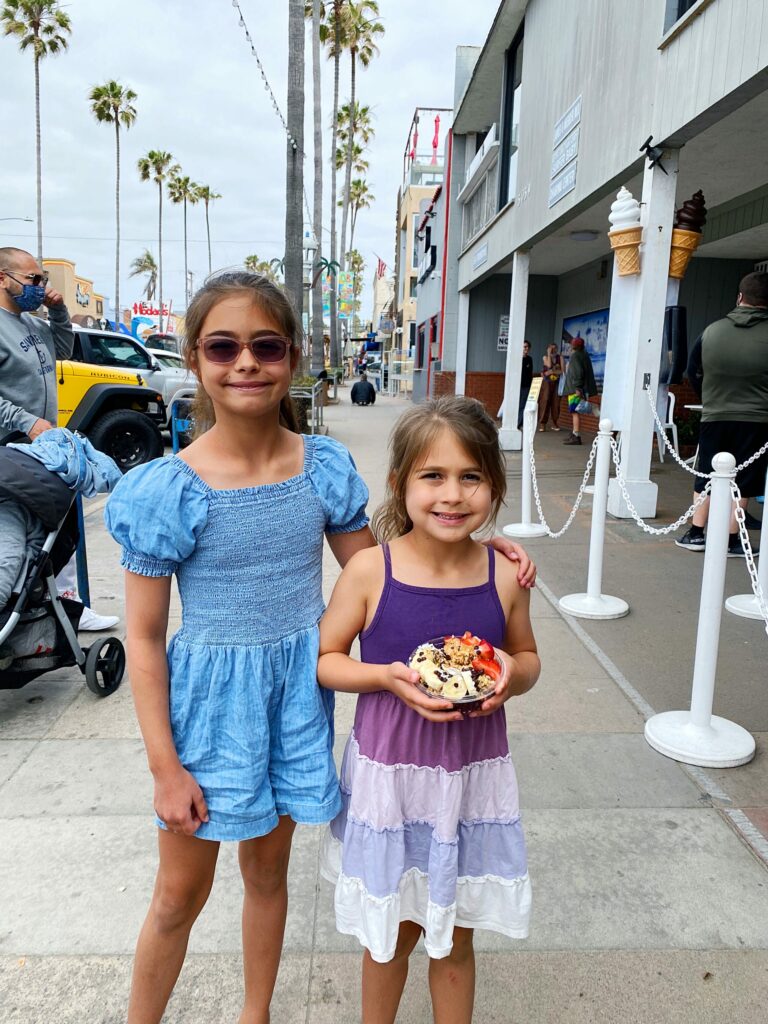 Pizza Port. We've been fans of Pizza Port for years! They're a microbrewery with local beers on tap, along with gluten-free and vegan pizza options. The pizza flavors are all unique and the dough is perfection.
Cafe Gratitude (Little Italy) – all vegan and SO delicious
Triology Sanctuary (La Jolla) – another vegan spot specializing in raw offerings. It's on a rooftop with a gorgeous patio and views. They also offer yoga classes here!
Nomad Donuts (North Park)
Swami's Cafe (North Park)
Kid-friendly activities:
Belmont Park – the kids go crazy here. They have lots of rides, an arcade, mini golf, a rock wall, zipline, and it's steps away from the beach
The New Children's Museum – we haven't been recently, but the girls have always loved visiting
See the seals at La Jolla Cove. I could watch them all day. The Pilot and I talk about retiring in La Jolla, and taking our coffee down to the cove in the morning to watch the seals 🙂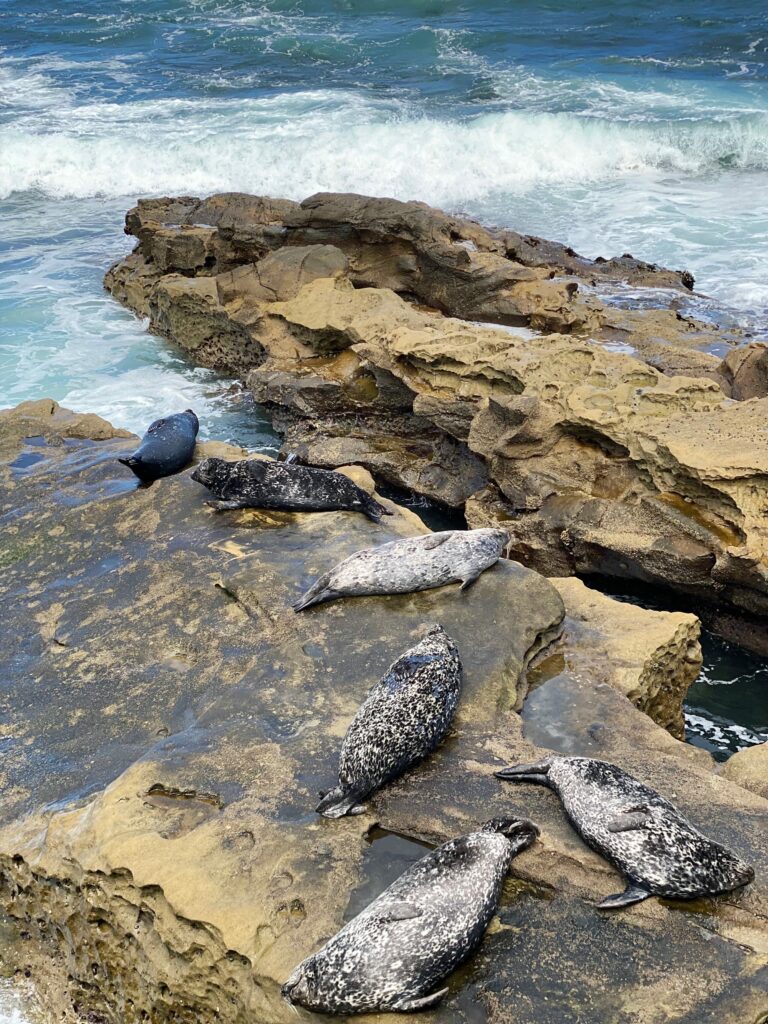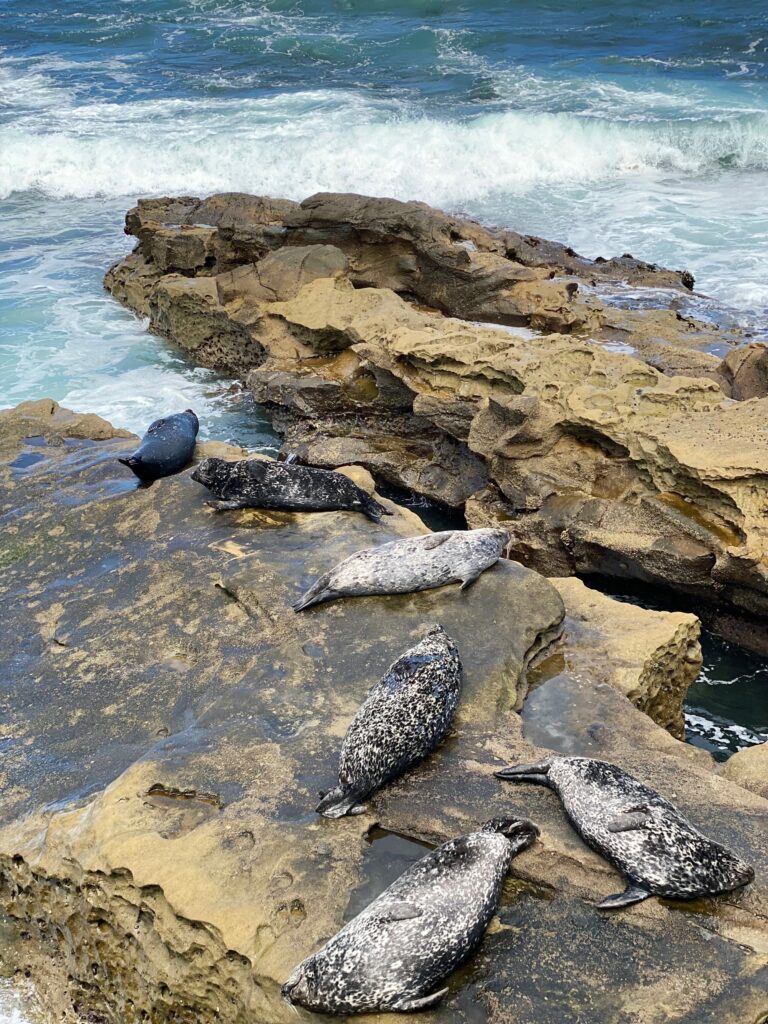 Scripp's Aquarium – so much to see here, including a tide pool with an area to pet different sea creatures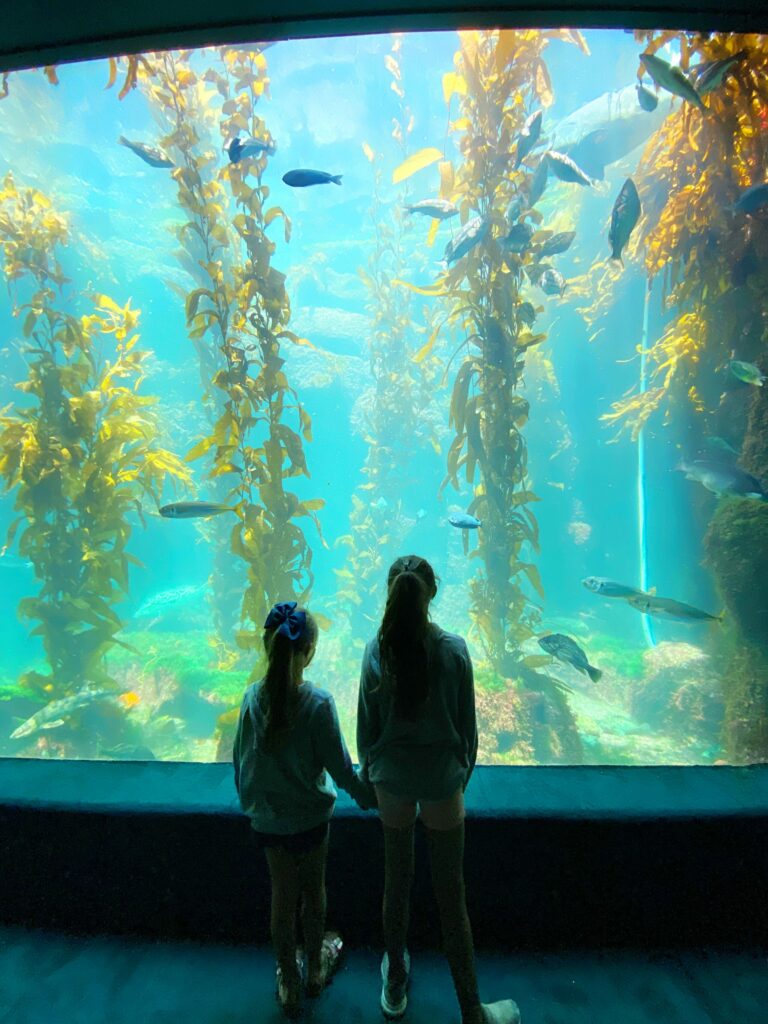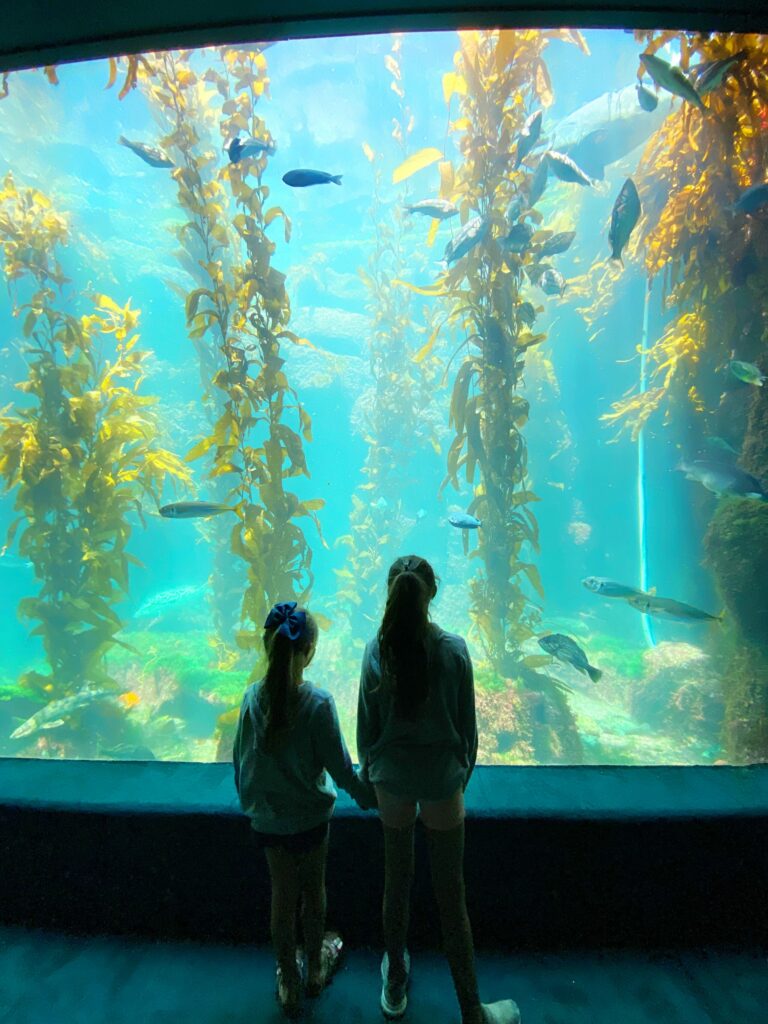 San Diego Zoo – the zoo is always a hit with the kids and you can spend an hour there, or the entire day
Stroll around Balboa Park and ride the historic carousel
Safari Park
See a movie and grab dinner at the Lot (Liberty Station or La Jolla). Get the chili lime popcorn!
Visit a park! We love the one in Liberty Station and Fanuel park in PB
Date ideas:
Rent a paddle board to paddle around Mission Bay (we also like Kellogg Beach; it's more a hidden spot and not as busy)
Get join spa treatments at Therapie Day Spa
Dueling pianos at Shout House (I'm not sure if it's open right now but it has always been one of our favorite date night spots)
Where to stay in San Diego:
We've stayed at quite a few different places in SD on vacations and staycations (when we lived there!) and the Hotel del Coronado has always been one of our favorite places.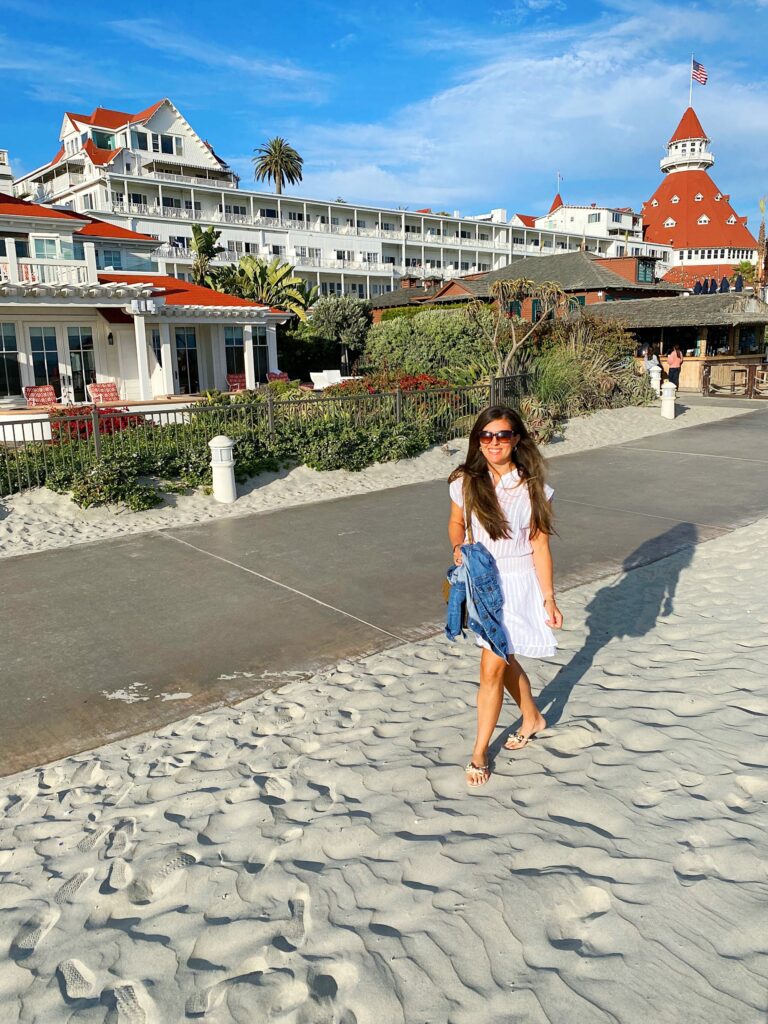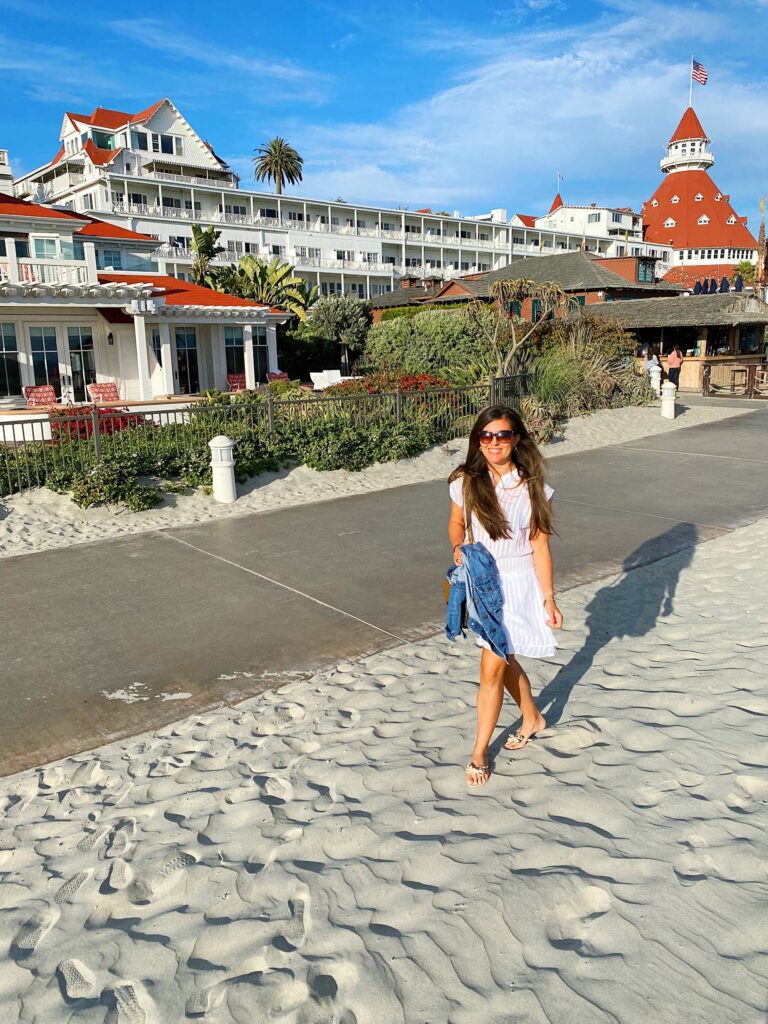 We'll usually stay a night or two in Liberty Station (either at a Marriott or Airbnb) and then head to the Del for the rest of our stay. The amenities are incredible – they do movie nights in the summer and we love winter ice skating- and the rooms are always spacious and beautiful. It's a historic hotel and I've always been fascinated by its history, even though it's a little bit haunted.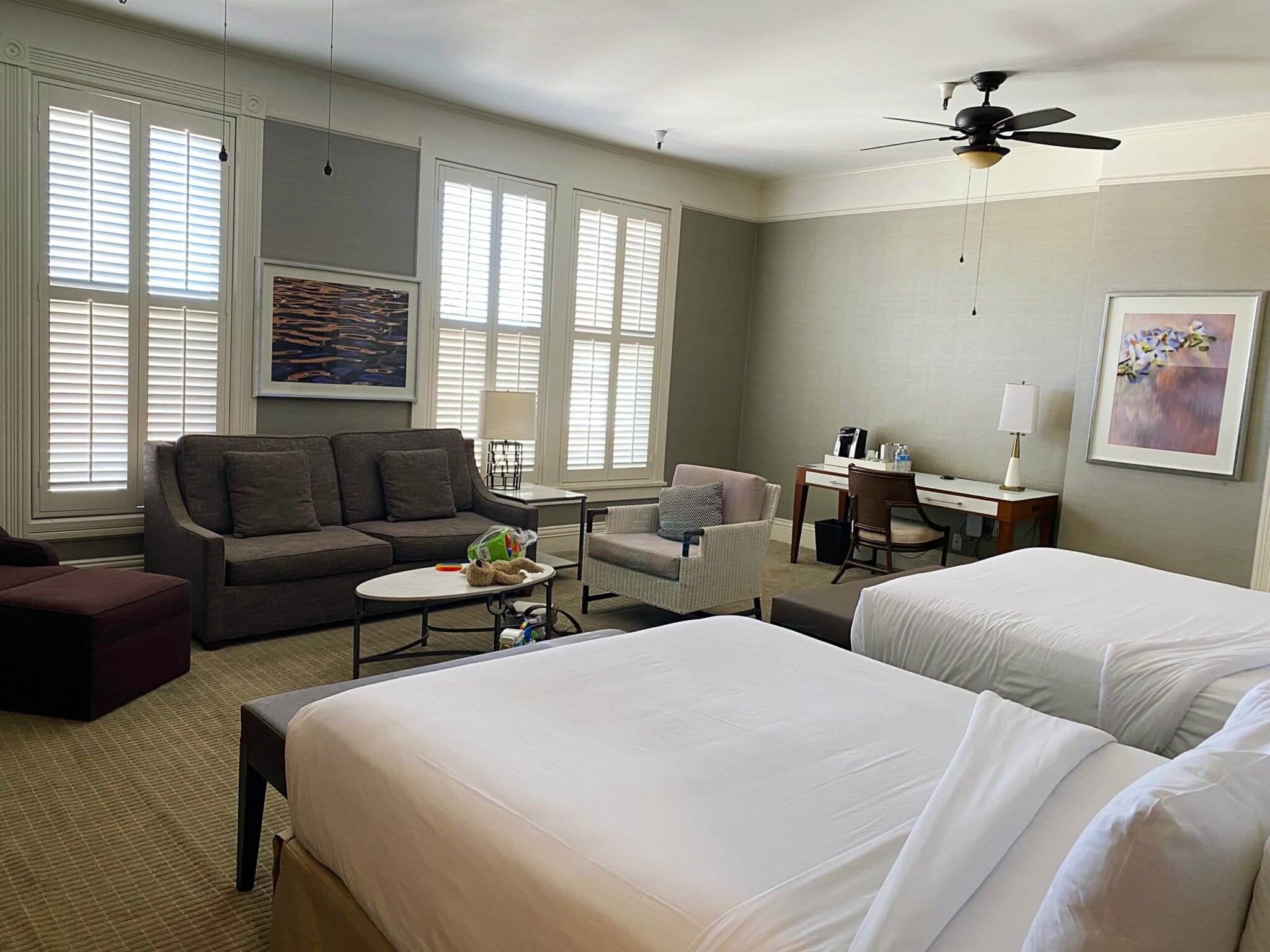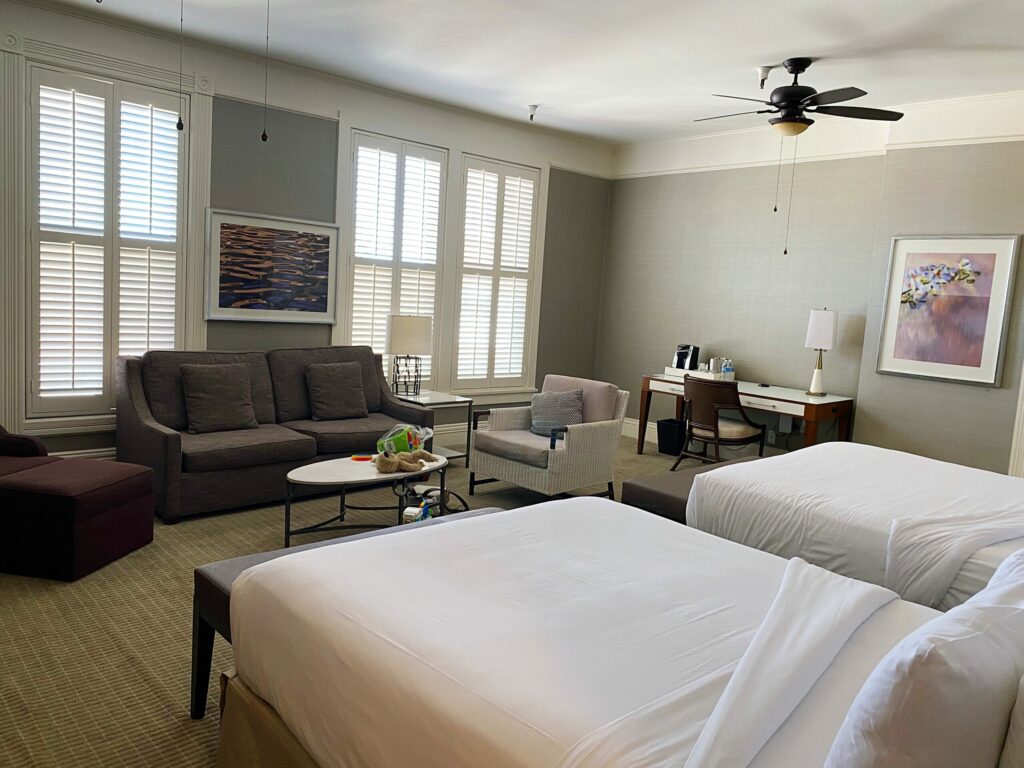 Our last two stays at the Del haven't been as magical as usual, but a lot of that has to do with the fact that they've been under construction for over a year. With the current restorations, some of the dining options have limited hours or are closed, and the downstairs shop and main lobby are also closed. It's definitely not a low-cost hotel, so I think it's worth waiting until construction is over to enjoy the full experience.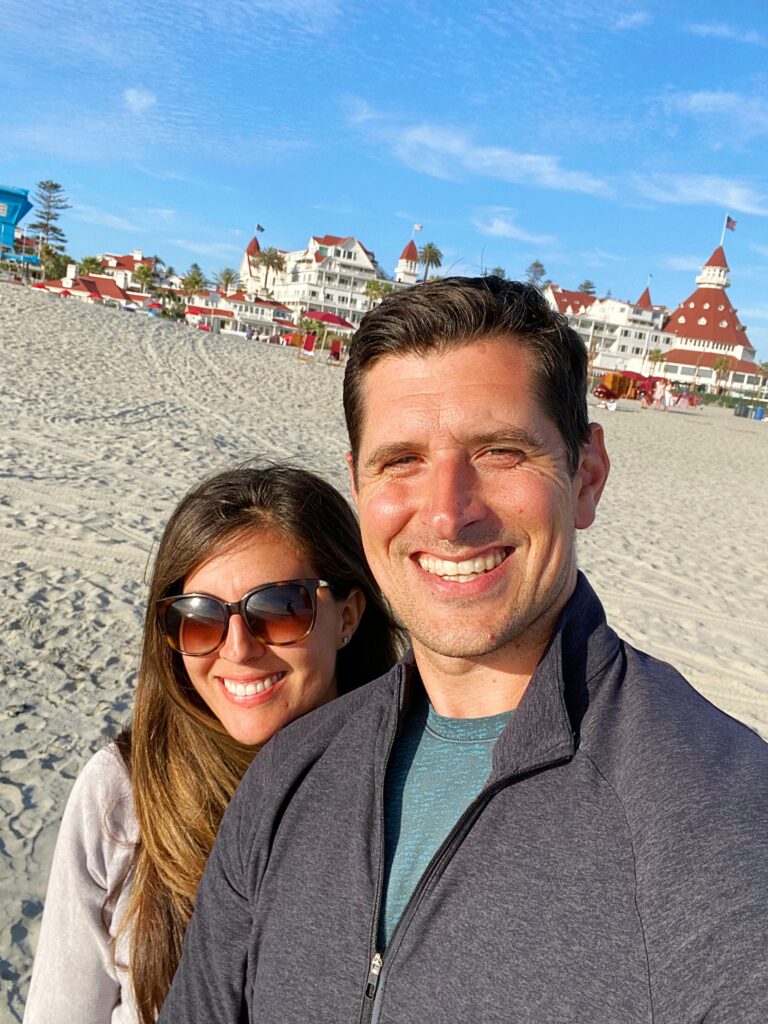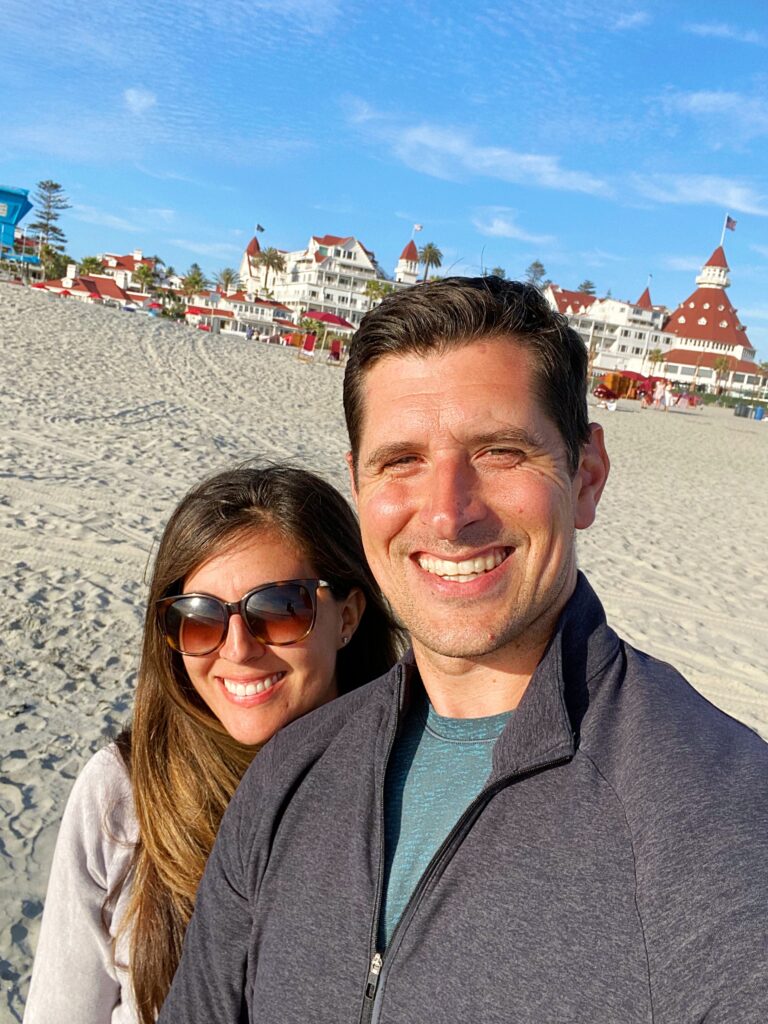 Some other spots we'd recommend:
– Westin in the Gaslamp
– La Valencia (La Jolla)
– Tower23 (Pacific Beach)
– US Grant (Gaslamp)
– An AirBnb or Vrbo. For this one, check out the areas where you'll be spending most of your time and try to find one close by with good reviews. There are quite a few options available in all of the major areas and the good news is that while San Diego is spread out, it's a quick drive on the freeway to get around.
So, tell me, friends: where's your favorite close vacation spot? Where do you love to go in San Diego? Any San Diego locals who might be able to share some of their top faves?
xo
Gina
Heads up: I'll be back tomorrow with some details about Fit Team and how to join!