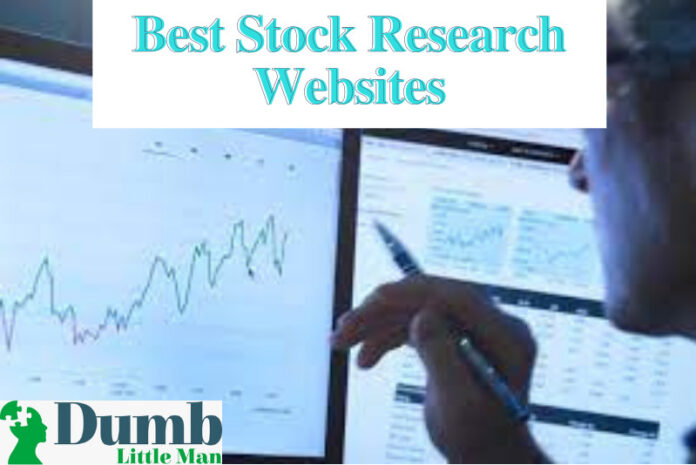 Anyone thinking of investing or acquiring stocks for future profit needs access to crucial information- the performance history of the company. This is to help him make a sound financial decision.
This is where stock market research comes in. Stock market research provides data on each publicly traded financial company since it was started. It also provides details on each company's strengths, profitability, weaknesses, losses, and other projections.
Where can you get such information from?
The internet is full of thousands of investment websites. Their primary goal is to support active traders, access stock market research and be able to customise the data. The data can be either provided free or as a premium service.
With the information readily available, a trader can start conducting investment research to develop a working trading strategy. Furthermore, he can also find the best investment sites, hire investment professionals to help him make informed investment decisions about equity markets, individual stocks, and mutual funds.
In the long term, these stock analysis websites provide reliable data on stock picks, have stock screening tools,  have information on stock portfolio, price and volume activity as well as securities and exchange commission.
This article provides you with the best stock research websites to use when looking for portfolio analysis tools, index funds, trade ideas, stock recommendations and in depth analysis of stocks. Let's get started with the best stock market websites.
Here Are Best Stock Research Websites For Use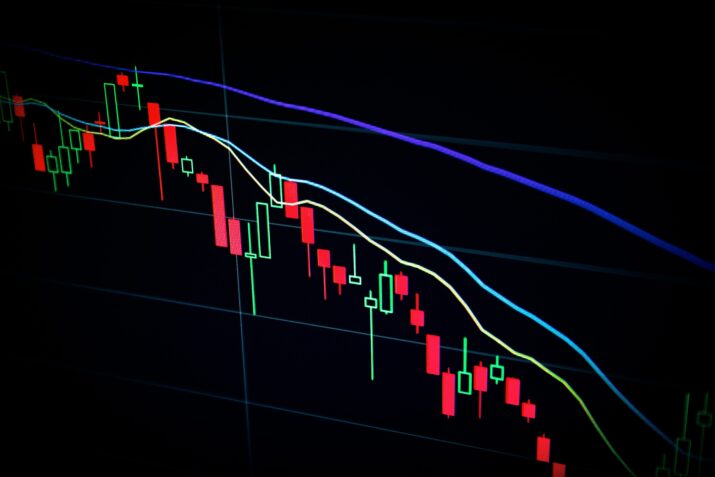 Image from Unsplash
Finviz, a free stock research website, is mostly used by fundamental traders. It provides lots of free statistics for the stock market, currencies, futures and cryptocurrency.
It's a user-friendly investment platform that allows you to scan stocks and get fundamental stock research data. Simply key in the ticker of your favorite stock, and you'll have instant access to a slew of useful features.  Most of its features are free of charge.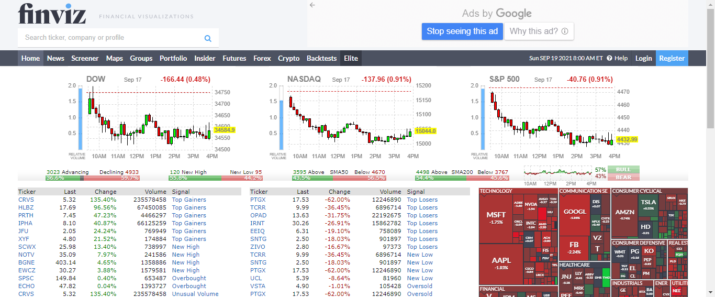 On the home page, they have daily top-lists with top gainers and losers, as well as technical analysis scan results for double tops, channel moves, and support- and resistance alarms. Finviz is one of the best investing websites in my opinion.
Finviz, like other stock research websites, offers a premium service called Finviz Elite.
Pricing
Finviz Elite is a monthly subscription that costs $39.50 and an annual subscription that costs $299.50. You can save $100 wih an annual subscription.
Finvin Features
Screeners: Traders and investors can use the site to enter various parameters and receive a list of all stocks that meet those requirements. You can look for companies by candlestick pattern, price,market cap,beta,average volume, RSI, sector,float short, or even the number of shares outstanding.
News: Finviz has a news section with brief headlines that traders can sort by source or time. CNN, PR Newswire, Briefing, Wall Street Journal, MarketWatch, , NBC, and Bloomberg are just a few of the free news feeds used.
Heat maps:Finviz is an excellent application for exploring and analyzing vast volumes of market data. Stock maps of a given group, country, sector, exchange, or industry can be viewed. You can also undertake extra study if you come across a sector or stock that interests you.
CLICK HERE TO READ MORE ABOUT FINVIZ
2. Stock Rover
For fundamental data analysis, Stock Rover stands out among the best investment sites to research stocks.  Its research reports are more detailed than from any other stock research website.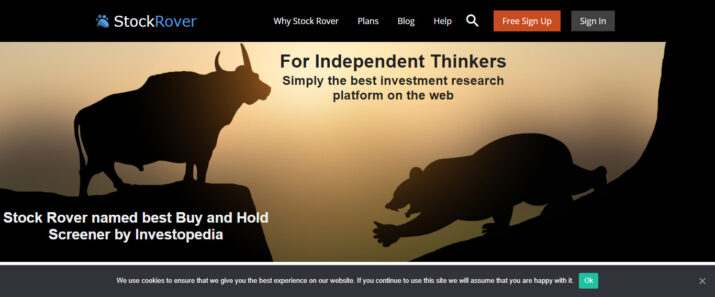 With its tracking software, you can maintain track of your portfolio. It provides extensive performance analysis, emails performance reports, provides correlation tools,trade planning, rebalancing facilities, and in-depth portfolio analysis.
You can also generate real-time study reports that provide you a comprehensive fundamental and technical analysis of the company's performance over the previous ten years.
Stock Rover presents important financial facts in an easy-to-understand style. Tables, charts, colors, and other fun features are included in the reports, which may be exported as PDF files for later use.
Stock Rover, on the other hand, has a lot more to offer and is one of the best stock market analysis software options available. Stock rover subscribers can use their backtest engine, connect their brokerage account to the portfolio analysis tool, and create their own stock screeners.
To perform better stock research, you'll need to upgrade to premium services.
Pricing
Stock Rover has 14-day free trial after which you'll have to part with $7.99- $27.99 a month or on discounted annual and biannual plans.
Stock Rover stand out Features:
Screener: Stock Rover is a real-time stock screener that provides an easy-to-understand updating ease. Using which organizations run under their expected objective value and marking occurrences to purchase stocks with an integrated border of protection, for example.
Brokerage Connect: Stock Rover has a web-based application with most notable features. It provides consumers with read-only information about the assets in their stock portfolio.
CLICK HERE TO READ MORE ABOUT STOCK ROVER
Benzinga pro is a stock research and investment site that combines news, stock screener  and charts. It's one of the best sites to research stocks.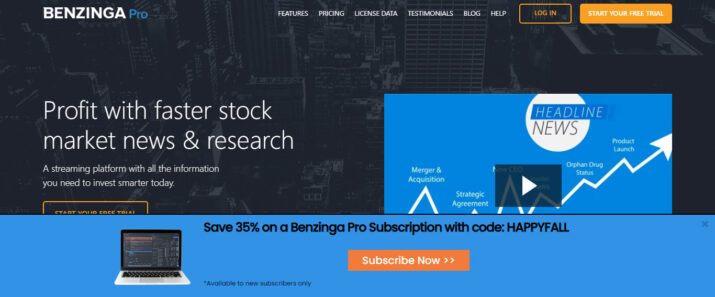 To provide traders with real time information and charts, benzinga pro has integrated tradingview into its platform. They also have a trading chat room where traders can connect and learn about unusual trading behaviors.
Benzinga pro is known for helping investors build trading strategies and investment parameters for their stock portfolio.Clients can set up real-time alerts using a range of techniques, including desktop alerts, email, and audio notifications.
Pricing
Benzinga pro pricing is tiered depending on one's needs. The basic plan(cheapest) costs $99. While the  benzinga options mentorship costs $347. However, You can enjoy a 14 day free trial.
Stand out Features
Full calendar suite: Users receive complete schedule access to market movements and releases, which they use to trade. The suite includes conference calls, current IPOs, current calls, mergers, splits, retail sales, acquisitions, mergers, rating movements, and more.
Trading ideas and sentiments indicators: This section contains trade suggestions from a team of expert market analysts in response to recent financial news stories. You can also utilize historical data to forecast the volume and likely path of stock indexes in the aftermath of breaking news.
Real time news feed:Benzinga Pro subscribers can get advance notice of forthcoming financial events as well as expert commentary. The platform's status for relevant news delivery faster than other finance news channels has remained unblemished. The feed is updated in real time, with color stickers indicating whether the price is rising or falling.
CLICK HERE TO READ MORE ABOUT BENZINGA PRO
4. Zacks Investment Research
If you are looking for a reputable stock research website then Zacks Investment Research is one of them. It publishes financial news, market news, and personal finance articles, which frequently portray opposing viewpoints. Zacks is among the greatest stock research sites because it offers videos and podcasts on a variety of topics.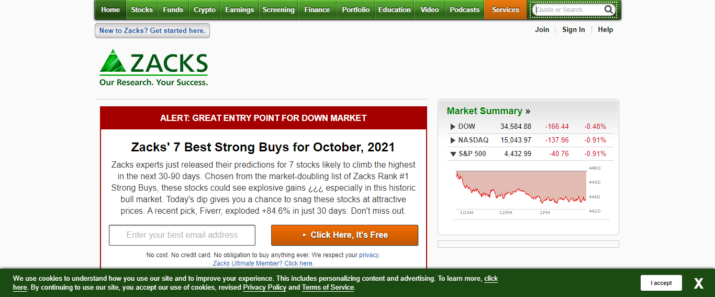 Zacks research data, which is straightforward and well organized, is easily visible from the start. They provide a lot of information on fundamental analysis. Since they have incorporated tradingview charts, you can also do customized technical analysis for stocks.
Instead of creating a new proprietary charging platform, they employ something that most people are already familiar with and use frequently. You won't have to leave their site to look at charts this way.
Zacks also offers Zacks Premium, which is a stock advisor newsletter.
Pricing
If you want to enjoy more than the free content, you'll have to sign up for zack premium,which costs$299 a year. However, you'll enjoy a 30 day trial period.
Zacks premium features
The Focus List:  This is a superb compilation of Fifty best ranked prolonged securities based on earnings trend.
List of ESPs: ESP allows you to forecast which securities will have an earnings growth period and buy them before they are announced, which is a terrific method to make fast money.
Premium Screens: This allows you to compare and select pre-built screens based on your investment approach. The zack's bear market strategies are excellent if the future looks bleak.
Reports on Equity Research: This is a straightforward procedure. Members have access to equity reserve funds.
Rank List: When compared to the S&500, a selection of the finest stocks have almost doubled their gains since 1998.
The Industry Rank List:Zacks examines industries and assigns a Zacks Rank to them. The Zacks Ranks of all related stocks in an industry are averaged to provide this Rank. After that, the method assigns it a numerical rank.
It's important to note that the lower the average Zack Rank, the better.
CLICK HERE TO READ MORE ABOUT ZACKS INVESTMENT RESEARCH
Next on our best stock research websites list for beginners is Tradingview. Founded in 2011 by Stan Bokov and a group of traders and software developers, it's an excellent stock research tool for technical analysts and chartists.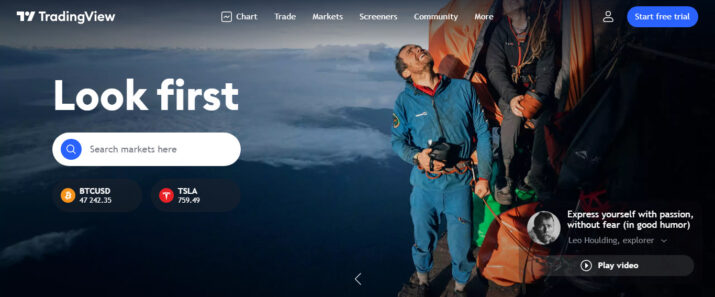 As a trader, you'll be able to monitor price charts for different financial markets and asset types such as stocks, commodities, cryptocurrencies,futures, bonds, and currency pairs. The tradingview platform  will also allow you to examine a variety of assets such as the euro/dollar currency pair, gold, crude oil futures, and foreign exchange futures.
With a robust set of publishing tools as well as social media interaction capabilities, traders and investors are able to share trade ideas and technical analysis with other traders around the world.
Traders are also able to access the stock recommendations from any desktop or mobile device. All features and tools are now available on a mobile via downloadable stock research app and a browser.
A quick look at other stock research websites such as zacks and benzinga shows that they use tradingview charts. However, the market data provided is limited. To enjoy more data, you'll have to sign up for the premium plans.
Pricing
Prices range from $9.95- 14.95 depending on the billing time. The more the billing year, the cheaper it is.
When billed every two years, this plan costs roughly $19.95 per month, $24.95 per month if billed yearly, and $29.95 per month if billed monthly.
You'll spend $39.95 a month if you opt for 2 year subscriptions. However,you'll part with $59.95 a month if you opt for a monthly subscription.
Main Features
Paper trading simulator:TradingView is an online trading platform that allows users to trade in a simulated environment with virtual money. Users can also paper trade cryptocurrency, futures, and stocks on the TradingView stock research app.
Pine script: Individual investors can backtest their own techniques and trade using some of the existing scripts. Over 100 pre-built studies are available, allowing for in-depth technical study. The programs for embedded charts, current technical indicators, and all kinds of trading concepts can be edited and customized by users.
Stock screener:The TradingView screener has over 100 search criteria and provides real-time notifications in both international and domestic markets. Traders can use fundamentals, technical indicators, or both to find and sort stocks.
CLICK HERE TO READ MORE ABOUT TRADINGVIEW
6. Motley Fool
One of the best stock research websites, The Motley Fool stock advisor, offers outstanding services to help investors improve their financial status. It was founded by Tom Gardner and David Gardner. Motley Fool provides in-depth market research and high quality analysis.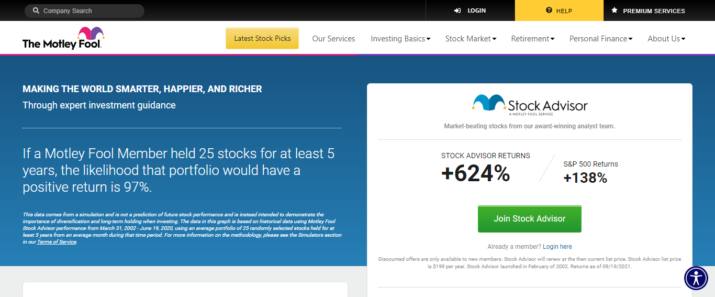 Looking for the best stocks right now? Wondering if the stock market will keep going up? Motley Fool regularly publishes ideas and market insights.
What else does motley fool provide?
Motley Fool Rule Breakers and Motley Fool Stock Advisor are their most popular  investment portfolio services. Both services provide subscribers with a weekly stock suggestion as well as explicit instructions on how to enter and manage trades.
motley fool stock advisor has outperformed the S&P:500 since their launch, with more than 100 stock suggestions yielding 100%+ returns. While you may not be able to purchase every solution – focused brief, you will need a great amount of them to outperform the market.
Pricing
to enjoy stock advisor and other services,it costs $99 a year, while a monthly subscription costs $19.
Additional benefits
Market News: This is a one-stop shop for all regional and global investment-related news.
The Motley Fool Community: An excellent forum for beginner investors to communicate with both the stock advisors teams, actual analysts and fellow members. It's a solid platform to share investing ideas as well as learn from one another.
Top Buys Now: Tom and David provide you with a list of the hottest opportunities available.
S.A. Knowledge Base: As an investor, learning is continuous and Motley Fool provides you with investment materials. Enjoy 24/7 access to stock advisors proprietary reports and research.
Starter Stocks: The Motley Fool investment experts have compiled a list of ten of the finest stocks for beginners. The list has reliable investments to help you establish a strong portfolio from the beginning.
CLICK HERE TO READ MORE ABOUT MOTLEY FOOL
7. Metastocks
Metastocks differs from other stock market research websites in that it assists in resolution of financial upheavals and provides real time financial data analysis. It's a computer program for performing important stock or financial dataset analysis.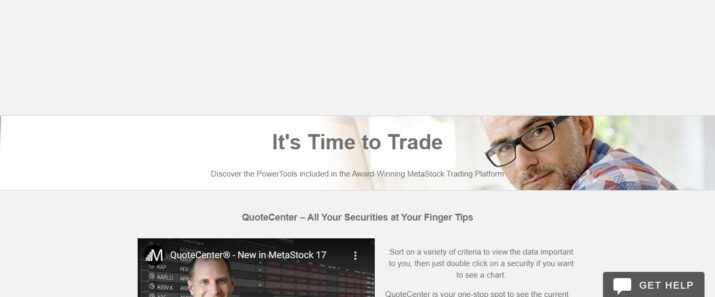 Metastock is available with Xenith real-time data. It now provides outstanding news, stock quote charts, reliable stock estimates, full financial snapshots of a company, and backtesting and forecasting algorithms. Is perfect for investors who need reliable technical analysis with a global outreach.
Pricing
Metastocks is available in 2 options.
MetaStock Real Time subscription:Prices range between $99- 300 a month depending on the add-ons you select.
The MetaStock Daily Charts Subscription: A monthly payment of $24.94 or a one-time payment of $449.
Metastocks Standout Features
Analysis Tools for Professionals: Metastock has over 100 analysis tools to assist shareholders properly understand stock information. A novice can easily keep up with the market by using each stock research tool availableto carry out investment research.
Real time stock updates: Mestastock became the largest private trading platform after integrating with xenith technology. It is now able to negotiate pervasive data from both privately and publicly traded companies. Collected data is either intraday, daytime or end of day.
Data Mining at the Institutional Level: With metastock tools, organizations are able to list and compile their annual to quarter financial scores.
CLICK HERE TO READ MORE ABOUT METASTOCKS
8. Google Finance
If you love free content, google finance provides you with basic stock research and analysis. It's a good tool for beginners trying to navigate their way in today's financial markets.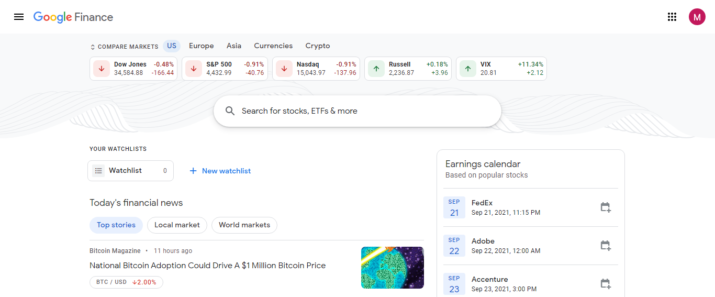 Google finance is the place to start carrying out your investment research on  stocks. It also provides real-time financial news to help you make good investment decisions. It's quite similar to Yahoo! Finance because it provides a real-time data repository with the same features.
What does google finance provide?
Track performance of stock indices around the world
Track performance of world currencies
View and track bond yields.
watchlist part to help you track your securities.
This website is easier to navigate than the others. This website is an excellent starting place to see what's hot in the markets right now because Google knows the most about what's trending. To that end, before proceeding on to the large ones, consider Google Finance as your base site.
CLICK HERE TO READ MORE ABOUT GOOGLE FINANCE
9. Portfolio 123
Founded in 2004 by Marco Salerno, portfolio123 takes data-based research to the next level.  Investors can use Portfolio123's stock market analysis software to invest in stocks and ETFs relying on clear policies, advanced ranking systems, backtests, and analysis using their quantitative tools and stock screeners.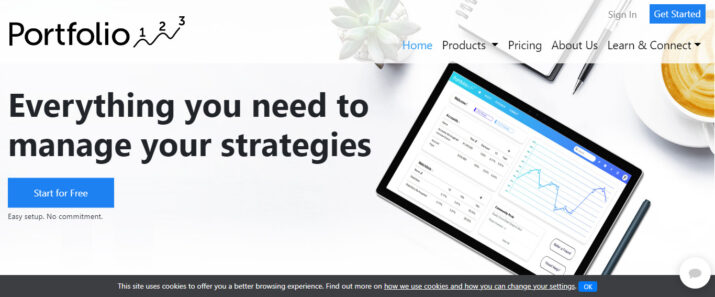 Portfolio123 allows you to connect numerous accounts and track multiple strategies on different accounts. Along with the basic performance analysis, you can build watchlists and compare them to other benchmarks. Pre-configured stock screeners and tactics are available, as well as fresh techniques and scans.
Pricing
Portfolio 123 has a $9 trial period after which you'll have to choose your plan.
Plans for Retail Investors:
Portfolio is $180 a month, billed on a monthly basis, or $1,600 per year
Ultimate: $270 per month, payable on a monthly basis, or $2,400 annually
Screener: $50 per month, payable on a monthly basis, or $299 annually
Backtest Engine costs $120 per month, payable on a monthly basis, or $1,000 per year.
CLICK HERE TO READ MORE ABOUT PORTFOLIO 123
10. Hammerstone markets
In the last 20 years, Hammerstone Markets has been the fastest news source I've ever seen. There's no frills or gimmicks here; simply the latest news.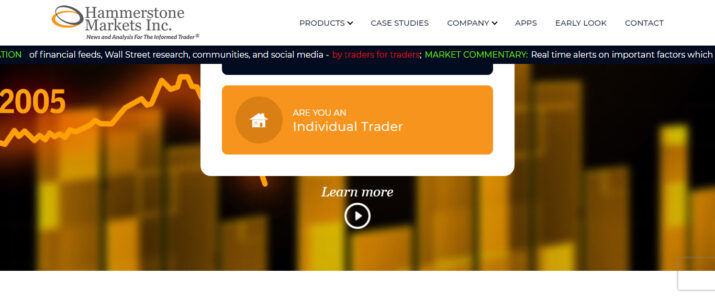 Hammerstone markets is one of the fastest financial and business news sources around. They provide the latest news.
Since its inception, hammerstone markets has been providing news to hedge funds. They offer active traders with real time investment news feeds for a fee.
With their pro trader plan, institutions such as wall street brokers, banks, trading firms and hedge funds can get real time information about stock markets..
Hammerstone Markets is a good choice when it comes to stock and option research. It is fast, ad-free, and accurate, and I use it every day. In the retail trade market, Hammerstone is a modest company, but it is well-known among institutional investors.
Pricing
Hammerstone market products are priced between $39-299 a month. Each new trader enjoys a 14-day free trial period.
Hammerston pro trader at $299 a month
Hammerstone day trader package that incorporates feeds and reports at $69 a month
Hammmerston reports at $49
Mammerston markets news feed at $39
Stand out features
Keyword based research: Allows you to search for specific terms such as buyouts, mergers, takeovers,call sweeps, and rumors, among others.
Gap scan validation:  hammerstone markets provides you with real-time news to help you make investment decisions very fast. A quick look at the pro trader options shows that its scan results are before the market opens.
CLICK HERE TO READ MORE ABOUT HAMMERSTONE MARKETS
11. Yahoo! Finance
If you're looking for the best free stock research websites, Yahoo! Finance is  one of them. It provides real time corporate news,sorts top gainers and losers, follows key currencies and ETFs.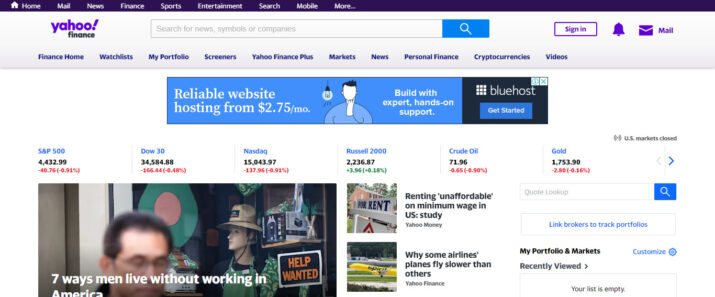 The fact that the site is free to use adds to the excitement of beginning stock research on this website. However, to enjoy all the above, you'll have to create an account.
Pricing
Yahoo has a premium subscription service. To enjoy real time stock quotations and track portfolios, you'll have to part with $34.99 a month. All this can be accessed on both the desktop and mobile apps.
Key features
Company Profiles: Provides you with valuable information about an organization's innovation, hiring and patents. This will help you make informed decisions on your stocks and investment.
Advanced Portfolio Analytics: if you are worried about your portfolio performance, you can use this tool to track it as well as analyze and manage risk and volatility.
Premium Data and Charting: Suitable for day traders that prefer automatic recognition for technical analysis to locate, assess and trade new possibilities.
Research Papers and Investment Ideas:Yahoo! Finance provides one of the most comprehensive collections of financial analyst research reports. You can use them to stay up to date on companies you follow on a regular basis and to act on current-events-relevant thoughts.
CLICK HERE TO READ MORE ABOUT YAHOO! FINANCE
12. Seeking Alpha
Seeking alpha is among the stock research platforms that provide unique crowdsourced content. It provides comprehensive coverage of small cap stocks that are mostly ignored by wall street financial gurus.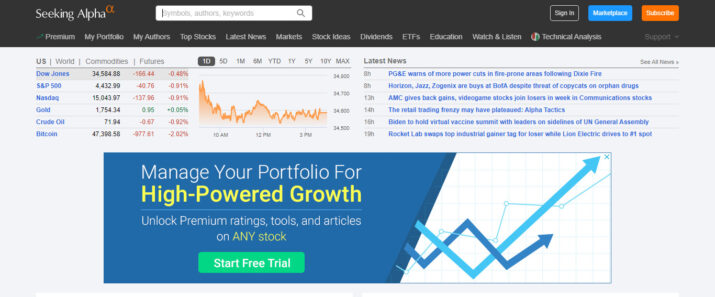 If you're looking for blog posts and articles on stocks, index funds and financial markets, then seeking alpha has thousands.  Most of the contributors  are amateurs and professionals with a history in buying and selling stocks.
If you understand complicated jargon including day lingo in use on Wall Street, you'll appreciate following the stock advisor service on Seeking Alpha. It is among the greatest investment research websites for anyone looking for in-depth public stocks research.
Once you've gotten used to the Seeking Alpha way of thinking, it might soon be your one-stop source for all matters market research,stock investing, and insights.
The free Seeking Alpha basic plan registration gives you access to stock news and analysis notifications, newsletters, and comments, but the Premium version gives you a lot more.to realize its full potential, you'll have to upgrade to the premium or pro versions.
Pricing
Seeking Alpha has two paid packages.
Seeking Alpha Premium: costs $29.99 per month or $19.99 a month if paid annually.
Seeking Alpha Pro: costs $299.99 per month or $2399 ($199.99 a month) if paid annually.
Seeking Alpha's Pro features
VIP Customer Service: Personalized priority support via phone and email from Seeking Alpha.
Screeners: Seeking alpha has smart screening and filtering tools to allow users browse pro authored content and look for investment opportunities based on a variety of criteria. This is a great way for saving time  and generating investment opportunities using targeted research based on your personal finance goals.
Unlimited Research and Analysis: you'll enjoy unlimited access to all research and analysis reports available in this investment site.
Top Ideas: As a pro member, you'll enjoy expert lengthy and brief ideas that are topical and well thought out. These practical tactics aid investors in evaluating fresh prospects at an early stage.
Weekly digest: Members receive weekly reports and news with the trade ideas, newsletters, exclusive interviews, and stock picks.
CLICK HERE TO READ MORE ABOUT SEEKING ALPHA
13. Morningstar
Have you been wondering where  to find in-depth information about financial markets? Morning star is one of the top free stock market websites offering such information, including fascinating free stock research tools.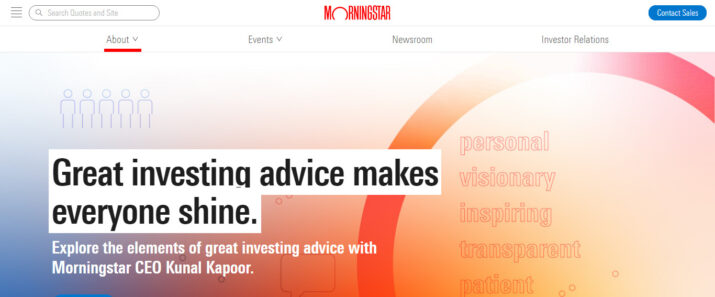 Morningstar, unlike the Wall Street Journal, provides free market news items and research tools. As an investor, you'll enjoy instructive articles on how to get started investing, as well as numerous trading tools such as a mutual fund and stock screener, as well as tax planning, personal finance, and retirement insights.
Morningstar is a dependable service for beginners and investors looking to invest in the greatest stock market investment gems using free news feeds, charts, and company data. Morningstar also has a premium membership program.
Pricing
The morningstar premium membership, which is worth every penny costs $199 a year
Morningstar Premium Features
Use the most popular research screeners to find fresh investing ideas.
As a premium user, you can use the unlocked data and ratings to evaluate trade ideas by revealing buying possibilities in various industries.
Portfolio x-ray helps premium users keep track of their assets. It allows you to rebalance your stock portfolios after showing you how each allocated asset is holding up.
CLICK HERE TO READ MORE ABOUT MORNINGSTAR
14. Wall Street journal
How about carrying out investment research getting stock news, trade ideas from a journal- wall street journal rather than investment sites. It's available in English, Chinese and Japanese.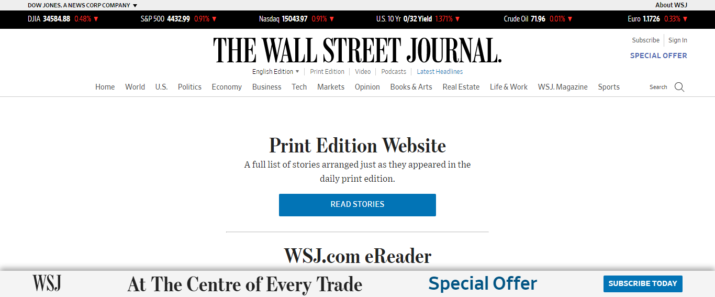 Subscribers have access to top notch news and resource sources for stock analysis. Critical stock data research, charting, stock rating insights and news are all available through its stock market research tools.
The wall street journal supplements other technical and semi-technical websites that promote market research. It provides a new approach for analysing investment data.
Furthermore , it provides details on the ups and downs experienced in the global stock exchange sector. It covers major investment organizations from Australia,America,  and Asia.
Pricing
The print version of the wall street journal retails at $22.49 a month while the online version goes for $4 a month on yearly subscription.
Features
Extensive Analysis of Data Fluctuations
Journals have the unique ability to provide an in-depth curriculum about historical events. Similarly, the Wall Journal's investigators will deliver every stock or listed company's share value alteration.
CLICK HERE TO READ MORE ABOUT WALL STREET JOURNAL
15. Tim Alerts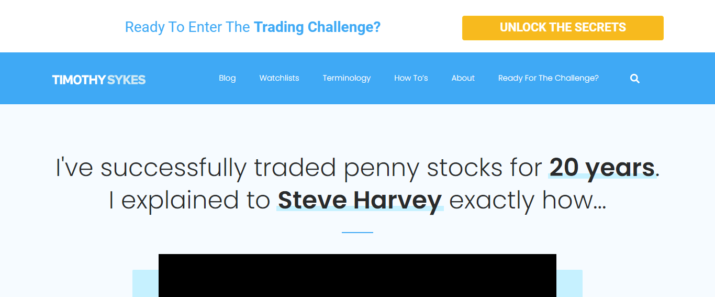 Penny stocks provide a tempting opportunity to acquire stock trades for a low value in the hope of making more money when prices rise rapidly.  Tim syles, the founder of tim alerts and a stock advisor, is a self made millionaire by day trading. He teaches other people how to trade and carry out investment research by copying his methods.
In addition to financial services, educational information, and training for individual investors, he has launched a stock selecting service.
Pricing
Tim Alerts' basic plan goes for 74.95 a month while the pennystocking plan goes for $149.95.
Features
Live chat room: Tim provides a live chat room for penny stock traders to share ideas.
Learning resources: Tim alerts has over 6000 videos to teach any beginner how to trade penny stocks.
Daily newsletters: Tim alerts provide real time updates via sms, email and push notifications  on stock of the day.
CLICK HERE TO READ MORE ABOUT TIM ALERTS
Conclusion
If you have a brokerage account, then you need reliable data stock picks, stock recommendations, research reports, trade ideas, and the best stock research tools to conduct investment research. In other words, your stock market research should help you make sound investment decisions.
This calls for using stock market research websites, including their features to carry out fundamental analysis to create sound investment decisions.
There are thousands of investment websites available on the internet offering both free and premium membership options. This article covers the best stock research websites available, but which one stands out?
With its content majorly free, finviz provides beginners and individual investors with portfolio analysis tools, research reports, trade ideas, stock market news and a list of the best stock picks available to get started.
Either way, you'll still have to choose your own stock research platform based on your needs. Remember, choosing the right investment website is critical in ensuring your investment plans adhere to strict guidelines.
If you have a brokerage account, feel free to let us know your best stock research website, stock advisor,where you get stock market news from or what stock picking service you use in the comments section below.
CLICK HERE TO GET FINVIZ AT A DISCOUNTED PRICE
Like this Article? Subscribe to Our Feed!
Passionate in tech, software and gadgets. I enjoy reviewing and comparing products & services, uncovering new trends and digging up little known products that deserve an audience.