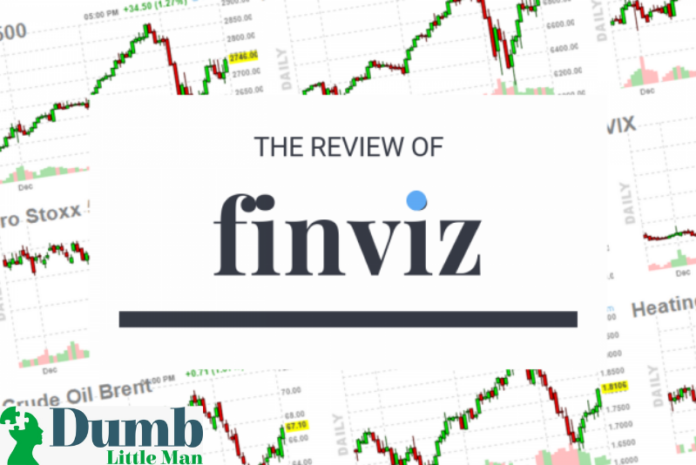 It is obvious that any stock market trader can get involved in tons of research which can sometimes make them miss on the opportunities of making good money.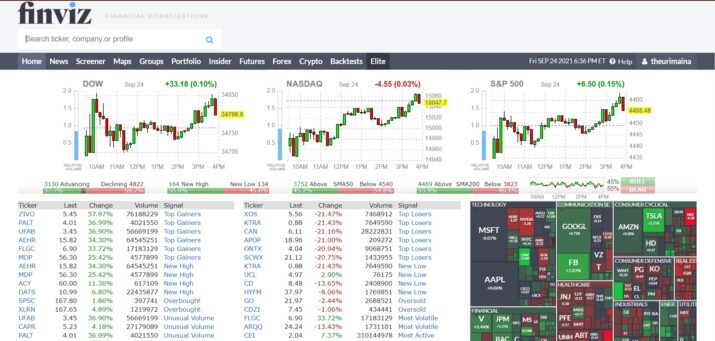 Not saying that doing extensive research is wrong however too much time spent on it can become detrimental or retrogressive.
A versatile stock screener will bridge the time gap for research as it does all the technical analysis for you while providing the best options in the stock market to choose from.
Finviz is one of the best stock screeners in the market as it will help you narrow down to the most profitable prospects in the stock market.
Choosing a stock screener can be a daunting task and that's why this Finviz review is here to answer most of your questions and remove any doubts that you may be having.
Platform Details
Founder/Owner: Juraj Duris
Established: 2007
Platfrom: Web based
Features: Advanced charts, backtesting, reatime and pre-market data, stock screener, stock fundamentals, correlation, insider buys and sells, and alerts.
Subscription: Monthly / Annual
Price: $39.50 / 299.50
Here Is About Finviz Stock Screener Review
What is Finviz?
Finviz is among the leading stock screeners in the market today with a free version that saves traders countless hours of research.
The pro version of this software is called Finviz Elite and is a powerful tool for any stock trader looking to make a kill in the stock market.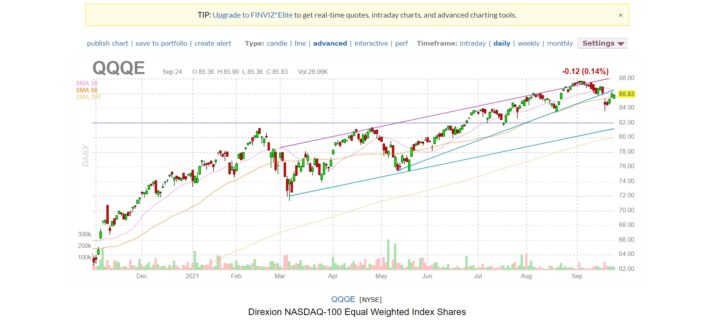 Founded in 2007 June, Finviz is owned by Juraj Duris and has over 18 million monthly users.
The name Finviz stands for Financial Visualizations.
CLICK HERE TO READ MORE ABOUT FINVIZ
Finviz Features
Don't be fooled by the simplicity of this platform as it is a very powerful tool with a lot to offer. Let's look at the features of Finviz below.
1. Super Fast Search
As soon as you type in a stock symbol on the search box, it immediately takes you to a page where you can create an alert for it, publish a chart, or save it to a portfolio.
To publish a chart or save the stock to a portfolio is completely free however you have to subscribe to the Finviz Elite plan to be able to create an alert for it.
Market data is presented in various chart types namely line, candle, and advanced which are free however the interactive and performance charts are only available on the Finvize Elite plan.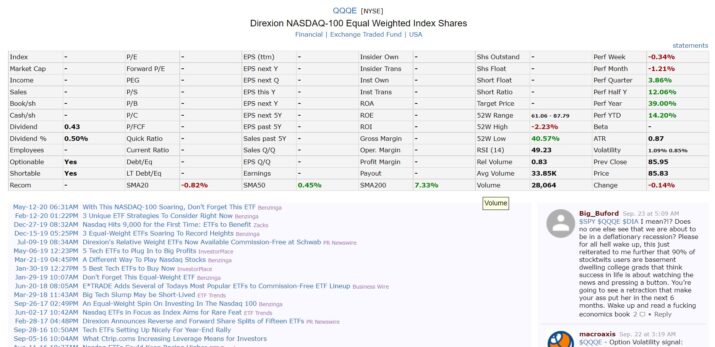 On the upper right side of the dashboard is the time frame where you can adjust your settings based on daily, weekly or monthly data on the free plan.
However, to get real-time data from the intraday charts, you must have a Finviz Elite plan
Below the chart, Finviz always provides extra data regarding the particular stock such as income generated, market cap, dividends, employees, gross margin, and more.
At the bottom displays news sources regarding the particular stock of interest which is among the free access features.
2. News
In this section, News Finviz provides a list of articles and news concerning market performance.
Newsfeeds come from credible sources such as CNN, Bloomberg, Wall Street Journal, NBC, Market Watch, and PR Newswire.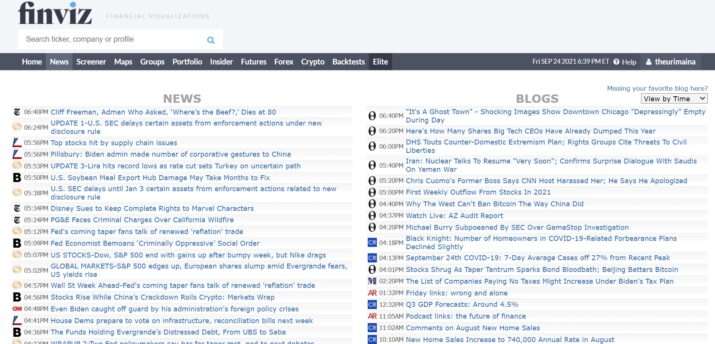 Articles and blogs are sourced from authoritative third-party sources such as Daily Reckoning, Vantage Point Trading, Zero Hedge, Calculated Risk, and Seeking Alpha.
Any registered user can be able to narrow it down to the company of interest within a few clicks.
CLICK HERE TO READ MORE ABOUT FINVIZ
3. Finviz Stock Market Screener
Finviz stock screener is the main tool that sets this platform apart from most of its competition.
The versatile stock screener is easy to use as you only need to insert the criteria for screening and the results are immediately displayed on the screen.
The stock screener is available in the free account and is therefore very beneficial to free users.
This advanced tool lets traders filter stocks based on several criteria to provide the results needed by the user.
Among the criteria used for filtering include fundamental, technical, and descriptive.
Fundamental filters
This filter provides detailed derived ratios and financials based on the parameters set such as margins, P/E ratio, EPS growth, and sales growth.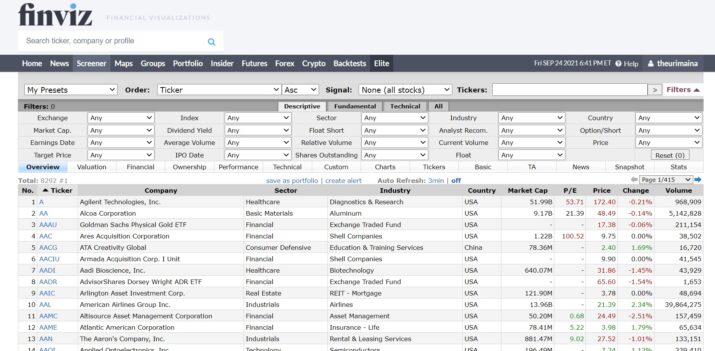 Traders and investors can also use it to get details such as company ownership, insider trading, and return on investment.
Traders also get to know debt/equity ratio, sales growth past 5 years, and Forward P/E.
Descriptive Filters
This is the most basic of the 3 filter types as displays details such as market capitalization, stock price, country, industry, and the like.
Other details provided include float short, analyst recommendation, current volume, option/short, target price, dividend yield among others.
Technical Filters
Filters in this advanced tool include technical indicators such as RSI, float short, moving average, percentage change, market cap, and volatility which makes it very powerful and unique.
You don't have to get Finviz premium features to use this stock screener tool because the free plan will suffice.
Nevertheless, you will need the elite plan to create stock alerts and also to export the data to your MS Excel sheet.
The elite plan displays advanced charts with extra customizable features.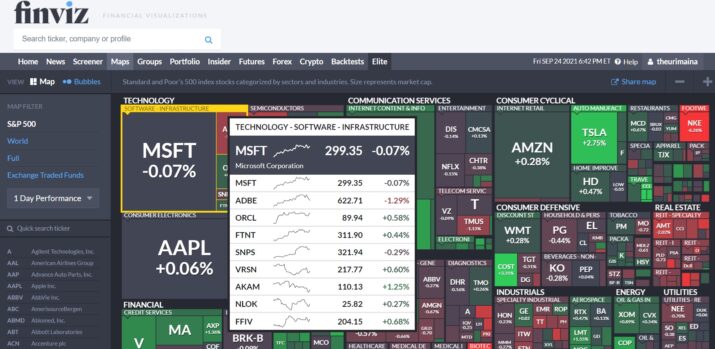 4. Finviz Maps
Here, Finviz provides 3-5 minute delayed visuals in the form of a map without showing any intraday charts.
The heat maps allow traders and investors to quickly have an overview of the stock market information in a colored scheme.
When hovering your mouse pointer over the map, you get information such as average volume traded and whether it's gaining or losing.
The green color indicates gaining stocks while the red color indicates dwindling stock of a specific company.
You can employ a range of parameters to view information that include;
World Stock
S&P 500
ETFs
Industry such as finance, technology, etc
You can choose to look at the data displayed in the form of bubbles and as well as maps depending on your preference.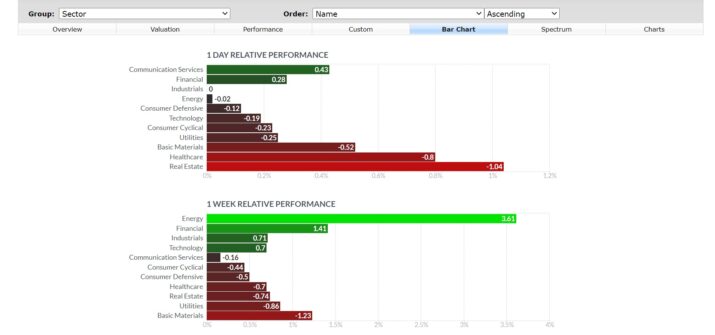 5. Groups
This s another excellent feature for accessing market information and you don't have to be a Finviz Elite user.
The data feed provided is an overview of the stock market which you can view in different ways such as a bar chart, grid display, stock charts, and spectrum display.
The information displayed is categorized according to industries such as Energy, financial, technology, healthcare, and more.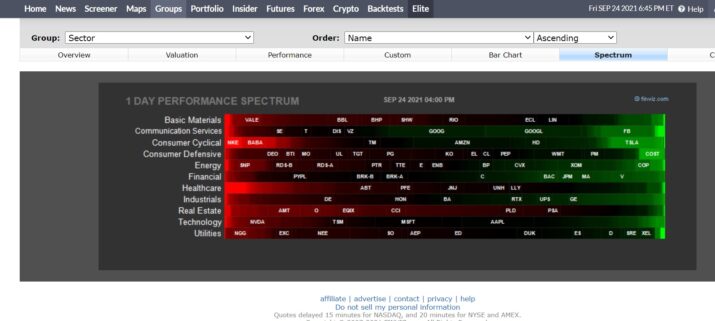 When you click on a certain category on the chart, you are taken back to the stock screener tab where you are shown graphs of various companies in that category and their performance.
In this way, you are able to determine both safe and unsafe stock options through the fundamental analysis done by the software.
CLICK HERE TO READ MORE ABOUT FINVIZ
6. Finviz Portfolio
The Finviz portfolio section is another very interesting feature where professional traders list their portfolios when they want to buy or sell stocks or ETFs.
Once you have keyed in the stocks you are after Finviz displays details such as P&L, the volume traded, cost of the shares, gains, and losses.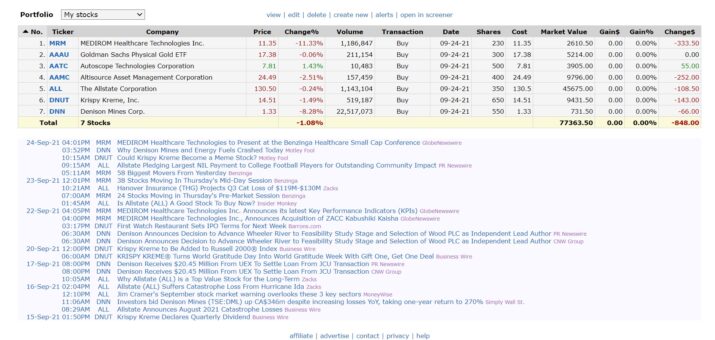 Below that you also get newsfeed specifically for the portfolio tickers grouped by day.
You can also create a new portfolio using an existing CSV file that is arranged in a specific format.
7. Insider
The insider trading section keeps a tab of all transactions executed by directors and executives of publicly listed organizations.
It allows a trader to analyze how these executives view their own companies.
For example, when many of them sell their shares, it can be considered a negative market sign and vice versa.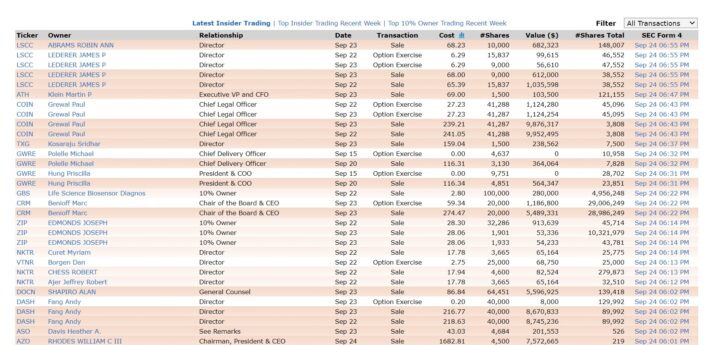 The transactions are colored to indicate a buy transaction and sell transaction to boost your trading strategies.
A buy transaction is coded green while a sell transaction is coded red.
8. Futures
This function provides investors with an overview of the stock markets on all major categories such as indices, metals, grains, currencies, meats, and more.
This is a part of the fundamental tools provided by the Finviz application in color-coded tiles as real-time data and can only be accessed by hovering over a certain quote and clicking on it.
Included are notable commodities, precious metals, indices, currencies, and bonds. The colors as indicated above represent the and negative and positive ranges by the software.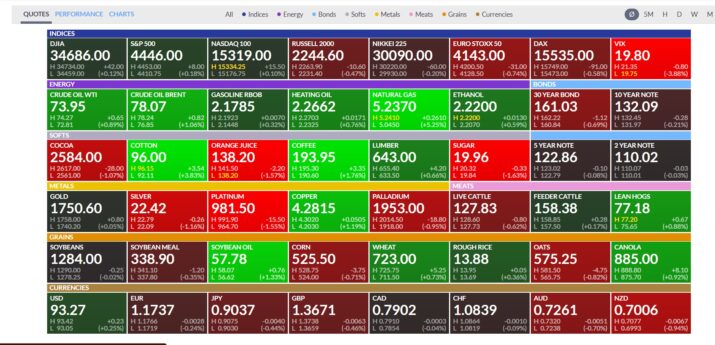 The corresponding highs and lows including the price data shown in extra large fonts are indicative of the tiles in the future.
It is prudent that investors understand the market sentiment because futures are a suggestion of how markets are expected to open.
9. Forex
This part of Finviz is almost the same as the methodology used on the futures tab since prices can be displayed as tiles and the performance data put up on a diagram showing gains and losses.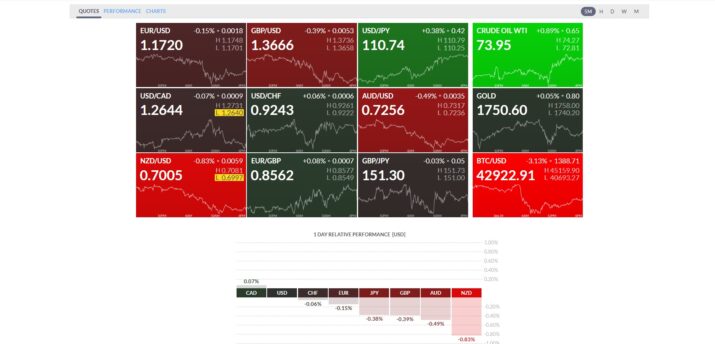 10. Crypto
Currently, Finviz displays data for about 15 cryptocurrencies but others like trading View are known to have over 200 of them.
Apparently, the same chart patterns on Forex are witnessed on the crypto tab showing the most priced cryptocurrencies such as Litecoin, Bitcoin, Etherium, and others against the US dollar, the Euro, and BTC.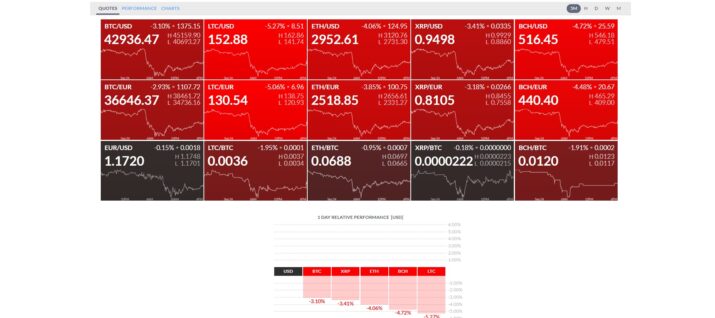 Cryptocurrency prices are presented in three parameters namely the price quite, performance details, and intraday charts.
These details can be viewed on an hourly basis, day, week, and month through advanced charts and technical charts as you can see below.
11. Backtests
First of all, to access backtests you have to subscribe to the Finviz Elite plan which provides 100 technical indicators that are backtestable.
You also get a historical database that is as old as 16 years, and the opportunity to examine your results with the SPY benchmark however is Finviz Elite worth it?

Finviz Elite Review
This Finviz review cannot be complete without examining this platform's Elite plan. In as much as it has a free account, the elite version has great value at very low costs.
Finviz Elite processes a huge amount of data which you can use to create your own database or even have it feed an external system with it.
Let's go over some of the features of Finviz elite here.
CLICK HERE TO READ MORE ABOUT FINVIZ
1. Real-Time Market Data
Real-time data is one of the best things you can have from Finviz Elite especially for the US markets.
Real-time data is provided all over the platform in the elite view plan from the stock screener, to the real-time maps as well as advanced charts.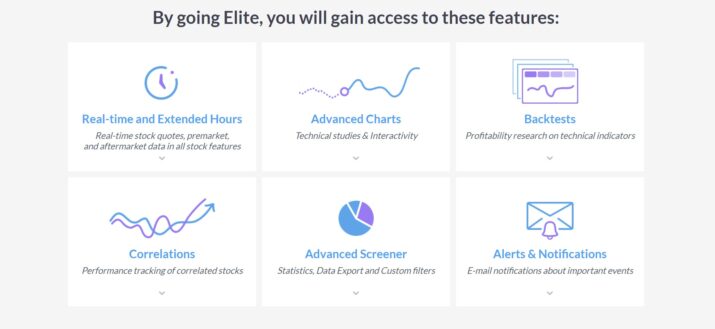 People trading during extended hours have access to extended sessions which is hugely beneficial to long-term investors.
2. Technical Studies and Advanced Charts
A technical trader will definitely have fun with the advanced charting qualities of the Finviz Elite premium service.
Traders and investors will get more indicator overlays, intraday charts, performance comparison, and the drawing tools feature.
The limited features on charts in the free plan do not include performance charts and interactive charts which you can only access in the paid version of this platform.
The one thing we find amiss is the lack of zoom functionality but since Finviz is is a web-based application, we can understand that it may be a bit tougher to implement.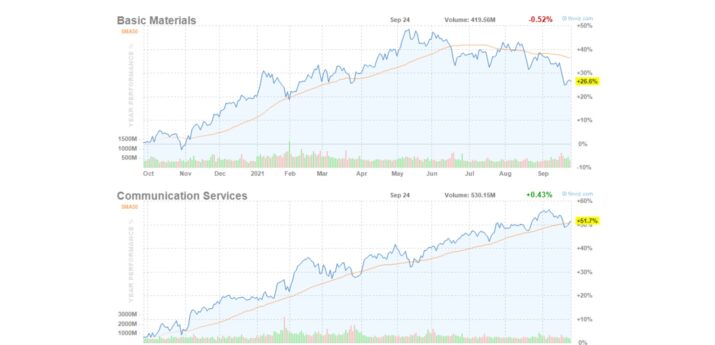 3. Backtest Modul
This is a very nice feature to have in this application however it is not as good as that of Trade Ideas.
It has a very easy-to-use interface that lets you create a backtest within a few clicks of your mouse.
The feature will also let you add various entry conditions, add transaction costs as well as exit conditions into the prediction.
Short and long strategies are both testable in the Finviz Elite plan which is an awesome addition to the premium feature.
All entry and exit conditions can be chosen from a long list of chart patterns and various indicators of trading before clicking on the run backtest tab.
Clearly, Finviz does well on log term backtests but falls short on intraday backtests and other complex trading strategies
Hence, you might want to have other options in places such as Zacks Investment Research and Atom Finance

4. Finviz Correlations Feature
This feature uses the proprietary correlation algorithms from Finviz to find stock listings that are related to one another.
Assuming that you have the best-performing tickers list with you, an inverse and correlations index will appear right on top of the section of statements.
This is a great add-on as investors and traders will immediately know that they correlate which is this features strong point.
5. Advanced Screener Function
Being one of the most underestimated advanced screeners on the paid version of this platform, it offers the following;
Advanced charts
Data export capabilities
Customized filters
Comprehensive statistics

Finviz Elite advanced statistics is much more beneficial to long-term investors as they can export data any time by hitting the export link button on the bottom right of the interface.
6. Notifications and Alerts
This is one of those very important features that you can only get by subscribing to the Finviz Elite plan.
Traders will get immediate notifications about their portfolios and individual stocks.
Alerts are always triggered by various situations such as news, portfolio updates, ratings, and price changes.
Investors also get to have alerts of new stock tickers that actually fit the criteria of screeners that they have set.
7. Customization
With the Finviz Elite plan, you can now customize the visual appearance of your Finfiz interface at the settings section.
The platform has other customization options which we won't have to mention in this Finviz review.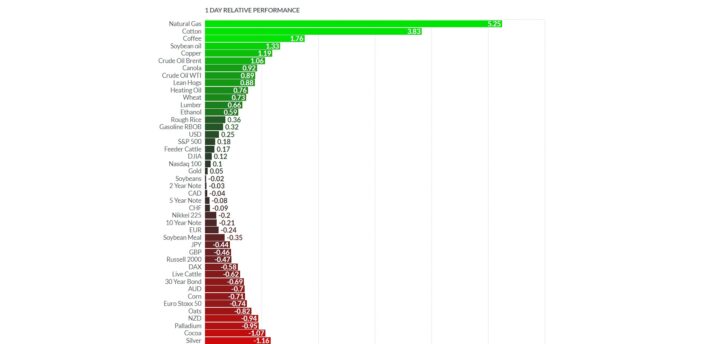 What can be improved on Finviz?
After checking out all the cool features of Finviz Elite and its free version, it is undeniable that it has its weaknesses. Let's look at the areas that could be improved in this Finviz review.
1. Futures
It is evident that the Futures market is not well done in this platform and therefore may not be the go-to platform if you're trading in futures.
The data displayed on this section of the platform has a 2-minute delay therefore not good for one with a futures contract that needs to be sold or decided using real-time data.
2. Markets
A stock trader looking for a bigger market coverage will be disappointed with this platform because it only covers the US market alone.
Foreign companies that trade in the US are covered by Finviz which is okay if you are only concentrated on the US stock market.
Investors will have to go for other trading platforms if they want data on other markets.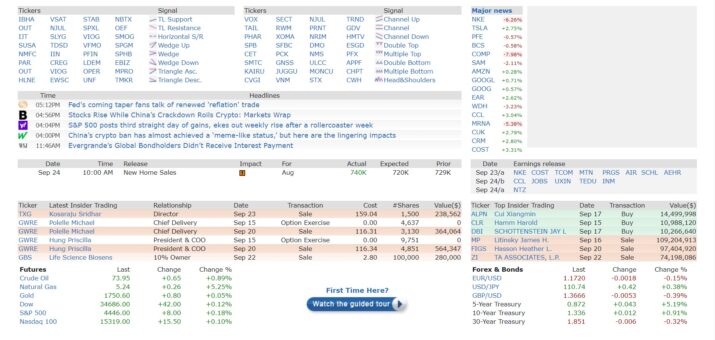 3. ETFs
It is frustrating that Finviz has very little data on ETFs as it focuses more on the stock market.
4. Historical Data
Having 16 years of historical data is more than enough for most investors but for the savvy and avid trader, it might pose a challenge.
Despite Finviz talking of having historical data of 16 years, it will not be enough when an investor wants to backtest a long trading strategy.
5. Visuals
Finviz has an old appearance and a facelift would go a long way.
Compared to sites such as Trading View, this platform does need to work its appearance.
6. Mobile App
Accessing fundamental data, stock screeners, and other data have to be through their website as they do not have a mobile app to check on the go.
The website is also not mobile-friendly therefore you have to check on it from a laptop or desktop computer.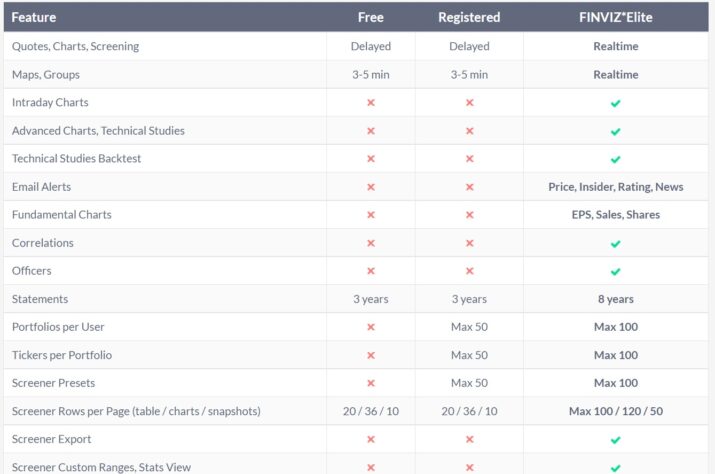 CLICK HERE TO READ MORE ABOUT FINVIZ
Pricing and Plans
A good section of this platform is available for free users and you also get registered free of charge.
Finviz Elite is their premium service and is priced at a monthly subscription fee of $39.50 or an annual subscription of $299.50 which means you save more than 50% of the twelve-month fee.
Finviz Elite version does not have a free package but it does guarantee to give you your money back after 30 days if unsatisfied.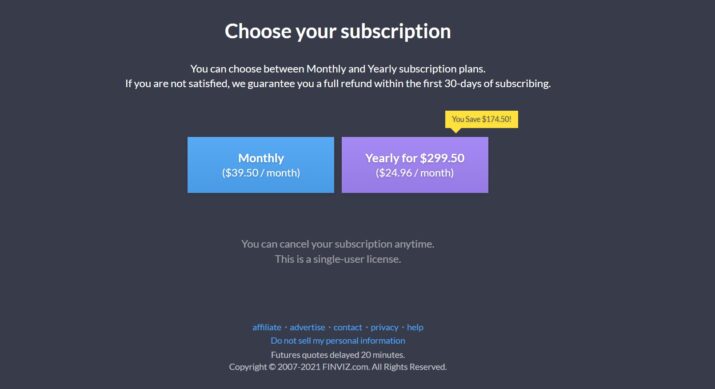 Pros and Cons of Finviz
Pros
Outstanding insider trading data and heat maps free of charge.
Easily filters what investors through stock screeners
It has an easy to use interface
Users can cancel their subscriptions anytime.
30-day money-back guarantee
Cons
The free version contains many ads
New traders can get bombarded with tons of information.
Analyst Ratings
With this kind of filters, it will be of much better use to customize so as to get the kind of results in a single scan instead of many.
Both registered and free users get 9 options but users of the elite plan can prefer to have any combination of the alternatives.
If you have a stocks for a specific company with an analyst rating of either hold or higher, you choose either of the following;
Buy
Hold or better
Strong buy
Buy or better
This customizing feature of the elite plan will save from doing any additional searches because one will be enough.
The elite plan can only become cheaper if you go for the annual subscription instead of the monthly one.

Who is Finviz for?
Finviz is best for beginners and experienced traders because of its outstanding amenities such as technical indicators which are needed by the bigger audience.
The stock screener lets investors find companies that meet the parameters they have put in place before making any moves.
Savvy traders will love to use the insider feature to track movements of stocks orchestrated by directors of publicly listed companies.
Experienced investors can also use the platform to track portfolios or check on any news about their preferred stocks.
The annual subscription plan will go a long way in cutting the month-by-month costs as you get to save more than half the cost.
Finviz Customer Service
Registered users can contact the trading platforms' customer service through their contact page indicated at the bottom of each page.
Users only need to fill in their details on the contact form provided and the tea at customer care will get back to them.
Finviz also has a help page where traders can get answers on issues such as account upgrading, usage of the stock screening tool, and registration.
The help page button is found on the upper right side of each page of the website.
CLICK HERE TO READ MORE ABOUT FINVIZ
Conclusion
Despite its age-old look mentioned in this Finviz review, it is still among the best online trading platforms out there.
For a new stock trader who is not sure if to go for the Finviz Elite plan, they can always try out the free plan which is also very informative.
If you decide to go for the premium service, take the annual subscription plan because you get to save more than 50% of the Finviz cost.
Instead of spending a lot of time creating manual chart scans concerning the financial markets, professional traders prefer to use Finviz fundamental tools to get all the details they want.
The tools help registered users find stocks based on criteria such as market cap, insider trading, stocks with institutional ownership, shares outstanding, or a specific candlestick pattern.
As we come to the end of this Finviz review Fivniz still is among the best stock trading platforms on the web.
CLICK HERE TO GET FINVIZ AT A DISCOUNTED PRICE
Like this Article? Subscribe to Our Feed!
Passionate in tech, software and gadgets. I enjoy reviewing and comparing products & services, uncovering new trends and digging up little known products that deserve an audience.