Using properties for multiple uses has its own advantages. It fosters a sense of community and is public-transit friendly. It is undoubtedly better for the environment as the ecological footprint is more diminutive. Here are some of the reasons why mixed-use development is ideal for cities. ~ Ed.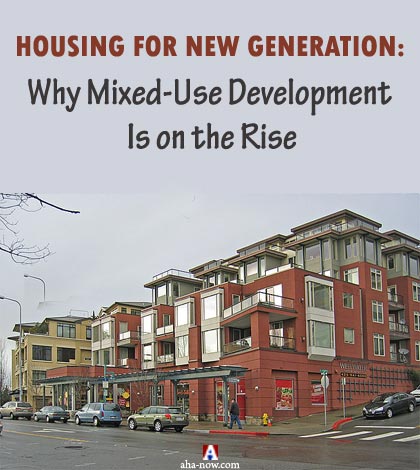 Everyone on the planet wants to live a better life or at least live life to the fullest. And, there is no shortage of people who strive to find ways for everyone to interact, live, and work with each other on a level that is beneficial to everyone.
This is where urban design and how we live and work come into play. According to some, one way for us to live more harmonious lives is through mixed-use development of properties.
Defining Mixed-Use Development
Mixed-use development is simply using a property for more than one purpose. Typically, a building is constructed with a single purpose in mind, whether that is to house people or operate a business.
But a mixed-use property might allow for housing on the upper floors of a building while businesses are on the ground floor. In many ways, mixed-use development is considered the future of urban planning, and here are some reasons why.
4 Reasons Why Mixed-Use Development
Mixed-use development helps beautify the cities, fosters a sense of community, is better for the environment, and more.
It's Better for the Environment
Lack of available land, pollution, and limited resources are problems that we hear about getting worse if nothing is done to turn the tide. Mixed-use development is seen as one solution. By having properties designed with both living spaces and businesses in mind, the ecological footprint is less.
This basically means that fewer resources are needed in a smaller amount of space than what would be necessary for standalone businesses and housing. This is something many investors value when deciding on what types of property they're looking to invest in, as well as how they're going to amass the capital they need.
Related Posts
It Helps Foster a Sense of Community
Some of you may be old enough to remember the days when people were on a first-name basis with the butcher and the furniture store clerk. While those days are long gone, by building mixed-use properties, communities are hearkening back to those old days.
Because most mixed-use developments are located in urban areas, people have the opportunity to walk or bike to the businesses from their neighborhoods. The thinking is that close proximity will bring about closer relationships between seller and buyer. There is also a chance for the residents of the mixed-use property to get to know the businesses that are in the shared building.
It's Public-Transit Friendly
There is arguably no other developed nation as car-dependent as the United States with its sprawling suburbs. Many suburbs are so disconnected from cities that there is not even public transit to and from them. To make matters worse, suburbs are not just places where people live; many businesses have moved to them.
This is why mixed-use developments are so important. Because there is often no public transportation to businesses in the suburbs, mixed-use properties make businesses more easily accessible to people, including workers. This is another way in which mixed-use development attempts to better the lives of all parties involved.
It Helps to Beautify and Revitalize Cities
I'm not sure if you've taken note of the mixed-use development projects popping up all around the world, but they seem to have a couple of things in common: they're all pleasing to the eye and seem to fit well in their surroundings. This is because they were designed with those things in mind.
Mixed-use properties are not just any old buildings thrown up to house businesses and people. There is a great amount of thought that goes into them because they are meant to complement the city and the environment around them. For this reason, you will find that some mixed-use buildings employ green spaces and recycled materials in an effort to be more environmentally friendly. Such properties tend to add vitality to a city.
Wrap Up
Mixed-use development appears to be the future of things, at least for the time being. People are discovering the many benefits that go along with the ability to use properties for multiple purposes.
Things like bettering the environment, fostering a sense of community, and putting a focus on public transit are all benefits of building mixed-use properties. So take a look around. There might be a mixed-use property in your future.
Over to You
What are your thoughts about the mixed-use development of properties in the cities? Share them in the comments.
Disclaimer: Though the views expressed are of the author's own, this article has been checked for its authenticity of information and resource links provided for a better and deeper understanding of the subject matter. However, you're suggested to make your diligent research and consult subject experts to decide what is best for you. If you spot any factual errors, spelling, or grammatical mistakes in the article, please report at [email protected] Thanks.