The construction industry is evergreen in the sense that there is no dearth of work, whether you opt for it for a short term or long term. There are varieties of jobs in the construction industry, where you can work as unskilled labor or go for a skilled job. The career paths in the construction industry include working as a carpenter, plumber, painter, surveyor, and much more. Get an idea of what these jobs are all about. ~ Ed.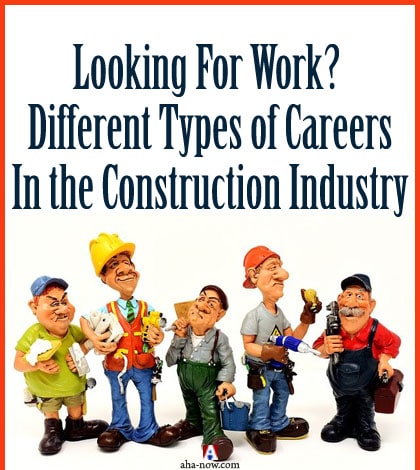 If you are looking for a high-paying career path that is always in demand, you should consider working in the construction industry. Not only is the construction industry a rewarding and fulfilling career choice, but there are plenty of jobs to consider within the construction sector.
Positions vary from unskilled labor work like a contractor's assistant to skilled labor jobs like a carpenter. While some positions require extensive training, it is possible to work your way up from a field worker to a manager position.
Construction Is Rapidly Growing
According to the Bureau of Labor and Statistics, the construction industry is projected to grow at least 6 percent from 2020-2030, making it the perfect time to get into the construction business. So, whether you are just entering the job market or are considering a career change, here are the top career paths within the construction industry.
8 Top Careers in the Construction Industry
There are all kinds of jobs for everyone in the construction industry. Depending on your skillset, you can work as a construction inspector, electrician, brick mason, or take up any other construction jobs mentioned below.
Construction Worker
Construction workers are responsible for everything from digging trenches, clearing land, and building structures.
Your role as a construction worker includes physical manual labor like transporting supplies, hauling materials, working with machines, prepping the job site, and performing moderate carpentry work. Depending on your rank, you may also have to read blueprints and communicate with the foreman.
Carpenter
Like construction workers, carpenters perform a wide range of duties on a job site, from reading blueprints to helping with construction. However, carpenters are specifically trained as skilled woodworkers. They do everything from installing and repairing frameworks, building doorframes, countertops rafters, cabinetry, decks, and more.
As a carpenter, it is essential to know how to read measurements, cut and shape material, and use power tools like drills, table saws, miter boxes, and more.
Construction Inspector
If manual labor is not your thing, you can still have a successful career in the construction industry. Construction inspectors are in charge of inspecting structures and construction sites to ensure everything is up to code. They look to see if a company is properly following the contract specifications, building codes, safety ordinances, and zoning regulations.
While manual labor is not required, constructed inspectors have extensive knowledge of the construction industry and its regulations.
Surveyor
Like the construction inspector, a career as a surveyor does not require physically demanding labor. A surveyor's responsibility is to inspect a potential site before a job begins. They record everything from a site's elevation, location, and contour.
Surveyors also help determine where structures will be built and outline a project's foundation requirements.
Brick Mason
While physically demanding, working as a brick mason can be quite rewarding. A mason's responsibilities include everything from building fireplaces, walkways, walls, patios, and more.
You will have to precisely cut and fit each brick or paver together to fit a pattern and build a sturdy structure.
Plumber
If you are looking for a career that is always in high demand, consider working as a plumber. As a plumber, your roles consist of installing, repairing, and maintaining pipes.
You can work in either commercial or residential settings where you will install everything from toilets to bathtubs, sinks, sewage lines, garbage disposals, and more.
Electrician
Working as an electrician is also another high-paying career path that is always in demand. Your duties would include repairing and installing writing and electrical systems in commercial buildings and residential homes.
Painter
A painter is essential for every construction project. As a painter, your roles include prepping surfaces, painting, spackling, and repairing holes in walls.
Since you are one of the last steps to any commercial or residential project, you'll also have to properly cover floors, furniture, and appliances to protect them from any spilled paint.
Start Your Own Business
The best part about construction is that with the proper training, you could always start your own business. All you need is the right tools, the funds to purchase or rent equipment like work trucks, and a hard work ethic, and you could become your own boss.
Consider These Career Paths Today. Whichever career option sparked your interest, choosing to work in construction can ensure job stability while providing a fulfilling and lucrative career path.
Over to you
Which of these careers in the construction industry attracts you most? Please share your opinion in the comments section.
Disclaimer: Though the views expressed are of the author's own, this article has been checked for its authenticity of information and resource links provided for a better and deeper understanding of the subject matter. However, you're suggested to make your diligent research and consult subject experts to decide what is best for you. If you spot any factual errors, spelling, or grammatical mistakes in the article, please report at [email protected] Thanks.