This oven-baked chicken breast recipe makes the BEST juiciest chicken breasts. With a simple dry rub for foolproof deliciously caramelized and flavorful chicken.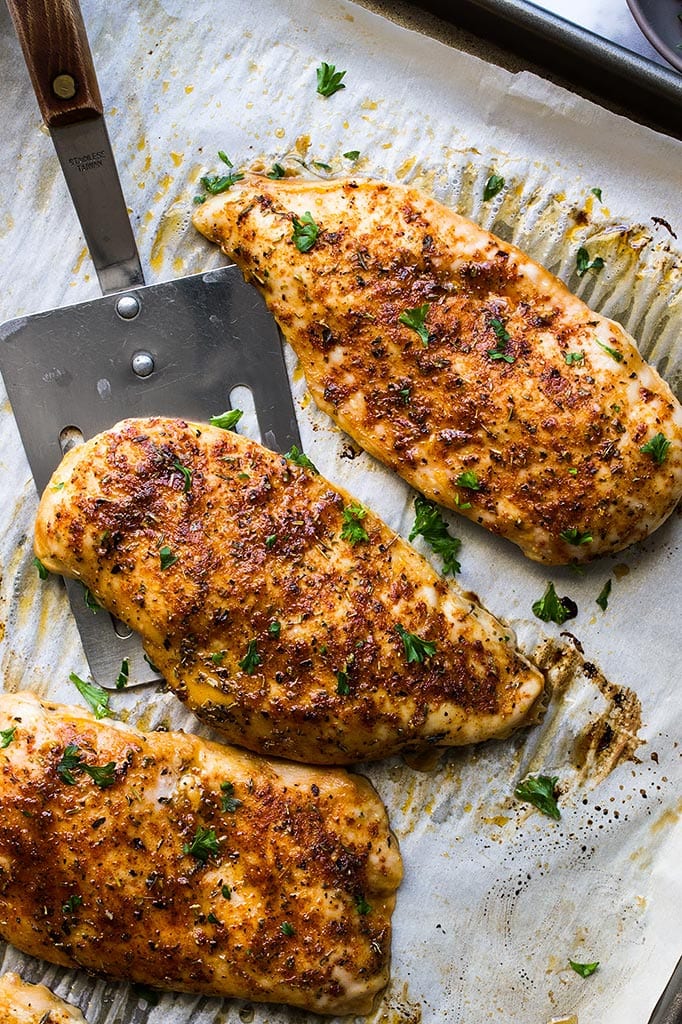 Let's face it. Chicken breasts can be quite boring. I'm generally meh about them without their crispy skin to prop them up or unless they're smothered in lots of sauce like honey garlic chicken, maple glazed chicken, chicken in a creamy lemon garlic sauce, or herbed ranch chicken. But today we're making a simple, foolproof oven-baked chicken breast recipe that does away with the problem of bland, dry and chewy chicken.
The secret is in the rub. Brown sugar makes the chicken sweat a lot more than usual so you end up with juicier chicken breasts. Couple it with some paprika for some savory chicken with a hint of sweetness. Add in some garlic powder and Italian seasoning or top it with fresh parsley just to bring up the flavor some more. There are many ways to customize this but the endgame is no more dry chicken breasts. So let's get started.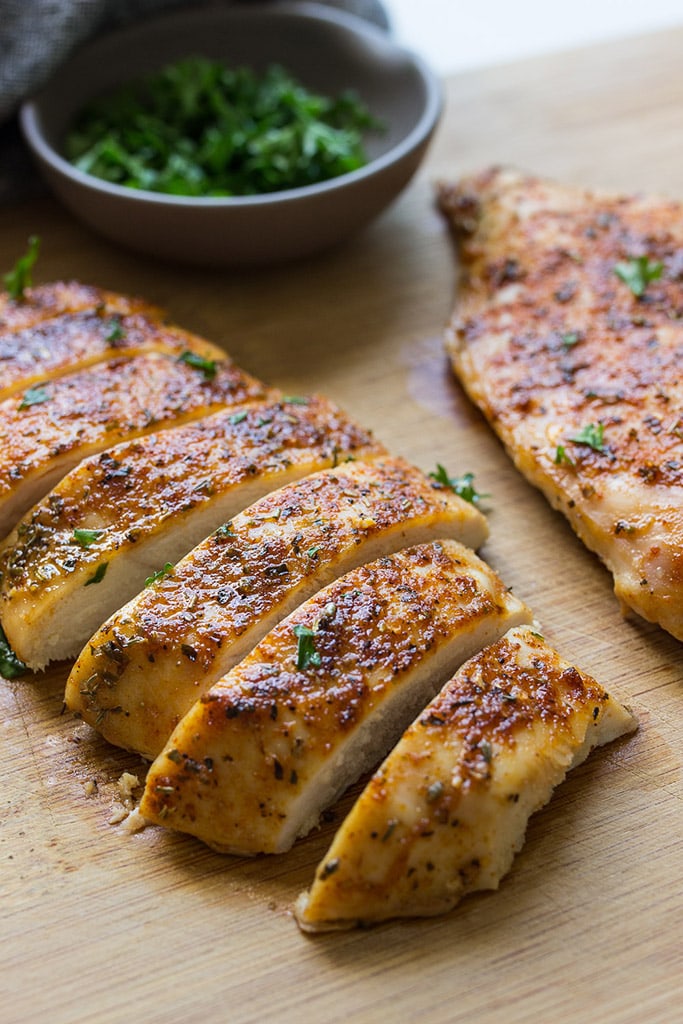 OVEN-BAKED CHICKEN BREAST TIPS AND TRICKS
Chicken breasts: Be sure to pound it to an even thickness so it cooks evenly in the oven. A mounded center usually means the ends will be drier by the time the thicker part finishes cooking. You can use a meat mallet or a rolling pin and place the chicken breasts between some plastic wrap, parchment paper, or in a Ziploc bag. Some brands of frozen individually wrapped chicken breasts like Purdue also come pre-pounded if you don't mind frozen chicken and want to skip the pounding.
Olive oil: Make sure to pat the chicken dry with paper towels before adding olive oil. I like to baste the chicken breasts with olive oil instead of drizzling onto it directly because you get a more even coating this way. It's the same way we prep our chicken before grilling; baste with olive oil and a dry rub patting down after.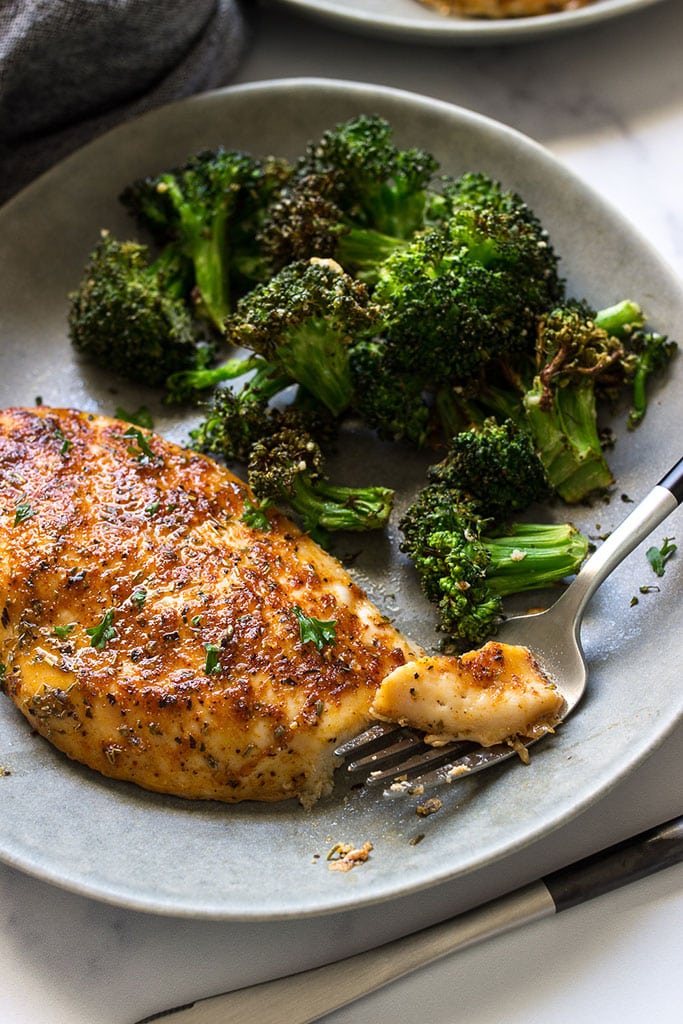 Two-hand seasoning method: The easiest way to minimize hand washing while seasoning meat is to use the dry hand and wet hand method. Use your dominant hand to sprinkle seasoning onto the meat and use your other hand to pat it in.
Seasoning: If you don't have or don't like Italian seasoning, feel free to substitute it with dried oregano, thyme, rosemary, or parsley. Either of these herbs will work.
Paprika: Instead of regular paprika, you can also use smoked paprika because it adds a delicious smoky flavor.
Salt: I like to use coarse sea salt because it's more forgiving than your average table salt and I can be generous with the seasoning.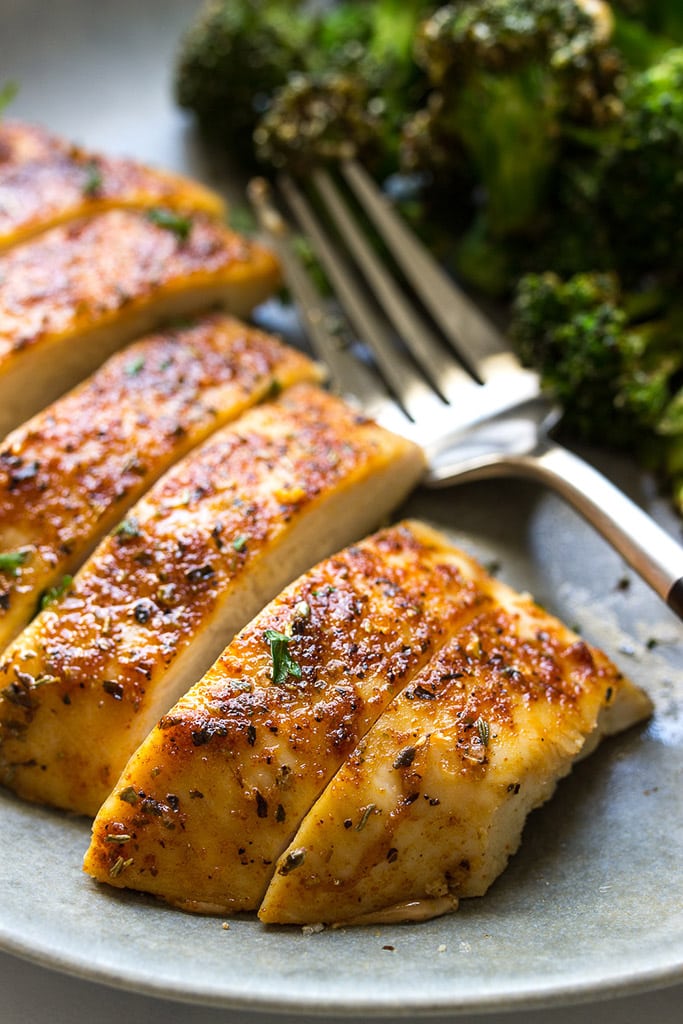 Add some heat: To spice it up, add some chili powder to the seasoning mix. You can also use ancho or chipotle chili powder.
Baking: Bake with either a baking sheet lined in parchment paper or foil, in an oven-safe skillet like a cast-iron skillet, or in a casserole dish.
Serve with: Some suggestions would be some greens on the side like asparagus, broccoli, or green beans and rice, potatoes, quinoa, risotto, or cauliflower mash.
And that's about it. Enjoy your chicken and happy eating!
For more chicken breast recipes try honey garlic chicken skillet, maple glazed chicken or creamy lemon garlic chicken.
♡ Did you make this recipe? Please give it a star rating below! For more quick & easy recipes, FOLLOW ME on Facebook, Instagram and  Pinterest.
Description
This oven-baked chicken breast recipe makes the BEST juiciest chicken breasts. With a simple dry rub for foolproof deliciously caramelized and flavorful chicken.
---
4

boneless, skinless chicken breasts (

5

–

8

oz. each)

1 tablespoon

olive oil
Fresh chopped parsley for garnish (optional)
Seasoning mix:
1 1/2 tablespoons

brown sugar

1 teaspoon

Italian seasoning

1 teaspoon

paprika

1/2 teaspoon

garlic powder

1/2 teaspoon

coarse sea salt

1/4 teaspoon

black pepper
---
Pound the chicken to 1/2″ thickness using a meat mallet or rolling pin.
Combine all ingredients of the seasoning mix.
Baste one side of the chicken breasts with olive oil and sprinkle generously with seasoning mix. Pat seasoning into the meat with fingers.
Flip chicken breasts over and repeat the basting and seasoning step for the other side.
Line a baking tray with some foil or parchment paper and bake at 425°F for 18-20 minutes or until internal temperature reads 165°F.
Remove and let it rest for 5 minutes before serving.
♡ Affiliate disclosure: As an Amazon Associate, I earn commissions from qualifying purchases from Amazon.com. You can learn more about it here.