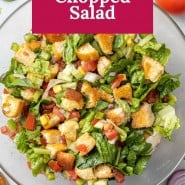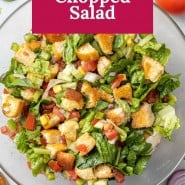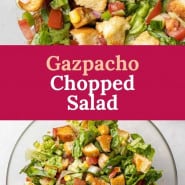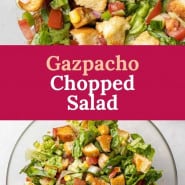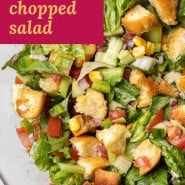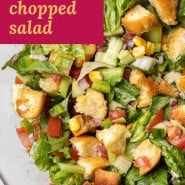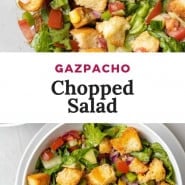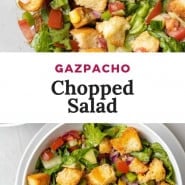 Everything you love about gazpacho is reimagined in this refreshing gazpacho salad. Easy to make and so satisfyingly crispy and delicious!
Recipe Overview

Why you'll love it: Gazpacho salad is an easy chopped salad, crisp and satisfying.
How long it takes: 15 minutes
Equipment you'll need: sharp knife, large bowl
Servings: 8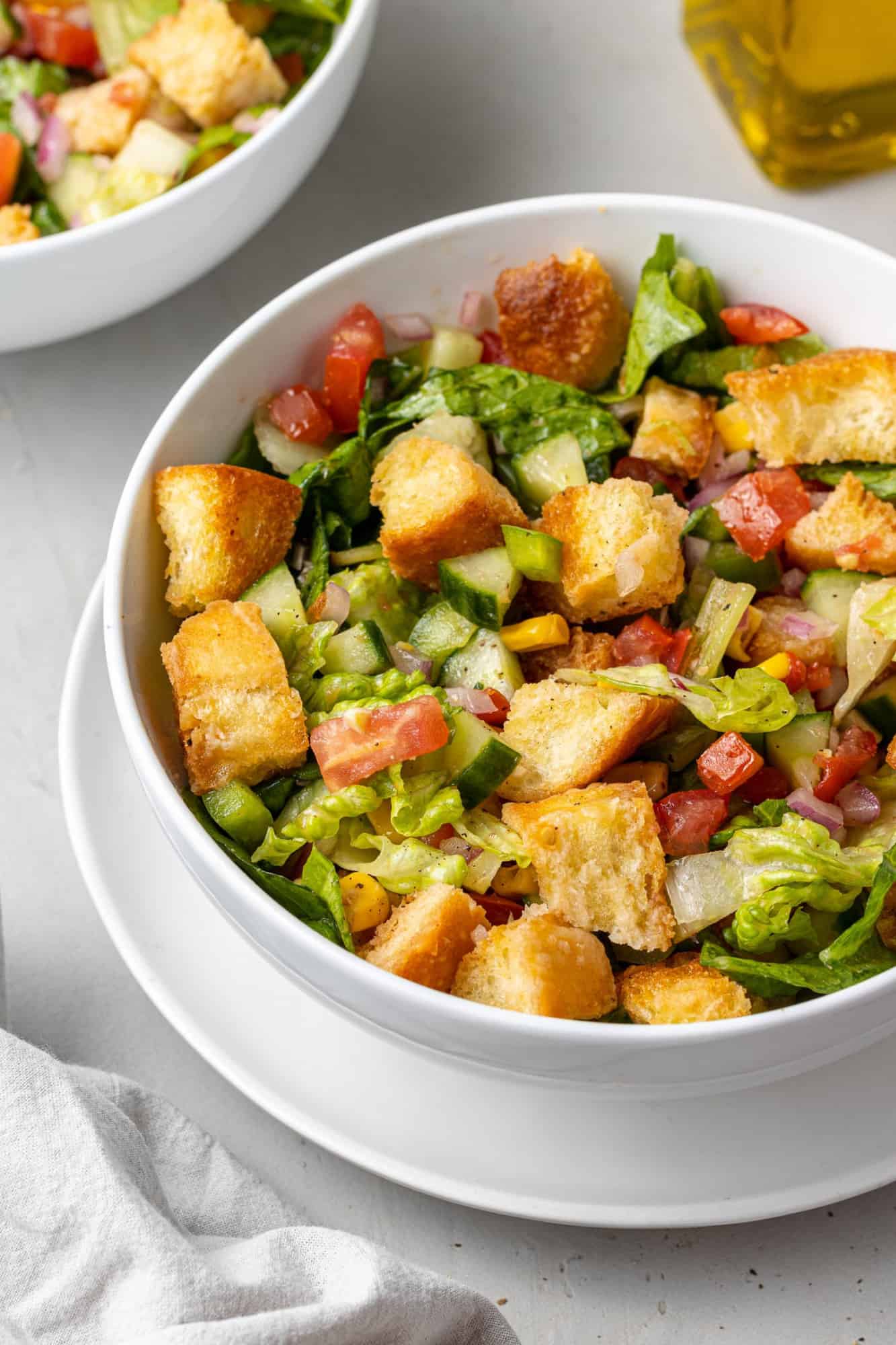 Discover all the elements of gazpacho, a puréed soup served chilled, in a summery chopped salad: vine ripened tomatoes, red onion, crisp bell pepper, fresh cucumber, garlic, hearty croutons, extra virgin olive oil and red wine vinegar. Refreshing as the traditional soup, gazpacho chopped salad is rustic and simple.
What's Gazpacho?
Perhaps you're not familiar with gazpacho. Here's how to say it: guhz·paa·cho. It's a blended soup, smooth and velvety, icy cold. The simple peasant soup, made originally with stale bread, garlic, olive oil and vinegar, was likely brought to the Iberian peninsula of Spain during Roman times. Since then, tomatoes and other vegetables have been added to make the red gazpacho that is very popular around the world.
So maybe cold soup isn't your thing. Here in Michigan, we usually appreciate soup as a way to warm up from the inside out. Chilled soup leaves us …. cold. That's why I love this gazpacho salad. It has all the really delicious elements of the classic soup but instead of being whirled in the blender, the chopped salad is crisp, cool, and crunchy.
Try it soon while fresh homegrown tomatoes are available. Maybe you have tomatoes ripening in your garden. Gazpacho salad is a perfect summer salad.
About this salad recipe
This is a chopped salad so it's pretty easy to make. Simply chop everything up in bite sized pieces, add croutons and an easy homemade vinaigrette, and toss it together.
For the complete recipe with measurements, etc., take a look at the printable recipe card at the end of this post.
What you need
Tomatoes: Find the best vine-ripened tomatoes you can. The variety of tomato doesn't matter as much as whether it's a good-tasting tomato. Use a combination if you like.
Red Onion: Other types of onion are fine, too.
English Cucumber: If you use a regular cucumber, use a vegetable peeler to remove the waxy skin. English cucumbers have a thin skin that is edible.
Green Bell Pepper: If you prefer, a red or yellow bell pepper is fine, too.
Corn: Frozen corn kernels are convenient and available year round. If you can, substitute fresh corn cut off the cob.
Homemade Vinaigrette: Make a simple dressing with Extra Virgin Olive Oil, Red Wine Vinegar, Fresh Garlic, Salt, and Pepper. Use a good quality olive oil because it adds piquant peppery flavor to the salad.
Croutons: Make your own if you can, they are so much better. I'll show you how with just four easy ingredients — How to Make Croutons – the best ever!
Romaine Lettuce: Other types of lettuce are fine but choose a lettuce that is fairly firm and that will hold up in this chopped salad.
How to make This salad
Begin by whisking together the dressing ingredients in a large bowl.
Add the sliced red onion to the dressing so it has a chance to marinate a bit while you prepare the rest of the salad. The vinegar will mellow the sharp bite of the onion.
Next, chop up the tomatoes. Squeeze them gently to remove some of the seeds and pulp. Add them to the bowl, along with chopped cucumber and green pepper. Add the corn and gently toss everything together.
At this point, the salad can be left at room temperature for an hour or so, or refrigerated up to 8 hours.
If you're making your own croutons, and I highly recommend it, go ahead and get those toasted. They can be made up to a few days in advance. Once they've cooled completely, store the croutons in an airtight container.
I almost always have homemade croutons in my pantry because salads (and soups!) are always better with croutons.
When you're ready to serve the salad, add chopped romaine lettuce.
You'll also add the croutons and toss lightly. At this point, it's best to serve the gazpacho salad immediately.
I like to serve this salad as a side with either grilled salmon or air fryer salmon. Really, that's all you need for a satisfying and nutritious meal. Add a nice glass of chilled rosé or your favorite craft beer and life is good!
FAQs
Some of you may not be familiar with gazpacho, the inspiration behind this salad. Here's more about this chilled soup:
Is gazpacho healthy?
Chock full of good-for-you vegetables, gazpacho is very healthy. Most of us struggle to incorporate the recommended amount of vegetables and fruit in our diets.
This Mediterranean style gazpacho salad, with five vegetables, is healthy and low calorie (less than 150 calories per serving). The dressing is made with extra virgin olive oil which is incredibly good for you, packed with antioxidants (Healthline).
Is gazpacho better the next day?
Allow gazpacho soup to chill at least a few hours or overnight. The taste improves and the flavors meld together. It's best served ice cold.
What is the difference between salsa and gazpacho?
The main difference is that salsa is a sauce and gazpacho is a soup. Both have tomatoes, onions, and peppers but that's about where the similarity ends.
If you're looking for a salsa recipe, try this Restaurant Style Salsa or Chipotle Salsa.
Make It Your Own
Some folks like to present this salad layered in a clear glass straight-sided bowl, such as a trifle bowl. It does have lovely colorful layers but you will want to toss it before serving so the dressing coats the salad.
Make this salad a main course by adding cooked shrimp, canned beans, canned tuna, hard boiled egg, cubed sharp cheese such as Manchego, or grilled chicken.
Substitute or add ingredients to the salad. I love it with avocado, cubed or sliced, and kalamata olives are a great addition. Add a little heat with sliced jalapeño pepper. A sprinkle of fresh herbs is fantastic — try cilantro, chives, parsley, dill, or basil.
Make-Ahead Ideas
The salad can be made a day ahead if you like but reserve the croutons and lettuce. They can be stirred in right before serving so they retain their crispness.
To get a jump on prepping the salad, prepare the croutons, stir up the dressing, and get some of the veggies chopped. Refrigerate separately until you're ready to make the salad.
Storage Suggestions
Once the croutons and lettuce are mixed in, the salad should be served immediately. The croutons will absorb the dressing and become soggy and the romaine lettuce will get limp. If you can get past soggy croutons and limp lettuce, the salad tastes fine. Refrigerate leftovers for up to one day.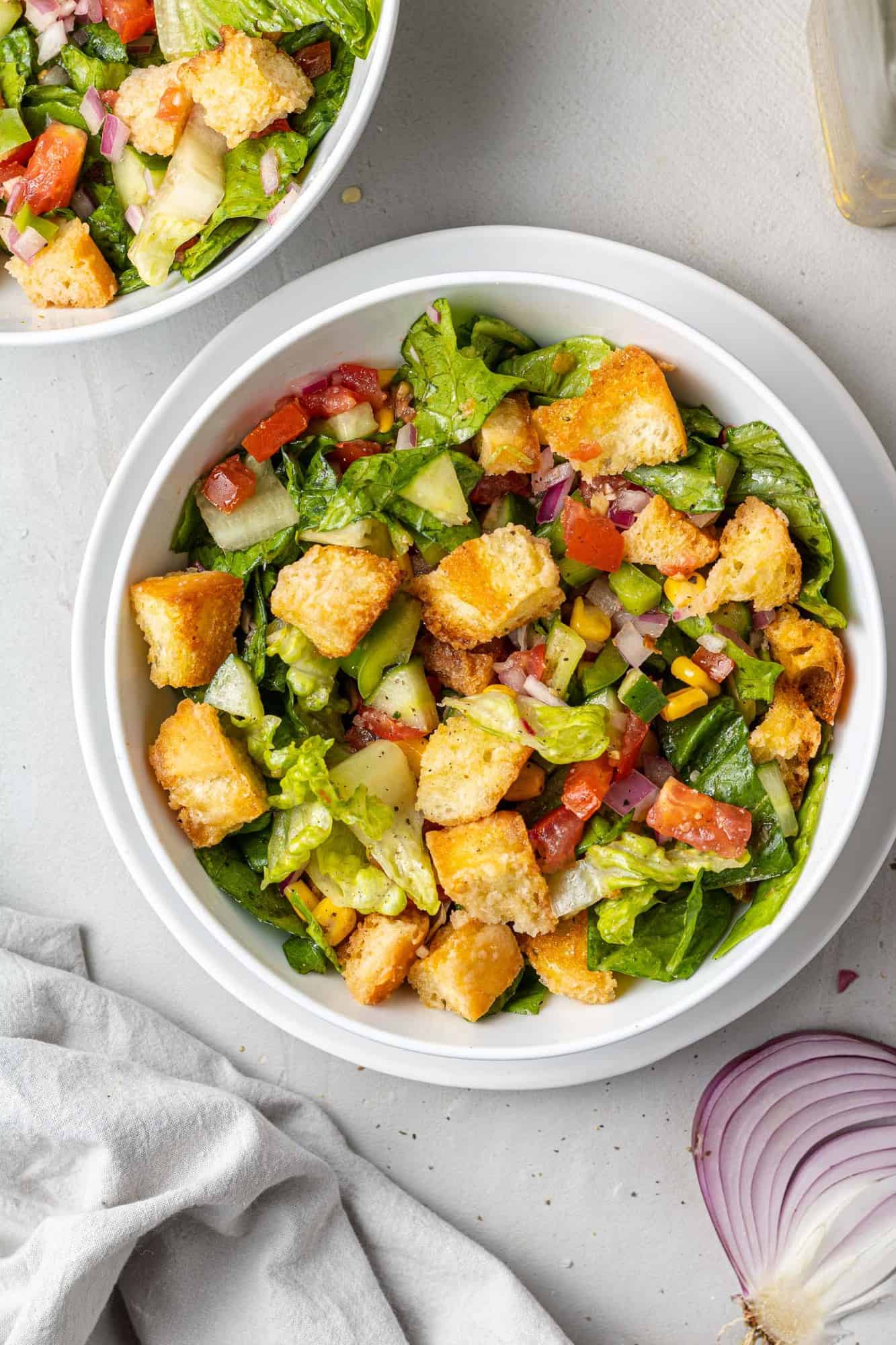 More summer salads
While not exclusively reserved for summer, some salads just seem like they are summer fare. Whether you're enjoying warm weather or just wishing for it, try one of these delicious salads:
Did you make this? Be sure to leave a review below and tag me @rachelcooksblog on Facebook, Instagram, or Pinterest!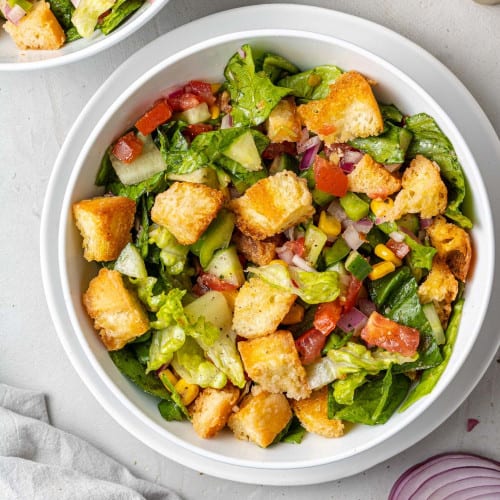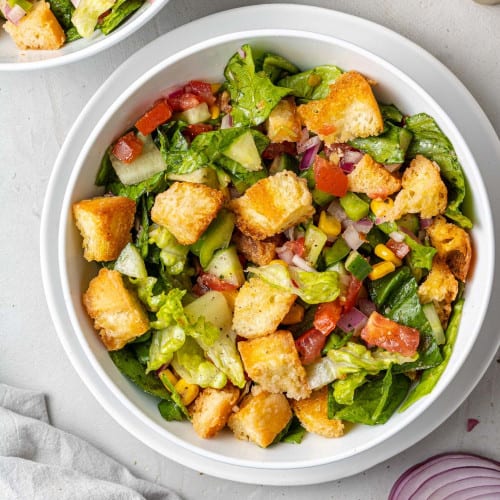 8 servings
Prevent your screen from going dark
Everything you love about gazpacho is reimagined in this refreshing gazpacho salad. Easy to make and so satisfyingly crispy and delicious!
Instructions
In large bowl, whisk together vinegar, olive oil, garlic, salt and pepper. Stir in onion.

Add tomatoes, cucumber, green pepper and corn. Toss lightly. refrigerate until ready to serve.

To serve, add croutons and lettuce to the bowl. Toss well. Serve immediately.
Notes
Make Ahead Tip: Prepare salad, leaving lettuce and croutons out, up to a day ahead and refrigerate. Just before serving, stir in croutons and lettuce.
Salad is best served immediately but can be stored in fridge for up to 1 day. Lettuce and croutons will be soggy.
Make this salad a main course: Add cooked shrimp, canned beans, hard boiled egg, canned tuna, cubed sharp cheese such as Manchego, or grilled chicken.
Optional Add-Ons: black or kalamata olives, diced avocado,

jalapeño pepper, fresh herbs such as parsley, dill, chives, or basil. 
Nutrition Information
Calories: 149kcal, Carbohydrates: 17g, Protein: 3g, Fat: 8g, Saturated Fat: 1g, Polyunsaturated Fat: 1g, Monounsaturated Fat: 5g, Sodium: 254mg, Potassium: 198mg, Fiber: 2g, Sugar: 3g, Vitamin A: 689IU, Vitamin C: 15mg, Calcium: 24mg, Iron: 1mg
This website provides approximate nutrition information for convenience and as a courtesy only. Nutrition data is gathered primarily from the USDA Food Composition Database, whenever available, or otherwise other online calculators.