This post may contain affiliate links. Please read my disclosure policy.
My favorite broccoli salad recipe features a simple blend of fresh sweet and savory ingredients that everyone's sure to love!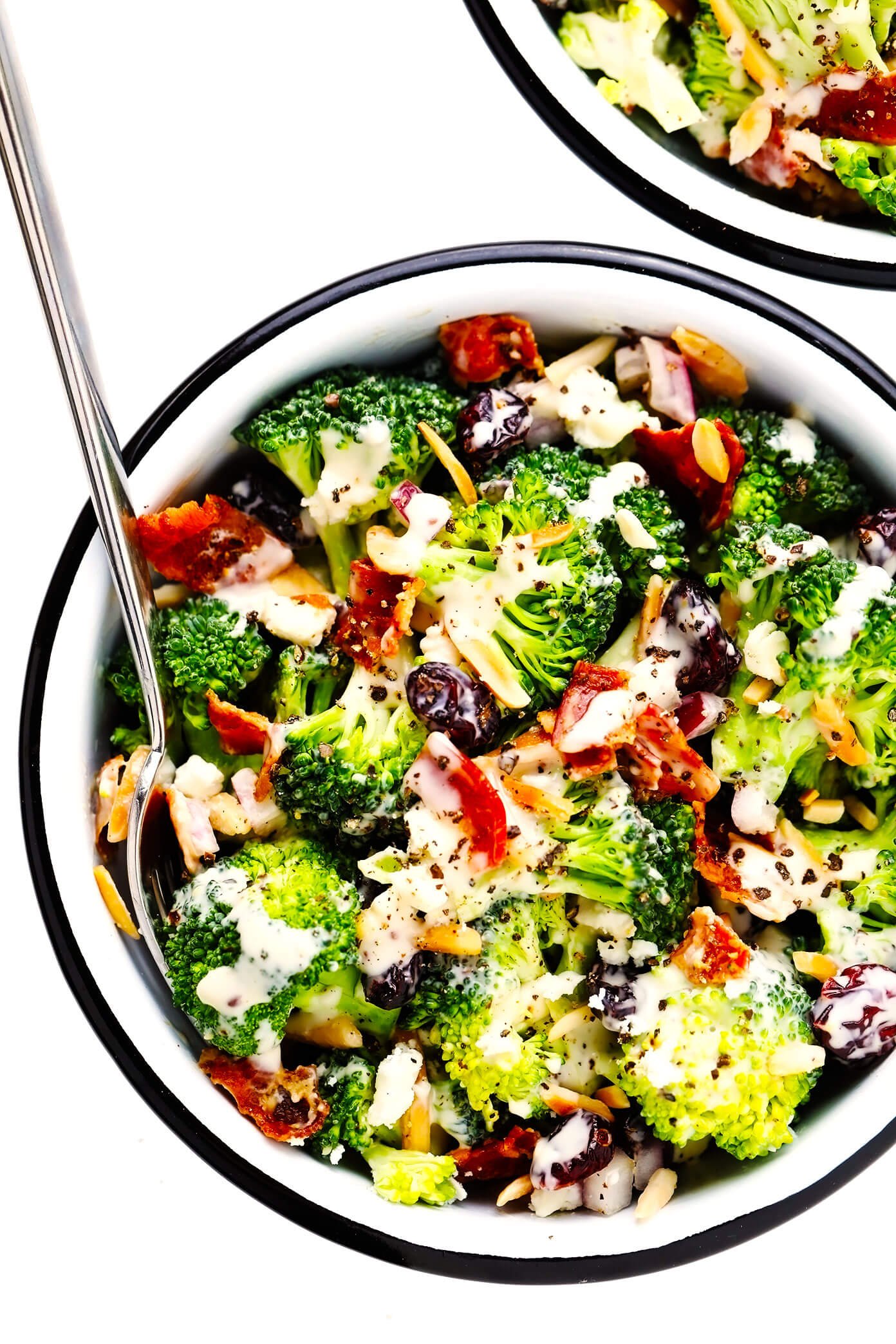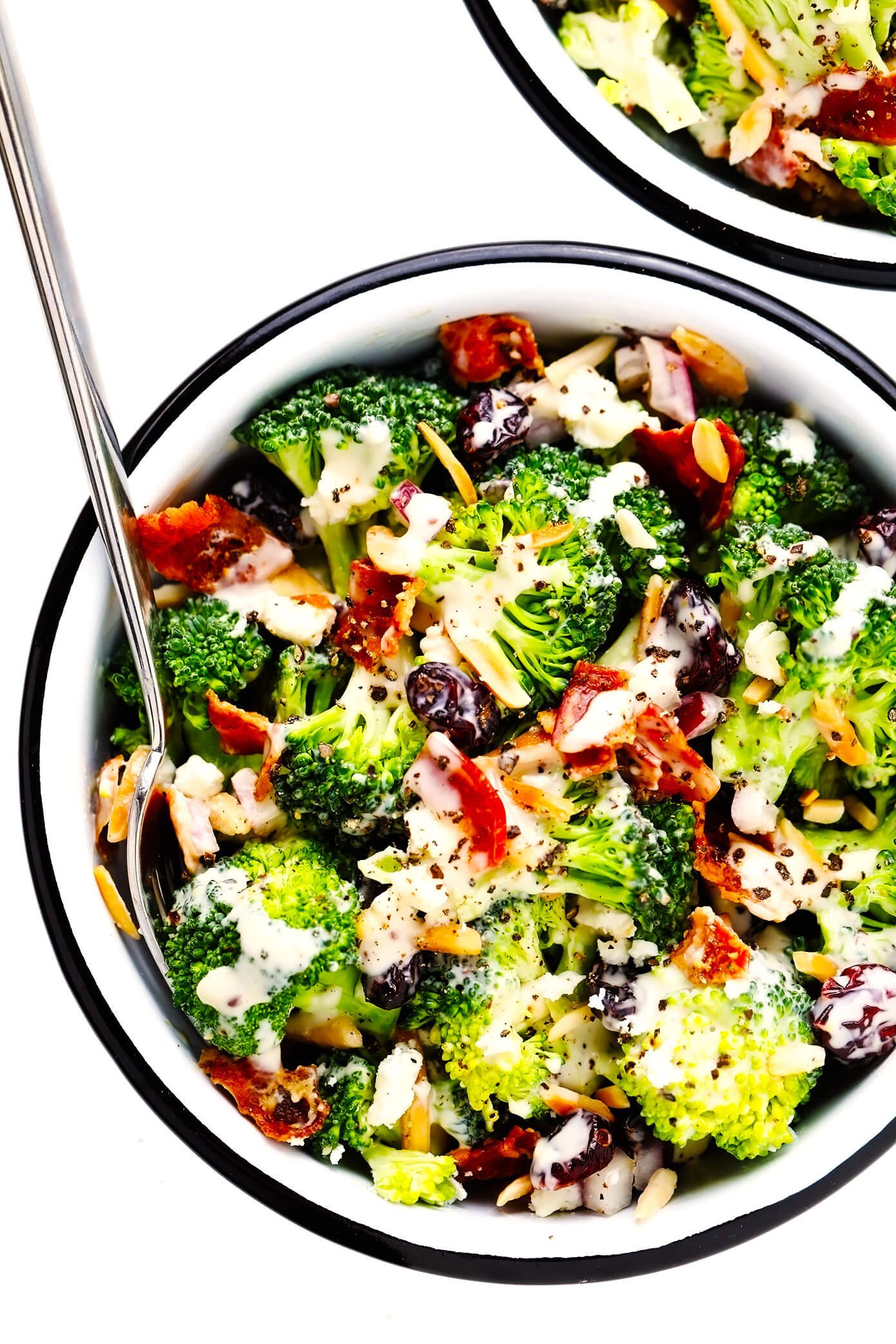 Picnic season is officially back on again with our friends here in Barcelona now that the weather has warmed up, which means that it's time to bring back all of my favorite make-ahead salad recipes for potlucks! After sharing some of my favorite recipes in years past for potato salad, pasta salad, ramen noodle salad, chicken salad, and quinoa salad, it seemed high time to share my go-to recipe for another American potluck classic…
…broccoli salad. ♡
I always tend to go the throwback nostalgic route when it comes to broccoli salad, loading mine up with that classic sweet and savory combination of crispy bacon, crunchy toasted almonds, dried cranberries, and a sweet creamy dressing. I also love the mild tang that comes with adding in lots of crumbled feta cheese, although just about any soft crumbled cheese or traditional cheddar would also do. And while the broccoli salads of my childhood were usually tossed with mayo, sugar, and — well — even more mayo, I've included a recipe below for a lightened-up creamy dressing sweetened with a hint of honey that I prefer much more.
This fresh and vibrant salad is a great one to have in your back pocket for gatherings this time of year and always disappears in a snap. So if you're looking for a great broccoli salad recipe to save to your repertoire, I highly recommend giving it a try!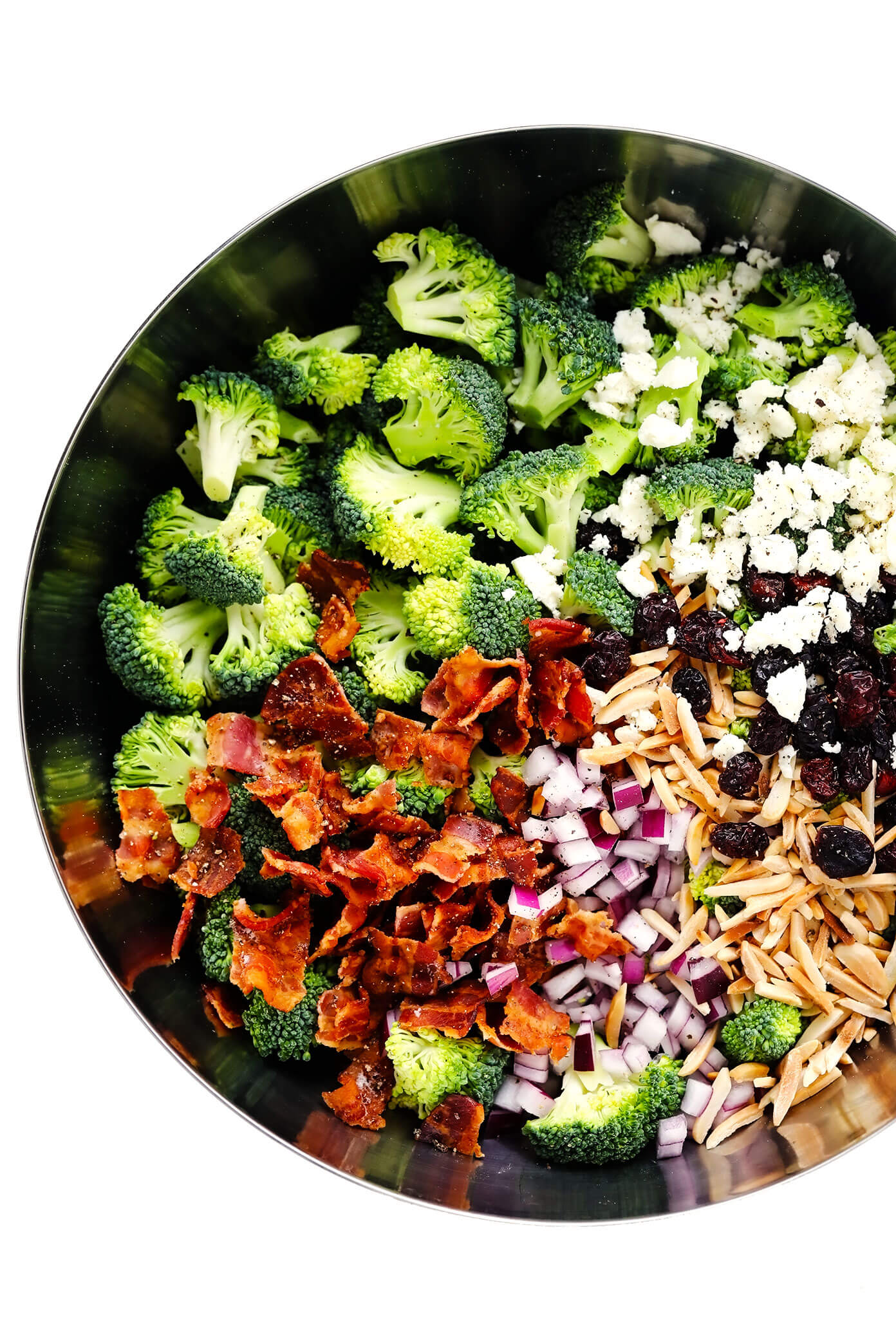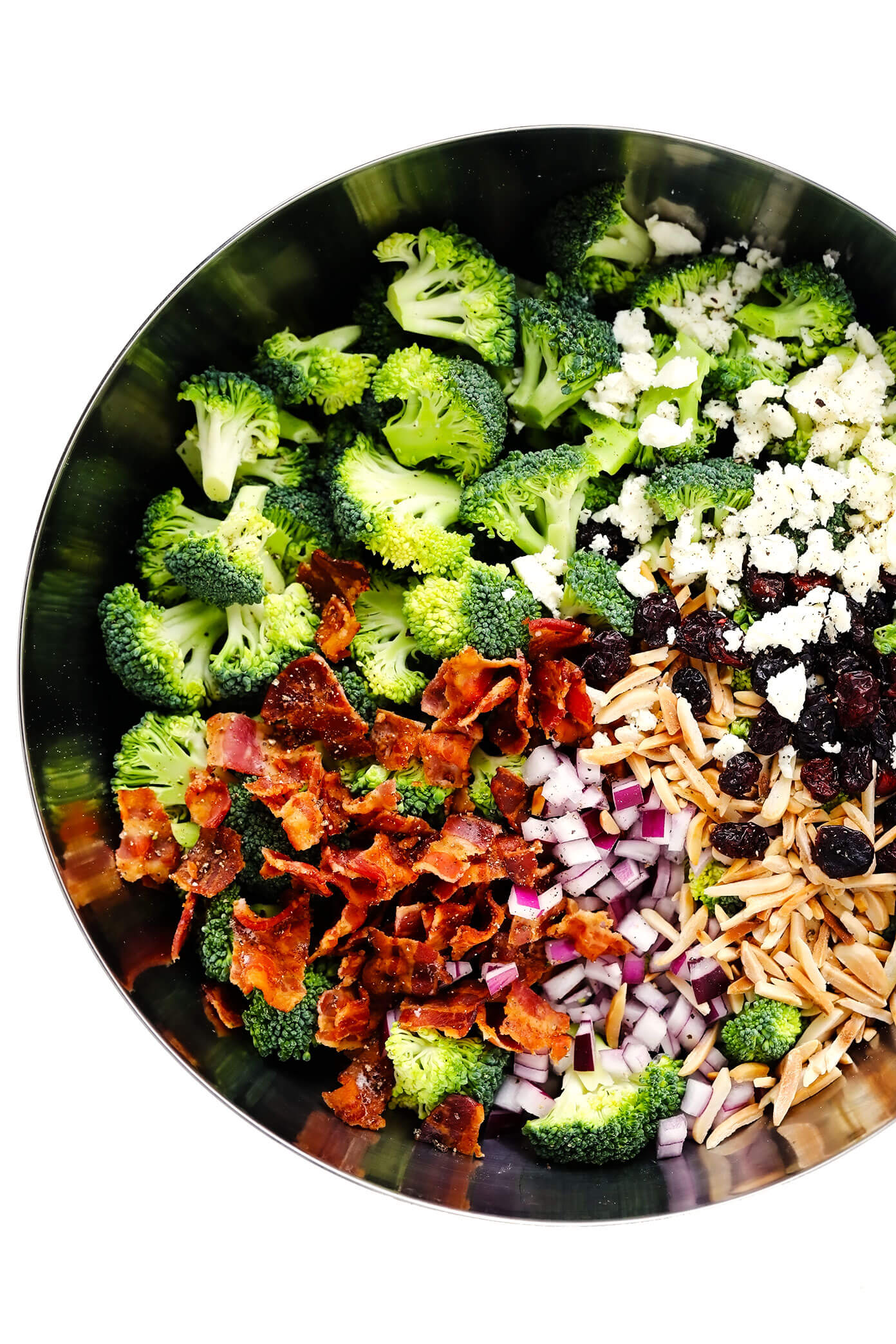 Broccoli Salad Ingredients:
Before we get to the full broccoli salad recipe detailed below, here are a few notes about the ingredients that you will need…
Broccoli: You can either chop a few heads of raw broccoli yourself to make this salad. (Here is a video tutorial for how to chop broccoli florets.) Or if you want to save time, feel free to pick up some pre-chopped florets at the grocery store.
Bacon: I love a generous amount of crispy bacon bits in this broccoli salad! I definitely recommend frying the bacon until it is nice and crispy, since it will soften a bit once it has been tossed with the dressing. Then you're welcome to crumble it into bits that are as large or small as you prefer.
Nuts: I'm partial to adding slivered almonds to this salad for rich flavor and crunch, which need to be briefly toasted in the oven or in a skillet beforehand to bring out the best of their flavor. But if you don't have slivered almonds on hand, any other cut of almonds, pecans, walnuts, pistachios, pine nuts, pepitas, sunflower seeds, or other nuts/seeds that you love best will work too!
Dried cranberries: These add the perfect touch of slightly-tart sweetness to the salad! That said, just about any dried berries, raisins, or dried apricots would also be delicious here.
Red onion: You can either finely dice or slice some red onion to add a bit of crunch to the salad. If you prefer a milder onion flavor, just briefly rinse the diced onion with cold water in a strainer to mellow it out.
Cheese: I usually make broccoli salad with crumbled feta cheese, but crumbled goat cheese, crumbled gorgonzola, or cheddar cheese are also fantastic options.
Creamy dressing: Finally, you will need some mayo, plain Greek yogurt, apple cider vinegar, honey, Dijon, salt and pepper to make this classic creamy dressing. Feel free to adjust the amounts, too, if you would like to make the dressing a bit more sweet, more vinegary, or more mustard-y.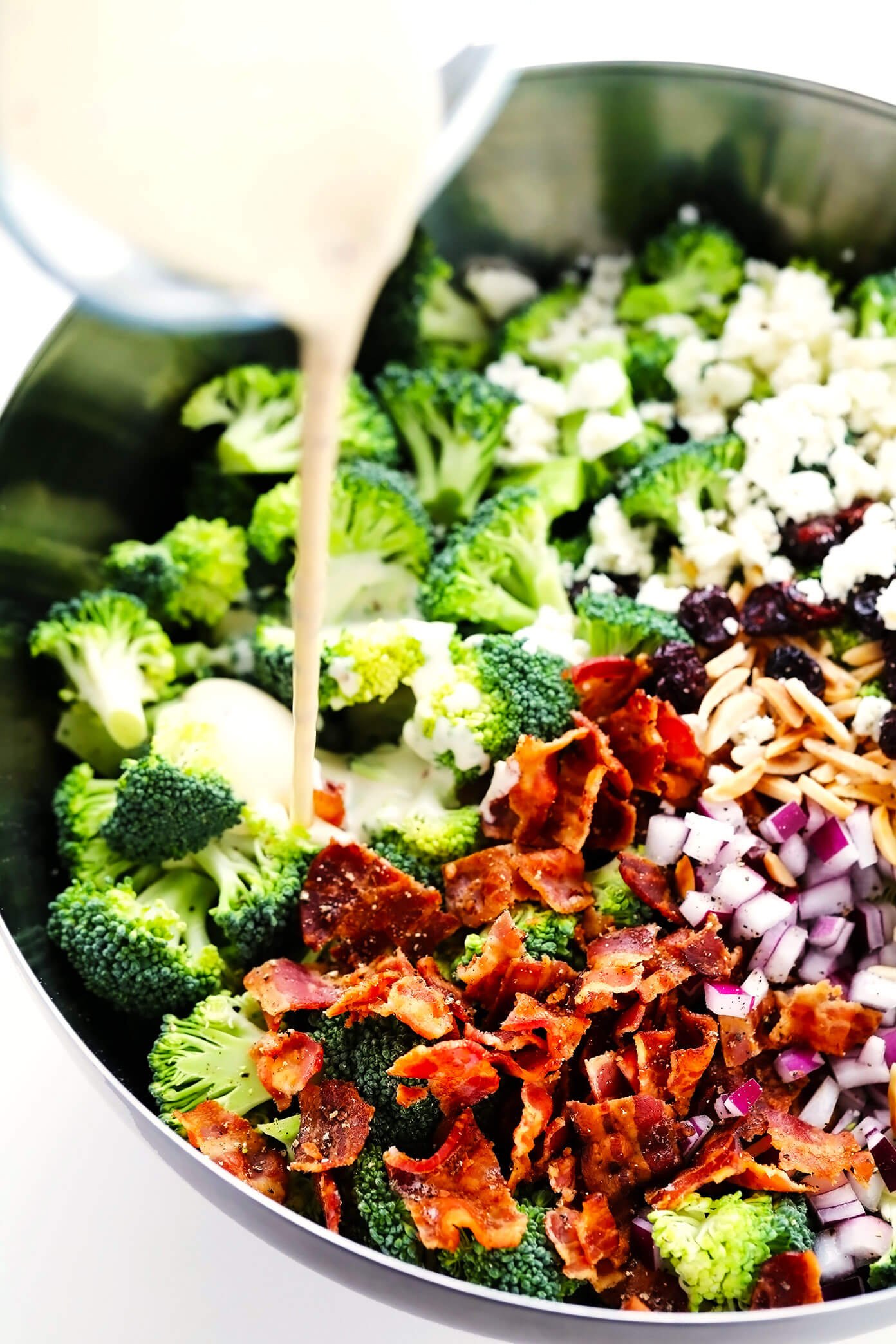 Broccoli Salad Variations:
Here are a few more variations that you are welcome to try with this broccoli salad recipe…
Blanch the broccoli: If you prefer not to eat raw broccoli, you are welcome to blanch the florets. Simply cook the florets briefly in a large stockpot of boiling water for 1 minute, then immediately transfer them to an ice bath to prevent them from cooking further, drain and use in the salad.
Make it gluten-free: Good news – this salad is already naturally gluten-free!
Make it vegetarian: Feel free to just omit the bacon to make vegetarian broccoli salad. Or if you'd like, you could also add in some vegan bacon.
Use a different kind of nuts/cheese/dried berries: As mentioned above, these ingredients are all extremely flexible in this recipe. So feel free to swap in whatever type of nuts, cheese or dried fruit that you happen to have on hand and love best!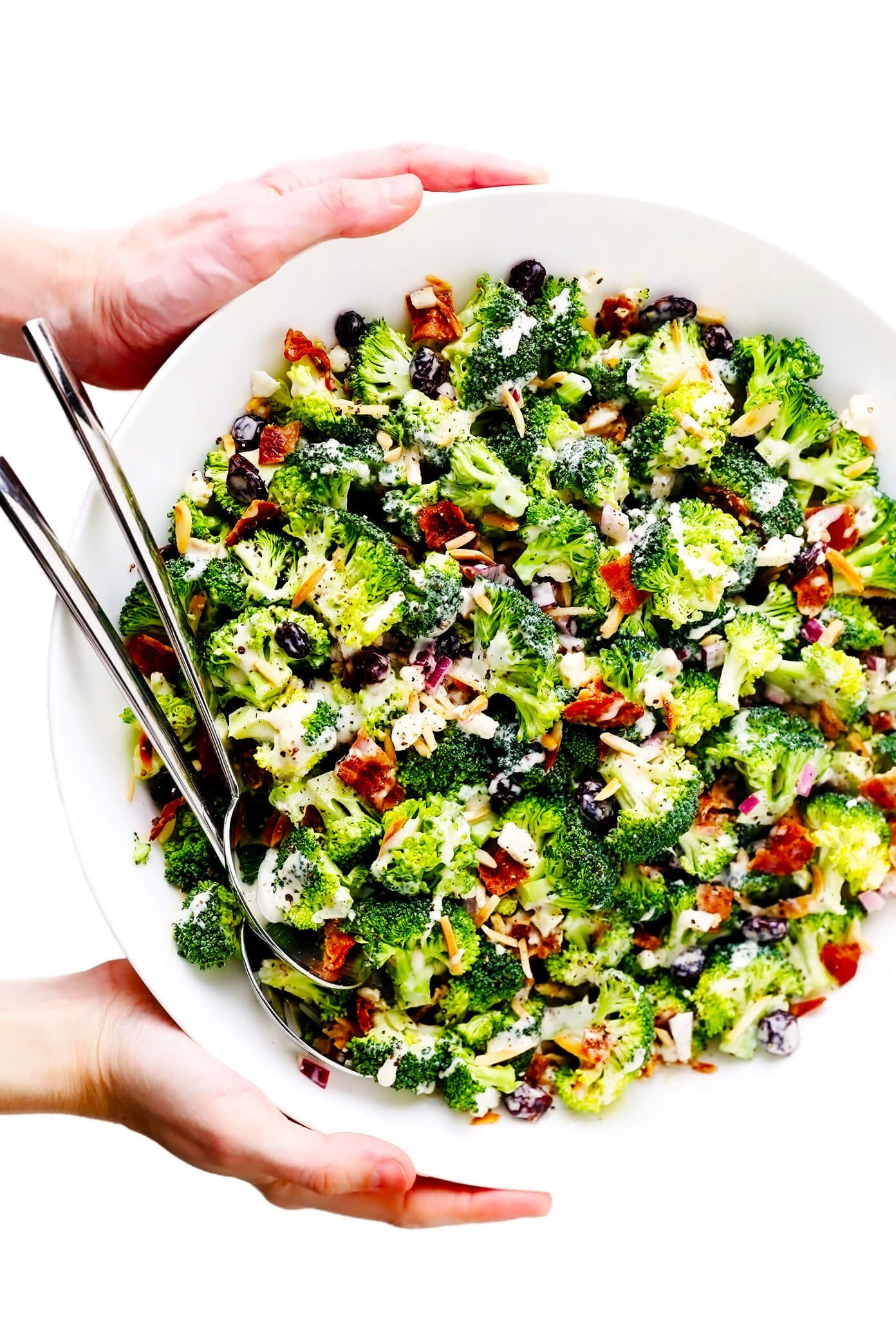 More Make-Ahead Salad Recipes:
Looking for some more delicious make-ahead salad recipes for picnics and potlucks? Here are a few classics that I always enjoy…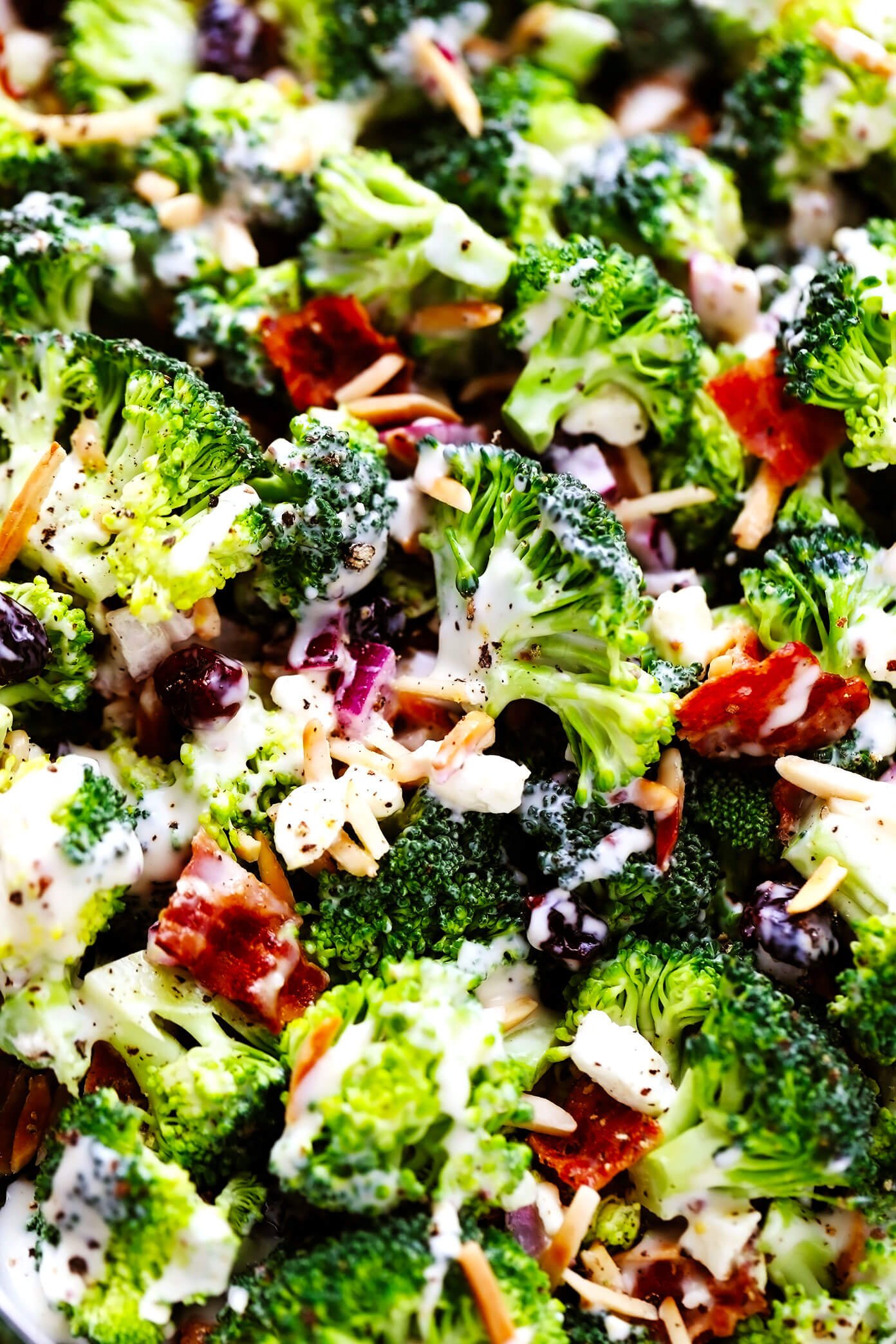 Print
---
Description
My favorite broccoli salad recipe features an irresistible blend of fresh sweet and savory ingredients that everyone's sure to love!
---
Broccoli Salad Ingredients:
24 ounces

broccoli florets (about

3

large heads broccoli)

8

slices of cooked bacon, crumbled

2/3 cup

slivered almonds, toasted

2/3 cup

dried cranberries

1/2 cup

finely-diced red onion

1/2 cup

crumbled feta cheese (or goat or blue cheese)
Creamy Dressing Ingredients:
1/3 cup

mayo

1/3 cup

plain Greek yogurt

3 tablespoons

apple cider vinegar

3 tablespoons

honey

1 teaspoon

Dijon
pinch of salt and black pepper, to taste
---
Make the dressing. Whisk all of the dressing ingredients together in a small bowl until combined. Taste and season the dressing with salt and pepper, to taste.
Toss the salad. Combine the broccoli florets, bacon, almonds, dried cranberries, red onion, and feta cheese in a large mixing bowl. Drizzle evenly with the dressing then toss until completely combined.
Serve. Serve immediately, or transfer the salad to a sealed container and refrigerate for up to 3 days.
---