Make Tuna Melts with toasted English muffins, a simple creamy tuna mixture, and lots of melty Cheddar!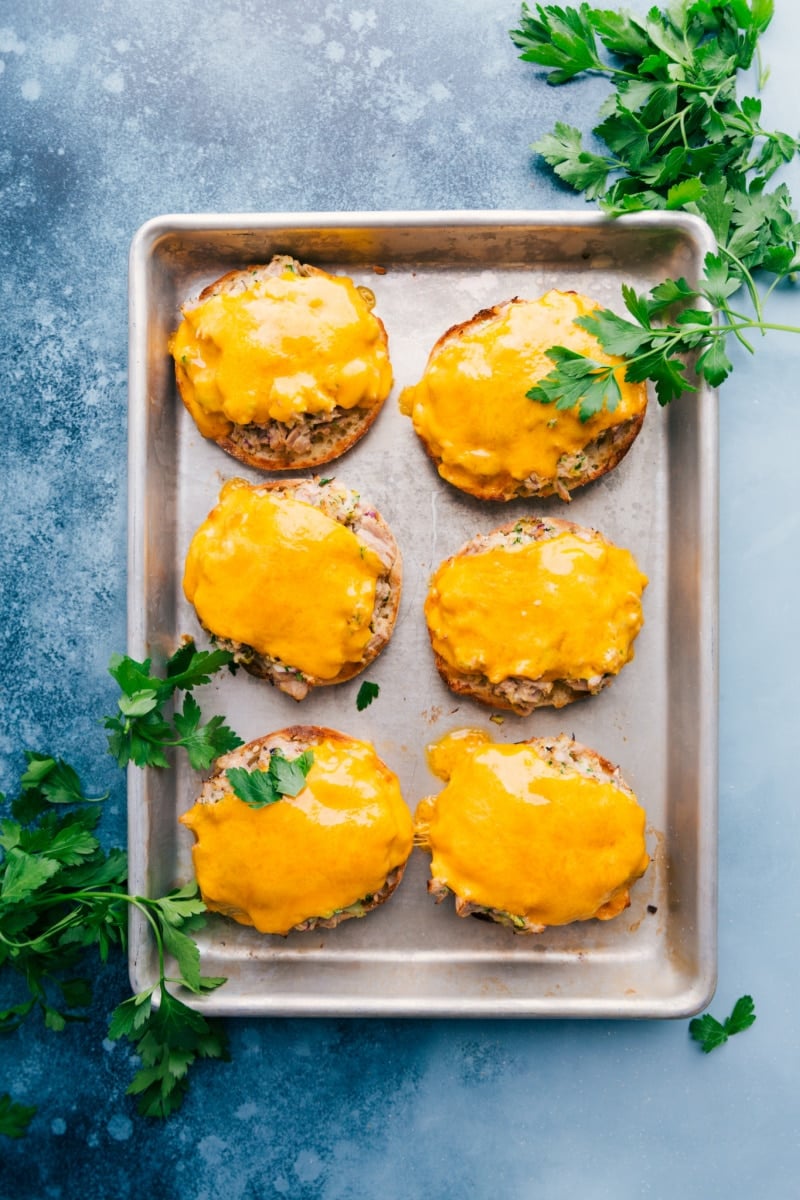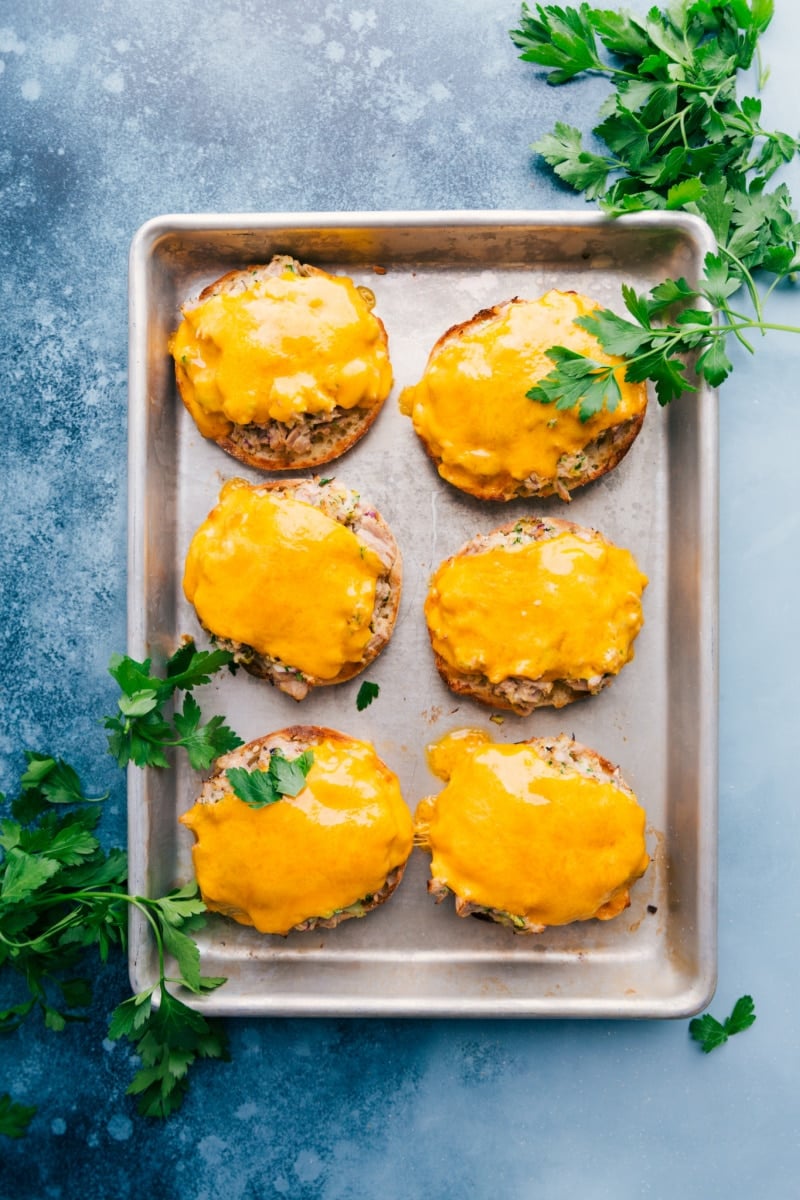 These Tuna Melts are part of our Back-To-School Lifesavers — a series of recipes that are intended to have little (or no) veggie chopping, minimal prep time, around 10 ingredients or less (not including pantry staples), and be kid-friendly. Click here to see all the recipes in the series!
Tuna Melts
Canned tuna is a starting canvas for some of the quickest-ever meals (hello Tuna-White Bean Salad!), and when we pair it with some hearty carbs (English muffins) and loads of melty Cheddar, it makes the perfect filling, family-friendly meal.
I wanted this recipe to be as simple as possible, so instead of finely chopping a bunch of veggies like Tuna Salad recipes usually call for, we throw everything in the food processor to do the work for us!
By combining everything in the food processor and letting it whiz, the prep on these melts is ridiculously simple.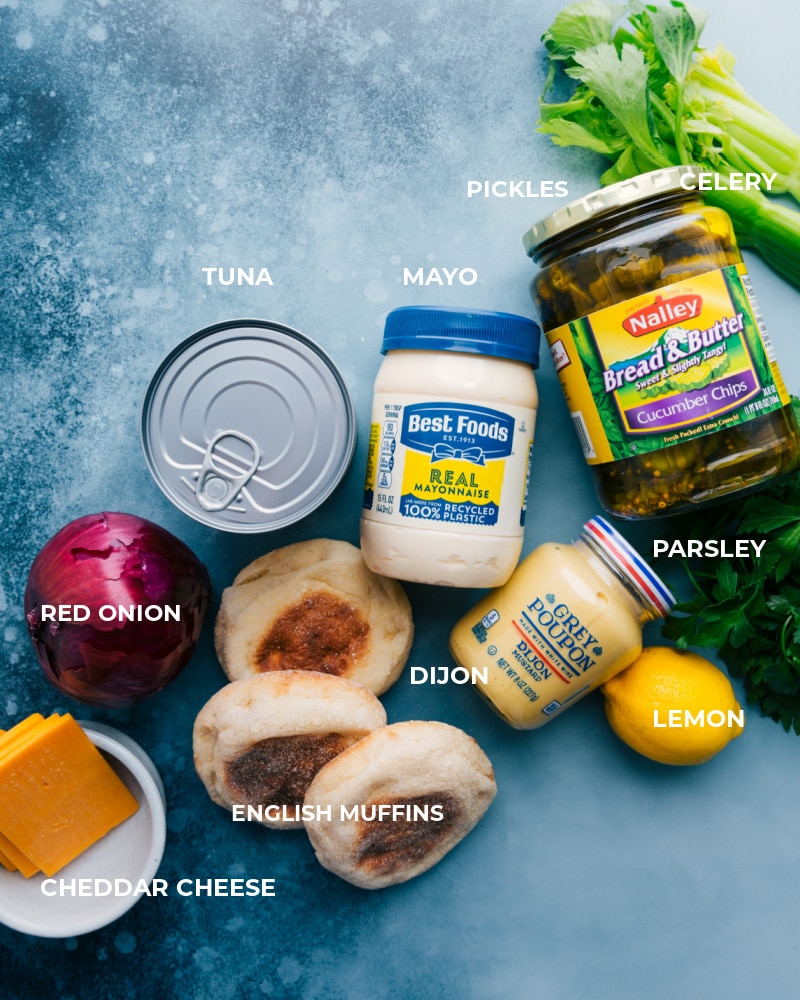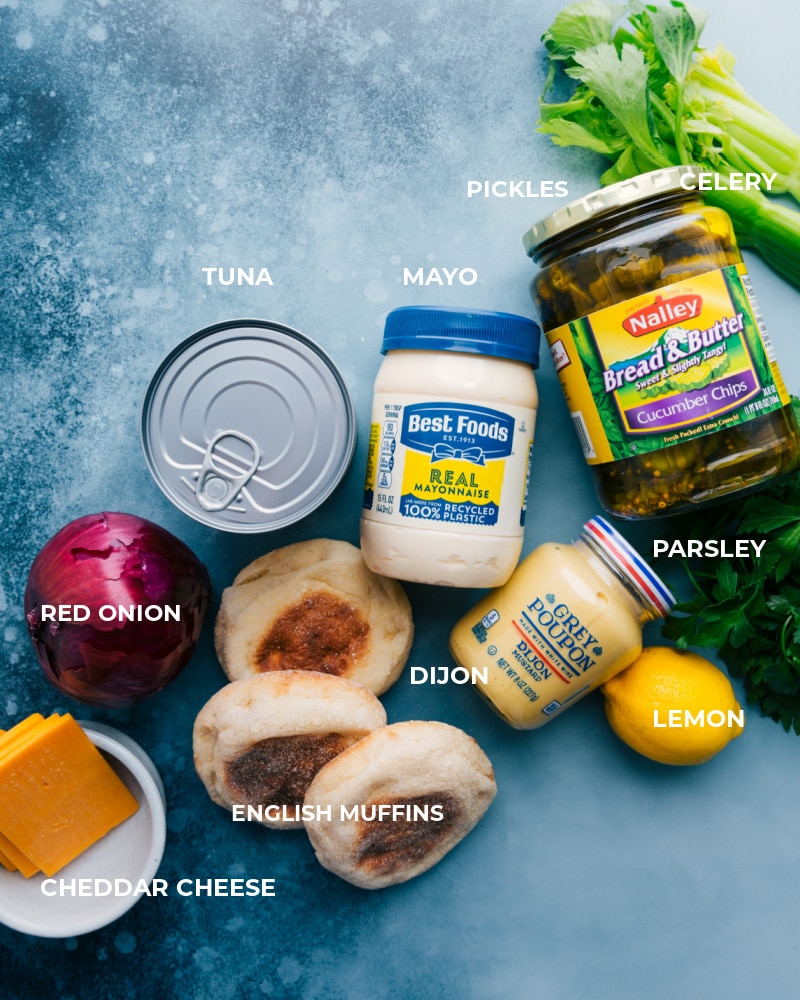 Is a Tuna Melt hot or cold?
Tuna melts are hot sandwiches, intended to be served right out of the oven. On the other hand, tuna salad sandwiches are the cold version and are intended to be served chilled.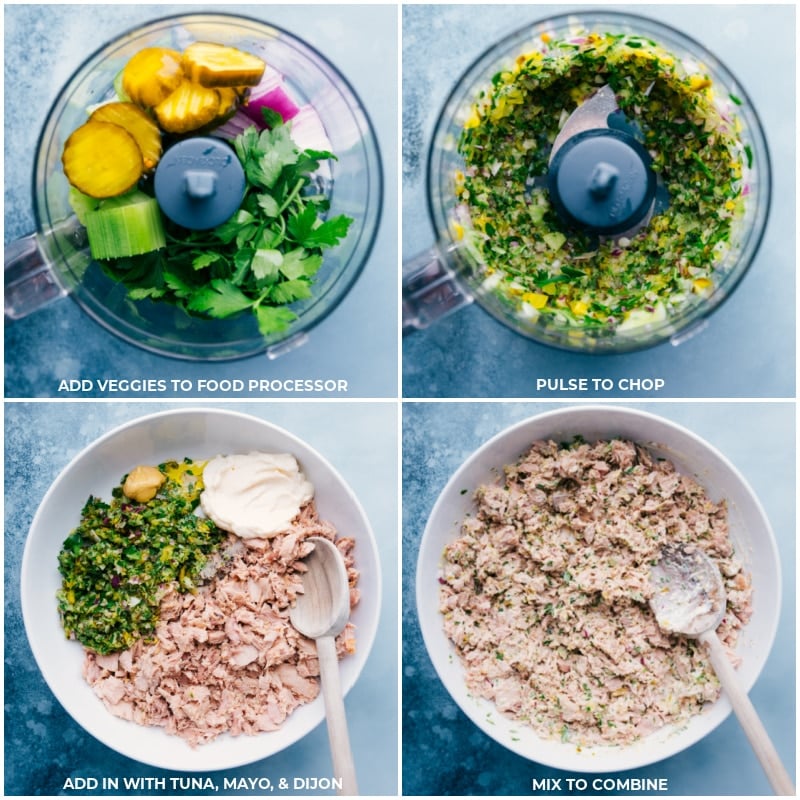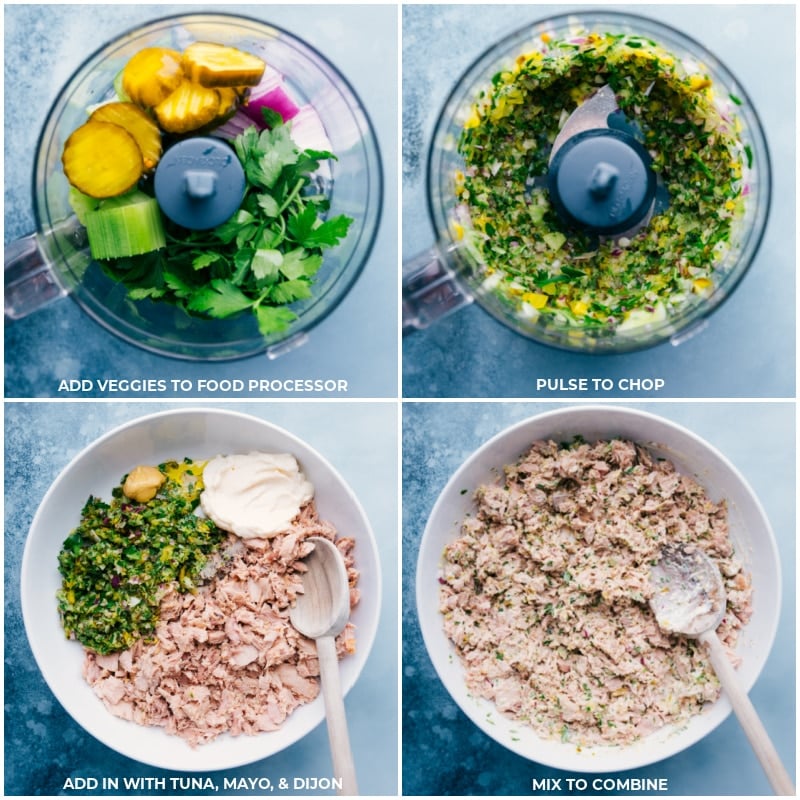 Tuna Melt Ingredients
There aren't too many other ingredients in this recipe, but below are a few notes about some of the other ingredients.
Canned tuna. I highly recommend tuna that has been packed in extra-virgin olive oil; it makes a huge difference to the overall taste of the Tuna Melts. Our favorite is Genova's® canned tuna (not sponsored).
Mayo. The mayonnaise adds a nice creaminess and holds everything together well. We love Hellman's/Best Foods® in this recipe. 
Bread and butter pickles. This particular variety of pickles has the best balance between sweet and tangy. They're also very crisp!
Flat-leaf Italian parsley. Typically there is flat-leaf Italian parsley and curly parsley in the produce section of the store. Avoid curly parsley– it's usually used as a garnish and won't contribute much flavor to these Tuna Melts.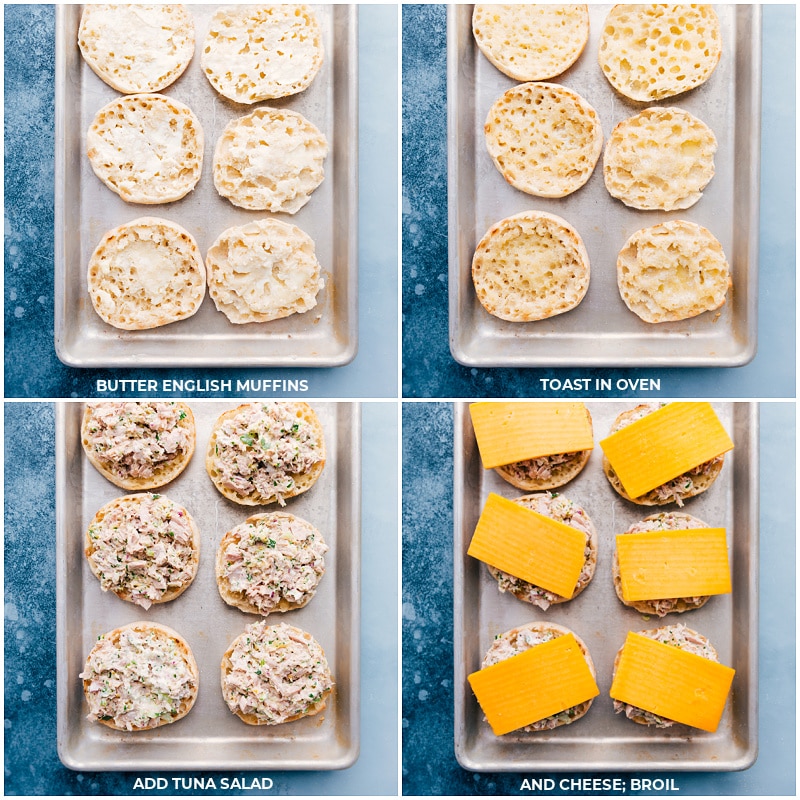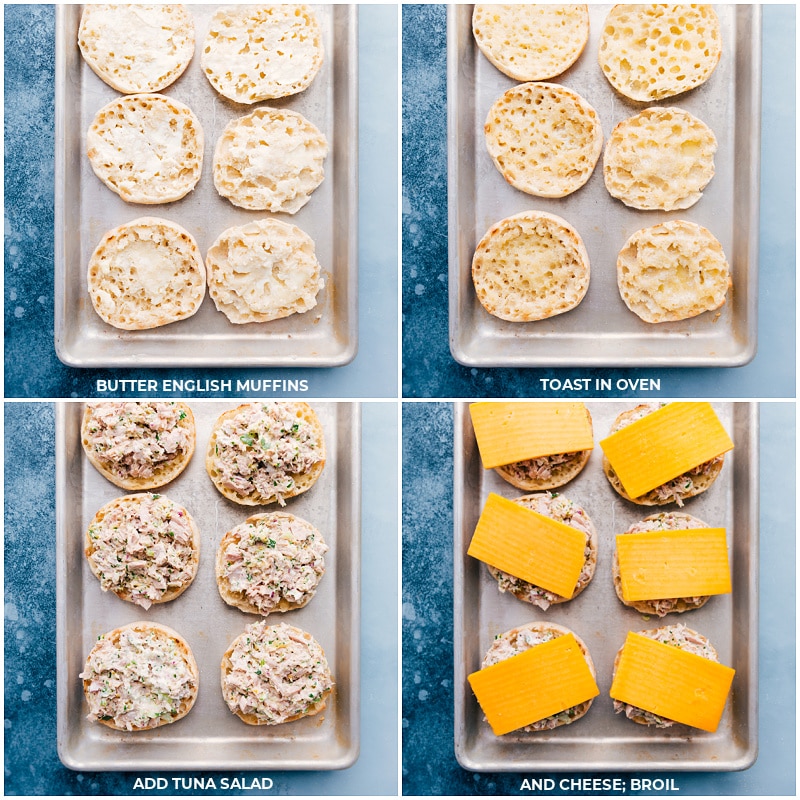 Ingredients, Continued
Dijon and lemon juice. We love the strong complementary flavors of lemon and Dijon mustard in this recipe. If you don't love either flavor, simply leave them out. 
Red onion. If you're sensitive to the flavor of raw red onion, soak the diced onions in salted ice water for 10 minutes. Drain thoroughly before using in these Tuna Melts.
Cheese. We like sharp or extra-sharp Cheddar cheese as opposed to mild Cheddar because the flavor is so much more robust.
English muffins. We love these Tuna Melts on English muffins, but feel free to use a different type of bread — whatever you like best.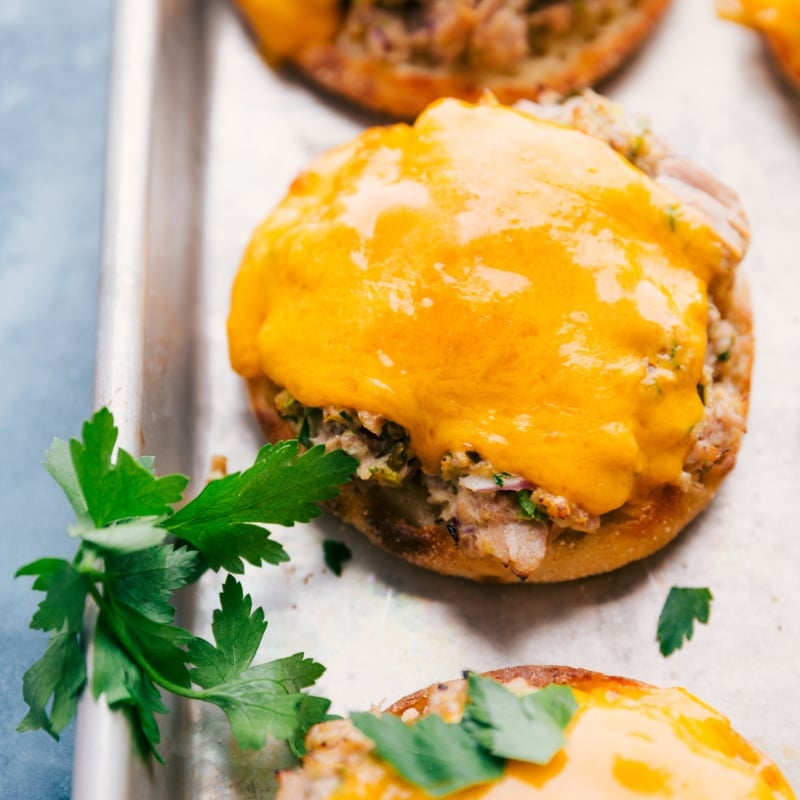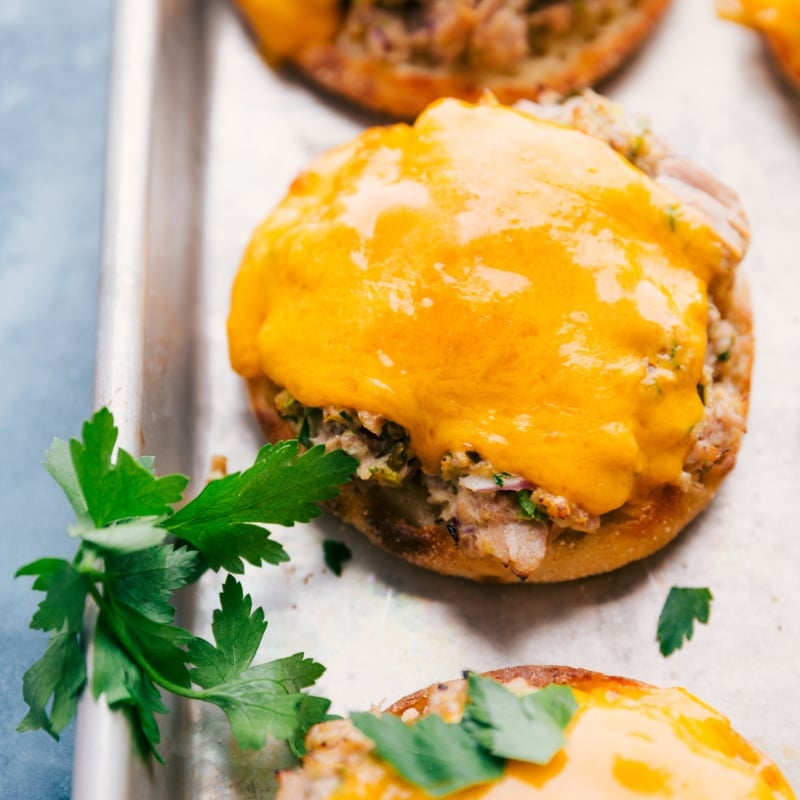 Tuna Melt Tips
Watch the broiler carefully. The English muffins can go from perfectly golden and toasted to burned in a matter of seconds. 
Add a tomato. A lot of tuna melts recipes add in a sliced tomato between the tuna mixture and the cheese. It adds a nice flavor and texture, so add one if you'd like!
Add mayo to preference. After adding the mayo to the tuna mixture, feel free to add a touch more for a creamier consistency.
Slice the Cheddar very thinly. If the Cheddar slices are too thick, they won't melt as nicely and the flavor becomes a bit overpowering.
Eat right out of the oven. Tuna Melts aren't great after sitting out and they don't store well — they get soggy quickly. Call your family for dinner a minute before you pull them out and enjoy them quickly!
More tuna recipes:
Tuna Melts
Tuna Melts start with toasted English muffins and adds a simple creamy tuna mixture and lots of melty Cheddar!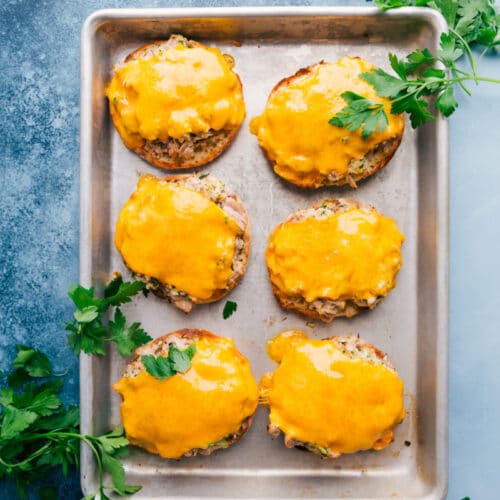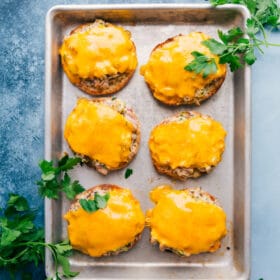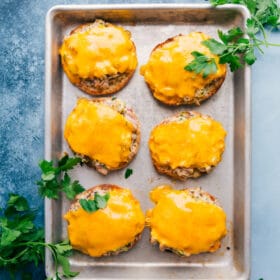 Tuna Melts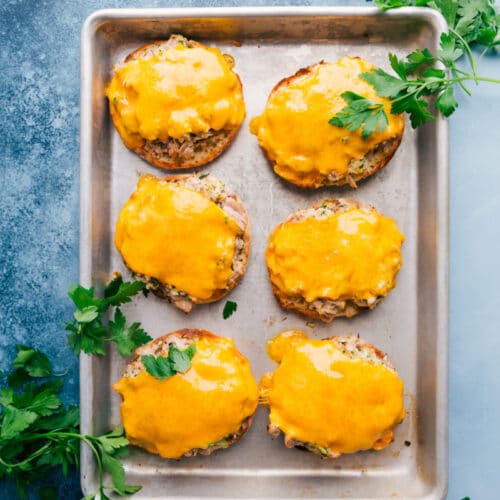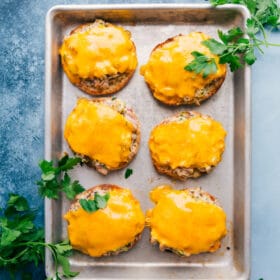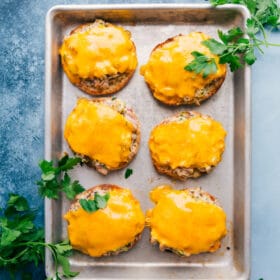 Tuna Melts start with toasted English muffins and adds a simple creamy tuna mixture and lots of melty Cheddar!
Ingredients
3

English muffins,

split in half (or 4 slices of rye/sourdough bread)

softened unsalted butter,

optional

3

cans (5 oz. EACH; 142g)

tuna,

drained and flaked with a fork Note 1

1/3

cup EACH:

celery and flat-leaf parsley

1/4

cup EACH:

bread & butter pickles and red onion

1

tablespoon

lemon juice

1/3

cup (80g)

full-fat mayo

1

teaspoon EACH:

olive oil & Dijon mustard

6

slices (or 1 cup)

shredded sharp or extra-sharp Cheddar cheese
Instructions
PREP: Preheat oven to 375 degrees F.

TUNA SALAD: Coarsely chop celery (into 2-inch pieces), rip off parsley from the bunch, coarsely chop the red onion. Now measure all these ingredients to get the correct quantities as listed in the recipe card and add everything to the food processor along with the drained pickles. Pulse to chop until finely chopped, about 20-30 seconds. Use a spoon to scrape down edges if needed and pulse again. Transfer to a bowl and add drained and flaked tuna, mayo, lemon, Dijon, olive oil, and salt & pepper to taste (I add 1/2 teaspoon salt and 1/4 teaspoon pepper.) Stir, adding more mayo if a creamier consistency is desired.

ENGLISH MUFFINS: If desired, butter and toast each English muffin (in the toaster or under the broiler). Remove and leave the oven on.

BAKE: Divide the tuna mixture evenly among each of the English muffins. Add a thin slice of Cheddar or a few tablespoons of grated cheese. Return to the oven and bake for 5 minutes or until cheese is nicely melted on top. Enjoy immediately!
Nutrition Facts
Serving: 1serving | Calories: 1064kcal | Carbohydrates: 53g | Protein: 70g | Fat: 61g | Saturated Fat: 16g | Polyunsaturated Fat: 25g | Monounsaturated Fat: 17g | Trans Fat: 1g | Cholesterol: 88mg | Sodium: 1760mg | Potassium: 684mg | Fiber: 3g | Sugar: 12g | Vitamin A: 1101IU | Vitamin C: 4mg | Calcium: 146mg | Iron: 4mg
We do our best to provide accurate nutritional analysis for our recipes. Our nutritional data is calculated using a third-party algorithm and may vary, based on individual cooking styles, measurements, and ingredient sizes. Please use this information for comparison purposes and consult a health professional for nutrition guidance as needed.