This post may contain affiliate links. Please read my disclosure policy.
This watermelon gazpacho recipe is the perfect balance of savory and sweet, it's full of feel-good fresh ingredients, and always tastes so light and refreshing.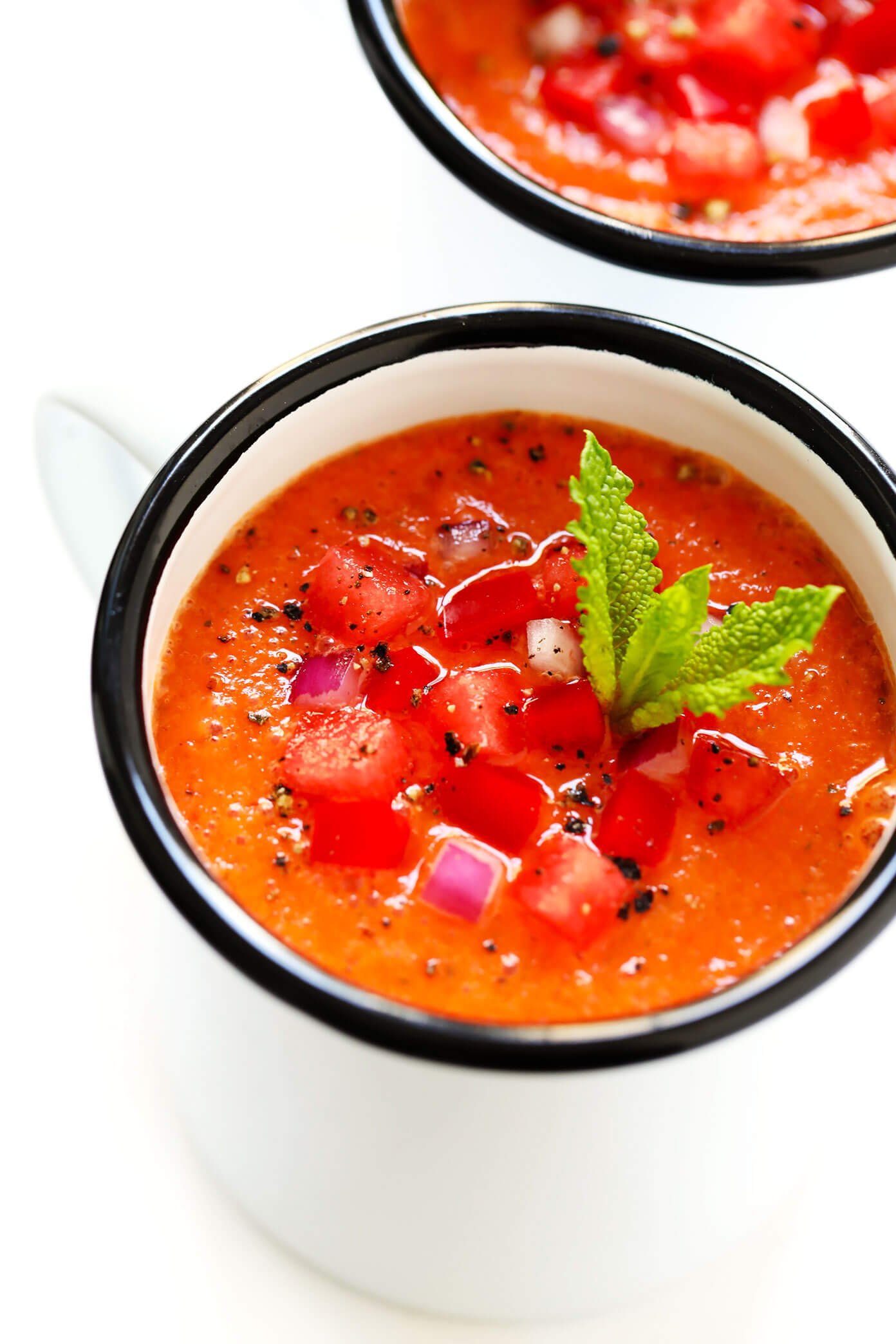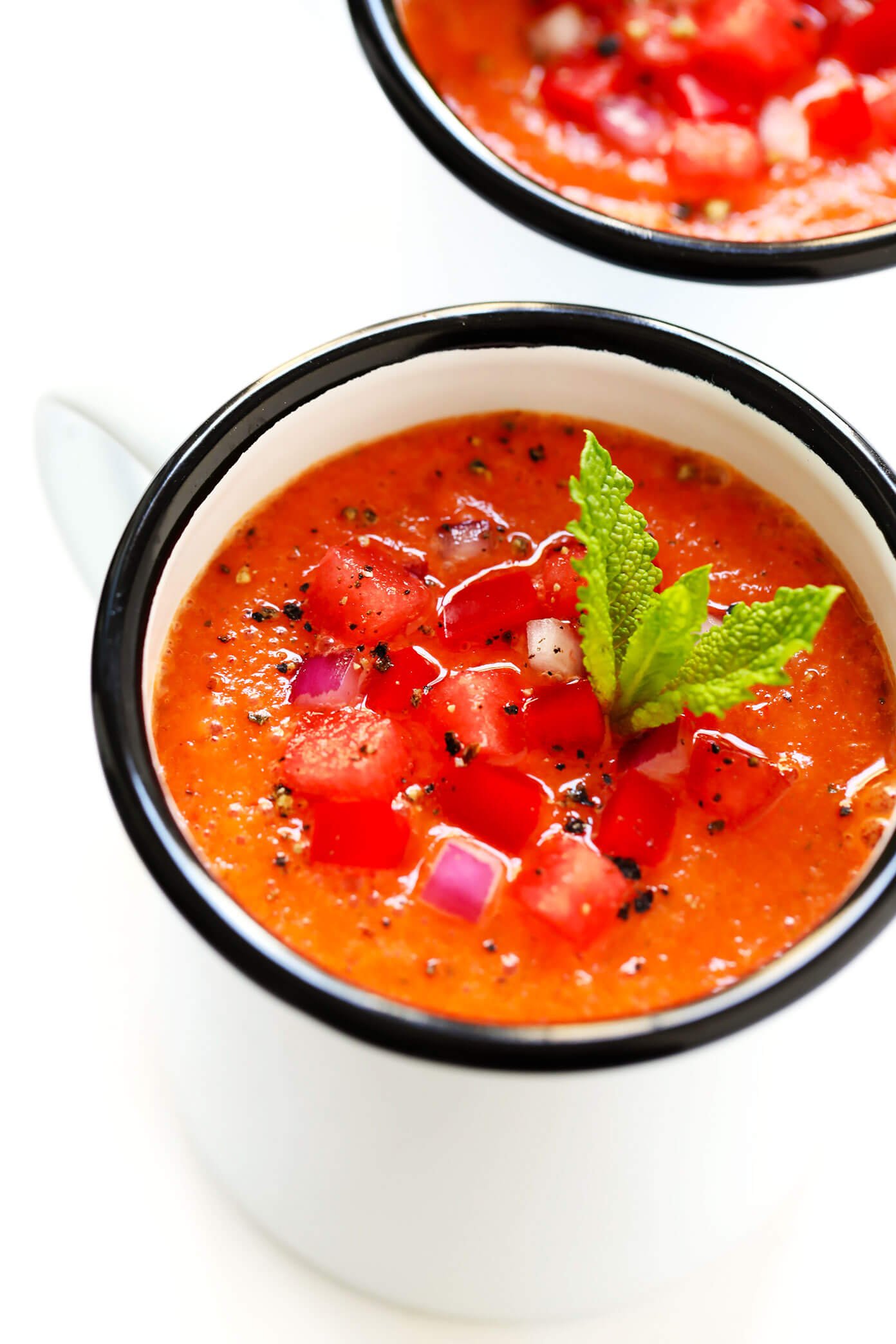 Summertime = gazpacho time. ♡
And after sharing my favorite recipe for authentic (tomato) gazpacho with you years ago when we first moved to Spain, I thought that this summer we could turn to its irresistibly sweet and savory cousin — watermelon gazpacho.
This refreshing chilled soup is the perfect way to use up a leftover hunk of watermelon that you might have hanging out in the fridge after last weekend's picnic. When blended together with lots and lots of summer veggies, a handful of fresh mint, a slice of bread and some simple seasonings, this gazpacho tastes like summertime sunshine in a bowl. And it is delicious!
Bonus? This watermelon gazpacho recipe only takes about 15 minutes to prep and can be made up to two days in advance. Plus it's made with fresh and healthy ingredients that are also naturally vegan and gluten-free (if you use gf bread), which makes gazpacho an especially great option if you happen to be cooking for a crowd this summer. We often turn to gazpacho when we're entertaining this time of year since it's so easy to prep ahead of time — usually just serving it up with a light salad and a loaf of crusty bread — and it hits the spot every time!
So grab some fresh watermelon and summer veggies, and let's blend up a quick batch together!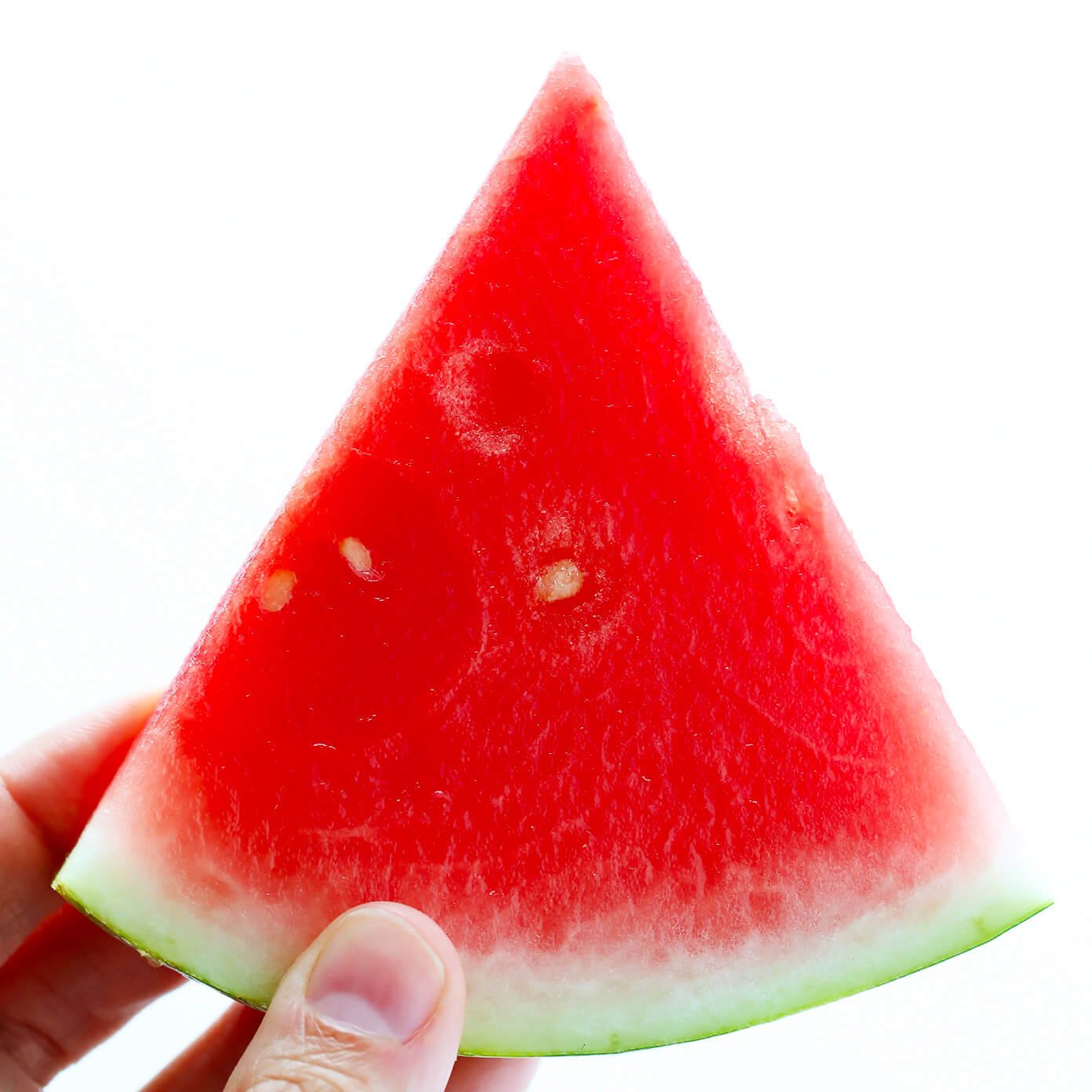 Watermelon Gazpacho Ingredients:
Head to the market (or out to your veggie garden!) to round up these simple ingredients for this watermelon gazpacho recipe:
Watermelon: Since we're going to be blending this up, I highly recommend using seedless watermelon.
Veggies: We will also add in Roma tomatoes (or any ripe tomatoes you prefer), cucumber (I typically use English cucumber, or your can core/seed a regular cucumber), red bell pepper (or any color), red onion, garlic.
Fresh mint: Feel free to add as much or as little mint as you prefer to this soup. I usually love adding some extra chopped mint leaves on top as a garnish too.
Oil and vinegar: Olive oil and sherry vinegar (or you can sub red wine vinegar) are traditional for Spanish gazpacho.
Seasonings: Just cumin, salt and pepper.
Bread: This is the Spanish trick for thickening your gazpacho! Just take a slice of bread (any kind will do), remove the crusts, and then soak the bread before blending it into the soup. You can either soak it in the soup for a few minutes. Or do what my Spanish friends taught me and just run it under the sink for a sec to soak the bread, ring it out, then add it to the blender.
Toppings: Feel free to add some chopped fresh mint, a drizzle of olive oil, and/or any leftover chopped gazpacho ingredients as a garnish.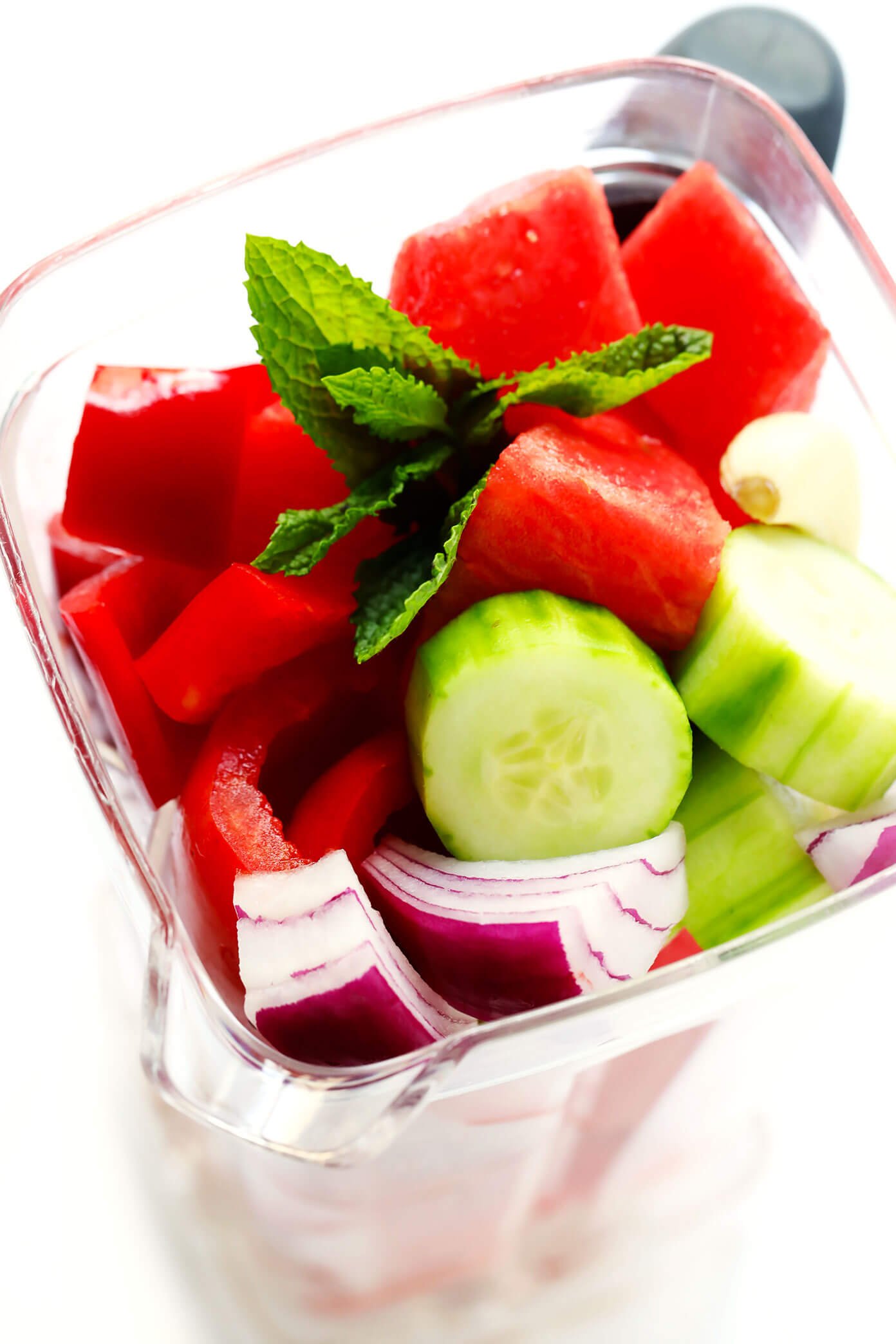 How To Make Gazpacho:
No hot stove required for this recipe! To make homemade gazpacho, simply:
Puree the soup: Combine all of the ingredients in a blender or food processor and puree for 1 minute or until the gazpacho reaches your desired consistency. (I prefer gazpacho super-smooth.)
Chill: Transfer the soup to a sealed container and refrigerate for 4 hours or until completely chilled.
Serve: Then serve the soup nice and cold, garnished with your favorite toppings.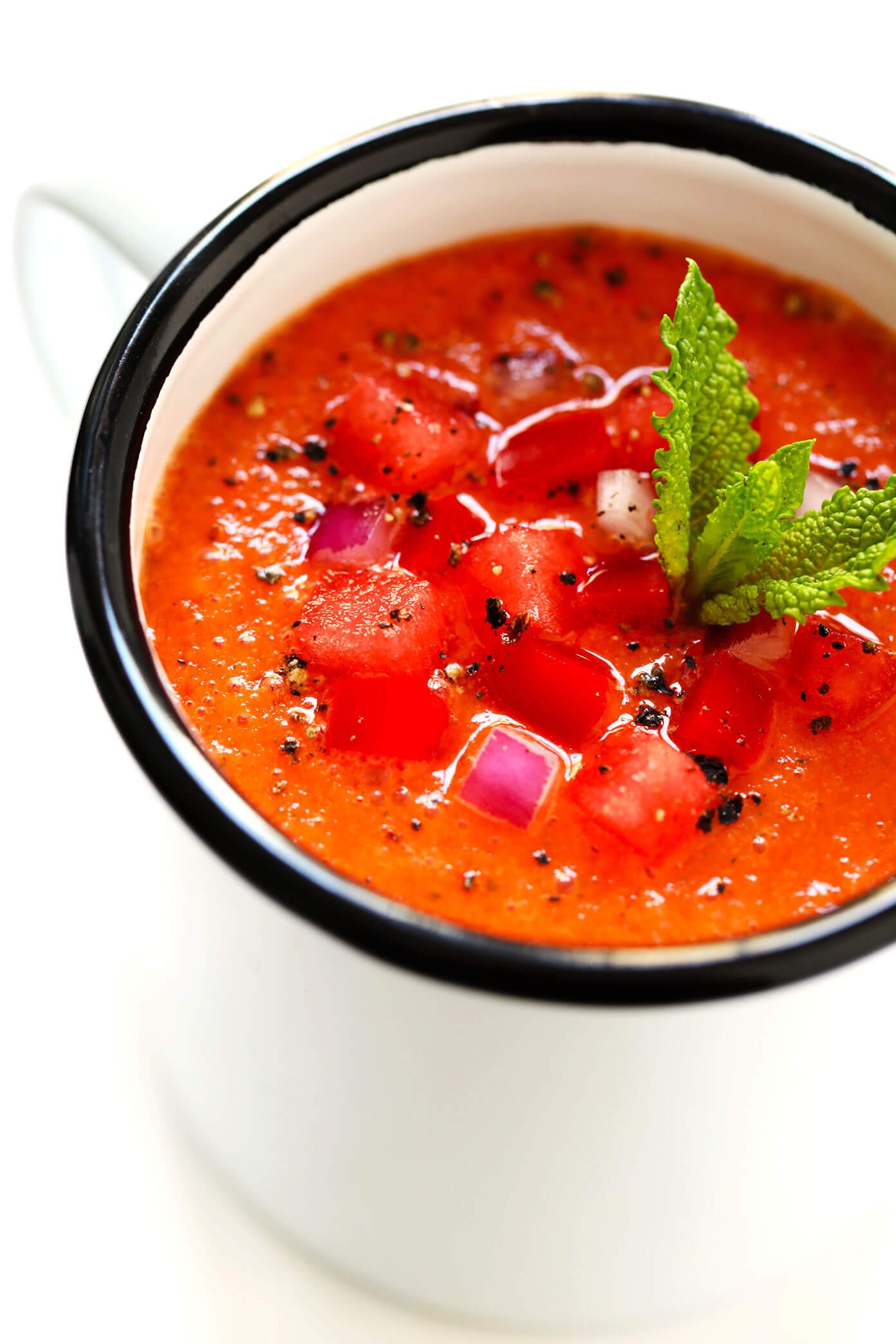 Possible Variations:
Gazpacho is meant to be a clean-out-the-fridge, mix-and-match, improvisational kind of soup. So don't hesitate to raid your crisper drawer and toss in whatever extra ingredients sound good! For example, you could…
Add more fruit: Cantaloupe, strawberries and/or honeydew would also be great in gazpacho.
Add veggies: Beets, zucchini and/or corn would also be great additions
Add extra herbs: Feel free to add in some fresh basil in addition to (or in place of) the fresh mint.
Make it spicy: For some extra heat, feel free to add in a slice or two of your favorite chile peppers (jalapeño, serrano, Thai red bird chiles, etc).
Make it gluten-free: As noted above, just be sure to use gluten-free bread.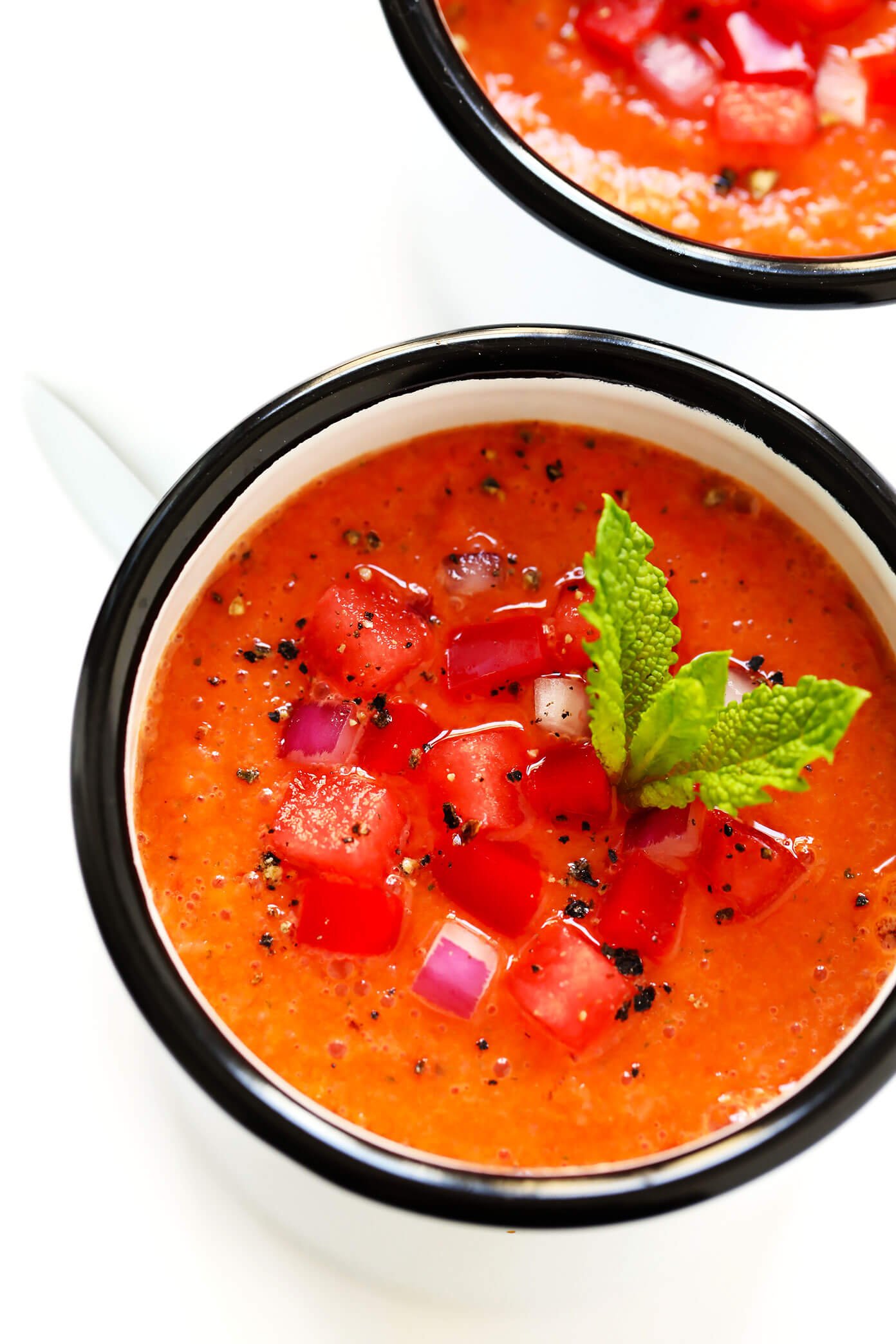 What To Serve With Gazpacho:
This watermelon gazpacho recipe works great as either an entree or as a side dish! When using it as an entree, I typically serve gazpacho with my favorite:
That said, if you are serving gazpacho as more of a side dish, it would go well with just about any proteins cooked on the grill or in the oven (such as chicken, steak, pork, shrimp, fish, etc). Or it also pairs well with this Catalan Chickpeas and Spinach dish, if you would like to keep with a Spanish tapas theme. 🙂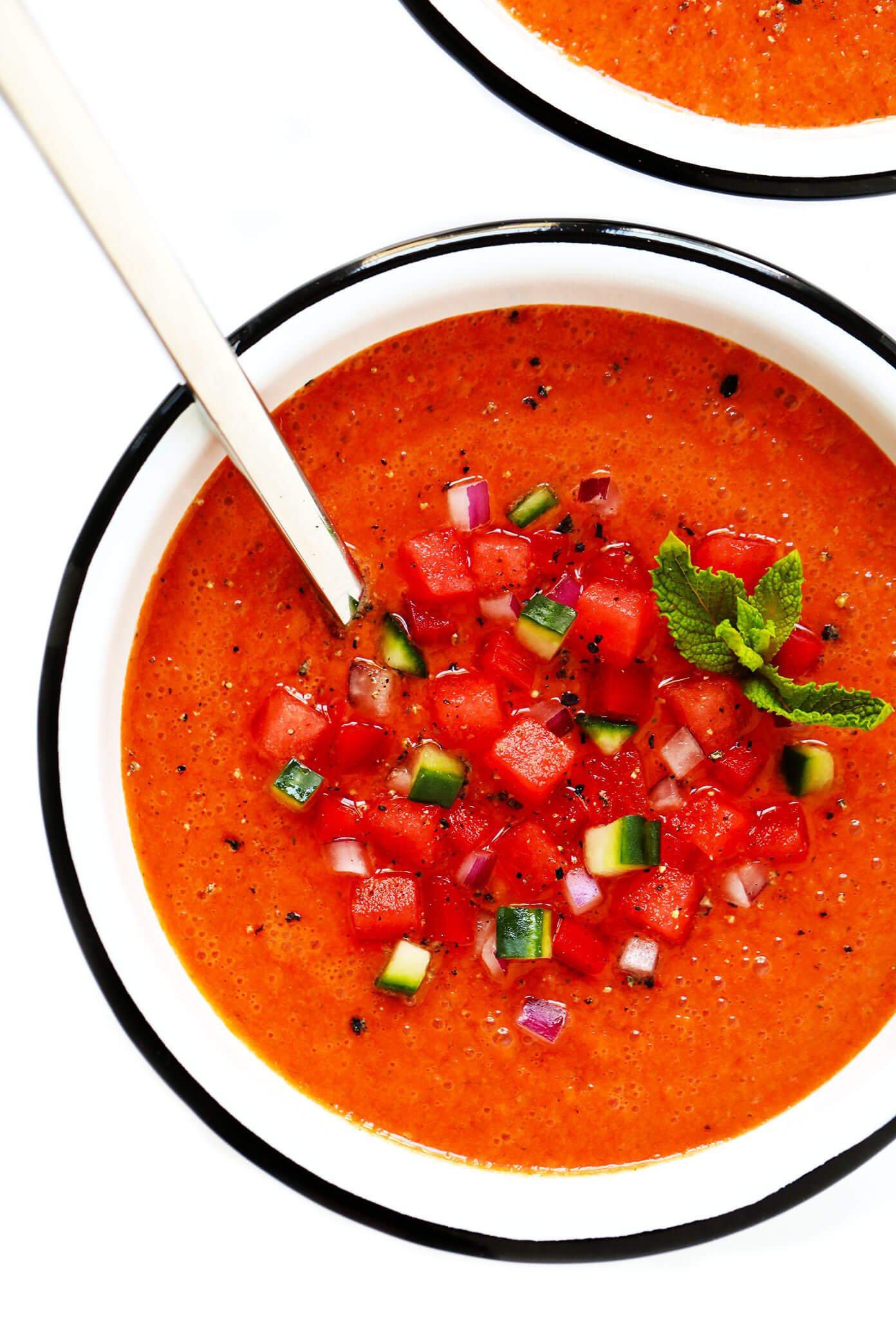 Print
---
Description
This Watermelon Gazpacho recipe is the perfect balance of sweet and savory and so refreshing.  Feel free to blend in extra mint if you would like!
---
1.5

pounds cubed fresh watermelon

3

large roma tomatoes, halved and cored*

1

small (1/2 pound) cucumber, peeled and seeded

1

  medium red bell pepper, cored

1/2

small red onion, peeled

2

small garlic cloves, peeled

1/3 cup

packed fresh mint leaves

3 tablespoons

olive oil

3 tablespoons

sherry vinegar

1 teaspoon

fine sea salt

1/2

  teaspoon freshly-cracked black pepper

1/4 teaspoon

  ground cumin

1

thick slice of white bread, soaked**, crusts removed
optional garnishes: homemade croutons, chopped fresh mint, a drizzle of olive oil, and/or any leftover chopped gazpacho ingredients
---
Combine all ingredients together in a blender or food processor.  Puree for 1 minute, or until the soup reaches your desired consistency.  Taste and season with extra salt, pepper and/or cumin if needed.
Refrigerate in a sealed container for 4 hours, or until completely chilled.
Serve cold, topped with your desired garnishes.
---
Notes
*To core the tomatoes: Simply scoop out and discard the seeds and any tough white core.
**To soak your bread: Cut away the crusts.  Then run the bread under the sink for a second to soak it with water, ring it out completely, and add the bread to the blender or food processor.