Transformation of the Day: Ebony lost 90 pounds. Despite being confident, acne and weight management held her back for years, so she decided to look for a sustainable solution. She switched over to a plant-based lifestyle, found healthy versions of her favorite foods, and did the physical and mental work required to transform.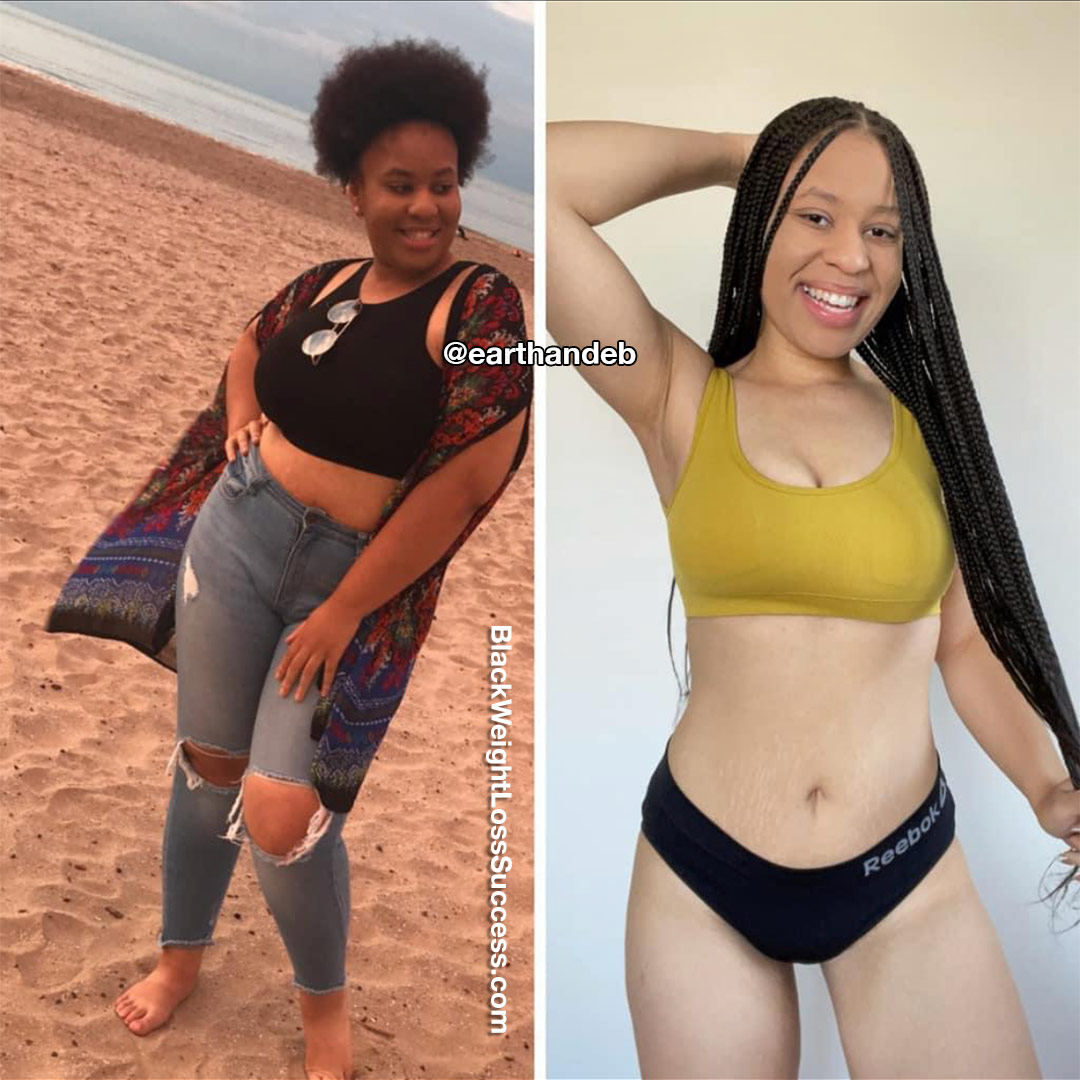 What was your motivation? What inspired you to keep going, even when you wanted to give up?
My motivation to lose weight was the fact that I struggled with acne for so long. My entire life, I continuously had whiteheads all over my face and chest. Likewise, I was struggled with being overweight throughout my childhood and teenage years. 
Both problems played a huge role in holding me back from my dreams and goals. Although I was always confident, acne and weight management were holding me back from being my best self, so I knew something had to give! I was no longer going to just sit back and tolerate these two obstacles. I had had enough.
How did you change your eating habits?
I switched over to a plant-based lifestyle at the age of 21. I changed my eating habits by replacing my favorite meals with plant-based meals. For example, instead of eating a burger and french fries, I'd opt for a grilled and well-seasoned portobello mushroom with some sautéed onions on some whole grain bread (topped with avocado and maybe some tomatoes or romaine). 
Likewise, I'd bake my potatoes instead of frying them in oil, which is high in calories. I'll lightly season my potatoes with sea salt, onion powder, cayenne… all whole, plant ingredients. If I use any oil, it's avocado oil or grape-seed oil and just enough to create a slight crunch. 
If I eat pasta, I make my own tomato sauce with fresh tomato, onion, garlic, and basil in my ninja blender vs. a store-bought sauce, which usually has high fructose corn syrup, white salt, white sugar, etc. (all processed and highly fattening). So overall, it was just about taking meals I already love and making them healthier with better and higher quality ingredients.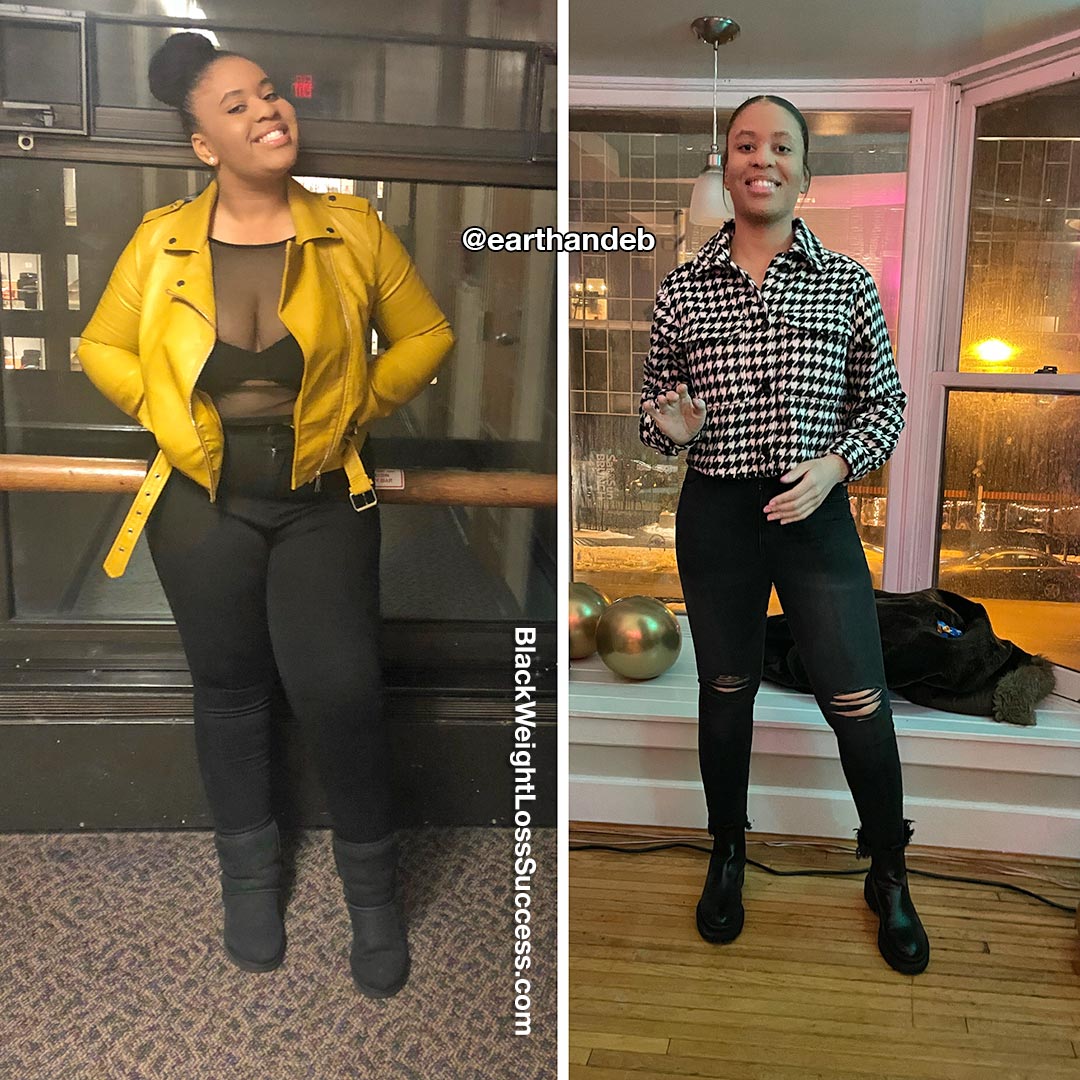 What did your workout routine consist of? How often did you work out?
I worked out with a trainer @_eefitness for a short time during my weight loss journey. However, I would say my weight loss journey overall was more focused on diet. My trainer emphasized that diet will play a more significant role in my weight management, and I confirmed that with my own personal research and experimentation. 
I am a health advocate and always knew that exercise is an important aspect of life whether you're trying to lose weight or not. I always strived to get in at least 20-30 minutes of moderate movement in a day. At this point in my life, I try to do at least 1 hour a day and incorporate strength training into my lifestyle to tighten and tone my body after dropping such a significant amount of weight.
What was your starting weight? What is your current weight?
My starting weight was 250 pounds, and my current weight is 160 pounds.
What is your height?
I am 5'7″.
When did you start your journey? How long did your transformation take?
I started my journey to a plant-based lifestyle in the Summer of 2019. It took me a little under one year to drop 90 pounds.
Is weight loss surgery part of your journey? 
No.
What is the biggest lesson you've learned so far?
The biggest lesson I've learned so far is that eating a healthy diet/plant-rich diet is honestly the only answer for sustainable weight loss and good health. Any other shortcut will not last and will cause damage to other aspects of your health. It's a lifestyle change that is needed to transform your life, not a quick or temporary change.
If you want results that will last, buckle up and get ready to do the mental and physical work needed to genuinely take your life to the next level. Changing my diet wasn't easy. It took genuine willpower.
What advice do you have for women who want to lose weight?
#1 I would recommend buying my vegan in training digital e-guide, which explains how you can realistically switch to a meatless diet. 
#2 Additionally, I'd take the time to watch my Youtube channel "earth & eb," where I discuss more about this journey. 
#3 Understand that YOU are the only person holding yourself back, and it is up to YOU to make the changes necessary to transform your life completely. YOU ARE IN CONTROL
Instagram: @earthandeb