Enjoy this 25-minute restaurant-worthy pan-seared salmon piccata in a white wine lemon butter caper sauce with fresh garlic and parsley.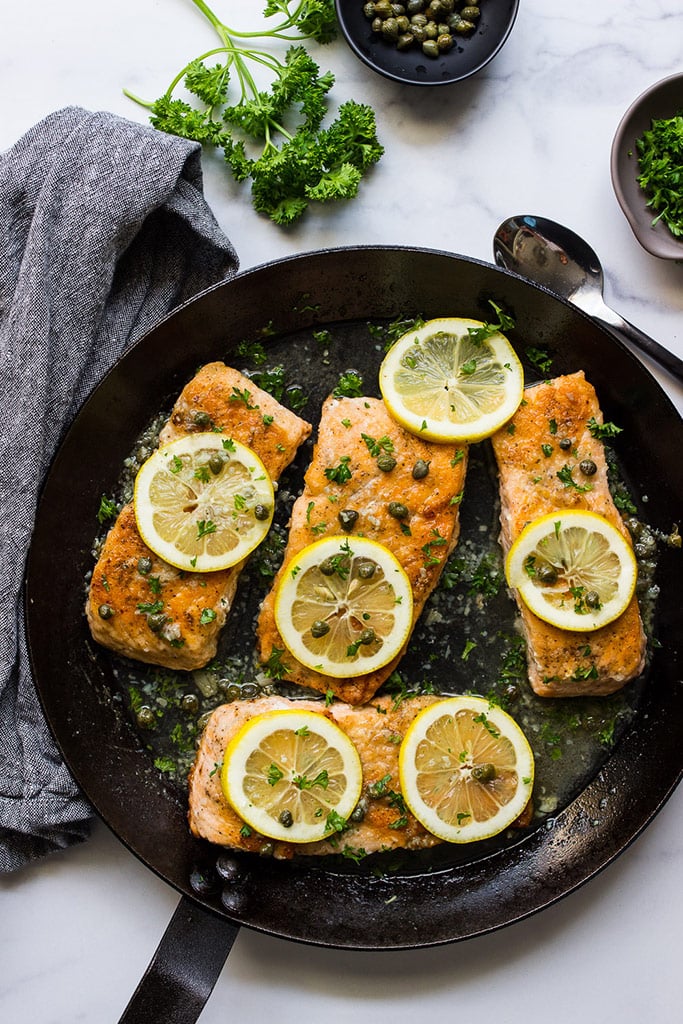 I had some leftover parsley and capers from cooking this creamy salmon pasta a few weeks ago (we enjoyed this one SO much). So today we are going to make a quick and easy salmon piccata. This cooks in under 30 minutes and goes great over a bed of pasta, with a side of rice, or some greens like asparagus, broccoli, or green beans.
It's a simple, fresh and zesty sauce to accompany the crispy pan-seared salmon perfectly seasoned with salt and pepper. Cook this one as a quick skillet meal for a weeknight dinner. Let's start cooking.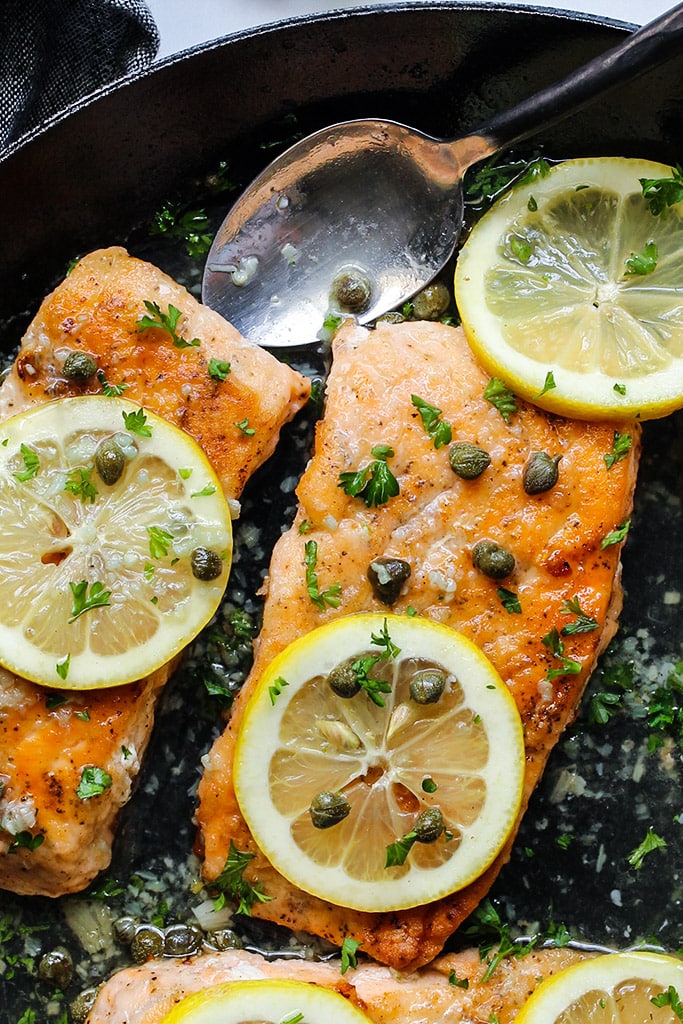 SALMON PICCATA TIPS AND TRICKS
Skillet: You will need a 12″ skillet to be able to fit 4 salmon fillets. I used a Lodge carbon steel skillet because it's lighter than a regular cast iron pan, but you can also use a simple non-stick skillet.
Seasoning: I use coarse sea salt to cook with. I find it's more forgiving and you can be generous with your seasoning.
Garlic: Feel free to use less garlic if needed. I find it easier to use either a garlic press or a mini grater to mince the garlic.
Capers: Add more or fewer capers to your taste.
White wine: You can skip this and leave this out to make it kid-friendly.
Add more flavor: For more flavor, you can also add a diced shallot to the pan and saute it along with the garlic.
Thickening the sauce: To cut down on simmering time while cooking down the sauce, you can use a cornstarch slurry cheat. Mix about one teaspoon of cornstarch to a tablespoon of cold water and add the slurry to the pan while the sauce is boiling and wait for the whiteness of the cornstarch to disappear into the sauce.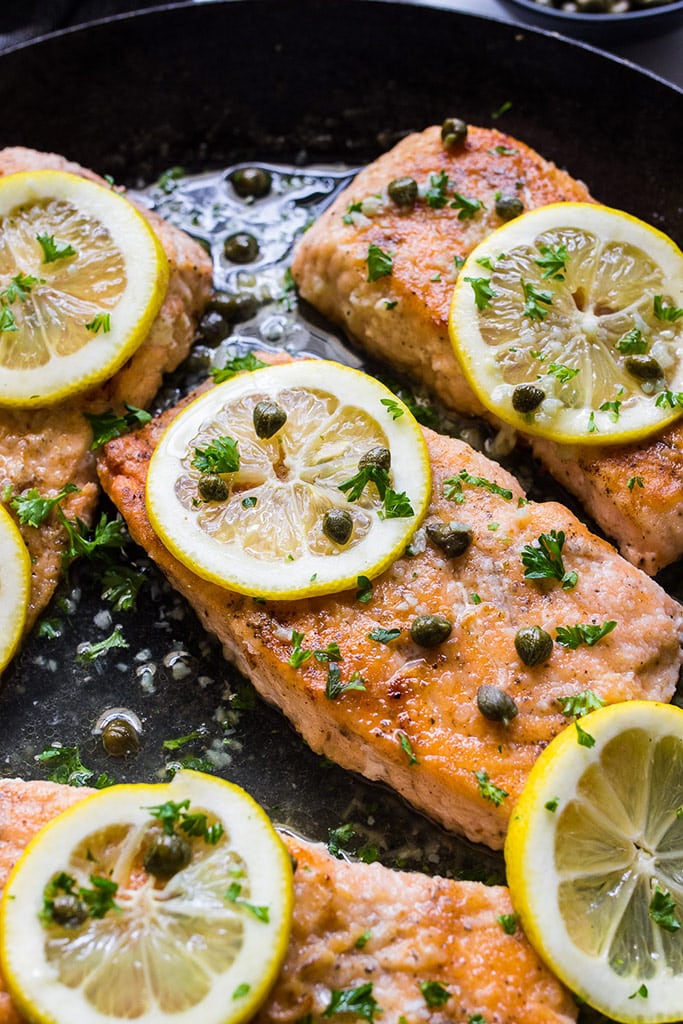 Lemon slices: You can also cook the lemon slices with the sauce to soften them before serving.
Make it creamy: For a creamy version, add some heavy cream to the sauce while cooking it down.
Use chicken: You can also use this sauce for boneless, skinless chicken breasts. Make sure to pound the chicken down to an even thickness so it cooks evenly. 5 minutes per side should be enough time to cook it thoroughly. If in doubt, cut it in half to check or use a meat thermometer. Cook until internal temperature reads 145°F.
Serve with: This will go well over a bed of pasta, with a side of rice or skip the carbs and go with some greens on the side like broccoli, asparagus, or green beans. You can also serve it with some mashed potatoes, cauliflower mash, or quinoa.
And that's about it. Enjoy your crispy seared salmon with the fresh and vibrant sauce spooned over it. For more recipes with salmon, garlic and lemon, try out this creamy salmon pasta with spinach or a lighter version of lemon garlic pasta with salmon. Or add some panko breadcrumbs to this lemon and Parmesan-crusted salmon.
♡ Did you make this recipe? Please give it a star rating below! For more quick & easy recipes, FOLLOW ME on Facebook, Instagram and  Pinterest.
clock icon
cutlery icon
flag icon
folder icon
instagram icon
pinterest icon
facebook icon
print icon
squares icon
heart icon
heart solid icon
Description
Enjoy this 25-minute restaurant-worthy pan-seared salmon piccata in a white wine lemon butter caper sauce with fresh garlic and parsley.
---
4

salmon fillets (

5

–

8

oz. each)
Salt and pepper to taste

1/4

cup

all-purpose flour

2 tablespoons

butter, divided

1 tablespoon

olive oil

4

medium garlic cloves, minced

2 tablespoons

capers, drained

1/4

cup

dry white wine (optional)

1

cup

chicken broth

3 tablespoons

lemon juice
Fresh chopped parsley to garnish
Lemon slices to serve
---
Season both sides of the salmon fillets with salt and pepper to taste.
Lightly coat both sides of the salmon with flour. Shake off any excess flour.
Over medium heat, melt 1 tablespoon butter and add the olive oil to a skillet.
Sear the salmon on both sides until browned, about 3-4 minutes per side. Dish and set aside.
Melt the remaining 1 tablespoon butter and toss in minced garlic and capers. Saute until fragrant, about 30 seconds.
Pour in the wine and scrape off any browned bits from the pan. Simmer until half the wine has evaporated.
Add in chicken broth and lemon juice and simmer until sauce thickens, about 5 minutes.
Return salmon fillets to skillet and spoon sauce over them.
Dish and serve hot with fresh parsley and lemon slices.
♡ Affiliate disclosure: As an Amazon Associate, I earn commissions from qualifying purchases from Amazon.com. You can learn more about it here.