You only need four ingredients for this delicious Chicken Caesar Wrap  — a few shortcuts make these wraps come together ridiculously quick!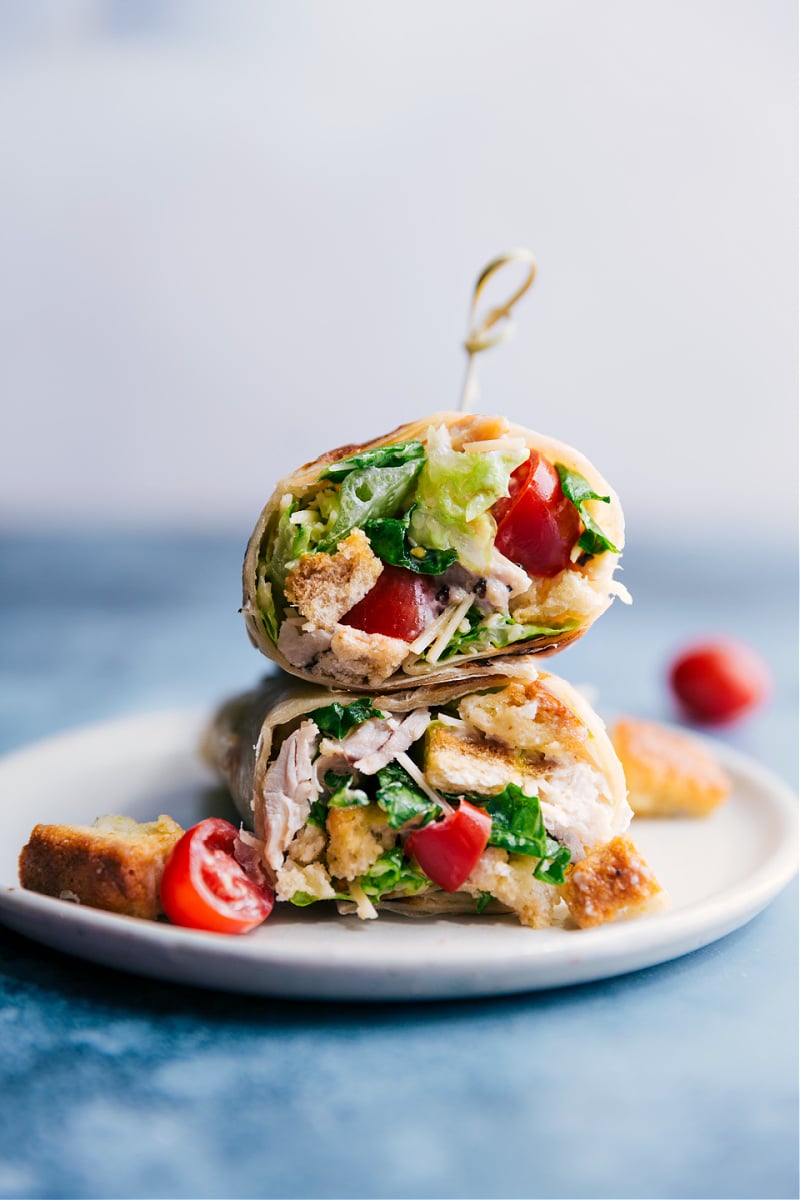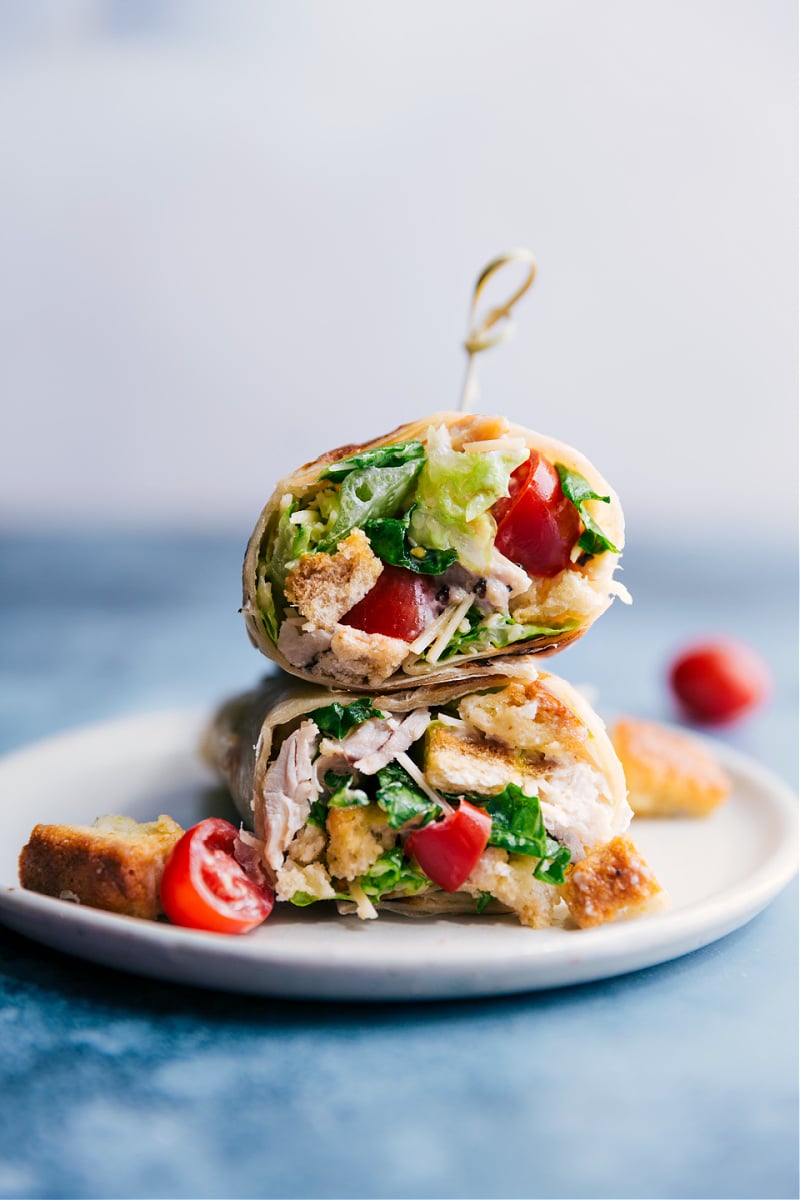 This Chicken Caesar Wrap is part of our Back-To-School Lifesavers — a series of recipes that are intended to have little (or no) veggie chopping, minimal prep time, around 10 ingredients or less (not including pantry staples), and use kid-friendly ingredients. Click here to see all the recipes in the series!
Chicken Caesar Wrap
As ordinary as they are, a good Caesar salad is one of my favorites. And I'll admit, I grab a packaged Caesar salad often to go on the side of a more-time intensive meal. I rarely have the time to make both from scratch on a weeknight and especially with the craziness of back-to-school time!
So today we're using a salad mix, adding some tomatoes for a touch of sweetness, chicken for some staying power, and wrapping it all up in a tortilla for one heck of a simple and tasty dinner!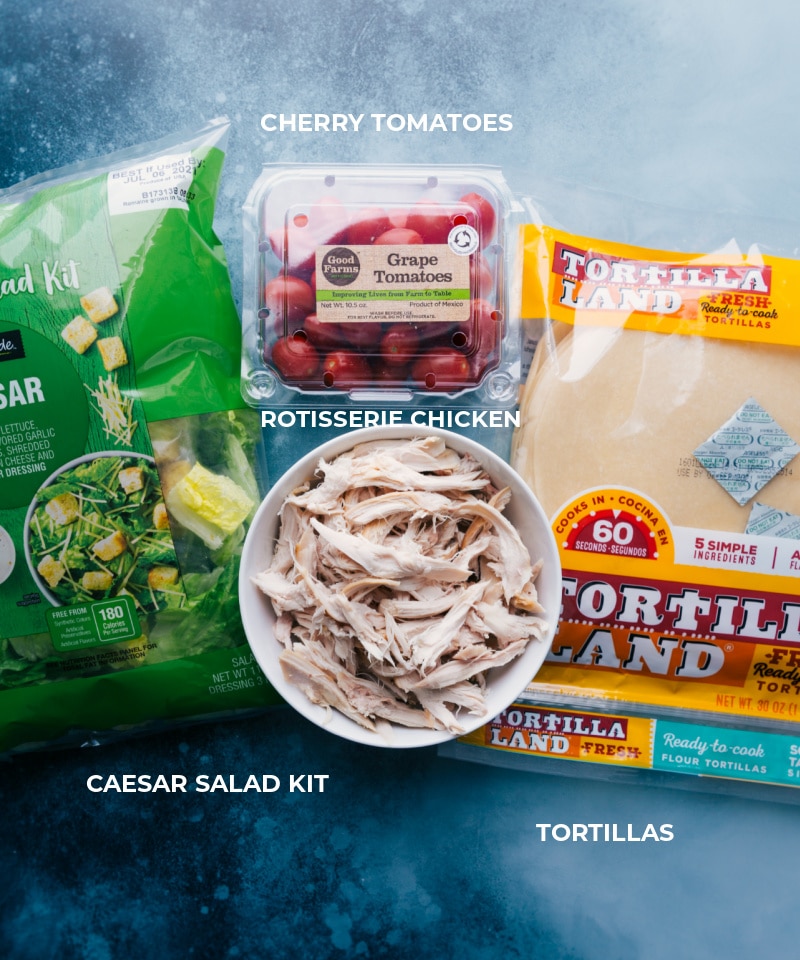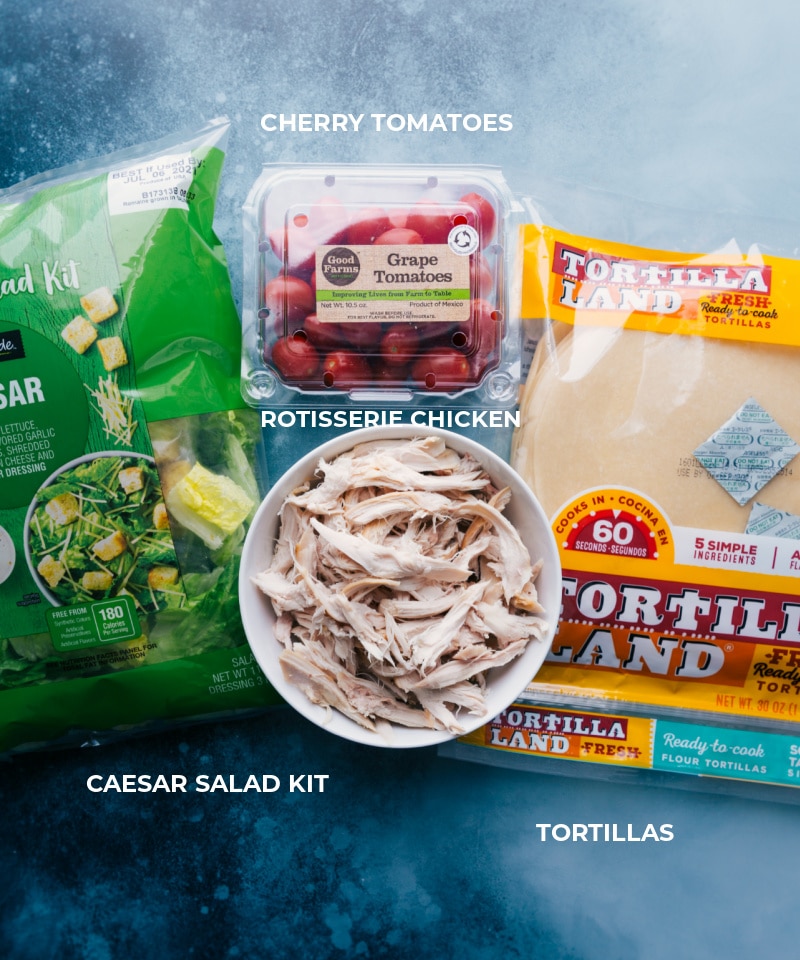 Chicken Caesar Wrap Ingredients
Flour tortillas. We love these unbaked tortillas by TortillaLand® (not sponsored). They are generally found in the refrigerated section of the grocery store near the cheeses, and are the best flavor-wise. They have a great texture and ensure these wraps taste light and fresh. We definitely prefer unbaked tortillas that can be warmed up on the stovetop — they fold up better and taste fresher. If you only have prepared tortillas, warm them under a damp paper towel for 10 seconds in the microwave before using them.
Rotisserie chicken. We load up these wraps with shredded rotisserie chicken; leftover grilled chicken is also a great option. Pre-cooked and seasoned chicken is a total time saver on its own, but to save even more time on the chicken, you can purchase rotisserie chicken meat already pulled from the bones and shredded or diced — a lot of grocery stores sell this conveniently prepared chicken!
Cherry tomatoes. The tomatoes add a nice burst of sweetness and freshness to the wraps. Alternatively, thinly slice a Roma tomato or two and layer on the wrap before adding the salad.
Caesar salad kit. The big secret for having these Chicken Caesar Wraps ready so quickly is a Caesar salad kit. These kits are conveniently found in the produce section of the grocery store among all the different bags and varieties of lettuce. The kit has it all – romaine lettuce, croutons, seasoning packet, salad dressing, and Parmesan cheese. Open everything and toss it together — so easy!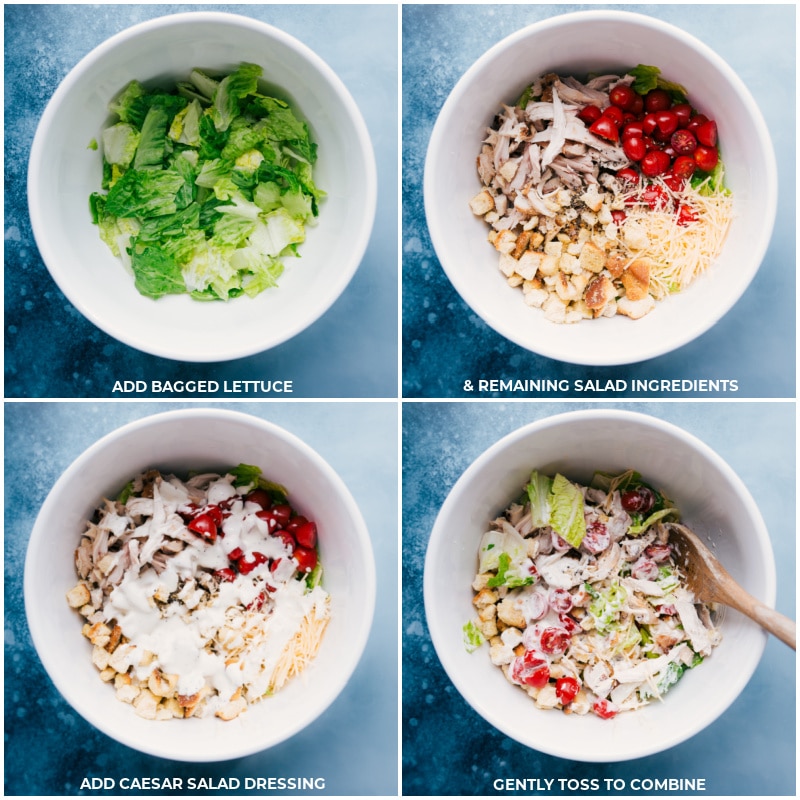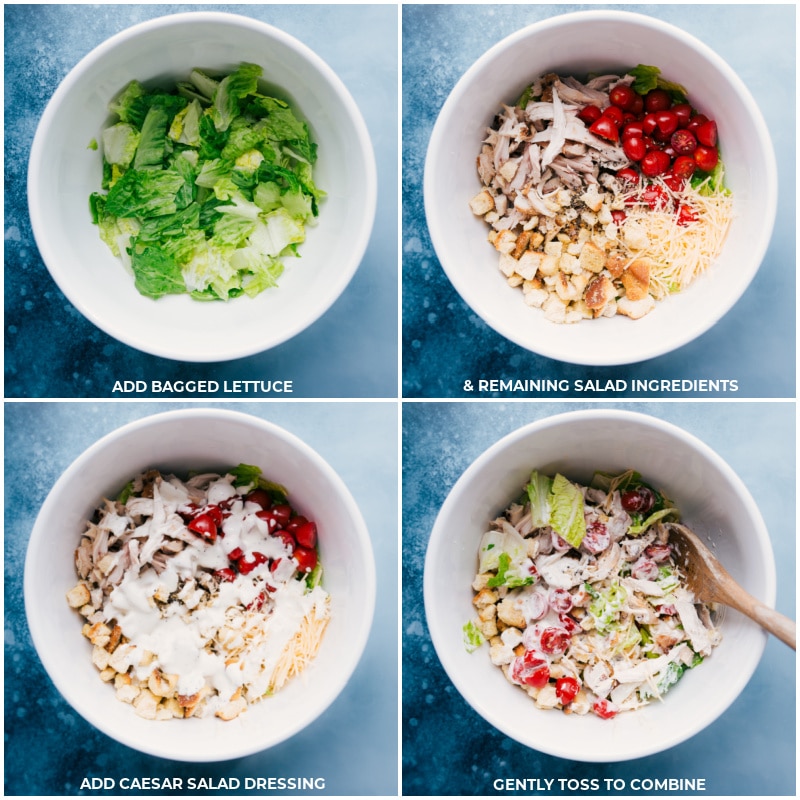 VARIATIONS
Chicken Caesar Wrap Variations
Add some heat by sprinkling red pepper flakes on top.
For a lower-calorie Chicken Caesar Wrap, use a lite Caesar salad dressing instead of using the dressing in the package.
Don't like store-bought dressings? While it will add to the overall prep time and ingredients required, you can always make your own dressing. (Our favorite Caesar salad dressing is on these Caesar Salad Pizzas.)
Add a hint of lemon-pepper flavor by using a lemon pepper-seasoned chicken in the wraps.
More wrap recipes
Chicken Caesar Wrap
Only four ingredients are needed for a delicious Chicken Caesar Wrap  — a few shortcuts make these wraps come together ridiculously quick!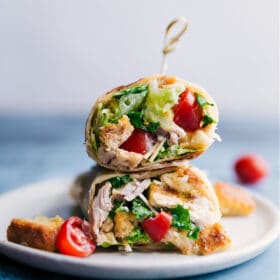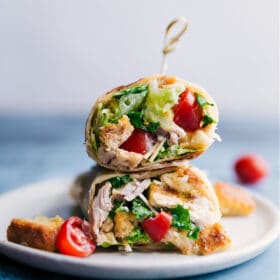 Chicken Caesar Wrap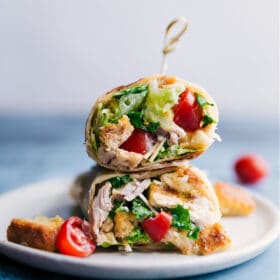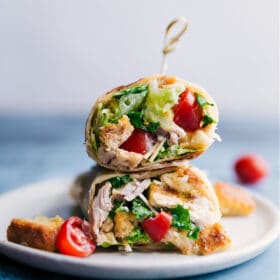 Only four ingredients are needed for a delicious Chicken Caesar Wrap  — a few shortcuts make these wraps come together ridiculously quick!
Ingredients
5

large

flour tortillas

Note 1

1

pkg (11.5 oz.)

Caesar salad kit

2/3

cup

halved cherry tomatoes

2

cups

shredded rotisserie chicken
Instructions
TORTILLAS: Prepare tortillas according to package directions or warm through in the microwave (covered with a damp paper towel) to make them more pliable.

SALAD MIX: In a large bowl, combine all of the components of the Caesar salad kit, along with the cherry tomatoes and the rotisserie chicken. Drizzle the dressing over everything and gently toss to combine.

ASSEMBLY: Divide the mixture evenly among 5 tortillas. Tightly roll up tortillas. Cut in half and enjoy immediately!
Nutrition Facts
Calories: 435kcal | Carbohydrates: 16g | Protein: 29g | Fat: 23g | Saturated Fat: 6g | Polyunsaturated Fat: 1g | Monounsaturated Fat: 1g | Cholesterol: 111mg | Sodium: 1015mg | Potassium: 293mg | Fiber: 3g | Sugar: 4g | Vitamin A: 344IU | Vitamin C: 9mg | Calcium: 144mg | Iron: 2mg
We do our best to provide accurate nutritional analysis for our recipes. Our nutritional data is calculated using a third-party algorithm and may vary, based on individual cooking styles, measurements, and ingredient sizes. Please use this information for comparison purposes and consult a health professional for nutrition guidance as needed.